New Age Islam News Bureau
1 Feb 2019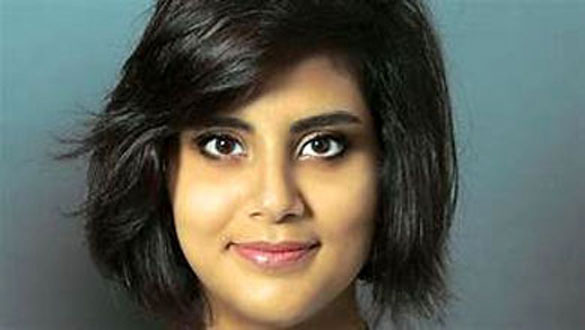 Loujain Al-Hathloul detained Saudi women's rights activist
-----
• Sindhi Hindu Women Making History and Are Setting Example for Their Muslim Counterparts
• Flores' 'Ikat' Brings Together Muslim, Christian Women
• Muslim Women Seek Nigerians' Support On Hijab
• Resolution Introduced in US Congress to Grant Asylum to Aasia Bibi After Pakistan Apex Court Overturns Death Sentence
• Arab Women Sports Tournament Announces New Organizational Structure
• Belgian Woman Stabs Daughter for Converting to Islam
• Accused Of Being Informer, Girl Shot Dead At Point Blank Range in Kashmir
• How The Muslim Brotherhood's Women Activists Stepped Up In Egypt
Compiled by New Age Islam News Bureau
URL: https://www.newageislam.com/islam-women-feminism/saudi-female-activist-tortured-palace/d/117619
--------
Saudi Female Activist Tortured In 'Palace Of Terror': Brother of Loujain Al-Hathloul
Jan 31, 2019
The brother of detained Saudi women's rights activist Loujain al-Hathloul has detailed in an opinion piece the abuse his sister has endured in prison.
Walid al-Hathloul wrote Thursday that during a recent visit by his parents to see Loujain she told them that she was regularly whipped, beaten, electrocuted and sexually harassed in a basement she called the "palace of terror".
"Whenever Loujain spoke about the torture sessions to my parents, her hands shook uncontrollably. I fear the pain will stay with her forever," Walid wrote on the CNN website.
"My own baby sister said she is being whipped, beaten, electrocuted and harassed on a frequent basis.
"She said that sometimes there are masked men who wake her up in the middle of the night to shout unimaginable threats."
One of the investigators, Walid said, tried to pressure his sister into marrying him, threatening her with rape.
Saudi activists and the New York-based Human Rights Watch (HRW) earlier stated that she and other female detainees had been tortured and sexually harassed in prison.
They also said that a former top adviser of Crown Prince Mohammed bin Salman, Saud al-Qahtani, was present during at least one of the interrogation sessions.
According to Human Rights Watch and people familiar with the events, Qahtani had allegedly threatened to rape, kill and throw one of the detainees into the sewage system.
Qahtani was also implicated in the Istanbul consulate killing of dissident Saudi journalist Jamal Khashoggi in early October last year.
Loujain was arrested in May 2018, along with 10 other women rights activists in Saudi Arabia.
She was first arrested in 2014 on charges of violating a Saudi law that banned women from driving after she tried to cross the border in her car from the UAE to Saudi Arabia.
Saudi Arabia is the only country in the world that forbids women from driving.
Loujain graduated from the University of British Columbia in 2013. Her situation has already caught international attention in light of problems plaguing Saudi-Canadian ties.
Saudi Arabia expelled Canada's ambassador last July after Canadian Foreign Affairs Minister Chrystia Freeland criticized the kingdom's apprehension of rights activists.
The women are among more than a dozen prominent activists arrested since May amid a broader crackdown targeting clerics and intellectuals.
Nearly a dozen women are still being held, activists say, some of whom have alleged to have been tortured. The allegations come as Riyadh tries to get past the Oct. 2 killing of Khashoggi, whose murder is internationally blamed on bin Salman.
Torture and various forms of ill-treatment have been routinely and widely reported over the past years in Saudi prisons and detention centers.
Khashoggi, a distinguished commentator on Saudi affairs who wrote for The Washington Post's Global Opinions section, was also tortured, murdered and then dismembered with a bone saw by Saudi operatives at the Saudi consulate in Istanbul on October 2.
https://www.presstv.com/Detail/2019/01/31/587328/Saudi-Arabia-Loujain-alHathloul-Walid-Alhathloul-HRW
--------
Sindhi Hindu Women Making History and Are Setting Example for Their Muslim Counterparts
By Zubair Qureshi
January 31, 2019
Hindu women hailing from Sindh province are setting example for their Muslim counterparts as they are excelling in various fields including politics, bureaucracy, education, medicine — and now judiciary.
Besides Suman Kumari of Qambar-Shahdadkot selected to the post of civil judge, Daina Kumari, 28, from Jacobabad District has also passed the same exam for civil judge-cum-judicial-magistrate and is all set to join the subordinate judiciary of the Sindh High Court.
According to the results of the exams held for the posts of Civil Judge/Judicial Magistrates announced recently on January 19, 2019 Daina Kumari took the 46th position.
Daughter of Lachman Das Kingrani, a local trader of electronic goods in Jacobabad, Daina has done her LLB from Shah Abdul Latif University Khairpur some five years ago. After practising law for three years, she was selected Inspector Legal in 2018. Then ranked 19th out of total 100 inspectors.
While talking to Gulf News here on Thursday, Diana said her two other sisters are also doing LLB and she is hopeful they, too, would get distinction in their studies.
Daina says Hindu girls are backward and have fewer opportunities than the Muslim women but still with hard work, devotion and above all support from family they can achieve success.
The only prerequisite for success is commitment and devotion. "I was the first female Inspector Legal belonging to Hindu community and my brother Suneel Kumar is the first Hindu male Inspector Legal from my district," she said.
Daina also writes poetry and her book 'Multi-dynamic Verses' has already hit the bookstalls.
Being a judge is not easy. It is a challenging task, she says. But she is confident that with cooperation from colleagues and guidance from the senior judges and advocates she would delegate her duties with devotion and dedication.
Daina thinks she has enjoyed respect and affection not only from her senior colleagues but also from the local lawyers and has never faced any problem working with them.
"At school level and later at university there were a few problems but at the same time, I was lucky to have friends who always supported and stood by me whenever I was in their need."
To a question, Daina says she regarded her uncle a retired judge, Karam Chand Kingrani, as a source of inspiration and a role model for her. At a personal level she is impressed by Barrister Shahida Latif the former minister and a women rights activist.
Local Hindu community is celebrating Daina's selection as civil judge. Kapil Dev, a Hindu rights activist in his twitter message, has congratulated Daina on her selection and said "We are proud of you."
https://gulfnews.com/world/asia/pakistan/sindhi-hindu-women-making-history-1.61795774
--------
Flores' 'Ikat' Brings Together Muslim, Christian Women
February 1, 2019
Through weaving ikat fabrics, tolerance is fostered between women of different religious backgrounds in Nagekeo regency, Flores, East Nusa Tenggara.
Rumah Sa'o Pipi Tolo (Sa'o Pipi Tolo House), founded by a retired member of the National Police, Com. Gen. Gregorius Gories Mere, brings together works of art through the characteristic weaving of Nagekeo, Ende and the whole island of Flores by Muslim and Christian women. Prior to the organization, the women wove fabrics in their own home and sell them at much lower prices.
Gories said that Rumah Sa'o Pipi Tolo was founded after his daughter, Jesika Mere, visited Flores along with her husband. Jesika Mere told him that she had fallen in love with the hospitality of the Flores people, the beauty of its nature, as well as the woven fabrics. She was inspired to do something to help increase their income and to bring women together through the art of weaving that was unique to Flores.
"My daughter and her husband had inspired me to do something for Flores for the development and improvement of the local people's income, which mainly came from the weaving of fabrics characteristic to Nagekeo, Ngada, Ende and all of Flores," he said recently.
At the time, he went on to say, the price of fabrics woven by the women of Flores was very low, even though they were of very high quality.
"The craftswomen were selling their creations at between Rp 250,000 [US$17.93] and Rp 300,000, while they needed a month to complete them and sourced the dye from nature. So, the weaving process was incongruent with the low price," Gories said.
The archbishop of Ende, Mgr. Vinsentius Potokotta, expressed his hope that the initiative would not only empower women but also promote tolerance among people of different religious backgrounds.
"[Such initiatives] also encourage and inspire us [priests] to do real things for the empowerment of women," he said.
Alfonsa Horeng, a local female leader and also a well-known ikat expert, explained that weaving was an inherited tradition and maintained by women of different religions. All this time, Flores ikat is intended for customary affairs, bridalwear and other necessities, thus, selling the fabrics —whether to local or international markets — was not a priority for the women of Flores.
"I am a weaving trainer for the Pipi Tolo weaving house; I help the women weave fabrics that would be worth selling internationally. I train them on original dyeing techniques with ingredients sourced from Flores' nature, on ikat motifs for Nagekeo, which are called Malapoma in Lawo and Ende," Alfonsa said, adding that she helped and collaborated with Gories to train Nagekeo and Ende weavers who work at the Sa'o Pipi Tolo house.
Siti Lutwina, a weaver from the Nangaroro Weaving Group, said that weavers hailed from Riti Tonggo and Nangaroro villages, which had their own motives, such as Malapoma, Jawatiwa and Riti Tonggo.
"Nagekeo's special woven products will be promoted to foreign buyers, both in Indonesia and overseas. We're very grateful," she said. (spl)
https://www.thejakartapost.com/news/2019/02/01/flores-ikat-brings-together-muslim-christian-women.html
--------
Muslim Women Seek Nigerians' Support On Hijab
Feb 1, 2019
The Coalition of Nigerian Muslim Women has called on all Nigerians to support the wearing of hijab within and outside various organisations and institutions,
The coalition made the call yesterday during a courtesy visit to the Media Trust Headquarters in Abuja as part of activities to mark the 2019 World Hijab Day.
The leader of the delegation, Mariya Surajo Sani, said: "We urge all to support Muslim women and girls within and outside your various organizations and institutions to exercise their constitutional freedom and also, fulfil their obligation to their creator, while fully reaching their potential in any chosen field of endeavour without fear of restriction or harassment."
https://www.dailytrust.com.ng/muslim-women-seek-nigerians-support-on-hijab.html
--------
Resolution Introduced in US Congress to Grant Asylum to Aasia Bibi After Pakistan Apex Court Overturns Death Sentence
February 1, 2019
Washington: A US lawmaker has introduced a resolution in the House of Representatives to grant asylum to Pakistani woman Aasia Bibi, claiming she was "persecuted" in that country for being a Christian.
Aasia Bibi has been persecuted, jailed and threatened for doing nothing more than being a Christian in Pakistan, Congressman Ken Calvert said.
The recent decision by Pakistan's top court to overturn Bibi's death sentence and free her from jail is obviously welcome news, the lawmaker said.
However, Asia continues to be in danger and is the subject of incendiary rhetoric by radical Islamist leaders. That's why it's essential for Congress and other defenders of religious freedom to stand up and protect her, Calvert said.
Recognizing the importance of granting asylum to those with legitimate claims of persecution for their religion, race, nationality, membership in a social group, or political belief; the resolution supports granting asylum in the United States to Aasia Bibi and her immediate family.
Bibi, a mother of four, may leave Pakistan shortly as there are threats to her life. Her two daughter had already shifted to Canada.
Pakistan said on Thursday that Bibi, who was recently acquitted by the Supreme Court in a blasphemy case, was a free citizen and has the right to travel anywhere inside the country or abroad.
A three-member Supreme Court bench on Tuesday threw out a petition seeking to review the apex court's decision to acquit 47-year-old Bibi.
She was arrested in 2009 for allegedly using derogatory words during a quarrel with Muslim women while working on a farm in Nankana Sahib area of Punjab province. The case was filed by a local prayer leader on the complaint of the Muslim women.
Bibi was convicted in 2010 by the trial court and her death sentence was maintained by the Lahore High Court in 2014. The apex court overturned her conviction last year, sparking days of violent demonstrations led by hardline Islamist parties.
Her case has been deeply divisive in Pakistan where there is strong support for the controversial blasphemy laws.
Bibi's case gained prominence when former governor of Pakistan's Punjab province Salman Taseer was killed in 2011 for supporting her and criticising the blasphemy laws.
A month after Taseer was killed, Pakistan's religious minorities minister Shahbaz Bhatti, a Christian who spoke out against the blasphemy law, was shot dead in Islamabad.
The blasphemy laws were promulgated by former military dictator Ziaul Haq in 1980s. A person convicted under these laws is given death sentence.
https://www.news18.com/news/world/resolution-introduced-in-us-congress-to-grant-asylum-to-aasia-bibi-after-pakistan-apex-court-overturns-death-sentence-2021229.html
--------
Arab Women Sports Tournament Announces New Organizational Structure
January 31st, 2019
Preparations for the 5th edition of the Arab Women Sports Tournament (AWST) – scheduled for the first quarter of 2020, were officially launched Tuesday with a round of preliminary meetings at the Sharjah Women Sports Foundation (SWSF) headquarters in Sharjah.
Attended by several heads and members of the tournament's organising committees, the meeting has explored initial requirements and put into place preparatory plans of the upcoming edition.
Sheikh Khalid bin Ahmed bin Sultan Al Qasimi, Head of AWST's Supreme Organising Committee; Nada Askar Al Naqbi, Deputy Head of AWST's Supreme Organising Committee, Head of AWST's Executive Committee and Director General of Sharjah Women Sports Foundation (SWSF), were among the important attendees, who joined organising committee members to affirm AWST's new organisational structure, and discuss other key topics in detail.
During the meeting, Nada Askar Al Naqbi shed light on the significant achievements of the past edition, and highlighted that the tournament's commitment to the highest standards of inclusivity and participation led to the number of competition disciplines rise to nine in 2018, including one debut.
The 2018 edition of AWST was its biggest ever, hosting 68 teams from 16 countries, represented by more than 1,000 athletes and administrative personnel.
New recommendations and solutions for the forthcoming edition were also presented at this meeting, to overcome certain logistical and technical challenges that were faced in the last edition, which resulted from widening the scale and scope of the event.
Supreme Organising Committee members of AWST 2020 were announced by Nada Askar Al Naqbi. They are: Mariam Yousef Al Hosani, Deputy Head of the Executive Committee; Maitha bin Dawi, Manager of AWST; Khawla Waleed, Head of the Secretariat Committee; Ali Hassan Al Amiri, Head of the Technical Committee; Yousef Al Taweel, Head of the Media Committee; Nour Hashem, Head of the Marketing, Events and Technical Support Committee; Lamiya Al Suwaidi, Head of the Award Ceremony Committee; Ali Al Hammadi, Head of Internal Relations Committee; Tharia Jalal, Head of the Financial Committee; Mariam Al Hashimi, Head of the Performance and Development Committee; Naser Ashour, Head of Safety and Security Committee; and Reham Mahmoud, Head of the Logistics Committee.
During the meeting, Sheikh Khalid bin Ahmed bin Sultan Al Qasimi, said, "The tournament is considered a benchmark for women's sport in the region today, which clearly reflects Sharjah's and the UAE's efforts to consolidate and advance the women's sports sector in the Arab world. AWST follows the vision of HH Sheikh Dr. Sultan bin Muhammad Al Qasimi, Member of the Supreme Council and Ruler of Sharjah, and his wife, HH Sheikha Jawaher bint Mohammed Al Qasimi, Chairperson, SWSF to offer Arab female athletes a world-class platform to come together to compete professionally and advance their international careers."
Nada Askar Al Naqbi added: "In its past four editions, AWST has certainly become a must-attend event in the Arab sporting calendar, which brings together world-class sportswomen and athletes to compete in a unique environment. We hope the 2020 edition of the tournament will break the previous edition's participation record to ensure more value is added to the competitions it hosts. Building on the great success of the 4th edition, next year to allow for an even more vibrant gathering of talented Arab female athletes to represent the progress of women's sports industry locally and around the Arab World."
https://www.albawaba.com/sport/arab-women-sports-tournament-announces-new-organizational-structure-1246470
--------
Belgian Woman Stabs Daughter for Converting to Islam
By Ahlam Ben Saga
Jan 31, 2019
Rabat – The Brussels Criminal Court has sentenced 54-year-old woman to three years in jail for attacking her 19-year-old daughter. The woman had stabbed her daughter in the abdomen and under the chin after she had converted to Islam and secretly married a Muslim.
The judge stated that the sentence would show the mother that her behavior was "unacceptable," reported Belgian news outlet DH.be.
The Muslim convert married a Muslim man without telling her Orthodox Christian family.
The mother said that she had lost control because she was afraid she would not see her daughter anymore. The daughter does not want to see her mother again, according to the mother's lawyer, Olivier Martins.
While an exact figure of Belgium's Muslim population is not available, Muslims make up an estimated 4 to 6.5 percent of the country's population.
The main religion in Belgium is Christianity, primarily Roman Catholicism, followed by Protestantism and Eastern Orthodoxy.
Islamophobia in Belgium
Late in December, a hooded passerby assaulted a veiled Moroccan woman on a street in Anderlecht near Brussels, by punching her in the face and fleeing.
The woman called for Belgian authorities to bring the assailant to justice. Social media users described the violence as "a shameful Islamophobia," after they had watched a viral CCTV footage of the attack.
The Muslim Executive of Belgium (EMB) has strongly condemned the attack and expressed solidarity with the Moroccan woman.
Islamophobic attacks are not uncommon in Belgium.
According to data gathered from victims by a local anti-Islamophobia association, 76 percent of Islamophobic attacks in Belgium targeted women in 2017.
https://www.moroccoworldnews.com/2019/01/264818/belgian-woman-daughter-islam/
--------
Accused Of Being Informer, Girl Shot Dead At Point Blank Range in Kashmir
February 1, 2019
A group of terrorists had abducted her and shot her at point blank range. Minutes after the incident, the video, which is extremely disturbing in nature was circulated. The police have advised people not to share the video. In the video the girl is seen seeking pardon before she was shot down.
The girl identified as Ishrat Muneer Bhat of Dangepora, Pulwama was abducted and later shot dead from point blank range at Cherbagh area of Draggad in Shopian. The police said that the girl is the maternal cousin of slain terrorist Zeenat-ul-Islam. While the police is yet to ascertain the reason behind the killing, it is suspected that it was the information given by her that led to the killing of Islam in an encounter last year. Islam was one of the most dreaded terrorists in the Valley and had been graded A++. He was killed along with his associate at Katpora in Kulgam.
https://www.oneindia.com/india/accused-of-being-informer-girl-shot-dead-at-point-blank-range-in-kashmir-2845101.html
--------
How The Muslim Brotherhood's Women Activists Stepped Up In Egypt
Anwar Mhajne
Feb 01, 2019
Following the military coup in Egypt in July 2013, more than 50,000 members of the Muslim Brotherhood movement have been imprisoned, including the senior leadership.
These vacancies have pushed women activists in the movement to play a bigger role within the organisation, building upon decades of political and organising experiences that have been enriched by the movement's short-lived experience as a political party - the Freedom and Justice Party (FJP) - in Egypt in 2011-2012.
Before the 2011 popular uprising as women activists were demanding greater representation within the movement's structure and hierarchy, at the same time, they were also facing the regime's repression.
The women's growing visibility and activism after the popular uprising have rendered them a target by the state.
A marginal role
Initially, women activists in the Brotherhood had a limited role focusing on social work, such as sheltering poor families. Gradually, they moved into the political realm when under Hosni Mubarak's rule (1982-2011) they increasingly focused on mobilising political and financial support for the imprisoned male members of the group who were deemed a "security threat" by the state.
The Brotherhood's women activists broke new ground when they played an instrumental role in running media campaigns for the movement's candidates during national parliamentary elections in 2005 and in 2010, building on women's access to people via mosques and welfare organisations.
Before the January 2011 popular uprising, women's role was viewed by the government as marginal and, therefore, there were very few occasions when women were targeted by the state repression machine.
Another contributing factor to the limited role played by women activists before 2011 was the restrictions imposed by the male leadership who did not want to expose women activists to any form of state repression.
The Mubarak regime avoided imprisoning women by using other tactics. For example, in the 2000 elections, when Jihan al-Halafawi, a senior woman activist in Alexandria, ran against the ruling party's candidate, the state tried hard to pressure her to withdraw from the race by arresting her husband, who was also a Brotherhood member and her campaign manager.
Security officials offered to release her husband in exchange for her withdrawal from the elections.
With the opening up of the political space between February 2011 and June 2013, the women activists' political engagement expanded even further, both through public activism and within the MB structure.
Expanding political engagement
The Muslim Brotherhood's women activists served in the FJP's secretariats across Egypt focusing on women's political awareness and media relations committees. They began to ascend to higher leadership positions.
For example, after the presidential elections in June 2012, Omayma Kamel was appointed as a member of the Constituent Assembly delegated with drawing up the constitution and also served as a presidential aide to president Mohamed Morsi.
Moreover, Dina Zakaria was appointed as the spokeswoman for the FJP. As of 2012, the MB allowed women to be elected as heads of the regional women's committees. These committees communicated directly with the Guidance Bureau, the highest decision-making body within the movement. Previously, such positions were held only by men.
However, women still did not hold any senior positions in the FJP or the MB. Sabah al-Sakkari, a member of the party's secretariat who ran for the FJP chairmanship in 2012, failed to obtain the required number of signatures to run in elections.
After the coup, due to the bloody crackdown of President Abdel Fattah el-Sisi's government against the movement, many women activists moved from organising politically as members of the FJP to organising independently, including working to document and highlight human rights violations.
For example, during the Rabaa sit-ins, women activists founded the Women Against the Coup (WAC), the first of several women-only resistance movements established following the 2013 coup and crackdown on the movement. It remains the most active organisation for women's mobilisation across Egypt.
Initially, women would take part in demonstrations, talk to media outlets about the violence inflicted by the regime against the protestors, and report to human rights organisations such as Human Rights Watch on these violations.
For example, Asmaa Shokr, the spokeswoman of the organisation abroad, has been speaking to national and international outlets on the human rights abuses of Sisi's regime against women.
Documenting human rights abuses
The growing mobilisations of the Muslim Brotherhood's women activists against the state has led to their targeting on 19 July 2013, when security forces killed three women activists in Mansoura who participated in an anti-government demonstration.
Since then, they organised women-only marches in Egypt and in exile. The women activists made violence against women a central theme for sustaining the support for their mobilisation.
Women activists began providing data on cases of violence against women as early as November 2013. Additionally, to increase the impact of their activism and role in the opposition, they allied with prominent leftist organisations that resisted the coup such as the Hisham Mubarak Law Centre, which provided the activists with training in international human rights.
Although many organisations in Egypt abandoned working or reporting on human rights violations against the Brotherhood and the Sisterhood, some even attacked the peaceful protestors and blamed them for being killed.
Women activists have also reached out to international human rights organisations, such as Human Rights Monitor and Insaniya.
Their main work abroad focuses on communicating the reports of human rights abuses against the opposition in Egypt, which is significantly comprised of the MB and their supporters, to the wider international community through interviews with media outlets, sharing their reports with international NGOs such as Amnesty International and on social media outlets such as Facebook and YouTube.
The data for such reports is being collected by women who are still in Egypt.
Ideological divisions
The backlash against the Brotherhood since 2013 has resulted in organisational and ideological divisions within the group over how to respond to Sisi's repression. It has divided the Brotherhood into two factions: the old leadership versus the young revolutionary members.
The division over which strategy to follow to confront Sisi's regime intensified in 2014, following the group's designation as a terrorist organisation.
Although the youth have embraced a confrontational and revolutionary approach, the old leadership adapted a more accommodating position toward addressing regime repression to allow bargaining and reconciliation.
In February 2014, the youth pressured the group to hold internal elections to reform its governing bodies and fill the leadership void after the arrest and exile of a large number of its senior members.
This ideological difference also divided the Sisters, although in lesser numbers. The majority of the women activists sided with the old guard or took a neutral position regarding the division. For example, Asmaa Shokr, a woman activist based in Istanbul, said that she was not supportive of the division, even though she wanted changes to the group's old approach.
In addition to physical repression, the Muslim Sisters have been the target of smear campaigns.
The National Council for Women (NWC), and other institutions with government ties have criticised women's participation in the Rabaa sit-ins, accusing the Brotherhood of "using women and children as human shields", to discredit the Muslim Sisters' activism following President Morsi's overthrow by both denying their agency and accusing them of using terrorist tactics.
An article in the pro-government Egyptian daily Youm 7 further accused the Sisters of "organising terrorist attacks" in Egypt, including the assassination of Attorney-General Hisham Barakat.
Equal players
According to the report, the women's organisation allegedly "receives assignments from abroad through social media, and it communicates this information to the imprisoned Muslim Brotherhood officials who then give coded orders to carry out the terror attacks".
Eventually, in July 2016, the Cairo Court of Urgent Matters banned Women Against the Coup's activities inside Egypt. Now, the organisation is operating from abroad, and some of its founders, such as Asmaa Shokr, live in exile in Turkey with their families.
Yet while their visibility in public political life has made them targets of the state (albeit to a lesser degree than men), it has also made it harder for Muslim Brotherhood leaders to ignore women's demands for a bigger role in the organisation and its structure.
Dina Zakaria, an activist, explained: "When the military coup took place, women took the decision to be part of the resistance. No one can tell [women] to stay at home because they are under threat."
"This led the Egyptian MB in Turkey to consider drafting bylaws in January 2017 to set a quota for women's participation in the movement's Shura Council, which functions as both an executive board and a parliament."
Moreover, last year, the Brotherhood elected the first female member of its Shura Council in Turkey. This visibility of their political and social activism, as well as the state's targeting of the Sisters, has made it impossible for the Muslim Brotherhood's male leadership to ignore women activists as equal players.
https://www.middleeasteye.net/big-story/how-muslim-brotherhoods-women-activists-stepped-egypt
--------
URL: https://www.newageislam.com/islam-women-feminism/saudi-female-activist-tortured-palace/d/117619
New Age Islam, Islam Online, Islamic Website, African Muslim News, Arab World News, South Asia News, Indian Muslim News, World Muslim News, Women in Islam, Islamic Feminism, Arab Women, Women In Arab, Islamophobia in America, Muslim Women in West, Islam Women and Feminism