New Age Islam News Bureau
13 May 2016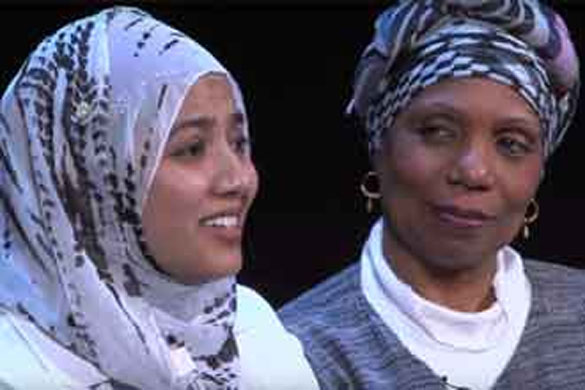 Photo: (Screenshot from the Youtube recording of the Hijabi Monologues: Part 7 - Hitting on a Hijabi - This was a Dublin performance.)
--------
• Women Lead the Way against Anti-Arab, Islamophobic Hostility
• First Muslim Woman Elected As Speaker in German State Parliament
• Google Proposes 13 New Emojis to Better Represent Women
• Labour's Harman and Stuart Debate Women's Rights
• Arab Women's council to host mentorship program
• Windermere designer to open one of nation's first Islamic boutiques inside mall
Compiled by New Age Islam News Bureau
URL: https://newageislam.com/islam-women-feminism/saudi-family-therapist-advice-wife/d/107290
------
Saudi Family Therapist Advice about Wife Beating With Tooth-Cleaning Twig – Or With a Handkerchief in Online Video
Thu May 12 2016
A video has emerged online which shows a Saudi Arabian family therapist offering advice regarding wife beating, it has been reported.
The video by Khaled Al-Saqaby was reportedly recorded earlier this year but was translated and released by the Washington DC-based Middle East Media Research Institute last month.
In his video, Al-Saqaby says he is "aware that this issue is a thorny one, which contains many hazards," according to The Independent.
Al-Saqaby further adds "But Allah willing, we will cross this bridge safely," suggesting that the aim of beating a wife "is to discipline, not to vent one's anger."
"The necessary Islamic conditions for beating must be met," he stresses.
The family therapist suggests the beating should not be performed with a rod or sharp object, but instead with a tooth-cleaning twig or handkerchief.
"The beating should not be performed with a rod… nor should it be a headband… or a sharp object, which, I am sad to say, some husbands use," he says, adding that "It should be done with something like the sewak tooth-cleaning twig – or with a handkerchief."
"Because the goal is merely to make the wife feel that she was wrong in the way she treated her husband," he explains.
According to Al-Saqaby a husband reminds her of his rights and of her duties, 'according to Allah', before one beats his wife.
Al-Saqaby also recommends the husband ignores his wife in bed, by turning his back on her or if he or she sleeps on the floor, but suggests the husband does not go to another house, as the point "is to discipline the wife, and not to air your dirty laundry in public".
He calls arguments among couples as th first reason a man may beat his wife, saying "Unfortunately, some wives want to live a life of equality with their husband," he says. "This is a very grave problem."
Other women make mistakes which may lead their husbands to beat them, Al-Saqaby says, adding that there are some situations where a wife may hit her husband, because of his "faulty upbringing" in which he may have seen his father hit his wife and be "imitating their behaviour".
He also says he is "sad to say" some women provoke their husbands to beat them.
khaama.com/saudi-family-therapist-advice-about-wife-beating-in-online-video-0922
---
Women lead the way against anti-Arab, Islamophobic hostility
Thu May 13, 2016
NEW YORK - In the United States, Islamophobic and anti-Arab sentiments have risen to their highest levels since 9/11. Faced with a swell of hate crimes, harassment and hostile political rhetoric, many Muslims and Arabs are resisting the tide. And as more members of these communities mobilise against prejudice, many women are taking leading roles.
One prominent figure in this cause is Linda Sarsour, a Brooklyn-born activist with a growing national following and an electric speaking style. Describing herself as "every Islamophobe's worst nightmare", Sarsour is committed to "shattering stereotypes" about Arabs and Muslims through her activism and online political talk show. While she is proud of her Palestinian roots and Muslim identity, Sarsour is also a long-time champion for "intersectional activism," partnering with organisations like Black Lives Matter and Jewish Voice for Peace, in addressing issues including police brutality, the living wage, and racial justice.
In a profile for feminist magazine Refinery29, Sarsour resists the idea that Muslim women should be subdued or treated as second-class members of the faith, saying this is antithetical to Islam. Rather, Sarsour points to the "millions of Muslim women across the world, and particularly in the United States, who are strong, educated, and make a difference in our society".
In 2001, Sarsour founded the Arab American Association of New York (AAANY), where the mostly female staff offers social services, legal counsel and adult education to the Arab immigrant community of New York City.
Mirna Haidar, a Lebanese activist and lead organiser and advocacy trainer at the association, says members of the Arab community have faced increased discrimination in recent months, but notes that women who wear the hijab (head scarf) or niqab (full face veil), often face the brunt of this aggression.
"Many of the women in our community are afraid of facing physical attacks," says Haidar, "and lots of them really believe they're in danger of being deported if Trump wins."
Aiming to empower these women in the face of these increasing challenges, Haidar heads up Arab Women Activists and Leaders (AWAL) at the AAANY. This group meets weekly for activities ranging from "know your rights" workshops to "healing circles," where women can share openly about the challenges they face at home and on the street.
The group also conducts self-defence classes designed for women who wear the hijab. "We're keen on loading our women with the tools they need to stand up for themselves against hate rhetoric, hate crimes, and Islamophobia," says Haidar.
Post 9/11
For Sahar Ullah, a Floridian of Bangladeshi descent, her experience as an American Muslim woman has changed drastically in the years since 9/11. Ullah recalls growing up among a mostly non-Muslim community in Fort Lauderdale, FL, and says that "being Muslim" was mostly a private concern.
"The main 'identity issues' back then," recalls Ullah, "was that there were so few of us, and without social media the way it is today, we could only connect to one another by gathering in person."
After the events of September 11 and the ensuing "war on terror," Ullah gradually felt a new sense of exposure and suspicion.
"We started experiencing surveillance in our mosques, and more attention from the police," recalls Ullah. "It was like a coming of age moment for our community. We learned then that we couldn't trust everyone."
While this came as a shock to many in her mosque, Ullah noted that these issues "were affecting a lot of African American Muslims even before 9/11".
Ullah, like Haidar, feels that women in the Muslim community face unique challenges. Ullah's headscarf has attracted verbal assaults on several occasions, but she has also grown weary of the subtler prejudices attached to the hijab. Even when "hijabis" are not being accused of terrorist loyalties, Ullah notes women who "cover" are often depicted as suppressed, weak, and hyper- or hypo-sexualised.
Muslim women speak for themselves
Tired of these reductive portrayals, Ullah and two friends founded the Hijabi Monologues in 2006. Loosely modelled after Eve Ensler's Vagina Monologues, the production features first-person stories written and performed by Muslim women. "We wanted to give these women a platform, and the freedom to speak for themselves," says Ullah.
Now in its tenth year, the Hijabi Monologues has been performed in dozens of cities in the US and abroad and has reached thousands online. One of her favourite things about the production, says Ullah, is "it's not really about the hijab at all". Ullah laughs as she describes the predictable surprise of the "well-intentioned liberal white audience," who come seeking a dose of multiculturalism and are treated to much more. The monologues are bold, sincere, and often funny, touching on "normal" issues like relationships and self-esteem as well as larger themes like racial justice and reproductive choices.
Ullah says audiences have been "incredibly responsive" to the production, but admits that this can often bring bittersweet revelations. "Ever since we started, there are a few comments that we receive at every show. There are always people, lots of people, who say they're shocked at how 'normal' the issues are, and how much they relate to us." Ullah pauses. "That's kind of sad, isn't it? But that's why we're doing the show."
Looking ahead, Ullah hopes that this momentum will continue to build, and says she is excited to see an increasing number of Muslims and immigrants engaging in arts and culture in the West. "We have more filmmakers, writers, and photographers than ever," says Ullah, "and they don't have to be creating art that's about being Muslim. They're just producing good work, being present in the scene. That's the most important step."
Ullah notes that some of these efforts are directed inward, including an increased movement among the Muslim community for more gender equality in religious spaces. "That's really important too, and some people are finally talking about it."
Targeting inequality
One of the louder voices in this vein is the group Women In Islam, founded in 1992 by Aisha al-Adawiya in reaction to a slew of rapes of Muslim women in Bosnia. At a recent panel discussion hosted at the United Nations, al-Adawiya described Women in Islam as a "human rights organisation, first and foremost". With this in mind, Women in Islam targets inequality within the Muslim community.
One particular focus of the group is promoting equal access to religious spaces in the United States, where women are often corralled into basements or backrooms. Al-Adawiya, in advocating for change, says she is not a "reformer," but rather is "working to reclaim the original message of inclusivity preached by Islam." In her view, cultural suppression of women is a contradiction of the true values of the religion.
While Sarsour, Haidar, Ullah, and al-Adawiya would all be quick to point out that their identities encompass more than their religious, racial, and gender labels, they recognise the political urgency of their work in these arenas.
"We don't want to just talk about one part of our identity. We want to transcend the boxes people put us in," says Ullah, "but to do that, we first have to own who we are, our racial, religious and ethnic identities. These things influence our experience, but they don't define us. They matter, but our message is: there's more to the story."
middleeasteye.net/in-depth/features/women-lead-way-against-anti-arab-islamophobic-hostility-2010017185
---
First Muslim woman elected as speaker in German state parliament
Thu May 12 2016
The first Muslim woman has been elected as the speaker of a state parliament in Germany in what she hailed as a "historic" step for the country.
Muhterem Aras, a Green Party politician, took the post in Baden-Württemberg from a member of a populist anti-immigration party on Wednesday.
"We wrote history today," she said after sweeping in with a significant majority.
Ms Aras, 50, said her victory sent a message of "openness, tolerance and successful integration", The Local reported.
Born in Turkey, she moved to a town near Stuttgart with her parents as a child and studied economics before founding her own tax advice firm.
Her political career started in 1992, standing for the Greens on the local council and rising through the local party to become its local leader and enter the Baden-Württemberg state parliament.
She was elected as "Landtagspräsident" by 96 local MPs, becoming the first Muslim woman to take the office.
The election came amid continuing tensions over religion, immigration and extremism in Germany, where a man reportedly shouting "Allahu Akbar" stabbed four people at a railway station on Tuesday.
Members of the anti-immigration party Alternative for Germany (AfD) refused to join the applause during Ms Aras' first session as speaker, the Süddeutsche Zeitung reported.
Earlier this month, the party enjoyed record success in local elections on a manifesto that claimed Islam was not compatible with the country's constitution and called for a ban on minarets and the burqa.
A poll released on Thursday indicated that almost two-thirds of Germans think Islam does not "belong" to their country.
The survey results indicated changing attitudes following the Paris and Brussels attacks and the arrival of more than a 1.1 million refugees in the country.
Around 60 per cent of the 1,003 respondents said the religion had no place in Germany, while 34 per cent said it did.
independent.co.uk/news/world/europe/first-muslim-woman-elected-as-speaker-in-german-state-parliament-a7026551.html
---
Google proposes 13 new emojis to better represent women
May 13, 2016
A group of Google employees has developed a set of 13 new emojis they believe will better represent and empower the modern woman.
The team submitted their proposal for emoji gender equality this week to the Unicode Consortium, the Silicon Valley tech organisation that oversees the creation of new emojis.
The new emojis show woman in roles such as doctors, tech workers, mechanics, farmers, educators and rock stars.
"We believe this will empower young women (the heaviest emoji users), and better reflect the pivotal roles women play in the world," the proposal explains.
"No matter where you look, women are gaining visibility and recognition as never before. Isn't it time that emoji also reflect the reality that women play a key role in every walk of life and in every profession?"
'Where was the fierce professor?'
The lack of diverse emojis hit author and assistant professor of English at Ohio Wesleyan University, Amy Butcher, when she found out her friend had received tenure and she wanted to send a congratulatory text.
But for all the emojis in her phone's library, not a single one captured the sentiment she wanted to communicate. There were no professional women.
"Where, I wanted to know, was the fierce professor working her way to tenure? Where was the lawyer? The accountant? The surgeon?" Ms Butcher wrote in an op-ed for the New York Times.
"How was there space for both a bento box and a single fried coconut shrimp, and yet women were restricted to a smattering of tired, beauty-centric roles."
What about an emoji of a man ironing?
Jeremy Burge, the founder of Emojipedia and member of the Unicode Consortium's Emoji Subcommittee, said there had been consensus among subcommittee members for "quite a while" that something should be done about the gender inequality of emojis.
"Part of the proposal is that it would include professions that are more representative of the global audience, particularly ones that women are involved with," Mr Burge told RN Drive's Patricia Karvelas.
In an ideal world, there may also be a male dancer emoji, a male hairdresser emoji, and perhaps even an emoji of a man doing the ironing.
However, the process of getting the emojis from proposal stage onto people's keyboards could take as long as 18 months, Mr Burge said.
"It's a pretty slow process ... big tech companies have to agree on what to do together," he said.
Even Michelle Obama is on board
Previous campaigns to improve emoji diversity have resulted in the addition of more racially diverse characters as well as emojis in same-sex relationships.
The demand for more representative emojis has even captured the attention of US First Lady Michelle Obama, who in March tweeted that she would like to see an emoji of a girl studying.
"There should be a cop [emoji] that's a girl, and a lawyer [emoji] that's a girl, and a detective [emoji] thats a girl," another says.
If everything goes according to plan, the young women might have their requests met sooner rather than later.
As the Google team wrote in its proposal: "Given the urgency to improve the representation of women in emoji, we recommend standardising these characters as quickly as possible."
abc.net.au/news/2016-05-13/google-proposes-13-new-emojis-to-empower-women/7412504
-----
Labour's Harman and Stuart debate women's rights
13 May 2016
Ms Harman and Ms Stuart are Labour colleagues on opposite sides of the EU referendum campaign
Campaigners fighting for women's votes in the EU referendum have clashed over whether it protects their rights.
Harriet Harman, Labour former deputy leader, said EU membership meant there was a "floor that is guaranteed" on equal pay and maternity leave.
But Labour MP Gisela Stuart, of Vote Leave, said the UK had gone further on those rights than the EU once they had been established.
Reports suggest women are more likely to be undecided on which way to vote.
Ms Harman told BBC Radio 4's Woman's Hour: "I don't blame them for that, there's a lot of people shouting at each other and not doing facts.
"I think we owe it to women in this country to say: 'Look, this is how we see the EU's affected your life'."
'Fat chance'
Ms Harman said there was a "phoney perception" that hard-won rights for part time workers and on issues like maternity leave and pay would remain in place regardless of whether the UK was in the European Union or not.
"If I thought that all men in politics on all sides agreed with these rights then I would say: Yeah, we don't need those European guarantees anymore. But actually so often with women it's been two steps forward, one step back," she told Women's Hour.
"I've seen actually not only Conservative governments push back against rights from Europe but also Labour governments too saying: Sorry we just can't afford to do this at this time and oh no, the European Court is making us."
Women campaigning for equal pay outside the Trico factory in London in 1976Image copyrightGETTY IMAGES
"We've still got to be fighting our corner. I very strongly disagree with those women and men who say we are all equal now .. Would that were the case. Fat chance."
In a speech in London later she add: "Why should we trust the likes of Boris Johnson, Iain Duncan-Smith or Nigel Farage with our rights as women? Even if they say they'd guarantee not to go below the rights for women that the EU guarantees - I don't trust them as far as I can throw them. It's your rights which are at stake here - so nor should you."
But her Labour colleague Gisela Stuart, who chairs the Vote Leave campaign said there were no guarantees that the European Parliament, now dominated by right-wing governments, would not back-pedal on women's rights in future.
"They too can issue directives which can actually cut things," she told the BBC.
"There was a time under Jacques Delors when the European Commission was dominated by socialist governments and Margaret Thatcher in the United Kingdom didn't give us the rights we wanted and the European Commission did.
"Since then, when you look at it, what has happened is that at every stage basic rights which the EU started, in the UK, they are higher. Statutory maternity pay is higher in the UK than the EU. The leave is longer here. So what you've got is a very good argument for voting Labour."
She added that 50% of young people in Greece left unemployed were being "sacrificed in the interests of the Euro": "This notion that the European Union is this great paragon of social justice, think again."
And her fellow Vote Leave campaigner Suzanne Evans told the Guardian it was "utterly laughable" to suggest that "we need a bunch of former communist men in the EU Commission to fight for women's rights".
bbc.com/news/uk-politics-eu-referendum-36280541
-----
Arab Women's council to host mentorship program
05.12.2016
DEARBORN — The Arab American Women's Business Council, where women can become either a mentor or mentee and achieve personal development, kicks off its mentorship program at Habib's Cuisine on Wednesday, May 18, at 6:30 p.m.
The program involves matching up mentors and mentees based on the needs of mentees and the field of expertise of mentors who can support their needs. The matched individuals work cooperatively toward the achievement of agreed upon goals that will improve the mentees' skills, abilities and knowledge.
Not only does the mentee benefit, but the mentor also gains professional networking opportunities, personal development and fulfillment from helping mentees achieve their goals.
"I encourage professional women to join this program because there are many benefits to mentoring," Mervat Jaafar, board member of the AAWBC, said. "Some of those benefits include developing a sharper focus on what you need to grow professionally within your organization and elsewhere."
The minimum requirement for a mentee is a high school diploma or its equivalent.
The mentorship program started in 2007, the year AAWBC began, partnering with the University of Michigan until last year and providing mentorship to more than 100 students. Now, the program is associated with the Henry Ford College WINGS mentoring program.
Women interested in taking part of the mentorship program for 2016 are welcome. Members of the AAWBC pay $5 and non-members pay $10 to attend.
----
Windermere designer to open one of nation's first Islamic boutiques inside mall
Thu May 12 2016
As her model ducks behind the front of an ornamental plant for a modest-but-speedy headscarf change, designer Lisa Vogl sorts through a duffel bag stuffed with the Hijabs she still has to photograph.
Intricate latticework prints. Viscose and cotton fabrics tinted in dusty rose. Gray streaks rippling across a white background. Her model reemerges and snaps into position outside the Grand Bohemian Hotel in downtown Orlando, and Vogl meets her with a staccato of camera clicks.
"All right, switch!" the Windermere resident said after getting her shot. Another headscarf emerges from its cellophane wrapper. No time to waste for Vogl, an entrepreneur in the booming Muslim apparel industry who until now has sold her Verona Collection in an online boutique.
On Saturday, she'll celebrate the grand opening of a Verona Collection store at Orlando Fashion Square mall, where, for the first time, Florida shoppers can browse her designs in person. Local Muslims and an industry analyst say the store will break ground nationally as one of the first Islamic fashion boutiques to arrive in a mainstream U.S. mall.
"It's something that Muslim women need," Vogl said. "We're constantly trying to cover according to our religion, but yet we want to be fashionable."
Vogl converted to Islam in 2011 while enrolled in a photography program, her eye on a career in fashion. Initially, she thought her religious beliefs stood at odds with her aspirations, until she stumbled on the world of Muslim apparel.
Her online boutique has grown from selling a handful of simple designs to a whole line of flowing dresses, ruffled cardigans and extra-long tops that ship worldwide from distribution hubs in the U.S. and Europe.
The emergence of her Verona line coincides with a surge in Islamic purchasing power.
Muslim consumers shelled out an estimated $230 billion on clothing in 2014, or 11 percent of the global total, according the State of the Global Islamic Economy Report by Thomson Reuters and DinarStandard. By 2019, Muslim spending on garments and shoes could be closing in on half-trillion dollars, the study shows.
Last year, a headline in Fortune magazine declared Muslim women, "the next big untapped fashion market."
Designers are taking the hint.
In 2014, DKNY launched a line of flowing dresses and long skirts for the Muslim holy month of Ramadan. Luxury fashion house Dolce & Gabbana shook up the design world earlier this year with a lace-filled collection of Abayas and Hijabs.
But having more affordable options at the local mall changes the shopping landscape for Orlando's burgeoning Muslim population, which stood at about 28,000 in 2010, said Fatima Sadaf Saied, president of the Muslim Women's Organization.
Saied said when she was growing up in Miami, many Islamic women would trek once or twice a year to massive conventions in Chicago or Washington, D.C., to find clothes. Now, they more often shop over the Internet, but that means forgoing the ability to touch fabrics or test an outfit in the fitting room mirror.
Others scour the stores in what can be a fruitless search for the right top.
"You really never find anything that goes below the booty," said Vogl's business partner, Nadine Abu-Jubara.
But as the amount of fabric in a top or dress increases, so does the risk of ending up with something resembling a "big potato bag," she added.
"The word 'frumpy' kind of comes to mind. We don't want to be frumpy," the Orlando resident said.
Abu-Jubara felt the need for non-revealing workout clothes while striving to lose 65 pounds a few years ago. Often, she'd resort to wearing men's shirts to exercise.
Now, she's in charge of developing Verona's active wear and is working with Vogl to design swimsuits. She said what's currently on the market — full-body bathing suits called "burkinis" —too often come with unattractive hoods that create a squid-like look.
Vogl gave her Verona collection an Italian-origin name to reflect its Western aesthetic and said it appeals to Muslims who have grown up in the U.S. or Europe.
Verona model Rayyan Sokkarie, an 18-year-old wearing a thick flourish of eyeliner and a nose ring, is one of these target customers. Sokkarie, who also runs a fashion Instagram account with nearly 76,000 followers, said she and other Muslim students at the University of Central Florida are eager for Verona's doors to open.
"I go to regular stores like every other 18-year-old, like Forever 21 and Charlotte Russe, but sometimes in the summertime, everything is crop tops," Sokkarie said. "What am I supposed to do?"
Vogl and Abu-Jubara hope their new store will project a positive image at a time when Islamic fashion and public perception seem especially intertwined. Women who wear a headscarf are particularly vulnerable to Islamophobia because their Muslim faith is on display, Vogl said.
Only a few weeks ago, Vogl said she was at a stoplight, her two children in the car, when a man began yelling expletives at her
But sandwiched between The Limited and Dillard's, the 1,000-square-foot Verona store will have the potential to attract Muslim and non-Muslim shoppers alike and to dispel stereotypes through its fashion-forward designs, local Islamic women say.
"Beautiful is beautiful. It crosses lines," Saied said.
orlandosentinel.com/news/orange/os-verona-store-opening-islamic-fashion-20160512-story.html
URL: https://newageislam.com/islam-women-feminism/saudi-family-therapist-advice-wife/d/107290
New Age Islam, Islam Online, Islamic Website, African Muslim News, Arab World News, South Asia News, Indian Muslim News, World Muslim News, Womens in Islam, Islamic Feminism, Arab Women, Womens In Arab, Islamphobia in America, Muslim Women in West, Islam Women and Feminism