New Age Islam News Bureau
10 Dec 2014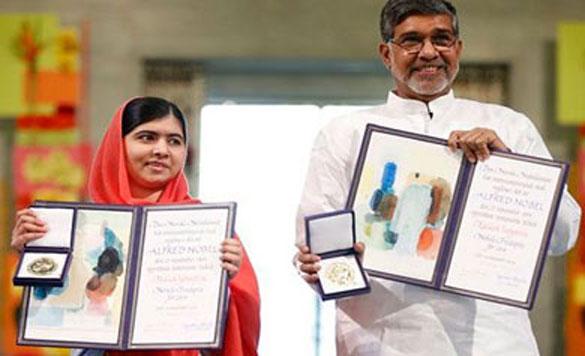 Nobel Peace Prize winners Malala Yousafzai and Kailash Satyarthi hold their Nobel Peace Prize diplomas and medals during the award ceremony in Oslo. (Photo: AP)
----------
• Nobel Laureate Malala Yousafzai 'Hopes To Be Pakistan PM'
• Mass Polygamy in UK Muslim Community – Claim
• Black Veils and Tiaras: Syrian Refugee Women Seek Help from Islamists in Jordan
• A Native Daughter Returns to Afghanistan on Daring Mission: Educating Girls
• Families Reject 40 Saudi Women Ex-Convicts
• 'My Saudia Kitchen' Encourages Women to Cook Simply, Creatively
• Iraq's Sole Yazidi Lawmaker Calls for Help
• Malala and Kailash Satyarthi Receive Joint Nobel Award
Compiled by New Age Islam News Bureau
URL: https://www.newageislam.com/islam,-women-and-feminism/new-age-islam-news-bureau/saudi-experts-warn-against-family-intermarriage/d/100419
-----------------
Saudi Experts Warn Against Family Intermarriage
December 10, 2014
Experts in the Kingdom have warned against family intermarriages or marriages among relatives which leads to increased likelihood of genetic diseases including sickle cell tumours, blood diseases, and other genetic diseases among children. They also called on the media to raise awareness about the negative effects of such marriages.
Dr. Abdul Rahim Qari, internal medicine, haematology, and oncology consultant and director of the Qari Medical Center for Haematology and Oncology, said inbreeding is on the rise in the Kingdom with the majority of marriages taking place in rural or tribal areas.
With the rate of marriage between relatives in the Kingdom far exceeding that of Western countries, health problems are likely to remain an issue, he said. Although the health cases occur at a rate of 2 percent in every 100 marriages, the issues are often too complex and treatment can be very difficult or even impossible, he stressed.
According to Qari, the majority of diseases due to inbreeding include blood diseases, such as sickle cell anaemia or G6PD deficiency.
"There are recessive traits and dominant traits, and we find that sickle cell anaemia and thalassemia traits are recessive, which means that the emergence of this disease must be linked to genes in the father and the mother. There are so many genetic diseases, which may emerge in some of the children due to the gene being present in one of the parents," he explained.
He pointed out that medical examination of the prospective couple would greatly help to identify any issues and if the results show that there is a gene that could to diseases in the children, the government should refrain from issuing an approval for the marriage.
According to family, educational and psychological consultant Dr. Nadia Nasir, the phenomenon is mostly present in rural or provincial areas. "It is difficult to change the beliefs of these people despite awareness of genetic diseases," she said.
Dr. Mohammed Nujaimi, a member of the Islamic Fiqh Academy, added that Prophet Muhammad, peace be upon him, spoke openly about avoiding inbreeding. He said there is a consensus among doctors and jurisprudence experts on the issue, namely that preference should be given toward marrying a woman who is not a relative, due to the possibility of inherited diseases in children.
http://www.arabnews.com/saudi-arabia/news/672316
-------------
Nobel Laureate Malala Yousafzai 'Hopes To Be Pakistan PM'
December 10, 2014
Pakistani activist Malala Yousafzai has told the BBC ahead of receiving the Nobel Peace Prize on Wednesday that she hopes to pursue a career in politics.
She said that she may even aspire to be prime minister of Pakistan once she has completed her studies in the UK.
Ms Yousafzai has been jointly awarded the prize with Kailash Satyarthi, an Indian child rights campaigner.
Ms Yousafzai was shot in the head by Taliban gunmen in October 2012 for campaigning for girls' education.
She is the youngest ever recipient of the prize.
Inspiration
"I want to serve my country and my dream is that my country becomes a developed country and I see every child get an education," Ms Yousafzai told BBC HARD talk's Stephen Sackur in Oslo.
She said that she had been inspired by Benazir Bhutto - a woman who twice served as Pakistani prime minister before her murder in 2007.
"If I can serve my country best through politics and through becoming a prime minister then I would definitely choose that," Ms Yousafzai said.
The teenager said it was a great honour to win the prize alongside Kailash Satyarthi.
"I had this wish from the beginning to see children going to school and I started this campaign," she said.
"Now this peace prize is very important for me and it has really given me more hope, more courage, and I feel stronger than before because I see many people are with me.
"There are more responsibilities but I have also put responsibilities on myself. I feel I am answerable to God and to myself and that I should help my community. It's my duty."
'Disappointed'
At a joint press conference with Mr Satyarthi on Tuesday, the 17-year-old repeated her message that girls have as much right to an education as boys.
The laureates, who have split the $1.4m (£860,000) prize money, were nominated for their work to protect children from slavery, extremism and child labour at great risk to their own lives.
Ms Yousafzai said she was disappointed that the prime ministers of India and Pakistan were not attending the award ceremony.
But correspondents say that the presence of Ms Yousafzai and her Indian co-winner in Oslo has attracted hundreds of people into the freezing streets hoping to get a glimpse of them.
The Nobel committee said earlier that it was important that a Muslim and a Hindu, a Pakistani and an Indian, had joined in what it called a common struggle for education and against extremism.
http://www.bbc.com/news/world-asia-30407319
-------------
Mass Polygamy in UK Muslim Community – Claim
By John Bingham, Social Affairs Editor
10 Dec 2014
Polygamy is being practised on an "enormous" scale within the British Muslim community without any official attempt to stop it, it has been claimed.
A new study of the lives of Muslim women concludes that large numbers are being denied basic legal rights by being trapped in religiously sanctioned "marriages" which are not recognised in British law.
In some cases the women, often born abroad and brought to the UK for arranged marriages, are unaware about their true status for years on end.
The findings come from a study being presented to the House of Lords by the peer Baroness Cox, who has spearheaded attempt to impose new regulations on informal Sharia courts.
Aurat, a Muslim women's rights group based in the West Midlands, interviewed a sample of 50 women about their personal situations. Nine in 10 of the women described themselves as married but only one in 10 were in marriages recognised under English law having been formalised through a civil wedding or a ceremony in a Mosque registered for the purpose.
Many of the others had undergone a "Nikah" or marriage ceremony in their own home, often unaware that it lacked legal recognition.
Overall two thirds of those who identified as being "married" said that their husband had more than one wife and some had as many as four "wives"
But in some cases the women had not initially been aware of other wives, who live in separate houses.
One 32-year-old woman, given the name Ezzah in the report - although not her real name - told the researchers: "I found out afterwards that he had three more wives and he is still married to them.
"He lives with me but refuses to pay for anything. I live in his house that he bought but I claim benefits on it to pay his mortgage."
Another, called "Asifa", now aged 47, told how she had attempted to divorce her husband only to discover she was not properly married.
"I went to a lawyer who told me I had no legal rights as I'm seen as a girlfriend and not a wife. I just sat there in shock," she said.
Baroness Cox said: "You can't extrapolate straight from this but you can make a reasonable assumption that if this is not unrepresentative, this is clearly very widespread, and we are therefore dealing with enormous numbers.
"The implications for the women are very serious and it violates the fundamental principles of our country that bigamy is illegal and yet polygamy is condoned and allowed to flourish.
"It is just continuing without any comment or expression of concern but for the women it causes concern and they are suffering.
"But these are very closed communities and it is very hard to ascertain the exact extent to which this is happening.
"In some communities women … find great pressure not to speak out and bring shame on the community."
Lady Cox last year tabled a private member's bill to regulate unofficial sharia courts which she said compound the pressure on women in some communities.
"Our suffragettes paid a very high price for women to have their freedom and have their rights and if they saw what some of the Muslim women are suffering in this country they would turn in their graves," she said.
"It is putting the clock right back and anyone who is concerned about women's rights and our freedoms in this country should be deeply concerned by the predicament of these women.
"The gap between the de jure situation where everyone has access to the law and the de facto situation in this country is a chasm."
http://www.telegraph.co.uk/news/religion/11284421/Mass-polygamy-in-UK-Muslim-community-claim.html
-------------
Black Veils and Tiaras: Syrian Refugee Women Seek Help from Islamists in Jordan
December 10, 2014
AMMAN, Jordan – Girls giggle and examine each other's flower leis and plastic diamond crowns, which shimmer in stark contrast to their bulky black Niqabs, the full-face veils that expose only the eyes.
At a packed university hall on the outskirts of Amman, these 10 Syrian girls are not refugees today – they are queens, their mothers say. A celebration is being held for them in honour of the fact that they have memorized the entire Koran. The afternoon event was organized by a Jordanian Salafi non-profit called the Association of Al-Kitab wal-Sunnah, at the University of Applied Sciences.
"It's the happiest day of my life," says Adiba Shurbaji, the 40-year-old mother of Aisha, one of the teenage honourees. In a soft but emotional voice, she boasts that while it took her six years to memorize the Koran because she was virtually illiterate, "My daughter memorized it in six months, in which time she has experienced more love, more belief, more reverence."
An exalted tradition, memorization of Koran is taught in religious schools around the world. Mastering the correct pronunciation of its 6,200 verses earns the student the honorific title of hafiz, or "guardian" in Arabic.
The 10 teens here have accomplished the feat by pure repetition, and like all hafiz students, they are expected to continue practicing throughout their lives.
Like many of the families who have come here from various parts of Syria, Adiba Shurbaji and her eight children have endured a long and painful journey en route to the Jordanian capital, where she now lives. She fled Damascus two years ago and, unlike many, avoided the country's squalid refugee camps because she was seeking hospital care for a son who was severely injured by a bomb that exploded near their house.
Her special circumstances allowed her to avoid the standard security process that has increasingly forced refugees to stay in camps, once in Jordan. There are two main camps for Syrians, Zaatari and Azraq, in addition to other camps where Syrians reside along with other refugees from across the region.
Today, refugees are barred from entering Jordan proper unless they can be vouched for by a local resident – an impossibility for most, who arrive without any contacts and little more than the clothes on their backs. Thus, an estimated 80 percent of those who ended up at refugee camps here have used well-established smuggling networks to reach Jordanian cities, where they hope to find black-market jobs and ways to piece their lives back together on their own.
The small desert nation of just over 6 million is now host to more than 600,000 Syrian refugees, the majority of whom are dispersed in poor neighbourhoods of urban areas rather than in the refugee camps. As of early November, 1.15 million Syrians have registered with the United Nations in Lebanon, 1 million in Turkey, 220,000 in Iraq, and 140,000 in Egypt. Hundreds of thousands more are flowing into those countries, unregistered.
In Jordan, the Zaatari camp has burst at the seams with a population of more than 100,000, making it the second-largest refugee camp in the world. The camp boasts electricity, a number of paved streets, and small businesses operating on a main commercial strip dubbed "Champs Elysees," and aid agencies are scrambling to manage the residents of this enormous area, which was originally conceived to be a transit stop but has become an informal sort of metropolis.
At the newly opened, strictly policed UN-run Azraq camp, which is also expected to house around 100,000 refugees, officials hope that better organization and regulations will prevent some of the problems that have plagued Zaatari, such as flooding in the winter, rampant crime, and riots and demonstrations sparked by poor living conditions.
Feeling of belonging
The Syrian migrants are joining Jordan's more than one million Palestinian and Iraqi refugees. Native residents are quick to explain how the latest influx is weighing on the country's already fragile economy and infrastructures.
Still, many newly arrived Syrians have apparently developed a feeling of belonging in their new home, thanks in part to Al-Kitab wal-Sunnah, the largest Islamist organization catering to Syrian refugees here and, especially, to women. To more than 300,000 registered members, it offers an extensive list of programs ranging from physical and psychological rehabilitation centres for victims of sexual abuse, to handicrafts workshops to help women integrate into the informal economic market, to free lecture series on Islam.
Sheikh Zayed Hammad, president of the charitable organization and one of its founders, says that while aid provided by international organizations like the UNHCR, the United Nations refugee agency, has been essential, it reaches only about 10 percent of those in need in Jordan.
The 2014 budget in Jordan for that UN group is estimated at $430 million, with the majority of funds allocated to emergency-response services such as providing food, water, shelter and basic medical care. But as the war rages across the border, the majority of Syrians arriving here are looking for a more sustainable and long-term way to survive, and are willing to venture out into the cities alone, even without the promise of aid.
Even in the camps, services are dwindling. This month, the UN announced that it had suspended a vital food-aid voucher program that helped feed 1.7 million Syrian refugees in neighbouring countries – a development described by Ertharin Cousin, executive director of the UN's World Food Program, as "disastrous for many already-suffering families."
According to Hammad, international humanitarian aid groups are ill prepared to provide long-term sustenance to an expanding refugee population.
"Western aid groups are interested in diagnosing the problem and not treating it, but where are the educational, rehabilitative, psychological health centres that can take on the huge number of Syrian refugees in Jordan?" he asks. "The main difference is that we have a wider scope, funded by $100 million in private donations from Qatar, Saudia Arabia and Kuwait."
Hammad adds that he believes that the governments of the Gulf states, flush with petrodollars, have been dodging the responsibility for looking out for their three million Syrian Muslim brothers – half of whom are children – who are seeking refuge in neighboring countries such as Jordan, Turkey and Lebanon.
For ultra-conservative Syrian women, studying together now in Jordan affords them a new opportunity to explore their faith as a community, says Amina Tahan, 30, almost screaming so as to be heard over a group of women reciting Quranic verses in the next room. Historically, Islamist political and social activities were strictly forbidden under the secular regimes of both Bashar Assad and his father Hafez. Syrian intelligence regularly monitored Islamic gatherings, and men suspected of forbidden religious activity were interrogated and imprisoned.
Tahan says she believes that "every Muslim is a Salafi because they believe in the Salaf as-Salih" – the first three Muslim generations of "pious predecessors," whom Salafis aim to emulate – "but in Syria [espousing belief] was confined to the home," she says, responding to criticism of Salafism as an inherently radical trend. Tahan says that while groups like the Islamic State, also called ISIS, claim to be carrying out the Salafi mission, the majority of the world's Salafis are nonviolent and non-political.
In Jordan, she adds, it has been a blessing to be able to discuss her religion in public with other like-minded women.
Tahan: "When I came here I didn't want to just sit at home, I wanted to work and share my knowledge, which I believe is the way to improve and change society."
A teacher who originally comes from the countryside near Damascus, Tahan now gives religion classes at the Al-Kitab wal-Sunnah women's centre, and participates in a special Koran class taught via Skype by a teacher in Saudi Arabia.
Lone women, prowling men
According to figures published by UNHCR, roughly a quarter of Syrian refugees fleeing the ongoing war at home are lone women whose husbands remain in or have been killed in Syria; these women are now charged with providing for an entire family. The UN study of tens of thousands of Syrian refugee households found that "many refugees have reached the limits of their ability to cope."
"Syrian refugees in Jordan are hanging on by a thread – struggling to keep a roof over their heads and to earn enough money to get by," said Andrew Harper, the UNHCR representative in Jordan, in a recent report.
While Syrians are barred from working in Jordan's public sector, newly widowed 39-year-old Rawda Azz'ubi, a mother of six from Daraa, has found a paid administrative position at the Al-Kitab wal-Sunnah women's center.
Since the UN recently stopped providing Azz'ubi a monthly allotment of 200 dinars ($300) for reasons she still fails to understand, her modest salary has allowed her to resist requests to marry off her youngest daughter, who is 18.
The influx of Syrians has caused inflation that has, in some areas, priced even Jordanians out of the market, making rent a primary concern. From 2012 to 2013 rental prices in some locations have risen by 15 to 20 percent, and account for two-thirds of refugees' expenses, according to a UNHCR report.
"It's difficult to pay the rent, but since coming here I have learned much about patience and endurance," says Azz'ubi.
For her part, Mona Zakkan – whose husband and son were killed in Syria – is lucky to have another son, whose sporadic menial jobs enable them to pay their rent of 175 dinars ($250). But poverty has made her and her daughter vulnerable to prowling men in search of a Syrian bride.
When the Syrians first arrived two years ago, teachers approached the refugee girls at school and took a tally of who would be interested in marriage. Zakkan says she has turned down a steady flow of proposals both for herself and her daughter, now 13.
While the minimum marital age in Jordan is 18, the law permits marriage from the age of 15 if it is overseen by a sheikh and agreed to by all sides. But many marriages between older men and young teenage girls – a practice common in the Middle East, including in rural Syria – are simply not registered, aid workers say.
Moreover, Syrian widows and young women are at risk of sexual exploitation under the pretense of "protection marriages," meant to preserve the women's honour, according to aid organizations. Wealthy men from around the Arab world seek Syrian brides in Internet forums, classified ads and match-making networks, and have been encouraged in their search by fatwas issued by Saudi clerics, who define this as a form of Islamic charity.
"What we experience here is a war on Syrian women," says Zakkan, adding that while she finds comfort with the "respectable" Syrian men and women within the framework of the al-Kitab wal-Sunnah organization, "We still hope to return to our home, the day after tomorrow," she says, referring to Daraa, Syria. "Even if just to a pile of stones."
http://www.haaretz.com/news/middle-east/.premium-1.630807
-------------
Families reject 40 Saudi women ex-convicts
December 10, 2014
Forty Saudi women released from prison recently have been rejected by their families and now live in a shelter run by the Ministry of Social Affairs.
It was revealed by Mohammad Al-Zahrani, president of the National Committee for Prisoners, their Families and Ex-Convicts (Tarahum), who said that the committee needs three times its current budget to do its job properly. However, spokesman for the General Prison Directorate, Col. Ayoub bin Nuhait said only one percent of families with female members in prison, reject them on release. He said social workers and psychologists work with offenders, and their families, from the time they go to prison.
He said the directorate is trying to raise awareness that released prisoners are not "corrupted" members of society and have been rehabilitated. When a female prisoner is rejected by her family, the directorate assigns social workers to help resolve the matter.
Al-Zahrani said that the committee is entrusted with the welfare of released prisoners and their families and has a fund financed by the Ministry of Finance. The committee offers training and education scholarships for specializations needed in the labor market.
Al-Zahrani said previously those convicted for criminal offenses under Islamic law were not allowed to work or enroll in colleges. However, the late Interior Minister Prince Naif bin Abdulaziz, changed this and allowed young people to occupy military and civil jobs.
The directorate rehabilitates inmates for the labor market and provides them with projects even in small prisons. There are gold workshops, plumping and sewing courses available. The directorate opened a school to teach inmates to drive trucks at Dammam prisons, to Saudize this sector, he said.
http://www.arabnews.com/featured/news/672361
-------------
'My Saudia Kitchen' encourages women to cook simply, creatively
December 10, 2014
JEDDAH — "My Saudia Kitchen" campaign was recently launched for the second time with the aim to help Saudi women manage their daily responsibilities effectively while learning creative skills for a holistic culinary experience.
The three-month program, which runs from October 2014 until January 2015, offers live cooking demonstrations set up at SADAFCO booths across prominent shopping destinations in Jeddah, Riyadh, Dammam and Abha.
SADAFCO encourages women to cook with its wise "plan, cook and impress" concept by offering expert cooking advices.
According to SADAFCO Brand Manager Mohammed Rafeeq, "My Saudia Kitchen" campaign's first edition witnessed an overwhelming response from women across the Kingdom as it addressed women's desire to further enrich their cooking skills in an innovative yet simple manner.
He added: "We are very excited to launch the second stage of 'My Saudia Kitchen' campaign, encouraging Saudi women to be creative while cooking and have an enjoyable and rewarding experience."
Chef AlSayed Abdulhaleem, who conducts live cooking demonstrations and respond to queries, said: "I was very motivated to work in this program because the 'My Saudia Kitchen' concept is something that we have never witnessed before in the Kingdom."
Abdulhaleem believes that many common mistakes are made in the kitchen mainly due to lack of experience, whether it is cooking food on a high flame, not tasting the food while it is being cooked or putting in too much salt.
"The good news is that all those blunders are the easiest to prevent in the future. Times have changed and the media has evolved; we now have specialized magazines, TV channels and websites all dedicated to provide cooking tips and recipes.
My advice to women is to never give up. You only learn by making mistakes and with practice you will inevitably enhance your skills and become better in meal preparation," Abdulhaleem said.
"My Saudia Kitchen" kicked off in Jeddah at Aziz Mall where more than 6,000 women visited the booth.
http://www.saudigazette.com.sa/index.cfm?method=home.regcon&contentid=20141209226895
-------------
Iraq's Sole Yazidi Lawmaker Calls For Help
December 10, 2014
WASHINGTON -- Iraq's only ethnic Yazidi member of parliament has called on the United States to step up efforts to help her community against acts of violence by the Islamic State (IS) extremist group.
Vian Dakhil told RFE/RL in Washington on December 9 that the United States should help release some 5,000 Yazidi women and girls who have been kidnapped by the Sunni militants.
Speaking through an interpreter, Dakhil said she is in touch with several of the young women being held captive, and that they complain of daily torture and rape.
The lawmaker said the United States should get those people back to their families "militarily" or through other means.
She also called on the United States to arm Yazidis in order for them to be able to defend themselves against attacks.
Dakhil also said that about 700 Yazidi families remained trapped on Mount Sinjar in northern Iraq, and that they should be transferred to a safe area.
Dakhil gained international attention in August after making an impassioned plea to the Iraqi parliament about Yazidis trapped on Mount Sinjar without food or water.
The area was surrounded at the time by IS militants.
Dakhil insisted that members of the Yazidi community still need help, including those who have taken refuge in camps in Iraqi Kurdistan.
She said these refugees are forced to live in tents and are not receiving enough aid.
She added that three Yazidi children have recently died after their tent caught fire.
Dakhil, who is still using a crutch because of injuries she suffered in a helicopter crash on Mount Sinjar in August, said the U.S.-led air strikes against IS militants have been "very effective" at the beginning of the campaign.
When asked about reports claiming that Iran has bombed IS targets in Iraq, she said, "Whoever fights IS makes me happy."
She also said that defeating IS fighters militarily was not enough, and that the group's ideology and ideas should be uprooted.
"What are you going to do with the people who support IS? What are you going to do with the mentality?" Vakhil asked.
She said children should be educated, adding, "Hopefully they can make a difference in the future."
The lawmaker, who has become the voice of Iraq's Yazidi minority, was in Washington to testify at a Senate subcommittee hearing on the IS group.
In her testimony, she called for a long-term solution to protect Yazidis from persecution and "annihilation."
She is also due to meet with senior U.S. officials during her visit to the United States, including the U.S. ambassador to the United Nations, Samantha Power.
http://www.rferl.org/content/iraq-sole-yazidi-lawmaker-calls-for-help/26734559.html
-------------
Malala and Kailash Satyarthi Receive Joint Nobel Award
December 10, 2014
Pakistani education activist Malala Yousafzai and Indian child rights campaigner Kailash Satyarthi have received the Nobel Peace Prize awards.
The Nobel committee described both laureates as "champions of peace".
Speaking earlier to the BBC, Ms Yousafzai said she would consider pursuing a career in politics if it was the best way to serve her country.
Mr Satyarthi said receiving the prize was "a great opportunity" to further his work against child slavery.
Ms Yousafzai and Mr Satyarthi received their awards from the chairman of the Norwegian Nobel committee, in the presence of King Harald V of Norway.
They are delivering their Nobel lectures during the award ceremony.
'Indescribable courage'
In his speech, Mr Satyarthi said he was "representing the sound of silence" and the "millions of those children who are left behind".
He said he had kept an empty chair at the ceremony as a reminder of the children without a voice.
"There is no greater violence than to deny the dreams of our children," he said.
"I refuse to accept that the shackles of slavery can ever be stronger than the quest for freedom," he added, to applause.
The Nobel committee chairman Thorbjorn Jagland stressed the importance of education, saying: "The road to democracy and freedom is paved with knowledge."
Mr Jagland praised Mr Satyarthi's work campaigning against child labour, often at great risk to himself.
He also lauded Ms Yousafzai's efforts to promote education despite threats from the Taliban, saying: "Her courage is almost indescribable".
Ms Yousafzai, 17, was shot in the head by Taliban gunmen in October 2012 for campaigning for girls' education and now lives in the UK.
She is the youngest ever recipient of the prize.
Ms Yousafzai is accompanied in Norway by a delegation of school girls - including the two classmates shot alongside her by the Taliban, the BBC's Orla Guerin in Oslo reports.
Malala Yousafzai: "If I can serve my country best through politics and through becoming a prime minister, then I would definitely choose that"
Through the efforts of Mr Satyarthi, 60, tens of thousands of children have been rescued from hazardous industries.
He has endured death threats for his work, and two of his colleagues were killed.
Ms Yousafzai and Mr Satyarthi were jointly awarded the 2014 Nobel Peace Prize "for their struggle against the suppression of children and young people and for the right of all children to education".
They have split the $1.4m (£860,000) prize money.
The Nobel committee said earlier it was important that a Muslim and a Hindu, a Pakistani and an Indian, had joined in what it called a common struggle for education and against extremism.
http://www.bbc.com/news/world-asia-30411049
-----------
URL: https://www.newageislam.com/islam,-women-and-feminism/new-age-islam-news-bureau/saudi-experts-warn-against-family-intermarriage/d/100419