New Age Islam News Bureau
13 Dec 2014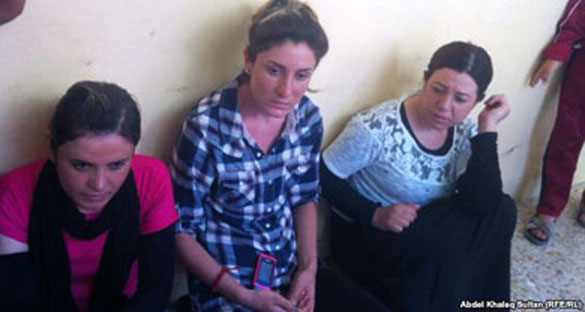 Around 5,000 Yazidi women and girls have been kidnapped by IS militants, who sell them as sex slaves
-----------
• 'Faceless' Doll For Muslim Girls Launched In Britain
• UK Muslim Wives Have 'No Rights' In Divorce
• Terrorist Runa Khan: 'All Muslim Women Should Be How I Am'
• Remove Muslim Veil When Giving Evidence in Court, Says Top British Woman Judge
'• It's Frightening So Many Turned a Blind Eye As Man Abused Me and Spat at My Hijab'
• Terrorist Threw Acid in My Eyes and Yelled Allahu Akbar, Recalls Victim
• Yazidi Women Who Escape IS Slavery 'Need Protection'
• Bangladesh JU Female Students Protest 'Discriminatory' Rules
• Religions Distorted To Harm Women: Indonesian Religious Affairs Ministry
• Somalia Sexual Offences Bill Hailed As Vital Step towards Lasting Change
Compiled by New Age Islam News Bureau
URL: https://www.newageislam.com/islam,-women-and-feminism/new-age-islam-news-bureau/saudi-cleric-says-women-are-not-required-to-wear-hijab,-can-put-makeup/d/100474
-------------
Saudi Cleric Says Women Are not required to Wear Hijab, Can Put Makeup
Dec 13, 2014
Rabat – A new fatwa against wearing Hijab has been issued last week by a Saudi Cleric who said that "Islam doesn't require women to wear veil," adding that women can put makeup on, take pictures for themselves and post them on social media networks.
The fatwa was issued by Saudi Arabia's former head of the Commission for the Promotion of Virtue and Prevention of Vice in Makkah, Ahmed bin Qassim al-Ghamidi.
Answering a question in which a Twitter user asked him whether women can post their pictures on social media, the Saudi cleric said that "there is nothing wrong if a woman showed her face or put make-up."
He goes on to add that it is permissible for a woman to post her pictures on social media, reported Al Moheet.
In another tweet, Ahmed bin Qassim al-Ghamidi goes as far as to claim that only the wives of prophet (MPBUH) "were required to wear Hijab so that adult males outside of their immediate family couldn't see them."
To support his claims, he quoted a previous saying of the Palestinian Islamic scholar Ibn Qudamah al-Maqdqsi in which he said that "if the woman's face and hands were intimate parts of her body, it would not be Haram for her to cover them while performing Al Haj."
Ahmed bin Qassim al-Ghamidi goes on to add instead of blaming women, the blame should put on men who are required to lower their gaze. The Saudi cleric quoted Morocco's scholar Qadi Ayyad, who once said: It's not mandatory for woman to cover her face outside her house, but it is a Sunna Mustahaba_ (preferable not obligatory). Men, on the other hand, shall lower their gaze."
http://www.moroccoworldnews.com/2014/12/146196/saudi-cleric-says-women-are-not-required-to-wear-hijab-can-put-makeup/
-----------
'Faceless' Doll For Muslim Girls Launched In Britain
Dec 13, 2014
A faceless doll wearing a Hijab has been created for Muslims girls in Britain, news service Asian Image has reported.
The featureless doll was designed that way to comply with Sharia law, which forbids graphic representation of God, the prophet Mohammed, his wife, family, friends and all living things - in roughly that order. The doll costs £25 ($40).
The "Deeni Doll" was manufactured in China and designed in the UK by Ridhwana B, a former teacher at a Lancashire Muslim school.
"I came up with the idea from scratch after speaking to some parents who were a little concerned about dolls with facial features," she said.
"Some parents won't leave the doll with their children at night because you are not allowed to have any eyes in the room.
"There is an Islamic ruling which forbids the depiction of facial features of any kind and that includes pictures, sculptures and, in this case, dolls.
"I spoke to a religious scholar in Leicester who guided me through what was and what was not permissible when producing the product.
"The Islamic range in kids toys is quite limited at the moment with few choices. Although this project took a while, I am looking at researching other ideas in the future," she said.
Ridhwana added that some people might find the doll strange, but she has had a positive response from many parents.
"We have produced a limited amount at the moment but already I have had parents take up the order."
http://www.ibtimes.co.uk/britain-launches-faceless-doll-muslim-girls-1479250
------------
UK Muslim Wives Have 'No Rights' In Divorce
Dec 13, 2014
A number of Muslim women living in the UK are being left with no legal rights when they try to leave religious marriages, a new report has found.
Aurat, a West Midlands charity which supports women who are victims of so-called 'honour' related abuse, claims that some women who marry in Islamic ceremonies are often not married under English law. As a result, they can find themselves without legal protection if they choose to leave.
The report was based on an analysis of case reports from the charity, which interviewed 50 Muslim women between August and September 2014. Forty-six of the women self-identified as being married, but only five of those were recognised by English law.
To make matters worse, the report also found that over half of the women who were not legally married did not realise this meant they had fewer legal rights as a result.
The women interviewed also revealed the cultural pressure they were under to remain married. Almost half said they would not have support from their community or their family if they sought a divorce.
In a foreword to the report, cross-bench peer Baroness Cox claimed that while abuse can manifest in "any faith tradition", the predicament of women in Islamic communities is "exacerbated by the application of established Sharia law principles which inherently discriminate against women and girls".
She added that the problems identified in the report were merely "the tip of the iceberg" as there are "countless" more women in similar circumstances throughout the country.
http://www.marilynstowe.co.uk/2014/12/12/muslim-wives-have-no-rights-in-divorce/
------------
Terrorist Runa Khan: 'All Muslim Women Should Be How I Am'
Dec 13, 2014
A mother-of-six has been jailed for five years and three months for promoting terrorism on Facebook.
Runa Khan, 35, of Maple Road West, Luton, had admitted inciting terrorism in Syria by posting a picture of a suicide vest and messaging details of a route into the country on Facebook.
Before her sentencing, reporter Rani Singh met Khan on several occasions and on Sunday interviewed her for BBC Newsnight.
Khan talked about what she had done and was challenged about her views.
http://www.bbc.com/news/uk-30442507
------------
Remove Muslim Veil When Giving Evidence in Court, Says Top British Woman Judge
Dec 13, 2014
Britain's most senior woman judge has called for tougher rules on compelling women who wear the Muslim veil to show their faces when giving evidence in court.
Baroness Hale of Richmond, the deputy president of the Supreme Court, said "ways have got to be found" to ensure that the Islamic face coverings, such as the Niqab, are removed for key parts of a court hearing.
Judges must be able to see a witness' face to gauge their truthfulness and it was also important to be able to identify the correct person on some occasions, the judge told the Evening Standard newspaper.
Lady Hale said the need for a "tougher" approach had been shown in one family law case in which she had detected that a mother - who had been asked to remove her face covering - was lying.
"We should devise ways of making it possible and insisting people show their full face when it is necessary," she said.
"There must come a point where we can insist.
"We don't object to allowing people to do things for sincerely held religious reasons if they don't do any harm. If it does harm, we have to be a bit tougher."
A judge ruled in September last year that a Muslim woman, Rebekah Dawson, would be allowed to stand trial on a charge of witness intimidation while wearing a full-face veil but that she must remove it while giving evidence.
Dawson, 22, initially refused to remove her Niqab and was told she would be forced to take off the garment if she gave evidence, which she later declined to do.
She was convicted and jailed for six months after pleading guilty.
David Cameron, the Prime Minister, has previously both spoken out against women being allowed to wear veils while giving evidence in court.
Lord Thomas of Cwmgiedd, the Lord Chief Justice of England and Wales, said in November last year that there was a need for "clear guidance on what is without doubt a problem that many people found divisive".
"I wouldn't describe it as the elephant in the courtroom but it is an important issue that has to be addressed," Lord Thomas said.
"I regard it as the responsibility of the senior judiciary to give guidance, and it will be guidance that is not merely 'well it all depends' but starting from a clear starting point giving fairly reasonable guidance as to what should happen."
Last month Lord Thomas said the guidance had still not been completed.
Judges had been awaiting a decision from the European Court of Human Rights on the Burqa ban in France, which was delivered in July, and which backed the principle of prohibiting the garment in public.
Lord Thomas said he hoped the guidance for courts in England and Wales would be complete "as soon as is reasonably practicable".
http://www.telegraph.co.uk/news/uknews/law-and-order/11290365/Remove-Muslim-veil-when-giving-evidence-in-court-says-top-woman-judge.html
------------
'It's Frightening So Many Turned a Blind Eye As Man Abused Me and Spat at My Hijab'
Dec 13, 2014
A MUSLIM woman who was spat at during a racist rant in Cabot Circus has spoken of her shock at the people who turned a blind eye.
Jack Hughes, 26, of Upton Road, Bristol, was fined £336 for assault at a court hearing this week for his attack on Hasina Khan.
As reported by the Bristol Post when it happened in July, Hughes spat on her hand and hijab head dress while launching into an Islamophobic rant.
Hasina issued an passionate plea for help to track down the perpetrator through this newspaper.
Following his conviction, which includes 120 hours of community service, she said: "It is my body and if I chose to cover it that's my decision.
"There are lots of beautiful women who chose to cover their bodies and they should not live in fear of being attacked.
"What is frightening is that a small woman was attacked by a male in broad daylight in a public place, there were many onlookers who turned a blind eye and who did not even approach the woman to ask if she was okay. That is a very bad snapshot of society.
"I hope other women come forward and report the attacks they have experienced."
The incident happened on July 21 while Hasina, 36, from Horfield, was walking past Cabot Circus.
After the Post's appeal the man was tracked down and arrested a week later, and pleaded guilty to assault at court on Wednesday.
Alex Raikes MBE, interim director of Bristol charity Stand Against Racism & Inequality (SARI) said: "This is an Islamophobic incident where a complete stranger decided they could assault someone just because they of their faith and the way they dress.
"This attack was not just on Hasina – it was on her family and her entire community. It was on all people who are Muslim."
She added that the charity has seen a rise in Islamophobic hate crimes recently, which now represent 40 per cent of its case load.
She said: "SARI asks that all Bristol residents who read this article do all they can to stop hate crime and racist abuse. This means not walking by when they see someone being bullied, harassed or attacked but speaking out and saying this is wrong."
http://www.bristolpost.co.uk/Bristol-race-hate-attack-s-frightening-shoppers/story-25690689-detail/story.html#ixzz3LoelE4tP
------------
Terrorist Threw Acid in My Eyes and Yelled Allahu Akbar, Recalls Victim
Dec 13, 2014
Moshe Claude Kamoun says larger attack prevented by timing; 'girls sustained burns all over bodies,' says uncle after discharge from hospital.
"I was on my way back from work. I was hitching a ride when an Arab came and threw something in my eyes. He pursued me while screaming 'Allahu Akbar' but I escaped," recalled Moshe Claude Kamoun, one of the victims of Friday's terror attack in the West Bank.
"In these moments, you cannot think," said Kamoun, from his bed at the Hadassah Ein Kerem Hospital in Jerusalem.
Seven Israelis were wounded in the attack which occurred around noon in the Gush Etzion area. A Palestinian source told Ynet that the terrorist is Jamal Shaharna from the village of Nahalin located near Bethlehem.
Shaharna first doused an unsuspecting family in a vehicle – the mother, her three daughters, and her niece were wounded – before assaulting two other bystanders. An armed passerby then shot and neutralized the assailant.
Kamoun, a 43-year-old Israeli who works as a transportation escort in Gush Etzion, said the children he was escorting that day had disembarked a bus a mere five minutes before the incident – preventing a much larger incident.
With his eyes tearing in the area where he was hit with the acid, Kamoun said he was lucky, "thank God he did not manage to hurt me worse. The doctors say the cornea was not burned and I will be able to see. I feared I would lose my sight."
"I escaped from (the attacker) and then thought that the family had been left behind in the car so I began to run back, then I heard the gunfire, but I didn't see anything myself," Kamoun added.
The mother and her four family members were released from Shaare Zedek Hospital in Jerusalem in the early evening hours. After their discharge, she said: "The girls have suffered a traumatic event; everything's fine."
Shaul Goldstein, the mother's brother, said his sister had pulled over for a hitchhiker at the intersection when the terrorist attacked them, dousing them and the hitchhiker with acid. "The window was open so he shoved the bottle into the vehicle and spilled it on everyone who was in the car."
"The girls sustained burns all over their bodies. The girls have been through an awful trauma and were very afraid, but to our fortune the intersection was very crowded on Shabbat eve and the many Jews who were in the area arrived to help them," he added.
Shaharna has a history of nationalistically-motivated offenses, for which he had been convicted in the past after participating in violent riots against IDF forces. A senior military source from Central Command said the terrorist had taken advantage of the fact an Israeli stopped her vehicle for a Haredi man standing near him to douse them with acid.
According to the source, the Haredi man and another Israeli began a foot pursuit after the terrorist. Another man, who was driving southbound, stopped his vehicle after spotting a terrorist wielding a screwdriver, and fired two shots at his lower limbs, neutralizing the assailant.
Given the concerns over an escalation on the ground because of the week's events in the West Bank, the senior source added that due to the reinforced operations undertaken by the IDF in the territory, "we are in a better place than we expected."
Speaking of the security cooperation with Palestinian Authority forces, the source said "the coordination in the West Bank continues, primarily on matters relating to anti-terror operations and Hamas."
http://www.ynetnews.com/articles/0,7340,L-4602832,00.html
------------
Yazidi Women Who Escape IS Slavery 'Need Protection'
Dec 13, 2014
Khalida Khalid, a Yazidi adviser to the speaker of parliament in Iraq's autonomous Kurdish region, has said that Yazidi women who escape enslavement by the Islamic State (IS) militant group need protection when they return home to northern Iraq.
Tens of thousands of Yazidis, an ethnic Kurdish religious community, have been displaced, killed, or abducted by IS gunmen. Around 5,000 Yazidi women and girls have been kidnapped by IS militants, who sell them as sex slaves. It is not known exactly how many of these women and girls have managed to escape, with estimates ranging from as few as 50 to 300.
Khalid told U.S. National Public Radio (NPR) on December 11 that there had been instances of pregnancy among the escapees but the Yazidis had not wanted to talk about the issue outside the community.
According to Khalid, who says there are concerns that the escaped women could face discrimination or violence from their families, the Kurdish parliament is discussing laws that would protect them, including legal abortions for victims of rape by IS gunmen.
A Yazidi tribal leader told NPR that while Yazidi women raped by IS militants would be accepted in the community, the tribe would not accept pregnancy.
In a report in October, Human Rights Watch (HRW) noted the testimony of several Yazidi girls and women who said they had been systematically separated from their families, held captive, and then bought and sold by IS militants who subjected them to sexual attacks.
HRW quoted Yazidi activists as saying that there was stigma surrounding rape in the Yazidi community and that "even acknowledging capture by Islamic State can put women and girls in danger."
Iraq's only ethnic Yazidi lawmaker told RFE/RL on December 9 that the United States should work to help release the 5,000 Yazidi girls and women who remain enslaved by IS gunmen. Vian Dakhil said that she had been in touch with several of the women captives, who complained of daily torture and rape.
Dakhil said that the United States should help free these women either "militarily" or via other means. The lawmaker, who was in Washington to testify at a Senate subcommittee hearing on the IS group, also said that the United States should arm the Yazidis against IS.
The calls to protect Yazidi girls and women who escape IS slavery, and for the United States to help free remaining captives, come after the IS group released a disturbing set of guidelines for its militants who "own" Yazidi slaves.
The guidelines, extracts of which were tweeted on December 3 by a pro-IS Twitter account belonging to a user calling himself Umar Khatab, were translated and posted on the Middle East Media Research Institute website.
The guidelines, published by the IS group's Research and Fatwa department, are titled "Questions And Answers On Taking Captives And Slaves."
The guidelines permit the rape of female slaves, including young girls, by IS militants, and give details for when such acts can take place.
The guidelines also say that IS militants can buy, sell, or give female captives as gifts, "for they are merely property." A slave can be bought by two or more militants, and it is permitted for militants to beat a female slave for disciplinary purposes but not for torture.
Other questions answered in the guidelines include whether all "unbelieving" (i.e. non-Muslim) women can be taken captive; whether a female slave is allowed to meet a foreign man if she is not wearing a hijab (a veil that covers the head and chest); and whether militants can buy two sisters as slaves.
http://www.rferl.org/content/iraq-yazidi-women-sex-slaves-islamic-state/26739222.html
------------
Bangladesh JU Female Students Protest 'Discriminatory' Rules
Dec 13, 2014
Students of Jahangirnagar University have been raising their voice against some freshly imposed restrictions by the university authorities – which they claim are discriminatory against the female residential students.
Students brought out processions and met with the authorities to protest the restrictions that include the closing of hall gate after 10pm and making 75% attendance compulsory only in the dormitories for female students.
On December 7, authorities at the university's Jahanara Imam Hall – where only female students reside – imposed a decree signed by hall Provost Prof Dr Shyamal Kumar Roy, reading: "The gate of the dorm will be closed at 10pm following the university rules, while no student would enter or exit when the gate is closed.
"If any student needs to stay outside after 10pm for departmental programme, they have to inform hall authorities before one day of the programme," the notice added.
The students were also asked to keep their ID cards with them at all times and maintain at least 75% attendance at the hall in order to get their hall clearance for exam admit cards.
Demonstrating students told the Dhaka Tribune that the move was discriminatory against the female students as the authorities did not consider the needs of those who had jobs or tuitions in Dhaka, at least more than an hour away from the campus.
Students were also upset as the authorities had reportedly cancelled the seats of some female students in separate female dorms as they had failed to fulfil authorities' requirements, a move which they claimed never took place in male dorms.
The demonstrations against the university's decisions began on Wednesday evening when 500 students led by boarders of the Jahanara Imam Hall along with activists of JU Pragatisheel Jote – a platform of progressive students – brought out a procession on the campus.
A team representing the demonstrators also met with JU authorities yesterday to present their demands, which included stopping the restrictions and harassment in female dorms, returning seats to the victimised evicted students and allowing students' female guests inside the dorms.
Sources said female residential students of the Jahanara Imam Hall, the Pritilata Hall and the Sheikh Hasina Hall have arranged more separate programmes to press home their demands.
Asked about the issue, Jahanara Imam Hall Provost Prof Shyamal Kumar said the decision was made at the hall committee's meeting, while the hall gate would be closed as per university rules.
Afifa Farzana, a residential student of Jahanara Imam Hall said: "Discriminatory rules like closing dormitory gate at 10pm, carrying ID cards and regular presence are always being imposed against the female students, not the boys. Now we are fighting against those discriminations."
JU anthropology department teacher Snigdha Rezwana told the Dhaka Tribune: "The authorities are not only discriminating on gender issues, rather they are discriminating against the university's students."
When contacted, JU Pro-Vice-Chancellor Prof Abul Hossain said the authorities would consider the students' demands and would not impose restrictions on female dormitories.
http://www.dhakatribune.com/bangladesh/2014/dec/12/ju-female-students-protest-%E2%80%98discriminatory%E2%80%99-rules#sthash.Q2UDfehQ.dpuf
------------
Religions Distorted To Harm Women: Indonesian Religious Affairs Ministry
Hans Nicholas JongThe Jakarta Post/Asia News NetworkS
Dec 13, 2014
In a rare occasion that has signaled the government's shift from religious conservatism, a top official has said religions may have been used by men to justify horrendous acts against women.
The Religious Affairs Ministry's Islamic development director general Muhammad Machasin said on Friday that there were reasons behind the use of religions to harm women.
"The ones who formulated religions were mostly men. Religious heads are also mostly men," he said during a discussion on religions' responses to violence against women.
Moreover, most religions came about during an era when women were not treated as equals and respected as they are today, according to Machasin.
Provided with such a background, society often tended to ditch logic and abuse religious texts to rule over women, Machasin argued.
"For example, in Islam, if a husband is concerned that his wife will argue back [a sign of disobedience], he usually advises her, hits her or neglects her in bed," Machasin said.
"If we look at the situation when the text was composed, then it was probably a normal practice. But now if we want to hit [our wives], that is not okay. Our sense of justice would prevent us from doing so."
Rights activist Siti Musdah Mulia of the Indonesian Conference of Religions and Peace said that religious texts had been grossly misinterpreted to justify domestic violence against women for disobeying their husbands.
"The Arabic term used is 'dorabat'. But it doesn't necessarily have to be interpreted as 'beating' because there are 18 different meanings behind the word. Personally, I use a softer meaning such as 'educate', rather than 'beat'," she said.
Musdah also criticised how the texts discriminated against women.
"The texts talk about women who disobey their husbands, but what about men? Are there no men who disobey [their wives]? What is the punishment for them?" she said.
Besides texts from the Quran, Prophet Muhammad's sayings and deeds (hadith) could also be used recklessly to perpetuate the role of women as inferior beings compared to men, Musdah said.
"There's a Hadith that says men should be careful not to be tempted by women, which is even stronger than the devil's temptation," she said.
Musdah also argued how religions were often used to keep women from entering the workforce.
"In terms of marriage, women are often told to take care of their children. That's still acceptable. But if they are told to take care of their husbands, can we conclude that their husbands are also babies?"
Whenever people say that a woman's nature is to be a housewife, they should be more careful about their definition, according to Musdah.
"The ones included in our nature are related to reproductive organs, such as birthing and breast-feeding. But when it comes to cooking, we don't use our breasts [to cook] right?" she said.
National Commission on Violence against Women (Komnas Perempuan) deputy chairwoman Justina Rostiawati said religious leaders were the biggest hurdle to people shifting their mindset from discriminating against women.
"It's not only that they have certain interpretations [on religions] that could be harmful, but they also have a huge influence because their communities are really listening to them," she said.
Religious leaders also played important roles because women tended to seek protection from them in the case of domestic violence, Justina added.
In 2013, the number of cases of violence against women jumped 30 per cent to 279,688, as recorded by Komnas Perempuan.
To provide a better understanding of how religions could protect women, the commission started a project in 2007 in which it invited religious leaders and theologians to discuss the issue.
So far, the commission has produced six books, each based on the major religions' responses to violence against women.
http://news.asiaone.com/news/asia/religions-distorted-harm-women-indonesian-religious-affairs-ministry#sthash.iizBsHdk.dpuf
------------
Somalia Sexual Offences Bill Hailed As Vital Step towards Lasting Change
Dec 13, 2014
The first bill to define and address sexual offences in Somalia is expected to be presented to the cabinet before the end of this year, updating legislation that has been in place since 1930.
The bill will define rape as a crime against a person, rather than a crime against morality, as it characterised at present. It will criminalise gang rape and introduce legislation against child marriage, human trafficking, sexual harassment and offences committed against vulnerable groups such as internally displaced people.
The new law will also outline the role public officials and police should play in investigating and prosecuting cases, in addition to criminalising the obstruction of justice, protecting the identity of injured parties and witnesses, and – in a major shift for Somalia's clan-based society – prohibiting the out-of-court settlement of sexual offences cases.
However, due to religious sensibilities, the bill does not address marital rape or domestic violence. The latter is widespread in Somalia.
"If you want to affect real change this is not the solution, but it is one part, a very important process," said Antonia Mulvey, the executive director of Legal Action Worldwide (Law), a Nairobi-based NGO working with the Somali government to draft the bill.
"Without the legal framework in place we are not going to be able to make the other changes. People argue that we are unable to arrest, prosecute or convict because they don't have the legal framework. This gives them the legal framework."
The UN reported nearly 800 cases of sexual and gender-based violence in Mogadishu alone over a six-month period last year, although the majority of abuses go unreported. One-third of the victims are children.
Tahlil Ahmed, a senior legal adviser from Somalia who supports Law, said:"We intended to criminalise all aspects of violence without mentioning domestic [violence] because some people believe they have that right, that you are undermining Islam."
LAW has issued a report explaining that sharia law, which is in force in Somalia, does not conflict with women's rights.
"Beating your wife and hurting her is not permissible in Islam, as is widely thought," said Ahmed. "Hurting your wife is wrong in Islam."
Abdifatah Hassan Ali, who works with the Somali Women Development Centre, said: "Islam uplifts women's rights in every aspect of life. There is misinterpretation of the Islamic teachings made by the Somali community, and they use it as a tool to oppress women."
Hassan Ali said the ingrained Somali culture of women as second-class citizens was a challenge to drafting the bill. "Men see sexual offences as an issue for women – they don't consider it an area in which they should be involved," he said. Disseminating the message to men will be a critical aspect of implementation, should the bill be passed, he said.
Crimes committed by security forces have been left out of the bill, as they were deemed too sensitive to mention and could have prevented the new legislation from being passed.
The UN estimates that sexual violence committed by armed forces ranges from 30% to 70% of total offences.
In addition to the national army, the African Union has a force of 22,000 troops in Somalia. A Human Rights Watch report found that AU troops have gang-raped women and girls as young as 12 and traded food aid for sex.
The sexual offences bill is not among the 23 priority pieces of legislation going before the Somali parliament before the end of this year's session. Mulvey has been meeting European donor countries and urging them to push the government to add the sexual offences bill to the priority list.
http://www.theguardian.com/global-development/2014/dec/11/somalia-sexual-offences-bill-hailed-as-key-step-towards-lasting-change
------------
URL: https://www.newageislam.com/islam,-women-and-feminism/new-age-islam-news-bureau/saudi-cleric-says-women-are-not-required-to-wear-hijab,-can-put-makeup/d/100474