New Age Islam News Bureau
28 Sept 2015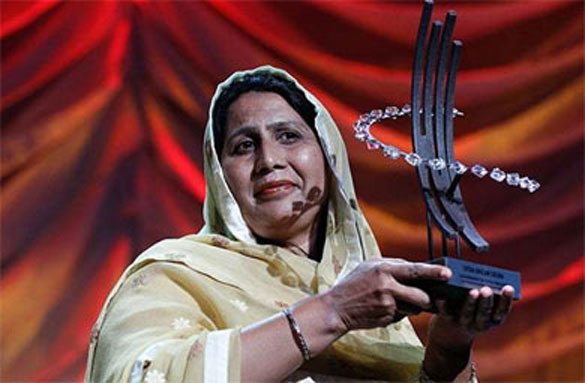 Pakistani activist Syeda Ghulam Fatima Attends the Clinton Global Citizen Award. - AFP
--------
• Saudi Bombs Kill Several Women at Yemen Wedding
• Pakistani Rights Activist Honoured With Global Citizen Award
• All Ears Are On Egypt's Blind Women's Orchestra!
• Afghanistan: Accept Full Role for Women in Talks
• Cleaner, Better, More Feminine Malaysia
Compiled by New Age Islam News Bureau
URL: https://newageislam.com/islam-women-feminism/saudi-bombs-kill-women-yemen/d/104736
-----
Saudi Bombs Kill Several Women at Yemen Wedding
TEHRAN (FNA), Sep 28, 2015- Saudi airstrikes reportedly hit a wedding party in the Yemeni province of Taiz, killing a group of women, reports said Monday.
The airstrike hit a wedding ceremony in the port city of Mocha in Taiz.
Saudi warplanes also targeted a market in Razih district in the province of Sa'ada. There were no immediate reports on the number of casualties in the attack.
Areas in East and South of the capital, Sana'a, were also targeted in the Saudi air raids.
Saudi fighter jets also reportedly targeted Ma'rib province over 25 times.
On Sunday, over 40 Yemenis, mostly women and children, were killed in Saudi airstrikes on several areas in the provinces of Hajjah and Taiz.
Saudi Arabia has been striking Yemen for 187 days now to restore power to Hadi, a close ally of Riyadh. The Saudi-led aggression has so far killed at least 6,289 Yemenis, including hundreds of women and children.
Hadi stepped down in January and refused to reconsider the decision despite calls by Ansarullah revolutionaries of the Houthi movement.
Despite Riyadh's claims that it is bombing the positions of the Ansarullah fighters, Saudi warplanes are flattening residential areas and civilian infrastructures.
http://english.farsnews.com/newstext.aspx?nn=13940706001018
----
Pakistani Rights Activist Honoured With Global Citizen Award
DAWN.COM — 28 September 2015
Syeda Ghulam Fatima, a Pakistani human rights activist was honoured on Sunday with a Global Citizen award in New York for her dedication to civil rights and labour laws in Pakistan.
Fatima is the elected general secretary of the Bonded Labour Liberation Front (BLLF) Pakistan.
The activist works for the compliance of the International Labour Organisation's labour standards in Pakistan and campaigning for the legal rights of brick kiln workers and female domestic staff working through out Pakistan.
Fatima is also a member of the Provincial Committee for Abolition of Bonded Labour Punjab and the District Vigilance Committee.
During his recent visit to Pakistan, photo blogger Brandon Stanton of Humans of New York (HONY) coordinated with Fatima for the relief of bonded labour in Pakistan. HONY did a photo feature depicting Fatima's struggle as an activist working towards the abolition of bonded labour in the country.
HONY termed Fatima as a modern day Harriet Tubman, and paid tribute to the rights activist who has been shot, beaten and electrocuted during her struggle for ending bonded labour, a form of modern day slavery. HONY's images had such an impact, that people from around the world donated $2 million to BLLF.
Clinton Global Citizen Awards were established in 2007, and is meant to honour outstanding individuals who bring positive and lasting social change in their communities.
http://www.dawn.com/news/1209525/rights-activist-honoured-with-global-citizen-award
-------
All Ears Are On Egypt's Blind Women's Orchestra!
September 27th, 2015
Days and Nights of the Heart Tree is a music production that combines Al-Nour Wal Amal Chamber Orchestra with singers and dancers.
The music to the 80-minute long performance was composed by French-Algerian writer and composer Tarik Benouarka.
The performance is scheduled to be staged at the Cairo Opera House on 30 September, before it departs for Paris. According to press releases, the production will then travel to the United Arab Emirates.
In the Cairo performance, the orchestra will be joined by the Egyptian Paris-based tenor Ragaa El-Din in the role of Nour, soprano Dalia Fadel in the role of Amal, Assem Nagaty in the role of the storyteller, conductor Mohamed Saad Basha and a contemporary dance troupe.
In Paris, the role of Amal will be performed by renowned Syrian soprano Rasha Rizk.
The team also includes stage director Gilbert Désveaux, set and costume designer Alain Lagarde, and choreographer Adriana Mortelliti.
Al-Nour Wal Amal (Light and Hope) Chamber Orchestra consists of 40 visually impaired women. They represent Al-Nour Wal Amal Association founded in 1954 by a group of volunteers under the leadership of the late Istiklal Radi. The association was the first in the Middle East aiming at the care, education, vocational training and integration into society of blind girls and women.
In 1961, Istiklal Radi decided to expand the association's activities by incorporating music education. She contacted the late Samha El-Kholy, former president of the Academy of Arts and former dean of the Cairo Conservatory. Together, they founded the Al-Nour Wal Amal Music Institute to teach music on an academic basis.
A decade after founding of the institute, the small orchestra was formed and soon their concerts in Egypt began capturing the hearts of audiences.
In the early 1980s, and on the initiative of Amal Fikry, vice-chair of Al-Nour Wal Amal Association, the orchestra embarked on international tours.
Al-Nour Wal Amal's popularity brought them large acclaim and over the past years they were applauded across five continents and countless countries. During their many tours they were called "The fourth pyramid of Giza," "The human miracle," and "The ambassadors of Egypt."
Today, the Institute's staff consists of musicians and professors from the Cairo Conservatory, the College of Music Education of Helwan University, and the Cairo Symphony Orchestra. For many years, the orchestra was trained and conducted by the late Ahmed Abul Eid.
Today, the musicians are conducted and trained by Aly Osman who usually joins the orchestra in all Egyptian and international performances.
http://www.albawaba.com/editorchoice/all-ears-are-egypts-blind-women%E2%80%99s-orchestra-747722
--------
Afghanistan: Accept Full Role for Women in Talks
SEPTEMBER 28, 2015
(Kabul) – The Afghan government should act to ensure that women have a full role in any negotiations between the government and the Taliban and other insurgent groups, Human Rights Watch said today. The current pause in negotiations, due to the disclosure of Taliban leader Mullah Omar's death and worsening relations between Afghanistan and Pakistan, creates an opportunity for the government to honor its promises to include women.
Members of the Loya Jirga, grand council, attend during the last day of the Loya Jirga, in Kabul on November 24, 2013.
EXPAND Members of the Loya Jirga, grand council, attend the last day of the Loya Jirga, in Kabul on November 24, 2013. © 2013 Reuters
"Afghan President Ashraf Ghani promised to include women in negotiations with the Taliban at the 'right time,'" said Sarah Taylor, women, peace, and security advocate at Human Rights Watch. "But for full and meaningful participation, every stage of the process is the 'right time' to involve women."
Afghanistan's foreign donors need to insist the government improve women's rights, including by ensuring women's full participation in future negotiations with the Taliban and other groups.
Talks between the government and the Taliban have picked up amid increased fighting and insecurity, international donor fatigue, and the disengagement of international forces. A July 7, 2015 meeting in Murree, Pakistan between the Afghan government and the Taliban was seen as the first official meeting between the two warring sides. The Afghan government delegation in Murree included no women.
Afghan women's rights activists have persistently demanded to be full participants in peace talks, as set out in United Nations Security Council Resolution 1325 and later resolutions. Ghani has assured them that they will be included, but has also suggested that he did not intend to include women throughout the process, saying that he "will not bother them until the right time."
Security Council Resolution 1325, adopted in 2000, played a historic role in stressing the importance of women's "equal participation and full involvement in all efforts for the maintenance and promotion of peace and security." In years since, the Security Council passed six additional resolutions on women, peace, and security. In October 2015, the Security Council will convene a high-level review to push for greater implementation of resolution 1325 around the world.
During past efforts to launch negotiations, Afghan women's rights activists have repeatedly spoken out about their fears that the government will trade away women's rights in an effort to reach an accommodation with the Taliban. These fears have been exacerbated by the exclusion of women from the process. A 2014 study by Oxfam found that in 23 rounds of peace talks between the Afghan government and the Taliban between 2005 and 2014, women were present on only 2 occasions. No women were ever included in discussions between international negotiators and the Taliban.
Previous negotiations have typically occurred with little transparency, with the public often learning of them only after they occurred. This has prevented Afghan civil society groups, including women's rights activists, from providing meaningful input to the government on their human rights concerns and their recommendations for ensuring human rights protections in the event a settlement is reached. For instance, activists seeking justice for war crimes and crimes against humanity have had no real opportunities to ensure that amnesty for these crimes will not be on the table in the negotiations.
There have been signs of a greater willingness by the Taliban to discuss women's rights, though activists have viewed statements by Taliban leaders seeming to support some forms of women's rights with significant skepticism given the Taliban's continued abuses targeting women. At a meeting in Doha in May 2015, three women participated. Malalai Shinwari, a former Afghan member of parliament who was one of the participants, told the Wall Street Journal, "They [the Taliban] said they won't make the same mistakes that they made in the past. They said they would accept the rights we have today." This meeting was followed by a June meeting in Oslo bringing together Taliban representatives and Afghan women leaders specifically for the purpose of discussing women's rights. Both the Taliban and the Afghan government emphasized that this meeting was not part of the negotiation process.
The negotiation process is in limbo at the moment. Following the July disclosure that Taliban leader Mullah Omar died on April 23, 2013, the Taliban chose a new leader, Mullah Akhtar Mansoor. In August 2015 Mansoor discounted current efforts as "propaganda campaigns by the enemy." At the same time, relations between the Afghan government and the Pakistani government have become tense, adding another complicating factor to the effort to convene talks.
In interviews with leading women's rights activists in Afghanistan in recent weeks, Human Rights Watch gathered information about the current state of women's role in peace negotiations, and activists' ideas for urgent steps to ensure women's full participation. Detailed below are the activists' concerns and Human Rights Watch's recommendations to the Afghan government and foreign donors to fulfill both the full participation called for under resolution 1325 and the commitment Ghani has made to include women.
"The pause in peace negotiations creates the opportunity for the Ghani government to work with women's rights activists and groups to get the negotiation process right going forward," Taylor said. "Ghani should take steps now to genuinely integrate women into the peace process at every level, from district and province peace-building bodies to the highest level team advising the president and sitting across the table from Taliban negotiators."
Human Rights Watch interviewed leading women's rights activists from Afghanistan in August 2015 about their experience and perceptions of women's participation in the country's nascent peace process. Activists said they were encouraged by President Ashraf Ghani's promise that women would have a role in peace talks. But they were deeply concerned that this promise was made only days before the July 2015 Murree talks were held – with no women present. Ghani's ambiguous proviso that he would only "bother" women to participate in talks at the "right time" left activists concerned that any role for women would not only be a token one, but would come too late to have real influence over the process.
The High Peace Council (HPC) was established in 2010 to guide the peace process and ensure the participation of community members, including women. It currently has 9 women among its 70 council members. It also has established Provincial Peace Councils (PPCs) in each of Afghanistan's 34 provinces, where in all but 1 province (Nuristan) there are women members.
The HPC has not been a sufficient mechanism to ensure women's participation. There are several reasons for this. First, the HPC itself does not appear to play a central role in the effort to pursue negotiations with the Taliban. Under both Ghani and his predecessor, Hamid Karzai, negotiations have been handled behind closed doors by a small number of men close to the president, sometimes including representatives of the National Security Council. The HPC has instead focused its energy on efforts like the PPCs, which, while valuable, lose much of their potential due to the disconnect between their work and the national effort to broker a peace deal.
Second, while women hold positions within the HPC structures, activists interviewed by Human Rights Watch say they are treated as tokens. The few women in senior positions in the HPC have often voiced their frustration over this marginalized role. The HPC provides an existing mechanism that can be useful in ensuring full participation of women in peace negotiations, but Ashraf Ghani and his government should work with the HPC to reform it before that potential can be realized.
Afghanistan has prepared a Women, Peace and Security National Action Plan (NAP), a plan for how the country will implement resolution 1325 and ensure that women's rights and role are fully included and respected in peace-building processes, including through participation in negotiations. Ghani launched the plan in June 2015, saying, "Sometimes, our most educated people are the most misogynist. I hope that men in our society would get out of the misogyny idea after this." Activists and donors were disappointed, however, when, counter to global best practices, the Afghanistan NAP was issued without an implementation plan, reducing it to a set of lofty goals with no detail on which government agencies had responsibilities, let alone timelines and budgets for specific tasks and indicators. At the time of the launch, the Ghani government did not set any timeline for preparing such an implementation plan.
In the lead up to the September 5, 2015 Senior Officials Meeting, a meeting of foreign donors in Kabul to agree on a framework for the next four years of international aid to Afghanistan, donors pressed for a specific commitment from Ghani to develop a NAP implementation plan. The result was that the Self-Reliance through Mutual Accountability Framework (SMAF) agreed at the meeting included an indicator on developing an implementation plan, including financing approved by the end of 2015 and implementation starting in early 2016.
The development of the NAP implementation plan is an opportunity for Ghani to develop concrete steps for ensuring the full participation of women in any peace negotiation process. He should draw on the expertise of the many Afghan women's rights activists with experience in peace building, including the nearly 200 women who have worked to resolve conflict at the local and provincial level through their participation in Provincial Peace Councils.
Recommendations to Ghani and the Afghan Government
The Ghani government should immediately take the following steps to follow through on the president's pledge to ensure women's participation in peace negotiations, consistent with Security Council Resolution 1325:
Take steps immediately to bring women into the inner circle
There are currently no senior women within the president's inner circle of advisers who develop strategy on peace building. Ghani should appoint senior women to the National Security Council or other positions that are at the center of the peace-building discussion going on within the presidential palace. He should include these women in every aspect of the discussion and planning, and look to them as full-fledged advisors not only on women's concerns in peace negotiations but as relevant experts on various aspects of the process.
Connect the women within the High Peace Council to national negotiations
The women within the HPC, especially those active in the PPCs, are already playing a useful role and have the potential to provide expertise to the national process if given the opportunity. Ghani and the HPC should better utilize this untapped resource by further increasing the number of women on the HPC and in the PPCs, and developing mechanisms for consulting regularly with the women in the PPCs. The HPC should convene regular meetings, as well as communication between meetings, with female PPC members.
The HPC should develop a women's steering committee that consists of female PPC members who have been chosen by their peers to represent the concerns of their communities. This body should play a key role in the process described below.
Have a transparent process where women speak for themselves and choose their own representatives
Lack of transparency has damaged public support for negotiations, especially among women. "In 2010, I was one of the people lobbying for a peace process," one women's rights activist told Human Rights Watch. "But now I do not support it because I think it is just a one-man show."
The government can remedy this mistrust by being more open with women, and with Afghans in general, about how planning for negotiations will be done, and who will sit at the table with Taliban negotiators. The HPC women's steering committee, which we recommend be created, should be responsible for convening and advising both the HPC and Ghani. This committee should develop, and make public, a short-list of female negotiators that can participate in the Afghan government's negotiating team during future talks with the Taliban. The committee should also develop, for use by negotiators, guidance on "red lines," priorities, specific language, and strategy on negotiating women's rights issues, based on the on-the-ground experiences of women who have dealt with the approach of Taliban leaders to women's rights at the sub-national level.
Make the 1325 National Action Plan a vehicle for change
The NAP implementation plan presents a unique opportunity for the Afghan government to develop and articulate its vision for a full role for women in peace building. It is also an opportunity to engage donors and seek funding for components of the plan that will require resources. The Afghan government should move quickly to meet the deadlines under the SMAF, and should include the expertise of Afghan women with experience in peace-building, especially the female PPC members, and donors, in developing the implementation plan.
The plan should be specific and include tasks, numbers, measurable indicators, timelines, allocation of responsibilities, and precise and funded budget lines. A concrete and well-crafted plan that has full buy-in from both women's rights activists and donors has the potential to empower women even beyond the peace process.
Include women in all Afghan government delegations to international meetings
Many important decisions about Afghanistan's future are made at international forums such as NATO Summits and donor conferences such as the Tokyo and London conferences. This fall, crucial discussions regarding the role of women in peace-building will take place at both the September UN General Assembly and at the fifteenth anniversary of resolution 1325 in October. Ghani should ensure that the concerns of Afghan women are reflected at these events by including qualified women in all Afghan government delegations to such international meetings.
Recommendations to Afghanistan's International Donors
Afghanistan's donors also have a crucial role to play in promoting women's rights, including women's participation in peace negotiations. Although international support for – and interest in – Afghanistan is declining sharply, Afghanistan remains almost entirely dependent on international donors for the funds that keep the country's government functioning, including its army and police. Donors deserve credit for pushing for the indicator in the SMAF regarding implementation of the 1325 National Action Plan. They should sustain this effort in the following ways:
Keep the pressure on the Afghan government to respect resolution 1325
Donors should closely monitor Afghan government steps to develop and implement the 1325 NAP. They should use the SMAF indicator as an opportunity to push for greater participation by women in all aspects of peace-building, from the negotiating table to the National Security Council to the PPCs. Donors should also be prepared to respond immediately to ensure that the process stays on track and meets the SMAF deadlines.
Donors, especially those that fund the HPC, should also urge reform of the HPC, to improve the role of women within the HPC and the connection between those women and the peace-building efforts taking place within the presidential palace.
Back efforts by women to convene and prepare and advocate for full participation
Donors should look for ways to support increased participation by women in peace negotiations, including the recommendations above, such as the convening of female PPC members. They should also support all aspects of an agreed-upon 1325 NAP implementation plan.
Monitor the negotiation process to ensure that women are actually at the table and include women in donor-organized processes
Afghanistan's donors have frequently expressed support for resolution 1325 but then failed to hold the government accountable when negotiations were held without women. Often donors themselves have organized negotiations and excluded women. Donors should commit to including women in any negotiation meetings they have a role in facilitating – whether they are formal or informal. They should also reinforce to the Afghan government the importance of having women actually at the table for all negotiations – not just at the "right time" – and involved in all of the planning and strategizing that takes place before such meetings.
Demand the inclusion of women in all international meetings
Donors themselves have too often been responsible for hosting meetings on Afghanistan where women were excluded. This discriminatory practice should end immediately. Donors have the leverage and should always insist that all Afghan government delegations to international events they are hosting or funding include qualified women.
https://www.hrw.org/news/2015/09/27/afghanistan-accept-full-role-women-talks
---------
Cleaner, Better, More Feminine Malaysia
Monday September 28, 2015
SEPTEMBER 28 — Malaysia is entering a transformative political period where women are the forefront of political activism, unseen since the nationalist consciousness of the late 1940s and to some extent, the dark days of 1987. At the helm is Maria Chin Abdullah, a stalwart campaigner of women's rights better known as the leader of Bersih.
A Malaysian woman, alongside a few other women, leading a mass rally against grand corruption is important for a few, but nonetheless significant, reasons. The Malaysian state — the parliament and its ancillary institutions — is overtly hypermasculine in character. Here, not only is Malaysian politics overwhelmingly male but the fact that hypermasculinity errs on the more toxic connotations of extreme repression and violence.
When under threat, defenders of the hypermasculine state re-assert themselves in a public display of martial arts and other threatening gestures. The homosocial band of men tumbling over each other and breaking planks of wood is yet another reminder that the dominant narrative of governance in Malaysia is one undergirded by amok.
So, it might seem that we are witnessing a gendered duality at conflict with each other; between the peaceful women-led movement and state-sanctioned hypermasculine violence. Malaysia is not unique in harnessing "feminine" probity and integrity to address state corruption sanctioned by a masculine political culture.
A 2001 report by the World Bank is of the opinion that corruption will decrease when more women are elected into public office. In Peru, Mexico, and Uganda, women have filled the ranks of state authorities — as police officers, customs officials, and local government treasurers— in the belief that women are less willing to take bribes.
However, as New York University professor of global security Anne Marie Goetz notes, women's inclination to be less corrupt is a myth and the "femininity" of peace and political honesty may be the same reason why women are kept out of formal politics in the first place. Goetz finds that women in politics are expected to maintain moral propriety and are more vulnerable to sexualised threats and attacks.
Women may also be on the take, but their numbers in politics are fewer and their power base smaller. However, women are likelier to be confronted by the risk of sexualised corruption compared to men. They might not be making illicit payments that are measured in formal indices of corruption levels. Instead, sexual harassment or sexual favours may be the "currency" of corruption.
To rise in popularity, women will do well by playing up their roles as virtuous guardians, mothers, and grandmothers. When they do not, others will assign them these roles. The sexist and ageist article by Shannon Teoh portraying Maria Chin Abdullah as the "kindly auntie" is a case in point. As a "kindly auntie", Maria is constructed as non-subversive and completely unthreatening to the arrogant defiance of the country's male leaders.
When I communicated with Maria, she described the overarching impact of high profile corruption on women in Malaysia. Mismanagement of public funds leads to unforeseen austerity that would be disproportionately detrimental for women as the more vulnerable group in Malaysian society. The link between anti-corruption and women's rights makes sense at face value. In fact, as Maria herself says, the struggle against corruption is inseparable from women's rights.
I am impressed by this grand narrative of interconnected oppressions. However, my question with regards to women's rights is: why now? If women's rights are so integral to anti-corruption, why were they not in any of Bersih's demands? In her reply, Maria was wise to comment that we require data and grounded research first to establish and verify how corruption damages women's opportunities in public and domestic life.
A deep concern for feminists in Malaysia is that yet again gender is subsumed by other discourses. The subtext of anti-corruption being tantamount to women's rights is that gender is always there in the background, lurking behind the scenes in Malaysian political activism. The question of gender in Malaysian politics is important, however not important enough to warrant massive rallies.
When seen through analytical lens, the gendered yin and yang of female/male power and the good/bad woman is actually front and centre. Seen at face value, the Malaysian women of Bersih call for the re-establishment of law and order, while men abuse their power. Women pick up the slack of a failed state, cleaning up the men.
But Malaysian political culture will continue to fail when it treats women as a monolithic bloc. Increasing female representation by 30 per cent but without foregrounding women's diversity will result in the recruitment of elite women and women from dynastic clans and marital ties with male leaders into public office.
The answer to Malaysia's state of affairs is not a martriarchal all-female parliament or a more "feminine" Malaysia, if the sine qua non of political femininity is moral propriety. A cleaner governance, by bringing the domestic sphere into the corridors of power rather than outside of it, may be a radical solution.
http://www.themalaymailonline.com/opinion/alicia-izharuddin/article/cleaner-better-more-feminine-malaysia#sthash.oWqTiFtl.dpuf
------
URL: https://newageislam.com/islam-women-feminism/saudi-bombs-kill-women-yemen/d/104736