New Age Islam News Bureau
24 Oct 2013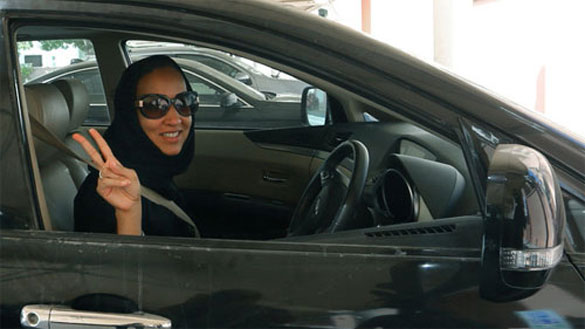 Saudi activist Manal al-Sharif, who now lives in Dubai, flashes the sign for victory as she drives her car in the Gulf Emirate city on Oct. 22, 2013. (AFP)
---------
• UN Rights Body Adopts Landmark Text on Women
• Haven for Women: Rules Framed To Improve Darul Amans in Sindh
• 85pc Bangladesh People Think More Women Should Run For General Seats
• Girls Most Harassed At Disaster Shelters
• Syrian, Cambodian, Afghan Women Win Media Awards
• Syria Frees Women Inmates after Hostage Deal
• Genius Nigerian Muslim Girl Makes Record
Compiled by New Age Islam News Bureau
URL: https://www.newageislam.com/islam,-women-and-feminism/new-age-islam-news-bureau/saudi-authorities-issue-warning-ahead-of-women-driving-campaign/d/14124
------------
Saudi authorities issue warning ahead of women driving campaign
24 October 2013
Saudi Arabia's interior ministry has warned against "disturbing social peace" ahead of a planned campaign by women to challenge a de facto ban on them driving.
"Regulations in Saudi Arabia prohibit any action that disturbs social peace and opens the door for sedition and responds to the illusions of prejudiced intruders with sick dreams," the Interior Ministry said in a statement carried by state news agency SPA.
"The Interior Ministry confirms to all that the concerned authorities will enforce the law against all the violators with firmness and force," the statement added.
The warning also appeared directed at those calling on the social media to stop women if seen driving in the streets.
The "October 26 Driving" campaign has asked Saudis to put its logo on their cars and called upon women with international driving licenses to get behind the wheel that day, while urging other women to learn to drive, according to Reuters.
The warning comes after a number of clerics and religious scholars protested in Jeddah, saying the authorities were doing nothing to stop women defying the ban, Associated Press reported.
There is no specific law preventing women from driving in the kingdom, but they cannot apply for driving licenses.
Supporters of women driving say the ban is an extra cost for families who have to employ chauffeurs and add that it makes it difficult for women to perform basic daily tasks.
The Saudi Shura Council this month rejected a move by three female members to put the ban on women driving up for discussion.
The Council, which counts 30 women among its 150 members, said the issue was "irrelevant" to the discussions and "not within the transport ministry's remit."
http://english.alarabiya.net/en/News/middle-east/2013/10/24/Saudi-authorities-issue-warning-ahead-of-women-driving-campaign.html
------------
UN rights body adopts landmark text on women
October 24, 2013
UNITED NATIONS: A key UN human rights body has provided authoritative guidance to countries that have ratified the women's rights convention on measures they need to take to ensure women's rights are protected before, during and after conflict.
States that have ratified the UN Convention on the Elimination of All Forms of Discrimination against Women are obliged to uphold women's rights when they are involved in fighting, and when they are providing peacekeeping troops or donor assistance for conflict prevention, humanitarian aid or post-conflict reconstruction, according to the document.
General Recommendation No. 30 says States parties should also exercise due diligence in ensuring that non-State actors, such as armed groups, private security contractors, be held accountable for crimes against women.
"This document is comprehensive. It includes recognition of women's central role in preventing conflict and in rebuilding devastated countries," said Nicole Ameline, the Chairperson of the 23-member Committee.
"Women's experiences are regularly dismissed as irrelevant for predicting conflict, and women's participation in conflict prevention has historically been low," Ms. Ameline said. "But in reality, there is for example a strong correlation between an increase in gender-based violence and the outbreak of conflict."
The General Recommendation, drafted over a three-year period, spells out States' obligations under the Convention, including due diligence obligations to prevent, investigate, punish and ensure redress for crimes against women by non-State actors.
"No longer is it enough to say that such acts are outside the scope of State responsibility of the Convention," Ms. Ameline stressed.
CEDAW adopted the recommendation on 18 October, the same day the UN Security Council adopted resolution 2122, which stresses the importance of women's involvement in conflict prevention, resolution and peace-building.
Often described as an 'international bill of rights for women', the Convention on the Elimination of All Forms of Discrimination against Women defines what constitutes discrimination against women and sets up an agenda for national action to end such discrimination.
http://www.nation.com.pk/pakistan-news-newspaper-daily-english-online/international/24-Oct-2013/un-rights-body-adopts-landmark-text-on-women
------------
Haven for Women: Rules Framed To Improve Darul Amans in Sindh
By Our Correspondent
October 24, 2013
KARACHI: In a society where women's rights are often trampled by the brute force of their male counterparts, it is facilities such as the Darul Aman that often prove to be the only beacon of hope for the oppressed.
It is quite surprising, therefore, that the Darul Amans across Sindh were largely ignored up until very recently, when their cause was highlighted by civil society organisations, such as Shirkat Gah — Women's Resource Centre, Rozan, Dastak and the provincial minister for social welfare and women development, Rubina Qaimkhani. It is through the consolidated efforts of these individuals that a notification for the SOPs to run Darul Amans across the province was issued by the Sindh government on Wednesday.
Earlier, a woman could only enter through the gates of a Darul Aman after she had received approval from the incumbent courts. This law has been changed in the new SOPs, which allows any woman to seek refuge in the centre regardless of her circumstances. "Providing shelter, security, legal aid and financial assistance to the oppressed is the government's responsibility and the drafting of the SOPs for Darul Amans is the first major step in this direction," remarked Qaimkhani. She was speaking at the launch ceremony of the SOPs on Wednesday.
Pakistan Muslim League — Functional MPA Mehtab Akbar Rashidi said that real improvement will be seen when the gates of Darul Aman would be kept open for a woman round-the-clock, especially at night when she has nowhere to go. "The mindset has to be changed, especially of the officials of Darul Aman," said Rashidi. Muttahida Qaumi Movement's Irum Azeem Farooq hoped that conditions of the Darul Amans, generally considered a jail, would get better once the SOPs are implemented.
Former chairperson of the National Commission on the Status of Women, Anis Haroon, said that the women living in Darul Amans must be granted their fundamental rights. Shirkat Gah's Fauzia Viqar said a woman can now get admission in a Darul Aman by court orders, recommendation of an NGO or even by her own wish.
Published in The Express Tribune, October 24th, 2013.
http://tribune.com.pk/story/621544/haven-for-women-rules-framed-to-improve-darul-amans/
------------
85pc Bangladesh People Think More Women Should Run For General Seats
October 24, 2013
Around 85 percent of the country's people think that the political parties should nominate women to run in parliamentary elections for general seats for their empowerment.
In a five-month survey conducted over 3,565 people across 40 districts of the seven divisions between April and September this year, 70 percent of respondents said the system of reserved seats had failed to empower women.
Titled "Empowering Women Through Reserved Seats in Parliament: Fight or Flight Response?", the report was launched in a city hotel yesterday.
Khan Foundation, a non-government organisation, conducted the survey with the assistances of Institute of Democracy and Human Rights and The Millennium University, with 35 percent of respondents being female and 65 percent male.
Analysing the last nine general elections, the survey says around 20 percent of the nominated women won from general seats, while it was 18 percent for males. But only two percent of the candidates were women, while only 53 women were nominated to run the elections directly, and 214 women were elected from reserved seats.
The low figure of female contestants from general seats indicates that reserved seats have made women more and more dependant instead of empowering them and encouraging them to compete with their male counterparts, claims the report.
Consequently, this is marginalising women rather than empowering them, it says, and recommends that political parties should reserve at least 30 percent of nominations for women in general seats and raise this figure gradually to 50 percent.
The survey claims that the constitutional provision of 50 reserved seats for women had apparently failed to ensure gender equality and political empowerment of women.
So, there should be a provision earmarking nominations of women from general seats alongside reserving 33 percent of posts in the executive committees of political parties.
Participating in a discussion on the findings, the speakers said political parties must take steps to increase the number of women contestants for general seats.
BNP Standing Committee Member Moyeen Khan presided over the programme, while Awami League lawmaker Hafiz Ahmed Mazumder, British High Commissioner in Dhaka Robert W Gibson, and former adviser to a caretaker government M Hafiz Uddin Khan among others spoke.
http://www.thedailystar.net/beta2/news/85pc-people-think-more-women-should-run-for-general-seats/
------------
Girls Most Harassed At Disaster Shelters
October 24, 2013
In the event of disasters, cyclone and flood shelters are usually where adolescent girls get sexually harassed the most, speakers said at a report launch yesterday.
The report, "Double Jeopardy: Adolescent Girls in Disasters", commissioned by Plan International, was unveiled marking the occasion of International Day of the Girl Child, observed on October 11, at the capital's Spectra Convention Center.
Shohagi, a teenage resident of the capital's Jatrabari, recounted at the programme how her neighbour was raped and killed in a shelter during the 2004 flood.
"The shelter only had an open toilet in the garden. My neighbour–a girl my age–was picked up from there by some boys, who used to stalk her, raped and left to die," she said.
As a result, Shohagi got scared and stopped eating to avoid going to the toilet, she stated.
Another resident of Jatrabari, Amena, recalled how the government shelter she took refuge in during the same 2004 flood was ill-equipped for women.
"There was only an open tap for bathing. Men and women had to bathe together. I tried at first but got scared by some men who were leering at me while I washed myself," she narrated.
Taslima Akhter, whose house caught fire in 2010, took refuge in a shelter only to get sexually abused. "When he kept touching me, I almost felt like going back into the fire again," the teenager said of an unknown man groping her in the dark.
In many shelters, men and women have to share common sleeping places, said Haribondhu Sarma, consultant at Plan International.
They often have restricted access to clean clothes or sanitary napkins during disasters, meaning they have to use unhygienic practices to take care of the situation, he added.
"Often, during relief distribution, the young girls are forced to have sex with the relief officer to get their allotted ration. Parents are also seen giving in to the pressure," Sarma said.
Zeenat Ara Begum, head of Disaster Risk Management at the organisation, observed that girls were pushed into underage marriages because they were unable to protect them.
Mohammad Abdul Wazed, director general of the Department of Disaster Management, stated that during disasters, more girls ended up as casualties than boys.
"One reason is because girls are kept from information about where to go for help, and often are discouraged from learning life-saving skills like climbing and swimming," he said.
http://www.thedailystar.net/beta2/news/girls-most-harassed-at-disaster-shelters/
------------
Syrian, Cambodian, Afghan women win media awards
October 24 2013
The director of an Afghanistan news organization, a Syrian photojournalist and a Cambodian investigative reporter each received Courage in Journalism awards from a women's media group.
The International Women's Media Foundation also honored the first black female editor of a newspaper in Zimbabwe, Edna Machirori, with its annual lifetime achievement award during a luncheon Wednesday in New York City.
Najiba Ayubi of Afghanistan, Nour Kelze of Syria and Bopha Phorn of Cambodia won the courage awards.
Ayubi runs the independent news organization The Killid Group and co-founded the Afghan Independent Media Consortium. She "has faced direct threats from many sources — politicians have sent gunmen to her home, anonymous aggressors have vowed to harm her family, and she has been publicly defamed," the IWMF said in describing her work.
Simply working openly as a woman remains a challenge in parts of Afghanistan, and Ayubi noted the lack of female journalists in several areas of the country.
Kelze, a photographer for the Reuters news agency, was a school teacher before the civil war in Syria began. She "has been targeted in pro-regime propaganda and has received threats via social media" and broke her ankle this year while retreating from sniper fire, the IWMF said.
Kelze was unable to attend the luncheon but spoke in a short video about her work, which also showed the death by sniper fire of a 19-year-old friend, a man she tearfully described as being like a brother. He was shot through the chest while pulling a wounded person out of the line of fire.
Phorn, who writes for The Cambodia Daily, "narrowly escaped with her life when the vehicle in which she was traveling came under heavy fire" while she and colleagues were investigating claims of illegal logging, the IWMF said. An activist traveling with her was killed.
Illegal logging is widespread in the lush Southeast Asian country and is believed to be supported by tycoons with good political connections.
Machirori, who has been a journalist for 50 years, told the audience Wednesday that she started her work when she was 19 and joked that everyone could do the math themselves.
"During her early years with the African Daily News, Machirori was the only woman on the staff at any level," the IWMF said.
Zimbabwe has long been considered one of the most dangerous countries for journalists, and at least 60 have been arrested and charged with insulting President Robert Mugabe since 2010, according to Zimbabwe Lawyers for Human Rights. "We still have all the apparatus of a police state," the independent Zimbabwe National Editors' Forum said earlier this year.
The IWMF lifetime achievement award "recognizes a pioneering spirit and determination that has opened doors for women everywhere," the organization said.
Past winners of the Courage in Journalism awards include Helen Thomas, who covered 10 presidents as a White House reporter and died in July at age 92; Marie Colvin, Britain's Sunday Times correspondent who was one of 28 journalists killed in Syria in 2012; and Anna Politkovskaya, a Novaya Gazeta reporter who was gunned down in the elevator of her Moscow apartment building in 2006.
http://www.thejakartapost.com/news/2013/10/24/syrian-cambodian-afghan-women-win-media-awards.html
------------
Syria frees women inmates after hostage deal
24 Oct 2013
The Syrian government has released a total of 62 women detainees as part of a three-way prisoner exchange, Al Jazeera has learned.
Sources said on Thursday the women were released over the past two days.
"We can expect more releases, but we have no confirmation that this will take place," Al Jazeera's Hoda Abdel-Hamid, reporting from the Bakaa valley, said.
There was no immediate comment from Syrian officials.
Nine Lebanese Shia hostages held for 17 months by a rebel group in northern Syria were exchanged on Saturday for two Turkish pilots held in Lebanon since August.
The release of scores of female detainees held in government jails formed part of the deal arranged by Turkey, Qatar and Lebanon.
Our correspondent said the deal has prompted a belief that many more deals between the Syrian government and the opposition might be forthcoming.
Most of the women were released at the Masnaa crossing, near Lebanon. Many have since returned to their homes in Syria.
Tens of thousands of people are being detained by the Syrian regime, many of them without trial, activists say. Rights groups say torture and ill-treatment are systematic in Syria's jails.
http://www.aljazeera.com/news/middleeast/2013/10/syria-frees-women-after-hostage-deal-2013102372117123946.html
------------
Genius Nigerian Muslim Girl Makes Record
23 October 2013
NEW JERSEY – A Nigerian Muslim girl, whose name has been buzzing in the headlines lately as a promising talent, has reserved a place among "The World's 50 Smartest Teenagers" list.
"If you are passionate about what you do, and I am passionate about many things, especially math and science, it will work out well," Saheela Ibraheem, who lived in Edison, New Jersey, was quoted as saying in The Best Schools website, which announced her title.
Women Role Models Inspire US Muslims
US Imam Sets Muslim Role Model
Muslim Role Model for US Immigrants
The young girl, only 16, has made it to headlines earlier this year when she was accepted into Harvard University, making her among the youngest students ever to attend that school.
Making a record in the US, Saheela was accepted at 12 other colleges, including prestigious MIT, the University of Pennsylvania, Cornell, Brown, Princeton, Columbia, and the University of Chicago.
In the end, Saheela chose Harvard, based on her seven-year-old brother's advice who wants to go to Harvard one day as well.
Saheela believes the key to success is knowing what you love to learn as early as possible, a knowledge she says she came to at age five.
Known as polite and humble, the Muslim prodigy said that her Nigerian parents, totally supportive of the young scholar, sometimes taught her subjects the schools didn't offer.
The teen is also interested in languages, and knows Yoruba, Arabic, Spanish, and Latin, in addition to English.
Offering a role model to her colleagues, Saheela, who dons the Islamic veil, or hijab, plays softball, soccer, and the trombone.
She also sings in the school choir and serves as president of the school's investment club.
The promising girl plans to major in either neurobiology or neuroscience, and hopes to become a scientist in order to study how the brain works.
Despite her activities, she said her number one priority was her family.
"I try my best in everything I do," Saheela said, confirming that there is nothing special about her brain.
"Anyone who's motivated can work wonders."
http://www.onislam.net/english/news/americas/465071-genius-muslim-girl-makes-record.html
------------
URL: https://www.newageislam.com/islam,-women-and-feminism/new-age-islam-news-bureau/saudi-authorities-issue-warning-ahead-of-women-driving-campaign/d/14124