New Age Islam News Bureau
26 Jun 2019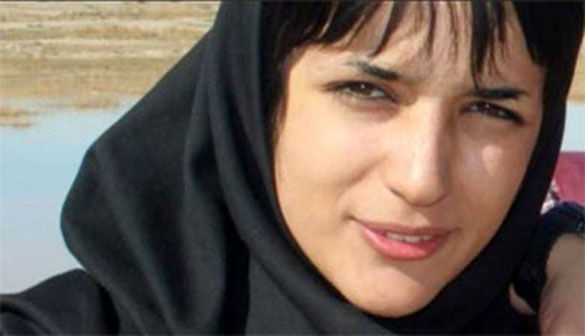 The 3.5-year sentence for Tehran University student activist Leila Hosseinzadeh was upheld by the Revision Court of Tehran Provinc
-----
• Tehran University Student Leila Hosseinzadeh Sentenced To 3.5 Years
• Selling Sketches and Clothes, Libyan Women Set Up Businesses against the Odds
• UN Report: Women Too Often Suffer Violence in Families
• Children of Saudi Women Married To Foreigners Have Residency, Work Rights
• Pakistan: How One Girl Overcame the Armed Men Who Blocked Her School
• New Jersey Woman Sentenced For Supporting ISIS — Again
• Muslim SANDF Major's Hearing Over Refusal to Remove Headscarf Set For August
• Enterprise Closed Over 'Disrespect Toward Women'
• Syrian Woman Recalls Regime Jail Torture, Rape Threats
Compiled by New Age Islam News Bureau
URL: https://www.newageislam.com/islam-women-feminism/saudi-arabias-new-ambassador-princess/d/118998
--------
Saudi Arabia's new US Ambassador Is a Princess with an Impossible Job
Jun 26, 2019
Saudi Princess Reema bint Bandar bin Sultan has a daunting task as she prepares to take up her role as the kingdom's ambassador to Washington with relations at their lowest point since the Sept. 11, 2001 terrorist attacks.
The murder of columnist Jamal Khashoggi, the long-running war and humanitarian crisis in Yemen and the detention of Saudi female activists have all shattered the kingdom's relations with much of the Washington establishment. The princess, expected to arrive in the US capital within weeks, will try to begin reversing all of that.
"With the exception of the Trump administration, political attitudes in Washington toward Saudi Arabia are toxic these days," said Fawaz A. Gerges, a professor of international relations at the London School of Economics. "She will have to actively engage members of Congress and the foreign policy elite and reassure them that Saudi Arabia hears their concerns. Her mission is very daunting."
The crisis in relations is undermining what could have been a golden era in Saudi-US ties. US President Donald Trump arrived at the White House as Crown Prince Mohammed bin Salman was consolidating his power as the kingdom's de facto ruler, promising sweeping economic and social changes for a country long criticized for its record on women's rights and adherence to a strict 18th century interpretation of Islam.
Trump made Saudi Arabia the centerpiece of his Middle East strategy of isolating Iran, hosting Prince Mohammed in the Oval Office months after his inauguration, promising hundreds of billions of dollars in weapons sales to the kingdom and making his first trip abroad as president to Riyadh, where he took part in a ceremonial sword dance.
Instead, Saudi Arabia has become a pariah in Washington outside the Trump administration. Senior lawmakers in both parties who struggle to get any legislation passed remain unified on the issue of punishing the kingdom, and the crown prince in particular, for the killing of Khashoggi and the war in Yemen, which the United Nations calls the world's worst humanitarian crisis.
For supporters of a strong US-Saudi alliance, the constant flow of bad news hasn't let up. Last week, a UN expert assigned to investigate the October killing of Khashoggi at the Saudi consulate in Istanbul released grim new details about his murder and dismemberment, recommending a probe into the possible role of Prince Mohammed in the incident.
The official, Agnes Callamard, said she found no "smoking gun" and that "no conclusion is made as to guilt," but in a 100-page report she said there was "credible evidence, warranting further investigation of high-level Saudi officials' individual liability, including the crown prince's."
Saudi officials rejected her findings and have repeatedly said the crown prince wasn't involved in the killing. The kingdom's minister of state for foreign affairs, Adel Al-Jubeir, said that Callamard's report "presented many unfounded accusations, including the violation of a number of international conventions, and is totally unacceptable to the leadership of the Kingdom," according to the official Saudi Press Agency.
The same week as the UN report, the Republican-controlled Senate voted to block $8 billion in arms sales to a handful of countries led by Saudi Arabia. It was a rare bipartisan rebuke of Trump after he used an emergency declaration to move forward on the deal despite congressional objections.
Enter the Princess
Enter Princess Reema. The daughter of former Ambassador to the US Bandar bin Sultan -- renowned as one of the most influential Saudi envoys during his 22 years in Washington -- the princess arrives with a deep knowledge of US politics and culture and a reputation as an advocate for women's rights.
While some others in the extended royal family have been stripped of influence and wealth, the princess remains well-connected: Her grandfather was the brother of King Salman.
Saudi officials say she knows the challenges she'll have to confront in Washington.
Princess Reema "realizes that bilateral relations have been tested in the past but that the two countries have always managed to overcome their differences," Fahad Nazer, the spokesman at the Saudi embassy in Washington, said in response to emailed questions. "Princess Reema will do all she can to make sure that this strong partnership not only endures but that it continues to strengthen well into the future."
She will arrive in Washington amid heightened concerns about a military clash between the U.S. and Saudi rival Iran. Saudi officials, who have long pressed for tougher U.S. measures against Tehran, arguably haven't had as strong a relationship with the White House since the days when Princess Reema's father, who was nicknamed Bandar Bush for his close relationship with President George H.W. Bush, operated out of the kingdom's embassy.
"Saudi Arabia greatly values its strategically vital bilateral relations with the United States," Nazer said. "Princess Reema is committed to ensuring that the relationship continues to strengthen and broaden on the political, military, economic and cultural fronts."
Davos, Uber
Princess Reema emerged as a key player in the kingdom's efforts to revamp its relations with the U.S. before being appointed ambassador. In January of last year, she went to the World Economic Forum in Davos, Switzerland, where she defended Saudi Arabia: "There is a determination to not allow us to create a new narrative," she said. "And my question is: Why?"
A graduate of George Washington University in Washington, the princess has spoken out on issues of gender discrimination in the kingdom, arguing that it can't afford leaving women out of full participation in its workforce. She traveled to the U.S. last year, speaking at the Atlantic Council on Prince Mohammed's economic agenda. She also has worked with the Saudi Education Ministry to include sports education for girls in schools.
In the U.S., Uber Technologies Inc. added Princess Reema to its global policy advisory board in May 2016. The same year, the Saudi Arabian Public Investment Fund completed a strategic investment in Uber, and took a seat on the ride-hailing company's board.
She'll find a receptive audience in the Trump administration, which continues to defend the U.S.-Saudi partnership, backing the kingdom-led military alliance fighting in Yemen and saying it supports justice for Khashoggi without pointing blame at Prince Mohammed. Saudi Arabia would be a linchpin of Jared Kushner's long-promised Middle East peace plan. The president's son-in-law and senior adviser, who's leading a conference in Bahrain this week on potential economic aid to Palestinians, forged a partnership with the crown prince early in Trump's administration.
In a recent interview with Asharq Al-Awsat newspaper, Prince Mohammed said that "strategic relations with the U.S. will not be affected" by what he described as "media campaigns or arbitrary stances."
Princess Reema's challenge will be to try to refocus the image of Saudi Arabia and the crown prince as the harbingers of a moderate form of Islam that breaks with kingdom's past, according to James M. Dorsey, senior fellow at Singapore's S. Rajaratnam School of International Studies and its Middle East Institute. It 's likely to be a long-term project.
"It will take substantially more to soften the kingdom's critics in Congress and beyond," Dorsey said. "To achieve that, Reema would have to be backed by some real changes."
https://www.hindustantimes.com/world-news/saudi-arabia-s-new-us-ambassador-is-a-princess-with-an-impossible-job/story-LCEFBuOSTmuiSqi5ppWgyN.html
--------
Tehran University Student Leila Hosseinzadeh Sentenced To 3.5 Years
Jun 25, 2019
The 3.5-year sentence for Tehran University student activist Leila Hosseinzadeh was upheld by the Revision Court of Tehran Province. She is also banned from leaving the country for two years.
Leila Hosseinzadeh, secretary of the central council of students at Tehran University, was arrested during the nationwide uprisings of January 2018, and released on bail after some time.
On Monday, June 24, 2019, Branch 36 of the Revision Court of Tehran Province informed her of her sentence. Leila Hosseinzadeh has been sentenced to 30 months' imprisonment on the charge of "association and collusion against national security" and another one year for "propaganda against the state."
Student activist Leila Hosseinzadeh had been previously sentenced on March 7, 2018, to six years in prison and another two years of being deprived of leaving the country, by Branch 26 of the Court of Tehran. Her first trial was held on October 22, 2018, and her revision hearing was held on May 14, 2019.
Following this verdict, a group of students of the School of Social Sciences of Tehran University held a gathering at their school to protest the continuing trend of arrests and verdicts issued for students by the Judiciary.
Officials of the Ministry of Sciences and Higher Education had previously promised students, that the cases involving student activists be terminated and returned to the university. This, however, has never been done. Student protesters demanded that officials of the university come in person and account for the situation of the arrested students and other students of the university who are awaiting their verdicts. Student protesters emphasized that if they do not receive any response from the officials, they would continue their protests.
Based on the data compiled by the Women's Committee of the National Council of Resistance of Iran, at least 500 women including a large number of female students were arrested and detained during the nationwide protests in December2017-January2018 uprising.
https://women.ncr-iran.org/2019/06/25/tehran-university-student-leila-hosseinzadeh-sentenced-to-3-5-years/
--------
Selling Sketches and Clothes, Libyan Women Set Up Businesses against the Odds
June 25, 2019
TRIPOLI: When inflation began eating into her state-paid salary Libyan architect and assistant professor Seham Saleh started selling drawings over the Internet to help pay the bills.
She joins a growing number of Libyan women launching start-ups in the conservative Arab country, where many still think a woman's place is in the home but where the strains on personal and family income following years' of political chaos have forced women to look for more work.
Libya has only a tiny private sector, which means there is a market for locally-produced goods. The economy is dominated by the state, which employs most adults under a structure set up by Muammar Qaddafi, who was toppled in 2011.
Men are the traditional breadwinners, although around 30 percent of women were in the labor force as of 2015, according to a UN report.
"I cannot live on my assistant professor salary of 1,000 dinars ($256) even if it is paid out," said Saleh. She has been selling drawings of people in Libyan dress or book marks she created on a computer.
"Thank God... people wanted to buy the products," she said. She also does freelance work as an architect.
Once one of the richest countries in the region, the chaos and civil war that ensued after the fall of Qaddafi has seen Libya's living standards erode. Little is now produced in Libya other than oil, even milk is imported from Europe.
Cumulative inflation over the last four years has seen real incomes lose more than half of their purchasing power, and the government effectively devalued the dinar last September.
A cash crisis means public servants often do not get their salaries paid out in full. Lenders have no cash deposits as the rich prefer to hold their cash themselves, rather than deposit it in a bank.
Women rarely had jobs outside of sectors such as teaching, although the need for more family income has changed the situation, said Jasmin Khoja, head of a women's business support venture.
Her organization, the Jusoor center for studies and development, has trained some 33 would-be female entrepreneurs, offers legal advice and office space as women often can't afford their own.
While Seham's "Naksha" art business is in its early stages, others such as Najwa Shoukri's start-up are growing fast. She started designing clothes from home in 2016, and selling them online.
Now, together with five other women, she has a workshop selling 50 pieces a month and plans to open a shop next year on Jaraba Street, the main fashion shopping avenue in Tripoli.
To make the shop a success her output would have to rise to 150 pieces a month. Her brother and family have contributed to investments worth 10,000 dinars.
The biggest challenges for start-ups are legal hurdles and the lack of electronic payment systems.
Some Libyan commercial laws go back to the 1960s and are aimed at big corporations such as oil firms, not start-ups. Under these regulations firms need to deposit thousands of dinars.
"Banks do not give loans, which stops projects and makes them unable to grow or employ other women and young people," Khoja said.
Undeterred, Mayaz Elahshmi started a business last week training women to fix computers and smartphones.
"There is big demand as many women are reluctant to go to a phone shop where men work, as they have personal files on their phones."
Six people came to her first training session, each paying 30 dinars.
http://www.arabnews.com/node/1516146/business-economy
--------
UN Report: Women Too Often Suffer Violence in Families
By Edith M. Lederer 
June 26, 2019
UNITED NATIONS — The U.N. women's agency says in a new report that families around the world can be loving and supporting but too often are the place for discrimination and violence against women — and home is one of the most dangerous places for a woman. U.N. Women's Executive Director Phumzile Mlambo-Ngcuka told a news conference Tuesday launching the report that's because of "the shocking pervasiveness of intimate partner violence." In 2017, for example, every single day 137 women were killed by a family member, she said.
While the report recognizes the vital importance of families to cultures and economies, it also says that in every region there are concerted efforts to deny women autonomy and the right to make their own decisions in the name of protecting "family values."
"I am here today to say that this is not acceptable and cannot be allowed to stand," Mlambo-Ngcuka said. "Women around the world, and their allies, will not allow a roll-back of everything that we have achieved."
Despite great progress in legally eliminating discrimination against women, she said, "it's no accident" that the slowest progress has been in family laws that govern a woman's right to choose who and when to marry and her right to divorce and inherit money and property.
The 287-page report entitled "Families in a Changing World" provides data on the variety of family forms, based on U.N. population division data from 86 countries around the world of all incomes.
According to the data, 38% of households globally are couples living with children, 27% are extended families including other relatives and 8% are one-parent families, the vast majority led by women often juggling paid work, raising children and unpaid domestic work. Households comprising couples without children accounted for about 13%, and one-person households for 12.5%.
The report said same-sex families are increasingly visible in all regions, adding that as of last month, 42 countries around the world have granted same-sex couples the right to marry or form a civil union. At the same time, however, it said some 68 countries criminalize consensual sexual relations between partners of the same sex, and in 11 of those countries such relations are punishable by death.
Mlambo-Ngcuka said the report shows authoritatively for the first time that families are diverse.
It also counters the push-back against women's independence "by showing that families, in all their diversity, can be critical drivers of gender equality" provided governments adopt policies with women's rights at their core.
Shahra Razavi, U.N. Women's chief of research and data, noted other huge changes impacting women.
The age of marriage, for example, has increased in every region of the world from 21.9 in 1990 to 23.3 in 2010, she said, which has enabled women to complete their educations, get a foothold in the labor market and support themselves financially.
In some cases, Razavi said, women are choosing to delay marriage or live together.
For example, she said, "in some countries in Latin America, southern Africa and Europe up to three-quarters of women aged 25-29 in a relationship are cohabiting."
The report stresses the importance of women having their own income and recommends greater public investments in child care services and in social protection — and paid parental leave to spur women into the job market.
Marwa Sharafeldin, a board member of Musawah International Movement for Equality and Justice in the Muslim Family, told the launch that the report's first recommendation — to adopt family laws based on equality and non-discrimination to expand women's choices — poses special difficulties for Muslims.
Almost all Muslim families laws are hundreds of years old and were based on rulings by jurists at the time, she said. Some condone marital rape, permit husbands to "discipline" their wife, allow child marriage and polygamy, and restrict women's movements outside the home without their husband's permission.
But despite the risks, Sharafeldin said Muslim feminist scholars and activists are developing "a brave new family jurisprudence ... with gender egalitarian possibilities that are rooted in Muslim scripture."
In Indonesia, the world's largest Muslim country, for example, a legal ruling has banned child marriage and domestic violence, she said.
In India, after relentless advocacy by Muslim women, the Supreme Court declared unconstitutional the practice whereby a husband can divorce his wife on the spot by just saying "I divorce you" three times, Sharafeldin said.
And Tunisia has banned polygamy and Egypt set the age of marriage at 18, Sharafeldin said.
She said Musawah International is campaigning this year for a comprehensive reform of Muslim family laws.
"It is time families, in all their diverse forms, become a safe space for women, men and children together," Sharafeldin said.
https://www.washingtonpost.com/world/un-report-women-too-often-suffer-violence-in-families/2019/06/25/6839c796-97c3-11e9-9a16-dc551ea5a43b_story.html?utm_term=.4f92c662341c
--------
Children of Saudi Women Married To Foreigners Have Residency, Work Rights
June 25, 2019
RIYADH — Children of Saudi mothers from non-Saudi fathers have residency rights and enjoy right to residency, work, education and medical treatment on equal footing with the children of Saudi mothers and fathers, the Human Rights Commission (HRC) has said.
It explained that the children of Saudi mothers and non-Saudi fathers who are staying in the Kingdom have the right to be issued with permanent iqama (residency permit) and the mothers can recruit them if they are living outside.
The commission said in this case, the government will bear the cost of issuance and renewal of iqama.
It said the children can work in the private sector without transferring their iqama and they will be included within the Saudi citizen category in private establishments.
According to the commission, children of Saudi mothers and non-Saudi fathers will be treated as full-fledged Saudi citizens in getting education and medial treatment.
The children should, however, have ID cards to prove their credentials.
The wife can also bring her foreign husband if he is living outside the Kingdom and can transfer his iqama on her if he so wishes.
Th non-Saudi husband will also have the right to work for the private sector without transferring his iqama on them.
The husband should have valid passport which is recognized by the Saudi authorities and the marriage should have been formally documented and made under the consent of the concerned Saudi authorities.
http://saudigazette.com.sa/article/569898/SAUDI-ARABIA/Children-of-Saudi-women-married-toforeigners-have-residency-work-rights
--------
Pakistan: How One Girl Overcame the Armed Men Who Blocked Her School
June 26, 2019
For years, armed men surrounded a girls' school in a village in Pakistan's Balochistan province, to prevent the girls going inside. But one eventually made it to university and is now training to become a journalist. She told the story of her struggle to the BBC's Shumaila Jaffrey.
"I spent my childhood in fear," says Naeema Zehri, a student at Sardar Bahadur Khan Women's University in Quetta. "It still sends shivers down my spine when I think about it."
Naeema grew up in a tribal village in the Khuzdar district of Pakistan's restive Balochistan province. Her childhood coincided with a time when lawlessness was at its peak, she says. The news was full of tales of Baloch men being abducted and killed in targeted attacks. Fear, prejudice, and weapons were everywhere.
Balochistan is Pakistan's poorest province. It has endured long-running hostilities between separatist insurgents and the Pakistani army. In its remote mountainous villages, life is generally miserable, but women suffer particularly, Naeema says.
"My childhood was marred with poverty. We are seven siblings and my father left us and married another woman. My mother was not educated, so we had to depend on family charity to meet our basic needs. Education was a luxury that we could not afford."
For Naeema, getting an education was a struggle. She went to the free state-run girls' primary school in her village until the age of 10, but the school was shut down.
She says that from 2009 to 2013, the school was taken over by criminals supported by the local tribal chief and the men put up a barrier at the school entrance to keep the girls from the building. The BBC cannot independently confirm this, but such situations were not uncommon in Balochistan.
"The picket was barricaded; it was manned by six to eight armed individuals all the time. I remember walking past it in my childhood. We used to be terrified by the armed men standing out there. I would always fear that they might shoot me," Naeema says.
"Dressed up in shalwar kameez [loose baggy shirts and trousers worn by men in Pakistan], they used to have guns in their hands, their faces were always covered in scarves, only their eyes were visible."
'Don't send your girls to school'
The armed men never approached or threatened the children, Naeema says, but the picket served two purposes: it was to keep the girls away from education, and so the tribal chief's armed men could use the campus as a hideout.
"It was a clear message to the people," she says. "Don't send your girls to school."
The effect on the village was devastating. Government teachers did not dare to work in such an environment. Naeema and a few other girls were admitted to another school in a nearby village, but it was just a formality. Parents sent their girls there to get free cooking oil - which was provided by an international donor organisation to increase girls' enrolment in the area - but not to learn. Girls had their attendance marked in registers and then went home. Naeema says the teachers were scared, but partially corrupt too.
"There were many schools that only existed on paper in our area. Teachers were deputed in such schools and they were drawing salaries too - but the schools were completely dysfunctional," she says.
Meanwhile, the violence in Balochistan was taking its toll. Naeema had to face the abduction and death of her two maternal uncles within one year. She says they simply disappeared, and their bullet-riddled bodies were found months later.
"I was completely shattered. They were so young, so full of life; I couldn't overcome their deaths for a long time."
But the tragedy motivated Naeema to continue her education, she says. After finishing middle school she had to stop going to school but she didn't let it disrupt her studies.
"My family couldn't afford education, and they were also under pressure by the villagers."
That was because local women were not encouraged to pursue school education, she says - but to go to madrassas (religious seminaries) or to do chores.
"There is hypocrisy around that too. Women are not allowed to go out to get education, but when it comes to helping men in the field, there are no barriers. Those who stay home, they earn a living through embroidery - but it's the men who get and spend their wages."
Naeema continued her studies at home and took exams as a private candidate. When she finished high school, her education was interrupted for some time because her brothers opposed it. But the murder of her uncles gave her new purpose. She noted that there was a complete silence in the media, and it left a mark on her psyche.
"Are Balochs not humans? Why do their lives not matter? I found it extremely hurtful," she says. "When will people start showing sensitivity toward Balochs?" The experience made her want to take up journalism.
'Telling the stories of my people'
International media outlets are not allowed to report from Balochistan unless they have special permission from the authorities - which they rarely get. Pakistan's mainstream media is also under a blanket ban when it comes to reporting on the insurgency in the province.
Naeema says that when she heard about Balochistan's only women's university, she persuaded her family to let her keep studying. Her brothers opposed the idea but one uncle supported her and paid her fees for a year. After that, she was out of funds - but she applied for a USAID sponsored scholarship, funded by the US government, and now her education is completely covered.
"I want to become a journalist so I can tell stories of my people, the people of Balochistan," she says. "And let me tell you that I won't be scared... I will always stand with the truth."
https://www.bbc.com/news/world-asia-46859824
--------
New Jersey Woman Sentenced For Supporting ISIS — Again
By Emily Saul and Max Jaeger
June 24, 2019
A New Jersey woman who was already busted for providing material support to ISIS went right back to her evil ways — even as she was supposed to be helping the feds fight the terror group, officials revealed Monday.
Sinmyah Amera Ceasar, 24, cut a cooperation deal with the feds following her previous arrest for aiding the terror group — but flouted the deal by outing herself as a cooperator and resuming her ISIS rhetoric with potential recruits online, prosecutors said in Brooklyn federal court.
She now faces up to life in prison.
"She failed and washed out as a cooperator," said Assistant US Attorney Josh Hafetz. "She has revealed her cooperation online."
Ceasar was charged with providing material support to ISIS in 2016 — which carries a potential sentence of life in prison — but she cut a deal with the feds a year later and was instead let go on supervised release, according to officials.
But she raised red flags for investigators after posting defiant messages on social media that violated the conditions of her plea deal — and included references to Pulse nightclub shooter Omar Mateen, as well as knife, gun and bomb emoji.
"I didn't do anything wrong under Islam but stand up for my din," she wrote in one post, using the Arabic word for "faith" or "religion."
The refusal to accept responsibility while deferring to Islamic law rather than US law raised a "red flag," according to government witness Dr. Lorenzo Vidino , director of the program of extremism at George Washington University.
"My assessment is that she retains the mindset of ISIS. She refers to this court, this whole system, as a 'kafir' system," he testified, using the Arabic term for infidel. "She implies the only way to practice Islam is to practice ISIS. Which is clearly not the case."
She revealed she was cooperating with the feds to at least two people in 2018.
"[T]he fbi put me under a different name because they wanted my case too be sealed from the country etc," Ceasar told an unnamed individual using a phony Facebook account that she registered, according to court papers unsealed Monday.
In one Facebook message, she told a person associated with UK-based ISIS supporters that she "went to prison because some the Muslims were spies :(" and later added "I just got released from prison [smiley face]" — which prosecutors said revealed she was cooperating.
Ceasar believes Islam is disrespected in the United States and wanted to help "make Islam great again," said defense witness Daisy Khan, of the Women's Islamic Initiative in Spirituality and Equality, a reference to President Trump's campaign slogan.
Khan met with Ceasar six times at the request of defense attorneys and determined her actual knowledge of Islam was limited at best.
"She doesn't know what much about her religion," Khan said.
In videos posted to YouTube in 2015, Ceasar rants about fellow Muslims who are sexually attracted to infidels, the number of homosexuals in Morocco, witchcraft and genies.
"Keep Quran to you, because sihr [witchcraft] is real, the jinn [genies] is real, magic is real," she says in one clip.
She also invites people to reach out to her on encrypted messaging apps such as Viber.
"All I have to say is that — the sisters I know I didn't get in contact with — if you have Viber or messenger y'all can message me on that and we can talk on the phone like that," she said in one video.
Prosecutors say Ceasar used phony accounts to spread propaganda and also vetted and avouched for potential recruits.
"She played two main roles, which I would characterize as a disseminator and a connector," Vidino testified Monday. "She connects [others] with people who are ISIS members."
Ceasar was re-arrested and pleaded guilty to obstruction of justice in March, officials said.
The defense said she was raped as a child, dropped out of school in the 11th grade and suffers from PTSD.
The hearing is scheduled to continue Tuesday.
https://nypost.com/2019/06/24/new-jersey-woman-sentenced-for-supporting-isis-again/
--------
Muslim SANDF Major's Hearing Over Refusal to Remove Headscarf Set For August
2019-06-25
A Muslim member of the SA National Defence Force (SANDF) who refused to remove her headscarf, is expected to face a disciplinary hearing on August 7, her lawyer said.
"At that disciplinary hearing, she will be allowed to bring legal counsel," Nazeema Mohamed told News24.
Mohamed said the major appeared before a military court on Tuesday morning and that the matter was postponed.
The major has been a member of the armed forces for the past 10 years and works as a clinical forensic pathologist at 2 Military Hospital in Wynberg.
News24 previously reported that Mohamed said the SANDF's action was "islamophobic, sexist and showed a poor attitude towards women".
According to Mohamed, it (the headscarf) did not obstruct any insignia or military rankings and for the past decade, none of the officers she reported to took exception to it.
Should the SANDF proceed with charges against the major, they would take the matter to court as the action against her was discriminatory, Mohamed said.
Another major, Simo Mbete, based in Port Elizabeth, told News24 on Tuesday that he was told to take off his taqiyah (skull cap) during a morning roll call in October last year. He said he has never had any problems in the past, having converted to the Muslim faith in 2016.
After refusing to take it off, his case was taken to the military court earlier this year where he was found guilty of disobeying a lawful command.
He was fined and had to spend three months in the military barracks. He said he would appeal.
Attempts to reach SANDF spokesperson Mafi Mgobhozi on Tuesday were unsuccessful.
https://www.news24.com/SouthAfrica/News/muslim-sandf-majors-hearing-over-refusal-to-remove-headscarf-set-for-august-20190625
--------
Enterprise Closed Over 'Disrespect Toward Women'
June 26 2019
The municipality of Akpınar in the Central Anatolian province of Kırşehir has ordered the closure of an enterprise for 15 days due to "disrespect shown toward women."
A group of women at a marketplace in the Akpınar district had complained of disturbance with a shopkeeper who threw expletive-filled insults at them. The women then filed a complaint with the Akpınar municipality.
The municipality later ordered the relevant shop to be closed for a period of 15 days, with the municipality police ("zabıta" in Turkish) parking a vehicle belonging to the fire department in front of the enterprise shop.
The municipality announced the closure by placing a placard on the fire brigade truck, reading: "This place has been closed down for 15 days due to the disrespect it showed to women."
http://www.hurriyetdailynews.com/enterprise-closed-over-disrespect-toward-women-144492
--------
Syrian Woman Recalls Regime Jail Torture, Rape Threats
Meryem Goktas
26.06.2019
A former inmate of Syrian prisons run by the Bashar al-Assad regime recounted the torture and abuse she faced during her incarceration as her scars keep horrific memories alive.
In an interview with Anadolu Agency, Nur Hammad -- a pseudonym to protect her identity -- spoke for the first time about the cruelty she was forced to endure during her nine-month imprisonment at several detention centers.
The 30-year old was arrested by the Assad regime soldiers in May 2018.
Arrested at checkpoint
Before her arrest by regime henchmen, Hammad worked as a pharmacist in the Eastern Ghouta suburb of Damascus -- which was under intense siege by forces loyal to Assad.
She left the region to move to Idlib, though she was later forced to seek return after her mother called her back as her younger sibling died.
"I prepared my stuff and left off to go to my mother [to Eastern Ghouta]. After passing the Free Syrian Army [FSA] checkpoints I reached the Assad regime checkpoints where they were conducting identity checks," she said.
She was called out of the car, only to find out her name was on the wanted list of the Syrian regime.
Hammad said she was brought to the Aleppo political security center after being searched and handcuffed.
She was searched by men, who touched her and disrespected her religious and traditional values.
"Later, a woman who was around 50 years old came and took me in a separate room where she removed all my clothes and searched me as well," she said.
From there, Hammad was brought to the Aleppo military intelligence center, with her hands bound behind her back.
"During the entire journey they [regime soldiers] cursed and insulted me, this was the first time I was slapped for sitting upright," she said.
First interrogation
At the intelligence center, she was put into a one-square-meter cell where she spent two days before her first interrogation began.
"I couldn't even lie down as every two hours, the soldiers would come in, pour water on me and insult me before leaving, I could also hear little children crying, and sounds of men suffering," she said.
On her second day in the cell, regime soldiers took her out for her first interrogation.
"They tied my eyes and tied my hands behind my back and when I asked why I was treated like this they tightened the plastic handcuffs more and started to interrogate me," she said.
Despite repeatedly telling them that she was innocent, this treatment continued.
Hammad said she was accused of supporting the FSA with medical supplies and of supporting and standing with those rising up against the state.
"I told them that the pharmacy was open for every patient and person in need, I didn't know if anyone was from the opposition or the Assad regime," she said.
She said one particularly hard slap during the cruel interrogation caused her to faint.
"They poured water on my face with a bucket and woke me up, during that time they also took off my hijab," she said.
Threatened with rape
When she was conscious again her hands and feet were tied as well. "I was very scared."
"The person who was interrogating me asked the others for a plastic tube, I remember him hitting me 23 times, I fainted, thinking I was going to die of pain. When I would recover the questions would continue," she said.
Four soldiers in the room would take turns torturing her, ignoring her desperate pleas for them to stop.
She said that the soldiers also looked through her pictures on the phone, insulting and threatening her with rape.
"They told me to decide: 'either you admit [to the accusations] or you will die'," she said.
She was then kicked several times when she fell down with no strength to move anymore.
"The interrogator instructed them [the other soldiers] to hold me from my hair and drag and throw me into the cell like a 'garbage bag'," she said, describing how her hair was painfully pulled out in the soldiers' grasp.
Sleep deprived
"As long as I was in the cell, they would pour water from a bucket [on me] every two hours, there was blood on the floor, but I didn't know where the blood came from and where I was bleeding," she said.
Inside her cell, Hammad said she lost any sense of time passing over 32 days under unbearable and unhygienic conditions.
Unable even to shower during this time, sleep was fleeting for Hammad during her imprisonment due to the cries of suffering coming from other inmates.
Cruel, Inhuman, Degrading Treatment
She was taken into interrogation again, and torture began anew.
"They tied my hands and stretched my feet, which were off the ground, like I was tightened on a crucifix, they punched my back, my legs, everywhere with tubes," she said.
"Blood was running out of my mouth and nose, I felt that some of my body parts were fractured, three of my ribs were cracked, there are still the signs of their torture on my body," she added.
This torture would continue every two days for 2-3 hours. At the end of 32 days, she was taken to the commanding officer who tried to force her to confess.
"There was a barrel filled with water, I understood what they were up to. After hitting various parts of my body, they grabbed my hair and plunged my head into the barrel, I felt like I was drowning," she said.
Hammad said she was praying to God, calling out to take her life, as she could no longer bear the pain.
"Every time I reached the point of drowning they pulled out my head and forced me to confess, the interrogator called the others to give me electricity, my entire body was wet, they would give me electric shocks," she said.
Hammad was unsure how long this continued.
"I felt like fainting, I couldn't bear this pain anymore, I had no longer any strength to speak," she said.
Unable to stand the intensified torture, she accepted all charges against her.
"They tortured me so much they [had to] take me to the hospital, have me treated and take me back to the prison," she said.
Freedom through bribing
During her time in prison, Hammad's family sold their properties to find out where she was held.
They were forced to bribe one of the officers who partook in Hammad's torture in order to arrange for her release.
She had to accept the charges of "knowing members of opponents" to get released. After she was brought to court she was transferred to the Adra prison -- a facility known for its heavy torture and the rape of inmates.
Hammad said that she was not immediately released as she had many signs of torture on her body which would be evidence and was forced to sign a document without even reading it.
"In Adra, there were high-ranking soldiers. They would enter the cells and take out the beautiful girls," she said, adding that rape was common there.
Life after torture
After seven months of incarceration in Adra Prison, Hammad was released and made her way straight to her family and friends who were living in Damascus.
"I was only able to stay for three days and see my mother in secret, I felt like I was harming my family," she said stating that she could no longer bear to stay in an Assad regime-held area.
"I knew that the northern parts of Syria were safe, a friend of mine bribed one of the Assad regime soldiers, he got me from Damascus to the North [of Syria] without getting stuck at any checkpoint," she said.
After her release, Hammad said her fiance turned his back on her. "I called my fiance, it was a foreign number, so he picked up. When I told him it was me, he said not to call him anymore and hung up," she said, remembering this as one of the most painful moments after her release.
"Now I live here [Afrin], with my friends, I can't talk to my family, I can't practice my profession," she said.
"I'm thankful that my family reached out somehow and I could escape from torture and prison with bribery, but there are thousands of women in prisons without anyone, without any money," she said.
Call for support
Hammad called for help for those women who continue to languish in prisons and those who were released as she said they are "forgotten".
"I want people who hear my voice to help those women who remain in prisons. They need a helping hand, just as the ones who survive prison," she said.
Speaking about her life after prison, Hammad said she wanted to continue life as strong as possible.
"My dream is to go to a different country as soon as possible, to forget what I was put through and complete my education to stand on my own feet again," she said.
Syria has been locked in a devastating conflict since early 2011, when the Bashar al-Assad regime cracked down on demonstrators with unexpected severity.
Since then, hundreds of thousands of people have been killed and more than 10 million displaced, according to UN figures, while women and children continue to bear the brunt of the conflict.
According to the Conscience Movement, more than 13,500 women have been jailed since the Syrian conflict began, while more than 7,000 women remain in detention, where they are subjected to torture, rape and sexual violence.
The movement is an alliance of individuals, rights groups and organizations aiming to secure urgent action for the release of women and children in the prisons of the Syrian regime.
https://www.aa.com.tr/en/life/syrian-woman-recalls-regime-jail-torture-rape-threats/1515919
--------
URL: https://www.newageislam.com/islam-women-feminism/saudi-arabias-new-ambassador-princess/d/118998
New Age Islam, Islam Online, Islamic Website, African Muslim News, Arab World News, South Asia News, Indian Muslim News, World Muslim News, Women in Islam, Islamic Feminism, Arab Women, Women In Arab, Islamophobia in America, Muslim Women in West, Islam Women and Feminism