New Age Islam News Bureau
08 February 2021
• Baptist Catholic Woman of Wisconsin inspired by Drills Ertugrul becomes Muslim
• Saudi Women Find Their Calling in 'Elegant, Exciting' Fencing
• Actress Jameela Jamil Fronts Activist-Led Tommy Hilfiger Campaign
Compiled by New Age Islam News Bureau
URL: https://www.newageislam.com/islam-women-feminism/saudi-arabias-first-female-yoga/d/124254
--------
Saudi Arabia's First Female Yoga Master, Nouf Marwaai, Who Was Awarded Padma Shri In India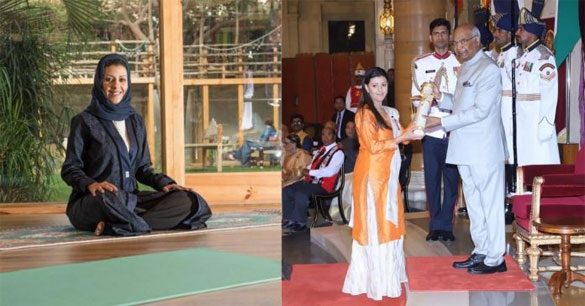 Nouf Marwaai was awarded the Padma Shri in 2018
----
February 8, 2021
India is the birthplace of yoga. In the birth city of Rishikesh, high in the mystical Himalayan Mountains, yoga was first mentioned in a written text over 7,000 years ago. It was through India, yoga became a global trend and it is a widely practiced culture in the west.
Widely perceived as a Hindu spiritual practice, yoga was not officially permitted for decades in Saudi Arabia, the cradle of Islam where all non-Muslim worship is banned. But with Crown Prince Mohammed bin Salman vowing an "open, moderate Islam", the kingdom in 2017, he recognised yoga as a sport amid a new liberalisation drive that has sidelined religious hardliners.
Nouf Marwaai is Saudi Arabia's first woman yoga master. In a country where women have long been denied the right to exercise publicly, the students – some of whom regularly attend yoga retreats in India – said the exercise had transformed their lives. Marwaai was awarded India's fourth-highest civilian honour Padma Shri, on 15 August 2018.
Nouf's story goes beyond yoga. She has had a long struggle with health conditions and has defeated lupus as well as cancer, through the help of yoga. Nouf sees yoga as a liberating factor that rids one of the mental disturbances and other psychological stress factors.
When Nouf's yoga journey began, she was motivated by her determination to fight ill-health. In the year of 1998, She was not allowed to do a lot. She was fighting excruciating joint and muscle pains. It was then that Nouf discovered yoga asanas positions.
However, she couldn't find a yoga instructor in Saudi Arabia from whom she could learn to practice the right way. She had to travel a lot to learn and practice and then obtained a license to open a yoga studio.
Nouf praised the reforms initiated by Saudi King Salman and the way Crown Prince Mohammad bin Salman is running the country. According to Nouf, lives of women in Saudi Arabia have changed and they are being empowered in every field.
She also praises Princess Reema bint Bandar Al Saud, President of the Community Sports Federation. It was because of her, it was possible to get yoga approved as a sport. Nouf has received Yoga Ratna award from Asian Yoga Federation and Yoga Person of the Year award from an Indian NGO. (Supplied)
Receiving the Padma Shri was "a great honor" and a "big responsibility" for Nouf. She had told Indian media, "I am very thankful for the trust Indian government has shown by giving me this award as an appreciation of my work in the field of yoga."
According to Nouf, people in Saudi Arabia are curious about yoga and ask questions about it. She also highlights the misconceptions related to yoga and Islam. The Indian Prime Minister Narendra Modi had also invited Nouf to contribute to the campaign Beti Bachao and Beti Padhaao.
https://thebridge.in/fitness-wellness/saudi-arabia-first-female-yoga-master-awarded-padma-shri-india/
--------
Baptist Catholic Woman of Wisconsin inspired by Drills Ertugrul becomes Muslim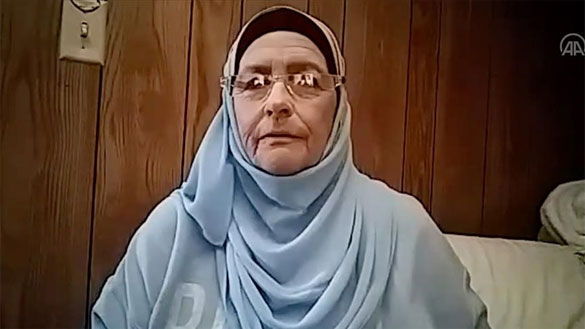 Baptist Catholic Woman
-----
Mucahit Oktay
05.02.2021
NEW YORK
A 60-year-old American woman has become Muslim after being influenced by Resurrection: Ertugrul, a popular Turkish TV series.
The Wisconsin resident chose the name of "Khadija" after her conversion to Islam and told Anadolu Agency that she came across Resurrection: Ertugrul while browsing Netflix.
"I looked into it, the details about it. So I started watching," said Khadija, adding she was really interested in Islam after watching a few episodes.
"It was a history that I knew nothing about," she said of the series.
Stressing that the dialogues of Muhyiddin Ibn Arabi gave a new meaning to her life, she said his words made her think a lot and sometimes cry.
She watched all episodes four times and started watching for the fifth time.
The series had a great impact on her orientation to Islam, she said.
"I like learning new history. It was an eye-opener to what I did know ... about religion and tried to look for more into," she added.
She said her curiosity in history connected her to the series and after watching the series she met Islam.
Although she was a Baptist Catholic, all the question marks in her head were cleared and she eventually became more interested in Islam, she said.
Noting that she read the Muslim holy book of Quran in English to learn more about Islam, she explained the process after she decided to become a Muslim.
After making a search for a mosque close to her area, she found one and went into it, where she said worshipers "were shocked to see" her.
"I became Muslim right that day," she said.
Stressing that she encountered unexpected reactions from her friends when she said she became Muslim, Khadija said they believed that she was brainwashed.
"I no longer discuss this issue with people. I do not interfere with their beliefs. They shouldn't have any reason to interfere with me either," she added.
Khadija, a mother of six children, said that as time goes by, her kids see Khadija watching Turkish shows when they stop over and her youngest son was the one who figured out she became a Muslim.
"But the others haven't asked. They suspect but haven't asked and I figured they will," said Khadija.
Often described as a Turkish Game of Thrones, Resurrection: Ertugrul tells the story before the establishment of the Ottoman Empire in 13th century Anatolia. It illustrates the struggle of Ertugrul Gazi, the father of the empire's first leader.
https://www.aa.com.tr/en/americas/us-woman-becomes-muslim-after-watching-turkish-series/2135444
--------
Saudi Women Find Their Calling in 'Elegant, Exciting' Fencing
RUBA OBAID
February 08, 2021
JEDDAH: For some young Saudis, the virtues of one particular sport — fencing — have turned out to be nothing short of life-affirming.
"Fencing taught me patience, justice and anger management," said 21-year-old women's fencer Ruba Al-Masri.
In the elegant centuries-old sport, it seems she has, alongside many young Saudi female athletes, found her calling.
Inspired by her father's athletic career, Al-Masri took up fencing three years ago, and has since claimed silver and gold medals in local and international championships.
"From a young age, I used to see pictures of my father and the medals that he achieved during his career," Al-Masri told Arab News. "My family were my first supporters to tell me to follow the footsteps of my father and begin my journey."
Since Saudi women first took part in the 2016 Olympics, the country has witnessed increasing female participation in sports. And fencing has turned out to be the most attractive.
"Until now, the number of Saudi female fencers exceeded 200, and work has been done this year to graduate the first five female referees in the history of Saudi fencing," President of the Saudi Arabian Fencing Federation Ahmed Al-Sabban told Arab News.
Women's participation in the sport began as recently as 2015 in the Eastern Province, Al-Sabban said, adding that female fencers from the region traveled to Bahrain to practice the sport. One of those fencers, Lubna Al-Omair, was chosen to take part in the 2016 Olympics.
"After that, about three women's academies were established, starting from 2017 in Riyadh, Jeddah and Dammam," he said. "We are working to have female fencing academies in all regions of the Kingdom."
Fencing has been practiced in the Kingdom since the 1960s, Al-Sabban said, pointing to its origins at the Seven Palaces Schools in Jeddah. Many expatriates who moved to Dhahran after the discovery of oil in the Kingdom also played a role in introducing the sport to Saudis.
According to Al-Sabban, the sport first became popular in the Eastern Province and Tabuk, and then spread to all regions of the country. Today, the Saudi Fencing Federation operates academies in Jeddah, Riyadh, Taif, Madinah, Tabuk and the Eastern Province.
The hard work has paid off.
Al-Masri began fencing in April 2018 when she joined the Summer Olympic Fencing Program launched by the Saudi Fencing Federation.
"Fencing is an exciting, interesting sport," said Al-Masri "It improves the player personality in terms of commitment and accuracy."
She added that the sport "requires use of all the senses simultaneously, which improves one's quick wit and observation."
Coupled with the benefits of physical activity, fencing can boost general health, she said.
From the outset, Al-Masri was fascinated by the uniqueness of the sport in terms of equipment, outfits and techniques.
"Honestly, one of the most attractive things I found in this sport was the elegance of the fencing outfit, and how it is different from other sports," she said. "I also find it comfortable because it covers almost the entire body."
After winning a gold in the first Women's Fencing Championship in the Kingdom, Al-Masri has gone on to represent Saudi Arabia internationally in Egypt, Tunisia, Kuwait, Jordan and the Philippines.
"I also learned that success does not start only from the first gold medal," she added. "Instead, it begins with persistence and progress."
Now Al-Masri has ambitions to participate in the Tokyo Olympics and has set her sights on becoming the first Saudi woman to win a gold medal. She also wants to achieve success in Asian championships and the Fencing World Cup.
"Fencing does not require specific physical criteria, therefore everyone can practice it at any age," she said. "However, it is preferable to start young if you want to be a champion."
Al-Sabban agreed, saying that there are no prerequisites for learning fencing. However, he said that there are optimal practices that will help fencers succeed, such as daily training, healthy nutrition, fitness and good sleep.
"The Saudi Fencing Federation continues to be the leader of women's sports in the Kingdom, outperforming other sports federations," he said.
"We hope that leadership will continue to support this, that fencing will be the first choice for all women in the Kingdom and that we continue to win gold medals in all tournaments."
Al-Masri and her colleagues are no doubt dreaming of the same goals.
https://www.arabnews.com/node/1805531/saudi-arabia
--------
Actress Jameela Jamil fronts activist-led Tommy Hilfiger campaign
February 03, 2021
DUBAI: Storied US fashion house Tommy Hilfiger has unveiled a brand new campaign featuring "The Good Place" actress Jameela Jamil.
The model, actress and body positivity advocate is the face of the American brand's Spring 2021 campaign "Moving Forward Together," which is all about social change and community. As per the theme, the campaign features a wide array of community leaders and activists. Joining Jamil is "Pose" star Indya Moore, ballroom legend DJ Kiddy Smile and LA's influential Compton Cowboys.
"So excited to join the new #MovingForwardTogether campaign with @tommyhilfiger as they make their move towards more sustainability and inclusion," wrote the British-Pakistani-Indian actress on Instagram.
"This is one of the most diverse and powerful campaigns I've seen from such a giant brand and I'm positively star struck by some of the inspiring advocates involved from around the world," she added.
The entire cast was photographed in pieces that they love the most. Jamil donned a long, beige trench coat worn over a red and white pleated midi skirt.
"When I ever promote clothes I try to make sure they are always things I will want to wear until I'm 80. I want to wear classics, not passing trends. These pieces will live with me forever and someone will have to pry the raincoats from my cold dead hands one day (sic)," Jamil shared on Instagram.
Instead of an in-person group campaign, Hilfiger chose to highlight each member in international environments that feel most like home to them.
According to the actress and activist, who founded the I Weigh Movement, the photographs, shot at locations in Los Angeles, London, Paris, Berlin, New Jersey and Hainan, were unedited as per her request.
The 34-year-old stated that she's been a fan of the brand for a while, especially since the inclusion of curvy models for the brand's Fall 2019 collection in collaboration with Zendaya during New York Fashion Week.
Jamil has a string of campaigns and fashion editorials under her belt, including Aerie — a sub-brand owned by American Eagle Outfitters.
In the past, she has been photographed for publications such as Vogue India and Grazia UK, among others.
https://www.arabnews.com/node/1802981/lifestyle
--------
URL: https://www.newageislam.com/islam-women-feminism/saudi-arabias-first-female-yoga/d/124254
New Age Islam, Islam Online, Islamic Website, African Muslim News, Arab World News, South Asia News, Indian Muslim News, World Muslim News, Women in Islam, Islamic Feminism, Arab Women, Women In Arab, Islamophobia in America, Muslim Women in West, Islam Women and Feminism