New Age Islam News Bureau
28 June 2022
• Aliyah, Of Iraqi and Syrian Origin: WWE's Arab Superstar Fighting to Make History
• Two Iranian Bahai Women Detained In Shiraz, Southwest Iran; No Information on the Charges
• Saudi Arabia's Women's Badminton Championship Begins With Participation Of 60 Players
• A Pakistan University Fixes Separate Playground for Burqa-Clad Students to Enhance Their Sports Skills
• Put Women's Rights 'Front And Centre' Of Climate Policies: Bachelet
Compiled by New Age Islam News Bureau
URL: https://newageislam.com/islam-women-feminism/saudi-arabian-dissidents-prison-sexually-assaulted/d/127346
--------
Saudi Arabian Dissidents 'Being Sexually Assaulted and Murdered' In Prison: Grant Liberty, a Human Rights Charity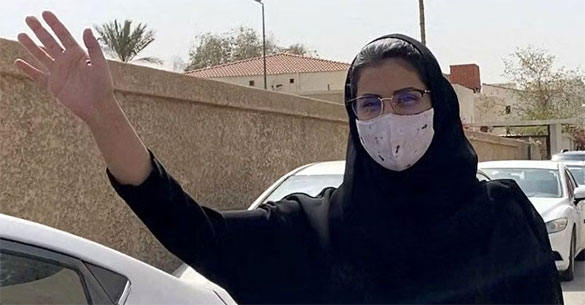 The report looked at the plight of 23 women's rights activists, 11 of whom were still behind bars in jail, as well as also identifying 54 journalists
(AFP/Getty)
-----
Maya Oppenheim
June 25 2022
Prisoners held for opposing the government in Saudi Arabia are being murdered, sexually assaulted and inflicted with "sheer" brutality, a new report has suggested.
The study, carried out by Grant Liberty, a human rights charity, identified 311 known prisoners of conscience in the era of Mohammad Bin Salman Al Saud –the kingdom's leader who is the current crown prince, deputy prime minister, and minister of defence.
Researchers, who shared the report exclusively with The Independent, claimed that 53 prisoners have been tortured, while six were sexually assaulted, and 14 were pushed into undergoing hunger strikes.
The report looked at the plight of 23 women's rights activists, 11 of whom were still behind bars, as well as also identifying 54 journalists.
Some 22 of the prisoners were arrested for crimes that they carried out when they were still children – five of them were put to death. An additional 13 were facing the death penalty, while four had died in custody.
Lucy Rae, of Grant Liberty, told The Independent: "Sadly the abuse of the prisoners of conscience continues as the world watches on, women are subjected to sustained and brutal violations with no basic human rights.
"We call upon the kingdom to back up its statement of being a 'modern and progressive country' with actions and release innocent individuals who were disappeared, were arrested and subjected to sham trials.
"Imprisoning, torturing and abusing an elderly mother such as Aida Al Ghamdi because her son has sought asylum surely is abhorrent and wrong in any nation."
Abdullah al-Ghamdi, a political and human rights activist who is the son of Ms Al-Ghamdi, said he escaped Saudi Arabia after being threatened for campaigning against authoritarian policies in the middle eastern country.
His mother, Aida, and two of his brothers were arrested after he left, he added.
"They were arrested not because they had committed a crime, but because of my activism," Mr al-Ghamdi, whose situation is explored in the report, said.
He said he felt an "indescribable feeling of longing" over the fact his mother is in prison in Saudi Arabia.
Mr al-Ghamdi, who lives in the UK, added: "For over three years, my dear ageing 65-year-old mother and my younger brother have been held by the Saudi royal family. They have been held in solitary confinement and subjected to physical torture by cigarette burning, beating and lashing.
"It's very hard to contact my family as this will put them in danger as the Saudi government told them not to contact me and give me any updates on my mother and brother's case, so as of yet I am unsure of my mother's charges."
He said his mother was held for over a year in Dhahban Central Prison in Jeddha before being moved to Dammam Mabahith Prison. He wishes she was "safe, free and be able to rejoice with her loved ones".
"There is not a time where she is not on my mind and it pains me that all my hard work hasn't led to a definite answer for her freedom," he added.
Mr al-Ghamdi said he had been "fighting to bring justice and freedom to the Saudi nation" since 2004 and secure a "democracy where there is an independent justice system".
He said his mother had been tortured in front of her son Adil, who was also beaten and tortured.
"Due to her old age she has diabetes, high blood pressure and she suffers from regular abdomen pains; due to the unjust treatment and torture within prison her mental health has worsened," he said of his mother.
"MBS [Mohammad Bin Salman Al Saud] and the Saudi royal family are holding her hostage demanding that I return to Saudi Arabia to face torture and imminent death so that people like me who stand for justice, equality and a fair society are silenced like those before me."
He urged the "world, the UN and every single person with a voice" to speak out against "this outrageous behaviour".
Ms Rae also cited the case of Loujain Al Hathloul, who was subjected to a travel ban and jailed for campaigning for women's rights.
Human rights organisations say Ms Al Hathloul has been forced to endure abuse including electric shocks, flogging and sexual harassment while in jail. Loujain, who successfully campaigned to win Saudi women the right to drive, was arrested alongside 10 other women's rights activists in Saudi Arabia in May 2018 – weeks before the country reversed the driving ban.
Saudi officials have denied allegations of torturing Ms Al Hathloul who was released from prison in February last year.
Ms Rae warned it was imperative to "make people aware of the sheer brutality, murders and sexual assault happening to prisoners of conscience" in the country, adding it is "our duty as a human race" to protect the innocent.
"And we can start by demanding the release of these prisoners. Grant Liberty will not stop until every prisoner of conscience is freed and that Saudi Arabia is recognised for what it really is – a pariah to democracy and human rights," she said.
"Saudi Arabia simply cannot succeed in a post-oil economy if it remains a social pariah and loses the foreign investment and tourism they are so desperately seeking. Now is the perfect time for activists to come forward and lobby for change."
The Saudi government has been contacted for comment.
Source: Independent UK
https://www.independent.co.uk/news/world/middle-east/saudi-arabia-prisoners-abuse-b2106950.html
--------
Aliyah, Of Iraqi and Syrian Origin: WWE's Arab Superstar Fighting to Make History
Professional Wrestler Aliyah
By Sohail Malik
27 Jun 2022
Blazing your own trail is never easy.
One person that knows this all too well is Canadian professional wrestler Aliyah. The 27-year-old of Iraqi and Syrian origin stands out as one of the few Middle Eastern talents in World Wrestling Entertainment, and earlier this year became the first Arab woman to contest the main event in the company's flagship show SmackDown, which has been running for more than 20 years.
"It feels surreal. This has been my biggest dream ever since I was a little girl," she told Al Jazeera.
"Growing up, I would watch wrestling and didn't really see anyone that looked like me or someone that was Arabic. I hope I could set a good example and inspire other Arab females to come join the sport that they want."
Aliyah, whose real name is Nhooph al-Areebi, has been involved in matches with some of WWE's top women since her SmackDown debut in November.
Her journey to this point has not been easy. After starting training to be a wrestler at 16, she worked her way through the independent circuit before being taken on by WWE in 2015.
However she spent more than six years toiling away on developmental show NXT, watching numerous colleagues gain promotion to the main programmes ahead of her.
Nonetheless, as someone that exudes positivity, she never gave up and advises others facing challenges to do the same.
"If there's a dream in your heart, then go after it. Be the first and break that glass ceiling. Anything is possible."
The Toronto-born fighter also faced opposition over her decision to become a wrestler from her parents.
"The first time I told them, they were like 'No!' At first they weren't supportive at all. So I had to hide it from them. I would tell them I was going to my part-time job but I would take the subway across town and I would train at this warehouse," she said.
Her family eventually busted her after six months.
"My parents discovered knee pads and training shoes in my backpack and were like 'what is this?'. They even showed up to my 'job' and I wasn't there, so it was a red flag for them."
Aliyah's parents, who moved to Canada in the early 90s, eventually accepted her choices. She says they are now her "biggest supporters" and also thanks them for instilling in her a sense of pride in her Arab roots.
Even before our interview, Aliyah gleefully spoke with our technical staff in her mother tongue. "We grew up in the house speaking Arabic and English," she said afterwards. "When my dad emigrated to Canada, he tried to stay true to himself and the way he was brought up and keep that with us."
She concedes, however, that balancing life on the road with important family events, such as those during the Muslim holy month of Ramadan, takes planning.
Large dinner parties are part of the festivities for many Arab families, and she jokingly admits that food is perhaps her favourite part of her culture: "I love my baklava, shawarma, I love my tabouleh."
One thing that seems to be a sore point for Aliyah is the lack of opportunity she has had to visit her countries of heritage since her childhood. Both Iraq and Syria have been ravaged by war for much of her adult life, and there was a slight expression of regret on her face when talking about the time lost.
"I visited Syria in 2002 for a few months. We vacationed there, and we have family that still lives there. I haven't been there since," she said.
Despite not visiting the region for many years, she hopes her next trip there can be a memorable one.
"One of my biggest dreams is to be the first ever Arab female to perform [for WWE] in the Middle East. That would be a complete honour."
Aliyah certainly has grand ambitions, and her efforts are a source of hope, according to 21-year-old Saudi female wrestling fan Renad.
"Aliyah makes me feel connected. If she becomes a champion, it will mean a lot to many young girls training to be athletes," Renad told Al Jazeera.
Renad's sentiments are echoed by Lebanese wrestling journalist Samira, who herself dreams about working for a major wrestling promotion as a broadcaster.
"It means a lot to me to see Aliyah, a fellow Arab woman in the professional wrestling business, be given a huge platform to showcase her abilities. It's very inspiring to see her following her dreams and killing it," she said.
Such sentiments will please WWE executives, according to reporter Brandon Thurston of news and analysis website Wrestlenomics, who says that developing stars that cater to regional markets is a key part of the company's business strategy.
The Middle East is a huge source of revenue for WWE as they stage regular events in Saudi Arabia as part of a multi-year partnership.
The kingdom's human rights record has seen the company receive a huge amount of criticism over the deal which earns them a reported $50m per show. And Thurston believes that by backing Aliyah's rise fully, they stand to benefit even more.
"A star from the Middle East would have the greatest positive effect on business regionally if they were a genuine top star all year round, as opposed to someone who is in a minor role or who is built up briefly ahead of an international tour," he said.
Pro-wrestling is, of course, scripted entertainment, so WWE can choose how or when it wants to push talents. One positive sign for Aliyah is that she already has a record to her name, having claimed the promotion's fastest win of all time at 3.17 seconds in January.
She knows there is still plenty of hard work to do, but has little doubt that one day she will hold a gold-plated belt above her head as a champion in wrestling's top promotion.
Source: Al Jazeera
https://www.aljazeera.com/sports/2022/6/27/aliyah-wwe-arab-superstar-fighting-to-make-history
--------
Two Iranian Bahai Women Detained In Shiraz, Southwest Iran; No Information on the Charges
June 27, 2022
Two Baha'i citizens living in Shiraz were arrested by security forces on Sunday, June 26, and taken to an unknown location.
The two Baha'i women are Shaghayegh Khaneh Zarrin, 20, and Negar Ighani, 22.
Their homes were searched, and their personal belongings including their religious books, computers, and smartphones were confiscated upon arrest.
No information is available on the charges against the two women and their whereabouts.
According to reports, Ms. Khanehzarin's father suffered a heart attack on Sunday evening and was taken to hospital following the arrest of his daughter.
Ms. Ighani is one of the Baha'i citizens who has been denied higher education due to her religious beliefs.
Bahai persecution in Iran
Unofficial sources say that there are more than 300,000 people following the Bahai Faith in Iran. However, the Constitution of the Islamic Republic of Iran only recognizes Islam, Christianity, Judaism, and Zoroastrianism and does not recognize Bahaism.
Since the 1979 Islamic Revolution in Iran, Iranian Bahais have been systematically persecuted as a matter of government policy. During the first decade of this persecution, more than 200 of Iran's Bahais were killed or executed. Hundreds more were tortured or imprisoned, and tens of thousands lost jobs, access to education, and other rights – all solely because of their religious belief.
The persecution of Iran's Bahais is still ongoing with dozens of Bahais languishing in prisons throughout Iran.
Source: Iran HRM
https://iran-hrm.com/2022/06/27/two-iranian-bahai-women-detained-in-shiraz-southwest-iran/
--------
Saudi Arabia's women's badminton championship begins with participation of 60 players
June 27, 2022
RIYADH — The Kingdom's Women's Badminton Championship kicked off Monday in Riyadh with the participation of 60 players.
The Kingdom's women's badminton championship, organized by the Saudi Badminton Federation, will continue for two days for "doubles team" competitions at Prince Faisal Bin Fahd Stadium gymnasium in Riyadh.
Sixty players participated in the Kingdom's Women's Badminton Championship, representing badminton players from different regions around Saudi Arabia.
It is noteworthy that the championship is considered as one of the important Saudi championships that the Saudi Badminton Federation has held for the women's category since 2018.
The championship effectively contributed by spreading the game of badminton among women's sports in the Kingdom, as well as increasing and expanding the number of players practicing the game.
In addition, it also attracted talented champions from the domestic tournament to include them in the women's team and prepare them to represent the Kingdom during their participation abroad.
Source: Saudi Gazette
https://saudigazette.com.sa/article/622300
--------
A Pakistan University Fixes Separate Playground for Burqa-Clad Students to Enhance Their Sports Skills
June 27, 2022
Mianwali University has prepared a fully covered playground and a park for the Burqa-clad female students to enhance their sports skills.
A fully covered sports ground and park have been set up at the University of Mianwali.
The students will now have opportunities for open entertainment and sports and be able to exercise in full form in the Women's Park and Ground.
University's Vice-Chancellor Prof Dr Islamullah Khan said that the tradition of the veil has been kept in mind before constructing the ground and park.
Prof Dr Islamullah Khan said that entry of men towards the Women's Ground and Park is prohibited. He said the University of Mianwali would soon be counted among the international universities.
Source: Pakistan Today
https://www.pakistantoday.com.pk/2022/06/27/mianwali-university-fixes-separate-playground-park-for-burqa-clad-students/
--------
Put Women's Rights 'Front And Centre' Of Climate Policies: Bachelet
June 27, 2022
GENEVA — Although climate change threatens everyone, women and girls often suffer its harshest and most violent consequences, UN human rights chief Michelle Bachelet said on Monday.
"While I welcome the international attention on climate change's impact on women and girls over the last decade, we must urgently also focus on the grave issue of violence against them which has been exacerbated by the climate crisis," she told the UN Human Rights Council in Geneva.
Countries are examining the issue as part of the Council's annual full-day discussion on the rights of women.
'Move from rhetoric'
Bachelet spoke about how the climate crisis is putting women's lives in danger, whether they are fleeing disasters or speaking out against the global emergency. She stressed the critical need for greater action.
"I recognize the need for deeper discussion, assessment, and analysis on these issues. But unless we move from rhetoric to concrete action — immediately — the lives, safety and dignity of millions of women and girls will continue to hang in the balance," she said.
Women comprise 80 percent of people uprooted by climate change, she said, citing the UN Environment Program (UNEP). Displacement puts them at a much greater risk of violence, including sexual violence.
'Tragic reality'
"While they sleep, wash, bathe or dress in emergency shelters, tents or camps, the risk of sexual violence is a tragic reality of their lives as migrants or refugees. Compounding this is the increased danger of human trafficking, and child, early and forced marriage, which women and girls on the move endure," she said.
The High Commissioner listed examples of where this has played out, such as following Hurricane Katrina, the destructive and deadly storm that pummeled regions of the southern United States in 2005, particularly the city of New Orleans.
The rate of rape among women displaced to trailer parks rose nearly 54 times the baseline rate in the state of Mississippi for that year. Nepal also witnessed a four-fold increase in trafficking after the 2015 earthquake.
Environmental activists 'silenced'
Furthermore, when climate change affects agriculture, the socioeconomic fallouts impact women and girls, making them more vulnerable to threats such as domestic violence, early or forced marriage, trafficking, and forced prostitution.
Displaced women who identify as LGBTQI+ (lesbian, gay, bisexual, trans, queer, or intersex) are also more likely to face elevated risks of violent abuse.
Meanwhile, thousands of women around the globe are also speaking out to fight climate change. These environmental rights defenders, who are working to protect lands, water, nature and communities, do so at great personal risk.
"They are criminalized and silenced. They are threatened and stigmatized. They are at additional risk of gender-based violence. And many are even killed," said Bachelet.
She reported that in both Mexico and Central America, nearly 1,700 acts of violence were recorded against women environmental rights defenders between 2016 and 2019.
Acknowledge the link
Bachelet called for putting the rights of women and girls "front and center" in climate change policies.
She outlined five steps countries can take, starting with acknowledging that climate change and violence against women are linked.
Women must also be fully involved in decision-making around the climate issue, as their insights, lived experience and guidance, will lead to both better rights protection as well as more effective climate action.
Governments will also have to strengthen their gender-responsive environmental and disaster risk reduction policies and programs.
Zero impunity
"This will involve ensuring women's leadership in disaster risk management, providing sufficient financial resources and putting in place effective monitoring mechanisms," she said.
"And it will imply guaranteeing that, in times of disaster, women have access to healthcare, sexual and reproductive health, support services, shelter and security."
The UN rights chief urged countries to enhance accountability, because "there must be zero impunity for perpetrators of gender-based violence, no matter if they are spouses, family members, religious leaders, relief workers or government officials."
Honor your obligations
Finally, governments must take urgent steps to respect, protect and fulfill their human rights obligations to women and girls, and in particular to women environmental activists.
"This includes guaranteeing their rights to freedom of expression, assembly, association, and participation in decision-making at all levels," she said, adding "and they must also provide women with redress and accountability for threats and harms that they endure." — UN News
Source: Saudi Gazette
https://saudigazette.com.sa/article/622315/World/Europe/Put-womens-rights-front-and-center-of-climate-policies-Bachelet
--------
URL: https://newageislam.com/islam-women-feminism/saudi-arabian-dissidents-prison-sexually-assaulted/d/127346
New Age Islam Islam Online, Islamic Website, African Muslim News, Arab World News, South Asia News, Indian Muslim News, World Muslim News, Women in Islam, Islamic Feminism, Arab Women, Women In Arab, Islamophobia in America, Muslim Women in West, Islam Women and Feminism