New Age Islam News Bureau
11 Aug 2017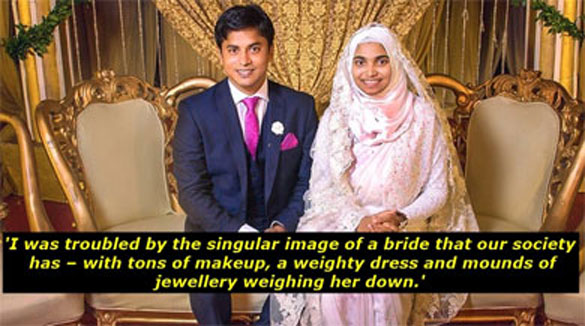 • Muslim Woman Wears Grandma's White Cotton Sari to Her Wedding; Questions Society's 'Image of a Bride' On Facebook
• Triple Talaq: Muslim Women Trust Supreme Court, Says NGO
• Tribute to Pakistan's Mother Teresa
• Malaysian Woman Withdraws Molest Report against Well-Connected Preacher
• 2 Filipinas, Indian Woman Rescued From 'Detention' In Abu Dhabi
• Muslim Woman Awarded $85,000 After Her Hijab Was Forcibly Removed By Long Beach Police Officer
Compiled by New Age Islam News Bureau
URL: https://www.newageislam.com/islam-women-feminism/saudi-arabian-airlines-refuses-fly/d/112175
--------
Saudi Arabian Airlines Refuses To Fly Passengers Who Show Arms or Legs
August 11, 2017
Saudi Arabia's national carrier has released a passengers' code of conduct for their flights which includes passengers who are "clothed in a manner that would cause discomfort or offence to other passengers" could be denied.
Saudi Arabian Airlines say that "women exposing legs or arms, or wearing too thin or too tight clothes and men wearing shorts exposing legs" would face restrictions. This also included passengers who've taken off their shoes and socks.
It's perhaps no surprise that the list of rules has sparked some serious backlash on social media and has already been taken off the site from the airline.
The airline were contacted about the requirements but have yet to comment.
Saudi Arabia's former head of tourism and health, Ali Al Ghamdi, claimed Saudi's dress requirements have also been issued by International Air Transport Association (IATA) and enforced in varying degrees by different airlines.
But IATA denied those claims. "Reports in the media that IATA issues guidelines on dress code are incorrect. Dress code policy is entirely at the discretion of the airline," a spokesperson for IATA said.
The airline previously came under fire in 2015 after claims they were considering enforcing a gender split due to male passengers being unhappy about other men sitting next to their wives or female family members.
http://www.telegraph.co.uk/travel/news/saudi-arabian-airlines-dress-code-for-passengers/
--------
Muslim woman wears grandma's white cotton sari to her wedding; questions society's 'image of a bride' on Facebook
August 11, 2017
The day of her wedding is definitely one of the most important landmarks in a woman's life. As much as they are excited and have jitters about the new chapter they are about to embark on, there is also unwanted pressure that they deal with. Wondering what? Well, the pressure to look flawless on her wedding day. While no bride looks anything less than ravishing on her special day, the heightened expectations of the family members, relatives and close ones lead the women to go to unimaginable extents to ensure they look good. It could be expensive makeup, splurging on the perfectly fitted bridal wear, sometimes at the cost of not even feeling comfortable. Tasnim Jara, a resident of Bangladesh, in a recent Facebook post asks if this is necessary at all? "Don't get me wrong, if a girl wants to use make-up, jewellery and expensive clothes for herself, I am all in for that. But it is a problem when she loses her agency in deciding what she would like to wear on her wedding day," she wrote in her post, now going viral.
Read the Facebook post here.
"I walked into my wedding reception wearing grandmother's white cotton saree with zero makeup and no jewellery. Many asked me why. So here is my reason.
I was troubled by the singular image of a bride that our society has – with tons of makeup, a weighty dress and mounds of jewellery weighing her down. Don't be fooled, this lavish image of a bride does not represent the financial well-being or agency of a woman in the family. This sometimes rather happens against their will. As if the society has decided that if we really have to spend money on women, we spend it against their will and for a cause that won't do them any good.
I have hardly attended any wedding where I didn't overhear people gossiping: "Is the bride pretty enough?" "How much gold does she have on?" "How much did her dress cost?" Growing up listening to these questions, a bride feels pressured to look for the best makeup artist in town, pays a hefty amount in time, money and energy, and ends up looking nothing like herself; because the society constantly reminds her that her actual skin colour isn't good enough for her own wedding.
She has learnt from her aunties, peers, and the corporates that a bride is "incomplete" without ornaments; that her and her families' status depends on how much gold she puts on on the day. She can hardly afford to question if the amount of jewellery she puts on can indeed determine her and her families' dignity. Because the society keeps pushing with, "You're a girl. Why wouldn't you wear gold on your wedding?"
Again, to look like a bride, she needs to wear a crazy expensive dress, which ironically makes walking difficult for her (due to its weight) and never comes of any use after the wedding. But the society won't accept it any other way.
Don't get me wrong, if a girl wants to use make-up, jewellery and expensive clothes for herself, I am all in for that. But it is a problem when she loses her agency in deciding what she would like to wear on her wedding day. When the society forces her to doll up and look like a different person, it gives a message that the authentic look of a girl isn't good enough for her own wedding.
Personally, I feel that we need to change this mindset. A girl should not need a whitening lotion, a gold necklace or an expensive saree to be accepted as a bride or to make her feel confident. So I arrived at my wedding venue wearing my dadu's saree, with zero makeup and no jewellery.
People may call it simple, but it was very special to me, for what I believe in and what it means to me.
I faced a lot of resistance from many quarters after making this decision. Certain members of my family even said that they won't take any photo with me because I didn't dress like (they imagine) a bride. Shoutout to the few family members who have supported me in this, and special shoutout to this person beside me, Khaled, who has not only supported me unconditionally but also beamed at me with so much pride, for taking a stance against the stereotypes."
Indianexpress.com has reached out to Jara for further comments and is awaiting her response.
http://indianexpress.com/article/trending/trending-globally/muslim-bride-who-broke-stereotypes-wore-grandmothers-cotton-sari-to-her-wedding-simple-wedding-dress-facebook-post-viral-4791538/
--------
Triple Talaq: Muslim women trust Supreme Court, says NGO
August 10, 2017
Mumbai: The Bharatiya Muslim Mahila Andolan (BMMA) on Thursday urged the Supreme Court to expedite verdict in the Triple Talaq issue as Muslim women expected justice from the apex court.
In a letter written to Chief Justice of India JS Khehar on August 5 -- copies of which were released on Thursday -- the Andolan said the "verdict would end the legal discrimination of Muslim women through the unjust practice of Triple Talaq".
"Thousands of Muslim women are eager to hear a judgement that would put an end to their ordeal after being divorced arbitrarily and instantly despite there being no Quranic sanction for it (Triple Talaq)," said the letter.
The BMMA pointed out that absence of any legal protection left the Muslim women vulnerable to this unjust and arbitrary practice, and they were rendered homeless and destitute instantly, without any support for them or their children.
"Today, ordinary women in cities and mofussil areas are hopeful that they would get justice from the Supreme Court of India. Muslim women feel betrayed by the patriarchal bodies claiming to speak in the name of religion. Muslim women do not trust these bodies and look forward to the court for justice," the BMMA said.
Referring to rumours spread by the patriarchal elements that the apex court had decided to refrain from "interference in Islam" and ruled for the continuation of Triple Talaq, the BMMA said they (such elements) spoke neither for Islam nor for Muslim women, who had fought tremendous hardships and threat to approach the court.
"We are confident that the Supreme Court will give a ruling upholding the Constitution and equal rights for women. We urge your Lordship once again to kindly expedite the verdict in the Triple Talaq matter. End to Triple Talaq would restore the faith of ordinary Muslims in democracy," the BMMA said.
The letter to the CJI has been signed by activist and BMMA co-founders Zakia Soman and Noorjehan Safia Niaz, petitioners in the Triple Talaq case Afreen Rahman of Jaipur and lawyer Badar Sayed of Chennai, besides women`s activist Naseem Akhtar from Jaipur.
The other signatories are BMMA convenors from different parts of India like Khatun Shaikh (Maharashtra), Farhat Amin (Odisha), Jaibunnisa R. (Tamil Nadu), Nishat Hussain (Rajasthan), Nasreen M. (Karnataka), Niyazmin Dahia (New Delhi), Rahima Khatun (West Bengal) and Safia Akhtar (Madhya Pradesh).
http://zeenews.india.com/india/triple-talaq-muslim-women-trust-supreme-court-says-ngo-2031946.html?pfrom=article-more-from-zee
--------
Tribute to Pakistan's Mother Teresa
August 11, 2017
LAHORE - Punjab CM Shehbaz Sharif has expressed deep sense of sorrow over the demise of 'Pakistan's Mother Teresa' Dr Ruth Pfau and paid tribute to her for her services in the eradication of leprosy disease in Pakistan.
He said: "She had great passion for serving the ailing humanity and Dr Ruth Pfau made the rehabilitation of leprosy patients her lifelong mission, he added. She has set the noblest example of serving the ailing humanity without any difference and her services for the eradication of leprosy disease in Pakistan will be remembered."
Meanwhile, he showed sympathy with China over deaths due to earthquake. He has extended sympathies to the bereaved families and prayed for early recovery of the injured. "We fully share the grief of our Chinese brethren and his sympathies as well as that of the Punjab government are with the heirs of deceased persons in this hour of trail," he added.
http://nation.com.pk/lahore/11-Aug-2017/tribute-to-pakistan-s-mother-teresa
--------
Malaysian Woman Withdraws Molest Report against Well-Connected Preacher
August 11, 2017
KUALA LUMPUR, Aug 11 — A woman who lodged a report against a man — who claimed to be an Islamic preacher — for allegedly molesting her has retracted her accusation, the Sun reported today.
The paper quoted Kuala Lumpur police chief Comm Datuk Amar Singh Ishar Singh confirming that the woman had applied to retract the report.
"The complainant wants to retract the report but we will conclude our investigations and submit our findings to the Attorney-General Chambers to seek further advice on the case. The case is for outraging modesty under Section 354 of the Penal Code" he reportedly said.
He revealed the man also has a record of previous crimes. The paper reported he was believed to have committed trespass, molestation, domestic violence and gang-robbery.
Yesterday, Kuala Lumpur CID chief Asst Comm Rusdi Mohd Isa confirmed the man was remanded on Friday after a report was lodged by the alleged victim's father, but was released on bail on Tuesday.
Rusdi told mStar the man holds Malaysian permanent resident status. Amar Singh said today the police will decide whether to revoke it after wrapping up the investigation.
The self-styled preacher reportedly used Facebook, as well as his status, religious appearance, and promise of religious talks to lure women before taking advantage of them through religious healing or blessing ceremonies.
A check by Malay Mail Online on a Facebook page claiming to represent the preacher showed numerous photos of the man with top leaders from both ruling party Umno and the Opposition, and even Islamist party PAS.
http://www.themalaymailonline.com/malaysia/article/woman-withdraws-molest-report-against-well-connected-preacher#PugSl2XDxpEI4d5q.97
--------
2 Filipinas, Indian woman rescued from 'detention' in Abu Dhabi
August 10, 2017
Abu Dhabi: The local authorities rescued two Filipinas along with an Indian woman who were "detained" in the capital, the Philippine Embassy told Gulf News on Thursday.
"They (Filipinas) reached here on tourist visas to work as maids," said Anna Guerra, Third Sectary and Vice-Consul at the embassy.
Some people brought to the embassy's attention some Facebook posts describing the illegal detention of the women and the embassy alerted the local authorities, she said.
"We are grateful to the Criminal Investigation Department (CID) officials of Abu Dhabi Police, who acted promptly to rescue the women," Guerra said.
Abu Dhabi Police were not available for comments.
As Gulf News reported on Thursday, the Indian Embassy said the Indian maid rescued by local authorities on Tuesday had reached Abu Dhabi two months ago and she was not satisfied with the working conditions at her employer's home.
Although she had sought the embassy's help on August 3, she was sent back with some advice only due to some miscommunication, according to the embassy.
Later, the embassy came to know that the local authorities rescued her from "illegal detention".
Investigation
The embassy officials said both Filipinas and the Indian were produced before the public prosecution in the capital on Thursday for recording their statements as part of the investigations.
They said they would coordinate with the local authorities to repatriate the women at the earliest.
Dinesh Kumar, the first secretary and counsellor of community affairs at the Indian Embassy, said on Thursday that local authorities have promised to give consular access to the woman after the completion of the prosecution procedures.
The Indian woman, who is from Bengaluru in Karnataka state, is in her late twenties or early thirties, he said.
"We are still waiting to get her passport copy," Kumar said. "Then, we can check whether she came to the UAE through e-migrate, the Indian government's electronic system for emigration with many safeguards to protect the rights of migrants," he said.
The Philippine Embassy official said the Filipinas are from Mindoro and Quezon in Luzon province. As it is illegal to come to work in the UAE on a tourist visa, the embassy has been advising their nationals against this practice, Guerra said.
As Gulf News reported earlier, employers in the UAE have not been able to directly hire maids from the Philippines since June 2014 because of the conflicting recruitment rules in the UAE and labour-sending countries such as the Philippines. Negotiations between both nations have been going on for a while.
The issue surfaced when the UAE Ministry of Interior introduced a unified contract for domestic workers that led to the suspension of various embassies' roles in verifying and attesting contracts, including the Philippines.
Philippine domestic laws, however, dictate that labour agencies should verify and record all contracts of household workers to protect them. Only then can they be deployed from the Philippines.
http://gulfnews.com/news/uae/crime/2-filipinas-indian-woman-rescued-from-detention-in-abu-dhabi-1.2072241
--------
Muslim woman awarded $85,000 after her hijab was forcibly removed by Long Beach police officer
Aug 11, 2017
The city of Long Beach has agreed to pay $85,000 to settle a federal lawsuit filed by a Muslim woman whose hijab was pulled off by a male officer while she was in police custody.
The settlement, approved Tuesday, concludes the legal battle undertaken by Kirsty Powell, an African American Muslim. Her lawsuit, filed in 2016, prompted the Long Beach Police Department to reverse its policy barring inmates from wearing religious head coverings.
"There really is no justification for taking off a person's religious headgear," said Powell's attorney, Marwa Rifahie, who also works for the Greater Los Angeles Area Chapter of the Council on American-Islamic Relations.
The case started in May 2015 when Powell and her husband were stopped by two officers because he was driving a lowrider vehicle on Long Beach Boulevard, Rifahie said.
She provided them with her identification information. When officers ran her name through their database, they discovered she had three misdemeanor warrants for petty theft, vehicle theft and resisting arrest, police said.
Powell was not aware that a warrant had been issued for a 2002 petty theft offense, her attorney said. The other warrants were issued after Powell's sister had falsely used her name, according to the federal lawsuit.
As officers prepared to arrest Powell, her husband requested that a female officer be called to the scene since physical contact must be done by a woman, the lawsuit contends.
The officers refused and handcuffed Powell, according to the suit. She was then told she would have to remove her hijab.
Powell told the officers "that she wears a hijab in accordance with her religious practice and that it is her legal right to wear it," the lawsuit said.
She was driven to the Long Beach police station, where she was booked and stripped of her hijab in front of other male officers and inmates, according to the lawsuit.
Powell was detained for 24 hours without her hijab. Once she was allowed to leave, she was given a property bag containing it.
"She was held in the jail overnight, forced to sit in a cell feeling distraught, vulnerable and naked without her headscarf to everyone that passed," the lawsuit said. "She cried throughout the ordeal and experienced humiliation when both her religious beliefs and personal integrity were violated. She felt that the male officers and male inmates had seen parts of her body that they should not have seen, according to her religious beliefs."
Shortly after her release, Powell reached out to CAIR, the Muslim civil rights organization, to go over her options.
In April 2016, she filed the lawsuit, alleging that her 1st Amendment rights had been violated. The lawsuit also contended that the city had violated the Religious Land Use and Institutionalized Persons Act, a federal law protecting the religious rights of inmates.
In the months after the suit was filed, the Police Department overhauled its policy to accommodate inmates with religious head coverings.
Female officers are now required to remove a female inmate's headscarf, "when necessary for officer safety," outside the presence of male officers and inmates, said Monte Machit, Long Beach assistant city attorney.
The headscarf is then returned to the inmate.
"In our view, the removal of the hijab by a male officer, in the presence of other males, while consistent with the then-existing Long Beach Police Department policy, may have violated the Religious Land Use and Institutionalized Persons Act," Machit said. "The 9th Circuit [Court] has not specifically weighed in on whether removing the hijab actually violated [the law], but we believed that the existing policy was not consistent with the Act."
http://www.latimes.com/local/lanow/la-me-ln-muslim-woman-hijab-removed-settlement-20170810-story.html
--------
URL: https://www.newageislam.com/islam-women-feminism/saudi-arabian-airlines-refuses-fly/d/112175
New Age Islam, Islam Online, Islamic Website, African Muslim News, Arab World News, South Asia News, Indian Muslim News, World Muslim News, Women in Islam, Islamic Feminism, Arab Women, Women In Arab, Islamophobia in America, Muslim Women in West, Islam Women and Feminism