New Age Islam News Bureau
12 Jul 2019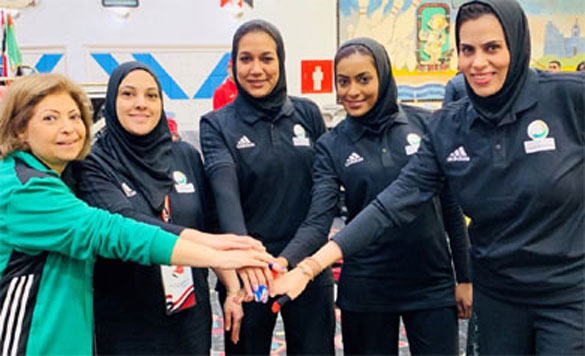 For the first time in sport's history, Saudi Arabia will send a team of six athletes to compete at the World Bowling Women's Championships in Las Vegas from August 22 – 30.
------
• Woman Arab Doctor Defies Odds Running an Emergency Room
• Egypt's Fatima Qandil: The First Female Judge to sit on the Judicial Panel of the Egyptian Criminal Court
• How Muslim Women Break Stereotypes By Mixing Faith and Modesty with Fashion
• Turkish Businessman Refuses Entry to Veiled Muslim Women In Istanbul Hotels, Cafes
• Canada Pledges CAD 400m In Support Of Women, Girls' Education In Developing Countries Including Afghanistan
• 'Quality Education' Key To Boosting Saudi Women's Workforce Participation
• Afghan Women Note Taliban Shift after Doha Talks
• A Lesson from Pakistan on Protecting the Rights of Muslim Women
• Supreme Court Refuses Early Hearing on Nikah Halala and Polygamy of Muslim Women
• Islamic Headscarf: Iran's Promotional Video Divides Opinion
Compiled by New Age Islam News Bureau
URL: https://www.newageislam.com/islam-women-feminism/saudi-arabia-womens-bowling-team/d/119167
--------
Saudi Arabia Women's Bowling Team to Make History at World Championships
July 11, 2019
LAUSANNE – For the first time in sport's history, Saudi Arabia will send a team of six athletes to compete at the World Bowling Women's Championships in Las Vegas from August 22 – 30.
Nahla Adas and Mariam Aldoussari from Alkhobar, Mashael Alabdulwahid, Ghada Nimir and Amani Alghamdi from Riyadh and Hadeel Tarmeen of Jeddah will travel to Vegas alongside with Coach Sarah Jamal to compete against the world's best bowling athletes.
President of World Bowling, Sheikh Talal says "This is a momentous occasion for World Bowling and for the dedicated team of Saudi Arabian women athletes who have trained hard to get to this stage – my sincerest congratulations to the athletes and to the Saudi Bowling Federation for making this step."
The Saudi Bowling Federation (SBF) first welcomed female participation in February 2018. It began with a group of 12 Saudi females training for fun at the Algosaibi Bowling Centre. The 12 women caught the attention of the National Coach who alongside the sports administrators, recognized the dedication and commitment of the group and advised them to approach SBF directly. SBF agreed to start a programme and planned to form a women's bowling team to which Dr. Razan Baker, a member of the federation's board of directors, said they received an overwhelming response.
Since this moment in 2017, SBF has taken big steps to promote the women's sport with three women's teams being formed across the country. SBF Team athletes now participate in daily three hour training sessions under the management and direction of SBF and attend workshops hosted by International level coaches.
The federation has also developed a comprehensive event portfolio with six women's championships being held in Saudi Arabia in 2019.
"By creating national and professional examples, we are paving the way for women and this will lead to building a strong and solid foundation to follow and role models to look up to.", SBF President Mr. Bader Al Alsheikh said.
http://saudigazette.com.sa/article/571588/SAUDI-ARABIA/Saudi-Arabia-womens-bowling-team-to-make-history-at-world-championships
--------
Woman Arab Doctor Defies Odds Running an Emergency Room
JULY 12, 2019
Hadassah Dr. Shaden Salameh grew up in the village of Tur'an, located near Nazareth in the North of Israel. The oldest of five children, her father was a teacher and her mother was devoted to her home and to her family. The effort clearly paid off: Shaden's siblings are all successful – one brother is a lawyer, one is in hi-tech and another is an EMT, while her sister is a pharmacist in Jerusalem.
And while success has been plentiful in the Salameh family, Shaden's achievement of becoming the first Arab woman to head-up an emergency room in the State of Israel – with ceiling glass shattering all around – is achievement extraordinaire.
Dr. Salameh spoke with The Media Line's Felice Friedson.
***
TML: Dr. Salameh, you're the first Arab-Israeli woman to head a hospital emergency room in the State of Israel. How does it feel?
Dr. Salameh: A great responsibility; a lot of pride.
TML: Take us through your day.
Dr. Salameh: Well, I start, actually, late at night. I'm on call; I'm the head of the emergency department, so I can receive calls every hour, every minute. I am responsible for this department. With my little three children, beautiful children…they are little so I can wake up for them. So, I'm a mother, I'm a doctor…
TML: You have young children – five, three and less than a year. How do you juggle family and running an emergency room?
Dr. Salameh: It's quite challenging actually. But as a woman – you know women can multi-task where men cannot – so a lot of multi-tasking. I don't have more time than other people but I can multi-task my day. Sometimes I'm more with my family and sometimes I'm more [at] work, depending who needs me at this point.
TML: How did you get there? This certainly could not have been easy.
Dr. Salameh: No, it's not, but I'm very motivated by difficulties. I grew up in the North, in a small village. It's near Nazareth. I came over to Jerusalem in the mid '90s to study medicine in the medical school at Hadassah University… Hebrew University and Hadassah. I graduated [in] about 2001, and since then I'm [at] Hadassah. I completed my internal medicine specialization here and since 2006, I've worked in the emergency department, first as a trainee and after that as a senior doctor. I just love the place and the specialization.
TML: People would say that you can't do what you did. People would say, how can an Israeli who's also Arab get to the position that you did?
Dr. Salameh: Yeah, they told me that all the way. Even before I was accepted to the medical school. They told me you have no chance because you come from a small village; you know it's very difficult, [the] Hebrew… Even before I was accepted to the medical school here, they told me I had no chance to be accepted. You know there are a lot of challenges over there – a lot of other students who want to be accepted and your chances are very low. But as I said before, the greater the challenge, the greater I'm motivated. I love challenges… I look at the threats, or at the challenges or the barriers or the obstacles, as an opportunity.
TML: What are those obstacles?
Dr. Salameh: You know, I'm special and different. I come from a very small community in the village. I never lived alone, I never left the city for more than a couple of hours or one or two days. Just to move to a big city, to Jerusalem with a different language. Okay, I studied Hebrew [at] school, but it's not the same, not at all. And it's quite hard. You know the people around you – not the family, the family was a great support for me – but the other people, like, doubt your ability, so it's quite challenging every day.
TML: Did your family have a problem with you working in an Israeli hospital?
Dr. Salameh: No, not at all. They were proud that I'm holding this position, in this country. No, not at all. Very proud.
TML: Do you feel you are a role model for other young women who aspire to go into medicine? Do people from your village look at you as a role model?
Dr. Salameh: I hope so – you have to ask them. Being a director, a senior doctor in the emergency department, is quite challenging, as [is] being a mother for small children, but I proved that you can do it. [At] this stage, I can say for the young medical students and the young women doctors, dream big, as Henrietta Szold said once, and persist and your dream will come true. A lot of obstacles may be in the way; I'm not saying it's easy, but it's possible.
TML: Let's go and look at those obstacles. I'm trying to understand because everyone has them. What was the worst situation that you remembered encountering when you thought you weren't going to make it – [that] this was too hard?
Dr. Salameh: Well, the first year of medical school was very hard for me. [I] came not prepared, with not enough background [in] chemistry, biology, and it was hard for me. And besides that, the language; everything was in Hebrew and English, and my mother-tongue is Arabic. It was very hard for me in the beginning to understand even the lecturer and to write down the notes and all these small things. I came from excellence. I was a very good student in high school, so it was very challenging for me. Maybe a small obstacle, a small barrier, but it was [just] in the beginning.
TML: What was the most difficult thing you encountered in the emergency room, where at that moment you said, "I can't do this, this is just too hard"?
Dr. Salameh: Yeah, you know, there were a few moments like this with a critical patient, when you do everything you want to do with a patient and you don't save the patient. It's very frustrating. You want to help and do whatever you can. You know, we deal with very difficult cases; trauma patients, people with heart attacks, stroke. It's every life-threatening situation, and sometimes, despite all the efforts, we can't save the patient. It's [a] very frustrating moment for me. In the beginning, especially, when [my] first patient died. I remember that he was 90 years old and he had an infection in his whole body, and he was even with dementia. He's 90 and there [is] nothing you can do. I did everything, but I couldn't save the patient. We deal with the life-and-death issues every day, every hour and every minute; it's challenging and it's very hard, and it's a very emotional burden.
TML: You're in a hospital that treats everyone: Jewish-Israelis, Arab-Israelis, minorities. Do you ever see a difference in how they are treated?
Dr. Salameh: No, not at all. When I came to medicine, I came to save people. With my small family, we didn't have doctors and [I] remember my grandfather was very [ill] with heart problems. I was 10 years old and I remember that, and all the time we would call the ambulance for him. It was very hard to [reach] the village; we didn't have any ambulances around, so it took a lot of time. All the time, I thought we were going to lose him, and at this point I decided to be a doctor. I took an oath between me and God that I'm going to help anyone with no bias – not race nor gender nor religion nor anything else as a human bias.
TML: What have been the best moments of your career so far?
Dr. Salameh: The best moments… There are a few. It's hard to pick one…but I remember in the beginning of my training as an emergency physician, I walked around in the emergency department. I saw [a] patient; I didn't' know who that patient was. He had convulsions and [as a] first impression, I thought he had epilepsy. But when he was connected to a monitor, I looked at the monitor and I saw ventricle arrythmia, which is a very life-threatening situation. I saved his life. The day after, I went to visit that patient and he was so thankful, and it was a very good feeling.
TML: What is your message to younger women who are just starting out? What are the tools they need to become leaders?
Dr. Salameh: Well, it's a very hard question. How do you define a leader? First, I think you have to be honest to yourself, be authentic and do what you really believe in; otherwise, it won't work. Believe in what you do and work hard. I never said it's easy, but you can get there.
TML: Who are your role models?
Dr. Salameh: It sounds a little strange to say my mother. She was married when she was 17. She came from a city, from Nazareth, to a village. When she had us, she did not complete her university or anything in those years. But now she is completing her master's degree in coaching. Now she's 63 years old and she never gave up. So she's my role model.
TML: You and your husband are both physicians. How complicated is it to juggle both your careers and your family life?
Dr. Salameh: I would say it's very challenging. My husband has been very supportive. He's planning on a fellowship and he knows that it is more important for me now to be here… We can travel on a fellowship to the States or Canada, but he's waiting for me.
https://www.jpost.com/Israel-News/Woman-Arab-Doctor-Defies-Odds-Running-an-Emergency-Room-595443
--------
Egypt's Fatima Qandil: The First Female Judge to sit on the Judicial Panel of the Egyptian Criminal Court
Mira Maged
July 11, 2019
Fatima Qandil is the first female judge to take up the judges panel in Egypt's Criminal Court.
The criminal court held a session on Sunday regarding a case of stock market manipulation. The case was led by judge Mohamed El-Feki alongside Qandil, Mahmoud Mohammad Yahya Rashdan, Abdullah Abdul Aziz Metwally Salam and Usama Yousef Aboushaisha.
Several individuals from the Mubarak regime are suspected in the cited high-profile case, including Alaa and Gamal Mubarak in addition to seven more suspects.
Qandil underwent numerous exams in front of the court of cassation before being accepted among the first batch of Egyptian female judges who applied for courts in 2015, al-Mobtada reported.
Qandil has thrived in her legal career, working on criminal cases since 2015 and participating in several investigation departments in Ismailia and Cairo, Al-Masry Al-Youm reported.
Egyptian female judges have flourished in Egypt's judicial community, evidenced by several prominent names such as Amal Ammar, Tahany el-Gebaly and Ghada el-Shahawy.
In 2018 the National Council of Women (NCW) released an official statement applauding the promotion of 16 female judges to prestigious judicial positions. Among them was Ammar, appointed as head judge of Qena's Appeal Court. Moreover, Judge Hassana Shaaban was promoted as the head judge of Tanta Economic Court.
Remarkably, Judge el-Shahawy made history when she was called to be the first assistant to the Minister of Justice in the realm of women and children's affairs in 2015 while Judge Susan Abdel Rahman was assigned as assistant to the Minister of Justice on human rights, Al-Ahram reported.
El-Gebaly was listed by Arabian Business as one of the 100 most powerful Arab women. The prominent judge is Egypt's first ever female judge and the first female to be nominated to the Permanent Bureau of the Union of Arab Lawyers, her profile on Arabian Business read. She was granted the position as Deputy President of the Egyptian Supreme Constitutional Court.
https://www.egyptindependent.com/egypts-fatima-qandil-the-first-female-judge-to-sit-on-the-judicial-panel-of-the-egyptian-criminal-court/
--------
How Muslim Women Break Stereotypes By Mixing Faith and Modesty with Fashion
BY ANOOSH SOLTANI, HANNAH THINYANE
Jul 12, 2019
Prime Minister Jacinda Ardern's decision to wear a headscarf following the Christchurch mosque attacks in March has earned her worldwide praise. But in online backlash, critics pointed out that women in conservative Muslim countries have no choice and risk public rebuke, fines or even arrest if they don't cover up.
This is a longstanding controversy around the Muslim veil. Is it a tool for oppressing women or can it also carry other meanings?
Our explorative research, based on interviews with young Muslim women living in a New Zealand city, shows how they use their everyday lives and identity to change stereotypes of oppression.
Controversial covering
In the aftermath of the September 11, 2001, terrorist attacks in New York and the subsequent "war on terror", veiled Muslim women received much attention from Western politicians, media and academics. Debates tended to frame Muslim women, their culture and their veils either as symbols of oppression by Islam or as part of the threat of Islamic fundamentalism.
A perception of oppression of Muslim women continues today, but what is often missing in these hegemonic debates is the way in which many contemporary Muslim women reinterpret, understand and perform Islam.
Technology and social networking sites allow Muslim women to show there are many ways of understanding and practising Islam and veiling. In our study, we present two main ways in which young Muslim women use Instagram and Facebook to offer alternative discourses about Muslimness and womanhood.
Hashtag hijab fashion
The young Muslim women we interviewed join their sisters from all over the globe in promoting Islamic fashion. This movement aims to challenge the popular culture in which Islamically defined modesty and the veil are presumed to be ugly, oppressive and inimical to fashion, including the wearing of fashionable clothes designed to draw attention to the body.
Young Muslim women consciously mobilise social networks, posting photos and using hashtags that show them as fashion savvy consumers. Nurul Shamul is the first veiled woman in New Zealand to participate in the Miss Universe New Zealand beauty pageant contest. She explains:
As a Muslim woman, we need to be modest and we should not be chasing validation or approval from others by trying to look beautiful. But it was important for me to enter the contest with the intentions that I wanted to pave the way for girls and show that it is possible to look beautiful and fashionable but modest at the same time. It is better that there is someone like me that other Muslim girls can look up to and relate to.
Hashtag Hijabista
Ms Shamul uses social networks to break the stereotypes and refute a binary view of the veil and fashion. Another young Muslim woman, Hassun Ali, uses Facebook and Instagram to change the discourse of veiled Muslim women. In several posts, Ms Ali appears with stylish, colourful headscarves to suit her body-wrapping dresses and high-heeled footwear.
Ms Ali always accompanies her photos with hashtags such as #muslimahfashion, #hijabista and #hijabfashion.
Most of the veiled participants stated that the Quran is the most valid source of information that requires Muslim women to wear the veil (hijab). Ms Ali's posts suggest that they reinterpret the Quranic verses (which call on Muslim women to display their beauty and draw their veils over their bosom) and rework their hijabs.
Young Muslim women in Hamilton do not wear the hijab to necessarily hide their femininity in public. Instead, they revisit the precepts of Islamic veiling and create multiple styles of modesty that are intriguing and draw attention.
Socially integrated Muslimas
Stereotypes say Muslim women are docile, self-segregated, and their faith and hijab prevent them from engaging in public life. Our interviewees reject such assumptions and actively use social media to change those negative images.
Yasmin Borhan, a primary school teacher, explains:
At this specific time, after 9/11, I feel I have much more responsibilities as a Muslim woman in the society. I wonder, even though I am a New Zealander, to people here I am not a true New Zealander. I find out I have to present who I am. I feel like I have to act in a really good manner.
Most of Ms Borhan's posts focus primarily on her involvement with broader communities in Hamilton. In one post, she appears with a big smile while collecting donations as a volunteer for the New Zealand Breast Cancer Foundation.
Several other young interviewees also post their everyday lives on Facebook and Instagram. Their main aspiration is to change the hegemonic views of Muslim women as powerless and excluded from social life. They also hope their posts encourage other Muslim women to become more socially active. For example, interviewee Mona Nabilah says:
I think in terms of Muslim women's confidence, we could do more to raise their awareness of how important it is to be out there. I feel because the media is working to our disadvantage all the time, Muslim women stick together into their own communities because they are too afraid or they're too shy.
Muslim women are working hard, online and offline, to reflect and increase their active presence in public arenas and break down stereotypes. Social media are the communicative spaces through which Muslim women show, verbally and visually, who they are and what their lives look like. Their posted photos are colourful, inspired by fashion, yet daring, thought-provoking, and tend to reveal their everyday lives.
For us, the phenomena of hijab fashion and socially engaged Muslim women, and especially the current social media chapter, open opportunities for women to exercise their power and authority on matters pertaining to Muslim women's bodies. Far from a binary categorisation of the oppressed and the oppressor, these phenomena signal a world in which Muslim women hybridise their faith and piety with modern ideas of feminism, activism and consumerism.
https://www.sbs.com.au/news/how-muslim-women-break-stereotypes-by-mixing-faith-and-modesty-with-fashion
--------
Turkish Businessman Refuses Entry to Veiled Muslim Women In Istanbul Hotels, Cafes
July 11, 2019
Turks were left shocked and horrified when it was revealed that businessman Muzaffer Yildirim, the partner of Turkey's famous comedian Cem Yilmaz, is currently refusing entry to women wearing a headscarf or hijab in his hotels and cafes in Istanbul.
On June 29, when Turkish businessman Engin Yakut went to the Bebek Hotel, where he had made a reservation, with two veiled women, he and his guests were denied entry.
Security guards insisted, "We have strict orders from the owner not to let in those who are covered."
Upon this explanation, Mr. Yakut took to the police station and filed a complaint against the hotel administration.
"Denying covered women entry under the pretext of wearing 'Islamic attire' is discrimination and a hate crime, according to the Turkish Criminal Law. It also goes against the European Court of Human Rights," Yakut said, according to Star news.
https://www.yenisafak.com/en/world/turkish-businessman-refuses-entry-to-veiled-muslim-women-in-istanbul-hotels-cafes-3495323
--------
Canada Pledges CAD 400m In Support Of Women, Girls' Education In Developing Countries Including Afghanistan
11 Jul 2019
Canada pledged 400 million Canadian Dollars in support of women and girls' education in developing countries including Afghanistan.
The Minister of International Development and Minister for Women and Gender Equality Maryam Monsef made the announcement in G7 development ministerial meetings in France earlier this month.
The Global Affairs Canada said in a statement "On July 4 to 5, 2019, the Honourable Maryam Monsef, Minister of International Development and Minister for Women and Gender Equality, attended G7 development ministerial meetings in Paris, France, where she met with her development counterparts and with education ministers from other G7 countries."
The statement further added "During the meetings, Canada announced a CAD 400-million commitment to women and girls' education in fragile, conflict and crisis situations, in support of the G7 Charlevoix Declaration on Quality Education for Girls, Adolescent Girls and Women in Developing Countries."
Furthermore, the statement stated that "Of this amount, Canada allocated CAD 12 million over three years (2019 to 2022) to ensure that Afghan girls, adolescent girls and young women have access to safe, quality education in rural and remote areas of Afghanistan."
The statement also added that the project will be implemented by BRAC Afghanistan.
https://www.khaama.com/canada-pledges-cad-400m-in-support-of-women-girls-education-in-developing-countries-including-afghanistan-03894/
--------
'Quality Education' Key To Boosting Saudi Women's Workforce Participation
July 12, 2019
NEW YORK: Saudi Arabia, represented by its permanent mission to the UN, held a symposium on Wednesday to discuss the importance of quality education in increasing women's participation in the labor force.
The delegation hosted the symposium at the UN's headquarters in New York, during the UN's High-level Political Forum on Sustainable Development.
Saudi Arabia's deputy permanent representative to the UN, Dr. Khalid Manzlawiy, stressed that one of the most important factors for the empowerment of women in various fields and sectors is sustainable quality education.
Princess Reem bint Mansour Al-Saud, a member of the Saudi Economic and Financial Committee of the delegation, participated in a panel discussion on the Kingdom's efforts to increase women's participation in the workforce — describing it as one of Saudi Vision 2030's most important objectives — and explored attitudes toward women in the workplace, and the percentage of Saudi women currently employed in the Kingdom.
Yasmine Ali, a member of Singapore's delegation, highlighted her country's history of implementing education policies which have enhanced women's long-term economic and social benefits, and how it has affected the empowerment of women in the labor market there, adding that Singapore is one of the world's most advanced countries in when it comes to education.
http://www.arabnews.com/node/1524411/saudi-arabia
--------
Afghan Women Note Taliban Shift after Doha Talks
July 12, 2019
WASHINGTON: An Afghan campaigner who took part in breakthrough talks with the Taliban said Thursday that she saw subtle improvements in the attitude toward women of the insurgents, who severely curtailed their rights while in power.
In a meeting earlier this week in Qatar, the Islamist militants sat down with Afghan representatives and issued a joint statement that called for assuring women's rights "within the Islamic framework of Islamic values."
The conference, co-organized by Germany, came as the United States negotiates with the Taliban to pull troops from Afghanistan — with women's rights not explicitly on the agenda.
Asila Wardak, a women's rights campaigner who works for the Afghan foreign ministry, said she was surprised at the positive atmosphere in Doha as women mingled directly with the Taliban over dinner and tea breaks.
"It was interesting to me as an Afghan woman as they didn't shake hands but they warmly welcomed us," she told a symposium at Georgetown University on the peace process, speaking by video from Kabul.
Two Taliban delegates even showed flashes of humor, telling the Afghan women that they heard they would be coming and saying, "'Please don't give us a hard time,'" she said.
"Maybe I'm wrong but their attitude has totally changed toward women, toward government employees," she said.
"But I do not say that their behavior (changed) or, ideologically or strategically, they didn't change anything," she said, pointing to a massive blast in eastern Afghanistan that killed 12 and injured dozens of children just as the Qatar talks were opening.
Ghizaal Haress, a constitutional scholar at the American University of Afghanistan, said it remained unclear what the Taliban were saying by signing the declaration in Doha.
"The term 'Islamic regime' is very vague, it's very broad and there is a fear of what it will mean under the interpretation of the Taliban," she said.
The Taliban were notorious for their harsh treatment of women during their five-year rule of Afghanistan, which ended with the US-led invasion after the September 11, 2001 attacks.
The insurgents forced women to cover themselves completely under burqas, banned them from working and restricted most education for girls.
President Donald Trump is impatient to withdraw US troops from Afghanistan, believing the mission is not worth the cost after nearly two decades.
His administration is aiming to reach an accord with the Taliban by September.
Such a deal is expected to have two main pillars — a US withdrawal from Afghanistan and a commitment by the militants not to offer sanctuary to jihadists.
But Zalmay Khalilzad, the US negotiator who has held seven rounds of talks with the Taliban, told the Georgetown event in a video message that he will ensure that women "have a seat, or several seats, at the negotiating table."
Alice Wells, the acting assistant secretary of state for South and Central Asia, said that Afghanistan's future relationship with the United States will "depend heavily" on preserving the gains made by women.
"No current or future Afghan government should count on international donor support if that government restricts, represses or relegates Afghan women to second-class status," she said.
http://www.arabnews.com/node/1524461/world
--------
A Lesson from Pakistan on Protecting the Rights of Muslim Women
Asif Ullah Khan
Jul 12, 2019
The Narendra Modi government's rationale behind the instant triple talaq Bill is that it is aimed at empowering and protecting the rights of Muslim women. But if the government is sincere about the cause, why has it not taken steps to check polygamy, which many Muslim countries have moved to curb? In most Muslim countries, despite strong opposition from the clergy, explicit permission from the first wife is mandatory if a Muslim male wants to enter into a second marriage.
In India, Muslim personal law does not stipulate any such conditions for a second marriage except that the husband should be Muslim and wife should either be a Muslim or Ahl-e-Kitab (people of the Book like Christians and Jews) at the time of marriage.
In Pakistan, Islamabad high court Chief Justice Athar Minallah, in a landmark judgment, has declared that any Pakistani entering into a second marriage needs the approval of the Arbitration Council, even if the husband has consent from the first wife.
Earlier, the general rule was that the first wife's consent was the only requirement for a second marriage.
While accepting an appeal by Dilshad Bibi and upholding the sentence awarded to her husband by the trial court for entering into a second marriage without the consent of the Arbitration Council and the first wife, Justice Minallah ruled: "A man who intends to contract another marriage during the subsistence of an existing marriage has to observe the procedure and fulfil the conditions prescribed by the legislature otherwise the consequences of imprisonment or fine or both could ensue."
Interestingly, Justice Minallah invoked an ordinance promulgated during military dictator General Ayub Khan's regime.
Quoting the Muslim Family Laws Ordinance, 1961, Justice Minallah said: "During the subsistence of an existing marriage, no man shall contract another marriage except with the previous permission in writing of the Arbitration Council."
The court said that under the Muslim Family Law Ordinance 1961, the person entering into a second marriage without prior permission is liable to punishment and a fine.
Dilshad Bibi's case
Petitioner Dilshad Bibi and her husband Muzaffar Mir entered into a marriage contract on May 15, 2011, which was duly registered in Islamabad under the Muslim Family Laws Ordinance, 1961.
The couple later moved to Muzaffarabad in Pakistan-administered Kashmir. Mir entered into a second marriage without the consent of the petitioner. Dilshad Bibi thus filed a complaint before the Arbitration Council, which referred it to a magistrate court where the husband was given a one-month jail sentence and fined Rs 5,000. The conviction was set aside by the district sessions court on the plea that the husband was resident of PoK and the provisions of the ordinance of 1961 were not applicable in his case.
Dilshad Bibi challenged the order before the Islamabad high court and Justice Minallah ruled that "a plain reading of the Ordinance of 1961 read with the Rules of 1961 unambiguously shows that it extends to the whole of Pakistan and applies to all Muslim citizens of Pakistan".
He ruled that the Arbitration Council cannot act mechanically while granting permission because the statute has declared that before doing so, it has to be satisfied that such permission would be just and necessary. A man who enters into another marriage contract during the subsistence of an earlier one in contravention of the provisions of the ordinance of 1961 definitely exposes himself to the risk of being imprisoned or fined or both.
In his judgment, Justice Minallah also made it clear that despite the first wife's agreement, if the Arbitration Council disagrees with the decision then the person will be liable to punishment.
1961 Ordinance
Like many Muslim countries, polygamy is one of the most contentious issues in Pakistan and the powerful clergy has always opposed any restrictions on the number of wives. They say Quran and Sunnah (traditions of Prophet) do not prescribe any such restrictions.
Even when Ayub Khan's government brought the Muslim Family Laws Ordinance, 1961, his opponents accused him of interfering with the Islamic law as laid in the Holy Quran and traditions of Prophet.
In his seminal work Pakistan's New Marriage Law: A Reflection of Qur'anic Interpretation, Freeland Abbott narrates an interesting story behind the 1961 ordinance. Abbott says that the real reason behind its promulgation was an event which took place six years earlier.
He writes: "On April 2, 1995, in the midst of an organised campaign against polygamy, Mohammed Ali Bogra, the then prime minister of Pakistan married a second wife."
The campaign against polygamy was led by the All Pakistan Women's Association (APWA) founded in 1949 by Begum Ra'ana Liaquat Ali Khan, a renowned women's rights activist. The APWA was alarmed by the increase in second marriages after Partition and cases of ignoring the rights of the first wife. It started a campaign for reforms in marriage laws which ultimately culminated in the 1961 ordinance, says Abbott.
However, despite all the safeguards, the Muslim Family Laws Ordinance, 1961, has one major flaw – that if a marriage takes place without permission from the Arbitration Council, it does not make it invalid, only denied official registration.
Rubya Mehdi, the author of The Islamization of the Law in Pakistan, says non-registration means that any grievance arising from such a marriage would be denied judicial relief. However, the 1961 ordinance gives the first wife the right to seek a divorce and demand her mahr (dower).
Most human rights activists are of the view that the Arbitration Council just exists on paper and that the judiciary has been reluctant to impose penalties prescribed by the Muslim Family Laws Ordinance, 1961. They said this was the reason why this law has not been an effective deterrent.
But with a single stroke of his pen, Justice Minallah has dispelled all misgivings about the efficacy and the effective implementation of the Muslim Family Laws Ordinance, 1961.
Asif Ullah Khan is a freelance journalist based in Jaipur and has worked in senior editorial positions at The Times of India, The Hindustan Times Khaleej Times and The Brunei Times.
https://thewire.in/south-asia/a-lesson-from-pakistan-on-protecting-the-rights-of-muslim-women
--------
Supreme Court Refuses Early Hearing on Nikah Halala and Polygamy of Muslim Women
Jul 12 2019
NEW DELHI: The Supreme Court has refused to hear the old petition filed by Muslim women on Nikah Halala and polygamy. The apex court has told the petitioner and BJP leader Ashwini Upadhyay that there is no possibility of setting up a Constitution bench at the earliest. The five-judge bench, which ended the hearing on triple talaq, had kept the issues open.
It is worth mentioning here that four petitions have been filed in the apex court on Nikah Halala and polygamy. Prominent Muslim women's rights activists argued that the purpose of justice for Muslim women cannot be fulfilled unless the proposed law places issues such as Nikah Halala, polygamy and protection of children. Four petitioners, including Nafisa Khan, had filed a petition in the apex court seeking a stay on the two practices and declaring them unconstitutional.
In the petition, Nafisa had opined that the IPC sections should be equally applicable to all citizens of the country. He said that triple talaq is considered cruelty in accordance with Section 498A of the IPC. Polygamy, on the other hand, is classified as an offence under Section 494. These practices should be stopped immediately, as the law says these are both crimes.
https://english.newstracklive.com/news/supreme-court-refuses-to-hear-muslim-women-nikah-halala-and-polygamy-mc23-nu-1021371-1.html
--------
Islamic Headscarf: Iran's Promotional Video Divides Opinion
11 July 2019
As part of Hijab week in Iran, a video endorsed by the Islamic Revolution Guards Corps promoting the Islamic headscarf has created a social media stir.
In the clip, produced by the Basij Cyberspace organisation, an "inappropriately dressed" young woman enters a shop that sells fake jewellery.
The woman, who is also the film's narrator, says the male shopkeeper gives her "a peculiar look and a meaningful smile".
When she asks about real jewellery, he tells her she needs to go to a store where jewellery is "kept in seven boxes and locked in seven safes".
He also tells her anything that is valuable is "hard to access and commands special respect", while appearing to lean low and stare at her.
When a woman enters wearing a full-body veil, the chador, the man stands up straight and bows his head.
The clip ends with the first woman - now dressed in a chador - saying: "I realised I had to make a change. I understand the difference between fake and genuine jewellery."
It has been viewed on Twitter 114,000 times since posted, and has inspired some people to share their views.
Responses to the animation have been mixed. One woman, apparently pro-establishment, felt it did not help promote the hijab at all and disliked being compared to jewellery, tweeting: "I'm a human being. Don't downgrade us to goods,"
A man who claimed to be a shopkeeper said he was more vigilant with chador wearers as they could sneak things under their clothes.
Another woman tells the "absolute jewels" to "leave us fakes alone", implying that she does not like being told to wear the full-length veil.
Some have lamented that the animation is "ridiculous" and a waste of mobile data.
In Iran, the law requires women to wear modest "Islamic" clothing. In practice, this means women must wear a chador, a full-body cloak, or a headscarf and a manteau (overcoat) that covers their arms.
In 2018, there were posters in cities and towns comparing unveiled women to unwrapped candy and lollipops attracting unwanted attention from flies.
https://www.bbc.com/news/blogs-trending-48951933
--------
URL: https://www.newageislam.com/islam-women-feminism/saudi-arabia-womens-bowling-team/d/119167
New Age Islam, Islam Online, Islamic Website, African Muslim News, Arab World News, South Asia News, Indian Muslim News, World Muslim News, Women in Islam, Islamic Feminism, Arab Women, Women In Arab, Islamophobia in America, Muslim Women in West, Islam Women and Feminism