New Age Islam News Bureau
6 Aug 2019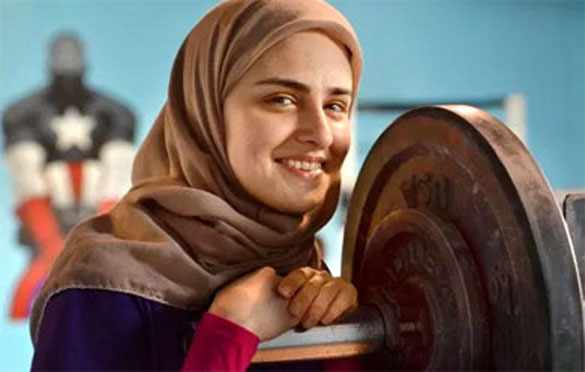 Muslim weightlifter Kulsoom Abdullah Oh and she has PhD (Picture: Associated Press)
-----
• Emirati Burqa Gets Modern Touch with Calligraphy, Poetry And Art
• Wife Celebrates Anti-Triple Talaq Bill; Husband Divorces Her
• This Muslim Woman, Kulsoom Abdullah, Is Not Only an Olympic Weightlifter; She Also Has an Engineering PhD
• Beats for Women: Turkey's Star Hijabi DJ Leads Dance Revolution
• Isis Preparing Women To Participate On The Front Line Of Future Endeavours
• Twitter Reacts to Video of Saudi Minister Comforting Christchurch Victim's Wife
• The Political Marginalization of Palestinian Women in the West Bank
• 44 Girls Under 15 In Hamadan Became Mothers In 2018
Compiled by New Age Islam News Bureau
URL: https://www.newageislam.com/islam-women-feminism/saudi-arabia-women-rights-reforms/d/119400
--------
Saudi Arabia Women's Rights Reforms May Still Be Thwarted By Custom
AUGUST 5, 2019
Marwa Rashad, Stephen Kalin
RIYADH (Reuters) - Saudi officials have hailed as "historic" new rights granted to women in Saudi Arabia that further dismantle its heavily criticized guardianship system, but male relatives could still find ways to thwart these freedoms.
Thousands of Saudi women took to social media to celebrate royal decrees on Friday that allow women above 21 to travel without permission as of the end of August. Women also now have the right to register births, marriages and divorces, to be issued official family documents and be guardians to minors.
Experts, however, say male relatives can still obstruct women defying their wishes through legal avenues or informal routes in the ultra-conservative kingdom, where it will take time to change views on gender and social customs.
"We need enforcement of these laws and the establishment of reporting mechanisms when these policies are not being upheld, as well as watchdog organizations," said Hala al-Dosari, a U.S.-based Saudi women's rights expert.
Male guardians can still file cases of disobedience and absence from home against women, Dosari said. The government recognizes filial disobedience as a crime.
"These two cases, punishable by imprisonment and flogging, are representative of the wider legal control of women's autonomy by men that still needs to be dismantled," she added.
It would be especially important to see how Saudi courts deal with challenges by male guardians, said Tamara Wittes, senior fellow at Brookings Institution.
Riyadh has long endured international censure over the guardianship system that assigns each women a male relative - a father, brother, husband or son - whose approval was needed for various big decisions throughout a woman's life.
Without a codified system of law to go with the texts making up sharia, or Islamic law, the Saudi police and judiciary have long cited social customs in enforcing prohibitions on women.
Some aspects of the guardianship system remain intact, including requirement for permission to marry, a legal necessity in many Gulf Arab states for Muslim marriages.
Some Saudi women still have doubts.
"Our culture and upbringing will prevent us from traveling without our guardian approval even if it is our right," Riyadh resident Bodoor, who declined to provide her surname, told Reuters, motoring her mother around the capital after a ban on women driving was lifted last year.
REPRESSION AND REFORM
Riyadh's new envoys to the United States and Britain hailed the decrees as a signal of the kingdom's will to reform at a time of heightened scrutiny of its human rights record after last year's murder of journalist Jamal Khashoggi by Saudi agents caused an outcry and strained ties with Western allies.
Princess Reema bint Bandar, ambassador to Washington, tweeted that this was "history in the making".
"This may seem like a small step but it is, nonetheless, transformative for Saudi women," Prince Khaled bin Bandar said in a statement issued by the embassy in London.
De facto ruler Crown Prince Mohammed bin Salman was praised abroad and at home after coming to power in 2017 for loosening social restrictions and opening up the economy. He reined in the religious morality police, allowed public concerts and cinemas and eased restrictions on gender mixing.
But his image has been tarnished by Khashoggi's killing and the detention and alleged torture of almost a dozen women's rights activists arrested last year shortly before and after the lifting of the driving ban. He has also arrested scores of clerics in a crackdown on dissent.
Human Rights Watch and Amnesty International said long overdue reforms were a bittersweet victory since women who championed them remain imprisoned or facing unfair trials. Saudi officials deny the allegations, including those of torture.
Few charges have been made public but those against at least some of the activists relate to contacts with foreign journalists, diplomats and human rights groups.
"Repression and reform go hand in hand in Saudi. Women activists represent a major threat to his (prince's) rule, they speak the language of rights," said Madawi al-Rasheed, visiting professor at London School of Economics' Middle East Centre.
"The crown prince wants to take all the credit, he is presenting these reforms as a gift to the Saudi citizens not as their rights," she said, adding that authorities need to ensure new regulations will not be reversed or abandoned later on.
In contrast to large media coverage of the lifting of the ban on driving, neither state TV nor the news agency announced Friday's decrees, which were published in the official gazette.
A member of the kingdom's advisory Shura Council, Hoda al-Helaissi, said there will likely be resistance by some.
"But like all changes and reforms that have taken place in the Kingdom, this too will become matter-of-fact," she said.
https://www.reuters.com/article/us-saudi-women-guardianship/saudi-arabia-womens-rights-reforms-may-still-be-thwarted-by-custom-idUSKCN1UV1Q4
--------
Emirati Burqa Gets Modern Touch with Calligraphy, Poetry And Art
Angel Tesorero
August 6, 2019
Each emirate also has a specific design for burqa.
Young Emirati women are reviving the tradition of wearing and designing a burqa by giving it a modern twist.
Emirati artist Ghaya Khalifa Almarar, 27, recently led a group of female participants at a workshop titled 'The Art and Heritage of Burqa Printing', organised by the Hamdan Bin Mohammed Heritage Centre (HHC).
Almarar told Khaleej Times that one can add calligraphy, cut-out designs, or even quotes or verses from a poem to give the burqa a more personal and modern touch.
Not to be confused with the head-to-toe covering used in Afghanistan or some parts of Pakistan - where one sees only through a mesh screen over the eyes - the burqa (pronounced as 'burga' in the local dialect) in the UAE and other GCC countries covers only a woman's forehead and lips, Almarar explained.
Each emirate also has a specific design for burqa. The 'Zabeel cut' is followed in Dubai and Abu Dhabi, with its narrow top and curved, broad bottom, while the Al Ain design has both a narrow top and bottom.
In Sharjah, the top of the burqa is inclined forward, while in Fujairah, the burqa has a broader top that goes beyond the forehead.
"The burqa is a traditional accessory that protects a woman's face from the scorching sun and dust. In the UAE, the design of burqa is said to be symbolising the features of a falcon, which is know for its strength and grace," Almarar noted.
She added: "To the uninitiated, the burqa might appear to be made of metal but it's actually from a cloth imported from India and dyed in a special ink."
Almarar also debunked the connotation that burqa is a symbol of women's subjugation.
"Progress has been made and women are actually now given an equal voice with men in running the affairs of the country," she explained.
"The UAE is home to many cultures and influences. There should be no debate in wearing a burqa because it is always a personal choice, and we are reviving it because we want to preserve our tradition," she added.
"Burqa used to be part of daily wear - in olden days, girls usually wear a burqa after their engagement or when they hit puberty - but now, donning it is a dying practice," she lamented.
But the workshop led by Almarar and attended by 16 female participants, including students from the Zayed University and American University of Sharjah, was aimed at promoting the art of designing a burqa among young female Emiratis and UAE expats.
Emirati student Alia Mohammed, 19, who is in her second year of studying arts at the Zayed University in Dubai, said: "My grandmother used to wear burqa. That is why promoting burqa is very much part of our history and heritage. In the workshop, we explored the materials and how we can make beautiful artworks to make burqa more appealing to the younger generation."
"We have welcomed different cultures in the UAE, but we also have a duty to preserve our own traditions," she underlined.
Australian expat Loretta Grey, who has been working as a make-up artist in Dubai, said she has always been mesmerised by the burqa.
"I want to immerse myself in the Emirati culture, that is why I attended the workshop to learn and understand more of the local culture," she noted.
"If you come to understand what it is (culture, and particularly the donning of burqa), the stigma that you used to have will go away."
For her part, Hind bin Demaithan Al Qemzi, director of events at the HHC, said:
"The workshop was organised to shed light on activities related to life in the UAE, both social and practical, such as interactive workshops in local arts culture."
Al Qemzi added: "We have various events and activities at HHC promoting Emirati heritage, such as the use of burqa, which is still being used by senior citizens."
As for Almarar, the rich Emirati culture is bound to thrive.
"I am very passionate about our culture. At the workshop, I found a great deal of participation and I look forward to developing and discovering more Emirati artists preserving and promoting our heritage, she said.
angel@khaleejtimes.com
What burqa means for UAE
Burqa is a traditional accessory that protects a woman's face from the scorching sun and dust. In the UAE, the design of burqa is said to be symbolising the features of a falcon, which is known for its strength and grace.
Each emirate has a specific design for burqa.
The 'Zabeel cut' is followed in Dubai and Abu Dhabi, with its narrow top and curved, broad bottom, while the Al Ain design has both a narrow top and bottom. In Sharjah, the top of the burqa is inclined forward, while in Fujairah, the burqa has a broader top that goes beyond the forehead.
How it is made
. The most important part of the burqa is the cloth lining, called Al Sheel or Kashf Al Mah'atta. The quality of this lining material is based on how lightweight it is and how well it absorbs sweat, essential to maintaining the lustre of the burqa
. Al Seif is a small piece of palm, bamboo or other local wood that serves as the bridge of the burqa over the nose
. Al Shubuq refers to the red wool or cotton string, or yellow or silver buttons used to tie the burqa together at the back of the head. For weddings and other special occasions, gold or silver thread is used for the al shubuq, instead of red thread.
. Circles and stars made of gold are used to decorate a bride's burqa
Process
. The artisan begins with a square piece of the al sheel material that is big enough to cover the whole face.
. Al Seif piece of wood is then placed in the centre of the fabric, in the location of the nose, thereby making clear the proper location for the eye holes, which are then cut out.
. The front of the burqa is then covered with cloth and the different pieces are sewn together. Embellishments are then sewn on.
https://www.khaleejtimes.com/uae/dubai/emirati-burqa-gets-modern-touch-with-calligraphy-poetry-and-art-
--------
Wife Celebrates Anti-Triple Talaq Bill; Husband Divorces Her
August 05, 2019
Banda (UP): Displeased by his wife celebrating the approval of Anti-triple talaq bill passed by the parliament, a Muslim man gave instant triple talaq to his wife and removed her from his house in Fatehpur district, newspaper reports said.
"Mufeeda Khatun, a resident of Jungi village under Bindki police station of Uttar Pradesh celebrated the passage of the Anti-triple talaq bill.
"This angered her husband Shamsuddin who removed her from his house on August 3 after giving her instant triple talaq," said Bindki's circle officer Abhishek Tiwari.
The police have registered a case against Shamsuddin on a complaint registered by his wife.
In her complaint, Mufeeda said her husband reached her home and divorced her instantly by saying 'Talaq' thrice in front of her parents.
The parliament on July 30 had approved the bill that makes instant Triple Talaq a criminal offense.
Lok Sabha had passed the Muslim Women (Protection of Rights on Marriage) bill last week.
https://www.siasat.com/wife-celebrates-anti-triple-talaq-bill-husband-divorces-her-1572656/
--------
This Muslim Woman, Kulsoom Abdullah, Is Not Only an Olympic Weightlifter; She Also Has an Engineering PhD
Faima Bakar
5 Aug 2019
Being a woman in a male-dominated field is no easy feat, particularly where physical capabilities are concerned. And Kulsoom Abdullah is bossing one of the biggest male-dominated industries – weightlifting. The Pakistani-American is one of the very few Muslim women in the profession and is the first to represent Pakistan at the World Championship. She is also the only Muslim woman to compete in an international weightlifting event while wearing a Hijab. Kulsoom has been competing in Olympic weightlifting competitions since 2010, after taking an interest in taekwondo. Just in case that wasn't enough, Kulsoom also has a PhD in engineering (putting us all to shame).
The journey to the World Championship, which takes place in Thailand this September, has been a long one for Kulsoom. She was denied entry into the national weightlifting championship in 2010 because she wore a headscarf. But she wasn't willing to lie down and take this, so challenged the rules and was able to enter the following year. 'It was very disappointing and affected my training even though I was used to some discrimination,' she explains to Metro.co.uk. 'I had already been training and competing at the local level, so this was a jarring feeling. 'In retrospect, it was all a life-changing experience. Being told no, then getting support and media attention was very surprising and sudden. I did my best to take advantage of being given this voice and platform.'
The lack of representation of Muslim women in sports also hindered the idea that she could enter such spaces. 'I did not know what weightlifting was when I was a child. Not having any role models or thinking that I could be athletic, I never pursued a sport. 'I got interested in weightlifting later in life when I was in graduate school. 'I started taking taekwondo and worked up to the black belt. To supplement it, I started to build up my endurance and strength. 'At the time, it was difficult to find resources on women and strength training so a lot I did on my own. I enjoyed being active and wanted to keep working on my strength even after finishing my PhD. This ultimately led me to weightlifting.'
While engineering might be considered a lucrative career, weightlifting was somewhat an unorthodox choice for Kulsoom's community. But her family is supportive, she adds: 'I was encouraged to compete. '[At the gym] I'm usually asked if I am hot due to being covered up. The answer is yes, I usually am when it is summer, and there is no air conditioning but in the winter I am just fine. 'I think because I tried my best to find positive environments to learn and train, and was focused on it, I did not pay attention or find out what people thought about me doing this.'
Of course, all of that requires a lot of discipline and a serious amount of hard work. But Kulsoom always manages to lift her spirits (see what we did there?). While getting her PhD in Electrical/Computer Engineering at the Georgia Institute of Technology, Kulsoom began balancing the sport with her studies. 'It was a challenge. When I was in graduate school, and taking taekwondo, I was basically sleeping, eating, studying, working, training, then sleeping again.
'Later on, with weightlifting, I enjoyed the sport and wanted to keep doing it at least for my own mental and physical health. I tried to make sure I took care of myself, and take breaks during the holidays so I could re-energise. 'Today, working in the industry is more flexible than at university, so I just find weightlifting a part of my routine to take care of myself.' Kulsoom adds that seeing the positive reaction from people and showing young Muslim girls that it's possible for them to do the unthinkable too has been one of the biggest highlights. We expect many more highlights from her career.
https://metro.co.uk/2019/08/05/this-muslim-woman-is-not-only-an-olympic-weightlifter-she-also-has-an-engineering-phd-10520284/
--------
Beats for Women: Turkey's Star Hijabi DJ Leads Dance Revolution
Riada Asimovic Akyol
August 5, 2019
There has been an increasingly popular trend in Turkey and among Turkish expats in Europe: DJs in headscarves who entertain at alcohol-free parties that are ladies-only in both staff members and audience.
"DJing is a complicated issue, especially as a woman," writes Erel Eryurek, who played her own first professional set in 2007. In an industry where there are few women, a veiled DJ breaks additional stereotypes. By enhancing their visibility and taking space, they confidently claim a role in Turkey's entertainment sector. The veiled DJs in particular smash perceptions of what visibly Muslim women can or cannot do.
Not everyone approves. Conservative Muslim men have claimed that veiled DJs playing music or doing any job at all is haram, or inappropriate for a pious woman. Some popular conservative writers have gone so far as to criticize the entire Turkish middle class: "From hookah cafes to baby shower parties, from Instagram hijabi influencers to tea romanticizing, a world of weirdness has infiltrated our lives," wrote Yeni Safak's Ismail Kilicarslan. He went on, "The conservative middle class and the secular middle class, hand in hand, went clearly insane."
Nevertheless, the demand for women DJs at ladies-only parties has only increased in the last few years. Some of them have expanded their services and founded their own event companies — becoming players in the ever-growing entertainment sector. Some veiled DJs take part in not only Turkish weddings but also those of Arab or Iranian clients who reside in Turkey.
One of the most popular veiled DJs in Turkey works under name DJ Safir (DJ Sapphire). She told Al-Monitor that she choose the name "because it is one of the most precious stones in the world, and its blue color symbolizes trust, responsibility and honesty."
This is her fifth year as a professional DJ, but music has been part of her life since childhood. She often sang at family gatherings, before learning to play and then teaching guitar. In 2015, she was invited to DJ an event as an amateur in Istanbul. She liked it so much that she signed up for courses in a DJ school in Istanbul and immediately started work upon finishing. From the very beginning, she chose to invest in the best technological equipment on the market.
Today, through media appearances, a social media presence and magazine interviews, she has become a trend-setter in the sector. "People didn't use to know what being a DJ means," she explained to Al-Monitor. "We have introduced in Turkey the meaning of the profession and the kind of performance it can entail."
Her manager Huseyin Melikoglu clarified that there are hundreds of women DJs in Turkey today, but their quality can be questionable. "This job cannot be done with a laptop alone," he said. "Otherwise, everyone could be DJing at home. There needs to be a training process, to get to know the technical aspects of it and music as well, to master stage performance, tone, diction, etc. Unfortunately, in Turkey, so-called DJs who have set playlists, go to wedding and salons and work like that. Calling them DJs is one's choice, but eliminating them would leave DJs who do the job in the real sense of the word."
With a thriving online presence including a popular hashtag #kizlarhazirmiyiz (#girlsareweready), a phrase the audiences say together at her performances, DJ Safir has built a brand of her own. Her performances in Turkey usually last three hours, while events in Germany or elsewhere in Europe, where the Turkish diaspora is concentrated, can go for five hours of non-stop music. She uses no playlists but creates unique sets depending "on the flow and the energy" from the audience. Usually, the clients — who may range from private companies and municipalities to women staging bachelorette parties — can suggest songs or genres, but the general agreement is that DJ Safir holds reins. She has a couple thousand songs stored in a few flash drives and carefully organized based on genre and time period. She plays both foreign and local music, including a wide array of beloved hits from the previous decades as well as new ones. Rihanna is popular among young Turks, who enjoy dancing to foreign pop music.
DJ Safir is in high demand. The performance she has booked for Aug. 23, for example, was arranged 18 months earlier. Her record for one month was 23 shows and she has sometimes done two in a single day. The month of March is usually very busy because of numerous Women's Day celebrations. But she is enthusiastic and happy about keeping busy, explaining: "Our country is so rich in culture, it is delightful for me to learn so much — not just about different kinds of foods, but about traditions, music, dances. It is my pleasure to reach out to local people wherever I perform."
DJ Safir said she is grateful for the freedom that visibly Muslim women in Turkey now have "to do the job they want, to walk where they want, to recreate themselves and have fun wholeheartedly and with ease." Throughout the interview, she emphasized her open-mindedness and inclusivity and the necessity for solidarity among women regardless of one's culture or political ideology.
She repeated several times that women come up to her and profess their initial prejudices to the idea of a veiled DJ, and these ideas are wiped away by the end of the night. "Music is really something else. It is universal, it brings people together, makes them whole. I don't like bigotry and I always try to interact with people while trying to understand them and their background. Only then can we deal with our shortcomings," she said.
She also underlined that music is not forbidden to women under Islam. "In the time of the Prophet Muhammad, women also had fun among themselves. Then, they used tambourines. This is human natural need. Some people find leisure and release in reading books, some in walking, some in singing, some in dancing to music. Everyone likes different things," she added.
"We explain as much as we can, but some people's perceptions cannot be changed no matter what," said Melikoglu.
The women-only shows are not limited to pious groups and events, as many women who pay to come to the all-female parties claim to feel freer and more comfortable to dance and relax in such environments without men.
DJ Safir said she would love to make her own music in the future, though right now she just does not have the time — her energy is devoted to making sure that people who hire her remember their big days — be it a company event or a bachelorette party. "It needs to be nice, beautiful; people should be left happy at the end of the night."
https://www.al-monitor.com/pulse/originals/2019/08/turkeys-veiled-djs-step-up-the-beat.html
--------
Isis Preparing Women To Participate On The Front Line Of Future Endeavours
By Zachary Keyser
AUGUST 5, 2019
Head of the Iraqi Intelligence Forces Abu Ali al-Basri claimed to the Iraqi Arabic language newspaper Al Sabaah that the Islamic State of Iraq and Syria (ISIS) have been preparing and training women to participate in future battles after the overwhelming defeat they suffered at the hands of coalition forces.
The women fighters are being trained in Iraq, mainly in the area of Mosul, as well as in Syria and Tunisia, in order to take a more active role in the organization's upcoming terrorist aspirations.
According to the report, the Iraqi intelligence commander relayed news of the recent death of an ISIS commander, who was responsible for Western, Northern and Eastern Syria, and who was close to the leader Abu Bakr al-Baghdadi, subsequently collapsing the regime.
Al-Basri added that ten of ISIS's top-ranking commanders have all been eradicated from the battle field, including al-Baghdadi's defense minister Ali Khalifeh, his deputy Abu Yahya al-Araqi as well as the jihadist group's Saudi religious authority Abu Abdulrahman al-Tamimi.
Two years ago, Iraqi forces were able to retake Mosul from ISIS, largely defeating the organization on the ground. The US announced the defeat of Islamic State in Syria earlier this year; twelve hours later, the Syrian Democratic Forces (SDF) also declared the "total elimination of the so-called caliphate."
ISIS lost 100% of the territory it once held in Syria, which book ended a grueling two months of battle and siege in which a massive humanitarian crisis developed as the jihadist group's members sought to surrender in their last bastion.
While ISIS no longer holds any territory or villages, the United States estimates there are around 15,000 of its supporters still present in Syria and a large presence still in Iraq - mainly consisting of sleeper-cell fighters.
https://www.jpost.com/Middle-East/ISIS-preparing-women-to-participate-on-the-front-line-of-future-endeavors-597731
--------
Twitter Reacts to Video of Saudi Minister Comforting Christchurch Victim's Wife
5 August 2019
On Monday, a video circulated on social media of the Saudi Minister of Islamic Affairs, Sheikh Abdullatif Al al-Sheikh, comforting a female Hajj pilgrim whose husband died in the Christchurch mosque attack earlier this year.
In the video, Sheikh Abdullatif is seen talking to reporters before kissing the woman's forehead and comforting her while she is crying.
Twitter user Fadila Al Jaffal posted the video to mixed reactions, with some calling out the minister for what they claimed was inappropriate behavior under Islam and others praising him for his humanity and compassion.
"Maybe many see it [as] a human touch but it also symbolizes a new era back to Islamic moderation in Saudi Arabia," Al Jaffal remarked in her tweet.
Fadila Al Jaffal
✔
@FadilaAlJaffal
Saudi minister of Islamic Affairs trying to calm down a woman pilgrim crying in Mecca, may be many see it a human touch but it also symbolizes a new era back to Islamic moderation in Saudi Arabia
#وزير_الشوون_الاسلاميه
Embedded video
75
2:00 PM - Aug 5, 2019
Twitter Ads info and privacy
52 people are talking about this
"This minister is loyal to his religion and homeland," wrote Twitter user Abital Alayah in the comments section of Al Jaffal's post. "His critics are the enemies of the success of the reforms."
ابو عبدالعزيز
@abitalalayah
Replying to @FadilaAlJaffal
هذا الوزير مخلص لدينه ووطنه نقل وزارته نقلة نوعية غير مسبوقه وسيطر على الفوضى ومنتقديه هم اعداء النجاح المتضررين من الاصلاح الذي حققه وسلامتكم.
1
3:26 PM - Aug 5, 2019
Twitter Ads info and privacy
See ابو عبدالعزيز's other Tweets
"Islam prohibits any physical contact with women unless wife, sis," a user countered. "What he did is wrong."
رجل مهم
@importanto_man
Replying to @FadilaAlJaffal
Islam prohibits any physical contact with women unless wife, sis...etc
So stop lying about it!! What he did is wrong.
3
4:26 PM - Aug 5, 2019
Twitter Ads info and privacy
See رجل مهم's other Tweets
Another user took a neutral stance. "The minister's act is wrong, but we do not know what is in their hearts and we have to improve our intentions," he wrote.
ابو حمدان الحبابي
@POqHs9Oun4O4egt
Replying to @alzahrani_falah
عمل الوزير خطاء ولكن لا نعلم مافي القلوب وعلينا ان نحسن نوايانا
6:06 PM - Aug 5, 2019
Twitter Ads info and privacy
See ابو حمدان الحبابي's other Tweets
Saudi Arabia's King Salman bin Abdulaziz had ordered the hosting of 200 people from the families of the Christchurch shooting's victims to perform Hajj in the Kingdom, according to SPA. The pilgrims arrived in Mecca on Sunday.
Announcing the decision, Sheikh Abdullatif said it was part of the Kingdom's efforts to counter terrorism and support the families of those who were affected by the "abominable act that is contrary to all divine teachings and human values and principles." https://english.alarabiya.net/en/News/gulf/2019/08/05/Twitter-reacts-to-video-of-Saudi-minister-comforting-Christchurch-victim-s-wife.html
--------
The Political Marginalization of Palestinian Women in the West Bank
August 5, 2019
EXECUTIVE SUMMARY
While Palestinian women have always faced political marginalization, developments since the Oslo Accords have caused them to endure perhaps even more formidable challenges when it comes to political participation. Al-Shabaka Palestine Policy Fellow Yara Hawari outlines these challenges and recommends ways for Palestinian women and society to disrupt this process and revitalize the Palestinian liberation struggle through feminism.
Though Palestinian women have always played a fundamental role in the struggle for liberation from the Israeli settler colonial regime, they have faced consistent political marginalization. This experience has become more multifaceted and entrenched since the 1990s, when the Oslo Accords unleashed a myriad of changes in the structure of Palestinian society and governance.
These changes have included a newfound dependence on international donor aid among Palestinian civil society, including women's organizations, and the bolstering of a corrupt and relentlessly patriarchal Palestinian Authority (PA) that complements rather than confronts the Israeli occupation and its oppression of the Palestinian population, both male and female. Such developments have caused today's Palestinian women to endure perhaps even more formidable challenges when it comes to activism and political participation.
This policy brief addresses these issues, providing a historical consideration of Palestinian women's political participation and then examining the reasons behind their de-politicization with a particular focus on the West Bank. It concludes by offering some potential avenues for Palestinian women and their allies to disrupt this process and revitalize the Palestinian liberation struggle through feminism.
Palestinian Women as Political Actors
Palestinian women have long been politicized individuals not just as wives, sisters, or mothers, but also as fighters, organizers, and leaders with agency that is not defined by their relationship to men. Looking back through Palestinian history, women have always been present and active at crucial political and national moments, though they have also had to navigate tensions among feminism, nationalism, and anti-colonial struggle.
In 1917, Palestinian women took part in demonstrations against the Balfour Declaration. Many women's associations subsequently organized themselves under the Arab Women's Congress, which convened in 1929 in Jerusalem. The congress created the Arab Women's Executive Committee to carry out decisions, and this served as the beginning of an organized women's movement in Palestine. 1 Many of the women involved in the committee were of the urban upper and middle classes, particularly of Jerusalem, and were involved in community organizing and charitable works. Still, the committee was also a political body, with members boldly making speeches in spaces traditionally dominated by men, such as the Haram al Sharif and the Church of the Holy Sepulchre.
During the Palestinian uprising against the British in 1936, Palestinian women not only participated in demonstrations en masse, but were also part of smuggling operations delivering weapons and supplies to guerrilla fighters. Here, rural and working class Palestinian women played a vital role. They hid guns in their clothing or in the fields and traversed the terrain, sharing important information with guerillas such as British troop locations and supply routes. 2
Over a decade later, the Nakba, or Palestinian catastrophe, of 1948 ripped apart Palestinian society, devastating the social and institutional infrastructure that the women's movement had built in the preceding decades. The establishment of the Palestinian Liberation Organization (PLO) in 1964 provided centralization and an institutional home for many civil society organizations established before the Nakba. The fervent institution building that followed created many more employment opportunities for women. In addition, the General Union of Palestinian Women (GUPW) formed in 1965 and brought many women's organizations under its umbrella, reviving the Palestinian women's movement. These organizations offered educational, medical, legal, social, and vocational services to women, undertook advocacy, and created links with other women's organizations around the world.
After the occupation of the West Bank and Gaza Strip in 1967, the GUPW began responding to the most immediate needs of Palestinian women and children, including by establishing health centers and orphanages. In the late 1960s Fatah took over the GUPW, and has since dominated the organization. Unlike some leftist political factions Fatah lacked an articulated stance or vision for Palestinian women. Despite this, the GUPW succeeded in opening branches in the diaspora, and has been particularly active in the Arab states with large Palestinian refugee populations. Today, it continues as an institution under the PLO.
Around the time of the formation of GUPW, Palestinian women were also involved in armed resistance, and most major militant political factions established training camps for female revolutionaries. A particularly well-known revolutionary was Layla Khaled, a member of the leftist Palestinian Front for the Liberation of Palestine (PFLP) who captured international attention for her role as commander of the Dawson's Field operation, which made her the first woman to hijack an airplane. Khaled went on to become a speaker in the international solidarity scene. Another member of the PFLP, Shadia Abu Ghazaleh, was among the first Palestinian women to take part in military resistance after 1967. She later died while preparing an explosive device. Dalal Mughrabi, a Fatah member, was involved in a 1978 military operation that resulted in her own death as well as the deaths of 38 Israeli civilians.
Khaled, Abu Ghazaleh, and Mughrabi broke many traditional and nationalist conventions that had limited women's role in the liberation struggle to caregivers of sons or husbands, whether fighters or prisoners. Although organizing and participating in armed resistance helped challenge traditional assumptions about gender roles, tensions between female emancipation and nationalism remained entrenched. Indeed, many Palestinian leaders privileged national liberation over the emancipation of Palestinian women, so much so that this stance became the norm.
Two decades later images of women and girls throwing stones, challenging soldiers, and leading marches during the First Intifada showed promising signs of a social restructuring. Women's groups were solidifying their involvement in social works and political organizing during this period. This allowed women more movement outside of the home under the pretext of the struggle, bringing them into spaces that had previously been male only, such as political meetings and the front lines of demonstrations. This inevitably contributed to an erosion of the familial patriarchal authority.
Yet the First Intifada is also often romanticized in collective memory and writing, not only in terms of resistance and community organizing, but of the role of women in the struggle. It is important to note that some women faced societal backlash for political participation. For example, although many women who were imprisoned were glorified during their incarceration, soon after their release they often faced social obstacles, including not being able to marry or find employment. Furthermore, women were still often seen in relation to male figures, such as mothers and wives, as demonstrated by many political posters from the period.
Several years into the First Intifada, the Palestinian delegation at the 1991 Madrid Conference included two women (Hanan Ashrawi and Zahira Kamal) out of 21 figures. Yet the Oslo Accords several years later did not feature any women. Palestinian women were not the only ones to be marginalized at Oslo, as refugees in the diaspora and Palestinian citizens of Israel were also excluded. Oslo created a framework, albeit a limited one, in which the exiled male Palestinian leadership was empowered, rather than a framework for the empowerment of the Palestinian people as a whole. This exclusion further increased the tension between the national struggle and the women's movement.
Depoliticizing Palestinian Women
The tension between nationalism and feminism has continued in the post-Oslo period, and has been accompanied by the trend of Palestinian women facing multiple forces that actively suppress their politicization and participation in political spaces. The overarching force has been and continues to be the Israeli regime, which has oppressed Palestinian women since the day it was established through gendered forms of violence as well empowering patriarchal structures through its relentless colonization and fragmentation of land and communities. Yet it is also important to recognize the forces within the Palestinian and international communities that contribute to the weakened political role of Palestinian women.
The NGO-ization of the Women's Movement
The Oslo Accords not only created a new framework for "peace" and "state-building;" they also set in motion a fundamental transformation of Palestinian civil society, including the women's movement. Foreign aid flooded into Palestine and created a situation in which civil society became dependent on external patronage. Whereas before Oslo political parties mainly supported civil society organizations, the post-Oslo era saw a deliberate weakening and breaking of these ties. Many scholars have identified this process as "NGO-ization," which Islah Jad aptly describes as circumstances in which "issues of collective concern are transformed into projects in isolation from the general context in which they arise, without consideration of the economic, social, and political factors affecting them."
The professionalization and bureaucratization of civil society organizations created a distance between them and local grassroots communities. The focus became centered on project deadlines, budgets, funding proposals, and annual reports, all of which were answerable to the international donor community. The shift to a donor-led agenda also distanced many organizations from the politicized rhetoric of liberation and nationalism. Many groups and organizations within the women's movement were also subject to this transformation.
This change is particularly noticeable in the post-Oslo lexicon of women's rights within Palestinian civil society. Many terms or buzzwords used to obtain project funding have been defined by UN agencies and other international organizations that place their own meanings and conditions upon them. For example, the term "empowerment" is limited to socioeconomic empowerment and participation in "decision-making," rather than empowering women to resist the occupation and build a vision for a postcolonial world. Indeed, many projectsfocus solely on household economic empowerment, aiming to help women become financially less dependent on male breadwinners. This stands in stark comparison to the many female-led cooperatives established before Oslo that attempted to gain economic independence from Israel and were articulated as a form of resistance, such as the women's produce cooperatives established by the Palestinian Union of Women's Work Committees in the West Bank and Gaza during the First Intifada.
A more recent example of this donor-led transformation can be seen in a week-long campaign launched in early 2019 by UN agencies, international organizations, and Palestinian NGOs. The campaign, called "My Rights, Our Power," was meant "to raise awareness on women's fundamental human rights" and domestic violence in particular. It focused on five areas of concern: the right to a life free of violence, the right to achieve justice, the right to seek help, the right to equal opportunities, and the right to make one's own choices. The campaign omitted the Israeli military occupation of the West Bank and Gaza Strip, as well as its overall structure of apartheid, as major contributing factors to rights violations committed against Palestinian women. Indeed, the words "occupation" or "Israel," let alone "apartheid" or "colonialism," did not appear in press releases and campaign materials. This reflects a trend in the international aid and donor community's discourse in which "issues" and "barriers" to women's rights are spoken of in a political vacuum to avoid any Israeli discomfort. This is a clear example in which dependency on the donor community rendered organizations unwillingly complicit in the depoliticization of the Palestinian women's struggle.
While this process of NGO-ization has demobilized many groups within Palestinian society, women remain disproportionately affected due to institutional patriarchal tendencies to exclude women from the political sphere.
The Veneer of Institutional Inclusion
The return of the PLO to the West Bank and Gaza Strip and its subsequent devolution into the Palestinian Authority (PA) left many on the ground frustrated, particularly women grassroots activists from the First Intifada who then lost their leadership roles to predominately male politicians, highlighting once again the tensions between the national struggle and women's liberation. In 2003, in part to alleviate this tension, the PA established the Palestinian Ministry of Women's Affairs, and between 2012 and 2014 under Minister Haifa Al Agha it createdgender units in all Palestinian governmental agencies. These units are supposed to deal with gender issues, particularly female participation in institutional politics, yet their implementation and outcomes remain minimal. In reality, it is likely that they were established to appease certain requirements, particularly those of funders, and respond to both domestic and international pressures to create a more gender-balanced political structure.
The current inclusion of women within institutional Palestinian politics in the West Bank and Gaza Strip remains very shallow. Although the Palestinian Legislative Council has maintained a 20% quota of women since 2006 – a development Palestinian activists and women's organizations fought hard for – the percentage remains low. Moreover, other bodies have even lower proportions of inclusion. Of the PLO Executive Council's 15 members, only one is female – Hanan Ashrawi. Out of the 16 governorates in the West Bank and Gaza, only the governorate of Ramallah and El Bireh has a female governor – Laila Ghannam. Similarly, the government as of April 2019 headed by Mohammad Shtayyeh has a mere three female cabinet ministers out of 22 – Mai Kaileh, Minister of Health; Rola Maayya, Minister of Tourism; and Amal Hamad, Minister of Women's Affairs. These women, with the exception of Ashrawi, come from a Fatah background. This is unsurprising considering the domination of Fatah over the Palestinian political scene and the recent efforts by President Mahmoud Abbas to consolidate power within his party.
These attempts to consolidate power are indicative of the politics inherent in the PA, namely those of one-man leadership, rule by presidential decree, and a failure to separate legislative, judicial, and executive powers. Furthermore, the lack of democracy and democratic processes – Abbas is well into a decade past his mandated term – has allowed for nepotism and patronage. It is thus unsurprising that under the PA patriarchal tendencies have solidified.
The PA attempted to elevate the status of Palestinian women in 2014 when it acceded to the UN Convention on the Elimination of All Forms of Discrimination against Women (CEDAW) without any reservations. It was the first country in the Middle East and North Africa to do so and was heralded by some, including those in the international community, as demonstrating significant progress on women's rights. Yet several issues render the accession less significant than it might seem. Firstly, the CEDAW text has not been published in the PA's Official Gazette and as such remains non-binding for domestic law. Secondly, a November 2017 decision by the Supreme Constitutional Court, which regulates the status of international agreements in the Palestinian legal system, allows for courts to not apply agreements that conflict with Palestinian law. This allows for unregulated executive powers and for the legislature's maintenance of the overarching patriarchal authority.
Weaponizing Women's Bodies
The fact that Palestinian women are often lacking the most basic legal protections and political representation means that they are particularly vulnerable when it comes to the weaponization of their bodies. Sexual harassment and violence are sensitive topics in Palestinian society, and a social stigma is often attached to those who have suffered them. The threat of sexual violence and the use of sexual harassment are therefore particularly powerful weapons. Both the Israeli regime and the PA have used such gendered violence to deter women from being politically active.
Since its establishment the Israeli regime has systematically used gendered tactics to oppress Palestinians. This has contributed to the enforcement of gender stereotypes and patriarchal narratives, excluding women from the political sphere or targeting those who are politically active. Targeting manifests itself in a variety of ways and can include harassment, threats of sexual violence, and imprisonment, the latter being the most effective way to curtail political work. Indeed, female political leaders have been consistently imprisoned by the Israeli regime, including legislator Khalida Jarrar.
During imprisonment, Palestinian women are often subjected to gendered violence in an attempt to "break" them. For example, Khitam Saafin, the leader of the Union of Palestinian Women's Committees, spent three months in Israeli administrative detention. During that time she reported that Israeli soldiers took pictures of her on their phones and subjected her to unnecessary strip searches. The Israeli prison authorities are also known to deny women sanitary towels and restrict their access to bathrooms when they are menstruating.
Interrogations by Israeli soldiers or security forces also often include sexual harassment or threats of sexual violence to pressure women and girls to sign confessions or give information. This was demonstrated in a leaked video of the December 2017 interrogation of the teenager Ahed Tamimi, who was arrested for slapping an Israeli soldier who had invaded her home and had previously been part of a raid that resulted in her cousin being shot in the head. Ahed was subjected to an interrogation in which two male officers verbally harassed her and made comments about her body.
In recent years the PA has increasingly cracked down on activism and activities that challenge its authoritarianism, using such brutal techniques as detention, interrogation, surveillance, limitations on mobilization, and cyber attacks. It has adopted gendered mechanisms similar to those used by Israeli forces to deter female participation in political activities.
Demonstrations and protests have often been sites of gendered violence. PA security forces use insults and insinuations that often amount to verbal sexual harassment, in addition to telling women they should be at home and not in the streets. This draws on misogynist and global notions of honor and shame, which can also be mobilized against women's families. PA security forces have been known to visit women's and girls' fathers to "discuss" their activism. For some women, this has serious repercussions and means they are prevented by their families from taking part in political activities. There have also been cases in which security forces have gone to a female activist's place of work and have spoken to her employer in an attempt to get her fired. This type of sabotage occurs more easily via social media, as rumors and slanderous language can be spread quickly and anonymously in ways that become nearly impossible to refute.
In more severe cases physical sexual harassment occurs, with women grabbed and groped at demonstrations. This was the case at a June 2018 protest demanding the PA lift the sanctions on Gaza, in which Fatah loyalists harassed and assaulted women at the behest of the PA security forces. The sexual harassment of women in such spaces aims to punish and deter them from taking part, but it also encourages male activists to deter female participation out of fear for women's safety.
It is important to note that Palestinian women have not been passive in the face of gendered violence. They have, for instance, long confronted the weaponization of their bodies through such tactics as recognizing their right to remain silent during interrogations and remaining in groups or pairs at demonstrations. Another tactic is to mentally compartmentalize. Indeed, one activist told this author, "I mentally prepare myself before the demonstration, I tell myself, 'Today my body is not mine.'"
Liberating All Palestinian People
The aim of this policy brief has not been to romanticize the pre-Oslo period, but rather to address how the political marginalization of Palestinian women has accelerated with the entrenchment of the military occupation, the increasingly repressive Palestinian authorities, and the weakening connection between civil society and the grassroots. Moreover, the entire Palestinian liberation project has been geographically, socially, and politically fragmented, resulting in a situation of historic vulnerability. While discussions revolve around efforts to revive it, the important question Palestinians must ask themselves is whether they can reignite a path to liberation with half of their population marginalized from the process.
With this in mind, what follows are recommendations for disrupting this process of political marginalization and revitalizing the liberation struggle through feminism:
1. Palestinian women, collectives, groups, and organizations pursuing women's rights and gender equality need to be restructured and revitalized into an autonomous women's movement that struggles for women's liberation in all spheres, including political, economic, and social spheres. The need for women's autonomy is imperative in a context of patriarchy, where male domination is present in all areas. Organizational autonomy does not mean a separation of struggles, but rather provides a space for women to think more freely and collectively about liberation. Women's rights must be both individual and collective and must not be separated from the collective right of indigenous Palestinians to be free of settler colonialism.
2. Women's groups and organizations must find a way to reconnect both with the grassroots and the liberation discourse. One way to do this is to return to collectivism and tackle elitism within the NGO network by making processes more democratic and representative. This also requires moving toward self-sufficiency to weaken the grip of donors, which could include a membership-based system, and pave the way for economic sovereignty.
3. Groups and activists must engage with the political marginalization of women. In particular, men in these spaces need to be aware of the power dynamics that prevent women from participating and support women in fighting against them. For example, in meetings, discussions, and demonstrations, men should step aside and create space so that women can take leading roles. Additionally, rather than telling women not to stand on the front line out of fear their bodies will be weaponized against them, men should join women in coming up with tactics to tackle this weaponization.
4. While bearing in mind the specific context of settler colonialism, Palestinian women should also examine recent examples of other women in the region who have been part of processes of great political change, such as in Tunisia and Sudan. It is equally important to rebuild historic solidarities, such as with the Kurdish Women's Movement, rather than looking toward the West, to learn and develop by example.
5. Palestinian nationalism has long focused around macho imagery embodied in the male fighter or prisoner, with women often only discussed in relation to men. This has resulted in a liberation politics that is not only exclusive and dominating of women but also oppresses men. There is therefore an urgent need to incorporate feminism into the Palestinian political project through the adoption of a new document of liberation, a document that would understand feminism not only as a theory but also as a practice and way of life that works toward the liberation of all people.
Only through such actions can the Palestinian leadership and civil society begin to tap the strength of Palestinian women in the Palestinian struggle for freedom, justice, and equality.
Notes:
The term "women's movement" in this policy brief is used in a broad sense to refer to the collection of groups and organizations working to further women's rights in Palestine.
Fayha' Abdul Hadi, "Adwar al-mar'a al-filastiniyya fi al-thalathinat 1930 – al-musahama al-siyasiyya lil mar'a al-filastiniyya [The Role of the Palestinian Woman in the Thirties, the Political Participation of the Palestinian Woman]," Al-Bira: Markaz al-Mar'a al-Filastiniyya lil-Abhath wa al-Tawthiq, 2005, 84.
Yara Hawari is the Palestine Policy Fellow of Al-Shabaka: The Palestinian Policy Network. She completed her PhD in Middle East Politics at the University of Exeter. Her research focused on oral history projects and memory politics, framed more widely within Indigenous Studies. Yara taught various undergraduate courses at the University of Exeter and continues to work as a freelance journalist, publishing for various media outlets, including Al Jazeera English, Middle East Eye and the Independent.
https://imemc.org/article/the-political-marginalization-of-palestinian-women-in-the-west-bank/
--------
44 Girls Under 15 In Hamadan Became Mothers In 2018
Aug 5, 2019
The Director of Iran's Census Organization in Hamadan Province stated that in 2018, 44 girls under the age of 15 were pregnant in Hamadan.
Marriage and pregnancy under the age of 18 increase maternal mortality as well as physical and psychological harm to girls. Depression and sometimes suicide, along with divorce, school dropouts, and sustaining the cultural and economic poverty cycle are among those harms.
In addition to the pregnancy of 44 girls under 15 in Hamadan, the Director of Iran's Census Organization in Kurdistan Province, Hassan Soumi also said, "4% of divorces are for girls under the age of 18. About 16 percent of marriages registered during the first four months of 2018 are girls under the age of 18." (The state-run IRNA News Agency – August 3, 2019)
A justice ministry lawyer said, "Unfortunately, official and unofficial statistics suggest that there are underage marriages, indicating that laws related to this issue are insufficient. Child marriages in Iran have been on the rise in recent years."
Early marriages and child marriages are examples of violence against women and the worst form of oppression against girls and the future of women in Iran. According to statistics released by the regime, at least 43,000 girls under 15 and 180,000 girls under 18 get married in Iran every year. There are 24,000 widows under 18 and 15,000 widows under the age of 15 in Iran.
Shahnaz Sajjadi, special assistant for citizens' rights in the directorate for Women and Family Affairs, commented on the rejection of the bill proposing to ban child marriages of under-13 girl children by the Legal and Judiciary Commission of the Majlis (the mullahs' parliament).
Sajjadi said, "When a 12-year girl is forced by her father to get married, the validity of this marriage is under question both legally and religiously because of the girl's lack of consent.
I am sure that members of the Legal and Judiciary Commission who opposed this bill, none of them are willing to have their children quit school and get married in young age." (The state-run ILNA news agency – December 29, 2018)
https://women.ncr-iran.org/2019/08/05/44-girls-under-15-in-hamadan-became-mothers-in-2018/
--------
URL: https://www.newageislam.com/islam-women-feminism/saudi-arabia-women-rights-reforms/d/119400
New Age Islam, Islam Online, Islamic Website, African Muslim News, Arab World News, South Asia News, Indian Muslim News, World Muslim News, Women in Islam, Islamic Feminism, Arab Women, Women In Arab, Islamophobia in America, Muslim Women in West, Islam Women and Feminism