3 January 2021
• Saudi Arabia: Women Allowed To Change Names Without Guardian's Consent
• Former Miss World And Bollywood Actor Manushi Chhillar Roped In By United Nations Women To Bat For Women Safety
• Egyptian Women Give Up on the Law – and Turn to the Internet for Justice
• UK Abolishes 'Sexist' Tax On Women's Sanitary Products
• Bangladesh Freedom Fighter Ayesha Khanam: A Fighter Till Her Last Breath
• Australian Campaigner For Ex-Muslim Women Charged In Tanzania
• In A Village Of Widows In Western Afghanistan, The Opium Trade Has Taken A Deadly Toll
Compiled By New Age Islam News Bureau
URL: https://newageislam.com/islam-women-feminism/saudi-arabia-women-allowed-change/d/123962
-------
Saudi Arabia: Women allowed to change names without guardian's consent
Ramadan Al Sherbini
January 03, 2021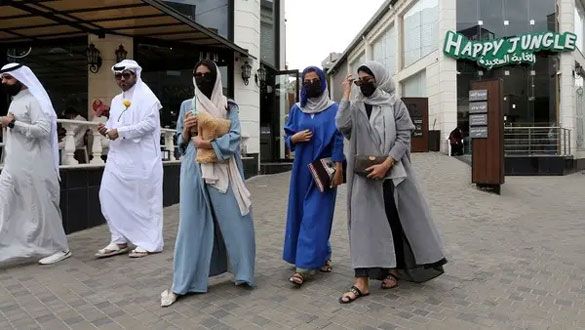 Saudi women walk in Abha High City. (File photo: Reuters)
------
Cairo: Saudi women can apply for an official change of their names without the guardian's approval, a local newspaper has reported, as the kingdom continues to empower females and remove restrictions on them.
The Interior Ministry's Civil Affairs Agency has said a Saudi man or woman can change their data including names of the family, children and social status by visiting one of its branches, Okaz newspaper said.
The agency also said that a woman's name can be changed without referring to her guardian by booking an appointment via the official website and checking for related procedures, according to the report.
The Saudi Interior Ministry has recently raised the age limit for changing a person's first name from 15 to 18 years. According to the ministry's stipulations, the name change should be applied for the first time only or for return to a previous name.
Recent amendments to the Saudi civil affairs system also stipulate that citizens aged below 18 can only have their first names changed after presenting a written consent from their parents or a power of attorney or through an application from the legal guardian.
In recent years, Saudi Arabia has taken steps to empower women in different domains as part of dramatic socio-economic reforms in the country.
In 2018, the kingdom allowed women to drive for the first time in its history, ending a decades-old ban on female driving. Saudi authorities have also allowed women to travel without a male guardian's approval and to apply for a passport, easing long-time controls on them.
https://gulfnews.com/world/gulf/saudi/saudi-arabia-women-allowed-to-change-names-without-guardians-consent-1.76245020
------------
Former Miss World And Bollywood Actor Manushi Chhillar Roped In By United Nations Women To Bat For Women Safety
02 January, 2021
by ANI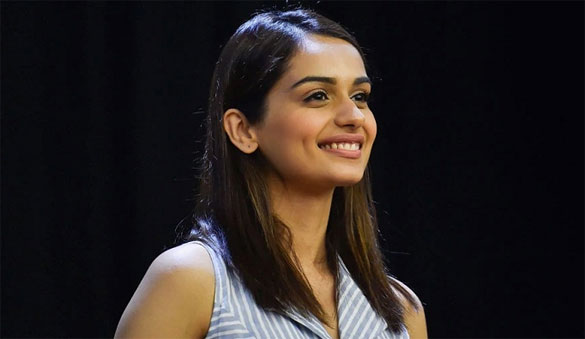 FORMER Miss World and Bollywood actor Manushi Chhillar
------
New Delhi [India], January 2 (ANI): Former Miss World and Bollywood actor Manushi Chhillar have been roped in by United Nations Women (The United Nations Entity for Gender Equality and the Empowerment of Women) for a global initiative #OrangeTheWorld to raise awareness on gender-based violence.
Chhillar who also runs her own initiative 'Project Shakti' on menstrual hygiene, aims to encourage women to raise their voice against violence through the new initiative #OrangeTheWorld.
Through a video that she posted on Instagram, Chhillar was on Saturday seen raising her voice against gender-based violence.
"Women are most susceptible to violence in various forms and they face it almost everywhere. Women across all age groups are at constant risk and it is heart-breaking to feel this as a woman myself," the former Miss World said.
"At one point or another, we all have known someone who has been at the receiving end of violence. But what do we do about it? It's crucial that we stand by survivors, believe them, support them to report abuse, and make our voices heard," she added.
The 23-year-old actor also threw light on the fact that the cases of domestic violence in the country shot up during the COVID-19 pandemic induced lockdown when most people stayed at home.
"During the COVID-19 pandemic, the shadow (emphasis) pandemic of violence against women has grown darker. Cases of Domestic Violence have increased. But as we work towards emerging from COVID-19 we need to also actively work towards rebuilding a world that's safe for women," Chhilar said.
Through the '#OrangeTheWorld' initiative, Chhillar along with the United Nations Women organisation will be working on ending online harassment of women among other forms of harassment.
The 23-year-old actor who will soon make her Bollywood debut through YRF's 'Prithviraj' also called for ending physical, psychological, and sexual violence against women through her Instagram stories.
http://www.businessworld.in/article/Manushi-Chhillar-roped-in-by-United-Nations-to-bat-for-women-safety/02-01-2021-360717/
-----------
Egyptian Women Give Up on the Law – and Turn to the Internet for Justice
Zvi Bar'el
03-01-2021
All three women admired Islam el Azzazi. Each one explained that she had been so excited and could not believe that the famous director had invited her to his home to discuss her future in film.
One woman wrote that though she hadn't studied film, she had an idea for a movie and was seeking a grant to produce it. "People recommended that I turn to I.A. [the initials of Egyptian film director Islam el Azzazi] because he was on many judging panels and he knows how to present proposals for this kind of grant," she wrote. Her story was published last month, alongside stories of many other women, in the Egyptian, Arabic-language feminist blog "Daftar Hekayat" (which translates to "Story Book"). The blog is intended to serve as a forum for women who have suffered sexual harassment and violence. The woman added that she knew Azzazi was married with a daughter, and he knew she was married – he had even met members of her family.
https://www.haaretz.com/middle-east-news/egypt/.premium-egyptian-women-give-up-on-the-law-and-turn-to-the-internet-for-justice-1.9416459
------------
UK abolishes 'sexist' tax on women's sanitary products
India TV News Desk
January 03, 2021
Britain on Friday became the latest country to abolish the so-called "tampon tax," eliminating sales taxes on women's sanitary products.
The move was widely praised by women's rights advocates as well as proponents of the country's departure from the European Union.
Treasury chief Rishi Sunak had committed to ending the widely unpopular tax on tampons and sanitary pads in his budget in March but the change could only take effect Friday after Britain had finally left the economic orbit of the European Union.
Under EU law, nations cannot reduce the rate of value-added tax on menstrual products below 5% as they are deemed to be luxury items and not essentials. Ireland is the only EU country that does not charge a levy on sanitary products as its zero tax rate was in place before the EU set its floor.
"Sanitary products are essential, so it's right that we do not charge VAT," said Sunak. "We have already rolled out free sanitary products in schools, colleges and hospitals and this commitment takes us another step closer to making them available and affordable for all women."
Britain officially left the bloc's vast single market for people, goods and services at 11 p.m. London time on Thursday, giving it greater scope to set its own laws. A new U.K.-EU trade deal will bring new restrictions and red tape, but for British Brexit supporters, it means reclaiming national independence from the EU and its rules. They pointed to the abolition of the tampon tax as an early positive change from Brexit.
Britain's treasury has previously estimated the move will save the average woman nearly 40 pounds ($55) over her lifetime.
"It's been a long road to reach this point, but at last, the sexist tax that saw sanitary products classed as nonessential, luxury items can be consigned to the history books," said Felicia Willow, chief of the Fawcett Society, a women's rights charity.
Many other countries have also eliminated the tampon tax, including Australia, Canada and India. In the United States, several states including New York and Florida have also nixed the tax.
https://www.indiatvnews.com/news/world/uk-abolishes-sexist-tax-women-sanitary-products-675668
------------
Bangladesh Freedom Fighter Ayesha Khanam: A Fighter Till Her Last Breath
Staff Correspondent
January 03, 2021
Bangladesh Mahila Parishad president and freedom fighter Ayesha Khanam -- a guardian of the women's movement in Bangladesh, who dedicated her life to the rights of deprived, oppressed and disenfranchised women -- breathed her last early yesterday.
An integral part of the women's movement in Bangladesh, her message to her fellow countrywomen was to stand their own grounds and develop an uncompromising attitude so that they can take their own responsibilities and decisions.
"This has always been the way and is still the way. And this is the message given by Pritilata, this was also said by Ila Mitra, and this was the oath taken by Begum Rokeya," Ayesha told this correspondent in an earlier interview with The Daily Star.
Bangladesh Mohila Parisha (BMP) General Secretary Maleka Banu said, "She [Ayesha] was suffering from lung cancer and her condition deteriorated around 3:30am yesterday. She was taken to the BRB Hospital in the capital, where the on-duty doctor confirmed her death around 4:00am."
Her body was taken to BMP around 9:00am and later to Netrakona, where she was buried next to the grave of her late husband freedom fighter and engineer Mortuza Hasan in the family graveyard, said Maleka.
Former vice president of left-leaning organisation Bangladesh Chhatra Union, she was an active organiser of all progressive movements, including the 1962 student movement, 1969 mass upsurge and 1971 Liberation War.
In an interview with The Daily Star, she said that during the end of April 1971, she went across the border to Agartala, where she stayed at a camp for refugees and freedom fighters. There, she provided medical assistance to wounded freedom fighters after taking primary training on medical services.
"What has motivated me the most throughout the years is the heroics of women during the anti-colonial struggle in this subcontinent and their biographies. During my eight-month long stay at Agartala in '71, I met many women who were involved in the anti-colonial struggle and it drove me towards the women's movement."
After the Liberation War, there was scope for me to engage in national politics but instead I got involved in the women's movement after realising that even though many of my fellow activists were getting involved in politics, there was not enough prioritisation in protecting the rights of women."
Since then, she had been attending many national and international events, delivering speeches, organising for and with women, engaging in lobbying and advocacy, working for the end of violence against women and much more.
In 1984, she became the organising secretary of the same organisation followed by the general secretary in 1991. In 2008, she became the president of BMP.
In a condolence message, Hasina said that the country's women community has lost a genuine and brave compatriot at the death of the women's leader.
President M Abdul Hamid also expressed shock and sorrow at her death and prayed for the eternal peace of the departed. He too conveyed his sympathy to the family.
Liberation War Affairs Minister AKM Mozammel Haque, Expatriates' Welfare and Overseas Employment Minister Imran Ahmad, Bangladesh Communist Party President Mujahidul Islam Selim and general secretary Mohammad Shah Alam; and Advocate Salma Ali, president of Bangladesh National Women Lawyers Association, Forum for Secular Bangladesh and Trial of War Criminals of 1971, also prayed for the departed soul and expressed sympathy to her family in separate statements.
Ayesha Khanam left behind her only daughter and a host of relatives and well-wishers to mourn her death.
https://www.thedailystar.net/frontpage/news/fighter-till-her-last-breath-2021281
-----
Australian campaigner for ex-Muslim women charged in Tanzania
BY JARNI BLAKKARLY
03-01-2021
An Australian campaigner for ex-Muslim women has been arrested and charged in Tanzania, with supporters calling the charges politically motivated.
According to a petition page set up in her support, Zara Kay was summoned to Oyster Bay Police Station in the East African nation's largest city Dar Es Salaam on 28 December, where she was held for 32 hours and questioned about her organisation's campaigning and why she left Islam.
Ms Kay is the founder of Faithless Hijabi, an organisation supporting women who have been abused for leaving Islam.
According to the supporter's page, she was bailed and has had her passport confiscated.
She is said to be facing three charges, including making a satirical post critical of the President of Tanzania's handling of coronavirus, failing to return her Tanzanian passport when she received her Australian one, and using a SIM-card not registered in her name.
The social media posts were made in May when Ms Kay was living in London.
She is due to report back to the police station with her lawyer on 5 January.
Ms Kay has been diagnosed with Generalised Anxiety Disorder, and supporters say she was hospitalised with related symptoms after her arrest.
The Department of Foreign Affairs and Trade confirmed to ABC News they were providing consular assistance to an Australian national in Tanzania but declined to provide any further information, citing privacy.
https://www.sbs.com.au/news/australian-campaigner-for-ex-muslim-women-charged-in-tanzania
------------
In A Village Of Widows In Western Afghanistan, The Opium Trade Has Taken A Deadly Toll
By DAVID ZUCCHINO
JAN 02, 202
MIR ALI, Afghanistan — On the barren high plains of western Afghanistan, along a roadway south of Herat city, is a collection of sturdy earthen huts known as Qala-e-Biwaha, or "village of widows."
Most of the village's men have disappeared — killed while trying to smuggle opium across the desolate frontier into neighboring Iran. The widows have been left to fend for themselves and their children, some of whom have also died while transporting drugs over the border from Herat province's rugged Adraskan district.
The area is so destitute that men seeking work here have two choices, said Mohammad Ali Faqiryar, the district governor: "They can smuggle drugs or join the Taliban."
Those who agree to smuggle opium, heroin and methamphetamines into Iran can earn $300 or more per trip, a fortune for such a poor village. But they risk arrest, prosecution and execution in Iran's Islamic courts — or being shot and killed by Iranian border guards.
As of 2018, Afghanistan was the world's largest producer of opium, and poppy is the country's most lucrative cash crop. The profits fuel the Taliban's financial networks and for years have undermined sustainable reconstruction and security efforts by the United States and its allies.
Afghan officials seem powerless to stop the trade; many have grown wealthy through their complicity in facilitating the trafficking. What results is an enduring cycle of opium cultivation, processing and trafficking that often leaves Afghanistan's most vulnerable to bear the dire consequences of the illicit trade.
Faqiryar said he has tried and failed to get government money for programs to help people raise livestock and grow wheat, rice and beans in the arid, unforgiving landscape.
The widows survive on food bought with their earnings from the wool-processing trade and on donations from relatives and international aid groups. Some children attend a madrassa, or Islamic school, run by a mullah at a tiny mosque in a nearby settlement. The nearest population center is Herat city, the provincial capital, 45 miles north.
"For a long time, life was very good and my three sons earned a lot of money carrying opium," said Nek Bibi, a widow who said she was about 50 years old. She spoke outside her dwelling, fashioned from dried packed earth, as a grandchild clung to her robes. "Then they were all killed."
Her oldest son, Ghulam Rasul, 20, was arrested several years ago and later hanged in Iran after he was convicted of smuggling opium, she said. Three years ago, she said, two more sons — Abdul Ghafoor, 15, and Abdel Zarif, 14 — were shot dead by Iranian border guards as they tried to transport opium from Afghanistan.
Bibi said Iran never returned her sons' bodies, a complaint shared by other women in the village. "I don't know if they were buried in Iran or their bodies were just thrown in the desert," she said.
Her husband, Mohammad Sadeq, recently died of illness, Bibi said, leaving her to care for her sons' widows and her eight grandchildren. She earns a meager living processing raw wool by hand into fibers for carpet weaving.
These days, the village is whipped by frigid winds that drown out the bleating of sheep in rough pens next to the widows' huts, which seem to rise up from the dun-colored soil to mimic the shape and texture of the surrounding hills. There is no electricity or running water, and no heat except from the dry brush that families buy or collect to burn. Some widows, like Bibi, light a single bulb at night with power generated during the day by tiny solar panels.
Conditions were so severe this fall that many women fled the village for the homes of relatives or for displaced-person camps run by aid organizations. Until recently, the village was home to 80 widows and their families, said Mohammad Zaman Shakib, the district council's development director. Today, there are just 30.
As he spoke, several widows and their children squatted beside their huts, warming themselves in the brittle winter sunshine that emerged after a morning of snow squalls. Most of the women wore long black robes that concealed all but their eyes. Some spoke of leaving the village.
Fatima said her husband, Fazel Haq, had struggled to earn a living collecting and selling brush for cooking and heating. Desperate, he accepted an offer to smuggle opium for $200 per trip, she said.
He trafficked drugs for three years until, five years ago, he was shot and killed by Iranian border guards, Fatima said. Now she cares for the couple's five sons.
The paucity of men in the village has not liberated the women from the harsh confines of Afghanistan's patriarchal culture. The area around Qala-e-Biwaha is home to several white-bearded men, who interrupted some of the widows and talked over others as they spoke about their hardships.
Herat is one of three western provinces that provide a regular export conduit for drugs, Afghan officials say, with Iran a primary destination for Afghanistan's opium.
Faqiryar, the governor, said the village emerged as the area's center of drug trafficking after a local man started an opium smuggling operation there three decades ago. The same man now commands a pro-government militia in Herat, he said.
Drug smuggling in the area is so pervasive that Iran deploys vehicle patrols along the open border with the Adraskan district, the governor said. Yet traffickers, known as quchaqbar, are able to transport enough opium — much of it from Helmand and Farah provinces — into Iran to absorb the loss of drug shipments intercepted along the roughly 135-mile border the province shares with Iran.
As recently as 2016, Iran executed hundreds of people a year, most of them for drug offenses, Amnesty International reported. The pace of drug crime executions has slowed since a 2017 amendment to Iran's drug law raised the threshold for the death penalty.
The United States spent $8.62 billion on failed counternarcotics efforts in Afghanistan from 2002 through 2017, the special inspector general for Afghanistan reconstruction concluded in a 2018 report. And yet opium production rose from 3,400 metric tons in 2002 to 9,000 metric tons in 2017.
For the widows' village and other settlements in Herat province, the war is never far away. The Taliban regularly attack government outposts nearby. Every day, police patrols clear the highway to Herat city of roadside bombs planted by militants at night, Faqiryar said.
Recently, he said, a small border outpost was shut down by the government after it was attacked and damaged — not by the Taliban, but by drug traffickers aligned with the militants to clear the way for trafficking.
So the widows endure, most of them earning a pittance in the wool-processing trade, which leaves their hands calloused and discolored. As they struggle to raise their children, many fear their sons will follow their dead fathers into the drug trafficking business.
"I won't let them — they'll be killed just like their father," Fatima said of her five sons. "I would forbid it, even if it meant we starved to death."
https://www.baltimoresun.com/featured/sns-nyt-afghanistan-village-of-widows-20210102-e7lr4ekqlzep3bevfsexjecpuu-story.html
-----------
URL: https://newageislam.com/islam-women-feminism/saudi-arabia-women-allowed-change/d/123962
New Age Islam, Islam Online, Islamic Website, African Muslim News, Arab World News, South Asia News, Indian Muslim News, World Muslim News, Women in Islam, Islamic Feminism, Arab Women, Women In Arab, Islamophobia in America, Muslim Women in West, Islam Women and Feminism