New Age Islam News Bureau
18 Apr 2018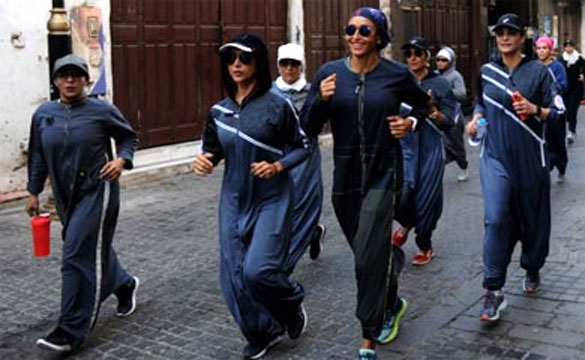 Saudi women jog in the streets of Jeddah's historic al-Balad district on March 8, 2018.PHOTO: AFP
------
• Rebellious Fashion: Saudi Women Embrace Sports Abayas
• Iraq Sentences French Female Islamic State Jihadist to Life Sentence
• Turkey's Fashion Bloggers Reach out to Arab World
• 61% Of Saudi Women All Set To Take The Wheel In June
• Dubai Business Women Council Membership Grows To 684
• Egypt's Science-Minded Women Show off Their Skills
Compiled by New Age Islam News Bureau
URL: https://www.newageislam.com/islam-women-feminism/saudi-arabia-wins-seat-un/d/114966
--------

Saudi Arabia wins seat at UN commission on women
18 April 2018
JEDDAH: Saudi Arabia has been granted a place on the Executive Council of the UN Commission on the Status of Women.
The Kingdom was one of 12 new countries elected on Tuesday in a secret ballot during a meeting of the UN Economic and Social Council in New York. It will serve a three-year term beginning next year. It comes almost a year after being elected the 45th member of the commission.
"It's a token of appreciation of the Kingdom's efforts to empower women and have them... become an integral part of Saudi society, and a recognition of the reform efforts led by King Salman and Crown Prince Mohammed bin Salman," said Abdallah Al-Mouallami, the Saudi envoy to the UN. "This calls on us to underline women's achievements in the Kingdom and abroad at all levels."
Saudi Arabia's UN mission said on Twitter: "Saudi Arabia looks forward to working alongside our fellow members starting in January 2019."
The role of the commission is to promote women's empowerment. The body meets annually to evaluate progress and formulate policies to promote the advancement of women.
http://www.arabnews.com/node/1286771/saudi-arabia
--------
Rebellious fashion: Saudi women embrace sports abayas
18 Apr 2018
Colourful and oozing defiance, a sports-friendly version of the abaya gown was once considered a symbol of cultural rebellion in conservative Saudi Arabia, but it is fast becoming the new normal.
Pictures of female athletes running in the garb in the Red Sea city of Jeddah went viral last month, setting off a new debate on sartorial freedoms for women in a country where the typically all-black, body-shrouding garment is obligatory in public.
Some cultural purists vented fury online, calling it a breach of tradition, but opposition has been largely muted following recent comments from powerful Crown Prince Mohammed bin Salman that the abaya - any abaya - is not mandatory in Islam.
Until a formal edict comes however, designers such as Eman Joharjy are cashing in on the growing popularity of the so-called sports abayas, as many women push back against traditional attitudes of equating chastity with dress code.
"There is a big demand," Joharjy told AFP at her fashion studio in Jeddah.
"Having them in different colours is empowering."
Akin to a zippered jumpsuit, sports abayas envelop a woman's body but offer greater mobility for sporting activities, in contrast to the classic baggy version where tripping on the hem of the flowing garment is a common risk.
The 43-year-old's designs come in colours like pistachio green, beige and white -- more tolerable in the kingdom's scorching heat -- and she uses natural fabrics, including French poplin, that do not cling to a sweating body.
One of the early pioneers of the trend, Joharjy said she was branded a social outlier and jeered by some as "batman" when she began designing -- and donning - sports abayas publicly in 2007.
"There was a little bit of rebellion but I designed it for myself, because it's practical," she said.
"You zip up and are ready to go."
'Soccer-themed abayas'
Joharjy has defied a popular maxim in Saudi Arabia: "If it's not black, it's not an abaya."
Abayas have evolved over the years, with new patterns, fabrics and embellishments, and they are sometimes worn in the kingdom with baseball-style caps over headscarves.
The latest fad is an eye-catching ensemble of "soccer-themed abayas" -- in the colours of the local teams, a new way for female sporting fans to cheer for their favourite players.
Such fashion trends are gaining momentum amid the kingdom's liberalisation drive, including a historic royal decree allowing women to drive from June and enter sports stadiums for the first time.
The government is also seeking to jump-start women's sports and is moving toward compulsory physical education classes for girls, after a ban was lifted in 2014.
Saudi officials recently announced that women would be able to participate next year in the Riyadh international marathon, previously a male-only event.
Women exercising in public were long a target for the kingdom's austere religious police, which has largely been neutered in recent years.
And the once-unthinkable idea of doing away with the abaya appears to now be gaining traction.
"The laws are very clear and stipulated in the laws of Sharia: that women wear decent, respectful clothing, like men," Prince Mohammed told CBS Television last month.
"This, however, does not particularly specify a black abaya. (It) is entirely left for women to decide what type of decent and respectful attire to wear."
'Modest look'
Muslim cleric Sheikh Ahmed bin Qassim al-Ghamdi added a new wrinkle to the debate when he dismissed the long-held view that black was the only colour for abayas permissible in Islam.
"The cloak is meant for maintaining a modest look and it does not have to be black," the former chief of the religious police in the holy city of Mecca, told Saudi-owned Al-Arabiya television last month.
But the risk of a social backlash is real in a society steeped in conservatism.
"They look like cleaners!" a tweet said, in response to viral images of athletes dressed in sports abayas.
"Their purpose is not sports. We have all been running in full body veil," tweeted another.
Back at Joharjy's studio, a longtime client Marwa al-Hadi walked in wearing one of her designs with magenta sneakers.
"Abaya is like the Indian saree, it is part of our identity," Joharjy told her, as they weighed in on the future evolution of the garment.
"But at the same time, if God did not want women to do sports, we would not have muscles or a body."
Hadi nodded.
"It is no one's business to stop and question what I'm wearing," she said.
http://www.arabianbusiness.com/style/394396-rebellious-fashion-saudi-women-embrace-sports-abayas
--------
Iraq sentences French female Islamic State jihadist to life sentence
17th April 2018
BAGHDAD: Iraq today sentenced a French woman to life in prison for belonging to the Islamic State group, the latest in a series of court rulings since the country's defeat of IS.
Djamila Boutoutaou, a 29-year-old of Algerian origin, told a Baghdad court that she had left France with her husband, a rapper.
She said she thought they were going on holiday but "when I arrived in Turkey I discovered that my husband was a jihadist". She said she was forced by her husband to join IS and live in the "caliphate" that the jihadists proclaimed in 2014 straddling Syria and Iraq.
Her husband was killed near the former jihadist stronghold of Mosul, northern Iraq, and her son died in bombardment, Boutoutaou said.
Two Russian women, both holding children in their arms, were also sentenced to life in prison at the same hearing.
Iraq declared victory in December against IS, which at one point controlled a third of the country.
The Iraqi anti-terrorism law empowers courts to convict people who are believed to have helped IS even if they are not accused of violence.
In January, an Iraqi court condemned a German woman to death after finding her guilty of belonging to IS.
A court the following month sentenced another French woman to seven months in jail for entering Iraq illegally but ordered her release on time already served.
Several dozen Turkish women have been sentenced to death under Iraqi anti-terrorism laws.
http://www.newindianexpress.com/world/2018/apr/17/iraq-sentences-french-female-islamic-state-jihadist-to-life-sentence-1802759.html
--------
Turkey's fashion bloggers reach out to Arab world
18 April 2018
ANKARA: Turkish fashion bloggers are proving a big hit across the Arab world as growing numbers of Muslim women seek new ways to express themselves while remaining true to their religious and cultural values.
Wafa Alkhalifa, from Riyadh, has followed Turkish blogger Gulsum Elkhatroushi on Instagram since they met in London last year at a shopping mall.
"I couldn't take my eyes off her hijab, it was so elegant. So when I asked her where she bought it from, I learned that she was a fashion blogger and at the same time a designer," Alkhalifa told Arab News.
Elkhatroushi, who is married to a Libyan, is one of the most followed fashion bloggers, especially among conservative women, and has 244,000 followers on Instagram. She is mostly followed by the young and wealthy. "One-third of my followers are from the Arab world and the Middle East. One of my dreams is to set up a branch in that region — which is a big mystery for me — to get closer to my female audience," she said.
"My fashion concept is to conserve the inherent characteristics of cultural roots and incorporate it into fashion trends. I think Arab women are very successful at this."
The popularity of Turkish soap operas has helped to promote Turkish fashion and bloggers. Meanwhile, a Turkish magazine, Ala — dubbed the "Vogue of the Veiled" — has offered creative interpretations of Muslim-conscious fashion since 2012.
Turkey's expanding middle class, youthful population and digitalization of the retail sector has made fashion an increasingly important industry.
The Turkish e-commerce market is set to grow by 17.3 percent this year, according to Statista, an online business intelligence portal. The Turkish e-commerce market was worth $6,605 million in 2018, similar to Saudi Arabia's at $6,128.2 million, it said.
Gamze Biran, a 30-year-old blogger, said her 124,000 online followers include many Arab women who choose clothes to make them feel better regardless of fashion trends.
"I have a strong audience in the Arab world. I'm glad they like my style and are inspired by me. I get nice feedback about the accessories and foulards (scarves) I use with my clothes," she said.
"I think that Turkish fashion bloggers are increasingly reaching out to the Arab world and the Middle East because there are many common religious and cultural values. We resemble each other in terms of body shape and beauty concepts."
Saudi Arabia is Turkey's third-biggest export market in the Middle East for clothing, worth $169.5 million in the first half of 2017, according to the General Secretariat of Istanbul Textile and Apparel Exporter Associations.
Turkish bloggers face competition from Kuwait, Lebanon and Dubai, including Huda Khattan, Hanadi Diab and Najla Kadour, but have carved out an important niche.
Hurrem Ahu Kalfa, who has a Turkish father and Saudi Arabian mother, is a blogger and organizer of fashion events for wealthy and devout women in Turkey. She has 229,000 followers on Instagram.
"For the past couple of years, I have been selling my modern-style hijab caps on Instagram," she said. "I have many clients within Turkey and abroad, including from Gulf countries."
Shahad is a young Saudi who recently started to follow Kalfa on Instagram. "The reason I follow Turkish fashion bloggers is that I like Turkish fashion and Turkey in general," she said. "Following Turkish television was also influential in my decision."
http://www.arabnews.com/node/1286731/fashion
--------
61% of Saudi women all set to take the wheel in June
April 18, 2018
RIYADH — About 61% of Saudi women are all set to drive when they are allowed to do so in June.
A survey, conducted at a conference in Riyadh on Monday titled "drive safely", found that only 9% of Saudi women have not yet made up their mind about driving.
About 48% of them said they need to drive to their place of work and 18% said they wanted to drive in order to take their children to school.
About 41% of women said they were scared of driving because of the perils of the road while 31% said there was no need for them to drive and 27% said they preferred private drivers.
The survey revealed that about 50% of women have some knowledge of traffic safety.
Tamador Al-Rammah, deputy minister of labor and social development, said the decision to allow women to drive came at the right time.
"Driving is necessary for women to cater to changing life circumstances," she said.
Rammah said the next phase represents a turning point in the lives of Saudi women and asked them not to heed the cynicism of men about their driving.
http://saudigazette.com.sa/article/532942/SAUDI-ARABIA/61-of-Saudi-women-all-set-to-take-the-wheel-in-June
--------
Dubai Business Women Council membership grows to 684
April 17, 2018
The Dubai Business Women Council (DBWC) on Tuesday said that it had 93 new members during the first quarter of 2018, taking its total number of members up to 684.
The Dubai Business Women Council reported that 522 participants took part in its workshops and seminars during the first quarter of 2018, which represents a growth rate of 2.8 per cent when compared to the first quarter of 2017.
The council further revealed that it held 21 workshops and seminars during the first quarter of 2017. However, 16 workshops were organized during the first quarter of this year. This indicates the quality of this year's selection of workshops and seminars that were organized according to the needs of the council's members.
Dr Raja Al Gurg, President of the Dubai Business Women Council, stated that the council has adopted an advanced strategy in 2018 that aims to enhance the skills and expertise of its members, and raise awareness on concepts and practices that are advocated by the government such as sustainability and innovation. She added that the result of the first quarter of this year reflects the council's important role as a leading centre for female entrepreneurs in the country.
https://www.khaleejtimes.com/dubai-business-women-council-membership-grows-to-684
--------
Egypt's science-minded women show off their skills
Menna A. Farouk
April 16, 2018
Esraa Diab stood confidently in her niqab, or full face veil, on the stage at the Egyptian Museum in Cairo and explained to the audience what causes pain in a scientific yet simple language, drawing applause at the end of the speech.
Diab was a competitor at FameLab Egypt 2018, a major science competition sponsored by the British Council and Egypt's Academy of Scientific Research and Technology. The aim of the competition is to get young scientists and researchers to talk about complicated scientific concepts in a simplified, accessible manner, thus bridging the gap between scientists and the public. While the top contenders have been women over the last three years, this year, on April 14, Hassam Abdel ElHay received the top prize of 5,000 British pounds ($7,150) and a trip to the United Kingdom to participate in the international contest and a workshop. Yasmine Maher won the student prize.
Diab drew attention to the growing role of women in an interview with Al-Monitor. "It is not about your gender, the way you look or what you wear; it is about whether you have the potential and the capabilities or not," said Diab, a fourth-year student of medicine at Suez Canal University.
FameLab Egypt is part of an international science communication competition initiated in 2004 by the Cheltenham Science Festival and the National Endowment for Science, Technology and the Arts in the United Kingdom. Rolled out nine years ago, FameLab supports the Egyptian government's efforts to advance science and build a culture that understands and supports the positive role science plays in the economic and social well-being of a society.
Although a man won the top prize this year, half of the 12 finalists were women, including Diab. She was the only woman wearing a niqab, while the others wore hijabs or did not cover their hair.
Yasser el-Shayeb, national coordinator of the EU Erasmus+ Programme for Egypt and one of the competition's jury members, said the jury does not care about the appearance or the background of the competitors, but judge on content, clarity and charisma.
"We only look at three factors: scientific content; whether the competitor is able to convey the message in a clear and concise manner; and the communications skills that include charisma, eye contact and voice control," Shayeb told Al-Monitor.
He also said that women represent the majority of the higher education community in Egypt. "About 50.5% of higher education students in Egypt are women. So I think that women are already excelling in education and science," Shayeb added.
In June 2017, Elsevier quoted Mahmoud Sakr, the president of Egypt's Academy of Scientific Research and Technology, saying that, according to the findings of the academy, the number of Egyptian female researchers stood at around 43% of the total number of Egyptian researchers at that time.
However, there have been only a few Egyptian female scientists in the history of the country. One of the most renowned female scientists was Sameera Moussa (1917-1952), who was a pioneer in nuclear physics. Moussa not only sought to split the atoms of cheap metals such as copper, she also attempted to make nuclear technology safe so it could be used in medical treatment.
Diab referred to an Egyptian male scientist when asked about her role models in science. "My role model is Sir Magdy Yacoub because he does much charity work and is brilliant at his job," she said, referring to the Egyptian-British cardiac surgeon who established a foundation to help people in need.
Winner of FameLab Egypt 2016, Dina Ayman, said Marie Curie is her role model. "She was a Polish-born physicist and chemist who conducted research on radioactivity," she said. "The history of this woman greatly inspires and motivates [women] to be as strong, brilliant and witty as she was."
Ayman, who graduated with a master's degree in immunology from the faculty of medicine at Ain Shams University, said that Egyptian women who pursue a career in science face an array of challenges. "I have seen many women who were brilliant in science, but they faced hurdles, including their families not allowing them to travel abroad or encouraging them to get married and start a family," she said.
Ayman added that Egyptian society is conservative and encourages women to stay at home. "However, in recent years, women have become stronger and more adamant to pursue a career in whatever field they like. That is clearly manifested in the FameLab Egypt competition, where women are intensively taking part and strongly competing," she said.
Mostafa Horas, a coordinator of FameLab at the British Council in Cairo, told Al-Monitor that the winner of FameLab Egypt represents the country in the annual international competition at the Cheltenham Science Festival in the United Kingdom, and that the organizers try to have a gender balance among the contestants.
"In FameLab it is always about the best science communicator and presenter. It is never about what you wear or where you come from," Horas concluded.
https://www.al-monitor.com/pulse/originals/2018/04/egyptian-women-show-off-science-skills.html
--------
URL: https://www.newageislam.com/islam-women-feminism/saudi-arabia-wins-seat-un/d/114966
New Age Islam, Islam Online, Islamic Website, African Muslim News, Arab World News, South Asia News, Indian Muslim News, World Muslim News, Women in Islam, Islamic Feminism, Arab Women, Women In Arab, Islamophobia in America, Muslim Women in West, Islam Women and Feminism