New Age Islam News Bureau
12 Jul 2012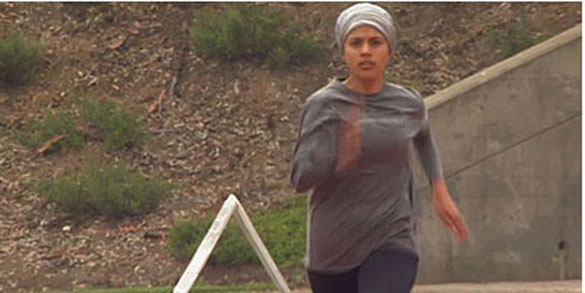 • Saudi Arabia to Send 2 Women Athletes to London Olympics
• Women the main victims of anti-Muslim attacks in UK
• German Chancellor signals religious tolerance in Indonesia
• Women's Conference on Islamic Awakening wraps up
• Women play role in Islamic Awakening's identity shaping: Velayati
Compiled by New Age Islam News Bureau
Photo: 800-meter runner Sarah Attar
URL: https://newageislam.com/islam-women-feminism/saudi-arabia-send-2-women/d/7892
----------
Saudi Arabia to Send 2 Women Athletes to London Olympics
BY THE ASSOCIATED PRESS
The IOC announced that two female Saudi athletes will be sent to the London games to compete in judo and the 800-meter dash. The decision means that every country competing in London will include women athletes for the first time in history.
LONDON, JULY 12, 2012, Saudi Arabia will send two female athletes to the London Olympics, ending the ultraconservative Muslim country's record of fielding only all-male teams at the games.
The decision, announced Thursday by the IOC, means every country competing in London will include women athletes for the first time in Olympic history.
The two female Saudi competitors are judo athlete Wodjan Ali Seraj Abdulrahim Shahrkhani and 800-meter runner Sarah Attar.
The athletes, who were invited by the International Olympic Committee, were entered by the Saudi Arabian Olympic Committee by the July 9 deadline.
"This is very positive news and we will be delighted to welcome these two athletes in London in a few weeks time," IOC President Jacques Rogge said in a statement.
Qatar and Brunei, two other countries that have never sent any female athletes to the Olympics, are also including women on their teams for the London Games.
"With Saudi Arabian female athletes now joining their fellow female competitors from Qatar and Brunei, it means that by London 2012 every national Olympic committee will have sent women to the Olympic Games," Rogge said.
About 10,500 athletes are expected to compete in London, representing more than 200 national Olympic committees.
Saudi Arabia has been under pressure from the IOC and human-rights groups to include women athletes. The IOC has been in negotiations with the Saudis for months on securing the participation of women.
"The IOC has been working very closely with the Saudi Arabian Olympic Committee and I am pleased to see that our continued dialogue has come to fruition," Rogge said. "The IOC has been striving to ensure a greater gender balance at the Olympic Games, and today's news can be seen as an encouraging evolution."
The Gulf kingdom will also include female officials in their Olympic delegation for the first time.
Rights groups hailed the decision as a step forward for Saudi women in their quest for basic rights in a country that severely restricts them in public life.
"It's an important precedent that will create space for women to get rights and it will be hard for Saudi hard-liners to roll back," said Minky Worden of the New York-based Human Rights Watch.
Qatar announced on Wednesday that one of its female athletes, shooter Bahiya al-Hamad, will be the country's flag-bearer at the opening ceremony in London on July 27.
Saudi Arabia had been giving mixed messages about sending women to the games.
The Saudi Embassy in London said two weeks ago that women who qualify will be allowed to compete. But a report in a Saudi-owned newspaper earlier this week said that no female athletes have qualified for the Olympics and no women will be included on the team competing in equestrian, track and field and weightlifting.
Rogge told the AP last week that he was "cautiously optimistic" the Saudis would include women but he couldn't "guarantee it 100 percent."
http://www.nydailynews.com/news/world/saudi-arabia-send-2-women-athletes-london-olympics-article-1.1112730
--------
Women the main victims of anti-Muslim attacks in UK
Amina Taylor, Press TV,
London, Jul 12, 2012, From young girls to a pensioner of 89 years old, Muslim women are the victims of increasing numbers of attacks and instances of intimidation and harassment according to new figures released. The TEL MAMA Helpline, set up in February this year has just published its interim report on the state of anti-Muslim attacks across Britain and the picture is shocking. Females make up 75% of the total number of people who contacted the helpline for support. Women like Nurjahan Khatun.
Britain likes to pride itself on its inclusion and integration but there are thousands of people up and down the country whose personal testimonies show that those considered different have to deal with the ugly face of British prejudice.
The man behind the TEL MAMA Helpline says its function as a point of contact for victims and organizations that can provide support as well as collating data on the scale and type of abuse is invaluable.
The report has thrown up some useful data, including the fact that women wearing the hijab and niqab are targeted and the main perpetrators are white men between the ages of 20-50. BNP and EDL sympathizers were involved in a third of all attacks.
The Tell MAMA report does not paint a rosy picture, but according to those running the project, those willing to commit crimes against minority groups must be warned they are running out of places to hide. They are now urging the authorities to back up the increasingly tough stance with sentences that act as a deterrent and properly investigate groups that spew hate.
http://www.presstv.ir/detail/2012/07/12/250497/women-victims-antimuslim-attacks/
--------
German Chancellor signals religious tolerance in Indonesia
Angela Merkel visits an Evangelical church in Jakarta and then Southeast Asia's largest mosque as a symbolic gesture of tolerance. But how harmonious is the inter-religious dialog in Indonesia?
A flood of women, singing and smiling, pour into the Istiqlal Mosque in Jakarta to meet Chancellor Angela Merkel. Everyone wants to shake her hand.
This is Merkel's first visit to Indonesia as Chancellor. And there she stands in thin socks, marveling at the dome of the largest mosque in Southeast Asia with room for 120,000 worshipers.
Ninety percent of Indonesians are Muslim. No other country in the world has more. A visit to a mosque there is almost a must - even for Merkel, the daughter of an Evangelical minister.
Islamic democracy
But near the mosque is the Immanuel Protestant Church, which the Chancellor's visits first. In the packed colonial-style church, she speaks about her childhood in a Mecklenburg rectory. "We view Indonesia as a model of peaceful and tolerant development," she says.
Angela Merkel sheds her shoes in the Istiqlal Mosque
The West often cites Indonesia as an example of an Islamic democracy - a bridge between Islam and Christianity. US Secretary of State Hillary Clinton praised the country for this very reason on a visit in 2009. "If you want to know if Islam, democracy, modernity and women's rights can coexist, go to Indonesia," she said.
Since the collapse of the dictatorial Suharto regime in 1998, Indonesia has developed rapidly. Many point to the country's thriving economy, growing self-confidence and peaceful co-existence.
Others, however, have a less favorable view.
They're disappointed in the government, especially in President Susilo Bambang Yudhoyono whom they consider a weak leader unable to make decisions. They also claim the government has taken a restrictive stance on religion.
Religious-motivated violence
"The government officially recognizes only six religions," says Elga Sarapung, director of the Institute DIAN/Interfidei. "But Indonesia has so many faiths. Why should we exclude so many?"
Churches are being attacked and closed in Indonesia
Religious-motivated violence has increased in recent years. Indonesia's Setara Institute for Democracy and Peace reported 216 cases in 2010 and 244 a year later. Humans Right Watch confirms the development. And the Centre for Strategic and International Studies (CSIS) in Washington speaks of significant religious intolerance: nearly 80 of the Indonesians polled for a survey it conducted oppose inter-religious marriages.
Indonesians have a constitutional right to freedom of religion. But more and more churches are being closed. Some estimates put the number at more than 400 since President Susilo Bambang Yudhoyono took office in 2004. The closings are often instigated by militant Islamists.
Shocking incident
And the courts often refer to the controversial blasphemy law to punish atheists, Christians or members of the Ahmadiyya Muslim reform movement. Only a few weeks ago, in fact, a court applied the law to sentence a young man to two and a half years of prison.
Indonesia has the largest Muslim population
An especially shocking incident happened in February 2011 when 20 Ahmadiyas were attacked on the Java peninsula by about 1,500 radicals. Three members died and five were severely injured.
The offenders were given light sentences. "This example clearly shows the government's weaknesses," says Barus Samsul Fata from the Wahid Institute in Jakarta.
The government seems paralyzed in battling the country's militant Islamists. But the number of these hardliners is actually not all that big, according to Sarapung. "They use the media to spread their views," she says. "That's why it looks as if they have so much control here."
Silent majority as a counterforce
Actually, Indonesia is considered a tolerant society. And many would agree that with its nearly 17,000 inhabited islands, more than 300 ethnic groups and nearly as many practiced faiths, it needs to be.
Like many Indonesians, Wahid Institute's Fata is counting on the silent majority to stand up to the hardliners. "Civil society can stop the hardliners," he says. "But if it recognizes the need to do so too late, everyone will suffer."
http://www.dw.de/dw/article/0,,16088132,00.html
----------
Women's Conference on Islamic Awakening wraps up
Jul 12, 2012
The first international conference on Women and Islamic Awakening has wrapped up in Tehran. Some 1500 Muslim women from around the world attended the two-day event which was a platform for them to express their views freely and without fear of retribution.
The participants had many stories of sacrifice and struggle for freedom and losing everything they hold dear.
Most of them were women who had been part of the revolutionary demonstrations that swept through the Middle East and North Africa; the rest, actively involved in issues pertaining to Muslim women. What they all wanted to highlight was their role in the Islamic Awakening, what it means and what should be done next.
But for many of them simply visiting Iran became a source of inspiration.
This was the fourth conference organized by the World Assembly of the Islamic Awakening and comes after an assembly held for the youth.
The six panels that discussed the different aspects of women's role in the movement gave a full report of the views that were expressed; the opportunities and challenges facing the Islamic Awakening; their demands and what they're expecting to achieve.
But most importantly, these ladies were able to share their experiences and with the establishment of a coordination center and a social network within the framework of the World Assembly of the Islamic Awakening the ties created in these two days are sure to become stronger.
http://www.presstv.com/detail/2012/07/12/250506/iran-women-conference-islamic--awakening--wraps-up/
-----------
Women play role in Islamic Awakening's identity shaping: Velayati
Tehran, July 12, 2012 IRNA – Muslim women have a key role in shaping the identity and future of Islamic Awakening, Secretary of the International Islamic Awakening Assembly Ali-Akbar Velayati said here on Wednesday.
He made the remarks in the closing ceremony of The 1st International Conference on Women and Islamic Awakening.
"Muslim women are not only doing their great responsibility toward their family and children in training the future generation but also they have an active presence in the society against oppression and tyranny."
Velayati noted that Muslim Ummah will not forget women sacrifices around the Muslim world including Lebanon and Palestine.
"Without the help of women and the collective work of all family members, Iranian nation could not achieve its present day progresses."
"Recent developments in the Muslim world as well as the 1979 Islamic Revolution in Iran proved the importance of women's role toward the cultural invasion of the arrogant powers; awakening of women in the Muslim world will deepen the revolution; Islam guarantees the freedom of women and its benevolence and independence on contrary with the West values which undermines women munificence."
In Tehran nearly 1,500 female intellectuals, scholars' activists from around the world discussed the role of Muslim women in ousting autocratic rulers in the Middle East and North Africa; women representing nations that first and foremost want their movement to be known to the world as an "Islamic" awakening.
This issue was explicitly echoed by secretary general of the World Assembly of the Islamic Awakening.
Achievements and demands, international relations and interactions, as well as the issue of family became topics these women had a lot to share about while others like ten year old Fatimah from Bahrain were simply happy to have found somewhere to freely voice their sentiments.
But above all the conference became the place to discuss the role that women play in the movement.
This is the fourth conference organized by the World Assembly of the Islamic Awakening since the movement began in January 2011. A general assembly, an assembly of the youth and later poets was held in Tehran last year.
The Islamic Awakening is a revolutionary wave of demonstrations and protests occurring in the Muslim world. Since 18 December 2010, there have been revolutions in Tunisia and Egypt; a civil war in Libya resulting in the fall of its regime; civil uprisings in Bahrain and Yemen; major protests in occupied Palestine against the Zionist regime, Algeria, Jordan, Morocco and Oman, and minor protests in Kuwait, Mauritania, Saudi Arabia and Western Sahara.
http://www.irna.ir/News/Politic/Women-play-role-in-Islamic-Awakening_s-identity-shaping,-Velayati/80225609
----------
URL: https://newageislam.com/islam-women-feminism/saudi-arabia-send-2-women/d/7892