New Age Islam News Bureau
30 Oct 2017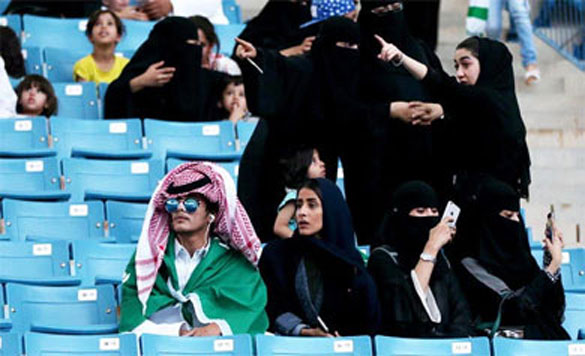 Families attend a event at King Fahad Stadium in Riyadh for Saudi National Day. (Arab News photo)
----
• Saudi Arabia to Open Sports Stadiums to Women From 2018
• Saudi Shoura Member Discloses Move to Raise Women's Representation in Diplomatic Positions
• Hadaf to Bear 80% Transportation Cost For Working Women
• Bahrain Appoints First Woman Foreign Ministry Undersecretary
• Two Emirati Women Help Reunite Lost Girls with Father in RAK
• UNSR Asma Jahangir Expressed 'Deep Concern' Over Women's Rights in Iran
Compiled by New Age Islam News Bureau
URL: https://www.newageislam.com/islam-women-feminism/saudi-arabia-open-sports-stadiums/d/113072
--------
Saudi Arabia to open sports stadiums to women from 2018
30 October 2017
JEDDAH: Women's empowerment will take another step forward at the beginning of 2018 when families are permitted inside stadiums and other sports facilities.
It was one of a raft of decisions announced on Sunday by Turki Al-Asheikh, chairman of the General Sports Authority, aimed at supporting and stimulating the sports sector.
The authority "will start rehabilitating the main stadiums in Riyadh, Dammam and Jeddah to be ready to receive families starting in 2018," Al-Asheikh said.
The move is part of Saudi Arabia's efforts to engage women in society as an integral part of the development process.
This month Al-Asheikh, who is also president of the Saudi Olympic Committee, appointed Princess Reema bint Bandar president of the Saudi Federation for Community Sports.
Princess Reema has also opened the new Studio 5 gym in Jeddah. She seeks to encourage women to take exercise in order to maintain a healthy lifestyle.
Last month, women were invited with their families to a sports stadium for the first time to attend annual National Day celebrations. Such venues had previously been male only.
http://www.arabnews.com/node/1185301/saudi-arabia
--------
Saudi Shoura member discloses move to raise women's representation in diplomatic positions
30 October 2017
RIYADH: Shoura member Dr. Mona Al-Mushait recently disclosed that a recommendation has been submitted to the council to raise the representation of women in foreign leadership positions.
This came during a meeting organized by the King Abdul Aziz Center for National Dialogue (KACND) on "The role of women in achieving the objectives of Vision 2030."
"As Saudi women, we must help the political leadership achieve the vision's goal of increasing our participation in the labor market and building the country," Al-Mushait said.
She added that "we should take advantage of this opportunity to put ourselves at the forefront, forgetting all obstacles that some may pose to achieving that goal."
Dr. Tadhur Al-Rammah, undersecretary at the Ministry of Labor and Social Development, stressed that Vision 2030 was concerned with Saudi women and their leading role in social and economic life.
"Saudi women have entered the labor market through job opportunities provided them in accordance with an appropriate work environment," he added.
Al-Rammah said that the ministry seeks to find new employment sectors that serve women by developing, qualifying and supporting woman cadres to meet the needs of the labor market in a work environment that preserves their privacy and rights.
Earlier this month, the Kingdom stressed its willingness at the UN to cooperate in any international effort aimed at empowering women in any field, eradicating discrimination and violence against them, and improving their cultural, economic and health care in accordance with the principles of Islamic Shariah.
Ahlam Yankssar, first secretary at the Kingdom's permanent mission to the UN, said: "The Kingdom believes that women are an important factor in the workforce and that empowering them socially, economically, and politically, providing them with a safe environment and services facilitating their national duties, and ensuring they receive their complete rights in different fields, will help drive the development process to achieve Vision 2030."
Yankssar made these remarks during a general debate on women's advancement at the 72nd session of the UN General Assembly.
http://www.arabnews.com/node/1185336/saudi-arabia
--------
Hadaf to bear 80% transportation cost for working women
October 30, 2017
TAIF — Up to 80 percent of transportation cost with a maximum ceiling of SR800 for working women will be met by the Human Resources Development Fund (Hadaf) in collaboration with the Ministry of Labor and Social Development (MLSD), local daily Al-Madina reported on Sunday quoting informed sources.
According to Hadaf, the project will be implemented in cooperation with private taxi cabs using smart apps.
Under the project, which will continue for 18 months, every working woman will contribute a fixed monthly amount of SR200.
Hadaf will cover about 80 percent of the cost from the first month until the end of the sixth month. The subsidy will go down to 60 percent from the seventh month until the end of the 12th and to 40 percent for the remaining period of the 18-month project.
The beneficiaries should be Saudi women or their daughters from foreign husbands, aged between 18-65 years, earning a monthly salary which is not more than SR5,000 and who are registered with the General Organization for Social Insurance (GOSI).
The sources said the aim is to reduce transportation cost for Saudi women working in the private sector. They said the project will first be implemented in Riyadh, Makkah and the Eastern Province before it is generalized to cover all other areas.
Hadaf said its project is aimed at supporting women working in the private sector and increase their employment in this sector.
http://saudigazette.com.sa/article/520569/SAUDI-ARABIA/Hadaf-to-bear-80-transportation-cost-for-working-women
--------
Bahrain appoints first woman foreign ministry undersecretary
October 30, 2017
Manama: Shaikha Rana Bint Isa Bin Duaij Al Khalifa has made history by becoming the first undersecretary of the Ministry of Foreign Affairs in Bahrain.
She was appointed to the position in a decree issued by King Hamad Bin Isa Al Khalifa on Sunday.
The appointment is seen as a major boost for the status of women in a country where they have been enjoying an impressive array of rights that has allowed them to become ministers, ambassadors and judges.
The support of the Supreme Council for Women, the official entity set up to elevate the status of women and empower them politically, socially and economically, has been crucial in advancing their rights. The council is chaired by Shaikha Sabeeka Bint Ebrahim Al Khalifa, the wife of King Hamad.
Prior to her new position, Shaikha Rana was Assistant Undersecretary for Arab and Afro-Asian Affairs and Organisations at the foreign ministry, a post she held since April 2011 after she was promoted from her position as Acting Director of Information, Research and Studies.
In 2007, she was advisor at the Minister of Foreign Affairs office.
From 1998 until 2007, her career focused on law, academic research and international studies at the University of Bahrain and in the US.
Shaikha Rana holds a PhD in International Law from the University of Exeter, a Master of Arts in Peace and Conflict Resolution from the American University, Washington, and a Bachelor of Arts in International Relations, also from the American University, Washington.
http://gulfnews.com/news/gulf/bahrain/bahrain-appoints-first-woman-foreign-ministry-undersecretary-1.2115382
--------
Two Emirati women help reunite lost girls with father in RAK
October 29, 2017
Ahmed Shaaban
The two lost girls, staying at the Dafan Ruairidh area in Ras Al Khaimah, could not help walking home after the end of their school day
The Ras Al Khaimah police have honoured an Emirati woman and her daughter for rescuing two Pakistani girls who lost their way when going back home from school.
The two little girls, six and four years old, were exposed to grave danger while crossing busy public roads when the Emirati woman and her daughter noticed them.
The Emirati women did not think twice and rushed to help the two little girls, according to Brigadier Hassan Ibrahim, deputy director of the central operations, RAK police.
The two girls, staying at the Dafan Ruairidh area in Ras Al Khaimah, could not help walking home after the end of their school day when their father did not come on time to drive them home as usual, but he happened to be stuck at work on that day.
The two girls left their Asian school and thought it would be easy for them to walk home under the scorching sun, but they got lost on the way, Brig. Ibrahim said. "They were prone to losing their way or getting run over by speeding cars."
The girls were lucky to be seen by the two Emirati women who were driving to a car cleaning station, he explained. "They stopped for the girls, discovered that they were lost, and alerted the RAK police about them."
The 31-year-old Asma Al Mansuri, an Emirati woman from Al Rams area, said she was driving to a car cleaning station with her mother when they noticed the two girls in school uniform at the Julphar area.
"We were so worried about them walking alone on the road and immediately knew that they were lost and were at grave risk because of crossing busy public roads under the sweltering temperatures at the noon time, and so we stopped to help them", Asma said.
Al Mansuri, who is married and has three children, said the two girls were about to cross the Fish Market roundabout at the Ruairidh area. "We stopped the girls, who were tired and thirsty, and asked them about their destination, but could not figure out because of language barrier.We were talking to the younger girl, and gave her water when the terrified older one ran away, but we managed to find her and alerted the police who sent a patrol to the site, comforted the girls, and helped them reunite with their father," Asma added.
The panic-stricken father was searching for his children everywhere but did not find them, and so he filed a report with the police.
The father was comforted and told that his children were safe with the police. He immediately rushed to them and broke into tears of joy on finding them safe.
https://www.khaleejtimes.com/nation/ras-al-khaimah/two-emirati-women-help-reunite-lost-girls-with-father-in-ras-al-khaimah
--------
UNSR Asma Jahangir expressed 'deep concern' over women's rights in Iran
30 October 2017
"The current human rights situation in Iran… is deeply concerning in many respects" is how the Special Rapporteur on the situation of human rights in Iran, Ms. Asma Jahangir, described her assessment in the first six months of 2017. She said "much remains to be done to realize" women's rights as outlined in the 5th Sustainable Development Goal.
Ms. Jahangir addressed the Third Committee of the UN General Assembly on October 25, 2017 before submitting her report. In her brief, moving statement, she depicted "the blanket of fear and intimidation" directed towards "those who continue to speak out and provide information to my mandate" and paid tribute to them.
Among a long list of issues of concern, Ms. Jahangir touched on the situation of women in Iran and said, "I am also deeply concerned by the reports of attacks on women human rights defenders in the form of judicial harassment, detention, and smear campaigns," and added that "the vehement reaction to the social media campaigns protesting against mandatory dress codes; the arrest of individuals for allegedly reading and spreading feminist literature; the ongoing ban prohibiting women from watching sporting events in stadiums in contravention to the Charter; and exclusion of women from certain occupations and positions suggest much remains to be done to realize" the commitments made by the Iranian regime to the Sustainable Development Goals, including Goal 5 on achieving gender equality and empowerment.
She called on the Iranian regime to address these concerns in practice, and in legislation through ratifying the Convention on the Elimination of All Forms of Discrimination against Women and to repeal all laws and policies that discriminate against women and girls.
The UN Special Rapporteur on the situation of human rights in Iran also addressed the massacre of 30,000 political prisoners in Iran in 1988. She spoke of having received "significant number of petitions, communications, and documentation related to the reported execution of thousands of political prisoners, men, women, and teenagers" which "speaks of a deep and unremitting pain that must be surely addressed."
Ms. Jahangir reiterated, "The killings themselves have been acknowledged by some at the highest levels of the State."
"Almost on a daily basis, I receive heartfelt letters from the relatives of those killed calling for answers. The families of the victims have a right to remedy, reparation, and the right to know about the truth of these events and the fate of the victims without risking reprisal," the Special Rapporteur pointed out.
In the few minutes of her speech, Ms. Jahangir outlined a long list of concerns over the human rights situation in Iran, which are true for both women and men. A quick glance over excerpts of these concerns gives a chilling picture of life under "the blanket of fear and intimidation" in Iran:
I am concerned by the rate of executions in Iran.
I take the opportunity to reiterate my request for a list of all juvenile offenders on death row and reiterate my appeal to the Iranian authorities to urgently abolish the sentencing of children to death.
There are numerous reports of the use of physical and mental torture, including to coerce confessions. I regretfully note that amputation, blinding, flogging, and the continued use of prolonged solitary confinement continue to be regularly practiced.
I am also deeply concerned by consistent reports of the denial of access to proper and necessary medical treatment of detainees, including the deprival of medical care as a form of punishment.
I call for the immediate withdrawal... of charges against all individuals held for peaceful exercise of freedom of expression, religion, or belief.
I have received reports of actions taken, mainly by the judiciary, against the family and lawyers of activists in order to exert pressure upon them.
In my report I also highlight the situation of trade unionists held in prison for peaceful activism, as well as the urgent and critical health situation of prisoners of conscience on, or having undergone, life-threatening hunger strikes to contest the legality of their detention.
Equally disturbing and no less chilling are the reports that I receive of violations against the rights to freedom of expression, opinion, information and the press. As of June 2017, at least 12 journalists, as well as 14 bloggers and social media activists were either in detention or had been sentenced for their peaceful activities. Other media workers report being subjected to interrogation, surveillance, and other forms of harassment and intimidation.
I received written submissions from many of the journalists that I interviewed which detailed the intimidation that they had been subjected to. They all sought private meetings for fear of the consequence of being identified as having provided information to my mandate.
In my report, I noted that the Working Group on Arbitrary Detention had identified an emerging pattern concerning the arbitrary deprivation of liberty of dual nationals, which has continued this year.
I was able to receive further detailed information related to violations of due process and the right to fair trial.
I am deeply concerned at the numerous and consistent reports indicating a lack of independence of the judiciary, as well as the restrictions imposed upon the bar associations which limit their ability to operate independently.
There are also a significant number of reports of lawyers being intimidated, harassed, and arrested whilst performing their professional duties.
http://www.women.ncr-iran.org/articles/4446-unsr-asma-jahangir-expressed-deep-concern-over-women-s-rights-in-iran
--------
URL: https://www.newageislam.com/islam-women-feminism/saudi-arabia-open-sports-stadiums/d/113072
New Age Islam, Islam Online, Islamic Website, African Muslim News, Arab World News, South Asia News, Indian Muslim News, World Muslim News, Women in Islam, Islamic Feminism, Arab Women, Women In Arab, Islamophobia in America, Muslim Women in West, Islam Women and Feminism