New Age Islam News Bureau
22 Aug 2018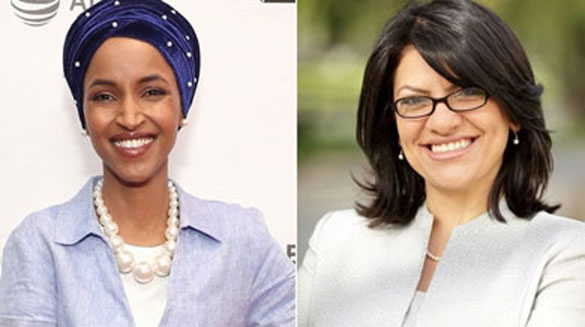 Ilhan Omar and Rashida Tlaib won primaries in safe Democratic seats earlier this month (AFP/courtesy photo)
------
• Saudi Arabia to Execute First Woman Activist: Rights Groups
• Two Muslim Women In Congress: What Can They Achieve In Washington?
• Woman Who Complained About Noisy Mosque Jailed For Blasphemy
Compiled by New Age Islam News Bureau
URL: https://www.newageislam.com/islam-women-feminism/saudi-arabia-execute-first-woman/d/116170
-----
Saudi Arabia To Execute First Woman Activist: Rights Groups
By: Reuters | Riyadh | Published: August 22, 2018
Saudi Arabia's public prosecutor is seeking the death penalty against five human rights activists from the kingdom's Eastern Province currently on trial in a secretive terrorism court, groups including Human Rights Watch (HRW) said.
Among the detainees is Israa al-Ghomgham, whom Saudi activists said was the first woman to possibly face the death penalty for rights-related work. Charges against her include incitement to protest and providing moral support to rioters.
"Any execution is appalling, but seeking the death penalty for activists like Israa al-Ghomgham, who are not even accused of violent behavior, is monstrous," Sarah Leah Whitson, Middle East director at HRW, said in a statement on Wednesday.
ALQST, a London-based Saudi rights group, reported the decision involving Ghomgham's case earlier this week.
A government communications office did not immediately respond to a request for comment.
Activists said the trial was ongoing, and denied social media reports that the detainees had already been executed.
Saudi Arabia, an absolute monarchy where public protests and political parties are banned, has enacted some high-profile social and economic reforms in recent years under powerful young Crown Prince Mohammed bin Salman. They have, however, been accompanied by a crackdown on dissent, with dozens of clerics, intellectuals and activists arrested in the past year, including women who had campaigned for the right to drive in the deeply conservative Muslim country.
A roundup of senior royals, ministers and businessmen last November on charges of corruption sent shockwaves through the kingdom, stunning allies and foreign investors. Most of those detainees were released after reaching undisclosed financial settlements with the government.
Ghomgham is a prominent Shi'ite Muslim activist who documented mass demonstrations in the Eastern Province starting in 2011. She was arrested from her home in December 2015 along with her husband. Most of the country's Shi'ite minority lives in the oil-producing Eastern Province and some have complained that their religious ceremonies are banned or interfered with by Sunni authorities, and that they lack opportunities for work and education. The government has denied the charges.
Saudi Arabia has previously executed Shi'ite activists on what rights groups called politically-motivated charges. It views protests among Shi'ites in the context of tensions with Shi'ite power and regional rival Iran, which it has accused of fomenting the unrest.
The authorities have carried out security operations against suspected Shi'ite militants in the Eastern Province, which has seen unrest and occasional armed attacks for years.
Source: indianexpress.com/article/world/saudi-arabia-to-execute-first-woman-activist-israa-al-ghomgham-5318487/
-----
Two Muslim Women In Congress: What Can They Achieve In Washington?
20 August 2018
DETROIT, United States - Arab and Muslim communities across the US are elated by the primary victories of Rashida Tlaib and Ilhan Omar, who in January will almost certainly enter the US Capitol as the first Muslim women in Congress.
Tlaib of Michigan and Omar of Minnesota are running in safe Democratic districts in November, but are likely to encounter some degree of hostility towards immigrants and Muslims when they get to Washington, where President Donald Trump has amped up his nationalistic America First policies.
Both women have embraced the progressive left-wing base of the Democratic Party. Tlaib, who is the daughter of Palestinian immigrants, will find herself in a Congress that mostly supports Israel and is reluctant to criticise it.
But beyond identity and rhetoric, what potential impact might Tlaib and Omar have in Washington?
Two lawmakers in the 435-member chamber are unlikely to have a divisive influence on US politics, but they can amplify underrepresented viewpoints. Their presence in the US Capitol is a statement on its own, experts say.
Sally Howell, an Arab-American studies professor at the University of Michigan-Dearborn, said that given Congress's general ineffectiveness, the two future congresswomen should not be expected to alter national policies.
Howell noted that Tlaib ran a campaign based on constituent services for residents of her district, the majority of whom are not Arab or Muslim.
Tlaib's vision of her role in Congress is one of fighting for the needs of the people she represents in Detroit, although her political mission and identity have been significantly shaped by her Palestinian Muslim background, Howell said.
On Palestine
In spite of her local focus on economic and environmental issues, Tlaib has spoken out repeatedly on Palestine.
On Friday, liberal Jewish group J Street withdrew its endorsement of Tlaib after she voiced support for one state with equal rights for both Jews and Palestinians, moving away from the standard US Middle East position that advocates a two-state solution, which critics say is no longer viable.
"It has to be one state. Separate but equal does not work. I'm only 42 years old, but my teachers were of that generation that marched with Martin Luther King. This whole idea of a two-state solution, it doesn't work," Tlaib told In These Times magazine in an interview earlier this month.
Omar's campaign platform stresses justice as a precursor to peace in the Middle East, and calls for ending the blockade on Gaza as well as the occupation of the West Bank and East Jerusalem.
Rashida Tlaib
✔
@RashidaTlaib
.@IlhanMN I can't wait to walk onto the floor of United States Congress hand in hand with you. So incredibly proud of you.
Howell said Tlaib may speak out and dissent on US foreign policy issues, including on Palestine, but that does not mean that she will bring about change, other than by articulating a Palestinian perspective in Washington.
Still, the two women's victories are symbolically important, Howell said.
"We're in a political period where immigrants in general and Muslims in particular are being denigrated by the president, by the president's administration and to a certain extent by the president's political party," Howell said.
"To have two women elected to Congress, one is an immigrant herself and the other the daughter of immigrants, both of whom are Muslim, this really pushes back against the narrative that Arabs, Muslims and immigrants are a threat to us rather than a part of us."
Omar came to the United States as a refugee from Somalia.
Tlaib and Omar, Howell added, are visible proof that immigrants are part of the fabric of America.
"On the question of immigration policy, I think that they will have a very strong voice there because they're not political outsiders on those issues; they're in the absolute mainstream of the Democratic Party when it comes to issues like immigration. They will be able to make a difference on that."
'A shift'
George Bisharat, a Palestinian-American professor at the UC Hastings College of Law in San Francisco, highlighted the "image disrupting" nature of Omar and Tlaib's election victories.
"What I think is really amazing, both of these women, they are Muslim and they are progressive," Bisharat told MEE.
He added: "It's going to cause people to think twice about some of the stereotypes that are being propagated about women in the Middle East, Muslim women in particular."
Bisharat said their election may represent an "opening" for a new discourse on issues related to the Middle East.
Bisharat said while Tlaib may not be able to affect US foreign policy in the near term, her victory - in spite of her Palestinian identity and criticism of Israel - reveals a "shift" on Palestine within the Democratic base.
A poll by the Pew Research Center released early in 2018 showed that only 27 percent of Democrats sympathise more with Israel than Palestinians, compared with 79 percent of Republicans.
Progressive Democrats, including Tlaib and Omar, are especially more likely to criticise Israel.
However, changes of tone on Israel in Democratic circles will not be translated into new US foreign policy towards Palestine in the near future.
"We need more progressive candidates in the Democratic Party for Congress," Bisharat said.
"Demographic indicators suggest that's likely. There are reasons for optimism, but you can be disillusioned if you expect change to be quick."
Source: .middleeasteye.net/news/two-muslim-women-us-congress-what-can-they-achieve-washington-1775215013
------
Woman Who Complained About Noisy Mosque Jailed For Blasphemy
22 August 2018
An Indonesian court has sentenced a Buddhist woman to 18 months in prison for blasphemy after she was accused of insulting Islam.
Meiliana, a 44-year-old ethnic Chinese woman, had complained the Muslim call to prayer, which is repeated five times a day, was being played too loudly at the mosque near her house in North Sumatra.
She burst into tears as the presiding judge, Wahyu Prasetyo Wibowo announced her sentence on Tuesday and she was taken from the court in handcuffs.
Prosecutors alleged she had violated the country's criminal code by committing blasphemy against Islam, the dominant faith in the world's most populous Muslim nation.
Recent years have seen a rise in conservative and hardline interpretations of Islam, prompting fears the secular nation's long-standing reputation for tolerance and diversity was being eroded.
"She had said something that insulted religion, in this case Islam," said Jamaluddin, a spokesman of the Medan district court, adding the defendant had "showed remorse and apologised".
Political activists have warned the country's stringent blasphemy laws are being used to bully minorities and violate religious freedoms.
In July 2016, mobs burned and ransacked at least 14 Buddhist temples throughout Tanjung Balai, a port town on Sumatra, following reports of Meiliana's complaint about a mosque's noisy loudspeakers.
Her lawyer, Ranto Sibarani, said they would appeal the verdict.
"We will appeal the verdict because the judges could not prove that our client has committed blasphemy," he told The Jakarta Post.
Responding to the sentencing, Usman Hamid, Amnesty International Indonesia's executive director, said: "Making a complaint about noise is not a criminal offence. This ludicrous decision is a flagrant violation of freedom of expression.
"Sentencing someone to 18 months in prison for something so trivial is a stark illustration of the increasingly arbitrary and repressive application of the blasphemy law in the country.
"The higher court in North Sumatra must reverse this injustice by quashing Meiliana's sentence and ensuring her immediate and unconditional release."
A conservative group, Islamic Community Forum, said Meilana's sentence was too light. The maximum sentence for blasphemy is five years.
Since 2004, 147 people have been imprisoned under blasphemy or related laws, according to monitoring by Human Rights Watch. The number of cases has slowed since 2014 under the administration of the current president, Joko "Jokowi" Widodo.
Last year, the former ethnic Chinese governor of Jakarta was tried and jailed for blasphemy after several Muslim groups accused him of insulting Islam when he said his political rivals were using the Quran to deceive voters.
The ruling was widely condemned and believed to be politically motivated. Basuki Tjahaja Purnama also lost his re-election bid because of the accusations.
There are hundreds of thousands of mosques across the vast archipelago and most use loudspeakers to play the "azan" or call to prayer, which lasts a few minutes.
But many also play lengthy versions of prayers or sermons lasting over 30 minutes, which has been deemed unnecessary by the Indonesian Mosque Council.
Indonesia's vice president Jusuf Kalla, who is also a member of the Council, formed a team in 2015 to review mosques' use of loudspeakers and regulate their use and volume.
He has previously called on mosques to use their public address systems "wisely".
Source: independent.co.uk/news/world/asia/indonesia-blasphemy-woman-jailed-insulting-islam-mosuqe-buddhist-meiliana-a8501191.html
-----
URL: https://www.newageislam.com/islam-women-feminism/saudi-arabia-execute-first-woman/d/116170
New Age Islam, Islam Online, Islamic Website, African Muslim News, Arab World News, South Asia News, Indian Muslim News, World Muslim News, Women in Islam, Islamic Feminism, Arab Women, Women In Arab, Islamophobia in America, Muslim Women in West, Islam Women and Feminism