New Age Islam News Bureau
11 May 2020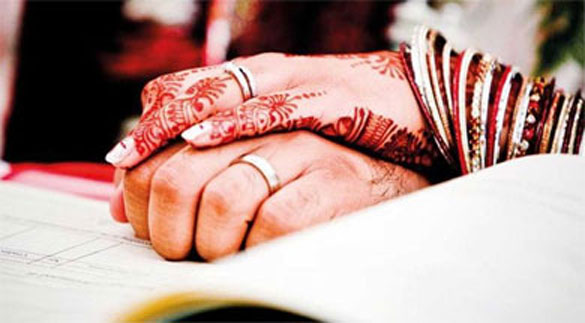 Picture for illustrative purposes. Saudi Arabia set to switch to e-marriage registration
Image Credit: Getty Images
----
• Saudi Arabia Set to Switch To E-Marriage Registration
• Islamic Jurisprudence Is Against Oppressing Women in Any Form, Says Scholar
• 16-Year-Old Female Nigerian Bags Presidential Scholarship In US
• Fasting, Virtual Mosque Visits and Mastering Zoom: Model Halima Aden On Observing Ramadan Under Lockdown
• France Mandates Masks to Control the Coronavirus, Burqas Remain Banned
• How Can We Encourage More Women to Pursue Entrepreneurship?
• Man Honoured for Rescuing Girl from Sharjah Tower Blaze
• PAF Pays Tribute to Selflessly Contributing Women on Mother's Day
• Qatar Stresses Need for Involving Women in Afghan Peace Process
• Yazidi Girl Returns Home to Iraq After Years Of IS Captivity
• Turkey Sends Mother's Day Aid to Kenyan Moms
• Syrian Woman Torture Survivor Hopes for Justice in Germany Trials
• Mother's Day: ZuraidaPays Tribute to Women Covid-19 Frontliners
Compiled By New Age Islam News Bureau
URL; https://www.newageislam.com/islam-women-feminism/saudi-arabia-set-switch-e/d/121815
-------
Saudi Arabia set to switch to e-marriage registration
May 10, 2020
Ramadan Al Sherbini
Cairo: The Saudi Ministry of Justice plans to replace paper marriage contracts with the electronic ones as part of its automation scheme, Okaz daily reported Sunday.
Earlier this week, more than 2,000 marriage registrars participated in an online workshop at which they were acquainted with a system for conducting contracts online.
According to the new online system, the prospective married couple will have to fill their respective data through the Ministry's Najez portal that gives the public access to a wide range of legal services, Okaz said.
Participants in the workshop agreed that e-marriage contracts, approved by the would-be wife, will boost women's rights and protect them from getting marriage against their will.
https://gulfnews.com/world/gulf/saudi/saudi-arabia-set-to-switch-to-e-marriage-registration-1.1589104202555
--------
Islamic Jurisprudence Is Against Oppressing Women In Any Form, Says Scholar
May 10, 2020
Prof. AbdulRafiOmotosho of the Department of Islamic Law, University of Ilorin says Islamic Jurisprudence is against oppressing women in any form.
Speaking on Women in Islam, the don, who teaches in the Faculty of Law of the University, said many people lacked the Islamic knowledge on how to treat women.
According to him, equality between men and women was promoted by the Glorious Quran and Prophet Muhammad through the enactment of rules and regulations that put men and women at equal levels.
Omotosho advised people to seek knowledge in matters of the religion, asserting that both the Quran and hadith repeatedly compared those who have knowledge and those who have no knowledge.
The don related an incident during the time of Prophet Muhammad, who was asked by his companion: "If my father and mother call me, who do I answer first?
The scholar pointed out that women have rights in marriage, inheritance, divorce and custody of children, among others.
He advised Muslim women and organisations to take proactive action to ensure that they become familiar with their rights.
https://theeagleonline.com.ng/islam-abhors-oppressing-women-says-scholar/
--------
16-Year-Old Female Nigerian Bags Presidential Scholarship In US
May 6, 2020
A 16-year-old Nigerian, Miss Oyebola Ajayi-Bembe, has bagged presidential scholarship into 20 notable universities in the United States of America (USA).
This was made known during a high school graduation ceremony held recently in New Jersey.
Oyebola was the only female in the selected category who took the second position after a Chinese.
She has been offered admission on a scholarship basis into Teacher's College of New Jersey, New Jersey Institute of Technology and Norwich University, Bloomfield College, St. Benedict College, MonteClaire State University, New Jersey City University and 13 other universities in the US.
Speaking on her achievement, Ajayi-Bembe described her success as a product of hard work, dedication, focus and steadfastness.
She expressed gratitude for being the only female in the category ahead of five males.
While projecting into her future, she said she would continue to exhibit the pursuit of excellence even in the university.
https://tribuneonlineng.com/16-years-old-female-nigerian-bags-presidential-scholarship-in-us/
-------
Fasting, Virtual Mosque Visits and Mastering Zoom: Model Halima Aden On Observing Ramadan Under Lockdown
BY SUSAN DEVANEY
10 MAY 2020
Like the rest of the world right now, model and humanitarian Halima Aden is adapting to living under lockdown during the coronavirus outbreak. Born in Kakuma, a refugee camp in Kenya, to a Somali mother, Aden moved to Missouri at the age of seven before finally settling in Minnesota. Currently, the 22-year-old Somali-American is isolating with her roommate and best friend, and has been observing Ramadan for more than two weeks. (The Islamic holy month, which occurs once a year, started on 23 April and will conclude on 23 May.) Here, Aden, who was the first hijabi model on the cover of British Vogue, shares her experience of Ramadan in the time of coronavirus.
"Ramadan is a month of reflection for those who follow the Islamic faith. It's a time to appreciate what we have and to give what we can. At the beginning of the Covid-19 outbreak, it felt like the fashion world halted abruptly – and fear set in. As brands, publications and designers have worked to adjust and transform during this time, I have been fortunate to see work pick back up from the comfort of my own home using technology.
"At the moment, my day begins with checking emails, FaceTiming with my mother, and then digging into the schedule that my team sends to me. Like most people in the fashion industry, my work involves creating content from home. In turn, I've had to really re-teach myself how to do my make-up. I've been fortunate to be able to do speaking engagements from home, too.
"My day involves breaks for prayer, and time spent writing thank you notes. Ramadan is really a time to show our gratitude, and I have so many people to be thankful for. This worldwide crisis has really allowed me to take a deep breath and regroup. This Ramadan, I've been making sure that I'm writing down my goals for the year, prioritising what is important, and again, really counting my blessings. I don't want to see this pandemic as a holiday, as I know I'll need to work 10 times harder than I ever have when we can go back to work, or travel. I've been able to take up virtual acting lessons with a coach, which has allowed me to step outside of my comfort zone – that has been really nice."
"Because most days, I have not been working at the pace I normally do, I haven't found fasting to be as difficult this year. In fact, being home, I've really been able to focus on the practice and take the time to appreciate the meaning. When I'm travelling I always eat out at restaurants, so because I don't really cook or know how to, that makes skipping meals easier, too."
"As many people know, I support UNICEF and their #UCanLearn campaign on social media. The concept is to teach your followers something new, something that people can do from home. UNICEF believes in the importance of uninterrupted learning. I taught my followers how to sing the song "Jambo", which is like a "welcome to our community" song back in Kenya. Ramadan is also a time of learning and teaching. I've enjoyed seeing my followers participate by teaching me and children around the globe origami, make-up looks, baking and more as part of the campaign. Each day, I continue to remind myself of something that my mother has always said: "Hard times never last, but strong people do." I think that is so important for everyone, not just Muslims observing Ramadan and Eid, to remember at this time."
"In some ways, I actually think this is a perfect time to be observing as there should be very few interruptions or distractions. There is nowhere for you to go, so take this time to be with loved ones, evaluate your personal journey, ask yourself what you value and cherish, and make a plan for what you want to do or become. Right now, we are seeing people helping others around the world on such an incredible scale. I would encourage a first time participant, or really anyone observing Ramadan, to think of how you can help the world become a better place."
"During this time of forgiveness, I'm able to reflect on my career quite a bit. I've had those around me who have not been comfortable with my career choice since the beginning, and that's okay. Each year during this month, I forgive them. It allows me to personally start fresh, shake it off, and focus on what's most important to me. At the end of the day, I place the most value on simply being a good person."
"Unfortunately, where my mother lives in St Cloud in Minnesota, they've seen a rise in Covid-19 cases, so she has encouraged me to just stay in my apartment. I'm isolating with my roommate, who just so happens to be my childhood best friend. She is a college student, so I have been able to follow what she is doing with online classes. We both like to watch Netflix, so we've been catching up on shows together. My favourite thing to do at the moment is listen to nasheeds [Islamic songs] on YouTube. I'm currently obsessed with Maher Zain's Ramadan songs."
"We are so fortunate to live in a digital age, and now is the time to take advantage of that. I know there are organisations showing iftar celebrations online, and that is how we are able to celebrate safely during this time. It is important to stay home and play our part, so I encourage everyone to find a mosque that is providing a virtual option, which is what I'm doing, too."
"Community has always been such an important part of my life. I've found that while we can't all physically be together during this time, there is almost more of a sense of togetherness than ever before. I view my community as not only the folks I know personally, but people from all walks of life and from all different countries. For me, my relationship with UNICEF takes that sense of community a step further. From the young Muslim girls around the world that are my sisters to all the children that deserve a chance, UNICEF is working to give them a better life. That is why during this time, it is more important than ever that I am encouraging my friends and family to consider supporting this incredible organisation and the work they do for communities all over the world."
"I have become quite the professional on Zoom this month. And, of course FaceTiming with family and doing Instagram Lives and YouTube Lives. Instagram Lives have been really fun, and they are now offering a feature to donate to a cause during the IG Live, which provides yet another opportunity for zakat [a form of alms-giving in Islam] giving."
"I feel a bit sad when I think about Eid [the religious holiday that marks the end of Ramadan], as it is always such a big day for dressing up and being around those who you love. But, as we all know, being at home is benefitting everyone. We need to value the sacrifice made for our community as well as the sacrifices being made by everyone around the world at this time."
https://www.vogue.co.uk/arts-and-lifestyle/article/halima-aden-ramadan-diary
------
France mandates masks to control the coronavirus. Burqas remain banned.
By James McAuley
May 10, 2020
PARIS — France, the originator of the burqa ban, has done more than any other Western nation over the past decade to resist face coverings in public. But as the country begins to emerge from its coronavirus lockdown Monday, masks are mandatory.
People are required to wear masks in high schools and on public transportation — or risk being fined. Shopkeepers also have the right to ask customers to wear masks or to leave. Artificial-intelligence-integrated video cameras will be monitoring overall compliance on the Paris Metro.
To emphasize the national imperative, President Emmanuel Macron appeared at a school last week wearing a navy mask embellished with the blue, white and red stripes of the French flag. Face coverings, the design seemed to suggest, are fused to the ideals of liberty, equality and fraternity.
All this has been accepted with little commentary or controversy. A recent BFMTV poll found that 94 percent of people in France supported wearing masks. That France has reported more than 26,000 coronavirus deaths no doubt contributes to that acceptance.
But many Muslims, religious freedom advocates and scholars see a great deal of irony in a society that has made such a virtue of uncovered faces suddenly requiring faces to be covered.
"If you are Muslim and you hide your face for religious reasons, you are liable to a fine and a citizenship course where you will be taught what it is to be 'a good citizen,' " said Fatima Khemilat, a fellow at the Political Science Institute of Aix-en-Provence. "But if you are a non-Muslim citizen in the pandemic, you are encouraged and forced as a 'good citizen' to adopt 'barrier gestures' to protect the national community."
"We see this asymmetrical reading of the same behavior — covering the face, depending on the context and the person who performs it — as arbitrary at best, discriminatory at worst," she said.
French law regulates Islamic face coverings in public spaces on the grounds that concealing one's face violates fundamental values of the republic.
In 2004, the country banned headscarves in public schools, citing the religious neutrality of state institutions. In 2010, it outlawed the fully face-covering niqab and burqa everywhere in public, arguing that those garments threaten public safety and represent a rejection of a society of equal citizens.
"In free and democratic societies . . . no exchange between people, no social life is possible, in public space, without reciprocity of look and visibility: people meet and establish relationships with their faces uncovered," declared a parliamentary study prepared during debate of the 2010 law, which took effect the following year.
"The concealment of the face in public space has the effect of breaking social ties," the report continues. "It manifests the refusal of 'living together.' "
France's Interior Ministry confirmed to The Washington Post that the burqa ban will still apply during the covid-19 pandemic, when people are otherwise encouraged to cover their faces. A woman who wears a religious face covering will be "punished with the fine provided for second-class infractions," the ministry said in a statement. The law imposes a fine of up to €150 ($165) and can require participation in a citizenship education class.
Given that the 2010 law permits face coverings for health reasons and other exemptions, "wearing a mask intended to prevent any risk of contagion by covid-19 does not constitute a criminal offense," the ministry said.
That suggests that if an observant Muslim woman wanted to get on the Paris Metro, she would be required to remove her burqa and replace it with a mask.
Strictly speaking, the French government's new rules on masks do not specify what counts as an acceptable mask. Fabric masks recently became available in French pharmacies. But earlier in the virus outbreak, when the government was reserving masks for health workers, people improvised with any number of clothing items, with some French women walking the streets of Paris with their faces covered with scarves.
Although the burqa has a clear religious significance, it also covers the nose and mouth and could be expected to slow the virus just as well as many homemade masks.
"Muslims see this irony very clearly," said Karima Mondon, a high school teacher in the Lyon suburbs, who wears a headscarf but not a burqa. "Also, all the things they used to tell us were signs of 'radicalization' — such as people who don't do the kiss — today have become signs of good public health practices."
Following the October 2019 attack on the Paris police headquarters by an Islamist employee, French Interior Minister Christophe Castaner delivered a controversial list of potential signs of radicalization to the French Parliament. Not doing "la bise," the kiss on the cheek that many French and Europeans use to greet each other, was on his list.
"I remember there were women who wore surgical masks back then to continue practicing what was important to them," she said. "That didn't even work, because clearly what was intended was a regulation of Islam, to eradicate the visibility of Muslim women in public space."
That one type of face covering is seen as withdrawing from society and another has become a sign of civic duty reflects the contradictory ways France defines community and solidarity, political analysts and historians say.
"It's not a hypocrisy, it's a schizophrenia at the end," said Olivier Roy, a French scholar of secularism and Islam. "Which is to say that it's about the problem of Islam. If you cover your face for Islam, it's not the republic. If you cover your face for a reason not to do with Islam, it's acceptable."
Public safety is the only other realm where the French government has objected to face coverings. For instance, during the "yellow vest" protests over inequality, some demonstrators wore bandannas, surgical masks or costume masks to protect themselves from tear gas or conceal their identities. After several weeks of violent protests, Parliament passed a law stipulating that wearing a mask at such gatherings could result in a one-year prison sentence and a 15,000 euro ($16,500) fine — far steeper than the burqa ban.
"The secular science versus religious Muslim dichotomy is operating so that nobody sees it as ironic or as a contradiction at all," said Joan Wallach Scott, an American historian of France who has written extensively on the politics of the headscarf. "For those of us looking at it from the outside, the issue it raises is what it means to be part of a community."
"Wearing some form of head covering means identifying with the rules and spirit of a community, and that's clearly what masks do for a secular community like the French republic. We are now engaging in a rite of communal participation — for 'vivre ensemble,' to be with each other," she said.
Khemilat, the political scientist, said that perhaps the requirement to wear a mask will give the rest of French society a glimpse of how it can feel to be a Muslim woman in a country that polices what can be worn and where.
"If this temporary situation was painful and difficult for us to live in because it hampered our freedom to come and go," she said, "then imagine what the French women who wear the headscarf have been feeling for 10 years."
https://www.washingtonpost.com/world/europe/france-face-masks-coronavirus/2020/05/09/6fbd50fc-8ae6-11ea-80df-d24b35a568ae_story.html
--------
How can we encourage more women to pursue entrepreneurship?
11 May, 2020
If we put together the words "Mena region" and "women-led startups" into the same sentence most of us probably would not expect the following statement: one in three start-ups in the Middle East and North Africa region is founded or led by a woman, which is a much higher percentage than in Silicon Valley. Women in Arab countries make up for 34-57 per cent of STEM graduates, a figure which is also much higher than in universities across Europe and the US. This led us to ask ourselves: how come, given these numbers, the proportion of female workforce in 13 out of 15 Arab countries remains among the lowest in the world?
The answer to this is neither short nor simple. It is safe to say, however, that the figures above unveil the amazing potential to be unlocked in the region. For this reason Womenpreneur Initiative and SANAD's Entrepreneurship Academy joined forces to promote female tech entrepreneurship in the Mena region. The goal of this unprecedented empowerment campaign was to give visibility to women in tech, innovation and entrepreneurship as well as to provide platforms to assess the current state of the tech ecosystem in three countries: Morocco, Tunisia and Jordan.
During the Womenpreneur Tour we interviewed female tech entrepreneurs from diverse backgrounds. They shared with us what motivated them to launch their businesses, as well as every obstacle they encountered on their journey. Did you know that 71 per cent of Tunisian women started their enterprises with absolutely zero resources and zero support? Or that only 10 per cent of Moroccan women are entrepreneurs despite them representing half of the population of the country? Or that only 6 per cent of women entrepreneurs in Jordan are generating revenues exceeding $100,000?
Most of them point out mindset as the main barrier preventing women from having equal access to the job market or promotion opportunities. Traditional values in Arab countries are still deeply-rooted and this is reflected in recruitment processes for example, where women are still inquired about their marital status and left as second choice in the presence of a male competitor. High demands in the family setting are another major drawback for women to advance their career. This traditional mindset extends to the investment-seeking process too. Due to lack of precedent in the region, investors are more likely to distrust the profitability of women-led businesses.
Many argued that a change of mindset is slowly emerging. For example, Jordan recently passed a new labour law providing equal day care obligations to both female and male parents in the workplace. This is a great achievement but real changes are taking too long to materialise. During our tour across these countries we also interviewed multiple experts from various fields who shared their recommendations to make the tech ecosystem more accessible and fairer to women. Most of them agreed on the need for gender quotas in the public administration to ensure the involvement of women in strategic decision-making at the political level as well as in board of directors in the private sector to promote that they reach top management positions. Recruitment processes should be revised from a legal perspective as well in order to prevent gender-based discrimination due to marital and family status. On the other hand, many pushed for the need to break the glass ceiling as well as gender roles and stereotypes which traditionally portray women as more suitable in social and human sciences and men as more capable for physics, mathematics and technology.
Further recommendations related to the financial sphere, where some of our experts suggest a democratisation of processes and requirements for opening a business bank account is needed. This would facilitate that women receive funds quickly to start their activities and demonstrate recorded payments and credit history. As a result, female tech entrepreneurs acquire financial credibility and are in a better position to fundraise further. Additionally, the creation of female-oriented or women-only funds for all stages of start-ups, in forms of government grants or equity investments, would facilitate women access to funding and present the investment-seeking process as one based on merit and business skills rather than a risk journey into gender discrimination.
After the great success of our tour we are embarking ourselves into a second edition that will explore three new countries: Algeria, Egypt and Lebanon. This time, however, in the context of the current Covid-19 crisis our aim is to find out how this pandemic is affecting female entrepreneurs' lives across the Mena region and how the female talent is tackling this challenging situation and bringing about solutions.
https://www.wamda.com/2020/05/encourage-women-pursue-entrepreneurship
--------
Man honoured for rescuing girl from Sharjah tower blaze
May 10, 2020
Aghaddir Ali
Sharjah: Sharjah Civil Defence has honoured a man who saved an 11-year-old girl from the Abbco Tower blaze in Al Nahda, Sharjah, that happened last Tuesday May 5.
Colonel Sami Khamis Al Naqbi, Director General of Sharjah Civil Defence, on Sunday handed Jordanian national Mohammed Omar a certificate of appreciation for his courage after he broke a door down and rescued the girl after hearing her screams.
Colonel Al Naqbi indicated that the honour comes within the framework of the Civil Defense's keenness to encourage the public to feel societal responsibility. He urged the public to exert more benevolence and effort in helping others.
https://gulfnews.com/uae/man-honoured-for-rescuing-girl-from-sharjah-tower-blaze-1.71427048
--------
PAF pays tribute to selflessly contributing women on Mother's Day
May 11, 2020
As the world celebrates Mothers' Day on Sunday, the Airwomen of Pakistan Air Force (PAF) also pay tribute to the most loving creation of the world. In this regard, Directorate of Media Affairs, PAF has produced a short promo to extol all mothers who selflessly contribute towards the upbringing of future generations, said a PAF press release.
The promo, especially highlights the self sacrificing services of the mothers belonging to the medical profession and was a sincere acknowledgment of their frontline role in the fight against Covid-19 in the country. It was worth mentioning that women were also serving shoulder to shoulder with men in all branches of Pakistan Air Force.
The Chairman Senate Standing Committee on Information, Broadcasting and National Heritage Senator Faisal Javed Sunday thanked people for sharing grief over the death of his mother. Faisal, in a statement said, he and his family members were grateful to everyone who expressed solidarity with them and sent condolence messages.
The senator said, keeping in view the precautionary measures due to the coronavirus, it had been decided not to hold condolence meetings till the situation improved.
https://pakobserver.net/paf-pays-tribute-to-selflessly-contributing-women-on-mothers-day/
--------
Qatar stresses need for involving women in Afghan peace process
10 May 2020
Qatar has reiterated its deep commitment to achieving peace in Afghanistan, continuing its positive role and making efforts to facilitate peace talks between the parties in Afghanistan.
This came during the participation of HE ambassador SheikhaAlya Ahmed bin Saif al-Thani, Permanent Representative of Qatar to the United Nations, as a speaker at a virtual event organised by "Women Forward International" and Georgetown University, in co-operation with the embassy of Qatar to the United States, under the title " Launching Peace in Afghanistan.
HE SheikhaAlya highlighted the role played by Qatar in Afghanistan's peace talks, and touched on Qatar's broad participation in the mediation efforts, facilitating and hosting the peace talks and sponsoring the reconciliation process led and shared by all Afghan parties.
She expressed the satisfaction and pleasure of Qatar that its efforts resulted in a historic agreement signed in Doha to bring peace to Afghanistan between the United States and the Taliban.
She also expressed the hope of Qatar that the agreement would lead to talks between Afghans, the Taliban and stakeholders in Afghanistan.
She noted that the Afghan peace conference that Doha hosted in July 2019, held under the auspices of Qatar and Germany, aimed at pushing forward the Afghan negotiations for peace.
HE SheikhaAlya stressed the need for involving women in Afghan peace talks, pointing to the commitment of Qatar to guarantee the right of women to peace operations, and made it clear that the lack of participation of women would reduce the possibility of a peaceful settlement on a large scale.
She praised the participation of 11 prominent women from the government and civil society sectors in the Doha Afghan Peace Conference, as well as the participation of civil society representatives, political and religious leaders and youth in the peace conference.
She also highlighted the support of Qatar since the adoption of UN Security Council Resolution 1325 implementing the women's, peace and security agenda, noting Qatar's pride in supporting the global study on the implementation of Council Resolution 1325, which provided a comprehensive and important information that demonstrates that women's participation in peace processes is vital to sustaining peace .
HE SheikhaAlya stressed the importance and necessity of the participation of young women and men in the peace process, where Qatar welcomed the Security Council Resolution 2250 on youth, peace and security, noting the State of Qatar's participation in March 2019 along with Colombia, Finland and the Office of the United Nations Secretary-General's envoy for youth in the first international conference on youth participation in mediation processes held in Helsinki.
She highlighted Qatar's determination to hold the second international conference in co-ordination with the envoy of the Secretary-General for Youth, with a special focus on the role of young women in peace and security. She expressed Qatar's hope that the conference that will be hosted by Doha provides a concrete opportunity to enhance the integration of young women in effective and sustainable peace processes, emphasising the paramount importance of the comprehensive integration of young women and men into peace processes.
https://m.gulf-times.com/story/662853/Qatar-stresses-need-for-involving-women-in-Afghan-
--------
Yazidi girl returns home to Iraq after years of IS captivity
May 11, 2020
Baghdad (AFP) - A Yazidi girl abducted by the Islamic State group returned to Iraq Sunday to be reunited with her family after the coronavirus lockdown in Syria delayed her homecoming, a community member said.
Layla Eido, 17, was among dozens of women and girls from Iraq's minority Yazidi community who were abducted by IS from their ancestral home of Sinjar in 2014.
The women were enslaved, systematically raped, or married off by force to jihadists, but for Eido the nightmare came to an end when the jihadist group's so-called "caliphate" collapsed last year.
Since then, she had been stuck in the Kurdish-run Al-Hol camp in northeast Syria, which had become home to thousands of IS wives and their children.
But several months ago she managed to contact her family in Iraq and just as she was about to be reunited with them, the COVID-19 pandemic forced both Iraq and Syria to close their borders, delaying her return.
On Sunday, Eido, who was 11 when she was abducted, finally made her way back to Iraqi territory along with another Yazidi survivor called Runia Faisal, an activist from the minority community told AFP.
The jihadists "used to scare us and tell us the Kurds would kill us if we told them who we really were", Eido had told AFP earlier this month.
https://news.yahoo.com/yazidi-girl-returns-home-iraq-years-captivity-202257781.html
--------
Turkey sends Mother's Day aid to Kenyan moms
10.05.2020
Over 150 mothers in a suburb of Nairobi, Kenya's capital, received food and hygiene kits on Sunday from Turkey's state-run aid agency in celebration of Mother's Day.
"Unfortunately, due to the coronavirus restrictions, I'm no longer be able to work. I really thank the Turkish government. They've remembered us in these hard times with these generous food parcels and hygiene products," said Aisha Mwangi, a 48-year-old single mother of four living in the Lower Kabete neighborhood.
Most people in Lower Kabete are either self-employed or wage workers in the informal sector, which has been hit hard by the COVID-19 pandemic. Many women, who are mostly traders, peddlers, artisans and tailors, can no longer support their families.
Emre Yuksek, the Kenya coordinator of the Turkish Cooperation and Coordination Agency (TIKA), who delivered the donation to the mothers, told Anadolu Agency: "We've reached out to 150 mothers. We thought it would be a nice present during these trying times to reach out to families and we're really glad to put a smile on the faces of the kids and the mothers."
The packages contain cooking oil, flour, sugar, salt, beans, tea and green grams, as well as water dispensers, water purification tablets, re-usable sanitary towels, bathing soap and laundry soap.
https://www.aa.com.tr/en/africa/turkey-sends-mothers-day-aid-to-kenyan-moms/1835718
--------
Syrian Woman Torture Survivor Hopes for Justice in Germany Trials
By Nisan Ahmado
May 10, 2020
WASHINGTON - A Syrian woman who was detained and tortured during the Syrian civil war is daring to hope after Germany, in a rare step, opened trials against two Syrian state security officers accused of committing war crimes.
The trials, which began April 23 in Koblenz, Germany, examined a case against two former alleged Syrian intelligence officers, identified as Anwar R. and Eyad A., who allegedly tortured political prisoners held in Syria's underground prisons.
"As torture survivors, we saw a glimpse of hope because we thought that these people will never be held accountable for what they did to us," Asmaa Saad-Aldin, a U.K.-based Syrian activist and torture survivor, told VOA. "We hope that this is only the first step to bring to justice the heads of security branches who supervised the torture of thousands of people."
In January 2012, Saad-Aldin, 39, was traveling with two of her friends from the Syrian capital Damascus when the Syrian government forces arrested them for smuggling food and medicine into the rebel-held areas of besieged Daraa governorate, in southwestern Syria.
"When they found the medical supplies, they started beating us till a military vehicle came and took us to the military intelligence service (Branch) 251 under the command of officer Wafiq al-Naser. There, they put me in the interrogation room and brought one of my friends and tortured him brutally. I was beaten and electrocuted while I was blindfolded," Saad-Aldin said.
"We were 15 women crammed in a very small cell and we had to take turns standing, sitting and sleeping. The interrogation room was next to the girls' cell, and we used to hear the sounds of agony and screams of people tortured every night," she said.
During the period Saad-Aldin was being held for interrogation at Branch 251, Anwar R. was allegedly the head of the military intelligence investigation branch, where at least 4,000 prisoners reportedly faced torture, and Eyad A. was an alleged member of the Syrian military intelligence service.
"They (prisoners) were subjected to brutal violence from beatings, kicks and electric shocks. At least in one case, there was also rape and severe sexual assault," the Higher Regional Court of Koblenz said in a statement published on its official page.
In 2012, months into the Syrian civil war, Anwar R. and Eyad A. defected from the Syrian government and applied for asylum in Germany, where they were arrested in 2019. The German officials, in line with the country's national privacy law, have concealed the full identity of the two accused.
An investigation into their cases came after a series of complaints by victims of both officials, filed by the European Center for Constitutional and Human Rights (ECCHR), which will be assisting the 16 torture survivors during the proceedings.
Since the Syrian civil war began in 2011, thousands of Syrians have reportedly died while being tortured in the notorious Syrian government security agencies, known in Syria as mukhabarat. The Syrian Observatory for Human Rights, a U.K.-based war monitor, said there are approximately 130,000 detainees in Syrian government prisons.
The Syrian Network for Human Rights (SNHR), an organization that monitors Syrian war casualties, published in a report in late 2019 identified at least 72 torture methods used by the Syrian government in its detention centers. It found that more than 14,298 detainees have been tortured to death by different parties in Syria.
In 2014, the U.N. Security Council moved to take crimes committed during the Syrian war to the International Criminal Court (ICC), but the measure failed after Russia and China vetoed it. Syrian torture survivors, especially those taking refuge in Europe, have since tried to file cases in the court systems of the countries in which they currently reside.
"With other avenues for justice currently blocked, criminal cases in Europe are a beacon of hope for victims of crimes in Syria who have nowhere else to turn," Balkees Jarrah, a senior counsel at Human Rights Watch, said.
Jarrah told VOA that criminal justice authorities in several other countries, including Sweden, France and the Netherlands, have begun investigating serious crimes in Syria.
"Ensuring that those responsible for serious crimes are held accountable is important in its own right and fundamental to obtaining any durable and stable peace in Syria," she said, criticizing international inaction and impunity toward crimes against humanity in Syria.
"Universal jurisdiction cases may help build some momentum for justice as well as send a strong message to Syrian victims that grave abuses committed against them won't go unanswered," Jarrah said.
To hold in Germany the first criminal trial from the Syrian civil, Saad-Aldin said, is a major precedent that should be capitalized upon by torture survivors who still suffer from the psychological effects of abuse.
Saad-Aldin was held in Branch 215 for two months before being transferred to Adra prison in northeastern Damascus. She was released in April 2013 following negotiations between the Syrian government and a delegate from her town.
Faced with death threats from suspected Syrian regime loyalists, Saad-Aldin soon fled to Jordan where she worked on sexual violence in conflict areas, and later moved with her husband and two daughters to the U.K.
"We will continue advocating for justice and accountability in Syria, and I hope that all detainees who know the names of the officers who tortured them would report them," she said.
https://www.voanews.com/extremism-watch/syrian-woman-torture-survivor-hopes-justice-germany-trials
--------
Mother's Day: Zuraida pays tribute to women Covid-19 frontliners
10 May 2020
KUALA LUMPUR, May 10 — This year's Mother's Day celebration, in addition to paying tribute to mothers, it should be dedicated to women frontliners working tirelessly to contain the spread of Covid-19, said Housing and Local Government Minister ZuraidaKamaruddin.
"Their sacrifices are countless, willing to work day and night in hospitals and infection hotspots, living apart from family members and putting themselves at risk of the virus.
Zuraida added that the outbreak of the epidemic and the implementation of the movement control order (MCO) also required most mothers to deal with changes in their daily routines, such as having to work from home and at the same time managing their households.
"Despite their heavy responsibilities, a mother never expects anything in return from her children, that is a mother's love," she said.
She also took the opportunity to express her gratitude to all mothers throughout the country and the world for their dedication and sacrifice in educating their children. — Bernama
https://www.malaymail.com/news/malaysia/2020/05/10/mothers-day-zuraida-pays-tribute-to-women-covid-19-frontliners/1864928
--------
URL: https://www.newageislam.com/islam-women-feminism/saudi-arabia-set-switch-e/d/121815
New Age Islam, Islam Online, Islamic Website, African Muslim News, Arab World News, South Asia News, Indian Muslim News, World Muslim News, Women in Islam, Islamic Feminism, Arab Women, Women In Arab, Islamophobia in America, Muslim Women in West, Islam Women and Feminism