New Age Islam News Bureau
19 Jun 2019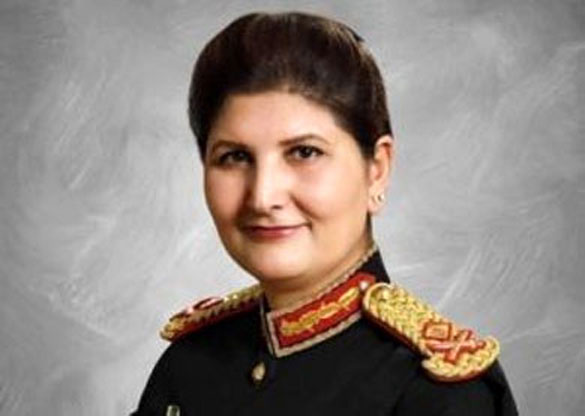 Major General Nigar Johar Khan has become the third woman in Pakistan's history to hold the rank of a major general in the Pakistan Army,
------
• US: Muslim Woman Says She Was Attacked In Coffee Shop
• Bahrain Beats London, Silicon Valley on Ratio Of Female Startup Founders
• UK Muslim Father Faces Jail for Mental Abuse of His Daughters
• Why Some Canadian Muslims Celebrated the Quebec Hijab Ban
• Nigar Johar Khan Becomes Third Woman in Pak History To Hold Major General Rank
• Three Women's Rights Activists Summoned To Evin Prosecutor's Office
• Meet The Mother Of Three Who Is Egypt's First Female Maestro
• Egypt Hosts Regional Conference on Child Marriage, FGM
Compiled by New Age Islam News Bureau
URL: https://www.newageislam.com/islam-women-feminism/saudi-arabia-permanent-representative-un/d/118928
--------
Saudi Arabia's Permanent Representative At UN: 2018 Was The Year Of Women Empowerment In Saudi Arabia
June 19, 2019
NEW YORK – Saudi Arabia on Tuesday confirmed that the year 2018 had witnessed many decisions that contributed to women empowerment in the Kingdom, paving way for their entry into many new areas, the Saudi Press Agency reported.
In a speech to the Executive Council of the United Nations Women's Authority in New York, Saudi Arabia's Permanent Representative to the UN Abdullah Bin Yahya Al-Muallimi said 2018 marked the year of transformation and excellence for Saudi women.
He thanked the UN Commission on Gender Equality and Empowerment of Women for its outstanding performance in achieving most of the goals set for implementation in the first year of the Strategic Plan for 2018-2021.
The Kingdom appreciated the contribution of the United Nations Women's Fund to the promotion of women's rights in leadership and government as well as to their economic empowerment by encouraging legislation to promote women's rights, in addition to supporting the development of government entities, partnerships, international organizations and policies to enable women to have better access to services, finance and utilization of productive resources, Al-Muallimi said in his speech.
The Saudi experience in women empowerment became evident in terms of the results in two UN performance indicators this year. They include enabling women to play leading roles in government and participate in it on an equal footing with men, Al-Muallimi said.
He pointed out that the Saudi leadership continued to issue successive orders to get rid of all discriminatory practices against women in the country.
Most important among these was the royal order No. 33322 dated 17/4/2017 that stressed to all pertinent government authorities not to demand of women to obtain approval from any person when they need government services for completion of procedures for their benefit.
Al-Muallimi also referred to the royal order appointing Princess Reema Bint Bandar Bin Sultan as the Kingdom's ambassador to the United States. Princess Reema became the first woman to be appointed as an ambassador in the history of Saudi Arabia.
Furthermore, the decision allowing women to drive cars came into effect in different parts of the Kingdom after the Traffic Department had fulfilled all the requirements and made all preparations to enable women to drive in the country, he pointed out.
Al-Muallimi mentioned the "Wusool" program for supporting working women to travel to and from work and the "Qurrah" program that aims to build licensed child care centers near work places to raise the percentage of women's participation in the labor market while ensuring job and family stability at the same time.
As part of the decisions taken to enhance women's rights pertaining to the judiciary, the number of women lawyers was increased by 120 percent, and special centers for implementing verdicts on child custody were set up with the objective of providing a model environment in which a secure, healthy and recreational family atmosphere prevails.
The setting up of an alimony fund project (Nafaqah) for divorcees and their children ensured timely support for divorced women and their children. The fund helped avoid waiting for payment by procrastinating ex-husbands and fathers during divorce or litigation by making the payment binding, he said.
Al-Muallimi said the Kingdom had taken many continuous steps to reform the laws and regulations to meet the Kingdom's aspirations to achieve the advancement of women.
He expressed the Kingdom's desire for more international partnership programs to enhance cooperation between UN organizations for women and the Gulf Cooperation Council countries including Saudi Arabia.
http://saudigazette.com.sa/article/569294/SAUDI-ARABIA/Muallami-at-UN-2018-was-the-year-of-women-empowerment-in-Saudi-Arabia
--------
US: Muslim Woman Says She Was Attacked In Coffee Shop
Umar Farooq
18.06.2019
WASHINGTON
A Muslim civil rights group is demanding an investigation after a woman in the state of Texas claims she was attacked for wearing a hijab at a Starbucks coffee shop.
Nur Ashour said she was verbally and physically attacked by a woman, and no one in the store came to help.
"Today I got harassed by a woman for wearing a hijab. The sad part was it was @Starbucks and not a single employee or bystander said a word to her. She threw things in my face and said horrific things. Had the roles been reversed, I guarantee the reactions would have differed," Ashour said in a series of tweets that went viral, reaching almost 200,000 likes and 60,000 retweets.
Ashour mentioned how she was with her 3-year-old and an 8-month-old children when the attack occurred. Afterwards, she ran out and found a security guard. But the woman who assaulted Ashour told the officer, "I don't know what her problem is, she threw stuff at my face."
Ashour called the other woman "a liar" and said she "was terrified and crying."
The nation's largest Muslim civil rights organization called for state and federal authorities to launch an investigation and urged anyone with knowledge of what occurred to contact police.
"Hate crimes are on the rise throughout the United States, including here in Dallas," Council of American Islamic Relations' Dallas/Forth Worth (CAIR- DFW) chapter head, Ekram Haque, said in a statement.
A spokesperson for Starbucks told Newsweek the company reached out to Ashour since she tweeted, however, could not confirm the specifics of what happened.
"This type of discriminatory behavior is obviously not acceptable in our stores and not welcome. When our partners [employees] see something, they move quickly to address it," the spokesperson said.
Another Muslim woman was attacked in Dallas earlier this year, because of her identity as a Muslim, according to CAIR-DFW.
https://www.aa.com.tr/en/americas/us-muslim-woman-says-she-was-attacked-in-coffee-shop/1508182
--------
Bahrain Beats London, Silicon Valley on Ratio Of Female Startup Founders
June 18, 2019
MANAMA — Bahrain is one of the top 10 startup ecosystems with the largest share of female founders, according to the 2019 Global Startup Ecosystem Report (GSER), launched at the recent TNW conference in Amsterdam. Described as 'the world's most comprehensive and widely-read research on startups', the report is produced by StartUp Genome in partnership with the Global Entrepreneurship Congress.
With 18% of its startups founded by women, Bahrain topped even internationally recognized startup hubs such as Silicon Valley (16%) and London (15%). The report also lauded Bahrain as:
• one of the top 10 ecosystems to watch in FinTech in Europe and the Middle East
• a top 15 Global Ecosystem for affordability of qualified talent.
Khalid Al Rumaihi, Chief Executive of the Bahrain Economic Development Board said:
"This report draws on the views of the people who know best – entrepreneurs and founders. In a very short time, Bahrain has emerged as a leading ecosystem with particular strength in FinTech. With both female founders and women taking leadership roles throughout the ecosystem, Bahrain is a dynamic and diverse market at the head of new trends that are shaping the way society and business operates."
Dr. Ebrahim Mohammed Janahi, Chief Executive of Tamkeen (Bahrain's Labour Fund) said:
"Over the past decade, Bahrain's startup ecosystem has made significant progress where startups can access a global network of partners to scale up and capture opportunities in Bahrain and the region.
Dr Janahi pointed out one of Bahrain's key competitive advantages in the region, which lies in its firm belief in the importance of women as an active player in shaping Bahrain's economic future.
"In line with these national objectives, Tamkeen has launched a number of ad-hoc programmes to foster the development of female-owned businesses in addition to Tamkeen's flagship programmes supporting individuals and enterprises." he added.
According to Dr Janahi, to date, more than 59% of women have been served as part of Tamkeen's micro finance support, while more than 50% were served within the business development program, which offers a co-financing service to cover 50% of business equipment.
The Kingdom has a long history of women in senior leadership positions. Currently, a group of female leaders in FinTech is helping to steer the country's FinTech strategy. Leading female Bahraini startup founders include Hala Sulaiman and Ameera AlQubaiti - co-founders of Alrawi, a successful audiobook startup and Pitch@Palace Global 3.0 People's Choice 2018 Winner. Furthermore, Bahrain's Al Waha Fund of Funds, a $100 million fund set up by the Bahrain Development Bank, has an all-female leadership.
As for FinTech, in 2018 Bahrain launched FinTech Bay, the Middle East's leading FinTech hub. The Kingdom is rapidly gaining international recognition as a FinTech leader thanks to forward-thinking regulation introduced by the Central Bank of Bahrain, including the region's first regulatory sandbox and advanced rules for next generation technologies such as cryptocurrencies and open banking. Just last month, Visa became the latest financial services company to partner with FinTech Bay.
The report also recognized Bahrain as a Top 15 Global Ecosystem for affordable talent. Bahrain boasts one of the most skilled and entrepreneurial workforces in the region, over 60% of which work in the private sector. Meanwhile, Amazon Web Services' AWS Educate training scheme is providing Bahrainis with the necessary skills for cloud-based jobs. Interestingly, it's estimated that more than 60% of computer science students at the University of Bahrain in 2018 were women.
Bahrain's tax regime – the most liberal in the Gulf – and wage subsidies for new employers emerged as real differentiators among the key draws highlighted in the report. The report reflects the views of more than 10,000 founders and draws on data from over one million companies. It ranks the highest-performing startup ecosystems, cities and regions by assessing performance against the following factors:
Experience • Performance • Connectedness • Funding • Knowledge • Market Research •Infrastructure • Talent • Policy — SG
http://saudigazette.com.sa/article/569237/BUSINESS/Bahrain-beats-London-Silicon-Valley-on-ratio-of-female-startup-founders
--------
UK Muslim Father Faces Jail for Mental Abuse of His Daughters
Gabriella Swerling
18 JUNE 2019
A Muslim father faces jail for psychologically abusing his daughters in the first case of its kind.
Salamat Khan, 63, exerted such domineering control over his household that his children felt like they were "living in a prison".
The father-of-nine had already married off three of his daughters to selected husbands, but "cast out" two of his daughters, when they married men that he did not "approve of".
As a result, Khan claimed the sisters were "dead to the family" and tried to stop two other unmarried daughters leading a Westernised lifestyle.
At Manchester magistrates' court he was found guilty of engaging in coercive behaviour towards two of his daughters, as well as his wife, between December 2015 and June 2018. He will be sentenced at Crown Court next month where he faces up to five years in prison.
His prosecution was only enabled following a new law which came into force in December 2015 following years of campaigning from women's rights groups. Coercive or controlling behaviour in intimate or family relationships has been recognised as a criminal offence under section 76 of the Serious Crime Act ever since.
Prof Vanessa Bettinson, of Leicester De Montfort Law School, who has researched coercive control, said: "I believe it is the first reported case involving family members as opposed to partners."
Three of Khan's daughters wed in Pakistan in arranged marriages, but two others married Muslim men who were not "arranged" for them.
Khan then refused to let his other two daughters – Madina, 21, and Maryha, 24 – go out in the evenings, or meet their friends, and forced them to cook and clean for him in their "traditional" Islamic household.
He also demanded that properties in the names of female relatives be transferred to him and his only son Abbas, 34, who insisted their two rebel sisters were not welcome in the family home, saying: "They made their choices."
Police were called to the Khan family home in Oldham, Greater Manchester, after a violent argument erupted when Abbas Khan demanded one of the properties be transferred to his name so he could facilitate his own wife emigrating to the UK from her native Pakistan. During the row Salamat Khan's wife of 50 years, Zahida Begum, was pushed backwards by Abbas Khan with such force that it caused a cabinet to fall off the wall.
Giving evidence to the court, Madina Khan said that her role was "staying at home, cooking and cleaning", that she was forbidden from socialising with friends outside of college and that she was "scared" of her father.
She claimed that her "aggressive" brother had threatened to kill her more than once and on the night the police were called "this time I thought he was going to do something". She added: "He was enraged. It's been like living in a prison".
Her mother added that Salamat Khan and her son "make the decisions" and she was encouraged not to contact her rebel daughters.
"My husband doesn't want me to keep in contact," the housewife said, adding that he "would accuse me of seeing other men when I went out to visit my daughters".
Abbas Khan was also found guilty of coercive behaviour towards his sisters and common assault on his mother. Both father and son denied wrongdoing but were ordered to be sentenced at Crown Court next month.
Ian Lee, prosecuting, said: "Instead of protecting his daughters as a father should, Khan became their tormentor."
https://www.telegraph.co.uk/news/2019/06/18/father-faces-jail-psychologically-abusing-daughters-refused/
--------
Why Some Canadian Muslims Celebrated the Quebec Hijab Ban
June 18, 2019
On Sunday night after a marathon session, Quebec legislators voted 73-35 to bring into law Premier François Legault's Bill 21 that bans some public servants from wearing religious symbols.
Legault's Coalition Avenir Québec (CAQ) government, which also had the backing of the opposition Parti Québécois, brought closure to a 10-year struggle since Quebec's Bouchard-Taylor Commission recommended that all public officials who embody the authority and the neutrality of the state and its institutions be prohibited from wearing any visible religious symbols such as the hijab, turbans, yarmulkes and the crucifix.
Prior to Sunday's historic vote, four consecutive Quebec governments had tried to implement the Bouchard-Taylor recommendations as law but failed. The new law requires a host of state employees, including police officers, judges, government lawyers, jail guards and teachers, not to wear visible religious symbols such as the Muslim hijab and burka, Sikh turbans, Jewish kippas, and Christian crosses.
The fact is that while the Sikh turban, Jewish yarmulkes and the Catholic crucifix are definitely religious symbols, the Muslim hijab is not an Islamic requirement. The truth is the hijab is a political symbol that until the late 1970s was unheard of in Pakistan, India, Indonesia, Bangladesh, Turkey, Somalia and Nigeria.
According to one prominent exponent of the hijab — a hero to many Quebec and Canadian hijabis and to the Islamist men who strive to manipulate them — the newly-elected member of the U.S. House of Representatives, Somalia-born hijabi Ilhan Omar, "the hijab means power, liberation, beauty, and resistance."
Despite the fact the English media gives space almost exclusively to Islamists who support Sharia law, many Muslim leaders and activists in Quebec have supported the new law.
Muslim activist Ferid Chikhi, reacting to the Quebec hijab, debate wrote: "Whether we like it or not, what is most disturbing in Quebec is what I call malignant entryism by Islamists who want to impose their ideology on the host society at all costs while refusing to respect its laws."
He and 23 other Quebec Muslims, including political scientist Djemila Benhabib, not only support the new CAQ bill for secularism in Quebec, they condemned New Zealand's Prime Minister Jacinda Arderm's "banalisation of the veiling of women and girls."
The province's most prominent Muslim politician, Moroccan-born Fatima Houda-Pepin, a former deputy speaker of the Quebec National Assembly, has been at the forefront of the struggle against the hijab and burka for the better part of ten years.
As early as 2013 she rebuked her then Liberal Party colleague Marc Tanguay, who said he would welcome Liberal candidates wearing the chador (Iranian hijab) and would be happy to sit with them in the legislature. Houda-Pepin responded: "I refuse any drift toward cultural relativism under the guise of religion, to legitimize a symbol like the chador, which is the ultimate expression of oppression of women, in addition to being the symbol of radical [Islamic] fundamentalism."
In a letter to the Canadian Press, Fatima Houda-Pepin wrote back then that she is "flabbergasted," "hurt" and "shocked" by her colleagues' comments supporting the hijab, wondering if her Liberal Party's views on equality between men and women was modeled on those of countries such as Saudi Arabia and Iran.
For Muslims who have been victims of Islamism and their flag bearers, Quebec has become the first government in the West that has stood up to Islamist blackmail. Its new law is a message to those who seek to destroy western civilization, "No more: The Riyal stops here."
https://torontosun.com/opinion/columnists/fatah-why-some-canadian-muslims-celebrated-the-quebec-hijab-ban
--------
Nigar Johar Khan Becomes Third Woman in Pak History To Hold Major General Rank
June 19, 2019
Major General Nigar Johar Khan has become the third woman in Pakistan's history to hold the rank of a major general in the Pakistan Army, Human Rights Minister Shireen Mazari announced via Twitter on Tuesday.
Mazari shared a picture of the newly appointed major general with the caption: "Respect. #womenempowerment".
Member of National Assembly (MNA) Wajiha Qamar revealed that Maj Gen Nigar Johar Khan hails "from a Pashtun family of Sawabi".
"She is a two-star general in Pak Army's Medical Corps. Apart from being a doc, she is a sharp shooter too," Qamar explained.
"Pak has shown that, it is committed to gender equality and women empowerment. Gender specific jobs assigned by the ancient patriarchy are now adapting to the realities of 21st century," she added.
https://www.pakistantoday.com.pk/2019/06/18/nigar-johar-khan-becomes-third-woman-in-pak-history-to-hold-major-general-rank/
--------
Three Women's Rights Activists Summoned To Evin Prosecutor's Office
Jun 18, 2019
Three women's rights activists, Maryam Mohammadi, Esrin Derkaleh and Nargess Khorrami have been summoned to the Evin Prison's Prosecutor's Office.
Intelligence agents broke into the residence of Maryam Mohammadi on Sunday, June 16, 2019. After a thorough inspection of the house, they confiscated her two sets of cellphones, and told her to report to the Prosecutor's Office at Evin Prison on Tuesday, June 18, 2019. Since Ms. Derkaleh was not home, they handed her summons to Ms. Mohammadi.
On Wednesday, June 12, 2019, intelligence agents referred to the residence of women's rights activist Nargess Khorrami, confiscating her cellphone, tablet, and summoning her to Evin's Prosecutor's Office on Tuesday, June 18, 2019, as well.
The three women's rights activists are members of the Association of Neday-e Zanan-e Iran. Akram Nasirian and Nahid Shaqaqi, also members of this group, had already been arrested last month. Ms. Nasirian was freed on bail after 27 days in Ward 209 of Evin. Nahid Shaqaqi is still incarcerated.
Labor activist Neda Naji who had been arrested 40 days ago during the protests in Tehran on the International Labor Day, was transferred from Evin to the notorious Qarchak Prison in Varamin on Saturday, June 15, 2019. In a brief call to her family, Ms. Naji informed them that she was being transferred from the Intelligence Ministry Ward 209 at Evin Prison to Qarchak Prison.
At least 15 female labor activists were arrested during the Labor Day protest on May 1 in Tehran in front of the mullahs' parliament among them Neda Naji, Marzieh Amiri and Atefeh Rangriz.
In another development, two Baha'i women were convicted to six months in prison. According to the ruling of the First Branch of the Court of Tabriz, Monica Alizadeh and Shabnam Eassakhani received prison sentences on the charge of membership in the illegal organization of Baha'is.
https://women.ncr-iran.org/2019/06/18/three-womens-rights-activists-summoned-to-evin-prosecutors-office/
--------
Meet The Mother Of Three Who Is Egypt's First Female Maestro
Salwa Samir
June 18, 2019
Female orchestra conductors are rare in the world, let alone in the Middle East. However, Eman Genedy has been making a 25-person orchestra play to her tune for the last 13 years.
Genedy, 60, Egypt's first female maestro, hails from conservative Upper Egypt. A mother of three, she has dark skin like much of the population of Upper Egypt and wears a hijab, both on and off stage.
"I never imagined that I would be a conductor. As I loved music, I thought I would sing or play an instrument, but to be a maestro — it was beyond my imagination," Genedy told Al-Monitor.
Nevertheless, the house where she grew up in Beni Suef, a city 71 miles (115 kilometers) north of Cairo, was filled with music and poetry. Her father, an engineer, played the lute and the piano. All the children — her sister, brother and herself — also played the piano.
She ran into a problem when she decided to study music — the city had no musical academy. So she went to study in the Egyptian capital and lived in a hostel during her five years at the Faculty of Music Education at Helwan University.
Genedy lamented that there still is not a music faculty in her hometown. "Even the number of music teachers in the governorate is very low compared to the capital," Genedy observed. "I do not know why it is this way — music is part of the life of the people there." Her first job after graduation was as a music teacher at a secondary school in Beni Suef.
While working as a teacher, she formed a group of talented students — both male and female — and started organizing concerts with them. In the late 1980s and early 1990s, these concerts were rare and therefore popular, so the higher-ups in the city, even the governor, would not miss them.
"We performed patriotic and religious songs that attracted the admiration of the governorate officials," she said. "When I saw the praise and admiration in the audience, I dared ask myself whether I could become a successful conductor."
Since 2006, Genedy has worked as a conductor of the 25-member Beni Suef University orchestra. The music teacher said that her leadership made a difference. "Before I started working with them, they had little information on how to perform with some instruments. But I trained them well. [Since then] we have competed in and won various competitions with other universities," she said.
As there is no music department at the university, the students are from different departments.
Between 2005 and 2018, Genedy worked as a conductor for the National Arab Music Ensemble in the Beni Suef Cultural Palace, affiliated with the Culture Ministry. This was a prestigious posting but a tough one.
"Most of the members of the orchestra are men older than me," she said. "It was a difficult mission for me to lead men in this conservative society. Some were obeying my instructions, others were not. But later, the situation changed and they treated me as an experienced person in my work, not as a woman."
This Ramadan, the Culture Ministry organized a series of musical activities across Egypt, and Genedy, along with her Beni Suef University Orchestra, toured the governorates to give concerts.
"It was a [challenge] to get the female members in the orchestra to participate in this tour because conservative families oppose their daughters traveling out of the city," she said. "I met their families and assured them that their daughters will be safe as they accompany me — I would be their mother."
Most agreed but some did not, so it was an incomplete band that gave the concerts.
Genedy's own family allowed her to study in another city and also work abroad. In 1985 she traveled to Kuwait to teach music at a preparatory school for three years. In 1995 Genedy traveled to Oman and spent five years teaching music to pupils aged 18 through 35 at an art center.
She believes that knowledge of other cultures' musical heritages enables her to pick and choose among many works and tailor her program according to different moods and audiences.
"The audiences who attend concerts at the Opera are absolutely different than those in rural areas," she said. "My role is to select what pleases the audience. For the performances in the opera, [I often choose] Arabic and Western classical music. In rural areas, however, I prefer performing traditional songs."
She also likes to mix oriental music with Western tunes.
Though she loves being a maestro, she said this career also has drawbacks that discourage many women. "It demands huge time and effort. You need to train groups, not just one or two musicians. On certain days, I rehearse for 10 hours and I am so tired that I simply go to bed after I return home," she said.
Her husband supports her at home and shares household tasks. "Thank God, my husband knows very well the importance of music in my life. I breathe the music. Without music I could die, literally," Genedy said. "Music takes the first place in my life and my husband encourages me."
Earlier this year, Genedy formed her own orchestra and named it "The Maestro." It consists of 20 musicians hailing from different governorates, but most of them study at Beni Suef.
One of them is Hossam Magdy, a 20-year-old violinist from the Upper Egyptian governorate of Minya.
Magdy is a first-year law student at Beni Suef University. He owns an instrument shop in Minya and has played violin since he was a child. "It is amazing to be working with Genedy," he told Al-Monitor. "Frankly, Maestro Iman makes us feel that she is our mother more than being a leader, compared to the male conductors, who are quite stern."
Praising her strong but democratic leadership, he said that she consults them about what songs they will perform. "For her, conducting is not a job but a passion," he said.
Genedy hopes to tour the world and to become a famous conductor. "I am waiting for this moment. I really hope so," she said.
https://www.al-monitor.com/pulse/originals/2019/06/female-conductor-from-upper-egypt-breaks-the-taboo.html
--------
Egypt Hosts Regional Conference on Child Marriage, FGM
Jun. 19, 2019
CAIRO– 19 June 2019: Under the auspices of President Abdel Fatah al-Sisi, a regional conference on child marriage and Female genital mutilation (FGM) will be hosted in Egypt on June 19 and June 20.
Organized by the Ministry of Foreign Affairs, the National Council for Women (NCW)and the National Council for Childhood & Motherhood, in cooperation with the African Union and European Union, the conference will be discussing the African challenges and efforts to counter FGM and child marriage as harmful practices violating women's rights.
On June 14, the UNFPA-UNICEF Joint Program on the FGM said in a statement that Egypt is a pioneering leader in countering the FGM phenomenon.
"As part of the global response, success is determined by political will, accountability (at national and sub-national levels) and creation of an enabling environment that engages and coordinates actions from stakeholders across all sectors and partners," the statement read.
Egypt's efforts come in light of the SDG 5.3 and the African Union's Transformative Agenda 2063, the statement added, commending Egypt's' leadership regionally and internationally.
The National Committee of the Eradication of FGM has launched an awareness campaign against female circumcision, on the occasion of the National Anti-FGM Day which falls on June 14.
"We consider ourselves today more fortunate in facing all forms of violence and discrimination against the female child and the woman, thanks to the continuous support of the political leadership and President Abdel Fatah al-Sisi to the protection and empowerment of the Egyptian female child and woman, and the government's commitment to enforce national legislations and international commitments, in accordance with Egypt's strategic vision," said Maya Morsy, head of the National Council for Women.
https://www.egypttoday.com/Article/1/71781/Egypt-hosts-regional-conference-on-child-marriage-FGM
--------
URL: https://www.newageislam.com/islam-women-feminism/saudi-arabia-permanent-representative-un/d/118928
New Age Islam, Islam Online, Islamic Website, African Muslim News, Arab World News, South Asia News, Indian Muslim News, World Muslim News, Women in Islam, Islamic Feminism, Arab Women, Women In Arab, Islamophobia in America, Muslim Women in West, Islam Women and Feminism