New Age Islam News Bureau
16 Jan 2015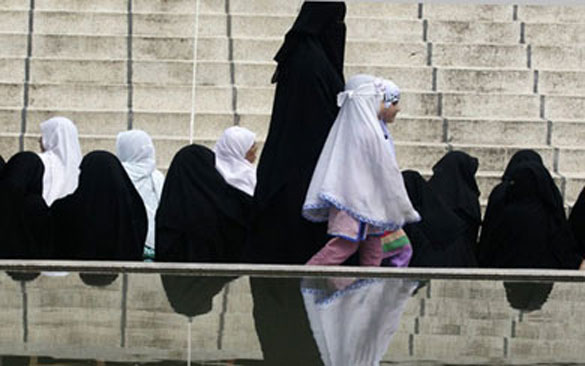 Lal Masjid 'detainee' refuses to return to her parents —Reuters/File
-------------
• Muslim Girls in Malaysia Threatened With Arrest over K-Pop Boy Band Hug
• Iran to Combat 'Immoral' Dating With Marriage Site
• Turkish Model Questioned For 'Insulting Erdoğan' With Satirical Poem
• Wife on Run from Pakistan Honour Killing Says No One Can Escape
• 72 Girls Rescued From Flesh Trade in Thailand
• Boko Haram Appears to Be Using Abducted Girls as Suicide Bombers: Experts
• Two Italian Women Abducted In Syria Arrive In Rome
• Lal Masjid 'Detainee' Refuses To Return To Her Parents
• Dress Code Only For Muslim Women in Service Industry, Says Secretary
• Saudi Female Prisoners Refute Mistreatment Claims
Compiled by New Age Islam News Bureau
URL: https://newageislam.com/islam-women-feminism/saudi-arabia-publicly-beheads-woman/d/101059
------------
Saudi Arabia Publicly Beheads Woman in Holy Mecca As Blogger Lashings Are Postponed
16 January 2015
Authorities in Saudi Arabia have publicly beheaded a woman in Islam's holy city of Mecca, prompting further criticism of the country's human rights record.
Laila Bint Abdul Muttalib Basim, a Burmese woman who resided in Saudi Arabia, was executed by sword on Monday after being dragged through the street and held down by four police officers.
She was convicted of the sexual abuse and murder of her seven-year-old step-daughter.
A video showed how it took three blows to complete the execution, while the woman screamed "I did not kill. I did not kill." It has now been removed by YouTube as part of its policy on "shocking and disgusting content".
There are two ways to behead people according to Mohammed al-Saeedi, a human rights activist: "One way is to inject the prisoner with painkillers to numb the pain and the other is without the painkiller," he told the Middle East Eye.
"This woman was beheaded without painkillers – they wanted to make the pain more powerful for her."
The Saudi Ministry of the Interior said in a statement that it believed the sentence was warranted due to the severity of the crime.
The beheading is part of an alarming trend, which has seen the kingdom execute seven people in the first two weeks of this year. In 2014 the number of executions rose to 87, from 78 in 2013.
Raif Badawi, the Saudi blogger, was due to receive the second set of 50 lashes today for insulting Islam, but it has been postponed on medical grounds.
Ali A Rizvi, one of the blogger's best best friends told The Independent: "His wife told me that the lashings have been postponed, but it is only temporary."
He was sentenced to 1,000 lashes and 10 years in prison after creating a liberal, secular website, Free Saudi Liberals. He faces lashings every Friday for the next 18 weeks, until the sentence is completed.
He narrowly avoided the death penalty when a court threw out apostasy charges in 2013.
Sarah Leah Wilson, the Middle East and North Africa director at Human Rights Watch, said: "Corporal punishment is nothing new in Saudi Arabia, but publicly lashing a peaceful activist merely for expressing his ideas sends an ugly message of intolerance.
"Saudi Arabia is showing a willingness to inflict vicious and cruel punishments on writers whose views it rejects."
Amnesty also condemned the sentence and has launched a campaign to release the blogger.
In Saudi Arabia a number of crimes, including murder, rape, adultery and armed robbery, can carry a capital sentence.
Beheading is considered one of the more humane punishments the authorities can mete out, a firing squad and stoning are other methods open to judges.
http://www.independent.co.uk/news/world/middle-east/saudi-arabia-publicly-beheads-woman-in-holy-mecca-as-blogger-set-to-receive-second-lashing-9982134.html
-------------
Muslim Girls in Malaysia Threatened With Arrest over K-Pop Boy Band Hug
16 January 2015
A group of Muslim girls in Malaysia have been threatened with arrest after a video emerged showing them hugging members of a K-pop boy band.
The incident has prompted a public outcry in the Muslim majority country, with Islamic conservatives denouncing both the popular Korean K-pop genre and the girls.
Official Muslim-purity enforcers have given the girls one week to turn themselves in or face arrest, local media reported.
In the video, members of the band B1A4 are shown bringing fans wearing Islamic headscarves up on stage during an event in Kuala Lumpur last weekend, crooning to them and cuddling them, with one band member kissing a fan on the forehead.
Malaysian Islamic civil law includes strict codes of conduct when it comes to public displays of affection.
"This video shows how many of our (Muslim) girls are ignorant about our religion and do not know the boundaries..." said one Facebook user.
"The girls should be punished," another said.
A local Islamic group is claiming K-pop is part of a Christian agenda to infiltrate and influence young Muslims.
Amid the controversy, a satirical cartoon with Malay language captions appeared on Facebook, glorifying women who joined Islamic militants in Syria but condemning female Muslim K-pop fans as degrading the religion.
It had received more than 13,000 likes by Wednesday afternoon.
While many condemned the girls' actions, others felt authorities were overreacting.
Prominent human rights activist Ambiga Sreenevasan tweeted that if the girls were arrested, it would "traumatise them for the rest of their lives".
Organisers of the concert have apologised for the incident.
Despite the language barrier, scores of young Malaysian women and teenagers are ardent fans of heavily styled K-pop with its teen-idol groups, glossy hooks and meticulously choreographed dance moves.
Earlier in 2013, K-pop sensation Psy performed his 'Gangnam Style' megahit in Malaysia after being invited by Prime Minister Najib Razak's Barisan Nasional coalition, a move aimed at drumming up political support, according to some observers.
http://www.nzherald.co.nz/world/news/article.cfm?c_id=2&objectid=11386751
----------
Iran to Combat 'Immoral' Dating With Marriage Site
16 January 2015
TEHRAN: Iran has announced plans to combat what it says are "immoral" online dating websites by launching an official site for young people seeking marriage.
Local media quoted officials as saying the site would launch in the next few days and promote long-term marriages among the under-30s.
There are strict prohibitions on sexual contact before marriage in the country, but that can be circumvented under the Shiite system of "sigheh," or temporary marriage, under which a couple can contract matrimony for as little as an hour.
The government is seeking to discourage the practice and the deputy minister for youth and sport, Mahmoud Gholrazi, said there are as many as 300 websites deemed "illegal and immoral" that often encourage sigheh. Gholrazi did not say whether the site would be similar to traditional ones, where members post photos on a profile describing themselves, their interests and what they are seeking, but he did say "counselors and psychologists" would work with it.
Noting that Iran has a marriageable population of around 11 million, he said that, "with the help of this site, we could have 100,000 marriages with a correct method, and the problem of marriage for young people would be partly solved."
Not only is the government attempting to encourage marriage, it is also seeking to reduce a record divorce rate which has reached 22 percent. In big cities such as Tehran, an estimated one in three couples divorce.
http://www.arabnews.com/middle-east/news/690246
--------
Turkish Model Questioned For 'Insulting Erdoğan' With Satirical Poem
16 January 2015
A Turkish model has been questioned by a prosecutor for allegedly "insulting" President Recep Tayyip Erdoğan on her Instagram account, after she shared a satirical poem published in a popular magazine.
Merve Büyüksaraç, an industrial designer and writer who was crowned Miss Turkey in 2006, went to testify at the courthouse in Istanbul's Çağlayan neighborhood on Jan. 14.
Büyüksaraç told the prosecutor that she "may have quoted a poem" from the weekly humour magazine Uykusuz, but deleted it soon afterward when one of her friends warned that such messages could bring about criminal procedures in Turkey.
"I shared it because I found it funny. I had no intention to insult then-Prime Minister Recep Tayyip Erdoğan," Büyüksaraç added, according to the Cihan news agency.
"The Master's Poem," shared by Büyüksaraç, satirically criticized Erdoğan through verses adapted from the lyrics of Turkey's national anthem.
Press Crimes Prosecutor Vedat Yiğit demanded "judicial control" for Büyüksaraç, which obliges a suspect to regularly go to a police center to sign in, but the court ruled to release Büyüksaraç unconditionally, pending trial.
http://www.hurriyetdailynews.com/turkish-model-questioned-for-insulting-erdogan-with-satirical-poem.aspx?pageID=238&nID=76970&NewsCatID=339
----------
Wife on Run from Pakistan Honour Killing Says No One Can Escape
16 January 2015
On a freezing December night, Shehla Gul is in hiding from her husband in a squat brick house in Pakistan's Sindh province. Sitting on a bamboo cot wearing a head-to-toe hijab, only her eyes are visible, and they stare at the floor.
Gul has barely been outdoors since escaping through the back door of her family's house three months earlier, when her husband and three men tried to kill her with a pistol, says her brother, Ghulam Murtaza Chachar. Her spouse, Faiz Muhammad, accused her of having an affair, an offense that as many as 40 percent of Pakistanis believe would entitle him to execute her.
"My husband is still looking for me to kill me," says Gul, who covers her face whenever she leaves the house in Ghotki district, about 540 kilometers northeast of Karachi. "Who can run away from this menace?"
Gul was lucky. Hundreds, possibly thousands of women are murdered every year in so-called honor killings, which are rarely prosecuted because they often are supported by the local community. Prime Minister Nawaz Sharif is the latest leader of the country to condemn the practice, after a pregnant 25-year- old woman was stoned to death in public last May.
"This is a very big issue and the existing laws do not protect women from this kind of crime," said Khawar Mumtaz, chairwoman of the National Commission on the Status of Woman. "We have to struggle" for that legal protection if Pakistan is to build a modern Islamic state, she said.
Karo-kari
There were an estimated 869 honour killings in 2013 in the country, according to the Lahore-based advocacy group Human Rights Commission of Pakistan. The victims, mostly women, often were hacked, beaten or stoned to death for going against the will of their families. They included 359 cases of "karo-kari," or blackened man-blackened woman, in which executions are carried out by the family.
In about half of honor-killing cases in the Muslim world, victims are tortured, including being raped, stabbed or bludgeoned to death, according to a 2010 report by the Middle East Forum.
The actual number of deaths is anyone's guess as the crime often is kept quiet, said Paryal Marri, a coordinator for the rights commission in Shikarpur, one of the worst cities in Sindh for violence against women. The family, local community and politicians wary of losing votes by opposing traditional values collude to hide the deaths.
"About 75 percent of honour killings aren't reported," Marri said. Even in cases where the murderer is prosecuted, he's usually released after being pardoned by the family or on payment of blood money.
Sindh killings
The total number of women and girls who died between 2008-12 due to murder, honor killings or suicide was 13,583, according to the Aurat Foundation, a women's rights group based in Islamabad. Five of the 10 districts with the highest incidence of honour killings are in Sindh, the group said in a report published in 2013.
"A man convicted in the name of honour is appreciated and applauded, not only among his community people but also by those who see him in jail," Marri said. "They tell him he's done the right thing. The politicians don't condemn this so that they keep votes."
People use karo-kari as a way to settle disputes, said Zia Ahmed Awan, a human-rights lawyer and member of the Pakistan Bar Council, the nation's top legal entity.
"A man kills his wife in their own house and then kills his adversary, saying he was having an illicit relationship with her," said Awan, who runs Madadgaar, a nationwide helpline for women and children. "That way the enemy dies and the property dispute he had is settled. If you have six sisters, you sacrifice one. Even mothers are killed."
Other woman
Gul, hiding in the house in Ghotki, said she found pictures of another woman in her husband's mobile phone in September and confronted him. A week later, Muhammad came home and grabbed her hair and beat her, accusing her of having an affair with a man called Ghulam Sarwar, she said.
"My husband accused me of having an affair with someone I know he has a feud with, over some property," Gul said. "I haven't met him or his family, but I know my husband knows him. He'd scream at him on the phone every time they spoke."
After her husband threw her out of their home, Gul took refuge with her family. Muhammad came the next day with three men to try to kill her, said Murtaza, one of her three brothers.
"I filed a police complaint against Muhammad and the three men, whom I recognized as his cousins and brother," Murtaza said.
Village elders
Gul's husband then appealed to the local landowner, Rais Abid Hussain Chachar, who convened a Jirga — a traditional council of village elders — Murtaza said. He said it found Gul and her alleged lover guilty of karo-kari, ordered Murtaza and his siblings to pay 100,000 rupees as compensation for filing the police report, and gave them a choice on Gul: Either hand her over or pay 200,000 rupees more for her life.
Her husband, Muhammad, answered a call to his mobile phone, but hung up when asked to comment on the dispute. Another call to the same number was answered by a man calling himself Nooruddin who said that there was no attack, that he "was nothing to" Shehla Gul and that this was a wrong number.
Abid Hussain Chachar, the landlord named in Murtaza's police complaint as the head of the village council, denied that he was involved.
"I didn't give this decision and I don't know anything about it," he said by phone. "This is a fight between relatives. I have nothing to do with it."
No guard
Police are investigating the council meeting, Aftab Farooqi, a local police chief, said on Dec. 22. He said Gul's accusations against her husband have been referred to the local court.
"We haven't given her a police guard," said Farooqi, adding that police patrols check on her regularly. "Our force isn't big enough to send a policeman to every home."
Murtaza said their relatives are telling them to do as the jirga says. "For them the landlord's word is the final word, not the safety of our sister."
Karo-kari has been going on for at least a century. After British General Sir Charles James Napier conquered Sindh in 1843, he reportedly tried to discourage the killings, even threatening to burn down villages and crops where the practice was found.
Karo-kari "was practiced in ancient Rome," said Anis Haroon, former chairwoman of the National Commission on the Status of Women in Pakistan, which was set up by the government in 2000 to improve gender equality. "By no means is this a Muslim tradition."
European killings
Nor are honour killings unique to Pakistan. Cases have been reported from India, the Middle East and Africa, as well as Europe and North America. While European police forces treat such cases as murder, in Pakistan law enforcement is "very, very weak," said Awan, the human-rights lawyer.
"There's no protection from the government," Awan said. "There have been cases where women have been killed after being given shelter in state-run women's welfare centres."
It wasn't until 2004 that Pakistan's Criminal Law Amendment Act categorized karo-kari as murder in the nation's penal code, elevating it from a crime of passion, said Haroon, who has spent more than three decades advocating for the rights of women in the country. Since then, Parliament has passed at least six other laws aimed at improving conditions for women, according to the Aurat Foundation.
That is "a great achievement for a country like Pakistan that's shackled in debt, has a dearth of democracy, militancy, influence of the military, terrorism, political Islam and religious extremism," the Aurat report says.
School massacre
Taliban militants murdered 152 people, including 134 children, in an army-run school in Peshawar on Dec. 16 in one of the country's most brutal terrorist strikes. While the government has stepped up its war on the Taliban, a spate of widely publicized honor killings in the past few years shows that some murderers have become more brazen.
In May, 25-year-old Farzana Parveen was stoned to death in broad daylight by her family outside the gates of the Lahore High Court. Prime Minister Sharif condemned the killing, his public-relations officer, Khawaja Maaz Tariq, said on Oct. 27.
A Lahore court on Nov. 19 sentenced Parveen's father, a brother and two cousins to death for the killing. Mansoor Afridi, a lawyer for the four men, called the sentence "politically motivated." They have appealed the verdict, he said this week.
While Parveen's case made headlines around the world, most killings in Pakistan receive little attention.
Public support
Even when a case gets to court, a legal loophole gives discretion to the presiding judge, and the offense is compoundable with Islamic Sharia law, which allows for families to settle matters out of court on payment of compensation, Haroon said. A 2011 survey by Pew Research showed that four out of 10 Pakistanis believe honor killings are often or sometimes justified.
So the killings go on, especially in Sindh, where feudalism is commonplace and many people are illiterate, said Marri, at the Human Rights Commission. Despite a rapid improvement in national education in recent years, literacy in Sindh is only 45 percent, according to the provincial government's website.
Among the worst places, according to Marri, is Shikarpur, a city near the Indus River that was once so famous for its culture, gardens and beautiful buildings that it was called the Paris of Sindh.
Since Pakistan's partition from India in 1947, the city has declined. In a house in its maze of garbage-strewn alleys one November morning in 2011, 19-year-old Saddam Hussain was sleeping on his cot when gunmen entered and shot his mother, his wife and his sister Amina, Hussain said.
Second wife
One of the groups was Amina's husband, Abdul Qadir Jamali, who had come to take revenge on his spouse for refusing to allow him to take a second wife, Hussain said.
"He came, asked for my mother who was asleep in the room next door," said Hussain, who is now 22 and a policeman. "He took out a gun and fired. My three-year-old brother was sleeping next to her but the bullets didn't hit him."
Jamali then turned the gun on Hussain's wife, Naghma, who was cooking lunch, and then on Amina, who was reciting the Koran, Hussain said. Both the younger women were pregnant. All three died within hours.
Hussain said Amina had fled from her husband because she was being abused.
"They used to beat her up, even burned her hands once," he said in an interview in August. "Jamali used to come to our home and threaten us if we didn't return his wife."
Wedding day
Amina, a year older than her brother, had a master's degree in commerce from the local Shah Abdul Latif University and had been very happy on her wedding day, two years before her death, Hussain said.
"She was laughing and cracking jokes with me," he said. "She really, really felt lucky getting married."
Jamali and the other men were never arrested for the crime even though Hussain's house is opposite a police compound that was full of police at the time, Hussain said.
Two witnesses, Asif Ali Bhutto and Aftab Memon, say they heard the shots and saw Jamali run from the house waving a gun.
"I saw Abdul Qadir Jamali dashing out of Saddam's house and he had three to four people with him," said Bhutto, 22, a hairdresser who lives nearby. "I gave chase but he started shooting at me while running, so I stopped."
Hussain said his wife identified Jamali as the killer before she died in a hospital.
Police case
A police official from the New Faujdari station in Shikarpur said that a case was filed by Hussain's father, Aurangzeb Pathan, accusing Jamali of the killings and identifying eight others involved in the attack.
"We raided their house in Benazirabad district and then made three to four raids in different areas of Baluchistan but we just couldn't find them," said the officer, who would only give his last name, Jalaldin.
Jamali said he was at home when contacted by mobile phone on Oct. 29.
"I didn't do it," he said, declining to explain what happened. "Why did you call me? Is there a problem? The issue has been settled now."
By settled, Jamali means that the matter was handled by a jirga.
In this case, the council was headed by Mir Zafarullah Khan Jamali, the country's prime minister from 2002 to 2004, who comes from the same clan as the suspect but isn't directly related to him. The meeting was held in April at a farmhouse outside Shikarpur belonging to Maqbool Shaikh, a veteran politician and an old friend of the former premier.
Hunting farm
"Mr. Zafarullah Jamali normally comes to these parts for hunting and my farm house is always open to host him," said Shaikh, who was not present at the meeting. "It was a case involving the killing of three women, two of whom were expecting babies, and the killer was apparently a member of the Jamali tribe. From what I know, an understanding has been reached."
The jirga agreed on a blood-money payment of 1.2 million rupees ($11,920) for each of the murdered women, 600,000 rupees for each unborn child and 500,000 rupees for damage to the house, Hussain said. The total, 5.3 million rupees, is about 24 times Hussain's annual salary.
Zafarullah Khan Jamali didn't respond to requests for comment. His son, Omar Jamali, said honor killings happen everywhere in Pakistan and in some places "a couple of times a week."
"We try our best to help the courts and police to bring the families to a settlement so that they can have a peaceful life in the future," he said.
Buying land
Hussain said he's received 2.5 million rupees, which he has used to buy a strip of land. If the rest is paid, he'll build a house.
Soon after the murders, Hussain's father remarried and moved out to live with his new wife, leaving Hussain to care for his five younger brothers. Amina was his only sister.
Despite the massacre, Hussain said he doesn't think Jamali was crazy.
"His great grandfather had two wives, his grandfather had two wives, his father has two wives, all his brothers have two wives, so he basically felt left out," said Hussain, who had been married nine months before his wife was gunned down. They were going to name their son Zulqarnain Haider.
Village councils continue to judge karo-kari cases even though the Sindh High Court banned them from doing so in 2004, said Awan, the human-rights lawyer. There are more than 200 cases registered against feudal landlords and members of these councils in Sindh for holding such assemblies, yet not one person has been arrested, he said on Aug. 8.
Victim flees
"This is a community-sanctioned crime," Awan said. "The perpetrator is not the one on the run. It is the victim who must flee" if they escape attack. "The man holds his chest high when he goes back into the community saying: 'I killed in the name of my family's honor.'"
Last year, a group of campaigners for women's rights made a discovery that shows how ingrained the murders are in Pakistan.
Around a lone tree in the desert, about 10 kilometers from the town of Ratodero, is "Karrioyoon ka qabristaan," Urdu for the "Graveyard of Dishonored Women."
Beneath patches of low scrub and clumps of sewan grass the height of a man are the remains of as many as 50 murdered mothers, sisters, wives and daughters in unmarked graves, according to Mazhar Ali Abro, coordinator for the NGOs Development Society, a group that supports women's rights in the district in southern Sindh. No one knows for sure how many victims are here, he said.
'All murders'
"These are all murders, and it was only recently we found out" where the graveyard is, Abro said at the site, which is surrounded by a sandy wasteland.
Abro said local people had told him that some of the bodies were dumped one on top of another. Many of the murders date back decades, he said, though two raised mounds of earth suggest that some were more recent.
"We have to be careful," Abro said, standing by the overgrown mounds. "The locals don't like visitors."
Ratodero, the nearest town, was the political seat of former Prime Minister Benazir Bhutto, who ruled the country twice, from 1988-90 and 1993-96, and was assassinated after returning from exile in 2007. Her son, Bilawal Bhutto Zardari, announced in September that he will contest the seat in the next general election, said Saeed Ghani, a party spokesman. Bilawal and party representatives didn't respond to requests for an interview.
Abro said the area was once a lush green pasture before people moved away and the desert claimed the land. The graveyard was a way to hide the bodies when such killings had to be done in secret, said Murad Abro, district coordinator in Ratodero for the Human Rights Commission.
A hidden burial site is no longer necessary for the murderers, he said. "Now every house is a safe place for honour killing."
Bloomberg
http://thejakartaglobe.beritasatu.com/international/wife-run-pakistan-honor-killing-says-one-can-escape/
http://www.businessweek.com/news/2015-01-14/wife-on-run-from-pakistan-honor-killing-says-no-one-can-escape
----------
72 girls rescued from flesh trade in Thailand
16 January 2015
Seventy-two Lao girls were rescued from forced prostitution in Thailand's Suphanburi province on Thursday, police said.
The police, attached to the Anti-Human-Trafficking Division, raided four karaoke lounges in Suphanburi province's Songpeenong district in the wee hours to rescue the young Lao girls, aged between 13 and 20 years, Xinhua reported.
The raid was conducted following tip-offs from villagers that the girls had been lured and forced by suspected human traffickers into flesh trade over the past several months, the report said.
The karaoke lounge keepers had allegedly told the Lao girls that they would be hired as "waitresses."
But they had eventually been forced into prostitution, police said.
Several Thais, including the lounge keepers, were arrested on charges of human trafficking while the rescued girls were yet to be returned to their home country, police said.
The Thai authorities earlier pledged to combat human traffickers, including those who may have brought young females from neighbouring countries such as Laos and Myanmar for flesh trade in the Thai capital, outlying areas and the provinces.
http://www.thehindu.com/news/international/thailand-72-girls-rescued-from-flesh-trade/article6792330.ece
------------
Boko Haram Appears to Be Using Abducted Girls as Suicide Bombers: Experts
BY ALEXANDER SMITH
16 January 2015
Three suicide bombings by girls aged as young as 10 suggest that Nigeria's Boko Haram has employed a new tactic of forcing abducted children to blow themselves up, according to experts.
The Islamist sect has been carrying out almost daily killings and kidnappings across northeast Nigeria in a campaign of violence now in its sixth year. Deadly attacks on Saturday and Sunday were carried out by three young female suicide bombers.
These came just days after a week-long killing spree by Boko Haram, in which the group torched at least 10 towns leaving around 2,000 people unaccounted for. Secretary of State John Kerry on Thursday called the attack "a crime against humanity."
It is not clear if the girls were coerced or were even aware they were strapped with explosives, which may have been detonated remotely. But experts say that Boko Haram appears to be using the children it kidnaps — such as the 276 Chibok girls who sparked the #BringBackOurGirls social media campaign — and using them as a readily available supply of suicide bombers.
"It is highly likely that Boko Haram is conscripting young girls to use as suicide bombers," said Elizabeth Donnelly, assistant head of the Africa program at London's Chatham House think tank. She told NBC News that these conscripts were little more than "slaves fed by countless abductions since the crisis started."
Boko Haram roughly translates to "Western education is sinful." The group aims to create its own state based on strict Islamic law.
It has used female suicide bombers before, notably in a spate of attacks last July in central northern city of Kano. But Peter Pham, director of the Africa Center at the Atlantic Council, said the recent use of young girls represented a "ratcheting up" of the group's bombing campaign, "first to women and now to children."
"Young women who are abducted, it has been suggested that they might be used as wives. But it's certainly possible they could be used as bombers," he added.
"These girls just do not matter to them ... They are disposable bodies"
Increasing violence in Nigeria's northeast means reporting from the region has become next to impossible. Western journalists rarely get closer than the capital Abuja, 400 miles away.
But a reporter in the city of Maiduguri, the site of Saturday's bombing, characterized the use of girls by Boko Haram as "clearly a change in tactics."
"Getting the girls? Extremely simple," the journalist told NBC News, asking not to be named because of restrictions imposed by his employer. "Many towns and villages have been raided, and married women, young girls and even children below 10 have been abducted. These are the suicide bombers."
Eyewitnesses told Reuters news agency and local newspapers that the bomb in Maiduguri was strapped to a girl who appeared as young as 10 years old. Local Senator Ahmed Zanna told NBC News around 20 people were killed. The following day, two girls described as appearing the same age wore suicide vests that detonated in the town of Potiskum killing three people.
United Nations Secretary-General Ban Ki-moon condemned what he called a "depraved act."
According to Barrister Zannah Mustapha, a local philanthropist who set up a school for orphans in Maiduguri, impoverished children in the area are particularly vulnerable to Boko Haram.
"For a young girl to use a suicide bomb, some sort of indoctrination has gone on," he told NBC News via telephone. Maidurguri has been inundated by people fleeing Boko Haram from other parts of the state. Mustapha said there were currently 2,000 orphans who had applied to attend his school, The Future Prowess Islamic Foundation, which has a current capacity of 420 children.
"These are potential targets for Boko Haram to indoctrinate," he said. "If we cannot accommodate them, where can they go?"
Boko Haram was involved in 10,000 violent deaths last year, according to figures from the Washington, D.C.-based Council on Foreign Relations think tank.
On Thursday, Kerry spoke about last week's incident in which Boko Haram is feared to have killed as many as 2,000 people in and around the fishing town of Baga. "It's an enormously horrendous slaughter of innocent people," he said. "Boko Haram continue to present a serious threat not just to Nigeria and the region but to all of our values."
The number of young girls kidnapped by Boko Haram is near-impossible to estimate. The group's most high-profile kidnapping came in April last year, which it took 276 girls from a school in Chibok.
Donnelly said abducted girls have provided the group with a resource of bombers it sees as completely expendable.
"I think it's because these girls just do not matter to them," she said. "They are disposable bodies ... How do you fight this? It is hard to identify someone as a Boko Haram fighter when they are using children."
Reuters contributed to this report.
http://www.nbcnews.com/storyline/missing-nigeria-schoolgirls/boko-haram-appears-be-using-abducted-girls-suicide-bombers-experts-n284456
-------------
Two Italian Women Abducted In Syria Arrive In Rome
16 January 2015
Rome — Two Italian aid workers abducted in northern Syria last summer arrived in Rome at dawn Friday, a day after they were released.
The flight carrying Greta Ramelli, 20, and Vanessa Marzullo, 21, from Turkey landed at Ciampino military airport near the Italian capital at 4:00 am (0300 GMT), an AFP reporter said.
http://www.khaleejtimes.com/kt-article-display-1.asp?section=middleeast&xfile=data/middleeast/2015/January/middleeast_January95.xml
----------
Lal Masjid 'Detainee' Refuses To Return To Her Parents
16 January 2015
ISLAMABAD: Uzma Qayyum, the 26-year-old girl who is allegedly detained at the Jamia Hafsa against her will, appeared before a sessions court on Thursday and said she did not want to return to her family.
The girl was accompanied in the courtroom by Umme Hassan, head of the seminary and wife of Lal Masjid cleric Abdul Aziz, as well as other men and women from the seminaries.
The court then ordered her to appear again on Jan 20.
Through the court's intervention, Uzma's father, Sheikh Muhammad Qayyum, was finally able to meet his daughter after seven months.
Emotional scenes witnessed as court officials try to convince Uzma to return home, girl's father claims she has been 'brainwashed' by Lal Masjid
However, he still could not convince her to come back home.
High Court Advocate Haider Imtiaz, who is representing Mr Qayyum, told Dawn that although the girl appeared before court, she was accompanied by a number of people who appeared to be associated with Jamia Hafsa, which was why she has been summoned again.
Mr Qayyum told Dawn that as soon as the hearing began, the judge instructed Umme Hassan, her associates and his family to leave the courtroom. The judge then spoke to Uzma, in the presence of court staff, for about half an hour. He then proceeded to invite her mother inside the courtroom and fifteen minutes later, he was also asked to join them as well.
"As we were meeting our daughter after so many months, it was a very emotional scene and everyone had tears in their eyes. During our meeting, the judge and court staff all urged Uzma to return to her family. They said that no one could take the place of one's parents and Islam also taught us to obey their wishes," he said.
Mr Qayyum said that the family also tried to convince Uzma to come back to them, but in vain. "It seems that Umme Hassan has brainwashed my daughter. The judge offered to have her sent to the Darul Amaan or to a relative's house, but my daughter refused. She repeatedly said that she wanted to go back to Jamia Hafsa," he said.
The court then ordered that Uzma's statement to be recorded on Jan 20. Her father said that he would again try to convince her to return home at the next hearing. Mr Qayyum alleged that during the hearing, Umme Hassan was in constant contact with someone on her mobile phone.
On Wednesday, Umme Hassan had told Dawn that no one from Jamia Hafsa would accompany the girl to the hearing on Thursday and she would have no objections if the girl chose to return to her family.
On December 29, 2014, Mr Qayyum had filed an application with the Human Rights Cell (HRC) of the Supreme Court of Pakistan to have his daughter recovered from Jamia Hafsa.
In his application, he alleged that his daughter was being held captive by the Jamia Hafsa administration on the premises of the seminary.
The Supreme Court had ordered Sessions Judge Nazir Ahmad Gujana to investigate the matter and submit a report. On Wednesday, the court had ordered Islamabad Police to produce the girl in court on Thursday.
http://www.dawn.com/news/1157332/lal-masjid-detainee-refuses-to-return-to-her-parents
----------
Dress Code Only For Muslim Women in Service Industry, Says Secretary
16 January 2015
KOTA BARU: The Kota Baru Municipal Council Islamic City (MPKB-BRI) is not going after Muslim men and women who do not meet its Islamic dress code, including those not wearing the Tudung (headscarf) when they are out in public.
Its secretary Rosnazli Amin said while Muslim women in the service industry were required to put on Tudung during working hours, the same ruling by the council did not apply to "the rest of the public".
He refuted claims that the council had issued compounds to Muslim men and women for "not dressing appropriately in public".
"I want to deny those claims. This false news is scaring outsiders away.
"We have only issued summonses to women involved in the service industry for not wearing Tudung under the Ops Gempur Aurat (Aurat Attack Operation)," he told The Star.
Rosnazli explained that under a by-law introduced more than 20 years ago, the council had the jurisdiction to act against Muslim women in the service industry who flouted the law.
WhatsApp messages have been circulating that MPKB-BRI is out to issue summonses against Muslim women on the streets for not wearing Tudung, and for donning tight-fitting attire and short sleeves, while men who sport shorts above the knees will be fined RM50.
According to the message, couples need to carry their marriage certificates or they would be slapped with a RM100 fine.
Last October, the council announced that it would enforce an Islamic dress code on those in business, whereby women traders and workers who did not cover their hair and wore tight-fitting outfits would be liable to a fine up to RM500.
The ruling applies to Muslim women working in wet markets, supermarkets, hypermarkets, food outlets and all other commercial centres that require operating licences from the local authorities.
Non-Muslim business operators also risk being fined if their Muslim employees did not abide by the dress code.
Rosnazli said only about 30 Muslim women had received summonses for failing to adhere to the dress code when the council conducted the operation between October and early December last year.
"We haven't had the operation since we were busy cleaning up after the floods. I believe the public have misunderstood the action taken by the council," he said.
Kelantan Umno deputy chief Datuk Ahmad Jazlan Yaakub, when contacted, said he had not heard of the council's move to act against inappropriately-dressed Muslims.
http://www.thestar.com.my/News/Nation/2015/01/15/Council-attire-ruling-not-for-all-Dress-code-only-for-Muslim-women-in-service-industry-says-secretar/
----------
Saudi Female Prisoners Refute Mistreatment Claims
16 January 2015
A NUMBER of female inmates housed in the General Intelligence Prison in Al-Hayer refuted recent allegations that female detainees at the prison were not being provided with the health services they need. Al-Riyadh newspaper visited the prison recently with an official delegation to investigate the claims.
Inmate Bahia Al-Rushoodi shares the women's section of the prison with 11 other female inmates, the majority of whom are Saudis.
Al-Rushoodi, who has been detained for the past six months, appeared in good health during the visit by a women's delegation comprising Shoura Council members and academics from three universities in the Kingdom.
She refuted claims that inmates were being tortured and said prison guards and officials were accommodating.
Granted permission for an interview, Al-Rushoodi talked about the circumstances that led to her arrest and that of her son and the charges against them. Both mother and son were accused of incitement and printing and distributing propaganda material.
Al-Riyadh interviewed four other inmates in the prison. Two inmates from an African country confirmed Al-Rushoodi's account of life in the prison. Both women said they enjoy all their rights in the prison despite their involvement in several security-related criminal cases. Both women are under trial and they are awaiting a verdict to be issued in their cases soon.
The delegation asked to meet the female detainee Amina Al-Rashed but she declined the request.
Al-Riyadh interviewed Mai Al-Talq who has been in the prison for nine months. She claimed that she has been prevented from seeing her children and that she suffered a hemorrhage two months ago and she was not provided medical care. However, according to her hospital file and visitation records, the allegations were proven to be untrue. Al-Talq's official visitation record showed that she saw her children every week and doctors said it was Al-Talq who refused treatment.
According to her arrest record, which was provided to the delegation, Al-Talq had had previous run-ins with the law.
Al-Talq and her children were arrested in the Saudi-Yemeni border region along with three men from Yemen. The men were trying to smuggle Al-Talq and her children into Yemen so she could join Al-Qaeda in Yemen.
The women's detention facility has a carpeted room that has three mattresses, a blanket, pillows, a TV set showing several channels and trays containing juices, milk, soft drinks and meals. The detention room also has a bathroom with a separate door and two showers. Each inmate is given her own toothbrush, toothpaste, soap and towel. The women are allowed to bring all the clothes they need.
The women's detention facility is a separate section fully supervised by well-trained female staff. It is colored in pink indicating the place is for females. The General Intelligence Prison in Al-Hayer has integrated services including a central hospital, a family house, classrooms, libraries and rooms for conjugal visits.
Al-Riyadh also visited the offices of several governmental and non-governmental agencies in the prison where inmates can avail of various services. The offices include the Human Rights Commission, National Society for Human Rights, Bureau of Investigation and Public Prosecution, Supervision of Prisons branch, Civil Affairs, National Commercial Bank, Passport Department, notaries public, Ministry of Justice, General Organization for Social Insurance and the Ministry of Social Affairs.
http://www.saudigazette.com.sa/index.cfm?method=home.&contentid=20150116230672
--------
URL: https://newageislam.com/islam-women-feminism/saudi-arabia-publicly-beheads-woman/d/101059