New Age Islam News Bureau
28 Feb 2018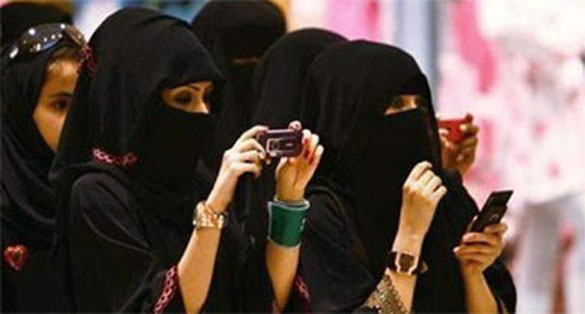 A number of Saudi initiatives aim at increasing the percentage of women in the workforce.
----
• Mass Sexual Assault of Pakistani Woman At Party Rally In Punjab, Pakistan
• Syrian Women 'Exploited For Sex by Aid Delivery Workers'
• Hadiya Case: Conversions of A.R. Rahman, Muhammed Ali, Kamala Surayya Cited
• Conference on Contribution of Women in Islamic Studies Commences At International Islamic University
• Know Who the Three Saudi Women Are Appointed In Top Roles by Royal Decree
Compiled by New Age Islam News Bureau
URL: https://www.newageislam.com/islam-women-feminism/saudi-arabia-opens-security-jobs/d/114444
--------
Saudi Arabia Opens Security Jobs to Women
February 27, 2018
The online application process will be open until Thursday
Saudi Arabia's public security department has opened up its military-style jobs to women for the first time.
"The General Directorate of Public Security announces military jobs for females at the rank of soldier," the public security directorate, which is part of the ministry of interior, said in an advert on its official Twitter account on Sunday.
The online application process will be open until Thursday. The jobs are available in the regions of Riyadh, Makkah, Madinah, Al Qaseem, Asir, Al Baha, and the Eastern Province.
Applicants should be native-born and raised Saudis (with the exception of those who lived abroad with their fathers due to a government job), be of good standing, between the ages of 25 to 35 with a high school diploma or its equivalent and must pass entrance exams and interviews and a medical examination.
A series of reforms initiated this year in the Kingdom was particularly aimed at empowering women, including a landmark decree in September by the Custodian of the Two Holy Mosques, King Salman bin Abdulaziz, allowing women to drive from June 2018.
The country's Vision 2030 roadmap for the future, spearheaded by Crown Prince Mohammed bin Salman, aims to increase the percentage of women in the workforce. In January, the general directorate of passports (GDP) said that it had received an overwhelming response to a job advertisement for women to work in airports and land-border crossings, when 107,000 women applied for 140 vacancies. Earlier this month, the Kingdom's public prosecution office said that it would recruit women as investigators for the first time. The applicants should be Saudi citizens, be of good standing and be a holder of a degree in Shariah or information technology, from one of the Kingdom's colleges or its equivalent.
https://www.khaleejtimes.com/region/mena/saudi-arabia-opens-security-jobs-to-women
--------
Mass Sexual Assault Of Pakistani Woman At Party Rally In Punjab, Pakistan
28 February 2018
A female local leader in the Pakistan Muslim League party was sexually harassed by a group of men on Tuesday according to a video shared by local Pakistani media.
The incident occurred in the city of Pattoki in Punjab, Pakistan's most populous province, after the party's newly elected interim president Shehbaz Sharif addressed a crowd of people.
According to the Tribune, the woman was cursed, shoved and injured following the Punjab chief minister's speech.
The victim called on the party's newly elected president to take action against the men who harassed her, adding that this is not the first rally that she has attended, the newspaper reported.
The Government of Punjab announced on their official Twitter account that one of the harassers, identified as Mohsin, was arrested. They added that there are ongoing raids to catch the rest of the perpetrators.
Punjab officials condemned the incident, including Punjab Law Minister Rana Sanaullah and the Muslim League party's spokesperson who said that strict action will be taken against those involved in the assault.
https://english.alarabiya.net/en/News/world/2018/02/28/WATCH-Pakistani-woman-gets-sexually-assaulted-by-group-of-men-at-party-rally-in-Punjab.html
--------
Syrian women 'exploited for sex by aid delivery workers'
28 February 2018
LONDON: Men delivering humanitarian assistance for the UN and other international charities are trading aid for sexual favors from women in Syria.
According to an explosive BBC report, warnings about sexual exploitation were issued at least three years ago. One aid worker claimed the aid sector has known about the problem for much longer.
Danielle Spencer, a charity adviser, told the BBC: "Sexual exploitation and abuse of women and girls has been ignored. It has been known about and ignored for seven years.
"The UN and the system as it currently stands have chosen for women's bodies to be sacrificed."
Spencer said she first heard the allegations in March 2015 from a group of Syrian women living in a refugee camp in Jordan. They told her men from local councils in areas including Quneitra and Daraa had demanded sex in exchange for aid.
"They were withholding aid that had been delivered and then using these women for sex," Spencer told the BBC. "Some had experienced it themselves, some were distraught.
"I remember one woman crying in the room and she was very upset about what she had experienced. Women and girls need to be protected when they are trying to receive food and soap and basic items to live. The last thing you need is a man who you're supposed to trust and supposed to be receiving aid from then asking you to have sex with him and withholding aid from you."
The alleged perpetrators are said to be "third parties" employed on the ground and local officials. Their cooperation is needed to get aid into dangerous parts of Syria, meaning some aid agencies are prepared to turn a blind eye to corruption and even criminality.
Despite warnings, the practice is now so widespread in southern Syria that some women refuse to enter distribution centers out of fear that people will assume they are offering sex in exchange for aid provisions.
"(The problem) was so endemic that they couldn't actually go without being stigmatized," said Spencer. "It was assumed that if you went to these distributions, you will have performed some kind of sexual act in return for aid."
"Voices from Syria 2018," a study carried out by the UN Population Fund (UNFPA) last year, found the practice was common in various provinces of Syria.
Women or girls would marry officials for a short time in order to receive food in exchange for "sexual services." Aid distributors would ask for telephone numbers of women and girls and offer them lifts to their homes "to take something in return," such as a visit to spend the night in exchange for aid parcels.
Lone women, including widows and displaced persons, are "particularly vulnerable to sexual exploitation," said the UNFPA report.
In June 2015, a survey of 190 women and girls by the International Rescue Committee in Daraa and Quneitra found around 40 percent claimed sexual violence had taken place when accessing services, including humanitarian aid.
Both reports were presented at a meeting of UN agencies and international charities hosted by the UNFPA in Amman, Jordan, the following month. As a result, some aid agencies tightened up their procedures.
One charity, Care, stopped using local councils to distribute aid and set up a complaints mechanism, but was refused permission to carry out studies in refugee camps in Jordan.
The UNFPA said it had heard of possible cases of exploitation and abuse of women in southern Syria from Care, but stressed it does not work with local councils as distribution partners. There were no allegations of abuse concerning the two NGOs it works within southern Syria.
The UN's children's charity UNICEF was one of the organizations at the July 2015 meeting in the region. It carried out a review of its local parties and contractors in southern Syria and introduced better training. No accusations have come to light so far.
A spokesman for the UN High Commissioner for Refugees said the allegations were known in 2015, but there was not enough information to identify and take action against individuals. The organization has now commissioned new research.
http://www.arabnews.com/node/1255966/middle-east
--------
Hadiya Case: Conversions Of A.R. Rahman, Muhammed Ali, Kamala Surayya Cited
FEBRUARY 28, 2018
Not all who embrace Islam are victims of indoctrination, says an affidavit filed by Popular Front of India leader.
Oscar-winning music composer A.R. Rahman, boxing legend Muhammed Ali and poetess Kamala Surayya have found a mention in the Hadiya case before the Supreme Court.
The Hadiya case involves a 26-year-old homoeopathy student in Kerala, who converted to Islam and subsequently married a Muslim man. The State High Court annulled the marriage. Hadiya was later set free from the custody of her father by the Supreme Court. The apex court is now examining the question whether a court can annul marriages between adults and intervene in a woman's right to choose her husband.
Sainaba A.S. of the women's wing of the Popular Front of India highlighted these reputed names in the apex court to prove a point that not all who embrace Islam are victims of radicalisation or indoctrination.
In an affidavit filed before a three-judge Bench led by Chief Justice Dipak Misra, Ms. Sainaba said "a number of world-renowned intellectuals and personalities from different walks of life have embraced Islam all over the world and nobody can say that they so embraced Islam because of indoctrination, brainwashing, radicalisation, etc."
"Madhavikutty [a famous poetess hailing from Kerala itself], who embraced Islam at the age of 65 and since changed her name as Kamala Surayya, A.R. Rahman, the world famous musician and prestigious Oscar Award winner, who embraced Islam along with his family and Muhammed Ali [formerly Casius Clay], who is a former world champion in boxing, are only a few in the series," the affidavit said.
NIA's charge
Ms. Sainaba was responding to allegations earlier made by the National Investigation Agency and Hadiya's father that young women like Hadiya are "brainwashed" and nudged into conversion by a "well-oiled network."
Ms. Sainaba's name was referred as being directly involved in the Hadiya case.
She said that no court in the country had prevented Hadiya from embracing Islam or continuing as a Muslim or getting married as per her will or preventing anybody from assisting her in her marriage with a boy of her choice. "There has never been any prohibitory injunction or order, whatsoever at all, from any court," the affidavit said.
http://www.thehindu.com/news/national/hadiya-case-conversions-of-ar-rahman-muhammed-ali-kamala-surayya-cited/article22871983.ece
--------
Conference on Contribution of Women in Islamic Studies Commences At International Islamic University
Feb 28, 2018
ISLAMABAD: A two-day international conference on "contribution of women to various discourses of Islamic studies in contemporary times" commenced here at Faisal Mosque campus of International Islamic University, Islamabad (IIUI) on Tuesday.
The conference would discuss concurrent trends in Seerah writing, Islamic intellectual thought and social welfare services, scholarships of Islamic studies in different regions, as well as the study of Quran and Hadith. It will also discuss dissemination of religious education and the employing of literary approaches to the study of Islam through national and international scholars from Pakistan, USA, Germany and Algeria.
The conference has been jointly organised by the faculty of Islamic studies of the university, Iqbal International Institute for Research and Dialogue and higher education commission (HEC).
Famous Islamic scholar Dr Farhat Hashmi in her address stressed upon a match in actions and knowledge. She opined that a disparity in the gained knowledge and practical life was a source of most of the issues.
She also hailed women Muslim scholars for contributing to the field of Islamic studies and hoped for valuable recommendations.
Loyola University, Chicago, Islamic World Studies Programme Director Dr Marcia Hermensen stressed upon women Islamic scholars to take the role as public intellectuals and utilize media and social media with a special focus on the involvement of religion in public affairs to solve the contemporary issues.
She also discussed injustice in various western societies regarding Muslim women.
Dr Marcia urged for searching connection between present and past of Islam for dealing with the contemporary challenges.
IIUI Acting President Dr Muhammad Bashir shed light on Islam and its role in lives of females. He opined that Islam gave prerogatives of respect, education and inheritance, while it made women the builders of the family.
He further said that teaching and preaching of Islam through Muslim women was an important aspect which Muslim societies must focus on. He added that it would be a significant conference to explore possible ways of women contribution in Muslim societies.
Dean of the Faculty of Islamic Studies at IIUI Dr Haroonur Rasheed in his welcome address said that the conference was aimed at producing best recommendations and explore the role of women in the subject, and devise a roadmap of opportunities for female accomplishments in this regard.
https://www.pakistantoday.com.pk/2018/02/27/conference-on-contribution-of-women-in-islamic-studies-commences-at-iiui/
--------
Know Who the Three Saudi Women Are Appointed In Top Roles by Royal Decree
27 February 2018
Saudi King Salman appointed three women in top leading roles via an official royal decree on Monday Night.
The first is Dr. Tamadr bint Yousif Al-Rammah, Deputy Minister of Labor and Social Development. She holds a PhD in Radiology and Medical Engineering from the University of Manchester's School of Medicine, and was a Deputy Minister of Labor and Social Affairs for Saudization.
Professor Kawther bint Mousa Al-Arbash was also appointed as a member of the Board of Trustees of the King Abdulaziz Center for National Dialogue.
She holds a BA in Business Administration from King Faisal University and was a member of the Shura Council.
Dr. Ghada Bint Ghunaim Al-Ghunaim has also been named as a member of the Board of Trustees of King Abdulaziz Center for National Dialogue.
She holds a PhD in Conflict Analysis and Solutions from the University of South-East Nova in America.
https://english.alarabiya.net/en/features/2018/02/27/Know-who-are-three-Saudi-women-appointed-in-top-roles-by-royal-decree.html
--------
URL: https://www.newageislam.com/islam-women-feminism/saudi-arabia-opens-security-jobs/d/114444
New Age Islam, Islam Online, Islamic Website, African Muslim News, Arab World News, South Asia News, Indian Muslim News, World Muslim News, Women in Islam, Islamic Feminism, Arab Women, Women In Arab, Islamophobia in America, Muslim Women in West, Islam Women and Feminism