New Age Islam News Bureau
18 Jan 2019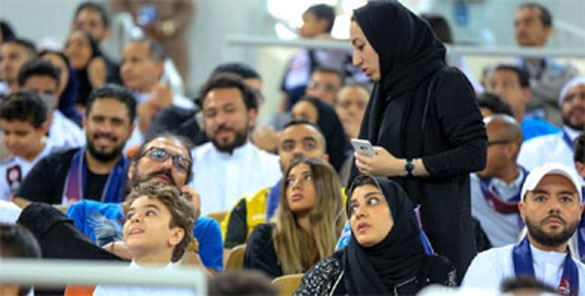 Engrossed fans at the Italian Super Cup match in Jeddah on Wednesday.
------
• 'A Lifetime Experience,' Say Saudi Women Flocking Jeddah Stadium
• Women to Join Levies Force in Bajaur Soon
• Sudan Women Join Protests to Fight for Their Rights
• NIA Hands over Case Documents to Aasiya Andrabi
• Muslim-American Activist Noor Tagouri Misrepresented As Pakistani Actress by Vogue
• Yemeni Activists Accuse Houthis of Detaining, Torturing Women over Made-Up Charges
• Polygamy Harms Muslim Women and Canada Should Not Tolerate It
Compiled by New Age Islam News Bureau
URL: https://www.newageislam.com/islam-women-feminism/saudi-arabia-gives-women-full/d/117498
--------
Saudi Arabia Gives Women Full Control over Childbirth Procedures
Mina Aldroubi
January 17, 2019
Pregnant women in Saudi Arabia are no longer obliged to acquire consent from male guardians over childbirth procedures.
This includes decisions on how they want to deliver and whether they want to undergo a Caesarean section or any other surgical procedure.
Women are also allowed to request information on the status of their pregnancy and their expected due date without a signature from their male guardian.
Previous regulations required women to obtain signed approval from their male guardians over a wide range of procedures linked to childbirth.
The move comes as part of a larger bid by the Kingdom to give women greater freedoms.
It is also a part of Crown Prince Mohammed bin Salman's Vision 2030 to modernise the Kingdom and to add US$90 billion (Dh330bn) to economic output by 2030.
Saudi Arabia's Health Ministry announced the new regulations on Wednesday.
It said women now have the authority to approve procedures themselves.
"Women must have the right to access information and to choose the details of a natural birth from a wide range of options," the ministry said in a statement on Twitter.
Pregnant women have the option to have a companion with them during the time of birth, this could be a family member or a friend, the ministry confirmed.
"They are also permitted to move during labour [to walk] unless they have been advised otherwise due to their health conditions," the statement said.
The move was hailed by Twitter users that described the development as a "positive step towards empowering women."
Last June, the Kingdom granted women greater independence by lifting a driving ban and allowing them to attend football matches.
The shift towards women driving in Saudi will transform the country's employment market by enhancing women's participation in the workforce.
More than 120,000 Saudi women have applied for driving licences, according to statistics released by Saudi's Interior Ministry last July, and six driving institutes for women have been established across the country.
The United Nation welcomed the lifting of the ban and said it hoped the move would generate new opportunities for women in the kingdom.
Prince Mohammed, appointed heir to the most powerful throne in the Middle East, has also lifted a ban on cinemas and mixed-gender concerts, following his vow to return the kingdom to moderate Islam.
Last February, a member of the Council of Senior Scholars, Sheikh Abdullah Al Mutlaq, announced that Saudi women need not wear the abaya.
Women in Saudi Arabia are required to wear an abaya in public, but Sheikh Al Mutlaq pointed to the fact that more than 90 per cent of Muslim women around the world do not wear the loose fitted garment.
Sheikh Al Mutalq said "Muslim women should dress modestly, but that this did not necessitate wearing the abaya."
https://www.thenational.ae/world/mena/saudi-arabia-gives-women-full-control-over-childbirth-procedures-1.814840
--------
'A Lifetime Experience,' Say Saudi Women Flocking Jeddah Stadium
2019-01-17
JEDDAH — The King Abdullah Sports City (KASC) stadium reverberated with loud cheers from men and women at the gallery on Wednesday as Italy's Juventus and AC Milan turned in a nail-biting contest, with the former winning its eighth Super Cup Crown with the winning goal scored by Cristiano Ronaldo in the 61st minute.
Without the need of men to accompany them, thousands of women thronged KASC on Wednesday for the match, brushing off a controversy over entry restrictions.
With painted faces and banners, female football fans entered the stadium here through designated turnstiles for "families", solo women, or with their family.
Women at a football stadium in Saudi Arabia is not a new phenomenon, especially in this stadium that opened its doors to women fans last year to watch a football match between Al Ahli and Al Batin thus becoming the first sport stadium in the country to welcome women.
Nevertheless, thousands of women fans cheering their team at an international football match in a Saudi stadium were a new sight. An estimated 62,000 people attended the game, with more than 15,000 women among the crowd, either alone or accompanied by men.
Italian football league president Gaetano Micciche hailed the turnout as a success. Micciche said, "The presence of women in the stadium would go down in history as the first international competition that Saudi women were allowed to watch in a stadium."
The claimed restriction that women can't enter the stadium alone had sparked in Italy, once the Super Cup was announced to take place in Saudi Arabia.
"This was a moment I'll always remember in my life," said Aida, 20, who gave one name and who attended the match with her two sisters. "As an avid football fan, this moment has a great significance in my life as well as in the lives of my sisters."
For Akila Al Hammadi, 19, "What can be better than watching Ronaldo scoring a goal on Saudi soil?"
Other women echoed similar feelings, many of them through their expression of joy and elation at being able to finally see international football on their home turf.
''It was my first time at a football match in my country. I was upset that I couldn't see my favorite local team Al-Hilal play in Riyadh last year even though women were allowed into stadiums for the first time," said Ameera Al Gandeel, a Saudi single mother of three.
"Luckily, I had a business meeting in Jeddah on Wednesday and my daughter badly wanted to see Ronaldo and I managed to take her along. Seeing my daughter's excitement made me recall my childhood days in the 1990s. I never had the privilege of setting foot into the stadium and cheer alongside male fans."
Saudi Arabia is the fifth nation to host the Italian Super Cup outside of Italy. Thanks to Vision 2030, the Kingdom's road map for the future has entrusted the work of nation-building equally to men and women, by promising to create equal opportunity for both in the job market and in society.
Prince Abdulaziz Bin Turki Al-Faisal, chairman of the General Sports Authority, the organizer, awarded Juventus the 2019 Italian Super Cup on Wednesday at the stadium.
The sports authority signed an agreement with the Italian Football Federation in June 2018 as part of a plan by of authority to promote sports in the Kingdom in line with the objectives of Vision 2030. — Agencies
http://saudigazette.com.sa/article/557086
--------
Women to Join Levies Force in Bajaur Soon
January 18, 2019
PESHAWAR: Khyber Pakhtun­khwa Chief Minister Mahmood Khan has issued directives for the appointment of 20 female Levies personnel in Bajaur district.
The Chief Minister Secretariat has sent a letter to the home and tribal affairs secretary, asking him to appoint female personnel against vacant posts.
"Chief Minister KP has been pleased to desire appointment of 20 female levies searchers in Bajaur district against vacant posts," it said, adding that necessary actions would be taken as per the rules.
On Wednesday, the provincial establishment department notified to the erstwhile Fata law and order management to the provincial home and tribal affairs department.
A notification issued here said that in pursuance of integration and merger of erstwhile Fata with Khyber Pakhtunkhwa province in order to provide a better line of administrative management, law and order department of merged areas secretariat along with auxiliary sections would report to the secretary home and tribal affairs of KP. The department was previously reporting to the additional chief secretary Fata.
https://www.dawn.com/news/1458232/women-to-join-levies-force-in-bajaur-soon
--------
Sudan Women Join Protests to Fight for Their Rights
January 17, 2019
Sudanese protester Aseel Abdo said she had to leave her family home after being threatened with arrest for joining demonstrations against President Omar Al Bashir that have rocked the country.
"I will continue to protest, even if it takes years to bring down this regime," said the 26-year-old, who has marched along with hundreds of people in the anti-government demonstrations in Khartoum.
Deadly protests have rocked Sudan since December 19 when angry crowds first took to the streets after the government tripled the price of bread.
Women have joined in even as the protests turned against the government and escalated into bloody confrontations in which officials said at least 24 people have been killed.
Dressed in headscarves, they can be seen in nearly all of the footage of the protests shared on social media, which in turn has helped to convince even more women to take to the streets.
Clapping, ululating and whistling, women have been seen encouraging fellow demonstrators to press on with the rallies even when clashes have erupted between police and protesters.
Many who live in areas where the demonstrations are staged have been seen offering tea and juice to protesters as they pass by, witnesses said.
For Ms Abdo, it was a strong desire to fight for women's rights that made her want to take part in the demonstrations.
"This regime has some of the worst laws against women," she told AFP, speaking over WhatsApp for safety reasons.
"You could be arrested for wearing trousers or if your scarf is not covering your hair properly."
Ms Abdo, who carries a first aid box to protests to help those who are injured, said she has been changing her residence every few days to avoid arrest.
Hundreds of women have been sentenced to flogging under a controversial public order law in Sudan, activists said.
The decades-old law, they add, also imposes punishments including hefty fines and jail terms, and targets mainly women, including those selling tea on the streets of Khartoum.
A Sudanese court sparked outrage last year when it sentenced teenager Noura Hussein to death for the "murder" of her husband, who she accused of raping her after a forced marriage.
An appeals court later commuted the death sentence to a five-year jail term, after the case drew international condemnation.
Hussein's plight put the spotlight on issues facing women in Sudan such as marital rape, child marriage, forced marriage and the arbitrary application of Islamic law, along with tribal traditions that often target them.
The protests have given a new voice in the fight for women's rights, said Emad Badwai, a mother of two and a regular at the anti-government rallies.
"When I chant 'Freedom, peace and justice,' I'm hoping to see an end to discrimination against women," she said.
For Ms Abdo there is also a deep-rooted grievance that motivates her to protest.
"Bashir's regime has committed the worst crimes against the people of Darfur," said Ms Abdo, who hails from the western region torn by a devastating conflict.
The war in Darfur erupted in 2003 when ethnic minority rebels took up arms against Khartoum's Arab-dominated government, accusing it of economic and political marginalisation.
The United Nations said about 300,000 people were killed and another 2.5 million displaced, most of them still living in sprawling camps.
President Bashir has been charged by The Hague-based International Criminal Court with genocide and war crimes allegedly committed in Darfur.
Ms Abdo said she had started a non-governmental organisation to oppose child marriage in Darfur, but authorities immediately shut it down.
"They told me that my place was in the kitchen and I should wash dishes," said Ms Abdo.
Observers said the protests have managed to unite people from different tribes and ethnicities.
"In these protests, I have seen my fellow Sudanese transcend above the embedded racism in our society," said Babiker Mohamed, a Washington-based humanitarian aid official.
"Protesters chanting 'We are all Darfur' while marching in the streets gives us all hope that change is inevitable."
For Ms Badawi it was indeed time for a change in Sudan.
"Even my 11-year-old son is surprised to know that President Bashir has been ruling for 30 years," she said.
https://www.thenational.ae/world/africa/sudan-women-join-protests-to-fight-for-their-rights-1.814532
--------
NIA Hands over Case Documents to Aasiya Andrabi
Jan 17, 2019
NEW DELHI — The NIA Thursday handed over copies of electronic and documentary evidence to Dukhtaran-e-Millat head Aasiya Andrabi in a case against her for allegedly "waging war against the country".
The National Investigating Agency (NIA) supplied the documents, flied along with the charge sheet, to Andrabi and her two associates -- Sofi Fehmeeda and Naheeda Nasreen -- on the court's directions.
The agency also informed special judge Rakesh Syal that a report from Central Forensic Science Laboratory (CFSL), Chandigarh was awaited and would be handed over to her later.
The accused were produced before the court. The three are currently lodged in Tihar Jail under judicial custody.
The court has now put up the matter for further hearing on March 5 for scrutiny of documents.
The three were arrested by the Jammu and Kashmir Police in April last year and the case was later transferred to the NIA in July.
According to the NIA, Andrabi, Fehmeeda and Nasreen were using various social media platforms such as Twitter, Facebook and YouTube and TV channels, including some in Pakistan, to spread "insurrectionary imputations and hateful messages and speeches against India".
https://kashmirobserver.net/2019/local-news/nia-hands-over-case-documents-aasiya-andrabi-39514
--------
Muslim-American Activist Noor Tagouri Misrepresented As Pakistani Actress by Vogue
January 18, 2019
Globally renowned magazine Vogue misidentified Muslim-American journalist Noot Tagouri as Pakistani actress Noor Bukhari in its February issue.
The Libyan American activist took to Instagram to share her feelings on the gaffe that American Vogue had made.
In an emotional post Tagouri wrote, "I'm so heartbroken and devastated. I have been misrepresented and misidentified multiple times in media publications — to the point of putting my life in danger. I never, ever expected this from a publication I respect so much and have read since I was a child."
Tagouri had been expecting a life-altering feature on her struggles and achievements by Vogue only to find out that the publication had misrepresented her as actress Noor Bukhari.
Tagouri further stated that misidentification is "a constant problem if you are Muslim in America," and is among the obstacles that she continually faces through her work as an activist. With this latest incident, she wrote that she feels "defeated."
However, Tagouri continued to strike a discourse on Twitter to educate people on the occurrence and even wrote an email to Vogue to ensure that there wouldn't be an issue with mislabelling.
The publication shortly after addressing the matter issued an apology to Tagouri on its social media channels.
"We were thrilled at the chance to photograph Tagouri and shine a light on the important work she does, and to have misidentified her is a painful misstep. We also understand that there is a larger issue of misidentification in media—especially among nonwhite subjects," read the post.
https://www.thenews.com.pk/latest/420587-muslim-american-activist-noor-tagouri-misrepresented-as-pakistani-actress-by-vogue
--------
Yemeni Activists Accuse Houthis of Detaining, Torturing Women over Made-Up Charges
January 18, 2019
SANAA: Yemen's Houthi militias hold dozens of women without bringing them to trial or charging them with a crime, often torturing the detainees and blackmailing their families, activists said on Thursday.
The allegations were first raised over the weekend by the Yemen Organization for Combating Human Trafficking, based in the capital, Sanaa.
The group's founder, Nabil Fadel, said he received information from families, former female detainees, and other sources showing that over the past months, the Houthis have been rounding up women over allegations of prostitution and collaboration with the Saudi-led coalition.
A Yemeni rights lawyer on Thursday said the women were rounded up from cafes and parks in the past months. Speaking on condition of anonymity for fears for personal safety, he said their families are searching for their missing daughters.
The Yemeni anti-trafficking group said it obtained new information showing that the militias were carrying out atrocities such as "abuse, torture, and forced disappearances of women and girls in secret and illegal prisons."
An AP investigation last month showed that thousands of Yemenis have been imprisoned by the Houthi militia during the four years of Yemen's grinding civil war.
Many of them suffered extreme torture — being smashed in their faces with batons, hung from chains by their wrists or genitals for weeks at a time, and scorched with acid.
http://www.arabnews.com/node/1437411/middle-east
--------
Polygamy Harms Muslim Women and Canada Should Not Tolerate It
Farzana Hassan
January 17, 2019
Will Canadian Muslim women soon have their own #MeToo movement?
A headline for a CBC Fifth Estate online story reads: "A man cannot do that to a woman: why polygamy in Canadian Muslim community could be another #MeToo moment." The story involved a woman called Zaib, whose last name was withheld for her own safety.
Many of the left-wing activists within #MeToo who point to alleged harassment from years ago now display little interest in the woes of Muslim women marginalized in their own communities. But the soul-destroying practice of polygamy must nonetheless be brought into the open in the hopes that someone of influence cares enough to do something about it.
Zaib said she "went into shock mode" when her husband broke the news that he had taken a second wife.
"I started getting the symptoms of anxiety, depression and crying spells" she told the CBC's Fifth Estate. Her husband offered the pathetic consolation that he had no intention of abandoning her or their three children and would continue to provide for her.
She was so depressed she had to take time off work. She believes that other Muslim women face similar predicaments, but stay quiet, and that if they also spoke out, something might be done to help eliminate polygamy in Canada. She believes the law should insist that a man can never do such a thing to a woman.
Polygamy is a sensitive topic in Islam, an issue on which the sacred word most clearly conflicts with modernity.
The Islamic provision is to treat all wives with respect and equality and if a husband can't ensure that, then only take one wife. However, conditions for equality, respect and dignity all become meaningless in an institution that is inherently unjust, disrespects women and creates unfair dominance by males.
The very fact that a man seeks another wife shows disrespect from the outset. It tells her she alone is not good enough for him. Any suggestion that such a system can ever deliver marital equality is clearly absurd.
That is why some scholars of the Quran suggest polygamy is in effect not allowed. Others see such interpretations as convenient modern manipulations of ancient mores and practices. Who can deny the written word of the Quran? Hence the continuation of the practice of polygamy.
Some Muslim men have contracted polygamous unions outside Canada. In 2011, the B.C. Supreme Court ruled that polygamy is unconstitutional and reasonably decided that the damage polygamy does to both women and children is more important than maintaining religious and cultural freedom. An enlightened judgment.
Even Imam Hamid Slimi of Toronto, who by all standards would be considered mainstream Muslim, told CBC that "the way polygamy is practiced today is unfair to women."
That is progress, but it's still too conciliatory, because polygamy must never be deemed an acceptable practice. The social circumstances that occasioned the Islamic provision for polygamy in the seventh century have been irrelevant for a millennium.
Canada needs to do more to monitor cases of polygamous unions that occur even here under the immigration guise of "other relationships."
Remember the Shafia family? The first of the two wives was brought in as an aunt of the children.
Of course, Canadian law cannot stop men from remarrying abroad, but on home soil it must treat such unions as illegal, profoundly hurtful and utterly disrespectful to women.
https://torontosun.com/opinion/columnists/hassan-polygamy-harms-muslim-women-and-canada-should-not-tolerate-it
--------
URL: https://www.newageislam.com/islam-women-feminism/saudi-arabia-gives-women-full/d/117498
New Age Islam, Islam Online, Islamic Website, African Muslim News, Arab World News, South Asia News, Indian Muslim News, World Muslim News, Women in Islam, Islamic Feminism, Arab Women, Women In Arab, Islamophobia in America, Muslim Women in West, Islam Women and Feminism