New Age Islam News Bureau
12 Apr 2019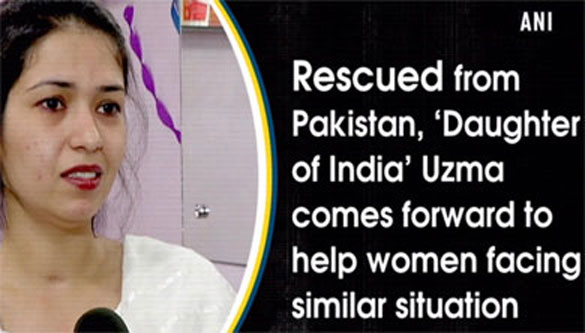 • Hindu Girls Weren't Forcibly Converted: Pakistan Court
• Rescued From Pakistan, Uzma Comes Forward To Help Women Facing Similar Situation
• Iddah: Giving Muslim Women Time To Grieve And Reflect After The Christchurch Attacks
• Women Lead the Charge, And Chants, In Sudan Protests
• TV show reunites Dutch woman with Turkish sister
• Egypt Female Students Protest After Al-Azhar Campus Rape Covered Up
Compiled by New Age Islam News Bureau
URL: https://www.newageislam.com/islam-women-feminism/saudi-arabia-executes-first-female/d/118304
--------
'Saudi Arabia Executes First Female Pakistani Prisoner in Five Years'
April 12, 2019
Saudi Arabia executed a Pakistani couple accused smuggling drugs, Saudi Press Agency reported Thursday.
According to Justice Project Pakistan, Fatima Ijaz is the first Pakistani woman to be executed in Saudi Arabia since 2014.
The rights group said that three Pakistani nationals, Ijaz, her husband Muhammad Mustafa and Abdul Malik, were executed in the Kingdom.
Related story: Crown prince orders the immediate release of 2,107 Pakistani prisoners in Saudi Arabia
"Saudi Arabia has executed more than 100 Pakistanis in the past five years," the rights group said in a statement. "The Kingdom executes more Pakistanis than any other foreign nationality, with 20 executions in 2014, 22 in 2015, 7 in 2016, 17 in 2017, 30 in 2018 and 14 this year so far."
"It is extremely disheartening to know that the Kingdom of Saudi Arabia has executed its first female Pakistani prisoner in five years," Sarah Belal, the executive director of Justice Project Pakistan, said in a statement.
She called Ijaz's execution a "gross failure" of the Pakistani mission to do its constitutional duty.
"The government of Pakistan must utilise all diplomatic channels to compel the Saudi government to halt the executions of Pakistanis facing the harshest punishment," she added.
Prime Minister Imran Khan had informed Saudi Arabia's Crown Prince Mohammed bin Salman that there were 3,000 Pakistani prisoners in Saudi Arabia.
"We would just like you to bear in mind that they are poor people who have left their families behind," PM Khan said.
The crown prince told PM Khan to consider him Pakistan's ambassador in Saudi Arabia. "We cannot say no to Pakistan … whatever we can do, we will deliver that," he said.
https://www.samaa.tv/news/2019/04/saudi-arabia-executes-first-female-pakistani-prisoner-in-five-years/
--------
Hindu Girls Weren't Forcibly Converted: Pakistan Court
APRIL 11, 2019
A Pakistani High Court on Thursday declared that the two Hindu teenage sisters were not forcibly converted from Hinduism to Islam, and permitted them to live with their spouses, according to a media report.
The two girls, Raveena (13) and Reena (15), and their spouses petitioned the Islamabad High Court on March 25 against alleged harassment by police days after their father and brother alleged that the girls were underage, abducted, forced into changing their religion, and then married off to Muslim men.
In their plea, the girls claimed that they belong to a Hindu family of Ghotki, Sindh but converted willfully as they were impressed by Islamic teaching, Dawn reported.
The counsel for the girls' parents, however, asserted that the case pertained to forced conversion.
Chief Justice Athar Minallah constituted a five-member commission to probe whether the conversion of the Hindu sisters to Islam was forced or otherwise.
The commission comprising Human Rights Minister Shireen Mazari, prominent Muslim scholar Mufti Taqi Usmani, Human Rights Commission of Pakistan Chairperson Dr Mehdi Hasan, National Commission on the Status of Women Chairperson Khawar Mumtaz and veteran journalist and human rights activist I.A. Rehman probed the matter and concluded that it was not a forced conversion, the report said.
The secretary interior, Azam Suleman, apprised the the high court about the findings of the commission, and told the court that as per the commission's opinion, it was a facilitated conversion, the report said.
Mr. Rehman pointed out in court that "there is no law in Pakistan against forced conversions" and sought a court decree in this regard.
Mr. Minallah remarked that the case of the Ghotki sisters was a simple one and would have been decided in a day or so, but a commission comprising eminent professionals and scholars was constituted keeping in view the sensitivity of the case since "the court wanted to ensure this was not a forced conversion".
Regarding the issue of forced conversions, the court sought the commission's recommendations within four weeks and adjourned the case until May 14.
The teenage sisters were allegedly kidnapped by a group of "influential" men from their home in Ghotki district in Sindh on the eve of Holi. Soon after the kidnapping, a video went viral in which a cleric was purportedly shown soleminising the Nikah (marriage) of the two girls, triggering a nationwide outrage.
Prime Minister Imran Khan also ordered probe to ascertain if the two girls were abducted and forcibly converted and married.
A war of words broke out between India's External Affairs Minister Sushma Swaraj and Pakistan's Information Minister Fawad Chaudhry over the reported abduction, forced conversion and underage marriages of the two Hindu teenagers.
The spat started soon after Ms. Swaraj sought details from the Indian envoy in Pakistan into the reported abduction of two Hindu teenaged girls.
Ms. Swaraj tweeted that she has asked the Indian High Commissioner in Pakistan to send a report on the matter.
Hindus form the biggest minority community in Pakistan.
According to official estimates, 75 lakh Hindus live in Pakistan. Majority of Pakistan's Hindu population is settled in Sindh province.
According to media reports, approximately 25 forced marriages take place every month only in Umerkot district in Sindh province.
https://www.thehindu.com/news/international/hindu-girls-werent-forcibly-converted-pakistan-court/article26810072.ece
--------
Rescued From Pakistan, Uzma Comes Forward To Help Women Facing Similar Situation
April 11, 2019
New Delhi [India], Apr 11 (ANI): Uzma Ahmed made headlines way back in 2017 when she was rescued by the Indian High Commission from Pakistan.
Uzma had fallen in love with a Pakistan national in 2017 in Malaysia. But all her dreams were shattered when she was kept as a hostage by him in remotely situated Khyber Pakhtunkhwa for a month.
After two years of struggle of fighting bitter memories, she has decided to come forward to help women who face a similar situation, and her painful experience in Pakistan inspired her to take this initiative.
Speaking to ANI, Uzma said: "I am planning to start a helpline number and NGO with the name 'Daughter of India.' It will help women, who have been kept hostages in Pakistan."
"I want to give a message to those women who have bitter experiences. They must flush out old memories and start a new chapter of their lives."
"People were not ready to accept me when I returned from Pakistan," she added.
"It took me two years to overcome the trauma and flush out bitter memories. When I came back to India, the people in my locality were not ready to accept me," she recalled.
Thanking External Affairs Minister Sushma Swaraj, she said: "She is like my mother. She gave me a second life. She could not visit my beauty parlour but sent her best wishes."
Soon a biopic will also be made on Uzma's life and her stay in Pakistan.
"I want to thank Rakesh ji for producing a film on my life. The work is in progress," she informed.
https://www.business-standard.com/article/news-ani/rescued-from-pakistan-uzma-comes-forward-to-help-women-facing-similar-situation-119041101567_1.html
--------
Iddah: Giving Muslim Women Time To Grieve And Reflect After The Christchurch Attacks
April 12, 2019
Muslim women left widowed after the Christchurch attacks are now facing a waiting period called the Iddah, as required by their religion. Isra'a Emhail spoke to Ustadah Um Muhammad, an Islamic teacher from Dar al Quran, about what this means.
The iddah is a waiting period that a Muslim woman observes after the death of her husband or after a divorce. The Quran says:
For those men who die amongst you and leave behind wives, they (the wives) must confine themselves (spend iddah) for four months and ten days. (V 228 - Chapter 2: Al Baqarah)
For women who were widowed during the recent massacre in Christchurch, this injunction applies and it will, therefore, be required for them to observe the 'iddah' (waiting period) for 130 days. The exception is if the widowed woman is pregnant, then her waiting period (iddah) ends when she gives birth to the child.
The iddah must be observed in the house where she was living with her husband. She is required to stay at home in mourning and not leave the house except for necessities. What constitutes a necessity varies depending on individual circumstances. (For example, a woman can leave the house for work, medical attention, attending to her own needs or those of her dependants, shopping, paying bills or similar activities). Once those tasks are completed, she should not linger and should return home.
The widow is required to avoid doing anything that focuses on her appearance during this period. She is prohibited from marrying or making any arrangements for marriage. Men are not allowed to propose to her during this period.
What is the purpose of iddah in Islam?
'Iddah' is specifically legislated in the Quran, whose text does not explicitly outline a reason for this rule. Jurists have offered various rationales for it, which may or may not encompass the divine prescription.
The waiting period allows for establishing if the widow is pregnant or not.
It offers her an opportunity to keep her residence and mourn her deceased husband without fear of eviction. She is given this time to grieve properly without feeling pressure to worry about other issues. In traditional Muslim societies, families and communities would visit her frequently and help with the care of her dependants and have this transition time to discuss and arrange for the next stage in her life.
The waiting period allows a fair time for a woman to grieve, mourn, reflect until she regains her balance and strength. Not mixing with strangers means that she is surrounded by supportive male members of her family and close females who will be protective and nurturing.
The prohibition to marry ensures that women do not rush into a relationship at a time when they may feel insecure, even panicky about being alone and unsupported. It affords them time to care for themselves and nurture their own spirituality and relationship with Allah through prayers and reflection.
https://www.radionz.co.nz/news/national/386943/iddah-giving-muslim-women-time-to-grieve-and-reflect
--------
Women Lead the Charge, And Chants, In Sudan Protests
11/04/2019
Sudan was a repressive place for women under Omar al-Bashir's Islamist 30-year reign. But women have reclaimed their voice during the latest anti-regime protests and are determined to secure their place in the future.
Dalia El Roubi was 10 years old when Omar al-Bashir seized power in a bloodless coup. She vividly recalls the drastic changes in her life when public order and civiclaws changed in Sudan shortly after the takeover.
"I clearly remember my childhood was taken away. We were young, but we dressed freely as teenagers and pre-teens," Roubi explained. "Suddenly, everything changed: The way we dress changed, our school uniforms changed. For my generation, it was a strange experience, we had a taste of freedom and then it suddenly transformed. We became sexualised objects and our bodies became a battleground for those in power."
Exactly three decades after the 1989 coup, the 41-year-old activist and member of the opposition Sudanese Congress Party said she was exhilarated by the leading roles women played on the front lines of the latest anti-government protests.
Speaking to FRANCE 24 in a phone interview from Khartoum – where she briefly tore herself away from demonstrations in the heart of the Sudanese capital to access her phone service – Roubi described incredible scenes. "Women are at the forefront, the leaders, here. It's not the stereotype of women in the background cheering the men. Women start chanting and we also regulate the chanting. If the chants include sexist statements or are discriminatory, we regulate it, we just explain, there's no aggression. It's a harassment-free zone, it's exceptional."
When the latest round of anti-regime demonstrations broke out in December, one of the protest chants described Bashir as weak and compared him to a woman. But demonstrators changed that tune after women began calling it out on social media.
The international community got a crash course in female power this week when a video of a young woman in a white toub, or traditional Sudanese robe, leading a lively protest song went viral.
Standing on top of a car in sneakers, matched with toub and traditional bridal jewellery, Alaa Salah, a 22-year-old architecture student, epitomised not just girl power, but also the cultural diversity that was suppressed during Bashir's reign.
Following the 1989 coup, Bashir's alliance with hardline Islamist politician Hassan al-Turabi saw an austere brand of Islamism imposed on an ancient land at the crossroads of African trade routes, where merchants from as far as India and Anatolia settled, bringing with them a cultural heterogeneity that was an integral part of Sudanese identity.
Salah's garment quickly turned into a symbol of cultural reassertion, a shout out to the Kandakas, or Nubian queens who ruled the Kush kingdom in what is now Sudan more than 3,000 years ago.
On Thursday, Sudanese Defense Minister Awad Mohamed Ahmed Ibn Auf announced the army had toppled and arrested Bashir and a transitional military council would rule the country for two years.
But demonstrators promptly rejected the military takeover, with the Sudanese Professionals Association, one of the main protest organisers, calling instead for a civilian transitional government to be put in place.
"We are definitely committed and focused on ensuring this is not a military coup and we're determined to make that clear. It's not a case of, 'The military is going to save us.' We don't want another Islamist with a different face," said Roubi.
A byword for human rights abuses
Sudan's future is being shaped in the days and months to come, and few protesters are likely to accept a two-year transition period led by Defense Minister Auf, a longtime Bashir loyalist who was blacklisted by the US in 2010 for his role in the Darfur conflict.
"The man who for the moment holds power, Awad Mohammed Ibn Auf, is himself associated with many of the atrocities that Bashir was responsible for in Darfur. He is alleged to have coordinated many of the attacks by the Janjaweed, the brutal militia that was so active and caused so many of the casualties in Darfur," explained FRANCE 24's chief foreign editor, Rob Parsons.
Under Bashir, Sudan turned into a byword for brutal human rights violations, including allegations of a genocide against Darfuri men, women and children during the conflict in western Sudan, which led to an indictment by the International Criminal Court (ICC) against the Sudanese strongman.
South of Darfur, in the Bahr al Jabal region, decades of brutal wars between the regime and the primarily Nilotic Christian populace finally led to the breakaway and independence of South Sudan, depriving Khartoum of the third-largest oil reserves in sub-Saharan Africa.
Women bear brunt of Bashir's brutality
But combatants who took up arms against Khartoum were not the only ones who suffered violations by Bashir's regime.
Sudanese women bore the brunt of the regime's violations, ranging from vaguely defined public morality laws that limited their movement without male guardians to corporal punishment such as lashings to severe abuses – including rape – by security forces while in detention.
Women's rights defenders were particularly targeted, in a systematic attempt by Sudanese authorities to silence female activists, lawyers and journalists, New York-based Human Rights Watch noted in a 2016 report.
Roubi herself was detained in 2013 during the "Sudan Change Movement," which broke out after the 2011 Arab uprisings. Activists say more than 200 people were killed in a crackdown by Bashir's security forces while Sudanese authorities reported around 70 deaths.
The arrest of a prominent, British-educated activist and former World Bank employee made headlines on pan-African websites. Upon her release, Roubi detailed the conditions of her detention in an interview with AFP.
Six years later, and on a milestone day in Sudan's history, Roubi was dismissive about her detention experience.
"More than 200 people were shot down in Khartoum in broad daylight. I was detained for eight days. My arrest was nothing compared to what others had to endure. It's a big problem – the lashings, interrogations, intimidation, beatings, families not knowing where their loved ones have disappeared. My case was different because it had high visibility, I was a World Bank employee and there was a different dynamic," she said.
'Strong-willed' women
During the latest protests, the fear of arrest was hardly an issue, Roubi said.
"There were thousands arrested since the demonstrations broke out in December. On March 8 (International Women's Day), they released some women prisoners and the government made a big deal about it. But we were ready to fill the jails. If we're all ready to go to jail, it stops being intimidating," she explained.
Bashir's ouster does not mean that freedom in Sudan is guaranteed, but Roubi is optimistic. "It makes me so hopeful when I see young women and men, who do not know what it was like before the repression, campaigning for change," she said.
Roubi is quick to clarify that Sudan had repressive regimes before Bashir. But, she explains, they concentrated on political and security issues and did not target women's rights.
Despite the Bashir regime's assault on women's rights, Roubi proudly notes that, "at a social level, we have always had strong female characters".
"It's very rare to find mothers, grandmothers, sisters, students who are not strong-willed. We Sudanese women are breadwinners, we work, we demand respect – that's our tradition."
Reclaiming a more tolerant past
While Sudan today is a Sunni Muslim-majority nation, most Sudanese Muslims adhere to the Maliki school of jurisprudence and are deeply influenced by Sufism, a more mystical branch of Islam. The form of Islam imported by the Muslim Brotherhood-linked Turabi and Bashir was alien to the syncretic nature of worship traditionally practiced in Sudan.
Bashir and the late Turabi had a political falling out and a rocky relationship after 1996, but that did not ease the pressure on women. In recent years, economic hardships – compounded by international sanctions and the loss of oil revenues from South Sudan – saw Bashir move closer to Saudi Arabia, with its brand of conservative Wahabbi Islam making inroads into the African nation.
Many activists of Roubi's generation could see the impact that decades of sustained hardline Islamism had on young women. "I was always frustrated discussing gender issues with younger women because the regime had changed their way of thinking," she said.
But that bleak assessment appears to have changed since the latest protests broke out last year.
"There's no generational divide now. Young women have shown so much resilience and courage, mobilising and campaigning. There are obviously discussions still to be had – some want more public participation but are socially conservative while others are not. But we all agree on women's participation in public life, in work and in leadership positions. Our voices now are louder and we're being heard."
https://www.france24.com/en/20190411-sudan-women-take-lead-protests-rights-overthrow-islamist-bashir
--------
TV show reunites Dutch woman with Turkish sister
12.04.2019
Monique Witteman had no idea she had a Turkish father until her mother told her the truth on her deathbed. The 55-year-old Dutch lawyer came to Turkey to search for her father, but instead found a sister in Hatice Köse.
The two women met on a daytime show on ATV after Köse thought Witteman might be the "daughter in the Netherlands" mentioned by her father, who was married to a Turkish woman in Turkey. Köse contacted the TV show on which Witteman appeared to appeal for the whereabouts of Mehmet Yıldız, her Turkish father.
The show's presenter, Müge Anlı, announced yesterday the results of a DNA test that showed the two were indeed the daughters of Yıldız, who was a Turkish worker in the Netherlands in the 1960s.
https://www.dailysabah.com/turkey/2019/04/12/tv-show-reunites-dutch-woman-with-turkish-sister
--------
Egypt Female Students Protest After Al-Azhar Campus Rape Covered Up
March 25, 2019
Hundreds of female students at Egypt's Al-Azhar University held a protest yesterday, accusing college officials of attempting to cover up the rape of a woman on campus the week before.
Screams were heard at a nearby park within the Assuit university compound at 6pm on 18 March when a student from the Arabic Language Faculty was assaulted and raped. Found with her clothes ripped and bloodied, she was quickly taken to hospital by fellow students, but died from a severe haemorrhage caused by her injuries.
The attacker was seen to have escaped by climbing over the compound wall, but in the aftermath of the student's death, university authorities denied that the incident had taken place. University officials claimed that the girl had travelled home for a holiday with her parents, despite eyewitness accounts to the contrary.
"The [Al-Azhar Media] centre has noticed that some of the social networking pages of anonymous stories about the incident … all containing false lies, without any specific facts that can be referred to, but only spreads confusion and panic among the students of Al-Azhar," the university said in a press release.
Officials later banned discussion of the assault, with a voice recording allegedly of Al-Azhar Vice President Osama Al-Raouf threatening students with dismissal and further legal action if they published any "rumours" about the incident on social media.
In response, students organised a demonstration calling for the university to acknowledge the incident, the housing administration to be held responsible for its negligence, and investigate the case to locate the perpetrator. Using the hashtag "The rights of student at Al-Azhar University", they shared videos and photos of the demonstration on social media.
However, in attempting to leave the campus, the protesters found themselves surrounded by security forces, who called on them to end the rally.
Videos from the protest show the women peacefully chanting, but security forces later closing the gates to the compound, accusing them of inciting others to protest. Two students are believed to have been detained in the demonstrations after testifying to having witnessed the assault.
Sexual assault has been identified as a persistent problem in Egypt; a 2017 report from the UN Women and Promundo found that some 60 per cent of women said they had been victims of some form of sexual harassment during their lifetimes.
However last August, Al-Azhar University issued a statement denouncing sexual abuse against women and calling for anti-harassment laws to be used to punish perpetrators.
"The holy Al-Azhar asserts that criminalising harassment must be absolute regardless of the context or conditions," the statement read. "Blaming harassment on a woman's clothing or behaviour is a wrong way of thinking. Harassment is an attack on a woman's privacy as well as her dignity and freedom. This appalling phenomenon also leads to the loss of the sense of security."
Initiatives to tackle sexual harassment in the country have also proven futile; in November an experiment conducted by grassroots media outlet Egyptian Streets found that approximately 95 per cent of calls made to a hotline dedicated to victims of sexual harassment in Egypt were ignored.
The president of the National Council of Women (NCW) which advertised the hotline had previously claimed that the rate of sexual harassment in Egypt was only 9.6 per cent in 2016, adding that 99 per cent of reports of abuse by women were invented.
https://www.middleeastmonitor.com/20190325-egypt-female-students-protest-after-al-azhar-campus-rape-covered-up/
--------
URL: https://www.newageislam.com/islam-women-feminism/saudi-arabia-executes-first-female/d/118304
New Age Islam, Islam Online, Islamic Website, African Muslim News, Arab World News, South Asia News, Indian Muslim News, World Muslim News, Women in Islam, Islamic Feminism, Arab Women, Women In Arab, Islamophobia in America, Muslim Women in West, Islam Women and Feminism