New Age Islam News Bureau
7 Oct 2017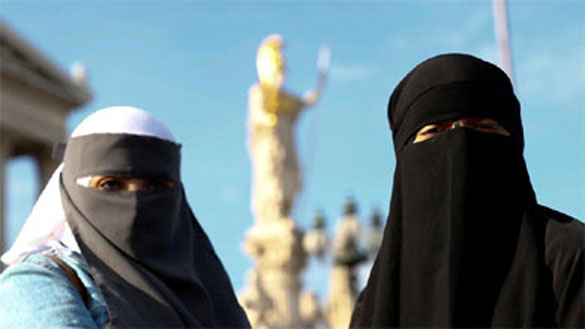 Demonstrators covering their faces participate in a protest called "The traditional clown's walk against the Burqa ban" in Vienna, Austria October 1, 2017. (REUTERS)
------
• Saudi Arabia 'Backs All International Efforts to Empower Women'
• Denmark Becomes Latest European Nation to Ban Niqab, Burqa
• Bengaluru Woman Was 'Confined, Assaulted' In Kerala Yoga Centre to Stop Inter-Faith Marriage
• Isis Calls On Women to Fight and Launch Terror Attacks for First Time
• Brought Together by Pain, 3 Girls Forced Into Marriage Have New Dreams
• Panel Discusses Women's Challenges in Saudi Arabia, Russia
• Iran: Women Arrested for Celebrating Iraqi Kurdistan's Independence
Compiled by New Age Islam News Bureau
URL: https://www.newageislam.com/islam-women-feminism/saudi-arabia-backs-all-international/d/112802
--------
Saudi Arabia 'backs all international efforts to empower women'
7 October 2017
NEW YORK: Saudi Arabia has stressed its willingness to cooperate in any international effort aimed at empowering women in any field, eradicating discrimination and violence against them, and improving their cultural, economic and health care in accordance with the principles of Islamic Shariah.
Ahlam Yankssar, first secretary at the Kingdom's permanent mission to the UN, said: "The Kingdom believes that women are an important factor in the workforce and that empowering them socially, economically and politically, providing them with a safe environment and services facilitating their national duties, and ensuring they receive their complete rights in different fields, will help drive the development process to achieve the Kingdom's Vision 2030."
Yankssar made these remarks during a general debate on women's advancement at the 72nd session of the UN General Assembly.
"The Kingdom's mission supports the recommendations of the secretary-general in his private report to improve the conditions of women in rural areas," added Yankssar. "We would like to indicate that Saudi Arabia has worked on providing educational and health care facilities in all its rural and urban areas and has made sure to provide mobile clinics as well in order to reach women in remote areas," said the diplomat.
The Ministry of Labor and Social Development has launched a national initiative to provide flexible job opportunities to women — especially those in villages — with the aim of promoting their financial independence, the diplomat pointed out.
Yankssar said the Kingdom had issued a number of decisions and passed legislation to end discrimination and violence against women and grant them total independence in running their personal and family affairs.
The Kingdom also established a fund to grant divorced women and their children the right to maintenance until the issuance of the necessary legal provisions, the diplomat added.
In its continuous efforts to empower women, she said the Kingdom issued a decree, allowing them to drive. The move will let them be self-dependent and open new job opportunities.
Yankssar said that the Kingdom has sought to raise women's participation in the labor market, in addition to the positions they already hold in political, social, economic and educational fields. She highlighted women's effective participation in the Shoura Council, diplomatic services and the security sector.
The diplomat added: "My country's mission would like to declare that the empowerment of women is a natural right that should be granted to all women around the world. However, it seems an impossible thing to achieve for Palestinian women as Israel continues its occupation and siege."
http://www.arabnews.com/node/1173641/saudi-arabia
--------
Denmark becomes latest European nation to ban niqab, Burqa
Oct 06, 2017
Denmark will join other European countries banning full-face covering, including Islamic veils such as the niqab or burqa.
Jakob Ellemann-Jensen of Denmark's liberal party that leads a center-right governing coalition says a law proposal was not aimed at any religions or a ban of scarfs, turbans or kippa, the traditional Jewish skull cap.
Ellemann-Jensen spoke Friday after a meeting in Parliament.
A large majority of lawmakers, including the opposition Social Democrats — Denmark's largest party— has said it would vote for such a law, popularly known as the "Burqa Ban." The move is mostly seen as directed at the dress worn by some ultra-conservative Muslim women. Few Muslim women in Denmark wear full-face veils.
No date for a formal vote was announced. Austria, France and Belgium have similar laws.
Here's a look at where other European countries stand:
France: France was the first country to ban face-covering veils in public places in 2011, under the Nicolas Sarkozy administration. In 2106, the country followed this up by banning 'burkinis', fully covered swimsuits, from its beaches.
Belgium: Like France, Belgium banned the full-face veil in 2011. The Belgian law bans any item of clothing that obscures a person's identity in public spaces. In 2012, a Belgian court refused to overturn the ban, saying that it did not violate human rights.
Austria: In Austria, where the ban came into force on October 1, Muslim women wearing the veil were ordered by police to take it off. Those who defy the ban could face a fine of 150 euros. Full-face veils are rare in Austria, where estimates suggest that only about 150 women wear them.
Germany: While there is no ban on veils in Germany, chancellor Angela Merkel said in 2016 that full-faced veils should be prohibited in Germany "wherever it is legally possible".
http://www.hindustantimes.com/world-news/denmark-becomes-latest-european-nation-to-ban-niqab-Burqa/story-E8mGojPIQZSJiokvCRWv3J.html
--------
Bengaluru woman was 'confined, assaulted' in Kerala yoga centre to stop inter-faith marriage
Oct 06, 2017
A Bengaluru-based woman has alleged that she was forcefully restrained and physically assaulted at a controversial yoga centre in Kerala's Ernakulam to stop her from marrying her Christian partner.
The centre she has named in her police complaint, Sivasakti Yogavidya Kendram, hit the headlines after two women filed similar complaints last month of having been restrained against their will in a bid to get them to leave their partners who belonged to other religions. The two women alleged that they were among 60-odd women who were forcefully restrained at the centre.
In her police complaint, filed on October 3, Vandana, a residence of Bengaluru who works at a life sciences firm, said she was kept at the centre for 31 days between March and May and forced to marry a Hindu man before she was allowed to leave.
Speaking to HT, Vandana said she was taken to the centre under a false pretext by her parents, who were opposed to her Christian partner. "My parents said they wanted to visit Kerala with me, and so we flew to Kochi. A couple of days after we reached my parents told me they wanted to visit a yoga centre to treat my mother's knees. Once we got there, I was locked up in a room," she said, insisting on only using her first name.
Vandana said the employees at the centre told her that she could be released if her partner decided to convert to Hinduism or if she married a Hindu. "I tried to escape many times, but they physically assaulted me every time I tried," she said.
In her complaint, Vandana named the director of the centre Manoj Guruji; Sruthi the coordinator; and counsellors Smitha, Sujith, and Lekshmi.
Kochi police commissioner said MP Dinesh said he had not yet seen the complaint that was sent to him by email. "We get a lot of complaints in a day so I haven't yet seen this," he said. Most of the office-bearers of the Yoga centre are on the run after a police case against them two weeks back, and weren't available for comment.
Vandana said the people at the centre used to tell her Islam and Christianity were bad and intimidated her by threatening to kill her partner. "I had also seen other women there who had been at the centre for around two years, so I was very scared," Vandana said.
Finally, a friend agreed to marry her to help her get out of the place. "They insisted that the marriage had to be registered and so we got married at the Kanjiramattam Sree Mahadeva Temple in Idukki district," she said.
Now, Vandana has filed for divorce and is waiting to marry her partner. But she says the experience had shaken her. "I had told my parents about my decision over a year before I was taken to the centre and we were waiting for their approval. I never expected this," she said.
After she read news reports of the complaint filed against the centre she got in touch with Swetha Haridasan, the original complainant, and decided to become a party to the case.
http://www.hindustantimes.com/india-news/bengaluru-woman-was-confined-assaulted-in-kerala-yoga-centre-to-stop-inter-faith-marriage/story-9Ex7ltqnZs5ENLkR052VlL.html
--------
Isis calls on women to fight and launch terror attacks for first time
October 7, 2017
Isis has called on women to take up arms as it continues to lose territory in Syria and Iraq, in an alarming development that could have global consequences.
In a new edition of its Arabic language newspaper, the terrorist group told female supporters it was an "obligation" for them to wage physical jihad.
"Today, in the context of the war against the Islamic State, it has become necessary for female Muslims to fulfil their duties on all fronts in supporting the mujahedeen in this battle," the article said, adding that women should "prepare themselves to defend their religion by sacrificing themselves by Allah".
The lengthy treatise justified the change by claiming women had fought in the Islamic Golden Age and citing female companions of the Prophet Muhammed as examples.
Isis has previously prohibited women from fighting on the battlefield, encouraging them to marry fighters, spread propaganda and bear and indoctrinate children to populate its so-called Islamic State.
Charlie Winter, a senior research fellow at the International Centre for the Study of Radicalisation and Political Violence (ICSR), said recent propaganda statements had hinted a change was imminent but the direct instructions were "unprecedented".
"There are lots of different implications – potentially the most important relate to security and counter-terrorism, as well the fighting in Syria and Iraq," he told The Independent.
"It really is unprecedented and it also says a lot about what Isis thinks about itself at the moment.
"By issuing this article it's implicitly recognised that its jihad has gone from an offensive jihad to defence and that's huge."
Women undergo less stringent screening than men emerging from the group's former territories as they are steadily reclaimed in Iraq and Syria, and have been considered minor players in the global terror treat emanating from Isis.
But increasing reports started to emerge of female suicide bombers and snipers in the group's former Iraqi stronghold of Mosul in the summer, while women are also believed to be active on the frontline in the Syrian city of Deir Ezzor.
In July, an article purporting to be from a female Isis member in its Rumiyah propaganda magazine said the time had come for women to "rise with courage and sacrifice in this war… not because of the small number of men but rather, due to their love for jihad".
But statistics released by the US-led coalition appear to show there is a shortage of male Isis fighters across Syria and Iraq, with under 2,000 left in its surrounded de facto capital of Raqqa.
Other documents released by the group have hinted at the growing pressure, with an official booklet entitled "Advice for the Leaders and Soldiers of the Islamic State" urging commanders to be more encouraging towards troops and bemoaning desertion.
Isis's predecessor group, al-Qaeda in Iraq, started prolifically using female suicide bombers from 2005 onwards and other groups, including its Nigerian affiliate Boko Haram, have followed suit.
But Isis's central guidance has previously stated that fighting is only permissible for women in very limited circumstances and largely confined "sisters" in its territories to their homes.
Women have not been specifically included in intensifying calls for terror attacks targeting countries bombing its territories and Isis has not celebrated female supporters who launch atrocities.
Tashfeen Malik, who massacred 14 people alongside her husband in San Bernardino, was not praised as one of its "soldiers", nor were three women who attacked a police station in Kenya with knives and firebombs last year.
But the ambivalence has not stopped women attempting terror plots, including Hasna Ait Boulahcen, a member of the Paris cell who died in a raid targeting ringleader Abdelhamid Abaaoud.
Female jihadis have been arrested across Europe and in the UK. A 17-year-old girl is awaiting trial on charges of conspiring with an Isis fighter to obtain weapons for an attack and another group of women have been charged with mounting what is thought to be Britain's first all-female terror plot.
The national terror-threat level remains at "severe" meaning further attacks are highly likely, and there are already 3,000 jihadis considered an imminent threat and another 23,000 suspects who have appeared on the security services' radar.
Mr Winter said there were not yet any signs of women being drafted directly to foreign battlefields as a result of Isis's call to arms but raised concern that it could affect the actions of supporters around the world.
He warned: "In terms of the group's relationship with supporters it has a pretty big impact."
http://www.independent.co.uk/news/world/middle-east/isis-war-syria-iraq-women-call-to-arms-islamic-state-terror-attacks-propaganda-change-ban-frontline-a7986986.html
--------
Brought Together by Pain, 3 Girls Forced Into Marriage Have New Dreams
By ROD NORDLAND
OCT. 6, 2017
KABUL, Afghanistan — Afghanistan is a place where all too often a young girl's dreams die. But not always.
So it has been with three Afghan friends, whose unrelated cases were all so awful that they are painful to talk about even now that the three are young women, years after the trauma. Each of them escaped a forced marriage as a child, is lucky to be alive, and knows it. Each of them has big dreams — despite what has happened, and because of it.
For one of them, Gul Meena, 18, dreams have already started coming true. Last month she boarded a flight from Kabul to Östersund, Sweden, via Istanbul and Stockholm, accompanied by an American lawyer. It was Gul Meena's first time in an airplane, first time out of her country, first time that, as she put it before, "I will be free."
Gul Meena's first dream was to escape Afghanistan. Her next was to have a television set in her room. She said she wanted to see how her favorite Indian soap opera ends.
Her biggest dream is to become a doctor, an ambition inspired by the three months Gul Meena spent in the hospital — a time of three operations that she remembers, and several more she does not.
"I want to help other girls who suffered violence," she said. First, though, she is hopeful that Swedish medical care will be able to cure the severe headaches that have made it hard for her to concentrate on her studies; she has reached only fifth grade and can barely read.
Gul Meena was illegally married at age 13. When she discovered that she had become the third wife of a grandfather, she ran away in horror. Her brother and uncle, intent on avenging the family's honor, tracked her down and attacked her with an ax, smashing her head so badly that part of her brain spilled out of her skull. Somehow she survived, and was given refuge in the Women for Afghan Women shelter in Kabul.
There she made two fast friends, Sahar Gul and Mumtaz. They did not discuss their traumatic pasts with one another, but they were otherwise quite close, all survivors of violence and wrongful marriages.
On one of her visits to the shelter, their American pro bono lawyer, Kimberley Motley, brought along several picture books, easy readers for young children. Sahar Gul is also 18, or maybe 17 (ages are often just estimates in Afghanistan); she is now in the seventh grade and can read a bit, so she read the books to Gul Meena and to Mumtaz, who is now 26.
Sahar Gul took the news of her friend's departure hard, even though she knew it was coming. "When I heard, I thought that I am a ghost," she said last month. "I am so sad to be losing my friend. On the other side, I am so happy that she will be free, and will make a life for herself."
Gul Meena, on her last full day in Afghanistan, was so nervous that she couldn't steady her hands; the other girls in the shelter helped her dress. Her housemates approached her, bursting into tears.
"I'm not going to miss Afghanistan because I don't even know how Afghanistan looks," Gul Meena said. She entered the shelter as a child, and like the other girls there, she has not been allowed outside the compound since then, except under escort by staff — for safety, and under government-imposed restrictions on women's shelters.
Sahar Gul's family sold her as a child, at age 13 or even younger, to people who tried to force her into prostitution through torture; they pulled out her fingernails, drugged and raped her, and sexually assaulted her with hot pokers.
"My brother sold me like a sheep to that family," Sahar Gul said. "I was so small when they sent me to that husband, I didn't even know what a husband was." After she was rescued from her two-year ordeal, doctors discovered that she had not yet begun to menstruate.
As with the other two friends, Sahar Gul's plight drew international publicity, and Women for Afghan Women brought her to its shelter. For months, she barely spoke.
Gul Meena was the same: "Every night I couldn't sleep, I thought that someone was coming to kill me with an ax."
Gul Meena, a Pashto speaker, and Sahar Gul, a Dari speaker, did not know each other's language, and knew none of the details of what had happened to the other, but they began keeping each other company for reasons neither can explain.
The shelter staff had kept mirrors away from Gul Meena, but one day she saw herself and was stunned at how badly her face had been damaged. "I didn't even recognize myself," she said. "I was so ugly." Sahar Gul consoled her, telling her friend she was beautiful.
Gradually the girls came out of their shells. Sahar Gul applied herself to her studies, determined to become a lawyer. "If I am a lawyer, I can help other women, too," she said.
Mumtaz was the last of the three to arrive at the shelter. She was the victim of an acid attack by a militia commander angry that her family had refused his offer of marriage because, among other things, she was too young.
Women for Afghan Women sent Mumtaz to India for facial reconstruction surgery; her toughness inspired the others, especially Gul Meena. They viewed her as an elder sister, and the three would laugh together for hours. Ms. Motley called them "the amazing Three Musketeers."
Mumtaz left the shelter three years ago after a young man from her home village asked to marry her. Gul Meena and Sahar Gul said they were happy for her, but envious that she had managed to escape what for them had become a prison.
Both of the younger girls were seeking asylum abroad, but only Gul Meena had any prospect of success. She had been born in Pakistan, so could register as a refugee with the United Nations High Commissioner for Refugees, which would try to resettle her abroad, a process that takes years.
During that time, both girls became fans of the Indian television drama "Madhubala," which they watched together, taking turns with the language — it was dubbed in both Pashto and Dari.
The soap opera is about a young girl, Madhubala, who is forced into marriage with a rich man who abuses her, but she gradually wins his love.
They may like the show, but neither young woman is interested in emulating Madhubala. "I don't want to get married again, men are all bad," Gul Meena said. Then she caught herself, remembering that her underage marriage had not been legally valid. "I don't want to get married, ever."
Their friend Mumtaz and her husband — a love match — had been living in northern Kunduz Province with their baby daughter. Then, last summer, her husband was killed by confederates of Commander Naseer, the militia leader who had attacked her. A few weeks later, Mumtaz gave birth to her second daughter.
Mumtaz feared the commander would have her and the children killed as well, and begged for outside help. She had no remaining relatives except in-laws, since her own family had fled the country, and she was stranded in a Taliban-controlled area.
Once again, the women's group's activists managed to rescue Mumtaz. Last month, she reached the safety of the Kabul shelter for the second time, arriving just four days before Gul Meena left.
This time back in the shelter, Mumtaz did not think she would be watching any Indian soaps with the other women. "I have no patience for these things any longer," Mumtaz said, indicating her two babies. "I'm too tired all the time, and I am not alone now."
Though exhausted, she still has her dreams, too: little ones for herself, big ones for her daughters. "I want to study and learn to read and write and then become someone who works in an office," Mumtaz said. "And I want my daughters to become a judge and a lawyer."
She hopes that someday her daughters will sit in judgment of people like Commander Naseer. That is Mumtaz the Mother's dream. Mumtaz the Widow's dream is more visceral. "I am going to throw acid on the face of Naseer," she said, "to teach him how bad it was, what he has done to us and what I have had to suffer."
Gul Meena was recently resettled in the Swedish village of Duved, population 600, seven of them refugees. "I only wish Sahar Gul could be here," she said.
She found it hard to believe that the lodging provided for her had only one bed in it. It was the first room of her own she had ever had. Ms. Motley, the lawyer, bought her a television set for it.
Correction: October 6, 2017
An earlier version of a picture caption with this article misidentified the Afghan woman who moved to Sweden. She is Gul Meena, not Sahar Gul.
https://www.nytimes.com/2017/10/06/world/asia/afghanistan-child-brides-marriage.html?mtrref=www.google.co.in&gwh=725A278F6022969E67918DCFA7AA6AEA&gwt=pay
--------
Panel discusses women's challenges in Saudi Arabia, Russia
Ilyas Salavatov
7 October 2017
MOSCOW: A panel discussion on the challenges women face in Saudi Arabia and Russia was held on Friday at the Ritz Carlton Hotel in Moscow.
Panelists began by discussing the news that broke shortly before King Salman's visit to Moscow: The issuance of a royal decree granting women the right to drive.
Faisal J. Abbas, editor in chief of Arab News and panel moderator, said the decree was ground-breaking.
He asked the Saudi panelists what they thought of women driving and if there would be any restrictions on them.
Shoura Council member Houda Al-Helaisi said: "When the king took this step, the only restriction mentioned was that women wouldn't start driving until next June."
She added that Saudi Arabia is only 85 years old, and whereas women's literacy rate was 2 percent in 1962, this year it is 95 percent.
"This is an amazing leap in a little more than 50 years. It's a great achievement for Saudi Arabia and for Saudi women," she said.
"We've witnessed many changes over these 85 years. We're moving perhaps a little slowly in the eyes of many people, but we're moving in the right direction. I'm not going to defend or justify the reasons behind not allowing women to drive in the past, but we're happy to see the step that has been taken," Al-Helaisi added.
"Any society needs to move and change at a pace acceptable to its people, not at the pace of an entity with a different system of values. There's no perfect society, and we're moving ahead at our own pace."
She said women in the Shoura Council initially experienced some difficulties, but as time went on they were supported by their male colleagues.
Somayya Jabarti, editor in chief of the Saudi Gazette, said: "Saudi women who have Arab or international driving licenses will able to drive immediately, and their licenses will be replaced by Saudi ones."
The speakers said the issue is not about driving but about choice: Women will have a choice whether to drive or not. Prior to King Salman's decree, they did not have this choice.
Jabarti and Al-Helaisi said their achievements were possible thanks to the support of their male colleagues, for which they are grateful.
They said this went against the stereotype that men are oppressing women and limiting their opportunities.
Maria Dubovikova, president of the International Middle Eastern Studies Club, replied to a question from Abbas about Russian perceptions of Saudi Arabia.
"My team worked on a questionnaire of what Russians think about Saudi Arabia. The most common responses were oil, then camels and terrorism. We're stuck in the trap of stereotypes that must be overcome," she said.
"I think now the situation is changing slightly because of the strong Russian presence in the Middle East, and the great progress it has made in a short time in Syria and in the region in general… We both have common and intersecting interests. There's a need for communication, not only between the governments but also between the people."
Abbas enquired about the challenges facing Russian and Saudi women regarding pay scales and fair treatment at work.
Dubovikova said the problem of gender inequality is common in all countries, and is due to men's stereotypes about women.
Olga Zinyakova, CEO of the KARO cinema network, said: "The cinema business in Russia is still small but mostly dominated by men. For women in the past in Russia, they had to choose between family and work. We have a lot of prejudice in the country, and this is true to every country, I think. What we can do is share our experiences and be open. We also have to respect different types of societies. Communication is the best solution in order to get better results and transfer thoughts and ideas."
Commenting on the wage issue in the Kingdom, Jabarti said: "Women and men are paid equally in Saudi Arabia in the public and private sectors. It's not an issue in the country at all."
http://www.arabnews.com/node/1173656/saudi-arabia
--------
Iran: Women arrested for celebrating Iraqi Kurdistan's independence
06 October 2017
Dozens of people, including a number of women, have been arrested by Iranian security forces in the Kurdish cities of Sardasht, Shaqqez, Baneh, Sanandaj, Boukan, Divandarreh, Mahabad, Marivan, Sarvabad, Maku, as well as in Ilam, Kamyaran, and Qouchan following the Iraqi Kurdistan's referendum on independence. The arrests have taken place during many days since September 25, 2017.
Some 88 of those arrested have been identified so far including a number of women: Leila Khalilzadeh, Hiva Zarepour, Hiva Dastbaz, Sarina Fat'hi, and Laleh Mahmoudi.
Also Ronak Aghaii, arrested for hoisting a flag of Iraqi Kurdistan in a dancing celebration in Mahabad, has been transferred to Orumieh Prison.
http://www.women.ncr-iran.org/iran-women-news/4362-iran-women-arrested-for-celebrating-iraqi-kurdistan-s-independence
--------
URL: https://www.newageislam.com/islam-women-feminism/saudi-arabia-backs-all-international/d/112802
New Age Islam, Islam Online, Islamic Website, African Muslim News, Arab World News, South Asia News, Indian Muslim News, World Muslim News, Women in Islam, Islamic Feminism, Arab Women, Women In Arab, Islamophobia in America, Muslim Women in West, Islam Women and Feminism