New Age Islam News Bureau
1 May 2019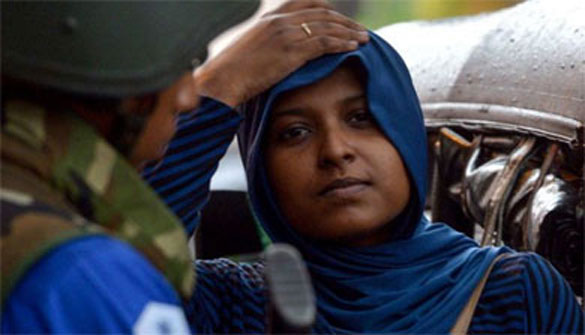 A Sri Lankan Muslim woman looks on at a checkpoint in Colombo. PHOTO: AFP
----
• Shiv Sena Demands Ban on Burqa in Public Places, Cites Sri Lanka
• Pak Senate Passes Bill To Fix 18 Years as Age of Puberty for Girls
• Lebanon's First Female Interior Minister Discusses US Support, Border Security
• ATC Gets Its First Emirati Woman Duty Manager
• Female Workers In Iran Work In "New Slavery" Conditions
• Sri Lanka Muslim Women Uncover Out Of Fear
• Egypt's First Female Polo Team Rides To Victory
Compiled by New Age Islam News Bureau
URL: https://www.newageislam.com/islam-women-feminism/saudi-arabia-asks-its-citizens/d/118475
--------
Saudi Arabia Asks Its Citizens To Respect Sri Lankan Naqab Ban
May 01, 2019
Colombo: Issuing advisory to its nationals, Saudi Arabia asked them to leave Sri Lanka. Citing the Kingdom's embassy in Colombo, Al-Ekhbariya state TV reported on Tuesday. The embassy in a tweet said: "Due to the current security situation in the Republic of Sri Lanka, the embassy advises citizens in Sri Lanka to leave."
It must be noted that more than 250 people, including 42 foreign nationals were killed in suicide bomb attacks on hotels and churches on April 21.
Arab News reported that the US ambassador on Tuesday had announced that some of the militants involved in the Easter Sunday bombings on the island were likely still at large and could be planning fresh attacks.
A high level of alert is also maintained by the Sri Lankan security forces amid intelligence reports that the militants were likely to strike before the start of the holy Islamic month of Ramadan.
The Saudi government has also advised its citizens visiting Sri Lanka to respect rules and regulations of the country. The government has also banned women from wearing face veils under an emergency law put in place after the Easter attacks.
https://www.siasat.com/news/saudi-arabia-asks-its-citizens-respect-sri-lankan-naqab-ban-1492825/
--------
Shiv Sena Demands Ban on Burqa in Public Places, Cites Sri Lanka
May 01, 2019
The Shiv Sena on Wednesday called for a ban on the use of burqa as it threw its weight behind a similar plan being mulled by the Sri Lankan government in the wake of the Easter terror strikes which claimed over 250 lives.
It said that the ban - something similar which the party has proposed in the past -- "has already come in Ravana's (Sri) Lanka, when will it be implemented in Ram's Ayodhya -- this is our question to (Prime Minister) Narendra Modi."
"This restriction has been recommended as an emergency measure to ensure the security forces do not encounter difficulties in identifying anybody. People wearing face-masks or burqas could pose a threat to national security," said the Sena in an editorial in the party mouthpieces, "Saamana" and "Dopahar Ka Saamana".
It said "no Mahatma Phules or Shahu Maharajs" were born among the Muslims nor were allowed to become, which has worked to the advantage of whimsical elements like Shahabuddin, Azam Khan, Owaisi brothers and Abu Asim Azmi.
If such religious practices or traditions interfere with national security, then it must be ended immediately, and "Modi will have to do it now".
"This work will require as much daring as a 'surgical strike.' The Sri Lankan President had done it by overnight banning burqa or veils or face-covers of any types in all public places. This is a work of great courage and restraint exhibited by (Sri Lanka) President Maithripala Sirisena," lauded the Sena.
It accused that many Muslims have not understood the true meaning of their religion (Islam) and they have confused it with traditions and customs like burqa, polygamy, triple talaq and resistance to family planning, the edit added.
"When any voice is raised against these practices, immediately there are cries of 'Islam is in danger', and it seems religion takes precedence over nationalism among Muslims. Muslim women have been sporting burqas/veils under the wrong impression that it is a Quranic tenet," the Sena said.
It pointed out that there have been bans on both burqas for women and beards for men even in Muslim countries like Turkey in the past, especially when Kamal Pasha suspected that these were being misused for carrying out anti-national activities, "proving (burqa-beard) are basically not linked with Islam".
The Sena said the country (Sri Lanka) which has just been liberated from the LTTE's terror is now in the grip of Islamic terror like India, and others like the UK, France, New Zealand.
But it lamented that the kind of tough measures being adopted by other countries were still lacking here especially since areas like Jammu and Kashmir were being destroyed by the same Islamic terrorists.
https://www.hindustantimes.com/india-news/shiv-sena-demands-ban-on-burqa-in-public-places-cites-sri-lanka/story-PxzCYx98spfexL9xXCamzM.html
--------
Pak Senate Passes Bill To Fix 18 Years as Age of Puberty for Girls
Apr 30, 2019
ISLAMABAD: Pakistani Senate has passed a bill to fix 18 years as the age of puberty for girls to end the practice of child marriages in the Muslimmajority country, triggering objections from some members who said the move was against Islam.
The Child Marriage Restraint Act 1929 was presented by Senator Sherry Rehman of Pakistan Peoples Party, which will help to end the practice of child marriage in the country.
The bill was passed on Monday after heated opposition by some lawmakers who termed it against Islam to fix the age of puberty, the Express Tribune reported.
Senator Ghafoor Haidri raised an objection, saying fixing the age of 18 years for Nikah is inconsonant with the Shariah and the bill may be sent to the Islamic Ideology Council (IIC) for further discussion.
Federal minister for religious affairs Noorul Qadri said a similar bill was sent to the IIC in 2010 which was returned by the council with the observation that according to Fuqaha, the age of puberty varies and cannot be fixed."
Former Senate chairman, Senator Raza Rabbani, supported the bill and apprised the house that the bill was earlier sent to the IIC, where it remained pending there for years without discussion.
He said the Sindh Assembly had already passed the same bill which was not challenged or opposed at any forum so far.
He further said the age of puberty of girls in other Islamic countries is also 18 years.
The mover of the bill Senator Rehman, however, urging the Senate chairman for voting on the bill, said the age of voting, eligibility for national identity card was also 18, "so why the age of puberty cannot be fixed accordingly."
Giving details of Muslim countries that declared 18 years as the age of puberty, she said, in Algeria the age was 19, while Bangladesh, Egypt, Turkey, Morocco, Oman, United Arab Emirates, and even the Saudi Arabia had fixed 18 years as the age of puberty.
"We are not promoting western values, but are trying to save innocent lives as a Pakistani woman dies every 20 minutes because of marriage at an early age," the senator said, adding that the entire world legislated to protect the lives of their girls, but unfortunately 21 per cent marriages took place under the age of 18 in Pakistan.
State minister for parliamentary affairs Ali Muhammad Khan said though the intent of the bill is noble but there are issues which should discussed as the country came into being in the name of Islam.
Winding up the debate on the bill, the Senate chairman sought voting and passed the bill with an opposition of five votes, according to the paper.
https://timesofindia.indiatimes.com/world/pakistan/pak-senate-passes-bill-to-fix-18-years-as-age-of-puberty-for-girls/articleshow/69112409.cms
--------
Lebanon's First Female Interior Minister Discusses US Support, Border Security
30 April 2019
In her first televised interview, Lebanon's first female Interior Minister Raya al-Hassan who spoke to Al Arabiya in a wide-ranging interview including on issues of border security, the situation of Syrian refugees in the country and what her appointment means for the future of female Arab politicians.
Al-Hassan, who is the deputy head of the Lebanese Future Movement party, Hassan became the first woman interior minister in Lebanon and the Middle East in a cabinet line-up unveiled by Prime Minister Saad Al-Hariri in late January following an eight-month delay.
During the last joint meeting of the Council of Arab Ministers of Interior and Justice, al-Hassan said she did not feel at odds.
"When I was the finance minister I was the only woman too, so it wasn't new to me, although that had more masculinity to it," al-Hassan said.
The Lebanese interior minister also spoke on the stability of Lebanese security following the support from several international countries and pre-emptive operations by internal security forces who uncovered several sleeper cells and terrorists who might have carried out attacks.
"The Americans are one of the most important supporters, especially in the field of training and arming of the internal and general security forces. There are also other donors such as the British and the EU and the French and we are lucky that there is serious work by donors to support the official security forces in Lebanon," al-Hassan said.
Regarding Arab support to Lebanon, al-Hassan said that several Middle Eastern countries have focused their support on other areas.
"There is some support for the security services, but I think they prefer to put their aid elsewhere, in the social and economic sectors and this is what we saw at the CEDER and previous conferences," she said.
"We really need some assistance in Training and other matters that the security body needs. But this is of course up to the Arab countries. They are the ones to decide what kind of aid is suitable for them," she added.
Al-Hassan also spoke on the situation of Syrian refugees in Lebanon, which hosts more than 950,000 registered refugees, according to UNHCR. According to her, the Future Movement's position falls under the policy of wanting Syrians to return to their country as long as their safety can be guaranteed.
"Our position as the Future Movement, I represent a political party as well, is that we want the Syrians to go back home as soon as possible, as long as their return is safe and fast. We do not want to force any Syrian to return without guaranteeing his or her safety," al-Hassan said.
Below is the full transcript of Al Arabiya's interview with Raya al-Hassan:
Welcome to this special interview with the Lebanese Interior Minister Raya Hassan.
Thank you Raya, this is your first television interview which you exclusively give to Al Arabiya and Al Hadath channels so thank you.
This is also the first time in history that the Ministry of Interior in Lebanon is headed by a woman and a technocrat. What are the projects that you have for the Ministry of the Interior?
First of all, I want to change the image of the Ministry of the Interior, I want the ministry to preserve the security and enforce the law, but within a vision close to the people. We want to serve the people, not suppress them. We do not just want to apply the law without being close to the citizens.
I am translating this approach through some measures that I'm taking. For example, in the security sector, we are implementing something called community police, we want the police to preserve the security and oppress those who break the law, but within a different approach implemented by the police on the ground.
As citizens, we feel that there is a distance with the security men, sometimes they are hostile in the street and we, as Lebanese citizens, prefer to call someone for a favor to help up and this breaks the status of the policeman in the street and ours as citizens as well.
You're right, that's what's happening today. But when we change the portrayal of policemen from oppressors. To preservers of security, enforcers of the law. We might be able to change the way that people behave with the police. This isn't something that can be done in a month or two. This is more of a transformational process that will happen over years.
So it's a cultural change then?
Absolutely, I mean a cultural change in the gendarmerie. How to preserve security within the approach of human rights. The citizens have rights and we must treat them with respect, and tell them that we are protecting you, and we do not want to oppress you. We are working to help you, we want to improve traffic. There are several things that we're trying to apply through practices that several projects are adopting, in public security or internal security forces, which mostly deals with citizens.
On the other hand, there is the subject of prisons.
Which is one of the biggest problems in the country in terms of overcrowding, and sometimes the ill-treatment of prisoners. I'm personally insisting on the issue of human rights and the adoption of this idea, especially when dealing with prisoners.
There are universal standards –
Yes, there are universal standards, but I don't want to apply something that isn't based on a realistic approach.
Because there is no space for prisons, right?
There is no space, and the people who serve in prison eventually consider themselves to be prisoners. The situation is very difficult and there is a problem of overcrowding.
The accumulation of years has led to this situation, but today we are working on several stages in short and long term. In some short-term procedures, for example, we count all the prisoners who have finished their sentence, but have some fines that they aren't able to pay, because they don't have the financial means, so we go to the private sector for some assistance and donations to pay the fines of those who finished their sentences. We just started to implement this, it is a small step, but it can help with overcrowding.
What about building new prisons? This is one of the most important problems in Lebanon.
Former Minister Nohad al-Machnouk went to the private sector and received donations. Today, we will lay the foundation stone for a prison in Majdalaiya in the north, worth about $5 million.
We're also receiving aid from the European Union to set up a center for juveniles which is a step in the right direction because it separates the juveniles from the rest of the prisoners and puts them in a special building where we can nurture them and work on programs to reintegrate them into the society in the future when they finish their sentences.
We now have a clearer vision on dealing with the issue of alleviating the suffering of prisoners during the period in which they are sentenced.
Since we're talking prisoners, let's talk about another very sensitive subject in Lebanon, which has a political nature, not just a security and a judicial one. This topic is the Islamic prisoners, which is one of the most controversial files. There are famous names known by the Arab viewers, such as Ahmed al-Asir, singer Fadel Shaker, and others who participated in battles.
What are the developments on this file?
The Prime Minister is taking care of this file, and he is working tirelessly to push it forward. At least what we have been able to do in this new government is that in the ministerial statement there was a clear declaration that the Lebanese government will go ahead with granting amnesty. I find this step very good if it happens.
As you know there are some regulations, some political parties are not comfortable with the idea of amnesty, regardless of the kind of crime. So the people known as Islamist prisoners will be put in categories.
Of course, any prisoner who committed a clearly terrorist crime that included murder, especially of someone from security or military forces, this person cannot be granted amnesty.
However, there are other groups who empathize, and younger people who have been brainwashed, those people should be assessed differently. At the end of the day, this is not in my jurisdiction.
As the Interior Ministry, our jurisdiction is to ensure the security of prisons. As for other measures, they fall under the jurisdiction of the Ministry of Justice.
It's also relevant in politics, because there is a feeling that justice is selective in Lebanon.
For example, most of the Islamist prisoners are Sunnis while there are others, like the accused of killing Rafiq al-Hariri, who are from the Shiite community and they weren't prosecuted.
We know and reject that these people who haven't been prosecuted to stay the way they are, we took this upon ourselves and the government's president is working on this.
We are meeting with the families of the detainees and their representatives because there is great injustice, those charged in a clear terrorist crime will spend their time in prison. As for the rest, it's up to the judiciary to decide whether to charge them or free them.
Some of the complaints against Lebanon concerns the airport of Beirut, as a Lebanese woman or an Arab or foreign tourist coming to Lebanon, we notice there are long queues at the airport.
Do you have a plan in the Ministry of Interior to improve Lebanon's airport to the global standards?
May God rest the soul of martyr Rafiq al-Hariri, whom people used to blame for making the airport so big. Today, we find that the airport's size isn't enough for the amount of travelers.
The current situation is hopefully a temporary one, we are working to decrease this congestion.
The current situation is due to expansion work in some areas of the airport, and this is to facilitate the process of public security and internal security and passport control, and inspection and so on.
Why can I enter Dubai via biometrics but I can't do the same in Beirut airport?
We are trying to get there. I'm not trying to justify myself or previous ministers, but what is important is that we have a vision and this vision is being implemented.
Today, expansion work is causing this congestion. I was at the airport yesterday with the Minister of Transport and Public Works. We saw the work being done and we ensured that by early June, the works will finish. We will inaugurate the airport with its new look.
There is another point of view that says that Beirut's airport isn't lawful. In the past months and years there have been media reports on money and arm smuggling and maybe human trafficking.
Is Beirut's airport under control?
I assure you that the airport is under control, and I always give these assurances especially to the ambassadors such as the Saudi ambassador who told me that there will be more Saudis coming after lifting the ban on Saudis visiting.
On my part I assured him that security is in place and that Lebanon is better than many other countries and this is visible on the grounds.
We do not see any security incidents and we see that security is stable and more and more tourists are coming and we expect that in the summer, we will be able to do all we can to make it easier for visitors and tourists to come to Lebanon and to have a comfortable and secure stay.
When you were appointed as the head of the Ministry of the Interior, you removed the security checkpoints and the ministry is in one of the most famous areas in Beirut.
Is the Lebanese Minister of Interior saying that Lebanon is now safe in a direct message to the tourists?
Especially that Lebanon has been suffering the lack of tourists?
The Saudi lifting of the ban on its citizens to come and other countries looking into doing the same. Those things to us is a testimony that the security is good and we are confirming that as a Lebanese government and a Ministry of Interior. Security is in place. I removed checkpoints that people expected trouble in and I put my credibility on the line and pledge that security is under control.
If all security issues were up to Your Excellency, the Lebanese citizen might have felt completely safe. But unfortunately, Lebanon is in a geographically dangerous location. It is known that the Americans support Lebanon and specifically the Lebanese security bodies. What is this support?
It is not only the Americans. The Americans are one of the most important supporters, especially in the field of training and arming of the internal and general security forces. There are also other donors such as the British and the EU and the French and we are lucky that there is serious work by donors to support the official security forces in Lebanon, and we see the results of that on the ground.
Like I said, in the past three to four years, the security is stable and we have seen the pre-emptive operations by the internal security forces, which lifted the cover off sleeper cells and terrorists who might have carried out operations. I tell the donors that their investment has given results on the ground, and their assessment of the security bodies has become higher.
Is there Arab support for the security services in Lebanon? What does the Interior Minister ask from them?
I can say with all honesty that Arabs were the first to support Lebanon in all economic conferences, in all stages of Lebanon's history and the crises in which we lived. There is some support for the security services, but I think they prefer to put their aid elsewhere, in the social and economic sectors and this is what we saw at the CEDER and previous conferences.
We really need some assistance in Training and other matters that the security body needs. But this is of course up to the Arab countries. They are the ones to decide what kind of aid is suitable for them.
From a security point of view, ISIS has ruined Syria and put it in a state of permanent war. Is there any fear of ISIS members going from Syria to Lebanon, or sleeper cells maybe?
We have reinforced the border crossings with military forces and public security to ensure that there is no smuggling of any Syrians or terrorists entering Lebanon illegally.
And of course, ISIS has non-Syrian fighters from all nationalities. Of course, we have greatly reinforced the crossings, even the illegal ones by increasing the presence of the army.
There is more force to control the security on the border with Lebanon. Internal security is tightening its procedures inside the country through the security bodies it has access to in order to control any possible operation or plan.
Today I can say that there are no more sleeper cells. All terrorist movements that we saw have been eliminated. But we always have to be careful, we can't be completely sure.
We live in a difficult area and we have to make sure that the security bodies are always on alert.
Today I see that we are controlling the situation by 90% and we should remain cautious for the remaining 10% just like any neighboring country.
Yes, even Europe suffered from this kind of attacks. Concerning the issue of the displaced; the Lebanese are tired of their presence, but there is another group that says that they should return when the time is right. What does Raya al-Hassan say about this?
Our position as the Future Movement, I represent a political party as well, is that we want the Syrians to go back home as soon as possible, as long as their return is safe and fast. We do not want to force any Syrian to return without guaranteeing his/her safety.
The file must be assessed and approached from the Lebanese point of view since its repercussions are negative the Lebanese economy, but from a human dimension, we must work together and press the international community to find a quick political solution to this issue and ensure the return of the displaced as part of the solution.
Before that happens, we will not pressure any Syrian, quite the opposite, we host them and give them a decent life. But also, any unorganized Syrian labor will be controlled. Because what's happening is an unfair competition between the Lebanese and Syrian worker, which is something we won't tolerate.
But at the same time, we give them a decent life and we work with the international community to speed up the solution.
You represent the Future Movement which lost one of the most important Sunni political figures in Lebanon. Rafiq al-Hariri was assassinated in downtown Beirut in broad daylight. Fourteen years after his assassination, there is the impression that Hezbollah is running and controlling Lebanon.
How does the Sunni street feel about this especially that you are the daughter of this Sunni street?
There is some kind of frustration, but in my opinion, today there is more frustration with the economic and social situation than with a certain political position.
We know, Reema, that we are facing the biggest economic problem in Lebanon. We cannot stand against a certain regional-backed party. That's why the prime minister, in a courageous position, said that he will put the strategic differences with this party aside, and focus on the interest of the Lebanese citizen. And he has repeated this several times and I believe that the Sunni street is convinced with this.
To be able to resolve this dilemma we need to form a united government or we can't take any decision in Lebanon. From this point of view, I believe the Sunni street has become understanding, and supporting of the prime minister in his approach.
One of the things you talked about is the subject of Lebanese women giving their nationality to their children, is there any progress regarding this issue?
There is a proposal for a law by the Future Movement, there is a historical objection from some political parties in Lebanon, but I feel that we are going somewhere with this and the prime minister said that he supports it and wants it to move forward.
I must be honest that we won't be able to not put constraints on it…
So there will be exceptions for Palestinians and Syrians?
Yes, I believe there will be some regulations.
You are a defender of women's rights. When a Lebanese man marries a Palestinian woman or a Syrian woman, he can give her his nationality after one year, and this is a not fair for women?
You're right. If it was up to me, I would have given citizenship to all the children of a Lebanese woman married to a foreigner. But this is my personal opinion. Realistically today, and according to the composition of Lebanon, I think it will not pass without regulations, this is what I think.
So let's at least get a part of it done. I'm very pragmatic when it comes to this. We will push for the full thing, but if it didn't work, let's at least get some of the Lebanese woman's rights.
What caught my attention when you were named Minister of Interior is when senior military men in Lebanon were saluting you. Is the fact that you are a woman at the head of the Interior Ministry an obstacle? Do they obey your orders?
Yes of course they do. I do not like the word "obey." At first, I was afraid of this issue when the prime minister suggested it to me, but when I came to the ministry and met everyone, I didn't feel any difference at all. I believe there is great discipline and there is respect for the hierarchy, and I believe they treat me like they would have treated any man.
At the end of the day, you're the one who proves you're worthy of the title. Whether man or woman, they prove themselves and it becomes natural.
You were the only woman at the meeting of Arab interior ministers. How was this experiment?
It was a lovely experience but it was not the first time. When I was the finance minister I was the only woman too, so it wasn't new to me, although that had more masculinity to it.
But all the people I met with were friendly, there is mutual respect and I felt comfortable.
I think because I'm a woman, I was treated more smoothly and I hope there will be more than one woman in these meetings.
Raya al-Hassan is Sunni and every Sunni in Lebanon has the opportunity to become prime minister and you are from the largest Sunni party in Lebanon. Can we ever see you as the first female Lebanese prime minister?
Honestly, it's not what I aspire for. I work from all my heart to execute my responsibilities. But do I aspire for more? Thank God for the big opportunities I was given to be in those roles. I don't want more than this. I just want to see my family and my children and enjoy my remaining years.
If Prime Minister al-Hariri were to ask you, as he did when he asked you to be head of the Interior Ministry?
Saad al-Hariri, for me, is the head of the Future Movement and I'm his deputy. Whatever he asks of me, I do not hesitate to implement it, but thank God we have Prime Minister al-Hariri now, and we are comfortable with him, and hopefully he will be the first leader of reforms in Lebanon.
https://english.alarabiya.net/en/features/2019/04/30/Special-interview-with-Lebanon-s-first-female-interior-minister-Raya-al-Hassan.html
--------
ATC Gets Its First Emirati Woman Duty Manager
April 30, 2019
Dubai: The Air Traffic Control Tower in Dubai now has a female duty manager.
The first Emirati woman to hold the challenging post, Marwa Al Matrooshi joined the organisation in 2004 as an Air Traffic Control Officer (ATCO).
As Duty Manager now, her role at the Air Traffic Control Tower at Dubai International Airport (DXB), involves managing the daily direction of ATC operations, as well as ensuring consistency in safety and service delivery.
In addition, Marwa will also be responsible for managing an entire watch which comprises five Air Traffic Control Officers working on different positions within ATC operations in the ATC tower.
Honour and pride
Mohammad A. Ahli, Director General of Dubai Civil Aviation Authority and CEO of Dubai Air Navigation Services (dans), said: "Marwa Al Matrooshi is an example of an Emirati lady who has lived by and fulfilled the vision of His Highness Shaikh Mohammad Bin Rashid Al Maktoum, Vice President and Prime Minister of the UAE and Ruler of Dubai...
"It is our honour and pride to have Marwa as part of our organisational team, and we salute her for setting a pioneering example to all other Emirati women in order to encourage them to join unique sectors such as that of Air Traffic Management."
Over a career span of 14 years in ATC operations with dans, Marwa's hard work, perseverance and dedication for growth and development translates through her career path to take up more challenging and advanced roles.
She has also served as training specialist and ATC examiner responsible for conducting annual checks on existing ATCOs who have been working in the organisation as well as initial checks to validate new controllers.
Successfully endorsed by the General Civil Aviation Authority (GCAA) to become a duty manager, Marwa underwent on-job training for six months and completed the duty manager course conducted internally by the Department of Operational Training & Standards. https://gulfnews.com/uae/atc-gets-its-first-emirati-woman-duty-manager-1.63648760
--------
Female Workers In Iran Work In "New Slavery" Conditions
Apr 30, 2019
May 1 marks the International Labor Day, an occasion to defend justice, equality and human rights for workers on whose toil and efforts, the society's welfare and happiness depend. Female workers in Iran do not enjoy their minimum rights and their condition at work is best described as "new slavery."
The mullahs' regime in Iran has left no windows for defending the rights of workers. Today, workers' wages and monthly salaries are not paid for months and even over a year. Workers have to get loans and pay interest, sell their organs and sometimes set themselves alight out of despair.
In light of such tortuous conditions for all workers, one can conceive of the grave situation of female workers in Iran, since women are systematically discriminated against in the law, in employment and job market, and in every other realm of life.
The Iranian regime, which is a member of the UN Commission on the Status of Women (CSW), has not adopted any of the CSW recommendations to improve women's economic empowerment, and is moving in the opposite direction.
Instead of "eliminating structural barriers and discriminatory laws" and "creating equal economic opportunities," the regime sanctions more discrimination against women and its legislations marginalize them even further.
The mullahs' Supreme Leader Ali Khamenei reveals the misogynist vision of the regime by stating that women "physically and emotionally have been created by God for a special role in life" and "the issue of women's employment is not among the main issues." As a consequence of such visions and laws, Iranian women who need to make ends meet for their families are forced to accept just any job with a small salary. They get hired by small workshops to work under unsafe conditions without insurance coverage, bonuses, or job security. Some experts have best described the harsh conditions of women workers as "new slavery."
Main problems of female workers in Iran
Low wages, inferior jobs, and lack of job security are among the problems of female workers in Iran.
According to the researches done and published by official government agencies, in the Iranian year 1396 (March 2017 – March 2018), women comprised 80 per cent of workers who have no insurances.
The same report published by the official IRNA news agency on April 28, 2019, women are the first victims of economic crises. They are the first to be fired in any lay-off plans to balance the workforce. Many employers believe that despite their experience and skills, women have less productivity due to marriage and pregnancy.
According to this report, 65.9 per cent of the total number of unemployed in Iran are women.
Working conditions of female workers
The working conditions of female workers in Iran are grossly different from those of their male counterparts. Women's participation in the workers' movement is unnoticeable and they are oppressed without having any voice.
Female workers suffer from double oppression partly because they are rarely hired in official jobs due to provisions of the Iranian Law which gives priority to men. In contrast, female workers comprise the greater portion of the workforce in unofficial workshops not monitored and greenlighted by the government to pay less to their workers and deny them benefits or insurance.
Women who are desperate to have any job to earn their family's living are widely preyed upon by such workshops.
A large number of female workers sell their workforce for a small amount of money without being felt or considered as a worker. They work between 10 to 12 hours at home applying glue on envelopes or sewing spangles on fabric, but their daily wage is around 5,000 tomans or merely a dollar. These women do not even have a specific employer and their products are sold through intermediaries who pocket most of their revenues.
At the same time, the status of Iranian workers is an off limit and the occasional inquiries and data published in this regard fail to address the number of women and the problems they face in this male-dominated environment, under discriminatory laws. However, a few reports and interviews which appeared in the Iranian media on the International Labor Day, shed light on a small part of the deplorable situation of female workers.
"New slavery" conditions
In a gathering at the Labor Ministry in Tehran, Massoumeh Ebtekar, Rouhani's deputy for Women and Family Affairs, confessed that "women have the largest share in unofficial jobs."
The state-run IRNA news agency wrote that unofficial jobs are referred to jobs which are outside the official structures; in a word, they are jobs in units which are not officially registered and not monitored by the government. Those hired for unofficial jobs are counted in the statistics as "employed" but are not granted any medical or retirement insurance.
Alireza Mahjoub, General Secretary of the House of Workers (a government foundation) and member of the Social Committee in the mullahs' parliament, also admitted that "women have the highest rate of unemployment" and "women's economic participation is not noteworthy." (The official IRNA news agency – April 28, 2018)
In another gathering in Qom, on April 30, 2018, Ahmad Amirabadi Farahani, a member of the presiding board of the mullahs' parliament, asserted that the conditions of female workers are reminiscent of "new slavery." He said, "Oppression of women in some production units with regards to the payment of their wages and their long working hours is new slavery."
Amirabadi added, "I have visited these production units. Some women are working more than the legally sanctioned working hours and the wages they receive are rather small."
In another part of his speech, Amirabadi acknowledged that women and girls "go to work at these production units since early morning and work up to 12 hours with a meager wage of 400,000 tomans (a month, approx. $27)." (The state-run ISNA news agency – May 1, 2018)
The minimum wage in Iran is around 1,100,000 tomans (approx. $73) and the poverty line is 6 million tomans. (approx. $400)
No equal pay, job security or insurance for female workers
Another state official confessed to the catastrophic conditions of female workers in the Province of Qazvin, northwest of Tehran, in an interview with the official IRNA news agency on May 3, 2018.
Fatemeh Pourno, Secretary of the Union of Women Workers in Qazvin (a state institution), said, "Female workers work in step with men in production units, but do not receive equal wages. They are not aware of their legal rights. Therefore, they do not even find out if their insurance has been considered in their payrolls. But they do not file any complaints in this regard since they fear being fired by their employers."
Pourno said in another part, "Temporary three-month contracts have deprived female workers of job security. Sometimes, employers mistreat female workers for the smallest flaw in their work. Most of the women in the workers' community are heads of household. They face long working hours but are deprived of many rights and benefits."
She also noted that the majority of female workers are heads of household and added, "There are many young women who have to work in the production units to help mitigate economic pressure on their families and assist their parents. They have to bear with the harsh work conditions at the workshops and factories." (The official IRNA news agency – May 3, 2018)
Another official, Abdollah Bahrami, the CEO of National Union of Hand-woven Carpet Producers, also revealed that, "Women constitute the majority of carpet weavers in Iran and if we want to put it in percentages, they form 70% of the weavers."
In his interview on May 16, 2018, with the state-run ILNA news agency, Bahrami noted that only 320,000 of the one million carpet weavers are covered by insurance, adding, "A large percentage of these carpet weavers are women heads of household."
Lack of supportive laws
Absence of supportive laws for female workers and common use of semi-legal contracts have made work conditions way more difficult for women compared to men.
A number of women workers in the Province of Qazvin, northwest of Tehran, complained about tough jobs which place double pressure on their bodies and do not match their physical capabilities.
Zahra Parhizgari, a graduate of Law, lost her job because the factory where she worked was shut down.
In an interview with the official IRNA news agency, she complained of harsh work conditions for women in such production units. While mentioning some employers' mistreatment of female workers, she pointed out that lack of supportive laws and shortage of employment for women has led someone like her with a bachelor's degree to a job in an environment which does not suit her gender and education, to earn a living.
Hadisseh Rostami is another young woman who became unemployed due to the factory's shutdown. She described the work environment as "extremely male-oriented" and added, "Despite doing equal work, we did not receive the minimum benefits and wages… Unfortunately, there is no difference between the wages of a worker who has been working on the production line for several years and a newcomer."
Ms. Rostami also complained about violence and discrimination against women by some employers and the poor sanitary conditions they face in production units. She said the laying off of workers exerts double pressure on other workers who have to work more despite their physical conditions. (The semi-official Aryanews.com, May 3, 2018)
The most vulnerable work force in the job market
Female workers have always been the most vulnerable group in the Iranian job market.
As it became evident by official admissions and some of the published cases, women are the first victims in the face of any economic problem and among the first groups of workers to be laid off of work. Women are considered a secondary work force who receive smaller wages for equal work with men.
Plans introduced in recent years to increase the length of maternal leave or reduce women's working hours under special circumstances have practically discouraged employers from recruiting female workers, giving them excuses to refrain from employing women. Even when women are employed, their job security is on the line by marriage or pregnancy.
Women also make up the majority of the workforce in small workshops with less than 10 workers. These workshops are exceptions to the labor law and not supervised by the government. This is called the unofficial sector or the "Grey Economic Sector."
Women hired in the unofficial sector or the "Grey Economic Sector" have to work in the workshops for minimum wage and without receiving any benefits, retirement pensions or health insurance. At the same time, these women are also the first targets to be easily dismissed from their jobs without any unemployment insurance.
The small workshops are the first group of businesses to shut down in the economic ups and downs. In light of women's greater share of employment in small workshops, one can conclude that unemployment has been higher among women in recent years due to economic hardships. This has driven more women towards signing temporary contracts to earn their living.
According to the latest statistics, 85 per cent of Iranian workers are hired by workshops on temporary contracts. While there are no official reports on the share of women, women are estimated to comprise a greater share of temporary contracts than men.
As it was earlier noted by a regime official, oppression of women in some production units can be only described as "new slavery."
https://women.ncr-iran.org/2019/04/30/female-workers-in-iran-work-in-new-slavery-conditions/
--------
Sri Lanka Muslim Women Uncover Out Of Fear
May 01, 2019
COLOMBO - Religious tensions and a government ban on covering the face since the Easter Sunday suicide attacks have forced conservative Muslim women in Sri Lanka to shun veils, head scarves and long robes in public.
Muslims in the South Asian nation have felt they are a target ever since jihadist suicide bombers killed more than 250 people with their coordinated strikes on six churches and hotels.
Many women said they stopped wearing niqab face veils, hijab scarves and abaya robes straight after the attacks, which have been claimed by the Islamic State group.
On Monday the Sri Lanka government banned women from covering their face in public, bringing it into line with a number of European countries, including France, Denmark and Belgium.
Sri Lanka's population of 21 million is a patchwork of ethnicities and religions, dominated by the Sinhalese Buddhist majority. Muslims constitute about 10% of the population while Christians are the third largest religious group.
"I have stopped wearing the abaya and hijab in the last few days because of the comments and looks I was getting," said one Muslim widow, asking not to be named.
"I will start wearing them when the situation is calmer and people are less paranoid," she said.
"The hijab has not been banned, but people look suspiciously when they see me in it."
BUDDHIST WELCOME
Mareena Thaha Reffai, a Muslim preacher and head of a women's organisation, said it was better to comply with the ban than to trigger a religious dispute.
"This is not the time to argue about rights. Two hundred and fifty people have died, 500 wounded," Reffai told AFP. "Let emotions go down. Let us talk about this (ban) leisurely."
Reffai did not believe there was any rationale for the ban when none of the suicide bombers concealed their identity as they blew up Christian worshippers at three Easter services and foreign tourists as they queued for breakfast at three Colombo hotels.
The country's Roman Catholic leader, Cardinal Malcolm Ranjith, would not weigh in on the ban though he said that some of the Islamic community had called for it.
"We can't take a position," the cardinal told AFP. "We don't know what is at the base and behind this strategy... But the Muslim clerics themselves wanted it."
Top Buddhist monk Omalpe Sobitha welcomed the niqab ban.
"When people cover their faces, we don't know who is behind that veil," he said. "Even criminals could use these clothing to conceal their identity, so it is a good move to ban this."
He highlighted how European nations had also banned face covering for security reasons.
Most Sri Lankan Muslim women practice a liberal form of Islam and do not cover their faces in public.
One Muslim housewife in her 70s said she never covered her face and had no issue with the ban.
"As Sri Lankan Muslims became more educated they shed the purdah," she said.
AVOID FACE OFF
Sri Lanka's council of Islamic clerics had appealed to Muslim women days before the government ban not to cover their faces.
"We strongly appeal to our sisters to be mindful of the critical emergency situation now prevalent in our country," the All Ceylon Jamiyyathul Ulama said in a statement.
"We advise that in the prevailing situation our sisters should not hinder the security forces in their efforts to maintain national security by wearing the face cover."
Tight security has been imposed with thousands of troops deployed. Cordon-and-search operations staged since the April 21 attacks are a throwback to the country's war-era.
Restrictions had eased after government forces defeated separatist Tamil Tiger rebels in 2009. Roadblocks and checkpoints were dismantled allowing free movement.
After the Easter attacks, the war-time constraints returned.
Several Muslims felt the dress code distracted from the bigger problem: the intelligence failure that led to the devastating attacks.
The government has admitted that it had prior warnings about the suicide bombers, but no top minister was told and no one took it seriously enough to avert the disaster.
https://ewn.co.za/2019/04/30/sri-lanka-muslim-women-uncover-out-of-fear
--------
Egypt's First Female Polo Team Rides To Victory
Salwa Samir
April 30, 2019
The polo mallet finally passed to women in Egypt when Farah Awadalla, 23, formed a 10-member team called "Nefertiti." The young team named after the daring queen won its first match March 29.
"I formed the team because there wasn't a single women's polo team in Egypt," she told Al-Monitor. "I felt that women needed representation in more sports, now that we are advancing in so many fields. It's been 100 years since women held their first mass demonstration for their country's independence and it seemed like the right move."
Farah is the daughter of Ibrahim Awadalla, one of the country's most renowned polo players. She grew up riding horses and has been playing polo for the last two years.
"My dad is definitely my role model," she said, also listing Argentina's Mia Cambiaso among her heroes. "Her dad is also a polo player [Adolfo Cambiaso] and she grew up in the polo world just like me," she added with a laugh.
She also praised Argentinian polo, saying, "We use Argentinian polo ponies, which are considered the best for polo. We dress the same and the matches and rules are the same as abroad."
To form her team, Awadallah contacted female players in a number of Cairo's equestrian clubs and encouraged them to join her. She created the Instagram account @nefertitipolo to spread the word and encourage more women to learn the sport and join in.
"I hope that young women who see us on TV and read about us in local news will feel encouraged and join us," she said.
On March 29, the Egyptian Polo Federation, founded in 1980, organized the first female polo match. Nefertiti played against women from the Police Union Club in Cairo, winning the game 2-1.
"This first game will hopefully increase the number of teams and women's matches," Karim Loza, a member of the board of the Egyptian Polo Federation, told Al-Monitor.
"Since childhood, when I watched scenes of riding horses in the movies, I imagined myself riding. It was a dream for me," Aliaa Mohamed, 16, told Al-Monitor. She has been riding since the age of nine and is one of the youngest members of the Nefertiti team.
Mohamed admitted that it took a while to get her parents to permit her to join a riding club and then a polo team. "I do sometimes fall off or get injuries, but I simply cannot imagine a life without riding," she told Al-Monitor. "Dealing with horses made me more compassionate toward all animals. I and the horse understand and love each other — we are friends."
Mohamed joined the team after receiving a phone call from Awadalla. "Forming a female polo team in Egypt is a key step in spreading this sport in the community," Mohamed said, adding, "The establishment of a team will enable us to play with other female teams in other countries. We will represent our country and win international tournaments."
Though the history of modern polo is traced to the British, who learned the game in India, history's first recorded polo match was held in 600 BCE in Central Asia. A group of nomadic Turkmens beat a team of Persians. In 1858, British tea planters and military officers discovered the game in Manipur, on the Indian border with Burma. Captivated by the game, they established the world's first polo club called Silchar Kangjei Club in western Manipur.
Then the British brought the sport to the United Kingdom, where the rules were written down by London's Hurlingham Club in 1869. It later spread in other countries such as Australia and the United States and Argentina, which held its first match in 1875.
In Egypt, it is said that the polo sport appeared during the Ayyubid Dynasty in the 12th century and that the first Ayyubid Sultan of Egypt, Saladin, was a fan and his army were keen to play polo as training.
https://www.al-monitor.com/pulse/originals/2019/04/nefertiti---first-female-polo-team-in-egypt.html
--------
URL: https://www.newageislam.com/islam-women-feminism/saudi-arabia-asks-its-citizens/d/118475
New Age Islam, Islam Online, Islamic Website, African Muslim News, Arab World News, South Asia News, Indian Muslim News, World Muslim News, Women in Islam, Islamic Feminism, Arab Women, Women In Arab, Islamophobia in America, Muslim Women in West, Islam Women and Feminism