New Age Islam News Bureau
13 Jan 2016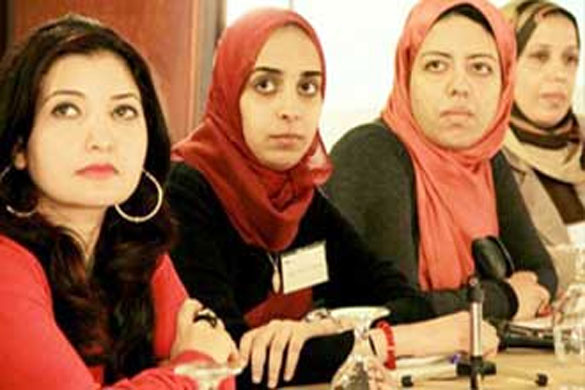 Photo: Egyptian women fight stigmas for future gains
--------
• Egyptian Women Fight Stigmas for Future Gains
• Four Women Appointed To Top Posts in Organization of Islamic Cooperation
• Women Candidates in Sharjah Elections Briefed On Campaigning Rules
• Islamic State Threatens To Kill Pune ATS Officer Who Deradicalised Young Girl
• First Saudi Woman Colorectal Surgeon to Address Arab Health Conference In Dubai
• Muslim Women Must Be Emancipated
• Female Illiteracy in KSA Drops To 8.27%
• Attempt To Smuggle Woman into Saudi Arabia Foiled
Compiled by New Age Islam News Bureau
URL: https://www.newageislam.com/islam,-women-and-feminism/new-age-islam-news-bureau/saudi-arabia-arrests-sister-of-jailed-blogger-raif-badawi--amnesty/d/105977
----------
Saudi Arabia arrests sister of jailed blogger Raif Badawi: Amnesty
Jan 13, 2016
Amnesty International says the sister of jailed Saudi blogger Raif Badawi has been detained, describing her arrest as "damning proof" of the kingdom's human rights violations.
Samar Badawi was arrested with her two-year-old daughter in the Saudi city of Jeddah on Tuesday and questioned by police for four hours before being transferred to Dhaban prison, the human rights organization said in a statement.
"The arrest... is the latest example of Saudi Arabia's utter contempt for its human rights obligations and provides further damning proof of the authorities' intent to suppress all signs of peaceful dissent," the statement added.
Raif Badawi's wife, Ensaf Haidar, wrote on her Twitter page that Samar's arrest was related to her alleged role in managing a Twitter account campaigning for the release of her ex-husband, Waleed Abulkhair. A lawyer and human rights activist, Abulkhair is serving a 15-year jail sentence.
The arrest "demonstrates the extreme lengths to which the authorities are prepared to go in their relentless campaign to harass and intimidate human rights defenders into silent submission," said Philip Luther, the Middle East and North Africa director at Amnesty International.
Raif Badawi, 31, was detained in 2012 for criticizing the Saudi regime. He received 50 lashes in a public square in Jeddah in January last year as the first part of his 1,000-flogging sentence.
International rights bodies have criticized Saudi Arabia for its grim human rights record, arguing that widespread violations continue unabated in the country.
On Saturday, Amnesty International voiced concern over the imprisonment and abuse of peaceful human rights defenders and activists by the Saudi regime under the pretext of 'fighting terrorism.'
"More and more human rights defenders are being sentenced to years in prison under Saudi Arabia's 2014 counter-terror law, while its allies shamelessly back the kingdom's repression in the name of the so-called 'war on terror,'" said James Lynch, Amnesty International's deputy director for the Middle East and North Africa.
He added that dozens of prisoners of conscience remain in jail "at the risk of suffering cruel punishments and ill-treatment for their peaceful activism."
http://www.presstv.ir/Detail/2016/01/13/445593/Saudi-Arabia-Amnesty-International-Raif-Badawi-Samar-Badawi-human-rights/
------------
Egyptian women fight stigmas for future gains
Jan 13, 2016
Renad Ghanem
CAIRO — Like women around the world, Egyptian women seek to improve their future, and so each year many of them make the difficult decision to travel abroad to look for work.
Egyptian society, like many Arab societies, believes that it's not easy for women to travel and live alone.
Some are concerned with safety and the idea that women are unable to protect themselves, while others fear the social stigma attached with a woman living abroad alone.
But despite the difficulties, many women still take the risk. They travel to find who they are, leaving behind them all the fears and doubts of Egyptian society.
One Egyptian woman, who wished to remain anonymous, said she decided to break all the rules that her family had built, and traveled to Dubai to find the perfect job opportunity, despite her family's rejection.
"My parents were totally against the idea. They told me that it's shameful to tell people that their daughter traveled alone and stays alone in another country. They rejected the whole idea, and they told me that they will not give me money to prevent me from traveling," she said.
The woman said she had tried many times to convince her parents that they should let her walk her own path, but they believe that society would blame them without concerning for her aims and dreams.
"I borrowed money from my sisters, who were totally supporting this step. They believe that I have to achieve my goal in life and can be a successful person," she said.
"The funniest part to me was that my parents didn't tell our relatives that I'm traveling. I was frustrated that my parents were afraid of society more than being afraid about my future. I traveled to Dubai despite all that, now I'm doing what I've dreamt about, I have a good job, I have my own money, my own car and I'm preparing to go back to Egypt soon to make my own project," she said.
"Despite all that now they are so proud of me and of what I achieved for myself and my career progress," she said.
Another young Egyptian woman, Sherin Ahmed, also faced rejection from her family about traveling, but decided to travel much farther than Dubai to achieve her aim of pursuing higher education.
"New York is the city where dreams come true, as people say, but my parents have a different opinion, they believe that women should leave her dreams behind and listen to the negative messages that traveling alone carries a stigma," said Sherin.
"When I finished college, I decided to travel to New York to do my masters, but as in any Arab society, a woman's decision is pending until her family agrees. I struggled with my family a lot; they kept saying 'you will not be safe, alone and people will blame us for letting you travel alone.' They believe I will never find a husband because society will judge me as immoral by living alone in a western country," she said.
Sherin said her parents allowed her to travel after a year of family discussion.
"I know that my parents are not happy, and they really care about what people will say about me, but I traveled to New York without letting society's negative messages stop me. I'm doing my master as I want, and I will make my patents proud," she said.
Despite these cases, there are many others who are rejected by their families, but there are also families who agree to let their daughters travel to work and study abroad.
An Egyptian woman in her late 50's, Eman Sharaawy, who is also a mother of four girls, said that parents should allow their daughters to travel alone to seek a better future.
"If any of my girls want to travel to work in another country, I will agree. Many people believe that it's unacceptable to let their daughters travel alone to work or to study, but I believe it is unacceptable to prevent our daughters from finding a better life, build a career, and become successful women," she said.
"I've raised them by Islamic rules and with good ethics, so I'm not afraid for them. I know if they traveled the seven seas, they would be safe."
http://saudigazette.com.sa/world/egyptian-women-fight-stigmas-for-future-gains/
------------
Four Women Appointed To Top Posts in Organization of Islamic Cooperation
January 13 2016
The Organization of Islamic Cooperation (OIC) has appointed four women to top positions in the 47-year-old organization with the aim of bolstering the pan-Islamic group's social role.
The new appointees, from Saudi Arabia, Mauritania, Algeria and Yemen, will act as directors at the OIC's political affairs, cultural and social affairs, media and information and women and family departments.
There are 12 women working in the general secretariat of the OIC, the world's second-largest international organization after the United Nations, consisting of 57 countries in total.
Saudi Maha Akeel, who was appointed the OIC's new director of media and information, was an English-language journalist before working as the editor-in-chief for the organization's flagship magazine for six years.
Muhlah Ahmad from Mauritania was appointed as the director general for cultural, social and family affairs.
She served as Mauritania's education minister between 2005 and 2007.
Fadilah Qareen from Algeria, who joined the OIC in 2014, was appointed director of social and family affairs.
"We are currently setting long-term and short-term goals. We must establish a stable directorate for social and family issues in the Islamic world. That entails having a plan for quality assurance and having consistent developmental strategies," Qareen said. "We must have strategies for women empowerment, childcare, youth empowerment, preservation of family values and social security for the elderly and those with special needs."
Noriyah Al-Hamami, who is from Yemen, was appointed the OIC's humanitarian affairs director and international organizations and European Union ambassador.
Al-Hamami said she aimed to bring about positive changes in issues such as women employment.
"Women should take on more leading positions in the Islamic world and branch out to all areas and fields of society. Hopefully, by time we will improve the image the Western world has of a Muslim woman," she said.
"The OIC is committed to demonstrating how women can play important roles in public life," OIC Secretary General Iyad Ameen Madani said.
"It is important not just for empowering women, but in correcting misconceptions about the role of women in Islam," Madani said.
http://www.hurriyetdailynews.com/four-women-appointed-to-top-posts-in-organization-of-islamic-cooperation.aspx?pageID=238&nID=93749&NewsCatID=352
------------
Women candidates in Sharjah elections briefed on campaigning rules
January 12, 2016
Sharjah: Women candidates running for the Sharjah Consultative Council elections have been briefed by officials about campaigning rules and regulations.
Campaigning is scheduled for January 17 to 28 while the elections will take place on January 30-31.
At a seminar on Tuesday, members of the Higher Committee for Sharjah Consultative Council Elections (HCSCCE) advised the 43 women candidates about the do's and don'ts of campaigns and shared with them some ideas about how to conduct an effective campaign. Mansour Mohammad Nassar, Chairman of HCSCCE, said it was important for candidates to be aware of regulations and how to handle their campaigns.
Earlier the HCSCCE said that candidates running for elections cannot spend more than Dh2 million on their campaigns and cannot receive public funding.
Some of the rules governing the campaigns also included the places where they can promote their credentials and the length of their campaigns. Nassar highly recommended social media to be used as a platform to reach a large segment of society at zero cost.
Candidates were told they could not use the logo of the Government of Sharjah in their campaigns and must instead use the logo for the SSC elections. "Candidates must first get our approval before they go ahead with their campaign plans and must avoid any advertisements during the period of electoral silence."
Nassar said Shaikha Jawaher Bint Mohammad Al Qasimi, wife of His Highness Dr Shaikh Sultan Bin Mohammad Al Qasimi, Supreme Council Member and Ruler of Sharjah, in her capacity as chairperson of the Supreme Council for Family Affairs in Sharjah, has been monitoring all stages of the elections.
Nassar also said that the nomination requests received from women was impressive.
The HCSCCE is holding several seminars for candidates to guide them about their roles and responsibilities if they win and become members of the SCC.
It was mentioned that members of the electoral college will have to vote for candidates at the polling stations and cannot have someone vote on their behalf.
http://gulfnews.com/news/uae/society/women-candidates-in-sharjah-elections-briefed-on-campaigning-rules-1.1652722
------------
Islamic State threatens to kill Pune ATS officer who deradicalised young girl
January 13, 2016
Mumbai: The Islamic State has reportedly threatened a Pune Anti-Terrorism Squad (ATS) member for deradicalising an Indian girl who wanted to join the terror group.
As per CNN-IBN news channel, the Mumbai Police Commissioner's office received a letter two weeks ago threatening Pune ATS officer Bhanupratap Barge.
As per Mumbai Police sources, the letter was allegedly written by an IS member.
The letter threatened to kill Barge and his family for deradicalising the Muslim Pune girl.
The ATS has launched a probe into the matter.
As per earlier reports, the girl who was deradicalised is a very bright convent educated Class XI student.
"The girl was interrogated by the ATS after monitoring her movements for many days on getting information about her. It confirmed her initiation by the ISIS. The interrogation of the girl revealed that she was ready to go to any extent to carry out the ISIS directive," Barge had said last month.
According to the ATS, the minor girl got attracted to the ISIS ideology after watching a documentary on television and subsequently started regularly monitoring news on Al Jazeera channel.
"Later, she used the Internet to get in touch with ISIS contacts and got in touch with about 200 young persons from different countries. Her interrogation revealed that she was told to come to Syria for medical education and for further initiation," Barge had said.
The girl, as per police, had even changed her lifestyle and started wearing burqa, giving up jeans she used to wear before her exposure to the ISIS contacts.
http://zeenews.india.com/news/india/islamic-state-threatens-to-kill-pune-ats-officer-who-deradicalised-young-girl_1844548.html
------------
First Saudi woman colorectal surgeon to address Arab health conference in Dubai
RODOLFO C. ESTIMO JR.
13 January 2016
RIYADH: The first Saudi woman in colorectal surgery, Dr. Samar Al-Homoud, will address the Arab Health Surgery Conference in Dubai from Jan. 25 to 28.
"Colorectal cancer is considered the second most common cancer in Saudi Arabia. It's the most common cancer among men and third most common among women," she told Arab News on Tuesday.
She added that many colorectal cancers can be detected through regular screening, which is "crucial because when found early, colorectal cancer is highly curable."
She added that she'll participate in the panel "Colon Cancer Screening: Why is It Necessary for Arabia-Gulf Countries?"
"The panel will focus on early cancer detection programs in the Gulf countries and why it's necessary to establish screening programs," she said.
Dr. Al-Homoud added that cancer screening plays a pivotal role in strategic planning of health care policy, and can significantly impact patients' life by detecting cancer at an early stage.
"The panel will see the contributions of doctors from the region, and I hope that through this discussion we can address the challenges we currently face," she said.
She also expressed hope that the discussion will also begin to work on future collaborations and planning as well as implementing screening programs.
"These screening programs, if supported by increase in public awareness about colorectal cancer, will improve the standard of care of patients," she said.
Asked why there's lack of Saudi women in the field of colorectal surgery, she said that it's not easy.
"The field of surgery is not easy, locally and internationally, with a lot of challenges and difficulties," she said.
She added that "the specialty of colorectal surgery is a rare one and that there aren't enough Saudi female surgeons in this area and the disease has not yet received enough attention in Saudi Arabia and the Arab world."
"I would like to mention here that during the training, I was the only doctor who completed it. My colleagues withdrew and went on to other specialties," she said.
She's a consultant colorectal surgeon at King Faisal Specialist Hospital and Research Center in Riyadh.
http://www.arabnews.com/saudi-arabia/news/864316
------------
Muslim Women Must Be Emancipated
By Michael Curtis
January 13, 2016
In the mid-19th century an early British feminist, Caroline Norton, involved in a law case resulting from her disastrous marriage, wrote that the law must be changed. Women, she held, were not appealing for an exceptional law in their favor; on the contrary they were appealing not to be made an exception from the general protection of the laws.
Her argument is still pertinent in view of continuing Islamic subordination of women by legal and other means. Indeed, the essence of it has led to discussion of the issue in a bill introduced in October 2015 by another Caroline, Baroness Cox in the House of Lords. This legislation is intended to outlaw gender discrimination in the Islamic sharia courts in the U.K. It would make illegal anything that constitutes discrimination, harassment, or victimization on grounds of sex.
The surprising announcement on January 8, 2016 that Shamim Qureshi, a Bristol Crown Court Judge, had been granted permission to sit as a presiding judge on a sharia court, the Muslim Arbitration Tribunal (MAT), in Nuneaton, Warwickshire, set up in 2007, has drawn extra attention to the issue of discrimination against women, as well as the appropriateness of mixing official, national, secular law with religious law.
The MAT, which has undermined the rights of women, has jurisdiction over issues such as Islamic divorce, inheritance law, wills, and family mediation.
Parenthetically, its leader, Sheikh Faiz-ul-Aqtab Siddiqi, is a political activist. He led a demonstration of the Muslim Action Forum on February 8, 2014 in Downing Street, outside the gates of the official residence of the British prime minister, objecting to the cartoons, caricatures, and depictions of the Prophet in Charlie Hebdo, a month after Muslims had massacred 11 of the CH journalists in Paris.
There are two issues involved. The purpose of the Cox bill is to restrict the powers of sharia courts, now estimated to number 85 in the UK, and sometimes referred to as sharia councils, to help vulnerable women who need protection from exploitation and to end gender discrimination by Muslims. It addresses the problem of religiously sanctioned gender discrimination. The second issue is to question the growth of an alternative Islamic quasi-legal system that undermines the fundamental principle of one law for all.
The disapproval of sharia law results from the reality that it condones domestic violence and physical abuse against women, and that it undermines equal rights and protection under the law. Under sharia law, the process of halala allows a man to divorce his wife by uttering the words "I divorce you," three times, divorce can be had by mail, and polygamy to the extent of four wives is allowed. Women are handicapped on issues of child custody, inheritance provisions, and rules of evidence in trials as women's testimony accounts for only half that of men. The inequality is that the rule in MAT is that male heirs in an inheritance dispute receive twice the amount of women involved.
This is a special problem since not everyone is aware of the national, secular law.
Moreover, women are often pressured by their families to go to the sharia courts or councils. And women may be abused because of the nature of the closed communities in which they live. The evidence is strong that sharia councils operate in a discriminatory and unacceptable fashion.
Sharia courts deal mainly with religious questions, but some also incorporate sharia law into legally binding arbitration. The issue of quasi law, or a parallel legal system, is growing, even in criminal law. For example, there are 100,000 Muslim marriages in the UK not registered with civil authorities and therefore not recognized by English law.
Regarding criminal law, the sharia courts claim jurisdiction over domestic violence and bodily injury. According to the British Arbitration Act of 1996, whose intention was to clarify principles by which arbitration should be conducted, certain civil disputes can be resolved according to the law of another legal system, in this case sharia principles. But this does not entail rejection or repudiating adherence to the fundamental principles of British law, especially nondiscrimination.
Freedom of religion is a cardinal principle, and it is undesirable to interfere with theological beliefs of those who voluntarily practice particular faiths. Similarly, there should not be official intrusion into private life, but limits on them are appropriate to protect the lives of women and people of non-Muslim faiths, and to punish acts of violence and discrimination.
The conclusion must be that if practices under a different culture or jurisdiction, such as sharia law, are recognized as incompatible with the culture and jurisdiction of the national country, they should be prohibited. The ultimate law is the law of the country.
The problem is that official authorities may be unwilling to take such action because of political correctness or fear of offending the minority community. This was the case of what has been called the "Rotherham complex." In August 2014, an official report recorded that in Rotherham, an industrial town in northern England, gangs of local men almost all of whom were alleged to be Pakistanis, raped, coerced by drugs and alcohol, and sold more than 1,400 girls, all white, over the past 14 years. To its shame the Labour Party local council not only failed to halt this abuse but sometimes denied what had happened and even perpetuated it. By their standard of institutionalized political correctness, to act against the Muslims alleged perpetrators would be "racist."
In the present climate when murders and massacres in the United States, France, and other countries are being committed by Muslims on the basis of fulfillment of sharia law, when mass migration to democratic countries is rapidly increasing, and when the number of sharia courts is growing in the U.S. as in European countries, attention must be paid to the crucial problem of Islamic discrimination against women.
http://www.americanthinker.com/articles/2016/01/women_must_be_emancipated_.html
------------
Female illiteracy in KSA drops to 8.27%
ABDUL HANNAN TAGO
12 January 2016
RIYADH: The illiteracy rate among Saudi women dropped to 8.27 percent last year, according to the Ministry of Education.
A ministry source said that from only five adult education centers 45 years ago, there are now 1,438 covering language and other lessons. There are 1,357 centers for elementary education that produced 491,540 graduates. There is also a community program "Society Without Illiteracy" that has individualized instruction. As many as 269,845 women have benefited from these services since its launch in 2008. Another program, called "Neighborhood Learner Program" promotes literacy across the Kingdom with 111,766 individuals having finished the course.
The source said 25,476 candidates have also graduated from a program "City Without illiteracy" in Madinah, Makkah and Shaqra province. As a result, these cities have been declared free from illiteracy.
Another 16,299 also benefited from six years of awareness and literacy campaigns targeting rural women in villages where illiteracy is high. There is also another program for working Saudis unable to continue their studies. The ministry allows them to attend classes for two hours daily, which has resulted in 6,141 graduates.
Those enrolled also get financial incentives and SR1,000 for successfully finishing.
http://www.arabnews.com/saudi-arabia/news/863936
------------
Attempt to smuggle woman into Saudi Arabia foiled
January 13, 2016
Manama: Saudi authorities have foiled an attempt to smuggle a foreign woman into the countryby hiding her inside a car.
The woman was reportedly "concealed"under a pile of clothes behind the front seats of the car crossing the King Fahad Causeway, linking Bahrain with Saudi Arabia.
"A car arrived early in the morning to the customs area for clearance," Dhaifallah Al Otaibi, the general director of customs at King Fahad Causeway, said. "During the routine inspection, a foreign woman was discovered on the mats and under a pile of clothes behind the driver's seat. The ruse obviously did not work and the customs officer reported the case. The procedures in such cases are being followed," he said.
Al Otaibi paid tribute to the officer and to the customs for their efforts to foil all kinds of smuggling attempts, Saudi media reported on Wednesday.
The nationality of the woman and the reasons for the smuggling were not announced by the authorities.
However, the attempt to drive foreigners into Saudi Arabia via the 25-kilometre causeway was not new.
In June 2013, an attempt to smuggle a European woman into Saudi Arabia was foiled by local customs officers.
The woman whose nationality was not revealed did not have a passport and was hiding under a large carpet and a small wooden table on the Pajero floor mats.
The woman was discovered as the customs inspected the car driven from Bahrain by a British national.
Thousands of vehicles and passengers, mainly Saudis, regularly use the terrestrial link, particularly over the weekend.
Customs officers on both sides of the causeway have been engaged in a relentless battle against incredible ruses to smuggle weapons, explosives, alcohol, birds and animals, a task that has been rendered particularly challenging by the high number of daily users and commuters.
In March, Bahraini authorities said that they seized bomb-making material on a bus coming from Iraq via Saudi Arabia with 55 passengers on-board, mostly women and children.
"A screening of the passengers' luggage with X-ray machines showed that one of the bags contained suspicious things," Advocate General and Terror Crimes Chief Prosecutor Ahmad Al Hammadi said. "During a closer inspection, 140 electric detonators, 41 electric circuits that could be used in blasts, a remote control and some mobile phones were found hidden inside some electrical appliances in the bag."
In May, Saudi Arabia foiled an attempt to smuggle RDX – a highly explosive material - and detonators intended to be used in the kingdom.
The Saudi security men had doubts about the two men driving into Saudi Arabia and decided to search their car.
The inspection yielded 14 bags carefully hidden inside the back seats of the car. Officials said that 11 bags contained more than 30 kilos of the RDX and two bags had 50 blasting caps. The last bag had a six-metre detonator cord.
http://gulfnews.com/news/gulf/saudi-arabia/attempt-to-smuggle-woman-into-saudi-arabia-foiled-1.1652893
URL: https://www.newageislam.com/islam,-women-and-feminism/new-age-islam-news-bureau/saudi-arabia-arrests-sister-of-jailed-blogger-raif-badawi--amnesty/d/105977
New Age Islam, Islam Online, Islamic Website, African Muslim News, Arab World News, South Asia News, Indian Muslim News, World Muslim News, Womens in Islam, Islamic Feminism, Arab Women, Womens In Arab, Islamphobia in America, Muslim Women in West, Islam Women and Feminism