New Age Islam News Bureau
12 Jul 2017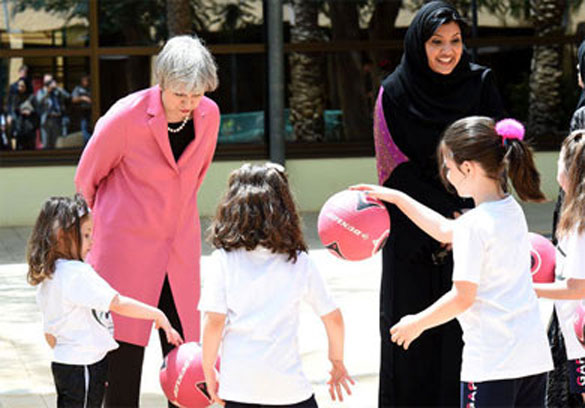 Saudi Arabia allows physical education for girls in state schools, compliant with Islamic rules. Photo Source: Twitter
----
• Lebanese Woman Digs up Son's Grave to Make Space for Syrian Boy
• India: UP Village Tense over Hindu-Muslim Marriage
• 214m Women, Around the World, Don't Use Modern Family Planning Methods: Patel
• Despite Threats, Woman Who Opened Liberal Mosque in Berlin Keeps Fighting For Religious Freedom
• European Court Of Human Rights Upholds Belgium's Ban on Burqas and Full-Face Islamic Veils
• Nigerian Man Reveals Why Muslim Women Are Not Allowed To Wear Perfumes
Compiled by New Age Islam News Bureau
URL: https://www.newageislam.com/islam-women-feminism/saudi-arabia-approves-physical-education/d/111826
--------
Saudi Arabia approves physical education program in girls' schools
11 July 2017
JEDDAH: Saudi Arabia's Ministry of Education (MoE) has approved a physical education program at girls' schools starting in the coming academic year.
Education Minister Ahmed Al-Issa issued a decree on Tuesday, under which classes will be gradually implemented starting in the 2017-2018 school year.
Schools with the means to provide gyms of the required standard must also provide sufficient and qualified instructors suited for the task.
The move is linked to the goal of boosting sporting activities among all members of Saudi society, one of the targets of the Kingdom's Vision 2030 reform plan.
The education minister's decision includes the formation of a supervisory committee to implement the program, headed by Haya bint Abdul Aziz Al-Awwad, the undersecretary of education for girls.
The committee is to develop a document containing objectives and performance indicators for the program, in addition to preparing an interim operational plan and working with universities.
The decision comes after three months of intensive studies by a specialized team commissioned by the minister to review all directives and recommendations in this regard.
Lina K. Almaeena, a Shoura Council member, said the move was one of the benefits of the Vision 2030 and National Transformation Program (NTP) 2020 initiatives.
"I'm very happy with the issue of the decree and this is a historic day for all Saudi girls in the Kingdom," she said.
"I'm very thankful to the MoE and Princess Reema bint Bandar, deputy at the General Sports Authority. I've been working for over a decade in the private sector and private schools and this is a historic decree for all schools, public and private."
When asked whether the decree was timed well, Almaeena said: "I'm an optimist and rather than looking back, we should all look forward. We don't have the logistics, location or setting and a decree such as this is not as easy as many believe it is. They certainly took their time to review all recommendations in terms of technicalities for implementing health education programs in girls' schools."
Sultan A.J., a banker and a father to a 7-year-old boy and 5-year old girl, said he was "extremely optimistic" about the news.
"I now know that my daughter will have the same opportunities as my son when it comes to sports-related activities in school," he said.
"I already have my young daughter in an afternoon school program to keep her active and she loves playing gymnastics and swimming. With this decree I'm sure my daughter will finally enjoy her time in school along with her school friends and build a good understanding as to what being healthy is all about."
Fitness and health trainers have also welcomed the decree, with many having provided private classes to young girls for some time. "Keeping young girls active not only helps with their physical shape but also enables them to think more toward a healthier lifestyle," said Nouf Hamadallah, a certified health and fitness trainer in Jeddah.
"My two daughters love to dance and stay active; I'm fortunate that my girls' school has a physical education class but it's a shame others don't. With this decree, more young girls will have the chance now to grow to love something that is new but will help them keep healthy and stay strong as they grow. Not only do my girls learn from me, they have the opportunity to learn from their school as well; now all Saudi girls can have that same chance."
Many Saudis and expats living in the Kingdom have shown their support for the MoE's decree — but there are some who do not agree.
"I don't think it's right for a young girl to take a sports class in school, she will grow harsh and rough, which goes against her delicate nature," said Mohammed M.S., a longtime banker. "I won't deny my daughter's participation in any (physical education) related activities in school but I will draw a line somewhere."
Many young girls in Saudi Arabia are big fans of local soccer teams and US basketball teams as well as some legendary tennis players.
Maymoona Sultan, a ninth-grade student in Riyadh, loves playing tennis and has attended a summer camp over the past two years.
"I hope my school opens a tennis class since the game is not only very active, it's extremely fun to throw a ball around and test your strength," she said. "My mom told me about the decree and I'm happy that more girls will get to understand about sports and health like me."
http://www.arabnews.com/node/1127811/saudi-arabia
--------
Lebanese woman digs up son's grave to make space for Syrian boy
11 July 2017
A Lebanese woman dug up the grave of her son in order to make space for a Syrian refugee boy who died in a fire and had no place to be buried last week.
Refugees Without Borders posted images on Facebook showing the woman digging up the grave in the Bekaa Valley. The post read: "Lebanese woman opens the grave of her son , who died a year ago and buried a Syrian boy who died yesterday due to the fire that broke out at a refugee camp in the Bekaa Valley, after all villages refused to bury him in their tombs."
Local news reported that it isn't clear why the graveyards refused to Syrian boy, however many municipalities in the country issued restrictions preventing refugees from being buried in cemeteries due to overcrowding.
Lebanon is home to 1.5 million registered refugees, making up 30% of the Lebanese population. Many of them occupy camps in the Bekaa valley and in the north of Lebanon, with dire living conditions and little to no resources.
https://english.alarabiya.net/en/features/2017/07/11/Lebanese-woman-digs-up-son-s-grave-to-make-space-for-Syrian-boy.html
--------
India: UP Village Tense over Hindu-Muslim Marriage
By Manish Sahu
July 12, 2017
TENSION PREVAILED at Pichkaura village in Baghpat after a Hindu girl appeared before a local court claiming that she had married a Muslim youth.
Police had to escort Komal (22), who was accompanied by her husband Salman (24), to a safe place, as members of Hindu outfits and locals gathered outside the court protesting the marriage on Monday. Now, members of RSS affiliate, Hindu Jagaran Manch, have decided to try to convince the girl to return to her family and also hold a Mahapanchayat in this regard.
Members of Bajrang Dal, on the other hand, claimed that Salman has forced Komal to convert to Islam.
Meanwhile, fearing attack by the girl's family and locals, Salman's family has fled the village.
Komal, an undergraduate student, had eloped with her neighbour Salman, a daily wage labourer, on June 25. A week later, she was scheduled to marry a youth chosen by her parents.
"Salman's father Sabbir Ali and his four uncles, along with their family members, left the village on Tuesday morning. In all, 24 members of these families have left… After Komal's return and yesterday's court proceedings, people believed to be from Hindu outfits have started coming to our village," said village head Haji Farman Ali.
http://indianexpress.com/article/india/up-village-tense-over-hindu-muslim-marriage-4746548/
--------
214m Women, Around the World, Don't Use Modern Family Planning Methods: Patel
July 12, 2017
ISLAMABAD - British Secretary of State for International Development Priti Patel on Tuesday said that there were still 214 million women around the world who do not want to get pregnant but also do not use modern methods of family planning.
Speaking at a Family Planning Summit in London, she said, "It's truly astonishing that in today's world there are still 214 million women around the world who do not want to get pregnant, but who are not currently using modern methods of family planning." The London Family Planning Summit was co-hosted by Priti Patel, Melinda Gates, Bill and Melinda Gates Foundation, and Natalia Kanem, UN Population Fund.
The summit focused on practical measures to reduce costs and increase availability for the millions of women who want contraception, but cannot afford or get hold of it, said a statement released by the British High Commission here.
At the Family Planning Summit, Patel set out an increased support package - boosting and extending the UK contribution until 2022 - to provide voluntary, modern family planning to women in the developing countries across Africa and Asia.
In her keynote speech at the London Summit, Patel highlighted the UK's global leadership in responding to the urgent need for voluntary family planning.
She said that the new UK aid support would provide 20 million women with voluntary contraception, change the lives of six million women by allowing them to avoid unintended pregnancies and prevent the trauma of 75,000 still births.
"But this isn't a job for the UK alone, and that's why at this global summit governments from around the world have come together to make commitments on family planning to address the long-term need and unsustainable population growth," she added.
The provincial governments of Pakistan also attended the London summit.
Pakistan pledged to reach 6.7 million additional people, [3.4 million already reported and an additional 3.3 million to be added] achieving a contraceptive prevalence rate of 50 per cent by 2020.
This commitment will be achieved through additional resources, raising the per capita expenditure on FP to $2.50, and a programmatic refocus to address the information and service needs of men and young people and introducing safe and long acting reversible methods through task sharing.
A satellite event was also held in Islamabad ahead of the summit.
Health Minister Saira Afzal Tarar, DFID Deputy Head Judith Herbertson, Country Representative UNFPA Hassan Mohtashami and Population Council Country Director Dr Zeba Sathar were in attendance.
DFID Deputy Head Judith Herbertson, while speaking at the event said: "The government is particularly emphasising the importance of the census for population planning and economic management; and we applaud the completion of the census and the associated ambition. If by 2020 Pakistan's target of 50 per cent contraceptive use is reached, it will be a huge stride forward for individuals, families and the country. And will set Pakistan on the road to achieving reproductive health services for all by 2030 as set out in the Sustainable Development Goals."
There are 214 million women around the world, who despite not wanting to get pregnant, aren't using modern contraception.
Progress has been made globally to reach more women with family planning services, but more needs to be done.
Voluntary family planning saves lives by enabling women to plan, and have fewer, pregnancies – reducing their risk of death through unsafe childbirth.
This risk is very high in the world's poorest countries, especially for adolescents.
The UK's total package of support until 2022 will annually help save the lives of over 6,000 women by preventing maternal deaths – that is one woman every 90 minutes, said the statement.
It will support 20 million women to receive voluntary contraceptives through family planning services.
The aid will help avert six million unintended pregnancies and help prevent the trauma of 75,000 stillbirths and nearly 44,000 new-born deaths.
The UK put family planning on the international agenda with the inaugural 2012 Family Planning Summit where a goal was established to help 120 million additional women and girls use modern, voluntary family planning by 2020.
Britain is the second largest bilateral donor of family planning in the world.
Since the 2012 summit, the UK has helped nearly 8.5 million additional women to access modern methods of contraception, the statement said.
http://nation.com.pk/national/12-Jul-2017/214m-women-don-t-use-modern-family-planning-methods-patel
--------
Despite threats, woman who opened liberal mosque in Berlin keeps fighting for religious freedom
July 11, 2017
Seyran Ates has gotten used to the hundreds of threats she receives daily.
"She is the devil," they say. "She should burn in hell."
Since founding a liberal and controversial mosque in Berlin last month, Ates has been constantly targeted by those who have a strict interpretation of Islamic law. She vows to fight for religious freedom and challenge radical Islam – even if it puts her life in danger.
German authorities are taking the threats seriously. Six policemen guard her around the clock.
The mosque is open to Sunni, Shia, and other interpretations of Islam. It also welcomes gays. The burka and niqab are forbidden. Women may lead prayer services, and men and women sit together, which violates traditional Sharia law that requires men and women to pray separately and prohibits women from becoming imams.
GERMANY OPENS ITS FIRST LIBERAL MOSQUE IN BERLIN
The Rushd-Goethe Mosque, named after a Muslim philosopher and a German writer fascinated by Middle Eastern poetry, is housed in a building on the property of a Protestant church in Berlin's Moabit District.
Ates, 54, a Turkish-born German attorney, defies the condemnations issued by Turkish and Egyptian religious authorities. Dyanet, the Turkish authority, condemns the new mosque as depraving and ruining religion. Egypt's state-run religious authority issued a fatwa condemning the mixing of the sexes during prayer as a violation of Islam.
Yet Ates is willing to risk her life to chart a new path for Muslims.
GERMANY REJECTS TURKISH OFFICE'S CRITICISM OF LIBERAL MOSQUE
"We have the responsibility to show that we do not agree with Muslims who commit violence," she said during a phone interview. "We have to stand up and fight for the peace side of our religion."
She said she has repeatedly called for dialogue within Germany's predominantly conservative Muslim community of 4.5 million. Her voice grew sad as she recalled the response.
"They shouted that they have to kill me… to rape me," she said. "These are their messages."
While many condemn Ates, the German government strongly backs her.
Harald Neymanns, a spokesman for the Ministry of the Interior, made it clear that freedom of religion is enshrined in the German constitution and will be defended. The volatile situation at the mosque is being monitored to ensure safety at the Friday night services, he said.
The Ministry of the Interior has a responsibility to uphold the constitutional right to freedom of religion.
Deidre Berger, director of the American Jewish Committee office in Berlin, also condemned the death threats.
"The defamatory attacks are attempts by Turkish and Egyptian national religious authorities to crush newer forms of religious expression that bridge tradition with democratic values of equality," she said in an email.
Berger also said the resistance to the new mosque in Berlin shows that reformers like Ates face a daunting task in their attempt to create greater compatibility between Islam and European values. If the new mosque fails, she said, this would tear at the fabric of religious freedom – which is a core western values.
But a new report by the German government shows that those who advocate for a broader interpretation of Islam have increasingly come under attack. The government's domestic intelligence agency, or the BIV, reports a rise in the number of Muslim fundamentalists, from 8,350 in 2015 to 10,100 in 2016. These militant Muslims oppose any liberalization of Islam and increase the chance for terrorist attacks in Germany, according to the report, which also disclosed a rise in attacks by Islamic extremists over the same time period.
Norwegian author, Birgitte H. Huitfeldt, interviewed feminists in the region for her new book, "Uncensored," which was recently published in Germany. She found that there has been little change in the perception of women in Middle Eastern societies, with similar perceptions prevalent among Muslims in Germany.
"It was difficult to distinguish between Islamic fundamentalism and everyday oppressing family codes, or patriarchal suppression of women," Huitfeldt writes.
Despite the uphill fight, Ates, nevertheless, remains resilient.
She recalled her early struggles during our 2007 interview in a Berlin safe house. Her brother and father beat her and prevented her from leaving their tiny apartment unaccompanied. She escaped this oppressive environment when she was 17 and ran away to live in a women's shelter with battered Turkish and German women.
In 1984, she was badly wounded when Turkish nationalists invaded the shelter, guns blazing, killing the woman next to her. It took her five years to recover from the wounds and psychological trauma. She continued her education and became a lawyer, often representing Muslim women in divorce cases. One of the husbands attacked her outside a courthouse.
Ates said she is not intimidated by the death threats and plans to continue pushing the limits.
"The pushback I am getting makes me feel that I am doing the right thing," she said. "God is loving and merciful, otherwise he would not have turned me into the person I am."
http://www.foxnews.com/world/2017/07/11/despite-threats-woman-who-opened-liberal-mosque-in-berlin-keeps-fighting-for-religious-freedom.html
--------
European Court of Human Rights upholds Belgium's ban on burqas and full-face Islamic veils
Lizzie Dearden
July 12, 2017
Belgium's ban on burqas and other full-face Islamic veils has been upheld by the European Court of Human Rights.
Judges said the nationwide prohibition, which came into effect in 2011, did not violate the rights to private and family life and freedom of religion, or discrimination laws.
The court found Belgium had the right to impose restrictions aiming to ensure the principles of "living together" and the "protection of the rights and freedoms of others".
Its ruling said the government had been responding "to a practice that it considered to be incompatible, in Belgian society, with social communication and more generally the establishment of human relations, which were indispensable for life in society…essential to ensure the functioning of a democratic society".
The European Court of Human Rights (ECHR) dismissed two separate cases – one appealing Belgium's nationwide ban and another on a 2008 by-law adopted by three municipalities.
The first case was brought by two women – Samia Belcacemi and Yamina Oussar – who previously attempted to have the law suspended and annulled at the Constitutional Court in Brussels.
They both gave evidence on how the ban has affected their lives as Muslim women who choose to wear the niqab, which covers the face except for the eyes.
Ms Belcacemi said she initially continued to wear the veil in public but removed it over fear of being jailed or fined, while Ms Oussar said the law has forced her to stay at home.
The second case was brought by another Belgian woman, Fouzia Dakir, over a prohibition on full-face veils implemented in Pepinster, Dison and Verviers three years before the nationwide law.
She argued that the move infringed her right to wear the niqab guaranteed under the European Convention on Human Rights, with no "legitimate aim".
The court found there had been no violation of her right to private life, freedom of religion or discrimination laws, but that Belgium had infringed her right of access to a court when the Conseil d'État ruled an initial application to annul the ban inadmissible.
In a unanimous judgement, judges ordered the Belgian government to pay the Ms Dakir €800 (£700) in costs.
It was the latest test of laws brought in across Europe to ban the Islamic veil in public or while carrying out state functions.
In March, the European Court of Justice found that companies can legally ban Muslim employees from wearing headscarves, but only as part of prohibitions including other religious and political symbols.
But the Luxembourg-based court found that bans could constitute discrimination if people adhering to a specific religion, such as Muslims, are put at a particular disadvantage.
Several other cases are still underway across Europe, including an employment tribunal in the UK where a Muslim estate agent is suing her former employer after allegedly being told to remove her black headscarf because the garment had "terrorist affiliations".
Islamic veils have become a flashpoint for European debates over integration, extremism and freedom of religion in recent years, with France the first to implement a nationwide burqa ban in April 2011.
Belgium and Bulgaria followed, with partial or regional prohibitions now in place in Italy, Spain, Denmark and Switzerland.
The German, Austrian and Dutch parliaments have voted in support of a partial ban on full-face Islamic veils, but no laws have yet come into force.
http://www.independent.co.uk/news/world/europe/belgium-burqa-ban-upheld-european-court-of-human-rights-dakir-v-full-face-islamic-veils-headscarf-a7835156.html
--------
Nigerian man reveals why Muslim women are not allowed to wear perfumes
July 12, 2017
NAIJ.com came across a post shared by a Twitter user who claimed that Muslim women are not exactly permitted to use perfumes, as it could arouse desires in a man. Islam is a religion that holds women in very high esteem which is part of the reasons why they are made to cover up, as they hope that covering up helps her maintain her dignity and honor. A young man however provided another angle as to why their women are 'set apart' from other women in the world. The man identified as Abu Mutmainah, took to his Twitter handle to share the reason why Muslim women are not allowed to wear perfumes.
While responding to a tweet which was eventually deleted by another Twitter user, Abu said perfumes were not allowed, as a woman could arouse a man's interests by her scent alone. He wrote: "Perfume is only forbidden because it may provoke men's desires...Not permissible for women in Islam."
https://www.naij.com/1114399-nigerian-man-reveals-muslim-women-allowed-wear-perfumes.html
--------
URL: https://www.newageislam.com/islam-women-feminism/saudi-arabia-approves-physical-education/d/111826
New Age Islam, Islam Online, Islamic Website, African Muslim News, Arab World News, South Asia News, Indian Muslim News, World Muslim News, Women in Islam, Islamic Feminism, Arab Women, Women In Arab, Islamophobia in America, Muslim Women in West, Islam Women and Feminism