New Age Islam News Bureau
04 January 2023
• Iran Left Without Women Chess Grandmasters After Sara Khadem's Defection
• Women In Qatar Start To Break Through Glass Ceiling
• Iran To Accept More Afghan Women At Tehran University
• Body Of Minor Girl, Sania, Killed By Father For 'Honour', Retrieved From Well In Jhang, Pakistan
Compiled by New Age Islam News Bureau
URL: https://newageislam.com/islam-women-feminism/saudi-haifa-jedea-eu-eaec/d/128799
--------
Saudi Arabia Appoints Haifa Al Jedea As Ambassador To EU, EAEC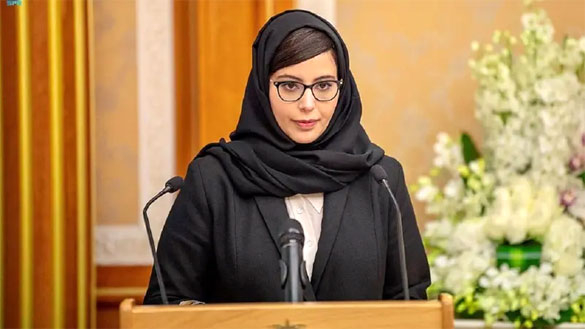 Haifa Al Jedea. (SPA)
-----
03 January ,2023
Saudi Arabia on Tuesday appointed Haifa Al Jedea as ambassador and head of the Kingdom's mission to the European Union and the European Atomic Energy Community (EAEC), the official Saudi Press Agency (SPA) reported.
Al Jedea took the oath of office along with a number of other newly appointed envoys at Al-Yamamah Palace in Riyadh before King Salman bin Abdulaziz, SPA said.
Prior to her latest appointment, Al Jedea was the managing director of SRMG Think, a newly established studies department by the Saudi Research and Media Group whose mission is to provide analyses on the Middle East and North Africa in various fields, including the economy, geography and foreign policy.
Source: Al Arabiya
https://english.alarabiya.net/News/saudi-arabia/2023/01/03/Saudi-Arabia-appoints-Haifa-Al-Jedea-as-ambassador-to-EU-EAEC
--------
Iran Left Without Women Chess Grand Masters After Sara Khadem's Defection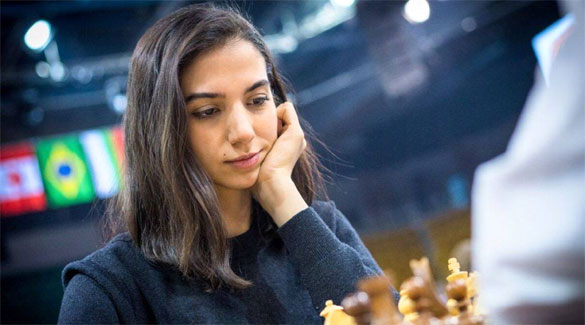 Khadem, ranked 17th in the world (among women), refused to wear a hijab as she competed in the world rapid and blitz championships in Almaty, Kazakhstan from December 26-30.
------
by Anil Dias
January 3, 2023
After Iranian Woman Grandmaster Sarasadat Khademalsharieh, better known as Sara Khadem, competed in a tournament without a hijab and subsequently decided not to return home but defect to Spain, Iran currently has no women Grandmasters.
Khadem, ranked 17th in the world (among women), refused to wear a hijab as she competed in the world rapid and blitz championships in Almaty, Kazakhstan from December 26-30.
She finished tied 31st in the rapid competition and 19th in blitz, in which players must make their moves even faster.
The hijab, which is mandatory under Iran's strict Islamic dress code, has become the focus of protests against the Iranian government.
Khadem not wearing the hijab was seen as being in solidarity with demonstrations that brought unrest in Iran following the death of Mahsa Amini. The 22-year-old died in custody in September after being arrested by Iran's morality police for allegedly not wearing her hijab correctly.
Khadem is not the first Iranian women's Grandmaster to defect to another country. In fact, all the other four active Iranian women's Grandmasters have also defected to other countries. Dorsa Derakhshani defected in 2017. Atousa Pourkashiyan, like Derakhshani, plays for the USA. Ghazal Hakimifard has moved to Switzerland while Mitra Hejazipour plays for France.
Khadem has been outspoken in the past. In 2019, when Grandmaster Alireza Firouzja protested and defected to France, upset at being forced to lose by default against Israeli rivals — the Iran government had a policy of its players not playing with Israeli opponents — Khadem had supported Firouzja and warned that if the decision wasn't overturned, more players would follow Firouzja and find asylum somewhere else.
Married to popular Iranian film director Ardeshir Ahmadi, who was once imprisoned in Iran for three months, apparently because of documentaries he had made, Khadem, anticipating trouble if she goes back to Iran, headed to a Spanish city with her husband and her 11-month-old baby.
According to El Pais website, Khadem and her family own an apartment in Spain, but it is yet unknown if she has already obtained a Spanish residence permit, or if she has requested, or intends to request political asylum.
The first Iranian women's Grandmaster to defect was Berajshani who did not return to her country after playing without a hijab at the Gibraltar Open six years ago. Ironically, Khadem also competed at that event, and wore her hijab in the tournament room but removed it as soon as there were no photographers around.
With Khadem, Pourkashiyan had also removed her hijab at the 2017 tournament in Gibraltar as well the most recent one in Almaty. She too was pictured without her hijab but unlike Khadem, she has already moved to the US. Pourkashiyan is currently ranked 5th in the world, after having been 2nd in the Iranian female ranking for many years and winning the women's national chess competition six times.
In 2020, Hakimi had forsaken her Iranian nationality to compete under the Swiss flag in international chess tournaments. While Hakimi, who became a women's Grandmaster in 2016, didn't exactly reveal why she was switching alliances, it was rumoured that her country's strict code had a lot to do with it. She was studying in Zurich at the time while playing for the Iran national team.
In January 2020, Mitra Hejazipour was expelled by the Iranian Chess Federation for boldly removing her scarf during the World Rapid & Blitz Chess Championship in Moscow. The 29-year-old, who had been playing for the Iranian team at the Women's Chess Olympiads since 2008, said that the hijab is a "limitation, not protection, as official regime propaganda claims". She moved to France soon after her ban. Like Hehazipour, Shohreh Bayat, a top chess referee, was seen not wearing a hijab in Shanghai while officiating at the women's world championship in 2020. She said that she feared returning to Iran and now lives in Britain.
Perhaps nobody has taken the Iranian protests to the global stage more than its sportspersons.
On the biggest of stages, at the FIFA World Cup, the Iranian team refused to sing the national anthem ahead of their first game.
Their defender Ehsan Hajsafi spoke in apparent support of anti-government protesters at home.
"They should know that we are with them. And we support them. And we sympathise with them regarding the conditions," the AEK Athens player said. "We have to accept the conditions in our country are not right and our people are not happy. We are here but it does not mean we should not be their voice or we should not respect them."
Iranian women have played a prominent role in the protests, removing their hijabs or in some cases, even burning them.
In October last year, Iranian climber Elnaz Rekabi competed in South Korea without a headscarf, later saying she had done so unintentionally. In November, an Iranian archer said she did not notice her hijab falling during an awards ceremony in Tehran.
While all of Iran's women Grandmasters have defected to other countries, nothing has hurt the federation more than World No. 4 Firouzja leaving the country when he was just 16.
In 2019, Firouzja, upset at being forced to lose by default against Israeli rivals, defected to France. A chess prodigy, Firouzja won the Iranian Chess Championship at age 12 and earned the Grandmaster title at 14. At 16, Firouzja became the second-youngest 2700-rated player. He is the youngest ever 2800-rated player, beating the previous record set by Magnus Carlsen by more than five months.
Source: Indian Express
https://indianexpress.com/article/sports/chess/iran-left-without-women-chess-grandmasters-after-sara-khadems-defection-8359391/
--------
Women in Qatar start to break through glass ceiling
January 3, 2023
By Javier Picazo Feliu
Doha, Jan 3 (EFE).- Many women in Qatar still need the permission of a man to study, get married or leave the country, but a new generation is breaking stereotypes and driving a social and economic shift in the Gulf state.
Under Qatar's male guardianship system, women cannot take decisions over their lives and require authorization from a male relative (parent, brother or husband if married). Mothers cannot take decisions on behalf of their children nor gain custody over them in the case of divorce.
In its "Everything I have to do is tied to a man" report, Human Rights Watch underlines that the guardianship system is a medley of laws, policies and practices whereby adult women need male guardian permission for many activities.
Once married, a woman can be deemed "disobedient" if she does not get permission from her husband before working, leaving home, traveling or if she refuses to have sex with him without a "legitimate" reason, the report says.
Despite the nation's Family Law, which says that guardianship ceases when people turn 18, and an article in the Constitution that says there can be no discrimination between genders, the guardianship system is still applied by many households even after women come of age.
A lack in domestic violence legislation also means women are left exposed and unprotected when it comes to abuse from husbands and family members.
"Women in Qatar have broken barriers and achieved significant progress in areas such as education, yet they have to still navigate state-enforced male guardianship rules that limit their ability to live full, productive, and independent lives," Rothna Begum, senior women's rights researcher at HRWatch, warns.
The rigidity of these rules depends on how each family applies them, and the Qatari women that have enjoyed open-minded environments are now paving the way for a new generation of empowered women who have reached the highest echelons in business and politics.
These women get divorced, travel without permission, go to restaurants and launch businesses.
"I have always had the support of my family (…) I never felt intimidated, my voice was always heard even as a fresh graduate," Fatima Sultan Al Kuwari, human resources chief at Qatar's leading telecom company Ooredoo.
"I have to brothers and two sisters and I never felt, even at home, any discrimination between my brothers and us as women, actually my dad was very equal in treating everyone, and coming here (Ooredoo) I was never discriminated against for being a women although I was a minority at the time," the divorced mother adds.
According to the HR expert, women in Qatar have found a space in private companies where they can freely develop their careers without cultural or legal impediments whilst enjoying parental leave, a work-life balance and flexibility.
"Women are really very empowered here in Ooredoo (…) There are many female entrepreneurs that have boosted their businesses with great success," Al Kuwari adds.
This shift is also taking place within the Qatari government where three women lead powerful portfolios with Hanan Mohamed Al Kuwari as Health Minister, Buthaina bint Ali Al Jabr Al Nuaimi as Education Minister and Mariam bint Ali bin Nasser Al Misnad as Social and Family Affairs Minister, Al Kuwari says.
EMPOWERED WOMEN IN BUSINESS
Shams Al-Qassabi became a pioneer in Qatar when she launched her business challenging cultural barriers and garnering respect across the emirate thanks to her willpower and humble approach.
Al-Qassabi started making sauces and in 2004 opened a small cafe in Doha's souq.
It is now one of the most famous restaurants in the country and a go-to for international celebrities and members of the emir's family.
Source: Laprensalatina
https://www.laprensalatina.com/women-in-qatar-start-to-break-through-glass-ceiling/
--------
Iran to accept more Afghan women at Tehran University
January 4, 2023
Iran plans to accept more female students from Afghanistan following the ruling Taliban's refusal to allow women and girls to study in the country.
The official Islamic Republic News Agency (IRNA) reported on Tuesday that Iran has increased the university's budget fivefold for scholarships for Afghan students.
There are currently 470 Afghan students studying at the University of Tehran, about 25 per cent of whom are women. A university official said that more than half of these students have scholarships. The official added that the budget increase will enable Iran to support more Afghan students, especially women.
Source: Middle East Monitor
https://www.middleeastmonitor.com/20230104-iran-to-accept-more-afghan-women-at-tehran-university/
--------
Body Of Minor Girl, Sania, Killed By Father For 'Honour', Retrieved From Well In Jhang, Pakistan
January 4, 2023
TOBA TEK SINGH: Rescue 1122 divers and Jhang police officials worked for three days in vain to recover the body of a girl from the Korraywali Kachi canal near Jhang.
During the investigation, Babar Ali Sial, who reportedly murdered his minor daughter for honour, told authorities that he had dumped the body into a canal. He changed his story on Tuesday and directed the police to the correct spot.
Sania, his 12-year-old daughter, was strangled and her body was dumped in an abandoned water well in his village of Kot Khaira. Later, he used a tractor to fill the well with earth.
Police excavated the well, retrieved the body and shifted it to the Jhang DHQ Hospital for an autopsy.
Sania was hidden in the house of her aunt in Jhang, fearing for her life, but her father and five relatives succeeded in kidnapping her on Dec 27.
FIRs: Up to 350 FIRs were registered against LPG cylinder decanting shopkeepers in the Faisalabad district in 2022 and action was also taken against 616 illegal petrol and diesel sellers.
Civil Defence Officer Rana Muhammad Abbas said that fire safety equipment was examined in 2,969 textile mills, weaving factories, petrol pumps, flour mills, high-rise buildings, and cold storage facilities, and of them, 765 were fined for violations of safety rules.
ENCOUNTERS: Two alleged robbers were injured critically in two encounters with Faisalabad police early on Tuesday morning.
According to Faisalabad City police, the first encounter took place with Jarranwala City police when a police party followed three outlaws who had snatched a motorcycle and valuables from people near Chak 240-GB. As soon as the police asked the robbers to stop their motorcycle on Kot Kabeer Link Road, they opened fire which was also retaliated. Two of the gunmen fled, however, one was injured and arrested.
Identified as Muhammad Husnain of Jarranwala, he was shifted to the Jarranwala THQ Hospital.
The second encounter occurred in the Tandlianwala Saddar police area near Chak 612-GB, where the police stopped two motorcyclists but they opened fire and in crossfiring one of them was wounded while the accomplice fled. He was identified as Imtiaz Ahmad, of Chak 423-GB.
He was shifted to Tandlianwala THQ Hospital.
ACCIDENT: Two people died and a third was injured critically on Tuesday evening near the University of Agriculture Faisalabad's sub-campus on Toba-Khikha Bangla Road when their motorcycle collided with a tractor-trolley.
Rescue 1122 said both deceased were identified as Danish Ali and Mujahid Hussain. Injured Raja Muhammad Amer was shifted to the DHQ Hospital.
TEST: The University of Agriculture, Faisalabad, conducted a written test for the English Works (EW) programme, meant for polishing the English proficiency and entrepreneurial skills of the students.
The EW is sponsored by the Regional English Language Office for the workforce development of students from the underprivileged community of age group 17 to 25 years through enhancing their English proficiency and entrepreneurship skills.
The selected students for EW will attend free-of-cost classes for six months and receive stipends.
Source: Dawn
https://www.dawn.com/news/1729765
--------
URL: https://newageislam.com/islam-women-feminism/saudi-haifa-jedea-eu-eaec/d/128799
New Age Islam, Islam Online, Islamic Website, African Muslim News, Arab World News, South Asia News, Indian Muslim News, World Muslim News, Women in Islam, Islamic Feminism, Arab Women, Women In Arab, Islamophobia in America, Muslim Women in West, Islam Women and Feminism