New Age Islam News Bureau
4 Apr 2019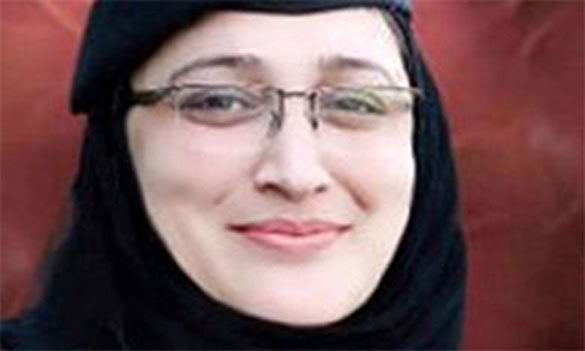 Pakistan People's party provincial minister Shamroz Khan, is the first female officer appointed as principal at any police recruitment training school
-----
• Police Training School in Pakistan Gets First Woman Principal
• 'Indonesia without Feminists' — and We Were Not So Delighted
• Sharjah Women Pickup Basketball Title
• Young Mothers, Pregnant Women among Suicide Victims in Iran
• Scrap Triple Talaq Bill, Send for Review: Muslim Women's Rights Body in Charter of Demands Ahead of Lok Sabha Polls
• Saudi Ministry of Labour: Number of Foreign Drivers Drops Due To Women Driving
• Saudi Women Activists' Trials to Continue After 3rd Hearing
Compiled by New Age Islam News Bureau
URL: https://www.newageislam.com/islam-women-feminism/saudi-arabia-appoints-first-group/d/118226
--------
Saudi Arabia Appoints First Group of Female Air Traffic Controllers
3 April 2019
The Saudi Air Navigation Services (SANS) celebrated in March the appointment of 11 women as air traffic controllers at the air control center in Jeddah.
All 11 women took part in a one-year program which SANS executed in cooperation with the Saudi Academy of Civil Aviation (SACA). This is the first program that prepares women to work in air traffic control in the kingdom.
The company held an introductory event for the new employees, which was attended by SANS CEO Ryyan Tarabzoni, SACA President Fahad al-Harbi, and other SANS officials.
After welcoming and congratulating the newly-appointed women, the officials gave them a tour of the SANS headquarters, introducing them to the company's rules and policies. The officials also explained the company's incentives and benefits and answered the women's questions.
"The company hired women in different fields out of its concern to contribute to Vision 2030, and in order to support and empower Saudi women in different jobs and increase their participation in different fields in the Saudi labor market," Tarabzoni said.
"We are thrilled that Saudi women will work in the field of air control for the first time. We are confident of their capabilities, as they've proven their competence in different specialties. They've demonstrated their seriousness and perseverance since [day one] of joining the qualifying educational program," Tarabzoni also said. He added that there is a second batch consisting of 15 women currently enrolled in the program, and they will be hired by the company after successfully completing it.
The qualifying program involves studying 13 subjects including physics, mathematics, and aviation language, in addition to basic air traffic control training courses.
https://english.alarabiya.net/en/News/gulf/2019/04/03/Saudi-Arabia-appoints-first-group-of-female-air-traffic-controllers.html
--------
Police Training School in Pakistan Gets First Woman Principal
April 04, 2019
MANSEHRA: The Khyber Pakhtunkhwa inspector general of police has posted the first ever woman police officer as principal of the police training school in Mansehra.
Before his fresh posting, Sonia Shamroz Khan had been performing as superintendent of police Abbottabad. Earlier, she also served in Mansehra as assistant superintendent of police.
Ms Shamroz, who belongs to a known political family of Abbottabad and is daughter of former Pakistan Peoples party provincial minister Shamroz Khan, is the first female officer appointed as principal at any police recruitment training school in Khyber Pakhtunkhwa.
Two batches of recruits complete training from the police training school each year.
https://www.dawn.com/news/1473776/police-training-school-gets-first-woman-principal
--------
'Indonesia without Feminists' — and We Were Not So Delighted
April 4, 2019
Our newsroom is delighted when we receive lots of clicks. Ahead of Wednesday's holiday, the "most viewed" item on our website was a report on a movement called "Indonesia Without Feminists" — and we were not so delighted.
The comments were not surprising, as feminism has had its fill of resistance everywhere. However, its social media campaign with Islamic tones started last month, giving clearer voices and faces of those who think feminism is, at best, annoying nonsense, and at worst, an evil western imposition on a beautiful "eastern" culture, and even constitutes sacrilege to Muslim beliefs.
Such a campaign raises our concern as we believe feminism is for humanity; it is one part of the struggle to improve the well-being of all humans. Yes, it is annoying as the movement to end discrimination against and oppression of women and girls, and also feminine males and masculine females — disrupts relations between spouses, families, communities and entire societies. In diverse corners of the globe, we have seen the preference for women to stay home and take care of the family for free, conveniently relieving the state budget of huge child care costs.
Raised in beliefs honoring the role of the mother, with nagging thoughts of their children's welfare, many Indonesian women have voluntarily resigned from work, struggling to resume careers if they do, amid little government incentive to pull them back in, regardless of endless lamenting over the persistent loss of some 50 percent of the workforce.
In Indonesia, the feminist discourse since the 1980s has led to accusations that feminism degrades stay-athome women, dismissing the struggle for a more equal division of labor. Abundant cheap female labor toned down feminism here as Indonesian women were considered "blessed" to have much help at home. Witness the lagging bill on domestic workers — even women lawmakers have not shown enthusiasm to bestow formal workers' rights on their maids.
In today's controversy over the sexual violence bill, the campaign rejecting it states "My body is not mine, but rather Allah's" — as if the feminist assertion that women have autonomy over their bodies is against Islam. Of course, such campaigns would not elaborate why it is urgent to fill the legal gap on sexual violence.
In 2017, the Conference of Indonesian Women's Ulema (KUPI) issued a fatwa that sexual violence within and outside marriage was haram, based on their study of women's experiences, including that of women clerics and clerics' wives.
But of course, the noise here is not merely about bashing feminists. It is part of the conservative movement to gain a stronger cultural and political ground, ahead of the 2019 general election and beyond. Street rallies, "constitutional jihad" to pass and reject laws, and intensive social media campaigns, all with no qualms about abusing religious teachings if needs be, are part of the movement. "The shrill religious tones regretfully do not carry the spirit of religion," KUPI chairperson Umi Badriyah said, while stating women clerics' support for the sexual violence bill.
In our contribution to the struggle for humanity, The Jakarta Post stands by feminism.
https://www.thejakartapost.com/academia/2019/04/04/feminism-is-for-humanity.html
--------
Sharjah Women Pickup Basketball Title
April 03, 2019
Sharjah: The Sharjah Women's Sports Club basketball team clinched the title in the 3x3 Basketball held under the auspices of the UAE Basketball Association at the Al Nasr Club.
The competition saw the five Emirati club teams contesting in a round-robin format. At the end of the four games per team, the Sharjah Women's Sports Club side represented by Amal Bin Haider, Al Yaziya Sultan, Sara Jumaa and Suhaila Abbas, accumulated a total of 61 points leaving hosts Al Nasr in second place, while Shabab Al Ahli Dubai took third.
The Sharjah Women Sports Club operates under Sharjah Women's Sport that seeks to highlight achievements by Emirati women at regional and international forums.
https://gulfnews.com/sport/uae-sport/sharjah-women-pick-up-basketball-title-1.63097197
--------
Young Mothers, Pregnant Women among Suicide Victims in Iran
Apr 3, 2019
As we were summing up the news and developments of February and March, we ran into a shocking number of young mothers and pregnant women among the women who had committed suicide.
The stats on suicides in Iran are not transparent and are usually not published in the press. For example, in the period spanning from March 2017 to February 2018, we had collected 75 reports of women committing suicide but in September 2018, the figure officially announced for this period for the first time by regime officials was 1,365.
Having said that, we could collect the news of 6 suicides in February and 12 in March 2019. Of the 18 cases, seven belonged to young pregnant women or mothers, and four were teenagers aged 15, 16, 17 and 18.
In Urmia, a young mother of two who could not purchase meat for her children after months, hanged herself in front of them in mid-March.
In Ilam, Mina Shahidi, 38, mother of three, killed herself due to the unbearable pressure of poverty on March 16.
Parisa Nazari, 25, young mother of two, committed suicide on March 1 in Sarpol-e Zahab, the epicenter of earthquake in November 2017.
Leila Ramezani, 24, pregnant mother of one-year-old, committed suicide on March 3, in Salas-e Babajani, also hit by earthquake in November 2017.
Fereshteh Kahrarian, 30 and six-month pregnant, doused herself, husband and little child with kerosene and set themselves on fire on March 6. She subsequently died in hospital due to serious burns.
On February 20, Pershang Karimi, 22 and pregnant, hanged herself in Sarpol-e Zahab.
On February 10, Zahra Rahmati killed herself and her two young sons, 3 and 6, due to extreme poverty.
Such a large percentage of young mothers and pregnant women among suicide victims is a new phenomenon indicating the immense pressure impoverished families are bearing in Iran.
The recent flash floods have added both to the pressure and the number of destitute families.
https://women.ncr-iran.org/2019/04/03/young-mothers-pregnant-women-among-suicide-victims-in-iran/
--------
Scrap Triple Talaq Bill, Send for Review: Muslim Women's Rights Body in Charter of Demands Ahead of Lok Sabha Polls
April 4, 2019
Ahead of the Lok Sabha elections, the Muslim Mahila Samvidhan Hak Parishad has demanded that the Triple Talaq Bill in its present form be scrapped and sent to the Law Commission for review.
Releasing a charter of demands, the Parishad has urged all secular and democratic forces to come forward and adopt their list of demands.
"There is a need to strengthen laws by bringing Muslim women under its purview, instead of making special laws for them," Razia Patel, one of the convenors of the Parishad, said.
The Parishad, which works for issues related with Muslim women and seeks their resolution through constitutional methods, in its manifesto said practices like polygamy, halala and female circumcision should be brought under broader gender justice law.
Criticising the Triple Talaq Bill in its present form, the manifesto stressed on the need to scrap the Bill and sent for a review to the Law Commission.
"We appeal to all (the people) to assess these parties based on their genuine support and intent to take these demands towards actions and accordingly decide to vote for them," Patel, an educationist, told The Indian Express.
The manifesto also highlights the need for installing quick courts to ensure justice for Muslim women affected by communal riots at Gujarat, Muzaffarnagar and other places.
"There is a need to implement Justice Sachhar and Rangnath Mishra Committee recommendations to improve the participation of Muslim community in education, employment and other areas. The Citizenship (Amendment) Bill, 2019, which has been passed by the Lok Sabha and seeks to provide Indian citizenship to non-Muslims from Bangladesh, Pakistan and Afghanistan, should also be repealed," Patel said.
The Parishad has also sought resolution of the issues for Muslim women in the constitutional framework.
Several members of the Parishad, including Qudsia Anjum from Uttar Pradesh, Sabiha Hussain from Delhi,Tanveer Nasreen from West Bengal and Najama Shaikh from Maharashtra, were also present at the event.
https://indianexpress.com/elections/triple-talaq-bill-muslim-womens-rights-body-law-commission-5657782/
--------
Saudi Ministry of Labour: Number of Foreign Drivers Drops Due To Women Driving
2 April 2019
According to the latest report by the Ministry of Labor and Social Development of Saudi Arabia, the number of non-Saudi household drivers dropped from 1.4 million to 1.3 million by the end of 2018. This includes around 181 non-Saudi female drivers.
The ministry attributed the drop of non-Saudi drivers to the June 24 royal decree that granted women the right to get behind the wheel and drive.
The Directorate General of Traffic said it is currently considering offers from a number of foreign companies to establish schools in various areas to teach women driving according to international standards.
A Bloomberg Economics report has suggested that allowing women to drive in Saudi Arabia could add up to $90 billion to the Kingdom's economic output by 2030.
According to the report, lifting the female ban on driving will increase the number of women seeking jobs, and boost the size of the workforce.
The country's Vision 2030 program, which is a plan to diversify Saudi Arabia's economy, aims to increase women's participation in the workforce from 22 percent to 30 percent.
https://english.alarabiya.net/en/News/gulf/2019/04/02/DNP-Number-of-non-Saudi-drivers-drops-due-to-female-driving.html
--------
Saudi Women Activists' Trials to Continue After 3rd Hearing
April 3, 2019
DUBAI, United Arab Emirates (AP) — Nearly a dozen Saudi women's rights activists, most of them imprisoned, attended their third court session on Wednesday and were told their trials will continue for at least two more weeks, people with knowledge of the cases told The Associated Press.
While the 11 women are being tried separately, they have been present at joint court appearances and, according to people with knowledge of the cases, they appear to be facing similar charges related to their activism and rights work.
Yet on Wednesday, the court gave the women different dates for their next session.
The ALQST rights group said some verdicts could be issued April 17, when the eight women who remain imprisoned are due back for their fourth court appearance. The court is also expected to hold more bail hearings in the coming days.
Most of the women, including prominent activist Loujain al-Hathloul, have been imprisoned since May of last year.
Meanwhile, three women who were granted temporary release last week, among them Aziza al-Yousef and Eman al-Najfan, were told their next court date would take place after the Muslim holy month of Ramadan, which coincides with early June. The king traditionally issues pardons after Ramadan, however they do not typically include political detainees.
Last month, some of the women were pressured into signing a request for a royal pardon, according to people with knowledge of the arrests.
The Associated Press was also told that the prosecutor presented on Wednesday a rebuttal denying the women's claims they'd been tortured during interrogations.
In the presence of their children, spouses and parents, the women had told the Riyadh criminal court last week they'd been caned on their backs and thighs, electrocuted, groped and waterboarded by masked men who did not identify themselves. The women say the abuse took place during interrogations last year in the Red Sea city of Jiddah before they were moved to Riyadh, where they are being tried.
Journalists working for foreign media, diplomats and other independent observers have not been allowed to attend the hearings.
The government has not disclosed the charges the women face, but several people with knowledge of the cases and rights groups say the women have been charged in connection with their efforts to promote women's rights and of having contact with accredited foreign reporters, diplomats and human rights groups.
It is unclear what charges Ruqaya al-Muhareb, a conservative proselytizer who was granted temporary release last week, faces. She was detained in late 2017 during a crackdown on preachers and writers who were suspected of not supporting the crown prince's reforms and his decision to cut ties with Qatar.
It is also unclear why she is being tried alongside the women's rights activists, who had pushed for progressive reforms like the right to drive and abolishing laws that give men final say over a woman's right to marry and travel abroad.
Since the murder of writer Jamal Khashoggi by Saudi agents inside the Saudi consulate in Istanbul last year, the imprisonment of the women activists has drawn widespread criticism from members of the U.S. Congress, the British Parliament and other Western capitals.
https://thepublicsradio.org/article/saudi-women-activists-trials-to-continue-after-3rd-hearing
--------
URL: https://www.newageislam.com/islam-women-feminism/saudi-arabia-appoints-first-group/d/118226
New Age Islam, Islam Online, Islamic Website, African Muslim News, Arab World News, South Asia News, Indian Muslim News, World Muslim News, Women in Islam, Islamic Feminism, Arab Women, Women In Arab, Islamophobia in America, Muslim Women in West, Islam Women and Feminism