New Age Islam News Bureau
23 Feb 2018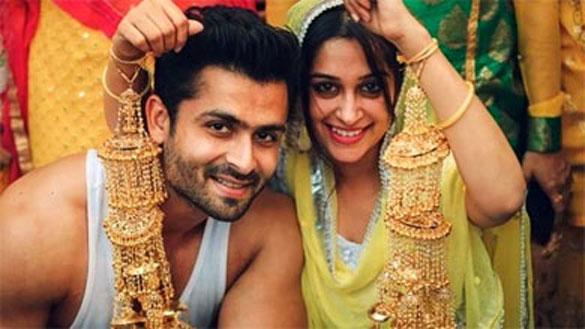 Dipika Kakar and Shoaib Ibrahim.
-----
• Saudi Arabia Opens Soldier Rank Positions for Women in Seven Regions
• Saudi Woman Defies Stereotypes, Works as Handywoman
• Sasural Simar Ka Actress Dipika Kakar Converts to Islam to Marry Beau Shoaib Ibrahim?
• Nigerian Army Rescues 76 Girls after Boko Haram Terror Attack
• Women's Reforms 'Will Unleash Saudi Economy', Says US Lawmaker
• Is There a Place for Women within Egypt's Judiciary?
• Coalition for Women in Journalism Launches Pakistan Chapter
• AI: Iran Women Remained Subject To Discrimination in Law and Practice
• Iran: Woman sentenced to 18 months in jail, forced labour in seminary
Compiled by New Age Islam News Bureau
URL: https://www.newageislam.com/islam-women-feminism/saudi-arabia-amends-marriage-law/d/114388
--------
Saudi Arabia Amends Marriage Law In Favour Of Women
22 February 2018
Saudi Arabia canceled the "the house of obedience" article in the marriage law which grants a husband the right to force his wife to return to their home against her will.
As per the amendment in the law, the wife will no longer be forced to return to a married life she does not want.
The cancellation of the article takes into consideration the protection of a woman's dignity and the fact that a married life should be based on mutual consent.
Okaz news websie reported that the amendment leaves the wife with two choices only, either seek a separation through the court 'Talaq' [Divorce] in return for some of her rights or abandon her rights via 'Khol'e' [strip oneself of marital bond] and give back her dowry.
https://english.alarabiya.net/en/News/gulf/2018/02/22/Saudi-Arabia-amends-marriage-law-in-favor-of-women.html
--------
Saudi Arabia Opens Soldier Rank Positions for Women in Seven Regions
22 February 2018
Saudi's General Security division announced that soldier rank positions will be available for Saudi women in different regions including Riyadh, Mecca, al-Qusaim and al-Madina.
The conditions to apply include that the woman has to be of Saudi origin and to have been brought up in the kingdom, with the exception of women who lived with their fathers abroad due to a government-related responsibility.
They also need to be between the ages of 25-35 with a minimum of a high school education.
The applicants will have to pass some tests and interviews, as well as a medical checkup. They added that the applicant must have good conduct, and to have never worked in any government or military-related institution.
Those married to non-Saudi nationals are not eligible to apply.
The conditions also include the presence of her guardian and place of residence in the same area as the job's location, and the applicant's height must also not be less than 155 centimeters, with a good weight to height ratio.
https://english.alarabiya.net/en/News/gulf/2018/02/22/Saudi-Arabia-opens-soldier-rank-positions-for-women-in-7-regions.html
--------
Saudi Woman Defies Stereotypes, Works as Handywoman
22 February 2018
A Saudi woman carrying a bag of woodwork and plumbing equipment, hammers and saws to repair doors and install windpipes in her house has become a norm in Saudi Arabia, all because of Maha al-Joman.
The 30-year-old found her passion for home repairs, and even began holding training classes for women teaching them how to repair bathroom and kitchen piping, as well as carpentry to help them break many community barriers.
Al-Joman, who originally studied nutrition, had a passion for handy work since she was a child. She began fixing pieces of furniture and wooden doors in her house which increased her skillset and motivated her into turning her hobby into a career.
However, Al-Joman said that she faced several challenges, and societal pressure disapproving of her choice to work in what is widely known as a job for men.
Al-Joman gives handy work classes at schools, and even does videos on Snapchat showing her followers how to repair different things to empower other women and girls to break barriers.
https://english.alarabiya.net/en/variety/2018/02/22/Saudi-woman-defies-stereotypes-works-as-handyman.html
--------
Sasural Simar Ka Actress Dipika Kakar Converts to Islam to Marry Beau Shoaib Ibrahim?
February 22, 2018
Sasural Simar Ka couple Dipika Kakar and Shoaib Ibrahim, who played Simar and Prem on the show respectively, are getting married today in Shoaib's native village Maudaha Hamirpur, UP. The Nikaah is scheduled for 1 pm today. The couple is right now enjoying their pre-wedding festivities to the core, as evident by the Mehendi and Sangeet ceremony videos doing the rounds on social media.
According to a source, the TV actress has converted to Islam for marrying beau Shoaib Ibrahim and is now called Faiza.
Aaj Tak's SBB has the copy of their wedding card--which is being distributed in the village--and which clearly refers to the bride and the groom as Faiza and Shoaib respectively.
Take a look at their wedding card:
Dipika and Shoaib did a Dilwale Dulhaniya Le Jaayenge style pre-wedding photo shoot, where the two looked made for each other.
The couple is keeping it simple--from the ceremonies to the outfits--and the whole affair will give you the feel of a typical village ki shaadi.
PRE-WEDDING CEREMONIES
Dipika is seen dressed in black kurta and yellow floral Dupatta for her mehendi ceremony, while Shoaib looks dapper in orange and black kurta pyjama in the Mehendi ceremony. On her sangeet, Dipika looks like a dream in yellow sharara. The couple have also etched each other's names on their hands with henna.
Post quitting Sasural Simar Ka, Dipika appeared in Nach Baliye with fiance Shoaib Ibrahim and shared her love story with the viewers. The two first met on the sets of Sasural Simar Ka and fell in love. The couple also bought their new pad in Mumbai recently.
Dipika is very fond of her in-laws and would want them to stay with the couple. "Sometimes, I feel that I adore Shoaib's family more. We often have these discussions that once we are married we will all stay together. I am very comfortable in a joint family set up," Dipika had told India Today Online before.
https://www.indiatoday.in/television/top-stories/story/sasural-simar-ka-actress-dipika-kakar-converts-to-islam-for-marrying-beau-shoaib-ibrahim-1175182-2018-02-22
--------
Nigerian Army Rescues 76 Girls after Boko Haram Terror Attack
Feb 22, 2018
The Nigerian military has managed to rescue 76 schoolgirls and recovered the bodies of two others out of an estimated 90 girls who had gone missing following an attack by the Takfiri Boko Haram militant group on a school in the country's northeast.
"Everybody is celebrating their coming with songs and praises to God almighty," said Babagana Umar, a parent whose daughter had disappeared, on Wednesday. "The only sad news is that two girls were dead and no explanation."
According to Umar and other residents of the small town of Dapchi in the state of Yobe, where a school was raided by the terror outfit on Monday evening, at least 13 other students may still be missing.
According to eyewitnesses, the Boko Haram militants descended on Dapchi in trucks, some with heavy guns mounted on them and painted in military camouflage. They then went straight to the Girls Science Secondary School and began shooting sporadically, forcing panicked students and teachers to flee.
There are conflicting reports about how exactly the girls went missing. Police and state officials said that 815 of the school's 926 students had later returned to the school after fleeing into the bush outside the town during the attack.
Police and state officials said that there had been no evidence that the missing girls had been kidnapped by Boko Haram, suggesting that the rescued ones had been recovered from their hiding places.
However, the Yobe government later said in a statement that the military had rescued some of the students from the grips of the terror group.
Separately, Information Minister Lai Mohammed said Nigerian President Muhammadu Buhari had on Wednesday dispatched his foreign and defense ministers to Yobe to investigate the incident.
Since 2009, the Boko Haram militancy has left at least 20,000 dead and made over 2.6 million others homeless.
Back in 2014, the Takfiri terrorist group kidnapped more than 270 schoolgirls from the town of Chibok in Borno State. The mass abduction triggered global condemnation and intense criticism of Nigerian officials in the country. An international campaign dubbed "Bring Back Our Girls" was also launched.
Of the 276 students originally abducted, nearly 60 escaped soon after the incident and some others have since been released after mediation. Some 100 are still believed to remain in captivity.
Last month, the terror outfit released a video allegedly showing some of the Chibok girls still in its custody, saying they do not wish to return home.
http://www.presstv.com/Detail/2018/02/22/553207/Nigeria-girl-school-attack-Yobe
--------
Women's Reforms 'Will Unleash Saudi Economy', Says US Lawmaker
23 February 2018
NEW YORK: Ed Royce, chairman of the House Foreign Affairs Committee, praised the "bold vision" re-shaping Saudi Arabia and improving women's lives on Wednesday after two days of meetings on Iran and other regional problems.
"Saudis are optimistic about the future, and rightly so. The government has a bold vision for its economy and reforms are giving women new opportunity," Royce said. "A country that utilizes only half its population can never realize its full potential. Empowering Saudi women will help unleash its economy."
The California Republican met with King Salman and Crown Prince Mohammed bin Salman, who is spearheading the "Vision 2030" plan to modernize the Kingdom's society, create jobs and diversify its economy away from oil.
They also discussed efforts to tackle Tehran's support for proxy militias in Lebanon, Syria and Yemen amid concerns in Washington and among its Middle Eastern allies of a growing crescent of Iranian influence.
"Of course, Saudi Arabia — and the Middle East as a whole — faces serious threats from Iran. In our productive meetings, we discussed efforts to apply more financial and diplomatic pressure against Iran's missile program and its support for terror," Royce said in a statement.
US President Donald Trump told the Europeans last month that they must agree to "fix the terrible flaws" in the 2015 international Iran nuclear deal or he would re-impose the sanctions Washington lifted as part of that pact.
Royce also addressed the Arab coalition's fight against the Iran-backed Houthi rebels of northern Yemen, where fighting, hunger and disease have snowballed into what the UN has called the world's worst humanitarian crisis.
"In Yemen, I'm encouraged that the flow of relief has improved, but more must be done to increase access to food, water and basic medicine," Royce said. "The Iranian-backed Houthis are pushing this conflict into a third year and eight million innocent people are on the brink of starvation."
Royce was accompanied by his committee colleague Paul Cook, another Republican. They also met with Interior Minister Prince Abdulaziz bin Saud bin Naif, Prince Khaled bin Salman, Riyadh's ambassador to Washington, and a group of Saudi women entrepreneurs. http://www.arabnews.com/node/1252491/saudi-arabia
--------
Is There a Place for Women within Egypt's Judiciary?
23 Feb 2018
By Sonia Farid
EGYPTIAN MP Nadia Henry submitted on Feb. 7 a draft law to the House of Representatives demanding gender equality in judicial positions. The proposal, which was referred by the parliament speaker to the Legislative and Constitutional Affairs Committee, states that all judiciary entities should be committed to appointing women in accordance with the same criteria based on which men are selected and that any laws to the contrary are to be revoked.
The draft law cites Articles 9, 11, and 53, all of which stress equality between Egyptian citizens and Article 14, which states that appointment in public positions is merit-based. She also refers to the law regulating appointments in the State Council, the judicial entity most known for its adamant objection to the appointment of women in addition to the General Prosecution Authority, and noted that nothing in this law justifies the council's stance. Henry's draft law reignited a debate that has hardly subsided over years as women seem more determined to defy what they see as a flagrant infringement upon their rights.
Omnia Gadallah case
Henry's initiative was to a great extent driven by the case of Omnia Gadallah, a female lawyer whose application for the position of assistant delegate — and eventually judge — at the State Council was rejected despite meeting all the requirements. Gadallah's appeal against the council's decision was rejected by the Commissioners Authority of the Supreme Administrative Court in November 2017. The authority's report denied Gadallah's claim that the council's rejection of her application is an act of discrimination and argued that "the State Council has the right to select the applicants it sees fit and the constitution did not specify any conditions it needs to abide by."
The report also underlined the difference between constitutional rights in daily life and the specificity of particular jobs in which the nature of the work and the working environment needs to be taken into consideration. More than 120 rights organizations and public figures declared solidarity with Gadallah and issued a statement that accused the entire judiciary system, not only the State Council, of discriminating against women.
Fighting for rights
"Ever since, women have been fighting for their right to work in the judiciary." Mosaad admits that progress has been made starting 2003 with the appointment of Tahani Al-Geblai as vice president of the Supreme Constitutional Court, hence becoming the first Egyptian woman to occupy a judicial position, then in 2007 and 2008 as a number of women started working in civil, criminal, and family courts. "Yet, the State Council remained a restricted area for women even after adding article 11 in the 2014 constitution and which gives women the right to work in judiciary entities." According to Mosaad, the constitution is in many cases being dealt with selectively so that articles that are not in line with long established norms are ignored. "What is also ignored is the contribution of women to the judiciary in different Arab countries starting with Morocco in 1961 through Lebanon, Sudan, Libya, Jordan, Oman, the UAE and most recently Mauritania in 2014."
Mosaad scoffed at claims that female judges in the Arab world have proven a failure and cited the example of Lebanese judge Jocelyne Matta who sentenced three Muslim men charged with insulting Virgin Mary to memorizing a chapter from the Qur'an that glorifies the her and Jesus (peace be upon him). "This is a unique verdict that unravels the judge's wisdom and it was praised by people and authorities alike."
Journalist Mohamed Roshdi quoted a source from the State Council as saying that despite Article 11 that allows women to occupy all position, the council has its own law that does not allow this. "In its last emergency meeting, the State Council General Assembly voted against the appointment of women," the source said. — Al Arabiya English
http://www.saudigazette.com.sa/article/528994/World/Mena/Is-there-a-place-for-women-within-Egypts-judiciary
--------
Coalition for Women in Journalism Launches Pakistan Chapter
February 23, 2018
The Coalition For Women In Journalism will be announcing the launch of Pakistan Chapter on the 27th of February, at the Islamabad Press Club.
The event will kick off with a panel discussion highlighting the landscape of the journalism industry for women in the field.
"We are absolutely thrilled to build a strong team to work in Pakistan for the incredible work that women in journalism are doing in this country," said Kiran Nazish, Co-Founder and Director of the Coalition For Women In Journalism. "During our research to gauge the landscape in Pakistan for women journalists, we found that 69% of female colleagues said they faced harassment on the job, while 24.1% said they did not. That is an alarming number and we hope with a stronger support network in this country, we can improve the condition through advocacy and awareness."
"Women have been working in every aspect of journalism in Pakistan, yet there is no support system to address the kinds of issues they face," said Nosheen Abbas, country manager for the Coalition For Women In Journalism. "This is what the coalition is here to do. I am honoured and thrilled to be a part of a something that has been so long overdue."
Tanzeela Mazhar, who looks at safe environments project with the Coalition For Women In Journalism, said "Media organisations in Pakistan don't have gender codes. They lack both resources and understanding that gender specific environment is a critical need of an industry that has an incredible number of women working both in newsrooms and as freelancers. We want to build a thorough environment that encourages, instead of discourages them to work in journalism."
"In the current state of media in Pakistan, a support network is an urgent need, and we hope to help guide women journalists not only to navigate an environment filled with discrimination and harassment but to also claim their space in the industry."
The Coalition For Women In Journalism is keen on observing and understanding the cultural nuances specific to the industry in Pakistan. Marvi Sirmed, who looks over advocacy for the Coalition pointed out the need for specialised mentorship, "women journalists face everyday sexism coupled with lack of gender neutral mentorship in their field. Whatever little guidance is available usually comes with either strings attached or with heavy dose of patriarchal protectionism and patronisation. This is one reason why they don't dabble in the male domain subjects. We hope that through this initiative, young women can be offered mentorship support essential to understanding professionalism in the beats they choose for themselves within journalism."
With special thanks to Rana Jawad for sponsoring the event, Ayesha Tanzeem for resource assistance, to Kathy Gannon also for resource assistance and to Annam Lodhi for coordination.
About the Coalition For Women In Journalism The Coalition For Women In Journalism is the first global network of support for women journalists. Our core operation is the mentorship program for mid-career and senior women journalists. We are based out of New York and we work in seven countries offering mentorship in local languages. The network of individuals and organizations part of our network bring together the experience and mentorship necessary to help women navigate the industry.
https://nation.com.pk/23-Feb-2018/coalition-for-women-in-journalism-launches-pakistan-chapter?show=previe?version=amp
--------
AI: Iran women remained subject to discrimination in law and practice
22 February 2018
Amnesty International published its annual 2017/18 report on Thursday, February 22, 2018, evaluating the human rights situation in the world, including in Iran.
The report has categorized Iran as one of the most prolific users of the death penalty. In the section entitled, "DISCRIMINATION – WOMEN AND GIRLS," it wrote:
Women remained subject to entrenched discrimination in law and practice, including in access to divorce, employment, equal inheritance and political office, and in family and criminal law.
Acts of violence against women and girls, including domestic violence and early and forced marriage, were widespread and committed with impunity. The authorities failed to criminalize gender-based violence; a draft bill remained pending since 2012. The legal age of marriage for girls remained at 13, and fathers and grandfathers could obtain permission from courts for their daughters to be married at an even younger age.
All 137 women who registered as presidential candidates were disqualified by the Guardian Council. President Rouhani included no woman ministers in his cabinet, despite civil society demands.
Compulsory veiling (hijab) allowed police and paramilitary forces to harass and detain women for showing strands of hair under their headscarves or for wearing heavy makeup or tight clothing. State-sanctioned smear campaigns were conducted against women who campaigned against the compulsory hijab.
Iran's Civil Code continued to deny Iranian women married to non-Iranian men the right to pass their nationality on to their children, a right enjoyed by Iranian men married to foreign spouses.
Authorities defied ongoing public pressure to open football stadiums to women spectators.
Women experienced reduced access to affordable modern contraception as the authorities failed to restore the budget for state family planning programmes cut in 2012. Parliament passed a law in October imposing severe restrictions on imparting information about contraception.
The authorities continued to monitor and restrict foreign travel of women's rights activists. Alieh Motalebzadeh was sentenced to three years' imprisonment in August for attending a workshop in Georgia on "Women's empowerment and elections."
http://www.women.ncr-iran.org/iran-women-news/4828-ai-iran-women-remained-subject-to-discrimination-in-law-and-practice
--------
Iran: Woman sentenced to 18 months in jail, forced labour in seminary
22 February 2018
An Abadani woman, a writer, has been sentenced to prison due to her connection with dervishes.
Ms. Maryam Delbari was sentenced to 18 months in prison and two years of compulsory service in the seminary of Boushehr for having connection with Qaderi dervishes in Kurdistan. The sentence has been upheld by the appeals court.
Ms. Delbari resides in Abadan, the second major capital in the oil-rich province of Khuzistan, in southwestern Iran. The port city of Boushehr is the capital of the southern coastal province of Boushehr.
Ms. Delbari said in an interview, "The Intelligence Department summoned me several times. The agents also broke in to my house and confiscated my personal belongings such as my scientific and literature books that were in no way related to the Qaderi School."
http://www.women.ncr-iran.org/iran-women-news/4827-iran-woman-sentenced-to-18-months-in-jail-forced-labor-in-seminary
--------
URL: https://www.newageislam.com/islam-women-feminism/saudi-arabia-amends-marriage-law/d/114388
New Age Islam, Islam Online, Islamic Website, African Muslim News, Arab World News, South Asia News, Indian Muslim News, World Muslim News, Women in Islam, Islamic Feminism, Arab Women, Women In Arab, Islamophobia in America, Muslim Women in West, Islam Women and Feminism