New Age Islam News Bureau
16 Dec 2017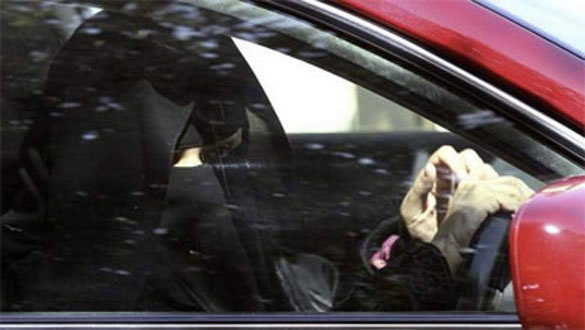 Representational photo ((Reuters)
-----
• Female Law School Graduate Denied Call to Nigerian Bar after Refusing To Remove Hijab
• Muslim Woman Forced to Chant Krishna's Name, By a Government Doctor in Bengaluru
• Iran: Young Girls Sold Under the Pretext of Marriage
• German Girl Imprisoned For Isis Role Has Fleeting Family Reunion
• Malaysian Housewife Handed Jail Term for 'Insulting Islam'
• Campaign Ongoing To Ensure Registration of Women Voters in Pakistan
Compiled by New Age Islam News Bureau
URL: https://www.newageislam.com/islam-women-feminism/saudi-arabia-allows-women-drive/d/113594
--------
Saudi Arabia allows women to drive motorcycles and trucks
16 December 2017
The Saudi General Department of Traffic (GDT) announced, on Friday that women will be allowed to drive trucks once the required conditions and guidelines have been met; now in force for males only.
Saudi women will also be allowed to drive motorcycles as per the royal decree announced in September, which comes into effect in June 2018.
There would be no discrimination against women's cars with plates and special numbers, the vehicles will be subjected to the same rules currently stated in the seventh article of the traffic law system.
On September 26, 2017, Saudi King Salman ordered the issuance of driver's licenses for women in Saudi Arabia.
A royal decree was issued to apply the traffic regulations including the issuance of driving licenses for both males and females, and to form a high-level committee of ministries (Interior, Finance, Labor and Social Development) to study the required arrangements to enforce it.
https://english.alarabiya.net/en/News/gulf/2017/12/16/Saudi-Arabia-allows-women-to-drive-motorcycles-and-trucks.html
--------
Female law school graduate denied call to Nigerian bar after refusing to remove hijab
December 16, 2017
A Nigerian law school graduate was denied a call to the Nigerian Bar for allegedly refusing to remove her hijab at the call ceremony on Tuesday.
The graduate of the University of Ilorin, Amasa Firdaus, is reported to have insisted on wearing the wig on her hijab despite instructions and plea from the Nigerian Body of Benchers and colleagues respectively, reports local legal news portal lawyard.ng. She was denied entry into the hall and denied a call to the bar, the report added.
The incident was first made known by a colleague of Amasa Firdaus who used her Instagram page to fight for justice for the Muslim woman and others who want to wear hijab while they practice law.
"What has Hijab done to them? Where is our freedom of Religion as stated in the constitution? We need justice … For those that don't know, Hijab is a MANDATORY part of my religion not just a piece of clothing, so if my freedom of religion is said to have been guaranteed in section 38 of the constitution of my country that is said to be supreme and have binding force overall as seen in section 1 of this same constitution and Section 42 of this same constitution guarantees my right to freedom from discrimination," Instagram user savvy_ruqqy protested on Thursday.
"Please we want justice. We want our hijab. We want #JusticeForFirdaus. We want to wear our hijabs for call to bar. We want to wear it in the courtroom. Stop the discrimination. We are Muslims not terrorists. Hijab is Mandatory. We want Justice for Firdaus," she added citing provisions in the Nigerian constitution that stipulate freedom of religion.
https://face2faceafrica.com/article/female-law-school-graduate-denied-call-nigerian-bar-refusing-remove-hijab
--------
Muslim Woman Forced to Chant Krishna's Name, By a Government Doctor in Bengaluru
Dec 16, 2017
Bengaluru: A woman has alleged that a government doctor forced her to chant "Krishna Krishna" to carry out a tubectomy surgery on her. The doctor, the woman claimed in her police complaint, threatened to cancel her surgery if she did not obey his order.
According to the complainant, Naseema Banu (22), a resident of Nandini Layout in Yeshwanthpur, she and her husband had decided that Naseema would undergo tubectomy surgery after the birth of their second daughter 10 months ago.
Knowing of a tubectomy surgery camp being held at Chintamani Government Hospital on Tuesday, Naseema, her husband and aunt left for Chintamani and enrolled her name in the hospital.
After hours of waiting for her turn, when Naseema went to the operation area, she saw doctors asking patients to chant "Krishna Krishna" during the operation.
"I was asked to come for the surgery at 1 pm. The doctors operating on women were asking the patients to chant Krishna Krishna while being operated. As I was a Muslim, I started saying, Allah Allah, to which the doctors objected. I tried to convince them saying I am a Muslim and I cannot chant Krishna's name, but the doctors refused to accept my explanation," Naseema said in her complaint.
She further said that the doctors threatened to cancel her surgery if she did not chant "Krishna Krishna" and that she was forced into chanting it.
After the surgery, Naseema approached the Chintamani city police station and lodged a complaint, stating that her religious sentiments were hurt by the act of doctor Ramakrishna, who according to her forced her into chanting "Krishna Krishna".
http://www.asianage.com/india/all-india/161217/woman-forced-to-chant-krishnas-name.html
--------
Iran: Young girls sold under the pretext of marriage
15 December 2017
Under-aged women and young girls are sold and traded under the pretext of marriage in some parts of Iran.
Parvaneh Salahsouri, head of the women's faction in the mullahs' parliament, made the above admission and added, "Giving under-aged girls to marriage causes serious harms both to the individual and to society. 50% of early marriages lead to the deaths of the mother or her baby. There is also 70% higher chance of cancer in such mothers."
In the meantime, Salahshouri acknowledged the ineptitude of the mullahs' Parliament in the face of religious scholars. She said, "Even if the Parliament passes a bill against child marriages, it is not possible to take any measure to resolve this problem because such marriages are sanctioned by the Sharia laws."
She also took note of the dire conditions of women's sports and said, "Despite observance of gender segregation in the sports arenas, women's sport has gone under question due to numerous restrictions in force." (The state-run Shafaghna website - December 14, 2017)
http://www.women.ncr-iran.org/iran-women-news/4579-iran-young-girls-sold-under-the-pretext-of-marriage
--------
German girl imprisoned for Isis role has fleeting family reunion
15 December 2017
A German schoolgirl who joined the Islamic State terrorist group and married one of its fighters before being captured by Iraqi troops earlier this year has been briefly reunited with her mother and sister.
Linda Wenzel, 17, is being held in an Iraqi prison while she awaits trial in Baghdad next month.
In an interview for German media which captured an emotional but fraught reunion with her mother, Linda said the life she had been led to believe she would have in the Isis caliphate evaporated soon after her arrival.
Finding herself trapped in a house with other women and surrounded by the sound of falling bombs, she said she had asked herself: "Why, you idiot, did you come here?"
Linda, from Pulsnitz in Saxony, joined Isis at the age of 15, having been groomed online and shown videos "which were so rosy – where men and their wives and children wandered together through parks … they baked bread together. It was like being in another world."
In reality, she said, she was surrounded by fighting, haunted by the jets and drones that flew over the house she shared with other women in Mosul, and forced to carry dead babies.
Linda told her German interviewers she had been unhappy at school, despite being the third best in her class, and had sought another life. She had formed a friendship with a Muslim man on Facebook for whom she had converted to Islam.
One day in summer last year she left a note on the kitchen table saying: "I'll be back on Sunday about 4pm."
She travelled via Turkey to Syria and then Iraq, and was arrested a year later by special forces in Mosul. Filthy and dazed, her hair full of dust, she was photographed by triumphant Iraqi soldiers, and the pictures went around the world.
In footage of the interview, her mother, who is not named, said to her: "But we could have talked about it," to which Linda replied: "It was not possible to talk to you. You said you wouldn't accept that I had converted to Islam."
German sources say they would like to see the teenager returned to Germany but there is currently no extradition agreement between the two countries.
In September, the Iraqi prime minister, Haider al-Abadi, said Linda might face the death penalty, but that would depend on what charges were laid against her by the Iraqi judiciary.
There is no evidence Linda was involved in any violence. It appears she was mostly forced to undertake domestic duties as a servant to her fighter husband, who died in combat five months after they married.
However, she was likely to have been part of a brigade that checked women on the streets were dressed according to the rules of the caliphate. Those who were not were reportedly whipped on the spot by members of the brigade.
Part of the evidence against Linda, which would probably play a part in any trial she might face in Germany if she was extradited, are the text messages she sent to her family. When her husband died, she wrote to her mother: "He is dead because of you, because your taxes paid for the bombs here." She also paid tribute to Anis Amri, the Tunisian asylum seeker who drove a lorry into a Christmas market in Berlin a year ago, killing 12.
One German security official told the Süddeutsche Zeitung that Germany was "not looking to roll the red carpet out" to the hundreds of women such as Linda who had joined Isis and now wanted to return, aware that she had voluntarily joined it and had shown some regret but little repentance for her decision.
The official said it was possible that, on her return to Germany, Linda would seek to make contact again with the Salafist scene. However, authorities were keen to see she received a fair trial in Iraq, and would try to intervene on a diplomatic level if it looked like she might face the death penalty.
Before hugging Linda goodbye at the end of the interview, her sister said to her: "Most of all I'd like to stuff you into my suitcase, close it up and take you with me," to which Linda replied: "I'd very much like to come with you."
https://www.theguardian.com/world/2017/dec/15/german-girl-linda-wenzel-imprisoned-for-isis-role-has-fleeting-family-reunion
--------
Malaysian housewife handed jail term for 'insulting Islam'
December 16, 2017
A Malaysian woman was given a six-month jail term on Friday for making offensive remarks about the Prophet Mohammed (PBUH) in a mosque, state media said, a fresh sign of growing tensions in the multi-ethnic country.
Tham Yut Mooi, from the country's ethnic Chinese minority, was found guilty of three counts of insulting the Prophet (pbuh) at the mosque in northern Perak state in May last year, the state-run Bernama news agency said.
The 46-year-old housewife was also fined 15,000 ringgit ($3,700) at a magistrate's court in the city of Ipoh.
However the mother-of-two will not begin serving her jail term immediately as she is appealing the conviction. The case highlighted the long-simmering tensions between the Muslim Malay majority and the country's ethnic and religious minorities.
Malays make up about 60 per cent of Malaysia's 32 million inhabitants, and the country is also home to substantial ethnic Chinese and Indian minorities.
Critics say the government has exacerbated religious and ethnic divisions by pandering to Muslim hardliners and cracking down on anything deemed un-Islamic in a bid to maintain support in the Malay heartlands.
https://www.pakistantoday.com.pk/2017/12/15/malaysian-housewife-handed-jail-term-for-insulting-islam/
--------
Campaign Ongoing To Ensure Registration of Women Voters in Pakistan
DECEMBER 16, 2017
ISLAMABAD: A Female National Identity Card and Voter Registration Campaign is in progress in 79 districts of the country to bridge the gap between male and female voters.
As part of its measures to ensure efficient registration of women voters, the Election Commission of Pakistan (ECP) launched and initiative last month, which will target 880,000 women, mobilize and facilitate them to centres of National Database and Registration Authority (NADRA) for acquisition of Computerized National Identity Cards (CNlCs). Sources at Parliamentary Affairs Division on Friday said that the number of women registered as voters is far less than men voters.
All the citizens having CNICs are registered as voters. Therefore, the gap between men and women voters is due to the gap in Civil Registration. Voter registration is directly linked with issuance of CNICs. The sources said as the gap between men and women is reduced with improvement in civil registration, the same shall be reflected in voter registration.
The sources said that the ECP had declared elections of a provincial constituency PK-95 Lower Dir (KP) null and void on the grounds that no women voters came out to vote in said constituency. The decision was set aside by the KP High Court and the ECP was asked to notify the returned candidate. However, the ECP challenged the decision of KP High Court in Supreme Court and the matter is still pending.
Furthermore, the ECP's stance has also been endorsed in the 2017 Election Act by inclusion of law on the issue. Highlighting the other initiatives, the sources said the ECP has introduced a column in Form-XlV, which is the Statement of the Court (which is prepared by the Presiding Officer at close of the poll) requiring information on the number of women voters who cast their votes at each polling station, enabling ECP to ascertain the number of women who exercise their right of vote across the country.
The ECP has also included a module with name of "Gender and elections" in the capacity building training of ECP Officers so that a gender sensitized environment is created. Moreover, the gender affairs wing of ECP has created a "Gender and Disability Electoral Working Group (GDEW)" with the aim of mainstreaming women and other marginalized groups in to the political process. This working group will enlist support of all stakeholders and other organizations working in the field. In this regard meetings at all four provincial headquarters with all stakeholders have already been conducted. The sources said ECP has also established District Voter Education Committees at the district level which are headed by the concerned District Election Commissioners and consists of members from both the government and civil society organizations of the area.
https://dailytimes.com.pk/160705/campaign-ongoing-ensure-registration-women-voters/
--------
URL: https://www.newageislam.com/islam-women-feminism/saudi-arabia-allows-women-drive/d/113594
New Age Islam, Islam Online, Islamic Website, African Muslim News, Arab World News, South Asia News, Indian Muslim News, World Muslim News, Women in Islam, Islamic Feminism, Arab Women, Women In Arab, Islamophobia in America, Muslim Women in West, Islam Women and Feminism