New Age Islam News Bureau
5 Feb 2019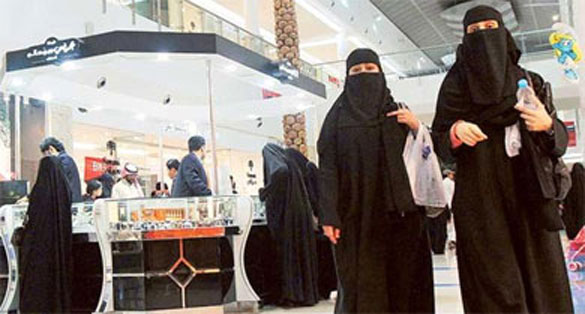 Saudi women shop at Al Hayatt mall in Riyadh in 2012. Single men are not allowed into the building.
Image Credit: Reuters
-----
• Iran Women Explore Futuristic Options, Burying Old Barriers
• Arab Women Take Active Role In Promoting Tolerance
• World Hijab Day Celebrated In Solidarity with Muslim Women
• How A Muslim Tried To Help His Christian Wife Attend Papal Mass in UAE
• S. Africa Marks Hijab Day, Calls For Global Tolerance
Compiled by New Age Islam News Bureau
URL: https://www.newageislam.com/islam-women-feminism/saudi-arabia-addresses-guardianship-abuses/d/117655
--------
Saudi Arabia Addresses Guardianship Abuses towards Women
February 04, 2019
Habib Toumi
Manama: Saudi Arabia is launching a programme to tackle abuses in the guardianship system and ensure the rights of all individuals, mainly women and children, are protected.
Under the guardianship system, a woman regardless of her age, education level or marital status, remains a legal dependent and thus needs the consent of a male relative - a father, uncle, husband, brother or son - in various aspects of her life.
In May 2017, and as the kingdom embarked on a series of social reforms to help empower women politically, economically and socially, King Salman issued orders to ease restrictions, mainly on access to jobs, higher education and medical procedures.
Saudi Arabia has no laws that prevent women from having access to such services, but some public departments demand the consent of a male relative before providing them.
Conservative parties within the society ensured the reinforcement of the system.
However, the abuse of the guardianship system by some males has prompted Saudi women to report their frustration with the system that places restrictions on what they can do without the permission of a guardian and to call for changes.
On Sunday, a workshop in the capital Riyadh discussed the situation and offered recommendations to deal with abuses in the guardianship powers.
"The Public Prosecution will spare no effort to protect individuals, whether women, children or parents from the unfair treatment of those who abuse the guardianship system," the kingdom's public prosecutor Saud Al Mojeb said.
"Abuse victims can resort to statutory powers to initiate criminal proceedings as provided by the regulations in accordance with the Shariah and the instructions of the country's rulers," he said at a workshop dedicated to discussing a project to deal with guardianship abuses.
The workshop reviewed the definition of guardianship, the responsibilities and powers of the guardian in the Sharia, and forms of guardianship abuses and their social and psychological impacts, Saudi daily Okaz reported.
Participants also discussed the criminal accountability of abuse as well as the steps to initiate criminal action in cases where women are prevented from getting married or from exercising their legitimate rights.
The participants, who included prosecutors, advisors, Public Prosecution staff, heads of departments, Ministry of Labour and Social Development staff and experts, also discussed the measures to reduce guardianship abuses and the mechanisms of cooperation between social protection departments, specialised sectors and the criminal reconciliation offices in the Public Prosecution.
"The Public Prosecution, in its capacity as one of the justice agencies in Saudi Arabia, is shouldering its responsibility towards the community by adopting awareness and social programmes and projects to contribute to reducing the excesses of those who abuse the guardianship," Al Mojeb said.
Al Mojeb noted that although only a few complaints had been received about guardianship power abuse, indicating that it was not widespread, the Public Prosecution, by virtue of its competence as the social body representing society, is responsible for filing lawsuits in criminal cases.
"This workshop is in line with the drive of the Public Prosecution to promote awareness of social issues in general and the issue of abuse of the guardianship powers in particular. We look forward to significant recommendations to address the issue of abuses in the guardianship powers."
The recommendations will be referred to the higher authorities, he added.
https://gulfnews.com/world/gulf/saudi/saudi-arabia-addresses-guardianship-abuses-towards-women-1.61861990
--------
Iran Women Explore Futuristic Options, Burying Old Barriers
2019-02-04
TEHRAN — Saba was just 25 when she left her design job in New York to work on a project renovating an art gallery back in her hometown Tehran.
Within months, she won three more contracts to do up galleries and the lobby of an apartment complex.
"I had dreamt of building my own company, but I hadn't expected it to happen any time soon. If I had stayed in New York, I wouldn't have had this chance," said Saba, now 27.
She says the position of women in Iran has changed a lot over the past decade.
"People now trust women in management positions. Still it's hard, especially on a construction site. But it's hard anywhere. It's hard in New York," she told AFP.
As the republic marks its 40th birthday, few issues are more politically sensitive or full of contradictions than the status of women.
After the revolution, laws gave women a lower legal status than men, requiring them, for example, in many cases to gain permission from their father or husband to leave the country. They are considered to have half the value of men in various legal aspects such as inheritance and testimony in court.
But the republic also encouraged education for women, who now outnumber men at universities — a development that has transformed expectations and overturned centuries-old traditions.
"Going to university was a path forward for girls like us who did not want to end up like our mothers in a traditional society," said Mina, a 25-year-old linguistics student in Tehran.
Mina didn't tell her father she was studying for the university entrance exam.
"He couldn't believe it when I was accepted, that I would go to some other city to live. He actually stopped talking to me for some time," she said.
"Whatever you do, your gender is the deciding factor," said 26-year-old archeology student Sara.
"It makes you believe that you have to have kids, you have to be modest. You can barely believe that you can be independent, be seen as an individual with a character," she added.
'Tool of male arousal'
Iran's rulers claim that Islamic gender laws — particularly "hijab" rules that require women to wear a headscarf and modest clothing — are designed to protect women.
Supreme leader Ali Khamenei tweeted in 2018 that the #MeToo movement was evidence of how Western society had failed women. "The Western model for women is symbolic of consumerism, cosmetics, showing off for men as a tool of male sexual arousal," he wrote. Nonetheless, clothing norms in Iran have gradually but significantly changed in recent years.It is now unremarkable, especially in wealthier areas, to see women in tight jeans with loose, colorful headscarves.
'Nothing like it was'
The authorities still draw the line at actively protesting the compulsory hijab: several women were arrested last year for doing so, and a prominent rights lawyer, Nasrin Sotoudeh, jailed after taking on their cases. But many also recall how much they have clawed back since the early days of the revolution.
"It's nothing like it was. You couldn't even get a lift with a male friend," said a female journalist in Tehran.
"We were terrified of being stopped, because they were out there, checking cars. Or going for lunch with a (male) friend -- it would never happen! Now no one even thinks twice about these things."
Many were still dismayed that "moderate" President Hassan Rohani, who ran on promises to improve citizens' rights, again failed to appoint a female minister after his 2017 re-election.
"There is a glass ceiling and it will continue," said Fereshteh Sadeghi, a political journalist in Tehran. — AFP
http://www.saudigazette.com.sa/article/558454
--------
Arab Women Take Active Role In Promoting Tolerance
February 05, 2019
DUBAI: Arab women will play an important role in the pursuit of tolerance in the region, as more of them find roles in the education sector, a senior official at the Organization of Arab Women (OAW) has said.
"Women and men are all together, having active roles toward the pursuit of tolerance," Dr. Fadia Kiwan, Director General at OAW, told Arab News on the sidelines of the Global Conference of Human Fraternity on Sunday.
Kiwan underscored the prominent role of women in education — from guiding children through their formative years to being professional educators in schools, which she said is crucial in "teaching tolerance."
"We see women in active roles in producing and transmitting values," she said.
But women are not just taking the lead in education, according to Kiwan, who herself was an established professor of political science in Beirut.
"We have a moving situation in the Arab world," Kiwan said, singling out Tunisia as a country that "is taking the lead in many different fields."
"Other Arab countries are taking measures too. Most governments are making efforts toward creating policies that are women-friendly — such as nominating women to key government positions and allocating funds to address women's issues," she said, making special mention of the recent move by Saudi Arabia to allow women to drive.
Although the Arab world "has made a lot of efforts in the past decade," Kiwan admitted that there are still some obvious gaps that need to be addressed.
"The results are not the same in each country. These discrepancies can be explained by the differences in terms of wealth and stability. Some Arab countries live in war," she said, adding that the organization is currently prioritizing victims of regional conflicts.
"There are millions of people who are out of their homes because of wars. People who are displaced are our target, especially those in Yemen, Libya, Sudan, Palestine and Syria," Kiwan said, mentioning the close cooperation with the Arab League in this endeavor. "Our target is to support them by giving medical services, psychological services and educational services, as well as economic training to help them to be ready to move back to their homes, and make them capable to take part in the reconstruction of their own countries," Kiwan said.
"We have a program already set up to provide support to women in terms of revisiting legislations in different Arab countries to have the best modalities — rules and procedures, as well as mechanisms to provide physical and moral protection for women and girls."
"When you provide women education, protection by the law, and empowerment to enter the market, I think that women will play an active role in culture and public policy," she said.
http://www.arabnews.com/node/1447206/middle-east
--------
World Hijab Day Celebrated In Solidarity with Muslim Women
02.04.19
Religion is displayed in many forms, through the media, traditions and physical characteristics, perhaps most notably in clothing.
On Feb. 1, Ohio University, as well as other countries, states and religious worshippers, celebrated World Hijab Day as a nod to the humility and independence of Muslim hijabi (hijab wearing) women.
The hijab scarf is a traditional piece of clothing used by Muslim women and men to practice modesty and submission to Allah, or God, as stated in the Koran.
As a country that has gone through the horrors of 9/11, America, as a nation, has come to associate much with the traditional wear of Muslims. The hijab in particular has come under fire many times via social media and in real life due to its heavy association with radical Islam and Islamophobia.
"The hijab scarf has, in a sense, become a symbol for Islam and for Muslims," Loren Lybarger, an associate professor of classics and world religions with a specialty in Islamic studies, said. "Oftentimes it has become a focal point of anti-Muslim backlash."
Lybarger graduated with a doctorate in religion studies from the University of Chicago Divinity School and spent time in the Middle East studying Islam.
"The decision and the politics around the scarf are highly contested and debated among Muslims themselves and Muslim women," Lybarger said. "Muslims express their relationship to Islam in many different ways, (therefore) women don't have to wear a scarf in order to be Muslim".
Despite the present stereotypes existing on the connection between radical Islam and choice of dress wear, hijabs and other similar types of Muslim attire have become more acceptable into modern day culture.
"I am personally not a hijabi, but World Hijab Day, for me, is a good way to show solidarity to Muslims and hijab-wearing Muslims," Adjei Nyua, a member of the Muslim Student Association and an OU graduate student, said. "People tend to judge others for what they are wearing and we, as women, endure that on a daily basis".
All over the globe, Muslim women are taking steps to show that the hijab isn't a symbol of aggression and violence, but self-humility and commitment.
American fencer Ibtihaj Muhammad became the first Muslim woman to compete and win a bronze medal while wearing a hijab. Soon after the 2016 Summer Olympics, worldwide sportswear manufacturer Nike began a mass sale of a pro athletic hijabs designed for female Muslim athletes.
Social media and fashion have also become major platforms for exposure for Muslim women.
Canadian Youtuber Aysha Harun uses her platform as a makeup and beauty vlogger to help disrupt the stigma surrounding Muslim women. IMG model Halima Aden has become highly sought-after with major fashion labels as her traditional, yet unique style of the hijab draws attention on a global runway.
Although the outside appearance of the scarf says much, the hijab scarf in itself is only a physical representation of the what the hijab embodies.
"The hijab scarf is, for Muslims, a way to worship God," Aizah Muhammad, a junior studying political science with a minor in Islamic studies, said. "You can be modest and not dress modestly, because the hijab itself is a reflection of who you are, who you choose to be, as a person."
https://www.thepostathens.com/article/2019/02/world-hijab-day-muslim-women-ohio-university
--------
How A Muslim Tried To Help His Christian Wife Attend Papal Mass in UAE
February 5, 2019
Bernice was among hundreds who queued up outside the church to grab last-minute tickets for the mass.
When Filipina expat Bernice Soroosh, a devout Catholic, was waiting for hours to get her chance to get a ticket to attend the papal mass, her husband, Yousef Soroosh, an Emirati, was patiently waiting in the parking lot of St. Mary's Catholic Church.
"I told my husband that I would like to attend the papal mass and he offered to drive me to St. Mary's Church to get a ticket. I was really touched by his offer. This Papal visit has proven that people, even a married couple like us, who come from different religious backgrounds and cultures, can arrive at a common ground," said Bernice. "My husband is a Muslim and I'm Catholic, but there is deep respect for culture and faith in our family."
The couple met four years ago at Bernice's workplace. "We may have different religions but we have the same faith and belief in one God. We look at the similarities rather than differences of our religions," said Bernice, who has been married to Yousef for over a year now.
Bernice said they have not decided yet which religion their future children would follow, but "respect, compromise, love and tolerance" will be the hallmarks of their healthy relationship.
Bernice was among hundreds who queued up outside the church to grab last-minute tickets for the mass. She was not lucky enough to get a ticket to the mass, but expressed happiness for those who did.
https://www.khaleejtimes.com/nation/dubai/how-a-muslim-tried-to-help-his-christian-wife-attend-papal-mass-in-uae-
--------
S. Africa Marks Hijab Day, Calls For Global Tolerance
04.02.2019
Unlike in other parts of the world where Muslim women are often discriminated for wearing a headscarf, the story is different in South Africa, said members of the community.
"We in South Africa celebrate Hijab Day by being grateful for the freedom our country has afforded us in openly practising our religion and being able to freely wear our religious garments,'' Jawairiya Aboobaker of the Muslim NGO Baitul Salaamz told Anadolu Agency late Sunday during celebrations to mark World Hijab day in the capital Pretoria.
Aboobaker says commemorating Hijab Day was aimed at informing Muslim women to feel proud of wearing their headscarf because it is part of their religion.
She said although South Africa is a tolerant society, there are a few people who sometimes target Muslim women dressed in the veil by calling them "ninja".
The gender activist said her organization will strive to educate bullies to respect veiled women and understand why they cover themselves.
She also called on citizens of other countries that often discriminate against veiled Muslim women to be tolerant and stop the hate.
Over 70 women gathered on Sunday to listen to various lectures commemorating World Hijab Day at a mosque in Hammaskraal on the outskirts of Pretoria.
Various speakers dispelled myths surrounding the wearing of the Muslim religious head cover, saying it was a religious obligation and should not be viewed as a form of oppression against women as suggested by some critics.
This year organisers of the day focused on black women who are a Muslim minority in the country, mostly new comers to Islam.
"Most of the ladies who attended did so for the first time and were willing to learn about how other women fare in countries that don't allow them to freely wear the hijab," Aboobaker said.
She added that in South Africa it is a cultural norm for black women to attend funerals and church service covering their hair as a form of respect or modesty.
Public schools also accommodate young veiled Muslim women and bearded young men, unlike other countries.
Muslims make up about 2.5 percent of South Africa's 57 million population. Regardless of their numbers, Muslims play an important role in the country's economy. Some are engaged in politics, academia, and trade among others.
South African Muslims are viewed as moderate and live in harmony with their fellow countrymen.
https://www.aa.com.tr/en/africa/s-africa-marks-hijab-day-calls-for-global-tolerance/1382910
--------
URL: https://www.newageislam.com/islam-women-feminism/saudi-arabia-addresses-guardianship-abuses/d/117655
New Age Islam, Islam Online, Islamic Website, African Muslim News, Arab World News, South Asia News, Indian Muslim News, World Muslim News, Women in Islam, Islamic Feminism, Arab Women, Women In Arab, Islamophobia in America, Muslim Women in West, Islam Women and Feminism