New Age Islam News Bureau
13 Sept 2018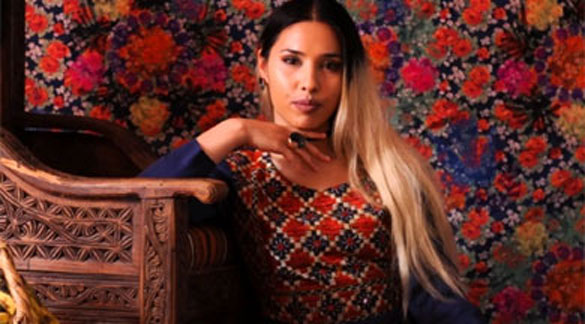 Twenty-eight-year-old Marzie Noori is a model in Afghanistan. She says her family was initially against her decision to become a model. "They were so strict," she says, "but I have always considered one thing in my life, and that's I will do whatever I like to do."
(Photo: Farzana Wahidy/PRI)
----
• Women's Fashion in Afghanistan Goes Beyond the Blue Burqa
• Geneva Seminar Discusses Women's Rights Issues in Egypt
• Kansas Prison Harassing Muslim Woman: Rights Group
• Turkey Funds Revival of Female Islamic Preachers in Kosovo
• Muslim Woman Says Transportation Security Administration Subjected Her to Inappropriate Search
• EIPA Signs MoU with Arab Women's Council
• Flynas Seeks To Teach Saudi Women to Be 'Future Pilots'
• Morocco Introduces Law to Combat Violence against Women
• VHP in Bengal Issues Dos and Don'ts on 'Love Jihad', Alleges Muslim Men Paid To 'Lure' Hindu Girls
• Young, Enthusiastic Saudis Embracing Garment Sector
Compiled by New Age Islam News Bureau
URL: https://www.newageislam.com/islam-women-feminism/saudi-airline-hire-female-cabin/d/116368
--------
Saudi Airline to Hire Female Cabin Crew for First Time in Kingdom's History
12 September 2018
A budget airliner in Saudi Arabia has called on Saudi women to apply for air hostess jobs, a first in the Gulf Kingdom's history.
Flyadeal, an airline company owned by the state-owned Saudia, posted the job advert online on Tuesday.
In the posting, Flyadeal explicitly calls on Saudi women aged 23-30 years old to apply for the role.
Among the requirements listed include being fluent in English and having customer services and sales experience.
Local reports also said that the budget airline planned to hire 20 Saudi women to be trained to become cabin crew members.
Founded in 2017, the airline was set up as part of the Gulf kingdom's drive to build up its tourism industry, as a way of diversifying its oil-rich economy.
The budget airliner's decision to call upon Saudi nationals to apply for the role is a big step after Saudia said in 2015 that it would not hire Saudi women to work as cabin crew.
In January, the Ministry of Labour and Social Development announced the gradual plan to restrict employment in 12 sectors to Saudi nationals over three phases, beginning in September 2018 and ending in January 2019.
The plan aims at reducing unemployment among Saudis, which currently stands at 12.8 percent, and decreasing the cost of public sector wages by bolstering private sector jobs.
Under the reform agenda spearheaded by Crown Prince Mohammed bin Salman, the Saudi government seeks to reduce unemployment to seven percent by 2030.
The first phase would unlock 30,000 jobs for Saudi men and women, who would replace expatriates, Al-Eqtisadiah newspaper reported, quoting an official at the Ministry of Labour.
https://www.middleeasteye.net/news/Saudi-airline-flyadeal-plans-hire-female-cabin-crew-first-time-in-kingdom-history-1232794666
--------
Women's Fashion in Afghanistan Goes Beyond the Blue Burqa
Sept. 12, 2018
On a hot August day last year, President Donald Trump held a meeting with a group of his top military advisers at Camp David.
On the agenda was whether the US should increase its troops in Afghanistan. Trump's position before his presidency was clear: The US should withdraw from Afghanistan.
"What are we doing there?" he asked on Fox News in 2012. "We don't have money. We're a debt nation. We can't build our own schools, and yet, we build schools in Afghanistan."
But on that day in August 2017, a photo reportedly influenced Trump's decision on sending in more troops.
"It was taken in 1972, and it was taken out from this book by a woman named Harriet Logan," explains Rafia Zakaria, attorney and author of "The Upstairs Wife: An Intimate History of Pakistan" and "Veil." "It showed Afghan women in heels and skirts just walking on a sidewalk in Kabul."
Zakaria says it was General H.R. McMaster, Trump's then national security adviser, who pulled out the photo. His argument, she says, was this: "Look, Afghanistan had adopted Western values in the past. This could be Afghanistan again, if we send in more troops."
Following that meeting, the president authorized sending an additional 4,000 troops to Afghanistan.
Zakaria says this is a telling moment about how we look at women's clothing in Afghanistan.
"This is important because it represents this idea that if we can take Afghan women back to that moment or put them back in these miniskirts, the work in Afghanistan is done and the liberation is achieved. That's not the case."
Today, women's clothing in Afghanistan is far from the stereotypical blue burqa. Fashion designers are quietly working to give Afghan women more options when it comes to the way they dress.
Rahiba Rahimi is one of them.
I met Rahimi on a tense, spring morning in Kabul. There were more checkpoints than usual. Police everywhere. Few people walking around.
That's because the day before, there was a suicide attack. Another one.
But all that seemed a world away at Rahimi's boutique, Laman, a Kabul-based fashion house. There, on the second floor of a nondescript building, a photo shoot was in full swing.
Two models, a young man and a woman, sat under bright lights, facing each other. The wall behind them was covered with colorful fabric.
The models looked longingly but awkwardly into each other's eyes, trying hard to forget the strict social norms that forbid them from doing this. But it doesn't last.
They both erupt in laughter.
Over freshly brewed tea and soft sponge cake, Rahimi tells me why she thinks war-torn Afghanistan needs fashion.
"It's the first thing people see in you," she says. "A lot of judgment can come from how [we] dress. It can be a way of how Afghans can express themselves and who they are."
Rahimi says before she started Laman, she always thought the only way to change Afghanistan was to change its politics.
"There was a time in my life when I was very political," she says, "but then I realized change can start with what you wear."
The idea behind Laman is simple: Take colorful, traditional Afghan designs that already exist and turn them into practical, edgy streetwear.
"Afghan women have always enjoyed colors and different patterns and dresses," Rahimi says, "so it's built in the culture, and it's there."
Rahimi shows me around her boutique. She picks out a long, cream-colored dress from one of the racks. There are intricate burgundy flowers embroidered on the waist.
It's a very traditional look but it's done in a very modernish dress. This one would be around 3,000 Afghanis, about $40.
That might sound like a steal but that's how much most Afghans earn in a month. Rahmini knows her designs are too expensive for a lot of women here.
But the design house employs local women to do the embroidery. The women can work from home — which Rahimi says is crucial since some conservative families don't allow women to work outside the home.
Rahimi says Laman has shaken up the fashion scene here.
"The first time we had a red carpet [event] and we had models with funky makeup and kind of crazy clothes, a lot of people stood up and criticized us," she says. "I was really scared because I didn't know what's going to happen because this can be threatening."
It can be threatening because the Taliban still has a presence in Afghanistan. The group sees these types of women's clothing as un-Islamic.
Lately, ISIS has also staged attacks in Afghanistan, adding to the insecurity and violence. Rahimi says on days when there is a high threat level, she asks her employees to stay home.
Rahimi, though, thinks that Afghanistan is ready for young, ambitious women like her. Traditional mindsets are beginning to transform into more acceptance. The near future may well bring more change.
Author Zakaria believes that what young designers like Rahimi are doing is challenging but critical. She says some might wonder why they focus on fashion at a time when there are so many problems in Afghanistan. What about poverty, illiteracy, corruption or lack of basic services, they might ask.
But she thinks fashion and creativity is just as important as solving these issues.
"Fashion is an expression of identity," she says. "These designers are creating a popular representation that can be seen on the streets. They are showing the world what they think the future should be like."
"Culture, history, all of these forces do not stop and they do not die just because there's war," says Zakaria.
Designing, making and selling clothes.
It might sound like a simple mission.
But not in Kabul.
Rahimi walks me out of her boutique. I say goodbye to her and the armed guard who stands at the door. He closes the heavy metal gates behind me.
https://www.usatoday.com/story/news/world/2018/09/12/womens-fashion-afghanistan-includes-far-more-than-blue-burqa/1270619002/
--------
Geneva Seminar Discusses Women's Rights Issues in Egypt
12 Sep 2018
Egypt has achieved many great strides in legislation on women's rights, Maya Morsi, the head of the National Council for Women, said at a seminar on women's rights in Egypt, Bahrain in Qatar on Wednesday.
The seminar took place on the sidelines of the 39th session of the International Council for Human Rights in Geneva.
Morsi, who chaired the seminar, said that women in Egypt currently "hold 25 percent of leading positions and decision-making circles," adding that "the 2014 Egyptian constitution laid down the principles of citizenship in terms of rights and duties," and that "2017 was the Year of the Egyptian Woman, during which the 2030 Women's Development Strategy was put in place."
"The 30 June revolution in 2013 preserved women's rights from being lost as a result of extremist groups' ideologies," Morsi added.
The seminar also discussed the forced displacement of the Tawergha tribe in Libya and the process of revoking citizenship from members of the Al-Ghufran tribe in Qatar, as well as terrorism and its impact on the human rights situation in Yemen, Syria, Libya, Iraq, and Egypt.
"Out of some 200 judges, there are only two female judges serving in Qatar," commented Said Abdel-Hafez, the chairman of the Forum for Development and Human Rights Dialogue, an Egyptian organisation.
"The UN Committee on the on the Elimination of Racial Discrimination has called on Qatar to define racial discrimination in its legislation," he said.
"Article 12 of Qatar's Nationality Law, no. 38 of 2005, recognises racial discrimination against non-Qataris, while Article 16 of the same law affirms the unequal status between citizens of Qatari origin and naturalised citizen," said Abdel-Hafez, also a consultant to the human rights committee of the Egyptian parliament.
"The Qatari National Human Rights Committee, a government committee, has reported blatant discrimination between men and women in Qatar," Abdel-Hafez concluded.
http://english.ahram.org.eg/NewsContent/1/64/311394/Egypt/Politics-/Geneva-seminar-discusses-womens-rights-issues-in-E.aspx
--------
Kansas Prison Harassing Muslim Woman: Rights Group
13.09.2018
By Umar Farooq
WASHINGTON
A Muslim woman has been facing religious discrimination and harassment by authorities at a privately run prison in Kansas, a civil rights group said Wednesday.
Washington D.C.- based Muslim Advocates said Valeriece Ealom has complained that prison guards at the Leavenworth Detention Center have repeatedly criticized her for wearing a headscarf and told her on multiple occasions to remove the "rag" from her head before she left her cell. They also threatened to discipline her if she did not take it off.
The group said they took the case because it highlights a common problem in prisons where Muslim women are discriminated against for wearing a headscarf.
"Muslim Advocates believes that it is essential to safeguard Muslim women's rights to practice their faith in accordance with their beliefs while incarcerated," Scott Simpson, its public advocacy director, told Anadolu Agency.
Ealom, who was convicted of drug charges, has been held at the prison, operated by Tennessee-based company CoreCivic, since November after having her parole revoked. It is unclear when she will be scheduled for release.
CoreCivic was granted control of the correctional facility through a contract with the U.S. Marshals Service.
The group sent a letter Wednesday to CoreCivic, U.S. Marshal Ronald Miller and Justice Department Inspector General Michael Horowitz detailing how Ealom was being treated.
The U.S. Marshalls Service "should ensure that personnel at all CoreCivic facilities are appropriately trained and educated with regard to religious head coverings, religious accommodations and facility grievance procedures", Muslim Advocates said in the letter.
After she filed a complaint to management, the prison guards retaliated in several ways, including having her headscarves confiscated and being denied medication, according to Muslim Advocates.
Ealom was unable to cover her hair for four weeks, something that is consistent with her religious beliefs and obligations.
By sending the letter, she wanted the prison to understand what religious headcoverings are and ensure that Muslim women inmates do not face this kind of treatment, according to Muslim Advocates.
"Ms. Ealom's aim has always been to be able to wear her headscarf without being harassed or retaliated against by prison employees. As Muslim Advocates mentions in the letter, she wants the prison staff to be educated on religious headcoverings to ensure that neither she nor any other Muslim woman detained in a CoreCivic facility has to experience this kind of discrimination again," Simpson added.
CoreCivic has come under scrutiny in recent years for major problems it has faced, including understaffing and security.
The Department of Justice did an audit of the Leavenworth Detention Center in April and found the private prison had failed to address these staffing issues and the vacancies led to multiple security gaps within the prison.
Muslim Advocates currently has no plans to file a lawsuit and is hoping the issue will be resolved without litigation.
https://www.aa.com.tr/en/americas/kansas-prison-harassing-muslim-woman-rights-group/1253452
--------
Turkey Funds Revival of Female Islamic Preachers in Kosovo
13 SEP 18
Perfume permeates the air inside the Uhud mosque in the southwestern Kosovo city of Prizren, the country's unofficial cultural capital and for centuries a major Balkan crossroad for traders and religions.
Women read aloud in unison from the pages of the Quran, their heads draped in brightly-coloured scarves.
Mejreme Uka clutches the holy book and leads the reading while the smart phone beside her lights up with social media notifications.
Uka is one of a growing number of female preachers in Kosovo's Islamic community, a novelty in modern-day Kosovo but in fact a revival of an Ottoman-era practice that died out with the advent of communism. And Turkey is paying for it.
"Times are changing," Uka told BIRN, sitting in the centre of the mosque at the spot usually reserved for the imam.
"In the past, female preachers could not read the Quran. But now, slowly and rightfully so, religion is becoming modernised and things are falling into place."
Most of Kosovo's ethnic Albanians, the majority of its 1.8 million inhabitants, are Muslim, but many do not actively practice their religion and the country is officially a secular state.
The end of communism with the bloody collapse of Yugoslavia, and the trauma of a 1998-99 war to break away from Serbia, has contributed to a revival of Islam among some Kosovo Albanians, and now, after a century-long absence, women are again preaching from the Quran.
"This is not a new tradition in Kosovo," said Besa Ismaili, founder of the Women's Department of the Kosovo Islamic Community, recalling centuries of Ottoman Turkish rule in the Balkans.
"At the time of the Ottoman Empire there used to be many muallimes," Ismaili told BIRN, using the Arabic term for female preachers. "With the fall of the empire, the presence of women in religion disappeared and they were sent away from the mosques."
"As new Islamists, it is our duty to uncover that part of history that has been purposefully hushed up," she said, noting that for the past century mosques had been adapted to remove space reserved for women.
During communist Yugoslavia, Ismaili explained, "women served only to wash the bodies of dead women. What is happening now is a renewal after centuries of oppression."
Lack of state regulation
Kosovo is not alone.
Masooda Bano, professor of Development Studies at the University of Oxford, said there had been a surge in female Islamic preachers and scholars across the Muslim world as well as among Muslim communities in secular countries.
"The trend in Kosovo is thus not an exception", Bano told BIRN via email.
This is not to say that women will secularise Islam, Bano said. "Instead, many learn to better defend traditional Islamic values as a result of closer study of Islamic texts."
In Kosovo, Turkey is actively promoting the revival of the tradition, part of an outreach to old Ottoman lands under the increasingly authoritarian President Recep Tayyip Erdogan. In the capital Prishtina, two Ottoman-era mosques bear the names of women, 'Hatunije' and 'Kaderije'.
Uka's partner in leading prayers and the reciting of the Quran is Hylia Bash, a Turkish woman sent to Kosovo with her husband, Murat, by the Turkish Islamic Community, Diyanet. Both women are on the payroll of the Turkish state.
"I left my daughter with my sister and I had to come here, to serve the duty given to me by Diyanet," said Bash. "When you serve Allah, it does not matter where you are, you spread the light."
"The goal of the Turkish state is to erase in Kosovo and elsewhere the prejudice against Islam, that it is not good or is to be feared. The goal of Turkey is to show that Islam is good," Bash told BIRN.
Uka said that before Diyanet took her under its wing, the money she received from the Islamic Community of Kosovo was not enough to live on.
Successive governments in the young state, which declared independence from Serbia in 2008, have failed to regulate by law the position of religious communities.
Vedat Sahiti, an adviser to the head of the Islamic Community of Kosovo, Mufti Naim Ternava, said Turkey was currently paying for 10 muallimes in Kosovo.
"Seeking to strengthen the role of women in order to keep our youth away from any potential radicalism or extremism, we have asked for financial support from Turkey," Sahiti told BIRN, alluding to the threat from more radical strains of Islam that have seen hundreds of Kosovo Albanians take up arms in the Middle East.
The support is not only financial.
Sahiti said the Islamic Community, given its own limited capacity, had also asked Turkey to send imams to work among ethnic Turks in Kosovo, a practice reciprocated by Kosovo in sending imams to areas of Turkey where Albanians live.
"We believe that in this way, we fulfill our obligations towards the believers, wherever they are," he said.
BIRN contacted Diyanet and the Turkish embassy in Kosovo to ask about Turkey's reasons for funding female preachers in Kosovo, but neither responded.
Differing reactions
In a shopping mall in Gjakova/Djakovica, in western Kosovo, Violeta Smajlaj-Myrtaj reads in Arabic from the Quran to a narrow room of women. None of those listening to her understand the words, but Smajlaj-Myrtaj says there is no other way.
"The rules of Tawhid (the defining doctrine of Islam) do not allow otherwise, but I try to explain the meaning to them," she told BIRN. "A text, no matter how magnificent, may be misinterpreted for this reason, and therefore we need worthy teachers."
Smajlaj-Myrtaj, who holds a PhD in Islamic Jurisprudence from Jordan, heads the local branch of the Women's Department of the Islamic Community. She said that apart from teaching, her duty is to strengthen the role of women in society.
"We are working on our obligation, our mission in strengthening the belief in Allah wherever we are, as much as we can."
"It is important that this is not an issue of women challenging men in religion," said Smajlaj-Myrtaj. "It is simply a space that is being created as it used to be in the beginning of Islam."
A 66-year-old woman, Gjejrane Lulaj, repeated the words she heard recited. A newcomer to the group, she said she found it harder than others. "I have always wanted to learn the Quran. Now I decided to join. I come here, I meet other women and I feel I am learning more about religion," Lulaj told BIRN.
"When you do not speak Arabic, reading, learning, making meaning out of the text is harder, especially for me."
Roughly 30 women graduate from the Faculty of Islamic Studies in Kosovo every year, but Smajlaj-Myrtaj said the country lacks muallimes, while the Islamic Community says it does not have the money to fund them.
Masooda Bano said that a rise in female education had induced two different reactions within Muslim communities.
"Those who are keen to reform the Islamic gender norms, argue for changing contentious Islamic laws (such as women are receiving half the inheritance or men being allowed to have more than one wife). The other group argues against this and defends the traditional gender norms," she told BIRN.
"How female scholars will shape the future in Kosovo depends on which group is more dominant."
Hostility
Turkey's role in supporting Islam in Kosovo and elsewhere in the Balkans is looked on with suspicion by some in the region.
"In recent years, investment was made with a focus on religious issues only," said Xhabir Hamiti, professor of theology at the Faculty of Islamic Sciences in Prishtina.
"Besides places to pray, the country needs science labs, research institutes or other investment that would help improve the wellbeing of citizens," he said.
"The intention here is to expand Turkish influence in Kosovo. But poverty and a lack of perspective dims and endangers the relationship with faith and God."
Another of the muallimes paid by Turkey, 35-year-old Sala Mehmeti Hajdari, encounters hostility in the northeastern town of Podujeva/Podujevo where she teaches the Quran to women and children in two shifts on the second floor of the main mosque.
"Why are you wrapped up like that?" a man in a café in the town centre asked Hajdari recently, alluding to her hijab, the most common form of Islamic headscarf in Kosovo that covers the head and neck but not the face. "Look around – there's no one else like you here," he told her.
Hajdari walked away without responding. "Covered women are still prejudiced against," she told BIRN. "I am no exception. You cannot find respect everywhere."
Hajdari said her teaching, and that of other muallimes, also tackles issues women cannot take up with local imams, such as sex and reproductive health.
"Women's interest is increasing, and I try to offer them the knowledge they seek," said Hajdari. But even then, Hajdari said she worried about her financial stability and precarious employment status.
"Although under the constitution it is not forbidden, the worst part is that we have no right to employment other than this job. Whether we like it or not, we do not have much choice."
http://www.balkaninsight.com/en/article/turkey-funds-revival-of-female-islamic-preachers-in-kosovo-09-12-2018
--------
Muslim Woman Says Transportation Security Administration Subjected Her to Inappropriate Search
September 12, 2018
BOSTON (AP) — A Muslim woman has filed a complaint against the federal Transportation Security Administration alleging that a search she was subjected to at Boston's airport "bordered on sexual assault."
The complaint filed with the TSA on Wednesday by the Massachusetts chapter of the Council on American-Islamic Relations says the woman believes agents targeted her because she's Muslim. The group is urging TSA to investigate the agents involved.
The complaint says the 54-year-old woman who wears a traditional Muslim headscarf was told by a TSA employee at Logan International Airport in May that she needed to be patted down. The complaint says the female TSA agent put a wand up her dress and shoved her hand or wand so high up her dress that it made contact with her body.
https://www.washingtontimes.com/news/2018/sep/12/muslim-woman-says-tsa-subjected-her-to-inappropria/
--------
EIPA Signs MoU with Arab Women's Council
September 12, 2018
Dubai: The Emirates Intellectual Property Association (EIPA) announced the signing of a strategic memorandum of understanding (MoU) with the Arab Women's Council — Arab Organisation for Social Responsibility, to help reinforce cooperative frameworks across various fields related to Intellectual Property (IP).
The new partnership demonstrates EIPA's continuing efforts to provide the necessary support needed in further promoting a culture of IP — increasing individual awareness on the important role that IP plays, fostering its culture and developing the means to protect it, which is a pillar of comprehensive development and a key driver in the efforts to position the UAE as one of the world's leading countries.
The MoU was signed by Dr Abdul Quddoos A.R. Al Obaidli, assistant commander for Excellence and Pioneering, and EIPA chairman; and Lina Daghlawi Moukarzel, president of Arab Women's Council — Arab Organisation for Social Responsibility.
The two parties agreed to exchange studies and research aimed at spreading a culture of IP, developing awareness methods in this field, drafting and implementing related legal legislation and exchanging knowledge in the same field by hosting seminars and lectures to raise awareness about the IP rights (IPR) of the private and public sectors.
https://gulfnews.com/business/economy/eipa-signs-mou-with-arab-women-s-council-1.2277680
--------
Flynas Seeks To Teach Saudi Women to Be 'Future Pilots'
September 13th, 2018
Low cost Saudi Arabian airline Flynas announced on Wednesday that they will begin taking applications from Saudi women to train on programs for "Future Pilots" and flight attendants.
The company aims to recruit 200 Saudi male and female co-pilots over the next five years, the carrier confirmed to Arab News, with plans to attract about 300 Saudi male and female flight attendants in the next two years.
The statement said that Flynas will ensure that the working hours system and the uniforms for their Saudi female flight attendants respect the local customs and traditions in the Kingdom.
Applicants must be Saudi nationals and should meet international height and weight standards and be fluent in English.
Applicants should be between 22 and 30 years old with at least a secondary education certificate. More information is available online on the company's website.
https://www.albawaba.com/editorchoice/flynas-seeks-teach-saudi-women-be-future-pilots-1185670
--------
Morocco Introduces Law to Combat Violence against Women
September 12, 2018
RABAT: A law to combat violence against women in Morocco entered into force on Wednesday after years of heated debate.
For the first time women in Morocco have legal protection from "acts considered forms of harassment, aggression, sexual exploitation or ill treatment".
The new law also paves the way for victims of violence to be offered support.
Families minister Bassima Hakkaoui hailed the legislation as "one of the most important texts strengthening the national legal arsenal in the area of equality of the sexes," in an interview with the official MAP agency.
The text was first drafted five years ago and was adopted by parliament in February, following lengthy debate.
But the law has been deemed inadequate by some, with the former women's minister Nouzha Skalli arguing it fails to take into account "international definitions" of violence against women.
She has highlighted the example of marital rape, which is not criminalised under the new legislation.
In Morocco, media and rights groups regularly raise the alarm about endemic violence against women.
More than 40 percent of women said they had been "victims of an act of violence at least once," in a survey carried out by Morocco's High Commission for Planning which surveyed those living in towns and aged between 18 and 64.
The first woman to benefit from the legal change could be a 24-year-old who on Tuesday filed a complaint against three men for harassment, according to Moroccan media.
As authorities begin enforcing the law, a dozen suspects are being held over the alleged gang-rape of a teenage girl.
In a video posted online last month, 17-year-old Khadija Okkarou said she had been kidnapped, raped and tortured by a gang over a period of two months.
Okkarou's testimony triggered a petition signed by thousands of people urging King Mohammed VI to provide her with medical and psychological care.
The next hearing in the case is set for Oct. 10.
http://www.arabnews.com/node/1371166/middle-east
--------
VHP in Bengal Issues Dos and Don'ts on 'Love Jihad', Alleges Muslim Men Paid To 'Lure' Hindu Girls
September 13, 2018
Kolkata: Fanning the 'love jihad' controversy, the West Bengal unit of the Vishva Hindu Parishad (VHP) has advised the Hindu girls and women to be wary of Muslim youth, who are drawing inspiration from Bollywood heroes, trying to lure them in love. It also alleged that Muslim men are getting paid to do the job.
Issuing a list of 'dos and don'ts', the VHP pamphlet reads, "Muslim youths will try to lure you (Hindu girls) by acting like a film star. They will try to lure you with expensive gifts, good food, etc. Don't fall in the trap. Inform the VHP and lodge an FIR in the local police station."
The VHP's advisory also advises married women to wear traditional mangalsutra, sindoor, bangles and shakha (white bangles of conch-shell) as a proud Hindu.
"We have published hundreds of leaflets/pamphlets on love jihad and how our Hindu girls/women should defend themselves from this menace (Love Jihad)," Sourish Mukherjee, the VHP media convener, said.
A few months ago, the Kolkata Police started an investigation over series of objectionable 'love jihad' posts on Facebook by an organisation called 'Hindutva Varta'.
The 'Hindutva Varta' uploaded details of 102 inter-faith couples on Facebook and instigated Hindu men to hunt down Muslims who are converting Hindu girls to Islam in the name of 'love jihad'.
"From next week, we will distribute do's and don'ts on 'love jihad' to school and college going girls... We will also try to educate their parents on the issue. Girls who are coming from rural places for higher studies in cities are more prone to Love Jihad. In some cases, they are engaging Muslim girls to trap Hindu girls. They are entering Hindu houses in guise of drivers, maids for love jihad," Mukherjee said.
Speaking to News18 over telephone, Vishva Hindu Parishad Joint General Secretary, Surendra Jain alleged that Muslims are getting paid to lure Hindu girls. He said there is an urgent need to protect Hindu girls.
"I welcome the initiative taken by my Bengal unit. Love Jihad became a serious concern for Hindu mothers in India. Muslim youths are getting paid to trap Hindu girls. They are trapping Hindu girls in filmy style. This Love Jihad problem is there in Myanmar, UK and in Sri Lanka. In Ladakh too, Buddhist monks faced the same problem. This is a global issue now and we are here to protect our Hindu girls. We are requesting those who are victims of love jihad to speak up and lodge police complaint. They can inform us also. We will take up the matter further," Jain said.
While the BJP state leadership declined to comment on the issue, the ruling TMC and the opposition CPI(M) and Congress came down heavily on the VHP for allegedly trying to create unrest in the state and divide people on religious lines by this move.
"The VHP, the BJP and the RSS for last few years have been trying to divide the people of Bengal on religious lines. But as long as the TMC is there, we will never allow those nefarious designs of Sangh Parivar to succeed," senior TMC leader Firhad Hakim said.
State Congress president Adhir Chowdhury said it is an alarming development and the state government should take steps to fight such elements.
"The organisations like the RSS and the VHP are gaining ground in Bengal as the TMC government is completely silent on them and is going soft while dealing with them. The state government should take steps to control such organisations," senior CPI(M) leader Sujan Chakraborty said.
https://www.news18.com/news/politics/vhp-in-bengal-issues-dos-and-donts-on-love-jihad-alleges-muslim-men-getting-paid-to-trap-hindu-girls-1876171.html
--------
Young, Enthusiastic Saudis Embracing Garment Sector
September 13, 2018
AS the Muharram 1 (Sept. 11) deadline approached for the first phase of Saudization in the retail sector, big outlets specialized in ready-made garments prepared themselves to adhere to the new rules. But small scale traders who were not able to comply with the rules were forced to shutter their doors.
The Ministry of Labor and Social Development has given more than enough time to adjust and adhere to the new policy of localization of the jobs in this sector.
Expatriates from Yemen, India, Bangladesh and Nepal have long dominated the garments trade. Some garment houses already notified them a long ago about the proposed changes and prepared them to relinquish the jobs.
Leading players in the retail garment sector are not only recruiting a large number of Saudi men and women to work in their shops but also trying to retain their expatriate staff also. The retention of the staff is in sales division but in support services beyond working hours.
However, a few expatriate employees were laid off as part of cost cutting measure in addition to adherence to the new policy of localization.
Big outlets have modified their working schedule to accommodate newly recruited Saudi employees as well as many of the existing expatriate employees. They have extended working hours and added extra shift in the night to accommodate where expatriate workers are engaged in displaying and packing of garments for the next day.
There is no immediate threat to jobs of some of the expatriate workers but many of the positions they held earlier were realigned. However, most of them feel that there is no more future in the sector.
Young Saudi men — and also women — recruited by retail shop owners are enthusiastic about their job and they are working with a lot of zeal and enthusiasm.
Sadly, many of these Saudis especially women were more educated than their expatriate counterparts, yet they have been opting for less attractive salary, compared with other compatriots employed in administrative jobs.
The long working hours till 11.30 in the night is a major concern for them as it is disrupting their family life, specially married women.
"Though retail sector is something new to us, by working here I am enjoying," said a young sales woman, who does not want to reveal her name, working in a leading retail garment giant store in Jeddah. She told Saudi Gazette that "It is difficult me to reach home in the night after working hours".
A senior manager of a leading garments and other fashion group told Saudi Gazette that due to long working hours and less wages Saudis are not keen to pursue their career in the sector.
She told Saudi Gazette that Saudis opting for retail sector only when they fail to find job in any other fields.
The manager also hailed the cooperation that expatriate employees have extended to the newly recruited Saudi employees.
The Ministry of Labor and Social Development has first banned expatriates working in these shops. Later it reduced the size to 30 percent including outsourcing cleaning and support staff. Remaining 70 percent were required to be Saudi citizens excluding security guards and other support services. Garment shops are among the 12 retail sectors that should have 70 percent Saudization from Tuesday.
The ministry and regional governorates have been monitoring the Saudization drive in this sector.
http://saudigazette.com.sa/article/543310/SAUDI-ARABIA/Young-enthusiastic-Saudis-embracing-garment-sector
--------
URL: https://www.newageislam.com/islam-women-feminism/saudi-airline-hire-female-cabin/d/116368
New Age Islam, Islam Online, Islamic Website, African Muslim News, Arab World News, South Asia News, Indian Muslim News, World Muslim News, Women in Islam, Islamic Feminism, Arab Women, Women In Arab, Islamophobia in America, Muslim Women in West, Islam Women and Feminism