New Age Islam News Bureau
27 May 2022
• Afghan Women Continue Protest over Ban on Girls' Schools
• Training Saudi Women for the Workforce Will Net a $400bn Return
• Nancy Jones, New Jersey Woman Accused of Bias Attack on Muslim Teens with Hijabs
• Taliban 'Making Women Invisible' In Afghanistan: UN Expert
• Malaysian-Born Actress Sarah Hildebrand Reveals Daily Online Abuse One Of The Reasons She Left The Country
Compiled by New Age Islam News Bureau
URL: https://newageislam.com/islam-women-feminism/sara-sabry-egypt-analog-astronaut/d/127106
-------
Sara Sabry is Egypt's First Female Analog Astronaut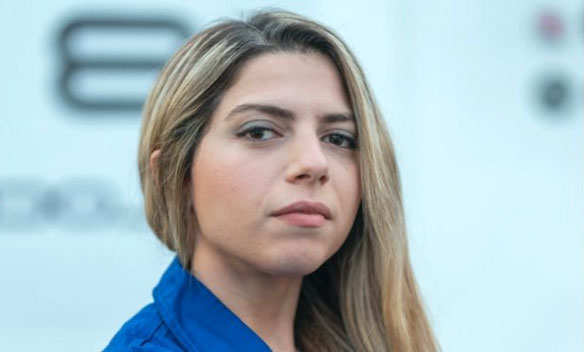 Egyptian engineer Sara Sabry, Egypt's first female analog astronaut, putting on a spacesuit at the LunAres Research Station in Poland. The analog mission, which took place in 2021 at an updated nuclear bunker, was aimed at stimulating the conditions of a moon landing. Photo: LunAres Research Station.
----
Kamal Tabikha
May 26, 2022
Egyptian engineer Sara Sabry stands stock still as her spacesuit is adjusted, running through an extensive checklist of her mission to learn how to collect a lunar surface sample.
But she isn't on the moon or even the International Space Station; she is at a repurposed nuclear bunker in Poland.
Sabry is Egypt's first female analog astronaut.
Analog missions are essentially simulations conducted on Earth at locations that have physical similarities to the extreme conditions that space travellers will have to contend with on their journeys off-planet.
They are a kind of rehearsal that allows space agencies to test out crisis management scenarios, as well as give new kinds of equipment a dry run before using them on space missions.
Earning her bachelor's degree in mechanical engineering at the American University in Cairo, where she also finished a pre-med minor, Sabry went on to achieve a master's in biomedical engineering from the Politecnico di Milano in 2020. Her master's was mainly focused on the use of robotics and artificial intelligence in surgery.
This year, Sabry will start a PhD programme in aerospace sciences in the US where her focus will be on space suit design.
"My transition from the biomedical and mechanical engineering fields into aerospace was actually really smooth," Sabry, 28, tells The National. "What many people don't know is that a background in medicine and engineering allows one to work in a variety of fields. And when you consider how much the aerospace industry has grown during the past decades, a wide range of expertise now has a role to play in it."
In 2021, Sabry embarked on her first analog mission, which she attended with five other people at a nuclear bunker just outside the small Polish city Pila. Sabry's group was inside the facility for three weeks, she tells The National from her home in Berlin.
To simulate a mission to the moon accurately, the group had no access to sunlight, food that isn't freeze-dried or caffeine. They also had minimal contact with the outside world.
"The reason we were kept out of the sun is because when astronauts go on a moon mission, one of their top priorities is to protect themselves from radiation," Sabry says. "During the simulation, we got to do everything that an astronaut would do, so we put on spacesuits and conducted moon walks to collect surface samples and so on."
The bunker where the mission took place was designed by experienced space architects who made it in the image of housing units off-planet, explains Sabry. The group of astronauts were given a strict schedule to follow, including an hour of vigorous exercise every day. This is mandatory for every astronaut working off-planet.
"When an astronaut is exposed to either low gravity or micro-gravity, which often happens when they are in transit between Earth and their destination off-planet, they lose bone density because of the decreased load on their bones," Sabry explains. "Muscle atrophy is also a big issue, so to mitigate this, astronauts on the International Space Station have to do two hours of exercise every day."
While they might not have the lustre of off-planet space missions, analog voyages are an invaluable part of the aerospace industry, explains Sabry. She adds that taking part in the mission and the first-hand experience she gained would be invaluable in her plans to design spacesuits and in any aerospace research missions that she joins.
"When you understand the human body's needs in that kind of environment, it changes the way you approach the whole thing," she adds.
Sabry remains hopeful that she will one day go to space, but says that existing laws that mandate that people can take part in off-planet missions only organised by agencies in their home nations have thus far been a hindrance.
Though the Egyptian Space Agency is nascent and its activities limited, Sabry says it is progressing at a decent rate. She says she is excited about the opportunities it plans to afford Egyptians who want to enter the aerospace field.
The aerospace industry is one of the world's more male-dominated industries, with only 11.2 per cent of the US's aerospace engineers women. Furthermore, Arab involvement in the sector is also markedly low, which has made Sabry's journey not without its obstacles.
Despite those challenges, Sabry also recognises that her having been fortunate enough to receive a top-notch education gave her leg-up with achieving her success. Now she wants to open up the industry to other people, even if they haven't been as fortunate.
Her Deep Space Initiative, a non-profit company that works on providing more opportunities in aerospace for applicants anywhere in the world, gives participants the chance to conduct research on space-related topics. Those involved can also present their ideas to some of aerospace's biggest names, many of whom Sabry met and formed relationships with over her career.
"We are essentially trying to make space research more accessible to everyone and to provide more equitable opportunity in the field," says Sabry. "Those who join the programme will have the opportunity of studying fields that are only really available in the West and be exposed to knowledge they might have never had access to."
As part of the community outreach part of her project, Sabry will collaborate with the Egyptian Space Agency on a variety of activities in the near future.
"My efforts are focused on erasing the nationality-based differences in the aerospace field, which are ridiculous in my opinion," says Sabry. "It's amazing that we continue to bar people from entering fields that could benefit from their involvement because of some lines on a map drawn by some old men centuries ago."
Source: The National News
https://www.thenationalnews.com/mena/egypt/2022/05/26/egypts-first-female-analog-astronaut-on-simulating-space-exploration/
-------
Afghan Women Continue Protest Over Ban On Girls' Schools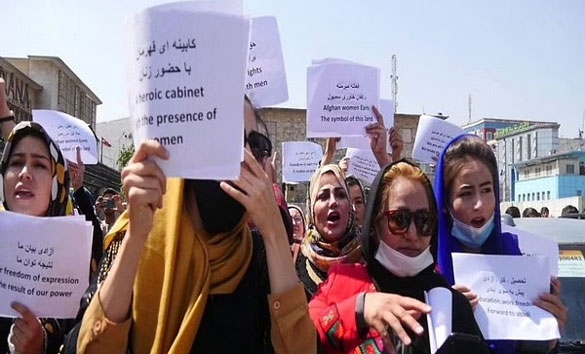 Representative image (file photo
-----
27 May, 2022
Kabul [Afghanistan], May 27 (ANI): Taliban forces suppress a protest by Afghan women on Thursday in regard to the ban on girls' schools nearing almost nine months.
A group of women staged a demonstration in front of Maryam High School in Kabul and chanted slogans of "Bread, work and education" indicating the deprivation of education of Afghan girls by closing all secondary girls' schools over grade six for about nine months, reported Khaama Press.
The protesters carried the message of "Education is our Right." One of the protesters said that the Taliban's decree of closing girls' schools proved to be discriminatory against women. The demonstrators further pointed out target killings against women.
The protesters complained that the Taliban have even forbidden women from every social, cultural or political sphere in Afghanistan, reported Khaama Press.
To curb the protest and disperse the demonstrators, the Taliban opened fire and resorted to violence. Time and again, the Taliban has suppressed many such protests by women in Afghanistan and even arrested them.
Earlier, Taliban militants dispersed a group of women who staged a demonstration in Kabul against the decision to make the hijab mandatory. Taliban forces reportedly ripped down the banners and dispersed the protesters.
Further, in another new decree, the Taliban directed all-female presenters working on all TV channels to cover their faces while presenting programs.
Taliban, in its official order earlier, directed female staff members of the United Nations Assistance Mission in Afghanistan (UNAMA) to wear the hijab at offices and has also curtailed Afghan women from wearing make-up and reproductive rights, ban on education for girls from classes 6 and above being an add on.
The atrocities of the Taliban against Afghan women have been on an incessant surge since the organization seized power in Afghanistan in August last year, banning young girls and women of humanitarian rights.
However, although the Taliban's Ministry of Education has assured that the schools for girls in grades 7-12 will be reopened in the near future, there have been hardly any developments so far. (ANI)
Source: The Print
https://theprint.in/world/afghan-women-continue-protest-over-ban-on-girls-schools/973129/
-------
Training Saudi women for the workforce will net a $400bn return
May 26, 2022
RIYADH: Saudi Arabia's tourism industry is one of the sectors through which the Kingdom plans to diversify the economy with its Vision 2030 program and is an area where women can play a huge role, according to the head of one female empowerment group.
In an exclusive interview with Arab News, Mae Al-Mozaini, founder and CEO of the Arab Institute for Women's Empowerment, said that this industry already employs many women. She was speaking at the Future Hospitality Summit in Riyadh.
Al-Mozaini said: "Investing in targeted training for Saudi women will have a return on investment of $400 billion by 2030. So that's a big number of women participating to improve the economic prosperity of the Kingdom and for themselves."
The Kingdom's Vision 2030 plan aims to boost female participation in the workforce from 22 percent to 30 percent by the end of the decade.
Despite the disproportionate impact of the COVID-19 pandemic on the distaff side globally, women in Saudi Arabia have made rapid social and professional strides on the back of the above-stated reforms.
According to the General Authority for Statistics, female participation in the Kingdom's workforce rose to 33 percent at the end of 2020, up from 19 percent in 2016.
The growing numbers of women joining the workforce has helped the Kingdom achieve its target of female labor force participation 10 years ahead of time and lifted its international rankings in women's economic inclusion and empowerment indices.
In the World Economic Forum's Global Gender Gap Report 2021, Saudi Arabia was ranked 147 out of 156 countries.
Al-Mozaini added that Saudi women are ranked the most educated females in the Middle East and North Africa and investing in them to work in the tourism industry is a good move.
She added: "Saudi Arabia has been a pioneer in investing in women's education. I don't know any country where you go to college for free, and the government will give you money to stay in college. This means you don't need a job to help your family while studying.
"The government wants you to graduate from school, so you can get a better job after college. I don't know any country that does that. So, the Kingdom is a pioneer in investing in women."
The Alkhobar-based Arab Institute for Women's Empowerment was founded by Al-Mozaini in 2018 to "promote women's empowerment and cultivate sustainable economic development."
It aims to "raise the percentage of women in leadership by providing both emerging and accomplished female leaders with the knowledge, skills and networks needed to expand their impact on their individual organizations as well as their wider communities."
Nusf aims to deliver programs that provide the necessary tools for Arab and Saudi women to succeed in professional and leadership roles.
Nusf in Arabic means "half," and the institute aims to engage half the Kingdom's population through empowerment and highlight the importance of investing in women.
For 2018-2022, the UN Economic and Social Council elected Saudi Arabia to the UN Commission on the Status of Women, and in the World Bank's 2021 Women, Business and the Law Index, Saudi Arabia scored 80 out of 100, well ahead of the global average.
Source: Arab News
https://www.arabnews.com/node/2090626/business-economy
-------
Nancy Jones, New Jersey Woman Accused of Bias Attack on Muslim Teens with Hijabs
By David Propper
May 26, 2022
A New Jersey woman allegedly told two Muslim teenagers to go back to their country and slugged one in the head during a bias-fueled attack, prosecutors said Thursday.
Nancy Jones, 59, of Clifton, was arrested on a slew of charges for allegedly harassing the teens in a nail salon on April 30, According to the Passaic County Prosecutor's Office.
Both girls were wearing hijabs at the time, prosecutors said.
During the confrontation, Jones also struck the 13-year-old in the head, according to authorities.
After Jones was identified, a warrant was issued for her arrest and she turned herself in to Clifton police on Wednesday.
The New Jersey chapter of the Council on American-Islamic Relations condemned the alleged attack and provided more details surrounding it.
According to a press release from CAIR-NJ, the woman shouted at the two girls for staring at her while they waited to get their nails done. She allegedly shouted profanities at them, CAIR-NJ stated, and told them, "to go back to their (expletive) country you two little punks," and that "they do not belong here."
When the girls' mother came to the salon and saw them crying, she confronted Jones in the parking lot and was cursed out by her, according to CAIR-NJ.
Other customers backed up what the two teenagers claimed in the immediate aftermath, CAIR-NJ said.
"We are deeply troubled by this alleged bias-motivated behavior. Physically and verbally attacking two young girls to the point of tears is appalling," CAIR Executive Director Selaedin Maksut said in a statement. "We welcome the ongoing police investigation by Clifton officers and hope the matter is taken seriously and justice is done."
Jones is facing several charges including fourth-degree bias intimidation, two counts of third-degree endangering the welfare of a child, and simple assault, which is a disorderly person offense.
Jones was released on conditions, authorities said. A spokesperson for the prosecutor's office said she didn't know what plea Jones entered and could not provide more details beyond the press release issued by the office.
The charges have been referred to a grand jury.
The prosecutor's office asked anyone with more information on the case to contact its office at 1-877-370-PCPO or email tips@passaiccountynj.org.
Source: New York Post
https://nypost.com/2022/05/26/nj-woman-accused-of-bias-attack-on-muslim-teens-with-hijabs/
-------
Taliban 'making women invisible' in Afghanistan: UN expert
May 26, 2022
KABUL: The Taliban government's restrictions on women are aimed at making them "invisible" in Afghan society, a UN human rights observer said Thursday during a visit to the nation.
Since the Taliban stormed back to power last year, they have imposed harsh restrictions on women and girls to comply with their austere vision of Islam.
Teenage girls have been shut out from secondary schools, while women have been forced from some government jobs and barred from travelling alone.
This month Afghanistan's supreme leader and Taliban chief Hibatullah Akhundzada ordered women to cover up fully in public, including their faces.
These policies show a "pattern of absolute gender segregation and are aimed at making women invisible in the society", Richard Bennett, UN special rapporteur on human rights in Afghanistan, told reporters in Kabul.
"The de facto authorities have failed to acknowledge the magnitude and gravity of the abuses being committed, many of them in their name," Bennett said.
His comments came as Taliban fighters on Thursday broke up a women's protest calling for the reopening of secondary schools for girls.
"Angry Taliban forces came and dispersed us," Munisa Mubariz, an organiser of the rally, told AFP.
In March the Taliban ordered all secondary schools for girls to shut, just hours after opening them for the first time since taking power in August.
The government has yet to offer a clear reason for the decision, but officials claim the institutions will reopen soon.
Foreign governments have insisted the Taliban's record on human rights, especially women's rights, will be key in determining whether the administration will be formally recognised.
During two decades of US-led military intervention in Afghanistan, women and girls made marginal gains in the deeply patriarchal nation.
Some Afghan women initially pushed back against the new Taliban curbs, holding small protests where they demanded the right to education and work.
But hardliners soon rounded up the ringleaders, holding them incommunicado while denying that they had been detained.
Since their release, most have gone silent.
Source: Times Of India
https://timesofindia.indiatimes.com/world/south-asia/taliban-making-women-invisible-in-afghanistan-un-expert/articleshow/91811075.cms
-------
Malaysian-born actress Sarah Hildebrand reveals daily online abuse one of the reasons she left the country
By Arif Zikri
27 May 2022
KUALA LUMPUR, May 27 — Malaysian-born actress Sarah Hildebrand revealed that she has been receiving nasty comments on a daily basis and it is one of the reasons why she left Malaysia.
The 32-year-old took to Instagram recently to highlight one of the nasty comments she received from a local social media user.
The social media user had called Hildebrand a prostitute as well as making a racist remark towards her husband, Otto Gillen.
"I deal with comments like this on a daily basis but this one's a winner.
"Translation 'Looking like a prostitute now, that's what happens when you marry a foreigner'.
"These are words said to a Muslim from another Muslim. Such a wonderful representation of Islam. One reason why I left and why I'm never coming back to Malaysia. Good riddance," she wrote in her Instagram story.
Following up on her Instagram Story, the Pujaan Hati Kanda actress posted a selfie of herself with a thumbs up on her Instagram feed.
The Pan-Asian artist expressed that some Malaysian Muslims have a racist and judgmental attitude and labelled them hypocrites as well.
"I hope one day you will learn to embrace others with open arms as the Prophet Muhammad did.
"I love my religion (Islam) and I will never leave it because I know it's not Islam that is corrupt, for it is humans that continue to spoil the religion with their arrogance and idiocy.
"We are given something special which is called 'akal', please use it or you will crumble to your own demise," Hildebrand wrote on the photo.
Hildebrand who recently relocated to the US said that she empathised with those who are also looking to leave the country and she hopes that one day Malaysia can become a healthier and a more progressive country to live in.
"I hope the mentality will change so that people aren't so stressed out and repressed living amongst each other.
"I hope for the best for Malaysia and for my fellow Malaysians. But you know the raw truth, you can't change anything unless you start implementing the change.
"Be better for you, your country, your religion, your family, your friends, and for your future." In April, Hildebrand made local headlines after announcing her retirement from the Malaysian entertainment industry after almost a decade.
Hildebrand's last TV appearance was in the TV3's drama series, Seindah Tujuh Warna Pelangi which aired in 2020.
Source: Malay Mail
https://www.malaymail.com/news/showbiz/2022/05/27/malaysian-born-actress-sarah-hildebrand-reveals-daily-online-abuse-one-of-the-reasons-she-left-the-country/9157
-------
URL: https://newageislam.com/islam-women-feminism/sara-sabry-egypt-analog-astronaut/d/127106
New Age Islam Islam Online, Islamic Website, African Muslim News, Arab World News, South Asia News, Indian Muslim News, World Muslim News, Women in Islam, Islamic Feminism, Arab Women, Women In Arab, Islamophobia in America, Muslim Women in West, Islam Women and Feminism