New Age Islam News Bureau
16 Jun 2018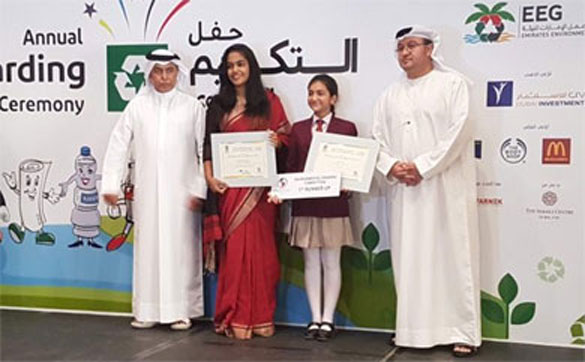 Sara Drawing Competition winner held at Emirates Environmental Group, Dubai
-----
• Sara Ansari: Indian Girl Living In Dubai Is An Acclaimed UN Speaker, Budding Physicist And Just Scored 98% In Class 10
• MENA Women In Sports Are Levelling The Playing Field
• Pope At Mass: Exploiting Women Is A Sin Against God
• Fitness Meets Fashion As Saudi Designer Launches First Sports Abaya
Compiled by New Age Islam News Bureau
URL: https://www.newageislam.com/islam-women-feminism/sara-ansari-indian-girl-living/d/115558
-----
Sara Ansari: Indian Girl Living In Dubai Is an Acclaimed UN Speaker, Budding Physicist And Just Scored 98% In Class 10
June 15, 2018
By Afshan Khan
Sara Iqbal Ansari may not have lived much in India, but the Malegaon-born girl now residing in Dubai has managed to earn plaudits and achievements that will make every Indian proud of her. A few days ago, she scored an extremely impressive 98% in her Class 10 exams, but this is just one more feather in her extremely well-decorated cap of achievements.
Still a teenager, Sara Iqbal Ansari took part in United Nation New York, U.S.A. in July 2014 as a part of her Global Young leader conference and has attended several Model United Nations (MUN) conferences in Dubai and other parts of the world and achieved the Best Delegate Award. She is graduate of a 2 year-ABAUS course conducted by UCMAS Malaysia for developing Mental Maths Skill for complex maths and enhancing child's memory and speed thinking.
"I paint, I debate and I enjoy Physics.", Sara said in an interview with TwoCircles.net when we asked about her main areas of interest. Currently, she is studying Physics, Chemistry, Maths and Art at Millennium school, Dubai.
"I want to be a Quantum Physicist probably working into research…maybe become a Professor or something in that field, I am not yet sure. The thing which attracts me the most is Physics. I am passionate about it.", says Sara when asked about her future aspirations.
But when prodded a little more about what her other dreams are, Sara says, "Either an ambassador to the UN or probably an artist. I enjoy painting a lot."
Not content at merely excelling in academics, Sara has received many awards for her paintings too. She has learnt a lot of techniques of painting and she also enjoys quilling and embroidery. She has taught the skills to less fortunate people in Sri Lanka, India, UAE. She was recognised for her efforts and appreciated by community members and international NGOs. She is an excellent swimmer as well.
When asked about her upcoming projects, she says, "I enjoy the model United Nations. It is all about public speaking and debate. I am going for a conference to India in August, I'll also be going for a Physics program. The MUN that I am going for is the Harvard MUN. And after the one in India, I will be going to one in Boston for the same, MUN. Harvard United Nations is like the central MUN …all of the MUNs are modelled after it, so I am really looking forward to attending the same."
When asked about India, she is cautious and calculative in her answer. "I have never really lived in India so I really don't know much about it except what I have heard from my family members and grandparents. I was born in India but never stayed there. What I understand about India is that its speciality is its diversity. I don't know the 'living' India. Its Diversity is one thing that I like the most about India. I am excited about my next trip to India for a Conference."
Sara Ansari was born in India, Malegaon and she is now a resident of Dubai. Her father (Iqbal Ansari) is a business manager in a German company. Her mother ( Rakhshanda Ansari) is an MSc and B.Ed from India. She has a sister who is in fourth standard and as active as Sara.
Her mother feels delightful about not just the achievements of her daughter but she says that she is thankful to Allah for having a child like Sara. In a conversation with TwoCircles.net, Rakhshanda Ansari said, "She is a brilliant and well mannered, self disciplined and a hard working girl. She never delays her works and give her best in every project she is assigned with."
On a question about what is that which makes Sara so unique among the children of her age, Rakhshanda said, " All the praises be to Allah. Masha Allah my child is so hard working that whenever she has a competition, she never goes without practicing again and again. for example if she is going for an inter school race competition, she will demonstrate running and sees our response, she practices a lot."
Recently, Sara won the "The Best Speaker" award from the Consulate General of India in Dubai. She has also taken part in tree plantation awareness and plantation drive in UAE and India.
Having an educated and extremely well mannered family, Sara believes that for the youth, the most important aspect is education. "If one wants to succeed in any phase of life, He/she has to have an education. All the societies in the world who have moved forward have done so because of education. Considering this, the literacy rate was given so much importance in India after Independence. And the disparity in literacy rate itself goes on to show that woman in India are at a disadvantage. I think that education should be given the primary focus everywhere in the world. Education as in not only a basic education but what I notice is that India has highest secondary rates in college drop-outs. It contributes to an unproductive society."
Sara excels at academics and has obtained at least 90% in the past three years and is an effective member within and outside the school community, having leadership qualities and keen on developing her skills and knowledge by participating and winning various competitions. For this, she won the "most distinguished student" award. She is a member of Round Square, a UK-based organisation, which connects the school around the world on 6 basic principles Internationalism, Democracy, Environmentalism, Adventure, Leadership and community service.
She was also the winner of prestigious Sheikh Hamdan Award for herb excellence in social, religious and sports activities. At a young age of 7, she learnt Qur'an recitation with tajweed.
The list of the awards and achievements is quite long. She is involved in some conflict resolution and peace building projects which she excels due to her knowledge of World History and Politics. We might think that she is a God-gifted child, but according to Sara, "If you remain consistent towards working hard and be focused towards your goals then no one can stop you from succeeding."
Source: twocircles.net/2018jun15/423775.html?
----
MENA Women in Sports Are Levelling the Playing Field
16 June 2018
INSPIRE MIDDLE EAST
Women in the Middle East and North Africa are hurdling over stereotypes in sports, and in their path, clearing the way so that future young women can pick up the baton from where they left off.
Inspire Middle East met up with four women from different countries in the region to see up close and personal how they are redefining what it means to be an Arab sportswoman.
THE EMIRATI ADVENTURER
Elham Al Qasim is the only Arab woman, and the first UAE national, to reach the North Pole. We met with her in a similar sub-zero environment but a little closer to home at the UAE's Ski Dubai, home of the only indoor ski slopes in the Middle East.
Al Qassim, has packed a lot into just 36 years, and it all started when she studied in the United States. She began competing in athletics nationally, earning gold medals in martial arts and free-sparring competitions.
She went on to secure degrees from the UAE and U.K. before entering the world of investment banking. In 2010 she became the first Emirati to cross-country ski to the North Pole unassisted.
"It really was about understanding my own limits – physical and nonphysical," says Elham.
Her journey began on a Russian base in the Arctic Ocean, located at 89 degrees latitude.
And the expedition was a gruelling one, which lasted for three weeks.
"Everything that I was able to do at a regular temperature was extremely hard to do at minus thirty plus wind chill," she says, which involved Elham skiing for around 12 hours a day while pulling behind her a sledge of supplies weighing more than 40 kilograms.
"All you're left with is your own willpower."
Coming from the hot humid desert climate of the UAE, she was out of her element. Getting frostbite in temperatures of minus 30 degrees celsius, Elham says mental resilience is what nudged her through.
"It was the fact that it was totally opposite to my home environment that inspired me," she says.
Once reaching her freezing destination she proudly placed her Emirati flag in the snow, sprinkling grains of Middle Eastern sand where she knelt.
Elham is still mulling her next adventure and in the meantime she has returned to the corporate world and is busy raising her three young children. Whatever her next endeavour… it will probably reflect the meaning of her Arabic name in English, which is — inspire.
THE EMIRATI WEIGHTLIFTER
Amna al Haddad is driving the position of women forward in competitive sports. She started out her career at the age of 22, first as a professional crossfitter in 2011 and then as a professional weightlifter in 2013.
She's the first Emirati and gulf region national to do competitive weightlifting wearing a hijab and since then has broken more barriers internationally.
"There is a lot of focus in the media about what women wear in doing sports," said Amna.
But at the same time, she believes that the spotlight has empowered women who dress conservatively in sports.
"There's been a lot done recently about creating that choice for women to have a hijab," she says.
"I think it's a great movement."
But given that there wasn't anyone around at the time who could train her for her goal of competing in the Olympics, Amna decided to coach herself. She had to seek training in the U.S. as a result.
Now retired, she's put down the weights to help uplift other Arab women who want to follow in her footsteps.
THE SAUDI FOOTBALLER
Being the odd woman out is something footballer Saja Kamal is used to in Saudi Arabia.
She started playing football at the age of four, in a country that has strict rules about women playing sports publically.
Since then she continued going against the grain breaking two world records with a team of women, playing a 90 minute FIFA regulated match at the highest point on earth at Mount Kilimanjaro and then again at the lowest point at Jordan's Dead Sea.
Today in Saudi Arabia, women are still not allowed to play sports in public fields, wear shorts outside, and must have a male guardian's permission to travel. Despite these obstacles Saja is focused on moving change forward.
"I think the the main goal for me at least is a Saudi national team being formed like a football team getting that kind of recognition legally and officially on paper we don't exist as players, says Saja.
With a boyish haircut, tattoos and a nose piercing. Saja doesn't claim to look like the world's image of Saudi women. But she says that's the point as they come in many forms, sharing one thing in common.
"We fight harder and maybe we rebel and we're louder and we want to be heard," she remarks.
"I think because we weren't given as many opportunities as men growing up, we always want to prove ourselves," she adds.
Saja shares her story publically on social media and presents a different face to the world as a Saudi woman, but she says she says being so open comes at a price.
"I've been called things like atheist, lesbian, liberal, anti-government," she says, but Saja says she is willing to take the heat if it means having a positive impact.
THE LIBYAN SPEEDRACER
Also driving change for women in Libya is teenage speed enthusiast Malak El Na'as. From fast cars to motorbikes and even boats, anything mechanical and high speed is her sport.
At 16 years old Malak is one of the first women in Libya to race competitively, usually as the only girl.
"How can a girl play with motor vehicles and with the boys," said Malak, is what people in Libya usually ask her when they see her riding on her motorbike.
Her interest in speed racing began at the age of eight. Malak's mother encouraged her to follow her dreams and bought her bikes and motorcars to fuel her passion.
Since Malak started competing, more Libyan women have developed an interest in the sport. But the idea of of women racing is still considered out of the ordinary in the conservative society.
"This is a new idea in the streets of Libya," says Mahmoud Zaghwan, an engineer and amateur motorcycle rider in Tripoli.
"It's dangerous a little bit for women on the gentler sex, these sports are difficult for them."
But not all Libyans think this way, Malak's coach supports her endeavors despite the traditional views of the country.
"It's not shameful, it's not forbidden. It can be practiced in a proper way," says Ahmad Bouslifi, president of the Tripoli Stars Club and Malak's mentor.
For this daredevil cars, boats, and motorbikes are still not enough. For Malak the sky's the limit as she wants to become an airline pilot someday.
SOCIAL EYES: WOMEN CONTENDERS ACROSS MENA
Yara, dubbed Egypt's only female rally driver, posted this clip with the hashtag #ChaseYourDream
Noora – who's Iran's first female motocross champion – took this snap of her teaching others ladies to ride.
Syrian-American rapper Mona uploaded a shot of her fixing her boots – and one commenter to her Instagram page said "they'll come in handy for breaking the glass ceiling."
Source: africanews.com/2018/06/15/inspire-middle-east-mena-women-in-sports-are-levelling-the-playing-field/
------
Pope At Mass: Exploiting Women Is A Sin Against God
By Susy Hodges
Taking his inspiration from the gospel reading from Matthew where Christ said that everyone who looks at a woman with lust has already committed adultery, Pope Francis' homily was a reflection on the many different ways in which women are exploited in today's society. He lamented how so many females are used and cast aside and spoke of the young women who are forced to sell their own dignity in order to earn a living.
Jesus changed history
The Pope reminded his listeners that women are what men on their own lack to be the image and likeness of God. He explained how Jesus' words about women were radical and ground-breaking and "changed history." This was because up until then, a woman was considered "a second class citizen," she was "enslaved" and "did not even enjoy complete freedom," he said.
Jesus' doctrine about women changes history. Before Jesus the view about women was one thing but after Jesus they are another. Jesus dignifies women and puts them on the same level as men because he takes that first word of the Creator, both are "the image and likeness of God", both of them; not first the man and then a little lower down the woman, no, both are. And a man without a woman beside him - whether as a mother, as a sister, as a bride, as a working companion, as a friend - that man by himself is not the image of God.
Woman today are objects of desire even in our own societies
Reflecting in particular on the gospel words about men desiring women, Pope Francis lamented how we see women treated as objects of desire in the media and those same images of women are often used to sell a product and we see her "humiliated" or "wearing no clothes." The Pope went on to point out how this exploitation of women is not happening in far off places but right here all around us, where we live and in the workplace. Women are the victims of that "use and throw away mentality" and don't even seem to be treated as "a person," he said.
This is a sin against God the Creator, rejecting women because without her we men cannot be the image and likeness of God. There is an anger and resentment against women, a nasty anger. Even without saying it... But how many times do young women have to sell themselves as disposable objects in order to get a job? How many times? "Yes, Father, I heard in that country...". Here in Rome. There's no need to go far away.
Look around us to see that exploitation
Turning to the issue of the sexual exploitation of women, Pope Francis asked his listeners what they would see if they took a walk at night around certain areas of the city where so many women including migrant women are being exploited like in a market. He went on to point out that when men approach these women on the streets they are not saying "Hello" to them but asking how much they cost and they salve their consciences by referring to them as prostitutes.
All this happens here in Rome, it happens in every city, anonymous women, women - we can describe as "faceless" because shame covers their faces, women who do not know how to laugh and many of them do not know the joy of breastfeeding their baby and the experience of being a mother. But, even in our everyday life, without going to those places, there is this ugly way of thinking, of rejecting women or seeing her as a "second class" person. We need to reflect more deeply about this. And by doing this or saying this, by entering into this way of thinking, we despise the image of God, who made man and woman together with his image and likeness. This Gospel reading helps us to think about the marketing of women, a trade, yes, trafficking, that exploitation which is visible but also that trade which we can't see but is taking place out of sight. A woman is trampled underfoot precisely because she is a woman.
The Pope concluded his homily by stressing how during his ministry Jesus encountered so many women who were despised, marginalized and cast aside and with great tenderness he restored their dignity. Jesus had a mother and "many female friends who followed him to help him in his ministry" and to "provide support," he said.
Source: https://www.vaticannews.va/en/pope-francis/mass-casa-santa-marta/2018-06/pope-santa-marta-mass-women-exploitation.html
-----
Fitness Meets Fashion As Saudi Designer Launches First Sports Abaya
NOOR NUGALI
June 16, 2018
JEDDAH: Meet the certified fitness trainer who holds a BA in fashion. Lojain Badr Al-Refae has merged both her passions in a brand called MULU athletics.
Al-Refae had her father's support when she decided to get her BA in fashion design, never thinking that she would find another passion alongside her husband, Mohammed Dakhil, in college — fitness.
"When I developed an interest in fitness, I decided, you know what, I think that I want to do fitness fashion, such as gym clothes, working out, atheletics wear ... I found myself.
"From then on, I decided I wanted to focus on this aspect of fashion."
Al-Refae and her husband lived in the US for many years. They bonded through training and exercise, but when they came back to Saudi Arabia, they were unable to work out together.
The abaya had always been an obstacle for her, while working out outside. "It wasn't comfortable, neither in movement nor when taking the kids out to play. I decided that we wanted to launch MULU."
MULU is named after both her and her husband, who is also a fitness trainer. It's a touching name to them — "very personal and close to the heart."
"I decided to come up with this design, an abaya that is comfortable and not clingy. The material is made specifically for MULU, from abroad."
The material is made for working out. It has flexibility, absorbs sweat and controls overheating.
There are two versions of the abaya: The first, which has a low arch, and the second, newer version, which has a higher arch, and is bike and running friendly. "The new high-arch abaya is great for hardcore runners," said Al-Refae.
"At first, we focused on the abaya, which we called free flow, because it helps you flow into your activities, whatever they are, working out, or taking your kids to the park, running out with your husband and much more," she said.
Source: arabnews.com/node/1322426/saudi-arabia
-----
URL: https://www.newageislam.com/islam-women-feminism/sara-ansari-indian-girl-living/d/115558
New Age Islam, Islam Online, Islamic Website, African Muslim News, Arab World News, South Asia News, Indian Muslim News, World Muslim News, Women in Islam, Islamic Feminism, Arab Women, Women In Arab, Islamophobia in America, Muslim Women in West, Islam Women and Feminism