New Age Islam News Bureau
25 September 2020
• According to Human Rights Watch Dishonour Killings Are Common in Pakistan: 9-Year-Old Boy Kills Aunt
• State Bank of Pakistan Offering Loans Of Up To Rs5 Million at a Low Interest for Women Entrepreneurs
• In Turkey, Women Rise Up To Stop Withdrawal from the Istanbul Convention
• UAE Decree on Equal Pay for Women, Men In Private Sector Comes Into Effect
• In The Name Of the Mother: Afghan Woman Wins Recognition, Sparks Taliban Opposition
Compiled by New Age Islam News Bureau
URL: https://www.newageislam.com/islam-women-feminism/sara-al-anizi-saudi-female/d/122944
--------
Sara Al Anizi, Saudi Female Ambulance Driver Risks Her Life to Save Others
September 25, 2020
Ramadan Al Sherbini
Sara Al Anizi is an ambulance driver at King Fahd Medical City in Riyadh.
Image Credit: Supplied
-----
Cairo: Sara Al Anizi is one of the first Saudi females working as an ambulance driver as the kingdom vigorously continues to seek to empower women.
"I have a very good feeling when I put my head on the pillow before sleeping while I know that I helped after Allah in saving one's life," said Sara, who works at the King Fahd Medical City in Riyadh.
Since early childhood, Sara has dreamed of the medical service. "When I was young, I used to keep band aids. When anyone had an injury, they would call me for assistance. This was a source of great happiness, especially as my father consolidated the idea that I was the home doctor," she added in a report released by the Saudi Centre for Government Communication.
Before embarking on her daily work as an ambulance driver, Sara said she checks the vehicle early in the morning before hitting the road.
"I have gained experience and high confidence from driving the ambulance," she said.
For her and other members of the medical team, the outbreak of the new coronavirus was a tough time. "We are the first to deal with the patient," she said. "It was a big challenge. I would look behind and remember my family, children and my mother without knowing what is in store for me. But Thanks to Allah, I drove patients to the quarantine and was happy for doing this."
In 2018, Saudi Arabia allowed women to drive for the first time in its history, ending a decades-old ban on female driving.
https://gulfnews.com/world/gulf/saudi/female-saudi-ambulance-driver-risks-her-life-to-save-others-1.74121101
--------
According to Human Rights Watch Dishonour Killings Are Common in Pakistan: 9-Year-Old Boy Kills Aunt
September 23, 2020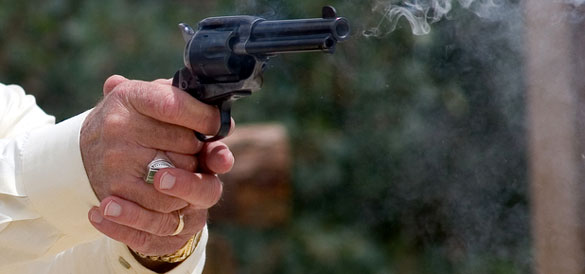 Photo for representational purpose only. iStock
-----
Lahore: In a suspected case of dishonour killing, a nine-year-old boy shot dead his aunt after being told by his family to commit the crime in a village in Pakistan's Punjab province, the police said on Wednesday.
The incident took place on Tuesday in Chak 104-SB village in Sargodha, some 200 km from Lahore.
According to police, the boy was trained by his family to operate the weapon to kill his paternal aunt.
The 30-year-old victim had married a man of her choice some 10 years ago against the will of her family. However, the family had later reconciled with the woman, they said.
On Tuesday, the woman -- a mother of three -- visited the house of her maternal uncle to attend a family function. During the function, her nine-year-old nephew opened fired on her, killing her on the spot, the police said.
"After the incident, the boy and his family fled the spot," a police official said.
"The boy's father had trained him to operate the weapon. It seems that the boy have been told by his family members to open fire on her aunt," he said.
The boy's father and other family members have been charged for abetment to the crime, the official said.
Dishonour killings are common in Pakistan. According to Human Rights Watch, over 1,000 women are killed annually in Pakistan in the name of ''dishonour'' -- ''unacceptable'' amorous relationships, defiance of physical or cyber-gendered spaces, brazenness in dressing and language or perceived immorality.
https://www.ndtv.com/world-news/9-year-old-boy-kills-aunt-in-pakistan-in-suspected-dishonour-killing-2300119
--------
State Bank of Pakistan Offering Loans Of Up To Rs5 Million at a Low Interest for Women Entrepreneurs
Bilal Hussain
Sep 24, 2020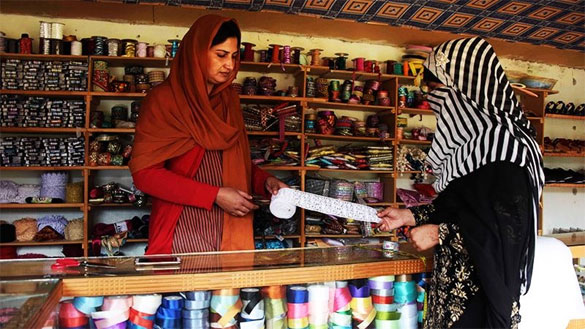 Photo: AFP
----
Daniya Ali Channa is a lawyer and also runs her startup Carbie.pk, selling burgers online from home on the weekend. She likes the work and plans to scale up as soon as the COVID-19 affected economy improves within a year or two. She would gladly welcome a good source of financing.
Channa admits she has little knowledge of accessing finance since she needed little investment to start her home-based business. She received the initial small investment from her family.
"I would love to have access to finance if it's available and scale up my start-up," she said. Channa could be one of the many women who benefit from the State Bank of Pakistan's low-cost financing scheme for women entrepreneurs.
The State Bank is offering loans of up to Rs5 million at a low interest rates of 5% for women entrepreneurs. This could be one of the ingredients for a recipe that can help bolster Pakistan's economy.
'Women have to be 10 times as good as men to get a seat at the table'
Dr Sania Nishtar, the adviser to the prime minister on social protection and poverty alleviation, says "Women have to be 10 times as good as men to have a seat at the table," pointing towards the lack of opportunity for women in Pakistan compared to their male counterparts.
She added that the country's women possess great potential but the country can't progress or improve its economy unless men and women get the same opportunities.
According to a research paper, 'Gender Inequality and Its Impact on Economy – A Case Study of Muslim Countries, published in the Pakistan Journal of Gender Studies, Muslim countries with better gender profiles also have better per capita incomes.
The data of 49 Muslim countries showed that the per capita income and Gender Inequality Index number had a negative relationship for all countries except oil-rich Saudi Arabia and Qatar. This revealed that countries with better gender equality have better a per capita income. The study recommended that gender equality can help economies perform better.
What is the State Bank doing?
The State Bank has been one of the government organisation to have taken this seriously.
The Bank has recently increased the financing limit under its Refinance and Credit Guarantee Scheme for women entrepreneurs. The previous limit under this scheme was Rs1.5 million. The SBP said it has made this decision to encourage the participation of women in the economy.
The decision was taken in response to the feedback received from various stakeholders who found the previous limit insufficient to cover the financing needs of women entrepreneurs, the SBP said.
Under this scheme, the Bank provides refinance to participating financial institutions at 0% on their financing to women entrepreneurs at a maximum final rate of 5%. The SBP will give 60% risk coverage to the participating institutions.
Women needed in key roles
Experts like Pakistan WE-NET (Women Entrepreneurs Network for Trade) President Yasmin Hyder say that such policies from a central bank and other government institutions are a very welcome step.
Such policies can help women can get key roles as it would encourage women entrepreneurs. More start-ups led by women today means more big businesses led by women in the future.
"The SECP has also asked all publicly listed companies to have at least one woman director in the board room. If there's a woman in the board room then the polices will certainly be gender sensitive, like transport and daycare facilities," Hyder said.
She added that the State Bank and SECP's policies will help pave the way for women to have better opportunities, which in turn will result in a remarkable turnaround for the economy.
The World Bank's former Pakistan country director in Pakistan, Ilangovan Patchamuthu, had said that Pakistan has the ability to increase its per capita income to $10,000 in 30 years by providing equal opportunity to women to participate in the economy.
https://www.samaa.tv/money/2020/09/state-bank-women-finance-scheme/
--------
In Turkey, Women Rise Up To Stop Withdrawal from the Istanbul Convention
23 September 2020
Arzu Geybullayeva
A website called Anit Sayac (Turkish for "monument tracker") indicates the number "276" on its home page at the time of writing this story. It represents the number of women who were murdered in domestic violence attacks in Turkey—just in 2020. The counter is updated every day. But it is the names of the victims, written just below it, that strike the site's visitors.
Among them is 27-year-old Pinar Gultekin, whose murder by her partner in July sparked public outrage and protests. On the same day that Pinar's body was found by the police, the ruling Justice and Development Party (AKP) announced it would withdraw from the Istanbul Convention, a treaty signed by member states of the Council of Europe to prevent violence and domestic abuse against women. In 2012, Turkey became the first country to ratify the treaty—with support from the now-ruling AKP. The treaty came into force in Turkey in 2014.
Nowadays, the party led by President Recep Tayyip Erdoğan perceives the Convention to be antithetical to "Turkish family values." Numan Kurtulmus, deputy chair of the AKP, said on a July 2 TV interview that it was "wrong" for Turkey to have ratified the convention. "There are two issues in this convention which we do not approve of," he said. "First is the gender issue, and the other is the sexual orientation issue. There are also other issues but these two have been the concepts which have played into the hands of and create spaces for the LGBT and marginal elements to work within."
The party's position resonates with Turkey's conservatives. Abdurrahman Dilipak, a popular Islamist columnist, described the convention in 2019 as "a devil with an angel's face" and "a trap" set to destroy the traditional family.
Meanwhile, local women's rights organisations who help with survivors domestic violence fear that Turkey's withdrawal from the convention will be devastating to their work—as well as to the families seeking justice for loved ones who were victims of femicide.
Mor Cati, a leading Turkish NGO working to prevent and document domestic violence, argues that any government attempt of withdrawal from the treaty could face a legal challenge. "According to the Turkish constitution, international agreements on human rights are above internal laws," said Mor Cati lawyer Meline Cilingir, on an interview with Middle East Eye. "If the parliament tries to overturn the convention, women's rights organizations will try and take it to the constitutional court to request its cancellation," she added.
Not everyone within the ruling party is in favour of withdrawal. The Women and Democracy Platform (Kadem), an organization co-founded by Erdogan's daughter Sumeyye Erdogan Bayraktar in 2013, has publicly defended Turkey's membership in the treaty. On a July 10 statement, Kadem said that "in a relationship where there is no love and respect and one party is tormented with violence, we cannot talk about 'family' anymore."
#IstanbulConventionSavesLives
Pinar Gultekin's murder helped spark a movement in support for the convention, expressed online by the hashtag #istanbulconventionsaveslives.
"Her death was emblematic of longstanding forms of structural violence made possible by acts of omission and commission by the state and its policing functions," said Asli Bali, faculty director of the UCLA School of Law's Promise Institute for Human Rights.
The overwhelming public outcry seems to have made an impression on the AKP—a decision that was meant to be announced in early August has been postponed.
No state has ever withdrawn from the Istanbul Convention but, like Turkey, others are considering to do so. Among them is Poland, where conservative politicians have described the Convention as "endangering" to the traditional family. In May 2020, the Hungarian legislature refused to ratify the Convention, objecting to its definition of gender as "socially constructed." Like Hungary, Bulgaria and Slovakia are signatories to the Convention but haven't ratified it.
In 2018, 440 pairs of high heels were placed on the façade of a building in Istanbul. The installation by Turkish artist Vahit Tuna was a memorial to 440 women murdered by their partners or family members in that year alone. As Turkey weighs its membership to the Convention, women ask: How many more pairs of shoes need to be displayed to convince the government that those human lives are at stake?
https://globalvoices.org/2020/09/23/in-turkey-women-rise-up-to-stop-withdrawal-from-the-istanbul-convention/
--------
UAE Decree on Equal Pay for Women, Men In Private Sector Comes Into Effect
25 September 2020
The official decree stipulating equal pay for women and men in the private sector officially comes into effect on Friday across the United Arab Emirates, according to an official statement.
The announcement was made late on Thursday night by the country's official Emirates News Agency (WAM), referring to the Decree of Federal Law No. 06 for 2020.
"Female employees shall receive wages equal to that of males if they perform the same work, or another of equal value. The procedures, controls, and standards necessary for evaluating work of equal value will be set under a decision to be issued by the Cabinet, based on a proposal from the Minister of Human Resources and Emiratization," reads the text of the new decree issued by the country's President Sheikh Khalifa bin Zayed Al Nahyan.
According to WAM's report, the UAE's Ministry of Human Resources and Emiratization began the efforts for achieving gender equality in terms of wages by implementing the new federal decree which was passed and issued on August 25.
"The ministry stressed that the new amendments will help strengthen the country's regional and international status for upholding gender equality. The UAE leads the region's countries in bridging the gender pay gap, according to the World Economic Forum's Global Gender Gap Report in 2020," read WAM's news report.
https://english.alarabiya.net/en/News/gulf/2020/09/24/UAE-decree-on-equal-pay-for-women-men-in-private-sector-comes-into-effect
--------
In The Name Of the Mother: Afghan Woman Wins Recognition, Sparks Taliban Opposition
23 September 2020
By Orooj Hakimi and Storay Karimi
HERAT/KABUL, Sept 23 (Reuters) - Afghan woman Laleh Osmany has been campaigning for years for a change to the age-old custom of officially identifying people by the names of their fathers, calling for mothers' names to be included on identity cards.
But her "Where Is My Name?" campaign, which finally brought a change in the law last week, has stirred heated debate in the conservative Muslim country where for some, speaking a woman's name in public is taboo.
The Taliban, who have just begun power-sharing talks with the Afghan government that could see them return to rule in some capacity, have condemned the reform in one of the first concrete stances they have revealed on women's rights as they engage in the peace process.
"From the beginning of this campaign until now, we've encountered insults, humiliation, threats," said Osmany, a 28-year old religious studies graduate.
For Osmany and many other Afghan women, a mother's name beside the father's on identity cards represents the rightful recognition of women in society.
"This right has been given to us by Islam ... we want to take back our rights."
Osmany's campaign, which she launched on social media in 2017, paid off last week when President Ashraf Ghani signed an amendment that would recognise mothers equally with fathers on identification cards.
But along with the recognition from the president and the support of many woman, the reform has provoked anger.
"The inclusion of the mother's name on electronic IDs would be a disgrace and a dishonour for Afghans," Said Akbar Agha, who served as an official during Taliban rule, told a gathering to discuss reconciliation in the city of Herat last week.
'CHANGE IS DIFFICULT'
Women's rights have improved significantly since the hardline Taliban were forced from power in 2001.
But concern is growing about the prospects for sustaining that progress with the possibility of a return of the Islamist group to a role in government.
The Taliban say they have changed and would allow education for girls and women to work outside the home, in some circumstances.
But when pushed for details such as on whether women would be required to wear a face covering or work in jobs alongside men, they say the rights of women would be decided according to Islamic sharia, though without specifying how.
Many women harbour deep mistrust and doubt the sincerity of reassuring Taliban comments.
Taliban spokesman Zabihullah Mujahid confirmed that the group opposed putting the names of mothers on identify cards.
"From a religious point of view, the names of women are among the prohibitions that cannot be mentioned anywhere," Mujahid told Reuters.
"Mentioning the names of mothers, wives, sisters and daughters is not culturally tolerable in our society," he said.
Osmany said she was disappointed by the Taliban position but would not stop fighting for the recognition of women even though she was worried about her safety and that of her colleagues.
"We're not doing anything wrong, so we'll continue this struggle so that we can revive the identity of women," she said.
"We know change is difficult, it's difficult to change society but when we start working, we must not be afraid of obstacles and we should never give up." (Reporting by Orooj Hakimi in Kabul and Storay Karimi in Herat; wrting by Charlotte Greenfield Editing by Robert Birsel)
https://news.trust.org/item/20200923052734-st2q7/
--------
URL: https://www.newageislam.com/islam-women-feminism/sara-al-anizi-saudi-female/d/122944
New Age Islam, Islam Online, Islamic Website, African Muslim News, Arab World News, South Asia News, Indian Muslim News, World Muslim News, Women in Islam, Islamic Feminism, Arab Women, Women In Arab, Islamophobia in America, Muslim Women in West, Islam Women and Feminism