New Age Islam News Bureau
23 Oct 2019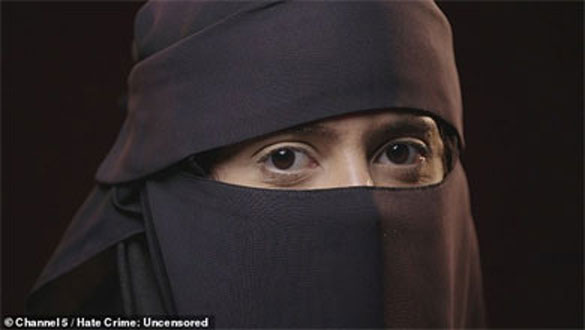 Sahar, who is from Wales and wears a niqab, spoke about the racist slurs she's endured, and said she was terrified of being murdered like the late Labour MP
-------
• Kingdom's New Dress Code a Boost for Businesswomen
• No Gender Segregation At Saudi Municipal Council Meetings
• Norway At Top, Yemen At Bottom Of Rankings For Women's Quality Of Life
• Youth, Women Spur Social Business Growth in Pakistan: Global Poll
• Quran Translator, Muslim Woman of 2005 Commemorated
• Saudi Team Wins Third Spot In Fencing Contest GCC Women's Games
• After Historic Match, Iranian Girls Look To Break New Ground
• Muslim Couple Says Woman Harassed Them at TJ Maxx In Brooklyn
• Baloch Women, Children Hold Protest against Enforced Disappearances
• Malaysia Is the World's Best Destination For Muslim Women Travelling Solo, Report Finds
• Ilhan Omar Condemns Republican State Legislator's Facebook Post
• The Turkish Mother Who Brought The Lives Of Village Women To The World
Compiled by New Age Islam News Bureau
URL: https://www.newageislam.com/islam-women-feminism/sahar-muslim-woman-wales-discussed/d/120070
--------
Sahar, a Muslim Woman from Wales, Discussed the Rise of Islamophobia In The UK
22 October 2019
A Muslim woman who wears a headscarf revealed she's terrified she will be killed in the street 'like Jo Cox' due to rising hate crime and Islamophobia in the UK.
Sahar, who is from Wales and wears a niqab, spoke about the racist slurs she's endured, and said she was terrified of being murdered like the late Labour MP.
Speaking in Channel 5's Hate Crime: Uncensored, which aired last night, Sahar said she feels that 'angry white working class men' are taking their hatred out on Muslim women.
Sahar explained she was called a 'letter box' by a white man in a suit after Boris Johnson used the term in a Daily Telegraph column to describe women wearing the burqa.
Viewers branded the show 'sad to watch', 'shocking' and 'spot on', as it told accounts of abuse received by minorities living in the UK.
Opening up about the people who have abused her, Sahar said: 'A lot of these white men happen to be working class.
'They are angry, and they are looking to express their angers towards Muslim women.
'My biggest fear? To be killed in the street like Jo Cox,' she said.
Jo Cox was shot and stabbed on June 16, 2016 in Birstall, West Yorkshire. Her killer Thomas Mair, 52, shouted 'Britain First' - the name of the far right group - before carrying his attack.
Several Muslims featured on the show recalled being called 'terrorists' and being abused following terrorist attacks around the world, including 9/11, the 7/7 bombings and the Manchester Arena bombing in May 2017.
Sahar added that being a Muslim woman now was 'not easy.'
'It's not easy when someone calls me an "ISIS" for example,' she said.
'Islamophobia is also a type of misogyny,' she added, 'I mean a lot of perpetrators are white men.'
The show played a clip of a white woman shouting verbal abuse at Muslim women on a bus, calling them 'ISIS b*****' and threatening to 'kick them in the uterus.'
The show also said that 56 percent of the violence towards Muslims is directed at women.
In 2018, religious hate crimes in the UK rose by 40 percent from 2017, with over half of them targeting Muslims.
Many of those featured agreed Brexit is to blame for the rise in hatred towards non-British UK residents, including EU citizens.
'It's given people the freedom to say the things you don't normally say,' said another of the show's contributors.
An archive clip shown on the programme saw a woman verbally assaulting a group of non-white people filming her, where she admits being racist.
'Why am I being racist? Why? Because it's your race blowing up our f****** country,' said the woman.
'I'll stab your f****** face,' the woman threatened, becoming increasingly aggravated.
Viewers said the show was difficult to watch, but many said it was 'spot on' and revealed the 'sad' state of the UK.
'This hate crime uncensored on Channel 5 is so sad and upsetting. What has the world come to, I just don't know what to think' one said.
Another wrote: 'This hate crime uncensored is tragic. So sad.'
A third said: 'This hate crime documentary on Channel 5 right now is spot on'.
https://www.dailymail.co.uk/femail/article-7597763/Woman-wearing-niqab-said-shes-afraid-killed-street-like-Jo-Cox.html
--------
Kingdom's New Dress Code a Boost for Businesswomen
ELLEN R. WALD
October 22, 2019
The new rule that ends the abaya requirement for foreign women in Saudi Arabia may have come amid changes established to create a local tourism industry, but it will most immediately benefit the international business climate. Previously, foreign businesswomen were compelled to wear abayas, no matter the behavior or dress of their male counterparts. While the need to respect local custom is understood, this was a major impediment to international business interaction within the Kingdom.
I'll start with personal anecdotes. Last year, at the Future Investment Initiative in Riyadh, I followed the event guidelines and wore a conservative dress to the conference at the Ritz-Carlton hotel. I was in the middle of a conversation with men who were also dressed in Western clothing, when a female attendant from the event told me to put on an abaya. I happened to have one in my bag, so I was able to comply. But I do not know what I would have done if I had left it in my hotel room. In the end, I was embarrassed and I felt diminished in my standing among the men around me. I had believed that I was OK by following the event guidelines, but I was not.
Other times in Saudi Arabia I have had to wear an abaya into the offices of powerful men or when I met them for coffee. I have been required to wear an abaya on my way to the house of an influential business leader as I went to dinner with half a dozen important men. Once I arrived at the house, it was clear the abaya was not necessary for the dinner. However, I then had to take it off in front of all of those men. For a foreign woman, this is an awkward and uncomfortable situation. The men did not have to take anything off. They just started socializing. For many Saudi women who are accustomed to wearing an abaya, these experiences may not seem noteworthy. But for a foreign woman who wears Western clothes, this is hard to get used to. It can be a serious impediment to interaction, especially in a business setting.
Moreover, it clearly has an impact for foreign businessmen. Saudi businessmen are accustomed to seeing women in abayas, but foreign men are not. When I have been in Riyadh for business meetings with non-Saudis, the garb has immediately lowered my position in relation to the men. As a relatively young woman, it is already sometimes difficult to establish myself as an equal to some men. But when I am required to wear an unfamiliar outer layer of clothing, I am at a disadvantage. Thankfully, this problem appears to be gone now.
There was also a practical problem with requiring abayas for foreign women. Where would we get one? When would we first don it upon arrival in Saudi Arabia? What style would we choose? Where in Saudi Arabia was it required? Did we need to wear it in the hotel lobby or the home of a cosmopolitan friend? The first time I traveled to Saudi Arabia, I was in Abu Dhabi several months earlier so I picked up a very basic abaya at the mall. I have spoken to several young businesswomen who were nervous about the requirement ahead of their travels to the Kingdom. Typically, American women had to take a trip to New York and find a store that sold abayas in Brooklyn or Queens before their departure. Every American businesswoman on her first trip to Saudi Arabia was nervous about whether she needed to put it on during the flight, upon arrival at the airport, or before she left the airport. It was a constant concern for most foreign women I know on their first few trips to Saudi Arabia.
Now this concern is hopefully no longer necessary. The new rule for foreign women's dress seems to be focused on the tourism industry, but it is already benefiting foreign businesswomen. I have spoken to non-Saudi friends and contacts who are now able to walk around Riyadh in conservative Western clothing as they would in New York or London. This makes them feel comfortable and confident, and it makes them feel equal to their male counterparts. Foreign businesswomen can now walk into meetings with more poise.
It is crucial that women in business exhibit assertiveness and that will now be easier. This is important for Saudi business as well. The abaya law was one of the elements keeping foreign businesses from entering the Saudi market. Global businessmen and women are accustomed to traveling among different cultures, but they are not accustomed to facing significant restrictions or mandates on their own behavior. In the past, I have spoken with several foreign women who were hesitant or fearful of traveling to Saudi Arabia for work because of the dress requirements. And several foreign women I know who do travel to Saudi Arabia regularly are relieved that the restrictions have now been relaxed.
• Ellen R. Wald, Ph.D. is a historian and author of "Saudi, Inc." She is the president of Transversal Consulting and also teaches Middle East history and policy at Jacksonville University. Twitter: @EnergzdEconomy
https://www.arabnews.com/node/1572636
--------
No Gender Segregation At Saudi Municipal Council Meetings
FATIMA MUHAMMAD
October 22, 2019
JEDDAH: Saudi Arabia's Ministry of Municipal and Rural Affairs has decided to end gender segregation, saying that council offices should be organized in a way that that allowed both sexes to attend meetings, seminars and workshops in line with Shariah regulations, said sources.
Women previously sat in separate rooms and communicated with men through electronic means.
Rasha Hefzi, a female councilor in Jeddah, supported the move. "We have been asking for this for the past four years, ever since we started to participate in the municipal council," she told Arab News. "The ban was an obstacle that hindered a lot of communication channels for us as city council members with other male members, the municipality, other entities and different stakeholders."
Women would now have the ability to mobilize and have direct communication with the public, civil society groups, their male counterparts and other government entities, she added. "After removing this barrier, we have the freedom of articulating the new plans we want to implement with the council and with the ministry."
Elections in December 2015 were the first time in the Kingdom that women were allowed to vote or stand for political positions.
More than 130,000 Saudi women out of 1.48 million eligible citizens registered to vote for the first time in municipal elections for 6,917 candidates, 979 of them women.
Twenty-one women were elected, while 17 were appointed across the Kingdom. Women were members of just 10 municipal councils out of 285, and the total of women members was 37 while the number of men was far higher at 3,156.
Women faced a number of challenges prior to the election, such as finding sponsors for their campaigns and the low awareness among the public about voting for women, or even trusting municipal councils. There also needed to be training courses for women seeking to join municipal councils.
Lama Al-Sulaiman, who was elected to Jeddah's municipal council, resigned soon after the 2015 election. Media reports at that time indicated she was frustrated with the gender segregation at council meetings, with women being forced to communicate through television monitors.
https://www.arabnews.com/node/1572911/saudi-arabia
--------
Norway At Top, Yemen At Bottom Of Rankings For Women's Quality Of Life
Ellen Wulfhorst
OCTOBER 23, 2019
NEW YORK (Thomson Reuters Foundation) - Norway and Switzerland are the best countries to be a woman and Yemen and Afghanistan the worst, said research on Tuesday which found the state of women's rights is not "all doom and gloom" around the world.
While life for women has improved in some 60 countries, it has deteriorated in Yemen and other war-torn nations, research organizations Georgetown University's Institute for Women, Peace and Security and Peace Research Institute Oslo concluded.
The researchers looked at 167 countries since 2017 when the first Women, Peace and Security Index was compiled, weighing variables such as access to bank accounts, jobs and security.
Rounding out the top of the list were Finland, Denmark, Iceland, Austria, United Kingdom, Luxembourg, Sweden and Netherlands tied for ninth place, followed by Canada.
At the bottom were Yemen, Afghanistan, Syria, Pakistan, South Sudan, Iraq, Democratic Republic of the Congo, Central African Republic, Mali and Libya.
"There are important areas of progress. It's not all doom and gloom," said Jeni Klugman, managing director of the Georgetown Institute and lead author of the index.
Gains were strongest in women's access to financial accounts, either mobile or at conventional banks, in fewer discriminatory laws and through increasing legislative representation.
"A national election can bring about big changes, both positive and negative," Klugman told the Thomson Reuters Foundation.
"We have a number of countries which boosted the share of women in their national legislatures. We also had several countries which went the other way," she added.
Iceland lost its top spot from 2017 after elections brought a drop in the number of women in parliament.
The United States inched up to No. 19 from No. 22 two years ago, in part due to 2018 elections when a record number of women were elected to Congress. But Klugman said the United States continues to lag in the area of domestic violence.
The research is intended to inform and inspire action, Klugman said, noting that the factors it weighed are integral to the global development goals adopted unanimously by the United Nations in 2015.
"It's not like it's something we invented out of thin air. It's something which is grounded in those long, hard-negotiated agreements, so we're holding them to account for that."
The U.N. adopted 17 goals, including gender equality and an end to hunger, poverty and other ills, to be achieved by 2030.
The new research found deterioration in women's lives was often linked to security, which worsened in almost 50 countries.
As to legal reforms, Moldova moved up 22 places owing to changes in its sexual assault laws.
Saudi Arabia persisted in having the most extensive legal discrimination against women, followed by Yemen, Sudan, the United Arab Emirates and Syria.
The report said legal discrimination means about 2.7 billion women globally are restricted from working in the same jobs as men.
https://www.reuters.com/article/us-global-women/norway-at-top-yemen-at-bottom-of-rankings-for-womens-quality-of-life-idUSKBN1X12BJ
--------
Youth, Women Spur Social Business Growth in Pakistan: Global Poll
October 23, 2019
KARACHI/LONDON: From turning organic waste into fertiliser to sharing farm equipment, new businesses seeking to address social problems in Pakistan have made the South Asian nation one of the best performers in the second global poll on social entrepreneurs. As the government struggles to find solutions for a nation affected by poverty, water scarcity, climate change and lack of sanitation, social startups are emerging to fill the gaps.
Pakistan was one of the three countries, along with Australia and the Netherlands, whose overall ranking improved the most since the first Thomson Reuters Foundation experts' poll on the best countries for social entrepreneurs in 2016.
The country advanced 18 spots to place 14th among the world's 45 biggest economies, seen as a nation where social entrepreneurs can make a living and attract good staff.
"The landscape has changed tremendously in terms of openness and receptivity for entrepreneurship," said Shaista Ayesha, 39, who heads product development at SEED Ventures, a business incubator based in Karachi.
"Almost all universities have business incubation centres that are either working with the public or the private sectors to support home-grown enterprises."
Interest of young people in the sector was seen as spurring growth, with a youth boom giving Pakistan one of the world's youngest populations, a trend seen continuing until at least 2050, according to the United Nations Development Programme.
About two-thirds of Pakistan's 210 million people are younger than 30 with 29 per cent aged between 15 and 29.
This new generation of young Pakistanis was not only aware of the political and socio-economic challenges faced by their country, but it has also found social networks to voice opinions.
"Social issues no longer go unnoticed, and there is a general increase in public eagerness, particularly among the youth, to step up and bring positive change," Ayesha said.
Youth movement
Pakistani banker and economist Ishrat Hussain, Adviser to Prime Minister Imran Khan on Institutional Reforms and Austerity, said he was not surprised by the poll results.
Hussain cited microfinance institutions, business schools and the digital economy for supporting entrepreneurship.
"There are higher education institutions that have set up entrepreneur centres which are arming people who are not formally trained with business tools, especially women, farmers, youth ... people otherwise neglected," he added.
Most social enterprises in Pakistan are headed by young entrepreneurs. About one-fifth are led by women compared with five per cent of mainstream companies, according to British Council research.
Neelum Hassan, a 26-year-old industrial design graduate, founded her social enterprise, Aerosync, in 2016 to design and manufacture products with a social or environmental impact.
Her first project is a design for a lightweight, solar-powered mobile cart with foldable counter that converts into a shelter for the thousands of street vendors in Pakistani cities.
Street and mobile vending lets people set up businesses with minimal outlay and no paperwork, but they have increasingly faced crackdown from authorities for not having licences.
Her plan would provide a ready-made package with registered carts, allocated space and affordable lease schemes.
Neelum Hassan won the "Most Promising Woman-Led Business" award at the Global Clean tech programme set up by the United Nations Industrial Development Organisation and the $15,000 prize money went towards developing a small manufacturing line.
"I personally won't call this a success story because the journey has just begun," she said.
Improved access to local and international investment — with Pakistan jumping 24 places to 9th place in the latest poll, conducted in partnership with Deutsche Bank — has helped many young social entrepreneurs get their ideas off the ground.
Support group Impact Link was launched in December 2018 with backing from the Scottish government to support a small number of social enterprises moving beyond the early growth stages.
In the latest round of funding, it gave 4,000 pounds ($4,946) each to five startups to scale up their business.
These included TrashIt, which is working on collecting organic waste from food vendors and turn it into fertiliser, and Good Earth, which is behind sharing platforms for farm equipment, often beyond the means of poor farmers.
SEED Ventures co-founder Faraz Khan said a proposed law to provide a legal definition for social enterprises would also help attract more foreign investors to Pakistan once approved.
"Once under a legal umbrella, they will be able to attract global impact capital and philanthropic funding," said Khan.
Ahad Nazir, head of the Centre for Private Sector Engagement at Pakistan's Sustainable Development Policy Institute, said the law would give certainty to investors and social entrepreneurs.
"Some of the companies claiming to be social enterprises are not actually social enterprises, and some companies that are actually social enterprises don't know they are," he said.
Ishrat Hussain, however, disagreed.
"I think it's a bit premature to gag these entrepreneurs with a legal framework. Let them bloom and flourish, and when they reach maturity, then rein them," he said.
"You should not suppress their creativity at this stage."
https://www.dawn.com/news/1512360/youth-women-spur-social-business-growth-in-pakistan-global-poll
--------
Quran Translator, Muslim Woman of 2005 Commemorated
October 23, 2019
A number of Quranic, cultural, political and literary figures attended the ceremony.
Tahereh Saffarzadeh was born in 1315 (1936) in the southern city of Sirjan, Kerman province. She graduated in English Literature from Tehran university and continued her education in literary criticism in the US.
She translated the Holy Quran into Persian and English.
In 1992, she was selected as the "role model professor" by the Iranian Ministry of Science and Higher Education. In 2001, having published the translation of the Holy Quran, she acceded to gain the title of "the Holy Quran's server".
In March of 2006, on the occasion of International day of women- she was selected as an activist, poet, premier and leading woman and Muslim scholar of the year 2005 by Afro–Asian writers' organization.
https://iqna.ir/en/news/3469727/quran-translator-muslim-woman-of-2005-commemorated
--------
Saudi Team Wins Third Spot In Fencing Contest GCC Women's Games
October 22, 2019
KUWAIT: The Saudi fencing team finished third in the foil contest at the Gulf Cooperation Council (GCC) Women's Games in Kuwait on Tuesday.
The team was represented by Lin Al-Fawzan, Sarah Al-Salmi, Aseel Halawani and Nada Abed.
The team concludes its participation in the tournament on Wednesday with the participation of Fawzia Al-Dosari, Sheikha Al-Dosari, Hasna Al-Hammad and Ruba Al-Masri in the saber category.
The team will also participate in the epee competition, represented by Areej Abed, Nada Abed, Fawzia Al-Khibari and Mashael Al-Khayal.
The Saudi basketball team will play its third match of the tournament on Wednesday against Bahrain.
Two women's bowling teams played in doubles competition, the first team being that of Mashael Al-Abdelwahed and Hadeel Tarmeen, and the second comprising Amani Al-Ghamdi and Ghada Nimir.
In total, 10 teams representing five countries — Saudi Arabia, Bahrain, the UAE, Oman and Kuwait — participated. The
two Saudi teams achieved
ninth and tenth positions respectively.
Points will continue to be accumulated on Wednesday during the team competitions, with the top eight qualifying for the Masters' competition
https://www.arabnews.com/node/1572916/sport
--------
After Historic Match, Iranian Girls Look To Break New Ground
October 22, 2019
On September 2, 2019, Sahar Khodayari a 29 year old Iranian woman, set herself on fire because she dreaded being sent to jail for six months. The avid sports fan had been arrested by Iranian police for trying to enter a football stadium dressed as a man and was fearing a prison term when she chose to end her life. Fondly now hailed as the 'blue girl', she died because of a draconian law that has caged women in the Islamic Republic for years.
Sahar is history. But her compelling story could pave the way for a better future for Iranian women.
As she laid her life down, the dark episode gained enough attention worldwide for FIFA to step in and take a tough stance. World football's governing body applied pressure on the Iranian government and forced it to throw open the gates of Tehran's iconic Azadi Stadium to women the World Cup qualifier between the hosts and Cambodia.
Iran's move to allow women to attend the football game marked the first such instance in the country since women were banned from showing up at public sports events back in 1981, two years after the Iranian Revolution.
Tragically, Sahar was not physically present at the Azadi Stadium on the bright autumn day on October 9, but she was everywhere. Each and every woman of the 4,000 who watched the action from the stands missed her, every blow of the vuvuzela trumpets seemed to scream after her name, every applause for a goal scored celebrated her attitude. And there were plenty of goals to celebrate as Iran hammered Cambodia 14-0.
Exiled Iranian author and leading women's rights activist Masih Alinejad, who has been forced to flee her country for her critical approach towards the Iranian regime led by the country's Supreme Leader Ali Khamenei, calls the turn of events a "victory of sorts" for Iranian women.
"But let's face it. If FIFA hadn't put pressure to ban Iranian football team from international games and sanction its domestic league, the Islamic Republic would still have been able to ban women. Whether this (ban lift) will be a major step for women's rights, that remains to be seen," says Masih, who now resides in New York.
Despite the ban lift, Jasmin Ramsey, communications director of Iran Human Rights, is still sceptical about the government's motive. ''Having said that this moment was a step in the right direction, Iranian women are demanding their independence despite the threat of arrests and imprisonment. The battle against the stadium ban is part of a much bigger movement for women's rights and empowerment," says Jasmin.
"Activists in Iran risked everything to defy this ban and many have been arrested and detained. It remains to be seen whether the government will permanently lift the ban or go back to occasionally relaxing it to ward off international pressure," she adds.
After a gap of 38 years when women were allowed to enter the stadium in Tehran, only 4,000 tickets were allotted at a venue that has a capacity of 85,000. The authorities confined the women spectators' seating to just a single packed stand that to many resembled some mediaeval era cage. But the sound of their jubilation spread way beyond their restricted seating location.
Hoda Hashemi, a journalist with Farsi-language newspaper Iran and an ardent football fan, watched the match from the stands. Speaking to India Today from Tehran, she says, ''It was a huge day for me and for all Iranian girls. This journey has been really hard, the journey to finally win access to our stadium to watch a football match.''
Iranian women who couldn't go to the venue cheered for their national team and were literally mentally present at the Azadi Stadium. Sedigeh, who runs a perfume store in Shiraz, sounded thrilled at the other end of the phone. ''I was not in the stadium but I could see and feel the ambience. I can only hope that the government will continue to allow us to enter the stadium,'' she says, echoing Hoda's thoughts, who also called upon the government to extend the new move to matches in future.
Calls to end the stadium ban for women once and for all are getting louder ever since the October 9 game.
"Women attending a football match is a big punch in the face of the Islamic republic," says Masih. "This is a win but a tainted one. It came only after Sahar set herself on fire. It was only the spectacle of her gruesome death that prompted a domestic and international outpouring of emotions that the authorities were forced to allow women in."
"We need FIFA to be constantly vigilant and make sure there is no backsliding. We need women at all games," adds Masih, author of the much acclaimed book The Wind in my Hair: My Fight For Freedom in Modern Iran. She runs an anti-hijab social media campaign My Stealthy Freedom which has more than a million followers. Masih's own social media handle had been flooded with videos and images pouring in from the much talked about stand of the Azadi Stadium on October 9.
While Iranian women celebrated the landmark day, yet another instance of Iran's biased policy came to light. Sahra Afsharian, a young Iranian girl, was arrested for uploading on Instagram a video in which she is seen to be dancing in joy. The clip went viral. The arrest took place shortly after the lighthearted video became popular.
Rampant arrest, detention of rights activists, journalists and writers have kept the newspaper headlines busy. ''Interestingly the policy ban is not backed by a specific law. It is rather a policy supported by hardline leaders that is arbitrarily enforced. Permanent change requires the Iranian government allowing Iranian women the same rights as men , starting by changing civil and criminal laws so women can be recognized as equals in the eyes of the laws'' says Jasmin.
As the inspiring title of Masih's book says, the wind blowing in the hair of Iranian women has turned into a storm that the government can hardly ignore any more.
Frequent arrests, bans and other measures are failing to break the spirit of the Iranian women. The October 9 match has further emboldened them. Hope is the word that drives Iran's women as Masih points out, "International pressure along with internal actions can produce results as we have just seen.''
https://www.indiatoday.in/news-analysis/story/after-historic-match-iranian-girls-look-to-break-new-ground-1611835-2019-10-22
--------
Muslim Couple Says Woman Harassed Them at TJ Maxx In Brooklyn
By Lia Eustachewich
October 22, 2019
A Muslim man claims he and his hijab-wearing wife were harassed at a Brooklyn TJ Maxx by a woman screaming, "Go back to your country!"
Mido Mourad says the incident unfolded at the checkout line at the Bay Ridge store on 86th Street on Saturday. He and his wife were there buying winter clothes for their twins.
"After we grabbed our items, we stood near the register to decide if we were ready to check out. At this point, the white lady in the video, started cursing at my wife and I. My wife wears a hijab," Mourad said in a statement shared by the Council on American-Islamic Relations.
"This lady became more and more aggressive and we started to worry that she was going to harm us. As we started to walk away, she yelled at us to 'GO BACK TO YOUR COUNTRY!' We were shocked and shaken."
Mourad said TJ Maxx employees and a manager did nothing to intervene but that he called police on the advice of a witness.
Outside, he filmed the woman coming out of the store.
"While I was recording, she became angry and hit me and almost broke my cell phone," Mourad claimed.
The recording shows the woman flipping the middle finger and yelling, "Stop taking pictures!" as she swipes at his phone.
"Get out of my face or I'm going to f– you up," she says as she walks away with a friend.
When police arrived, Mourad claimed they told him the incident wasn't a hate crime "but only a violation." He said he filed a harassment complaint with the NYPD — but is urging them to probe it as a hate crime.
In a post to his personal Facebook, Mourad described the alleged attacker as a "crazy Trump supporter" but offered no evidence as to the woman's political affiliation.
The NYPD's Hate Crimes Task Force has been notified and a police report has been filed, according to a spokesman.
A rep for TJ Maxx told the site that it's also investigating, and will take "any internal actions we deem appropriate" to avoid future incidents.
"We are committed to fostering an environment in our stores in which everyone is treated with dignity and respect, and do not condone any disruptive or otherwise aggressive behavior," said the spokesperson. "We are sorry to learn that this situation occurred between two customers and are looking into this matter further."
https://nypost.com/2019/10/22/muslim-couple-harassed-and-threatened-while-shopping-at-tj-maxx-in-brooklyn/
--------
Baloch Women, Children Hold Protest against Enforced Disappearances
Oct 23, 2019
QUETTA: Relatives of missing Baloch people on Tuesday held a protest rally in Quetta city to demand the immediate release of their family members who have been illegally abducted by security forces.
The protestors said that a large number of political activists and intellectuals were being abducted illegally by security forces from various parts of Balochistan province in southwestern Pakistan.
Relatives of Rashid Hussain, who was abducted from UAE and later deported to Pakistan also joined the protest. His mother along with other missing person families protested in Quetta for his safe return and release of other Baloch missing persons.
Hussain was handed over to Pakistan's law enforcement agencies in June this year.
He has since been kept in an undisclosed location that has further added to the miseries of his family regarding Rashid's safety and well being.
An online campaign has also been launched to demand the release of Hussain. Social media users are raising their voice using hashtag #SaveRashidHussain and #SaveBalochMissingPersons.
The protesters were also joined by Mama Qadir Baloch, of 'Voice for Baloch Missing Persons', who has been running a campaign for thousands of missing Baloch people.
Similar protests against enforced disappearances were held in Quetta earlier this month.
Enforced disappearances still take place in Balochistan with full immunity and the Pakistani state institutions have repeatedly failed to act against such inhuman crimes of state agencies.
https://timesofindia.indiatimes.com/world/pakistan/baloch-women-children-hold-protest-against-enforced-disappearances/articleshow/71715193.cms
--------
Malaysia Is the World's Best Destination For Muslim Women Travelling Solo, Report Finds
October 17, 2019
Malaysia is the world's most welcoming country for female Muslim travellers going solo, according to a joint report by Mastercard and halal-travel authority CrescentRating.
The country was found to have numerous key features women looked out for, such as halal food, female prayer rooms, single-gender spas, pools, beaches, beauty salons, as well as openness to the hijab being worn in public, the report said.
Other features included Islamic heritage tours, suhoor and iftar arrangements in hotels during Ramadan, and clean toilets with water to perform wudhu, a ritual wash done before prayer.
Published on Thursday (Oct 17), the Mastercard-CrescentRating report – which evaluated survey responses from 3,300 Muslim women, mostly from South-east Asia – claims to be the first in the world to look at the Muslim female travel market.
It ranked the top 10 Muslim female-friendly countries in the world, with the UAE, Turkey, Indonesia and Japan rounding out the top five.
Singapore came in sixth place, followed by South Korea, Australia, the UK and Brunei.
The report said that female Muslims were one of the fastest-growing segments in the global travel market, thanks to rising incomes, better education, and the demographic's increased empowerment to travel.
In general, Muslim women took between two and three holidays a year, accounting for slightly under half of all Muslim travels, the report said.
About 30 per cent of the 65 million journeys taken by the world's Muslim women last year were solo holidays done mainly by younger women, it added.
Over half of female Muslims used social media to research their accommodation, itinerary and food options before travelling, with 65 per cent choosing independent travel over a guided tour.
Among their top goals while on holiday were shopping, cultural and adventurous activities, festivals, and visiting the spa.
https://www.businessinsider.sg/malaysia-is-the-worlds-best-destination-for-muslim-women-travelling-solo-report-finds/
--------
Ilhan Omar Condemns Republican State Legislator's Facebook Post
October 23, 2019
US Representative Ilhan Omar has condemned a Republican state senator from North Dakota who posted a long-debunked photo on his Facebook page that purports to show the Minnesota Democrat holding a weapon at an al-Qaeda training camp.
Omar, a naturalised US citizen who was born in Somalia and is one of the first Muslim women elected to Congress, blasted state Senator Oley Larsen's post, which also led to calls Tuesday from the Senate's top Republican and GOP Governor Doug Burgum to apologise and relinquish a state Senate leadership position.
"This is pure propaganda designed to stir up hate and violence," Omar tweeted Monday night. "Facebook's unwillingness to crack down on hate speech and misinformation is not just threatening my life, but our democracy."
The image Larsen posted has been debunked by several sources since it appeared on social media this summer. It is an Associated Press photo taken of a female Somali army recruit at a Mogadishu military training campus in 1978, four years before Omar was born in 1982.
In the comments accompanying his post, Larsen also called Omar an "elected terrorist" and asked his followers to "share it everywhere."
Facing mounting criticism, though, Larsen removed the photo Monday. And by Tuesday morning, his Facebook feed - minus the image - was full of attacks on him for posting it and accusing him of bigotry.
On Tuesday, the North Dakota Senate's majority leader, Republican Rich Wardner, called on Larsen to apologise and give up his position as the state Senate's president pro tempore, a post in which he presides over sessions when the lieutenant governor is absent.
"At this point, I'm not calling for his resignation from the Senate, but if he continues with this, I will have to rethink that," Wardner said.
The governor's spokesman, Mike Nowatzki, said: "The governor supports the actions requested by the majority leader."
Neither Larsen, who is from Minot, nor Facebook responded to requests for comment.
Facebook has been under fire from politicians, regulators and privacy advocates around the world over problems ranging from election security to what many consider its disproportionate, often negative influence on society.
While Facebook has said it is stepping up efforts to remove content that violates its rules, it has also said it is not the company's role to fact-check or judge the veracity of what politicians say.
https://www.aljazeera.com/news/2019/10/ilhan-omar-condemns-republican-state-legislator-facebook-post-191022202624712.html
--------
The Turkish Mother Who Brought The Lives Of Village Women To The World
21 October 2019
Arslankoy, high up in the Taurus Mountains and 60km away from the south-coast city of Mersin, is much like every other conservative Turkish village.
Coffee houses burst with men and head-scarfed women bustle down the street. Those with an education have left for bigger cities; those that remain simply work the land.
Yet Arslankoy stands out for one reason: it is home to incredibly strong women. Seventy-two years ago the village's women rocked the country as they fought against the army after attempts at election fraud by the then ruling party.
Today, it's 62-year-old Ummiye Kocak making waves as she and her all-female theatre group draw attention to social issues ranging from domestic abuse to climate change.
Established in 2001, this theatre group has grown from seven women to a 60-strong troupe. For every new play Kocak writes, she creates a small cast, hands them a copy of her script and expects them to have learnt it in 10-15 days. Only once lines are memorised does she begin to direct their acting.
The group has toured Turkey, performed in Europe and, in 2012, made a short film – The Wool Doll (Yun Bebek) - that illustrated physical and verbal abuse against women, by women. It was so successful it won Kocak the "Best Eurasian Female Artist" award at the New York Eurasian Film Festival.
Every play, every tour and any sponsorship from the council or from charities is organised by Kocak herself; she has no secretary, just her son and daughter to help. Quite a feat for a woman who has had minimal education.
Self-taught
Sitting on a low stool in a small warehouse peeling walnuts, Kocak is smiling as she speaks of her unusual start to school life. "The mosque announced one day every family had to send one daughter to school. I was too old so they sent my younger sister. Three days later my sister refused to go again, crying that she didn't like it, so I offered to go instead. My father gave me her uniform that instant."
She says her sister doesn't regret giving up her place. "She tells people that there'd be no Ummiye Kocak without her," Kocak laughs, "but I tell her that even if I hadn't gone to school, I'd have educated myself. I'd still be who I am today. If there's talent inside you, it always finds a way out. You can't stop it."
Just like any other village woman, Kocak works in the fields and wears layers of brightly coloured knitted cardigans with a shawl wrapped round her waist, headscarf tied under her chin and baggy patterned shalwar. What sets her apart is her ability to constantly question.
The 62-year old began writing stories at the age of 13, inspired by a book she'd been sent to fetch for her teacher and had begged to read because the picture on the front reminded her of her grandmother. The book was Maxim Gorky's Mother. She related to the Russian's poverty-stricken characters and their lives and thought that if he could write about such situations, so could she.
Her theatrical journey began late, though. "I saw my first play at my son's high school when I was 45. As I watched, I kept wondering whether the actors were using their own names. I asked one of them afterwards what his name was. He said 'Ali'. I was confused, a second ago it was Veli. He explained that Veli was the character's name. I stayed up all night thinking about this.
"I realised I could take real situations happening in Arslankoy and reflect them onto the stage. By changing names it would be anonymous but relatable and I might just be able to make the voices of our women heard."
Women's voices
Kocak's first plays were therefore created using the complaints and secrets of her neighbours. Yet why the women's voices in particular? "I was upset by the fact that women were working so hard – harvesting, cooking, looking after their children – while the men did nothing but spend their wife's money on beer. These women needed to be heard."
To a Western mind, this stance suggests that Kocak is a feminist. When asked, however, she firmly denies it. "I first heard that word 'feminist' when I asked the village school's head teacher if we could rehearse plays there in the evening. I told him it would just be women, so there'd be no gossip. He asked if I was a feminist." She didn't know the meaning of the word.
She had decided to create an all-women group purely so that husbands would allow wives to join. "Of course, now I know the meaning and I'm not a feminist. I don't like anything that's extreme. I always like to find a middle ground."
Success, as Kocak shows, has not come easily. Opposition and abuse from her village was rife when she simply suggested the idea of a group. But she would not be deterred.
She not only wanted the women's voices to be heard, she also wanted their problems to be resolved. To her, theatre was - and still is - a method of educating those who haven't had the chance to study at school.
The idea for her first film Yun Bebek grew from this perception. "In 2007, I heard an old neighbour reminisce about the abuse she had received as a child at her grandmother's hands. This old lady just shook as she spoke."
Kocak realised that a violent childhood has major repercussions and decided there and then to write about violence against women by women, in the hope of educating viewers. Yet, she knew directing a film would be different.
She took up small roles in soap operas, watching the trained actors, cameramen and directors at work between takes. Five years later, in 2012, she finally felt ready to produce her film.
Meeting Ronaldo
After the short film she appeared in a documentary broadcast on Turkey's state TV network TRT. Then, in 2017, she got the chance to direct and appear in an advert for Turk Telekom with footballer Cristiano Ronaldo. Kocak – and consequently her theatre group – became a household name overnight.
"I had appeared in a documentary on TRT in 2016 when Turk Telekom contacted me. The advert was about achieving dreams and they wanted Ronaldo and me because we'd both done that.
"When I met him we bonded instantly. Despite being half his height and unable to understand his language, I hugged him and called him kuzum, my little lamb. He hugged me back and shouted 'mummy!' We had a connection. He had worked hard in the face of adversity to accomplish something. So had I."
Since the advert was filmed, Ronaldo has been accused of sexual assault, which he denies.
'Love has no religion'
Kocak's beliefs, like her personality, are strong. Her way of addressing her social media followers as "my babies" shows she is an advocator of love for everyone: "Just as tears have no colour, love has no race, language or religion. I've always believed this."
Now she's starting to express her beliefs on climate change. "It's a very serious issue for the whole world and a solution needs to be found. It's going to affect us in the Taurus Mountains, but I feel that Turkey doesn't care. I've been abroad, I've seen how they recycle and take care of their forests. We need to do the same. That's why I've written this new play."
That new play, entitled Ahh, Someone Has Pierced The Sky (Ana, Gokyuzu Delinmis), focuses on using language familiar to the ordinary villager to explain climate change. It pleads for a change in behaviour and has the cast of eight physically join hands at the end in a call for us all to come together.
The group will be taking the play on tour across Turkey, starting in the north-western town of Balikesir.
"Use terms like 'global warming' and people here don't understand what it means," she explains. "We need to show them through situations they know." Therefore, this play contains characters that could be found in any part of Turkey: gossiping neighbours, a woman everyone trusts, and a grandmother with Alzheimer's.
Three women from the cast are sitting peeling walnuts with Kocak as she speaks. They come to life as the conversation turns to the play. They explain how they rehearse their lines in the fields as they work, and laugh as they tell of how they used to use coal or boot polish to draw moustaches for the male characters, before graduating to black lipstick.
Strong bond
They, like Kocak, are middle-aged, headscarf-wearing women in brightly coloured shalwar and cardigans. They too have lived their whole lives in this small village, growing vegetables, looking after children and cleaning their houses.
"I got bored of dealing with ordinary life. Acting was something different and I'm so happy I joined. I really enjoy doing it," Memnune Kizir explains. "We're all so proud of Ummiye."
Do they think she is a good director? Of course they do.
"Don't just say that because I'm here," Kocak quips, her beady eyes twinkling. The women laugh together and one, Fatma Ay, pipes up: "Well, she's not always a good director because she gets cross. Particularly if you don't learn your lines."
Do they ever have any disagreements over the plays? "We don't argue with Ummiye, she's been doing this for nearly 20 years now, she knows best," Kizir adds.
"Whatever she has written on the page, that's what we say," another, Emine Yildiz, declares. Kocak's eyes once again flash. "Girls, tell the truth, you want to change a line and I say no!" Peals of laughter ring through the warehouse.
It's evident that Kocak and her theatrical ladies have a strong bond. They respect her and she them. "Thanks to Ummiye, we've been educated through theatre. We've learnt so much," Ay says gratefully.
"We're finally doing something worthwhile," Kizir adds. Yildiz looks at Ummiye: "Because of her our self-confidence has grown hugely. I used to be so embarrassed but now I'm not at all." Kocak comes back at her with a joke: "Your confidence has grown a little too much - put the brakes on!"
In 2001, this lady only had the support of her family. It took knocking on 40 doors to get just seven willing women. Today, through hard work and determination, Kocak has won the support of her entire country. Now it's her door being knocked on by women across the world for interviews and parts in plays.
She is resilient, intelligent and powerful. "I'm stubborn. I don't give up," she says. "If there's something I want to do, I'll do it."
https://www.middleeasteye.net/discover/turkish-mother-if-theres-talent-inside-you-it-always-finds-way-out
--------
URL: https://www.newageislam.com/islam-women-feminism/sahar-muslim-woman-wales-discussed/d/120070
New Age Islam, Islam Online, Islamic Website, African Muslim News, Arab World News, South Asia News, Indian Muslim News, World Muslim News, Women in Islam, Islamic Feminism, Arab Women, Women In Arab, Islamophobia in America, Muslim Women in West, Islam Women and Feminism