New Age Islam News Bureau
26 March 2022
• Aseel Al Hamad and Abbi Pulling Become First Women to Drive an F1 Car in Saudi Arabia
• Women Protest against Girls' Schools' Closure in Kabul
• BBC Files UN Complaint against Iran's Online Violence towards Women Journalists
• Women Are Catching Up To Men In Motorsports, Says Aston Martin Ambassador
Compiled by New Age Islam News Bureau
URL: https://www.newageislam.com/islam-women-feminism/sabahat-indian-hijabi-woman-uk-union/d/126659
--------
Sabahat Khan, Indian Hijabi Woman Becomes Student Union President in United Kingdom University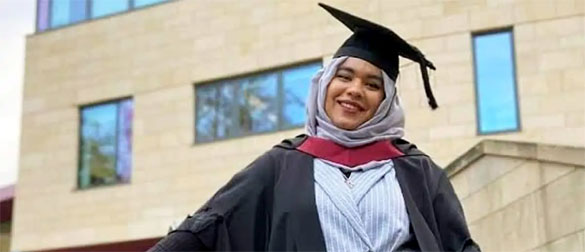 "People saw me as a person and my potential to represent them as a student leader, not my attire. And that's most important," said Sabahat. (Source: Facebook/Sabahat Khan)
-----
25th March 2022
Sabahat Khan, a hijab-clad woman from Aurangabad, has been elected the student union president of Sheffield Hallam University in the United Kingdom.
Khan's presidency comes at a time when India is engulfed in a series of pro-hijab protests post the Karnataka high court verdict which deemed hijab to not be "an essential practice of Islam."
"People saw me as a person and my potential to represent them as a student leader, not my attire. And that's most important," Sabahat was quoted saying by the Indian Express.
Currently, Khan is pursuing her post-graduation in public health. She won the election at Sheffield with 2,500 votes out of a total of 6,900 votes.
Khan also said that she would do everything in her control to "empower all those who wear hijab." She was quoted saying, "No stereotyping has stopped me and it should not stop anybody. There is a lot more to me than what I wear."
Sabahat pursued her BSc from Babasaheb Ambedkar Marathwada University and her work as an international students' officer (ISO) during the COVID-19 pandemic helped her connect with international students from all backgrounds.
"Irrespective of gender, ethnicity and religion, everybody deserves the same treatment," concluded Sabahat.
Recently, another hijabi woman, Bushra Mateen became the first student of Visvesvaraya Technological University (VTU) to win 16 gold medals.
Source: Siasat Daily
https://www.siasat.com/indian-hijabi-woman-becomes-student-union-president-in-uk-university-2296526/
--------
Aseel Al Hamad and Abbi Pulling Become First Women to Drive an F1 Car in Saudi Arabia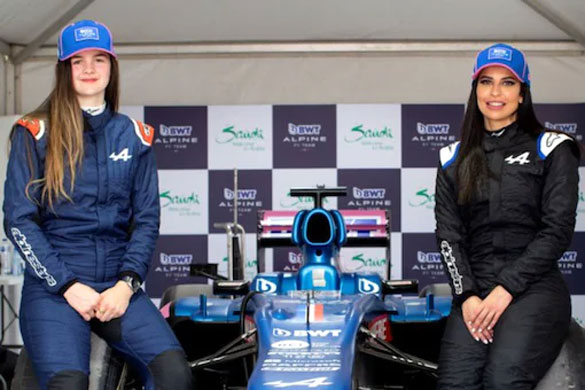 Abbi Pulling and Aseel Al Hamad (Twitter)
-----
MARCH 24, 2022
WSeries driver Abbi Pulling and Saudi Arabian racer Aseel Al Hamad became the first women to drive a Formula 1 car in Saudi Arabia as part of a demonstration held by Alpine.
Ahead of the 2022 Saudi Arabian Grand Prix, Pulling joined Al Hamad – who represents Saudi Arabia on the FIA Women in Motorsport Commission and is a board member of the Saudi motorsport federation – in the 2012 E20 F1 car (formerly known as the Lotus E20).
With the assistance of the Saudi Tourism Authority, the two drivers took the E20 on a tour through the Kingdom, including the city of Diriyah and a UNESCO World Heritage site, and created history in the process.
Al Hamad, who has also driven the E20 at Paul Ricard in 2018, said: "It was beautiful to drive with Alpine once again, and even more special to do this in my country of Saudi Arabia and my home city of Riyadh.
"I hope this inspires more generations to fall in love with Formula 1 and for more women to consider motorsport as a future career.
"I was super happy to meet Abbi, a lovely girl with lots of ambition, and an amazing passion for racing. She shows that with enough drive, girls can become professional racing drivers," added the racing driver from Saudi Arabia.
"It is important that we showcase examples to demonstrate to the younger generation that it can be them in the future; it doesn't matter your gender; you need to show your talent. I will be cheering for them and opening the doors and hopefully we will see them on podiums in the near future."
Pulling, who continues in W Series this season, added: "I got my first experience of an F1 car last weekend and it was everything I was expecting, and more. I started racing when I was just eight years old, always with the goal of reaching Formula 1, and I am so pleased to have got that little bit closer."
Alpine's CEO Laurent Rossi said: "The statement of having two women driving an F1 car through the capital of Saudi Arabia, past treasured historic monuments and into the heart of the city, shows that anyone with enough drive can follow their dreams in motorsport."
The 2022 Saudi Arabian Grand Prix is the second round of the F1 season and takes place in Jeddah on March 25-27 as Ferrari lead both championships.
Source: News18
https://www.news18.com/news/sports/aseel-al-hamad-and-abbi-pulling-become-first-women-to-drive-an-f1-car-in-saudi-arabia-4906088.html
--------
Women protest against girls' schools' closure in Kabul
26 Mar 2022
A small group of women took to the streets of Kabul on Saturday, March 26, 2022, to protest against the Taliban's announcement banning teenage girls from going to schools.
The female protestors said access to education is an alienable right of humans and girls likewise the rest of the boys in Afghanistan have the right to get educated.
The protestors were chanting, "We are tired of ignorance", "Shame on the international community", "You took my land, don't take my education", "Seeking education is obligatory on male and female."
The demonstration that was staged at the gate of the Ministry of Education in central Kabul was attended by parents, women activists, females, students, and a few young men.
"Education is our right, I want to go to school to study and make my future and the future of my country. I want to go to school as my brother does." Said a student.
The protestors further said that there are no limitations on female education in other Islamic countries like Iran, Saudi Arabia, and Indonesia so why should the Afghan girls not go to schools.
The Ministry of Education of the Islamic Emirate of Afghanistan announced on March 23rd that secondary schools for girls shall be closed until further notice.
Source: Khaama Press
https://www.khaama.com/women-protest-against-girls-schools-closure-in-kabul-5648754875/
--------
BBC files UN complaint against Iran's online violence towards women journalists
March 25, 2022
DUBAI: The BBC World Service has filed a new urgent appeal to the UN this week against Iran over the online violence directed at women journalists working for BBC News Persian.
Women journalists at BBC News Persian face relentless online attacks and harassment, including threats of rape and death, the BBC said.
"We absolutely deplore the violent, misogynistic and gendered harassment our women journalists have to face every day," said Liliane Landor, senior controller of BBC International News and director of the World Service.
The harassment includes threats of death and rape, attacks on their credibility, hacking and phishing of their emails and telephones, and false and defamatory stories about their personal lives.
The information obtained through hacking and phishing is often used to spread false stories about them online, which is then used in the interrogation of their family members in Iran, the BBC added.
The false stories not only attack them professionally but also aim to taint their character by questioning their relationship with co-workers and commenting on what they wear.
The online abuse and harassment is severely impacting female journalists at BBC News Persian, with many of them saying in interviews that they have opted out of using social media entirely due to fear of harassment.
Landor added: "Trusted and impartial journalism is fundamental to any democracy and it is only by working together that we can ensure the safety of journalists everywhere and ensure women's voices are included. We have to be able to work unhindered, free from threats and free from abuse."
The constant attacks have resulted in serious mental and physical health issues, including anxiety, psychological trauma and depression.
The appeal from the BBC calls on Iran to take action against those responsible for the online violence towards women journalists by investigating and prosecuting them.
International counsel for the BBC World Service, Caoilfhionn Gallagher QC and Jennifer Robinson, said: "Women journalists at BBC News Persian face abhorrent online violence every day simply because they are doing their job. This is a paradigm case of what UN experts call 'gendered censorship'."
They added: "Misogynist, sexist online abuse and all threats of physical or sexual violence towards journalists are intended to force women offline and to silence women journalists. It is unacceptable and it must stop."
BBC has made multiple UN complaints since 2017. Since BBC News Persian TV started in 2009, the staff and their families have faced harassment and intimidation, the BBC said.
BBC News Persian staff cannot return home to Iran because of the risk of arrest and prosecution resulting in the media network not having any staff working in the country.
And it is not just the female journalists who are harassed. Their family members have been arrested, detained, repeatedly interrogated, fired from their jobs, had their passports confiscated and pressured to encourage their family members to leave the BBC and return to Iran.
In 2017, Iran announced a national security criminal investigation targeting 152 BBC News Persian staff members and froze any assets they had in Iran.
Iran has "international obligations of due diligence," said Gallagher and Robinson. "We call on the UN to condemn the attacks and to ensure Iran meets its international obligations."
Source: Arab News
https://www.arabnews.com/node/2050376/media
--------
Women are catching up to men in motorsports, says Aston Martin ambassador
ZAID KHASHOGJI
March 25, 2022
JEDDAH: Aston Martin Racing ambassador, racer and film stunt driver Jessica Hawkins has proved to the world that female drivers can excel in motorsports.
Her young career has brought her many highlights, and now she is attending Saudi Arabia's second Formula One Grand Prix weekend in Jeddah.
Hawkins, who hails from East Hampshire in Britain, made her professional motorsports debut in the British Formula Ford at Silverstone in a one-off event where she twice finished inside the top 10.
Currently competing in the W Series and the British Touring Car Championship, Hawkins told Arab News that the ratio of female to male drivers entering motorsports has tipped in favor of women in recent years, and while significant progress has been made, she is calling on more women to pursue racing careers.
"It's not something that's going to happen just overnight. It does take time, but I do think that it is recognized and we are pushing to make changes." Hawkins said. "When I first started there weren't many females, but certainly, Aston Martin Aramco Cognizant Formula One team are a driving force behind that, or at least one of the driving forces behind that because there are a good few females within the team."
Hawkins addressed students at the British International School of Jeddah on Thursday ahead of the race weekend, telling them what it means to be a woman racing driver in the male-dominated sport.
"They were all so cute and really heartwarming, and if I can help even just one of them pursue a career in something that they would love to do, then? I don't know what to say, they were all really enthusiastic.
"Hopefully, they all listened and they'll all work hard in school and hopefully, I've helped them realize that there's more to racing than just the driving, there are loads of different areas of motorsport, and they should, if they like motorsport, go and explore all the different avenues within motorsports."
Hawkins said she pursued a racing career because she was always an sporty kid and one day asked her father to let her go karting.
"I begged my dad to let me have a go and he was unsure at the time. It must have just stuck in my mind and I kept begging him to take me back and let me have a have a go. So it's not something that I just decided one day, it was just a passion that I followed."
However, a racing career doesn't come without its many obstacles, and pushing through gender stereotypes was a regular effort. Finding financial backing was another major challenge.
"Honestly, my main obstacle was finding the budget to go racing, because it's no secret that racing as a driver can be very expensive, in all areas of motorsport," the British racing driver said. "You have to bring in budgets to be able to raise which I really struggled to find the sponsors and the backers and have the funding to do that. But, you know, I've kept trying, and I never give up, so while it was frustrating at the time, actually paid dividends now."
Hawkins returned to the VW Cup in 2018, and spent most of that year working as a stunt driver on Fast and Furious Live.
"Never did I ever think that I was going to be stunt driving for big productions like that, they're amazing, and an opportunity and experience that I will never, ever forget," she said. "Fast and Furious Live was arguably one of the best times in my life and I'll hold those memories so deep in my heart."
Hawkins continued working as a stunt driver in 2021, featuring on the James Bond film "No Time to Die," and in May of that year became Aston Martin Aramco Cognizant F1 Team's ambassador.
"I do a lot of work with the sponsors and a lot of hot laps, which is good. That's always fun," she said. "I interact with Seb and Lance, and Hulk (male F1 drivers), I'll often go on track walks with them. And honestly I'll just learn as much as I can off of them them.
"They've obviously got a wealth of experience behind them, way superior to mine. So anything that I can learn and pick off of them is obviously an advantage to me."
The Jeddah race weekend starts on Friday, with the first practice set for 5:00 p.m. before the second practice at 8:00 p.m.
Source: Arab News
https://www.arabnews.com/node/2050321/sport
--------
URL: https://www.newageislam.com/islam-women-feminism/sabahat-indian-hijabi-woman-uk-union/d/126659
New Age Islam Islam Online, Islamic Website, African Muslim News, Arab World News, South Asia News, Indian Muslim News, World Muslim News, Women in Islam, Islamic Feminism, Arab Women, Women In Arab, Islamophobia in America, Muslim Women in West, Islam Women and Feminism