New Age Islam News Bureau
25 August 2020
• First Saudi Cycling Championship Crowns Four Female Winners
• Religious Courts Have a New Name for Triple Talaq and That Is Talaq-e-Ahsan
• Training Workshop Held for KP Women Lawmakers
• Iraqi Female Journalists In Basra Fear For Safety Following Attacks On Activists
• Egyptian Universities Face Pressure to Better Protect Women from Harassment
• The First Church for Transgenders in Pakistan
Compiled by New Age Islam News Bureau
URL: https://www.newageislam.com/islam-women-feminism/saba-sahar-afghan-actress-film/d/122715
--------
Saba Sahar: Afghan Actress and Film Director Shot In Kabul
August 24, 2020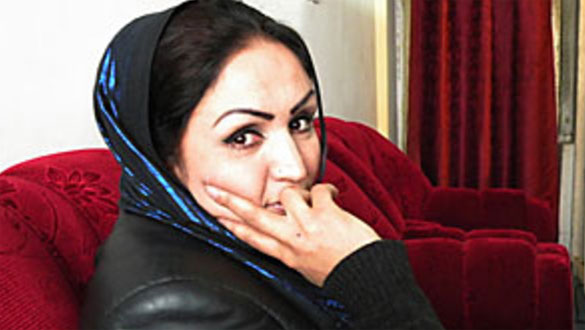 Anand Gopal/Saba Sahar is a filmmaker, but she must earn a living as one of Afghanistan's few female cops
----
Afghanistan's first female film director Saba Sahar has been shot in the capital Kabul, officials say.
The 44-year-old is currently in hospital but her condition is unknown.
She was travelling to work on Tuesday when a gunman opened fire on her car. Her bodyguard and driver were also hit and injured.
Sahar is one of the country's most famous actresses and has been outspoken about women's rights and the importance of the film industry.
She trained as a police officer and still works for the interior ministry.
Justice and battling corruption have been central themes in her films and television programmes.
On Tuesday, Amnesty International said there had been a rise in attacks on film actors, political activists and human rights defenders, adding that this was "extremely worrying".
https://www.bbc.com/news/world-asia-53901711
--------
First Saudi Cycling Championship Crowns Four Female Winners
LOJIEN BEN GASSEM
August 25, 2020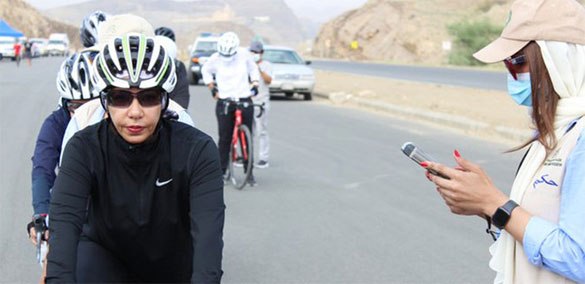 Photos/Supplied
-----
RIYADH: Saudi Arabia's first female cycling championship has crowned the event's four fastest riders.
Ten cyclists from throughout the Kingdom took part in the time-challenge competition staged on Sunday in Al-Mahalla district of Abha, under the supervision of the Saudi Cycling Federation.
Ahlam Nasser Al-Zaid was quickest to complete the 13-km course with a time of 22 minutes and 18 seconds. Anoud Khamis Al-Majed came second covering the distance in 25 minutes and 39 seconds, with Alaa Al-Zahrani taking third place in 26 minutes and 57 seconds, and Noura Al-Sheikh racing to fourth in 27 minutes and 4 seconds.
The federation's program was resumed following the approval of health protocols related to the coronavirus disease (COVID-19) outbreak issued by health authorities in cooperation with the Ministry of Sport.
Abdullah Al-Mizyad, director of operations and technical adviser at the Saudi Cycling Federation, told Arab News: "We have resumed our championships including the fifth and sixth championships for youth and adults, which were held in Al-Bahah for the first time, followed by the Kingdom's champion event for youth, adults, and women in Abha. This return was the conclusion of the Saudi cycling championships for the Kingdom's champion.
"The participation of youth and adults and the category of males and females was open for all to register, which was special in terms of the enthusiasm of the women that took part."
Al-Zahrani said: "There were about seven female contestants in the female category who were from my team."
The rider started gym training with a personal coach 7 years ago. In 2018, she met with the captain of the Rawasi team, Sherine Abu Al-Hasan, who introduced her to hiking. "We have hiked the Sabha and Souda mountains in Saudi Arabia and Shams in Oman.
"In 2019, I wanted to practice a new type of sport since I love discovering new things. I have friends who love riding bicycles as a hobby, and they encouraged me to do the same.
"I then met someone in 2020 who introduced me to the captain of cycling time, and I started practicing with them professionally. We started a month ago before the championship and we completed it (the practice) successfully," Al-Zahrani added.
She said that the Saudi Cycling Federation had given female riders the chance to achieve their dreams and goals in the sport.
https://www.arabnews.com/node/1724136/saudi-arabia
--------
Religious Courts Have a New Name for Triple Talaq and That Is Talaq-e-Ahsan
by Bhavi Mandalia
August 25, 2020
Author: Naish Hasan.
On August 22, 2017, the Supreme Court ordered the abolition of Divorce-e-Biddat from Hindustan. There was a lot of ruckus on this order. Religion Tanjim was referring Muslim women as faith in the Supreme Court to the minor and three divorces, on the other hand, the pain of the government was being spared for the Muslim women. Going through two ordinances, the law on triple talaq was finally enacted in 2019, but there seems to be no end to Muslim women's woes.
During this one year of becoming a law on triple talaq, the cases of suffering did not come down. We investigated about 50 cases that came after the law was enacted, so two things appear in it. First, the women who went to the police station after getting three divorces, 50 percent FIR was not written. The police station kept avoiding FIRs, like in all cases of domestic violence, they have become habit of survival. Secondly, religious organizations have opened a thief door after three divorces were closed.
Now they are giving the fatwa of Talaq-E-Ahsan, not triple talaq. In one such case, it was found that the wife was in her maternal home in the lockdown. She got a fatwa from Speed Post that her husband had given her a divorce. In another case, the husband divorced her by writing a letter to the wife and since then she is missing. In a third case, while the wife was still at home, her husband suddenly said that he was giving her a divorce.
In a number of divorce cases going to religious courts, one percent of women have not dared to challenge the edicts of religious organizations, while the fatwas of religious organizations have been rejected by the Supreme Court in a 2014 ruling. Significantly, such edicts of divorce started coming more after the Muslim Women Marriage Protection Act 2019 law. Fugitive lovers have not remembered the divorce-e-Ahsan. This is to avoid arrest. On the other hand, the unfortunate situation is that the system is more loose than the law, because the women who went to the police station during this one year almost did not get the support of the police. This is a system failure. Husbands also took advantage of this and got divorce with the help of religious organizations. This instant divorce system is still shamefully continuing.
Divorce-e-Ahsan is not mentioned in the Quran, but in the books that these religious organizations have prepared. In Divorce-e-Ahsan, the husband addresses his wife only once in the pure period, saying that I divorced you. After this, the wife should observe the Iddat for three periods. Meanwhile, there should not be sexual intercourse, the wife should remain in the same house. Divorce is considered complete even if there is no agreement between them on completion of three months, only time has passed. This method of divorce does not even speak of compulsory arbitration. The result of this is that the husband is now giving divorce-e-ahsan by not giving three divorces and the cleric is justifying it.
The woman's position did not change even after a long battle. Earlier she was evicted from home by giving divorce in a second, now it is being done in three months. He did not get security then, nor is he getting now. Sharia law or Muslim law is a law made by humans, it can be changed. Laws have been made and changed since the year 632 ie Prophet Mohammad. What is needed is that justice should be the preferred family law in the light of the Constitution of India and it should be enforceable. Otherwise, Muslim women will continue to grind between husbands, in-laws, fatwas and maulvis.
https://pledgetimes.com/the-new-name-of-triple-talaq-is-divorce-e-ahsan/
--------
Training workshop held for KP women lawmakers
August 25, 2020
PESHAWAR: Members of the Women Parliamentary Caucus (WPC), Khyber Pakhtunkhwa (KP) assembly attended a workshop on "Increased Leadership Skills for Effective Policy Making and Reforms."
Among the participants were Mahmood Jan, Deputy Speaker & Patron-in-Chief Women WPC, KP and women lawmakers from the KP Assembly. Rights activist Qamar Naseem facilitated the training. Organized by a civil society organization Pakistan Youth Change Advocates (PYCA), the one-day workshop was under the initiative supported by the Australian High Commission, "Mainstreaming Women-centric Policy Making in Khyber Pakhtunkhwa by Strengthening Provincial Parliamentary Caucus".
It aimed to provide a platform for discussion on key parliamentary skills, to impart key skills needed for effective leadership and explore how the acquired knowledge could be used to facilitate the passage of women-centric legislation. Talking about the intervention Areebah Shahid, Executive Director of PYCA said: "Women parliamentarians are uniquely positioned to shape, advance and implement pro-people laws and policies, especially those that can benefit women and girls. This workshop is an effort to strengthen this potential."
Lead facilitator, Qamar Naseem said: "Well informed parliamentarians can guarantee that the voices of citizens are heard, particularly the voices of children, women and other vulnerable groups, in order to mobilize political will and commitment to empowering them."
Maliha Ali Asghar, MPA and Chairperson of the Women Parliamentary Caucus while commenting on the workshop stated, "We agreed upon and signed three resolutions at the end of the workshop.
The first resolution will pave the way for an equal number of girls' and boys' schools in the province while the other two focus on greater investment in girls' education and ensuring better nutrition for female students across the province."
https://www.thenews.com.pk/print/705401-training-workshop-held-for-kp-women-lawmakers
--------
Iraqi Female Journalists In Basra Fear For Safety Following Attacks On Activists
By Azhar Al-Rubaie
25 August 2020
Female journalists in Basra are becoming increasingly concerned for their safety, following a recent string of attacks on female activists in the Iraqi city, Middle East Eye has learned.
Last week's killing of 29-year-old Riham Yacoub, a prominent women's rights campaigner gunned down by unknown assailants on a motorcycle, prompted both outrage and concerns among those who dare speak out against the government and advocate for their rights.
Journalist Arwa Hazim al-Amiri, 26, said she decided to leave the southern city after the death of Yacoub, who was a personal friend.
"She [Yacoub] was a leading figure, a fun and disciplined person. Lots of Basra women were influenced by her character, and she had a big influence on the public opinion," said Amiri, who had worked with Yacoub at the privately-owned Radio Al-Rasheed.
Amiri said she once proposed to Yacoub to flee Iraq for safety, but the latter replied: "For whom do I leave the country, or benefit a country other than my homeland?"
But for Amiri, leaving Basra was the right decision, especially after receiving threats from "unknown persons via fake social media accounts" because of her profession.
"Activists and journalists are facing the same threats. Anyone who tries to criticise armed groups will be an easy target for them, particularly in Basra city as it is a hub for the Iran-backed militias," she told MEE.
Yacoub was an outspoken critic of the Iran-backed militias whose power and influence Prime Minister Mustafa al-Kadhimi has been trying to rein in since taking office in May.
The attack on her was the third on activists in the southern city in a week. Tahseen Oussama, 30, was gunned down on 14 August and four others were shot at while together in a car last Monday.
Yacoub's killing cast a pall over Kadhimi's recent trip to the United States. The violence reignited anti-government protests in Basra and the US State Department publicly urged Kadhimi to hold the militias accountable, just two days after he sacked the Basra police and national security chiefs and formed a special committee to investigate the attacks.
The border crossings in the south and east of Iraq are under the complete control of Shia factions linked to Iran. And Amiri suspects militia groups are responsible for the assaults on activists.
"Iranian proxies in Basra timed the assassination of Riham and other activists during Kadhimi's first visit to Washington DC. It is just a normal reaction by the Shia-Iran-backed militias," she said.
Since taking office in May, Kadhimi has pledged to hunt down assailants of activists and keep the armed groups in check. But there have been few developments since.
Suppressing women's voices
While the killing of opposition figures has been taking place in Iraq for years, the recent spike in attacks on women activists and journalists was because of the rising prominence of female voices, said Sanar Hassan.
The Baghdad-based journalist said the militias know that women's freedom threatens their existence, and they killed Yacoub not because she was a civil activist who called for freedom and security for her city, but because she was a "successful and free woman".
"The militias in Basra do not want any semblance of development and freedom in this rich city," Hassan said.
"They work for Iran and do not want to lose out on Iraq's economic capital and wealth, neither do they want to lose the path (this arrangement) provides for their own lucrative incomes".
Months ago, Hassan translated an article for an Iraqi local news agency, which revealed the Popular Mobilisation Forces' involvement in the drug trade in Basra.
Soon afterwards, she began receiving threats from "unknown individuals with fake accounts". The agency's director was also threatened not to publish any articles that might 'offend' the militias.
"There is no such thing as freedom of expression in Iraq.
"When you work as a journalist, you have two options: either be brave and reveal the facts that might put you and your family in danger; or keep silent and collude with the militias, and be part of this propaganda and say what they want to hear, not what you want to write or say," said the 26-year-old.
Hassan said she is still striving to achieve dreams that will make her proud, but the fear of getting killed is very real.
"The one thing I am afraid of is to be killed by a criminal who does not even know why he killed me, just because his leader or his militia gave him the order," she said.
However, she encouraged campaigners to continue expressing themselves freely.
"If everyone is silent now, the situation will get worse and we will all be killed, while these militias walk free without any trial."
Instilling fear
Lodia Raymond survived an assassination attempt in the same week that Yacoub was killed. Gunmen fired at her from a car while she was walking near her house.
Raymond is one of the most prominent activists in the oil-rich city of Basra. She has been taking to the streets since 2018, demanding fundamental rights that Iraqis have been deprived of - including jobs, electricity, fresh water, healthcare and public service.
"Thanks to God who protected me, helped me survive, so I can continue demanding the rights of my city's people. For many years we've been fighting to get rid of the bloody militias who killed us for no reason, just because we want a home," she told MEE.
Nationwide anti-government protests erupted in October, which saw more than 500 demonstrators killed at the hands of security forces, according to an adviser to Kadhimi.
Like many other Basra activists, Raymond said she had received threats from unknown individuals telling her not to attend demonstrations in Baghdad's Tahrir Square, the epicentre of the protest movement.
"If you continue to attend the movement, you will be next," Raymond was told.
For now, following the death of her friend Yacoub, Raymond said she was staying home to avoid being a target for Basra's armed groups.
The threats may have temporarily silenced some women's voices, but one 16-year-old activist from Basra said she would not stop protesting until the movement's demands were met.
"My parents are proud (of me) for protesting against corruption and those who have stolen the country since 2003," said the teenager who asked to stay anonymous.
"All we want is a home for all Iraqis regardless of their backgrounds. (The militias) will never frighten me, and I will continue to protest. Better die with honour than live with shame," she said.
https://www.middleeasteye.net/news/iraq-basra-female-journalists-fear-safety-attacks-activists
--------
Egyptian Universities Face Pressure to Better Protect Women from Harassment
Amr EL-Tohamy
25 Aug 2020
CAIRO—Most Egyptian universities have adopted policies to combat sexual harassment on campus, but a number of incidents recently disclosed on social media have revealed a clear deficit in implementing these policies.
In early July, an Instagram account called Assault Police began publishing women's allegations of rape and assault against a former student of the American University in Cairo. More than 100 women have now come forward, some of whom were colleagues of the student at the university when they were assaulted.
Those revelations, in turn, have prompted victims' advocates to accuse university administrations across the country of negligence and lack of seriousness in dealing with the highly sensitive and dangerous issue of sexual harassment.
Sexual harassment, whether physical or verbal, often causes female students to drop out and stop continuing their education, in addition to having profound physical and psychological effects on its victims.
"Generally, harassment is an attempt to close the public space to women, and universities are one of the most important spaces where women are present," said Pascale Ghazaleh, an associate professor of history at the American University in Cairo. "This would mainly affect women's presence and participation in society."
Ghazaleh noted that universities are part of society and a reflection of the power relations prevailing in it.
"Power relations within academia are violent, which means that the student-professor relationship is not democratic in most universities," she said. Any power relations within society, "whether class or racial, will be rediscovered on campus," she added.
Most of the women who came forward in the Instagram campaign said the assaults had occurred earlier, but they didn't report them at the time because they were afraid of being blackmailed or because they didn't know how to report an assault without being defamed.
Egypt's National Council for Women was one of the first institutions that supported these women and others who have lodged similar complaints. It submitted a report to the Attorney General's Office urging it to investigate the allegations. The council has also issued a statement calling on all women and girls who fell victim to the accused former AUC student to sue him officially, with promises to protect them from defamation and prevent publication of their personal information.
A new law passed by Egypt's Parliament last week and awaiting President Abdel Fattah El-Sisi's approval would also strengthen protections for people who report sexual harassment and assault.
Meanwhile, authorities have arrested the former student and charged him with sex crimes against at least three women. He has not commented publicly on the accusations against him.
Changes at the American University in Cairo
In its initial response to the allegations, the American University in Cairo issued a statement affirming that it "has zero tolerance for sexual harassment and is committed to maintaining a safe environment for all members of the university community."
That response was too late and too little for some advocates. The AUC Student Rights Coalition condemned the university's statement and said administrators had "ignored" complaints against the accused student and erased one complaint that a student had registered on the university platform. The coalition appealed to fellow students to support the victims by disclosing what they were exposed to and sharing their stories with Assault Police, the Instagram page that started the campaign.
These developments prompted the university to reconsider its policy on combating harassment and take steps to address weak points. It plans to provide online training to every member of the university community, including the president and other high-ranking officials, with the aim of raising awareness of sexual harassment, no later than the end of fall 2020, according to Rehab Saad, the university's senior director of media relations.
The measures also include expanding the scope of the university's Title IX office, which has been used to receive complaints from students. (Title IX is a U.S. law that prohibits discrimination on the basis of sex at educational institutions.) The office will be expanded into a new Office of Institutional Equity, which will report directly to the president's office and receive complaints of sexual harassment or discrimination from all members of the university community, including students, staff, and faculty, according to Saad.
The university also adopted a system for online reporting of harassment incidents that maintains the confidentiality of the complainant, and launched a page on Facebook called "Speak Up AUC" to provide advice to people who witness or experience any form of harassment.
Gaps in Egyptian Law
Neither Egypt's Law No. 49 of 1972, which governs university affairs, nor any regulations pertaining to it include the term "harassment" as a violation covered by a specific penalty. However, the Supreme Council of Universities ruled in 2017 that all universities must establish a unit to combat harassment and violence against women. (See a related article, "Arab Women Fight Back Against Online Sexual Harassment.")
Yet these units do not seem to be effective. In recent years, Egyptian universities witnessed an increasing number of complaints from female students of sexual assaults and other types of harassment by university professors or administrators, who then faced investigations, suspension or dismissal for "breach of duty" or "violating university laws, values and traditions."
Alaa Khaled, a student in the Faculty of Arts at Benha University, to the east of Cairo, confirmed that harassment had prompted some of her female colleagues to move to other universities. She explained that public disclosure of harassment complaints often has negative consequences for female students, as they are seen as the cause of the harassment and not its victims. The mechanisms for investigating complaints and punishing perpetrators are not "safe" for female victims, she said.
"Such mechanisms promoted by the university are neither safe nor effective," she said. "The professors behave as if their powers are absolute, and the administration supports this."
The lack of evidence in most cases of harassment transforms the woman or girl who complains from a victim to a convicted person who has to apologize for her complaint, Khaled said. She added that a university professor or student who realizes that he is exempt from punishment will keep doing it, whether it's physical or verbal harassment. (See a related article, "The Fight Against Sexual Harassment on Arab Campuses.")
The Influence of Social Norms
Naglaa Diab, a professor at Zagazig University's Faculty of Education, agrees that universities need stricter laws and more effective mechanisms for submitting harassment complaints. She also stresses that the way to confront this crisis should be through legislation.
It is mandatory to determine the lines between the university professor's powers and the student's rights, while protecting the reputation of the victims by not revealing their identities, Diab said.
In most cases at public universities, the harassment is verbal, Diab said, and she believes that the problem is worse at public institutions than at private ones. Reassuring the survivors she meets is difficult, she said.
The situation also differs from one governorate to another. In Upper Egypt, for example, conservative behavior predominates in social relations between the sexes on university campuses that have unofficially adopted gender segregation policies.
"Separation between males and females took different forms on campus," said Abdul-Majeed Abu Al-Ela, a student at the Faculty of Economics and Political Sciences at Beni-Suef University, in Upper Egypt. "This includes dividing lecture halls between the sexes, an agreed upon method that the university administration uses to protect against any form of harassment."
However, such measures do not completely prevent incidents of harassment.
"Despite this policy, there are incidents of verbal harassment," Abu Al-Ela said. "There must be awareness-raising activities and announced policies that encourage students to file complaints."
Ghazaleh, of the American University in Cairo, believes that the real solution should come from society as a whole, as harassment is a societal issue and not one that occurs exclusively on campuses.
"As long as parents continue to accept and advocate their sons' behavior, and only blame their girls, university policies alone will not help," she said.
But Ghazaleh reiterated that educational institutions should not tolerate any forms of harassment or assaults committed on their campuses. "Specific and clear punishments should be imposed to deter harassers from engaging in any behavior on campuses at least," she said.
https://www.al-fanarmedia.org/2020/08/egyptian-universities-face-pressure-to-better-protect-women-from-harassment/
--------
The First Church for Transgenders in Pakistan
Kamran Chaudhry
August 25, 2020
Every Friday at 5pm, Nasira Gul heads to St. Jeremiah Church with her transgender friends.
They join parishioners sitting on a red carpet designed with white flowers and borders. A wooden cross decorates the empty walls of the church in Mehran town of Karachi, Pakistan's seaport city.
Two female pastors lead a 30-minute Bible study before conducting a service that includes administering Holy Communion to transgenders. The community observed the memorial service of a deceased transgender on Aug. 21.
"We couldn't get a chance to visit other churches to recite the Bible and worship like other Christians. God is love. He doesn't discriminate," Gul told UCA News.
"People stare at us when we visit other places of worship. We feel we are among unknown people. We feel guilty for confusing worshippers. Separate churches can help us in praying easily. Everybody deserves to listen to the word of God."
Gul is one of 20 transgenders who have been offering weekly prayers at St. Jeremiah Church since last month. Pastor and rights activist Ghazala Shafique initiated the prayers for transgenders at her home. The 56-year-old, an ordained deacon in the Church of Pakistan, has commissioned Gul and another transgender to invite more Christian transsexuals.
She also provides weekly dinner and a stipend of 500 rupees (US$3) to each transgender to hire a rickshaw for visiting the "world's first church for transgenders."
"They are mocked on public transport and thus prefer private vehicles. The word of God is very clear but the attitude of people and the Church is different. Friday service suits them due to their busy schedule of attending weekend programs. They trust me for being a female as well," said Shafique, who plans to establish a Bible school for all including transgenders.
'Normal family members'
Shafique said her husband has received phone calls from people asking if she would also demand a separate graveyard and a school for transgenders.
"Pastors question transgenders for wearing jeans in church, suggest that they should sit like women, avoid lipstick and wear female clothes that must include dupatta (long scarves). They are also rejected for Holy Communion for being unholy," she said.
"When I accompany them to other churches, worshippers stare at me as well. Churches should open their doors and institutes for them. Long-term planning is needed to educate people and accept them as normal family members."
St. Jeremiah Church's initiative has drawn a mixed response from many Pakistanis on Facebook.
"Congratulations for this big step forward," wrote Jibran Nasir, a Muslim human rights activist.
However, Church of Pakistan Bishop Sadiq Daniel of Karachi rejected the ministry.
"The so-called opportunist pastor has no connection with us. Her husband, a pastor, illegally occupied one of our hostels for 15 years. We fired the couple," he told UCA News.
"We reject the church for transgenders as well. Shafique is trying to manipulate the challenges of the transgender community in the name of religion."
Sabir Michael, a lay Dominican, supported faith formation of transgenders but rejected the separate church. The president of the Peace Welfare and Development Association is planning a six-month training course for the transgender community in consultation with Cardinal Joseph Coutts.
"Our ultimate goal is to integrate them in general churches without discrimination. This is crucial for social transformation," he said.
The challenges
Transgender people, locally known as khwaja siras, continue to suffer human rights abuses and growing incidents of violence. Often shunned by mainstream society, transgender citizens find themselves vulnerable to being forced into begging, sex work or dancing in a country where it is considered un-Islamic for a woman to dance in front of men.
According to the 2017 census, 12,000 transgender persons are living in Sindh province in southern Pakistan. These include 2,000 Christian transgenders.
In 2009, Pakistan became one of the few Islamic countries in the world to recognize transgender people legally.
In 2018, an NGO launched the first school for the transgender community at the Alhamra Open Air Theatre at the Gaddafi Stadium of Lahore. It offers skills-based training.
Despite the passing of several laws and policies to protect transgender people's rights, they continue to suffer prejudice and violence, say rights groups.
Last week the body of a transgender was found in a flat in federal capital Islamabad after lying there for 10 days. In April, a 15-year-old Christian transgender was gang-raped and murdered in Faisalabad city of Punjab province.
In 2016, the Shemale Association for Fundamental Rights initiated construction of the first LGBT-friendly mosque and madrasa in the suburbs of Islamabad. Following opposition in the neighborhood, the local cleric took over the building a few months later.
Muslim transgenders complain of being insulted and mocked and stopped from entering mosques. Transgenders are questioned about Islamic practices and proclamations, they say.
Gul thanks Pastor Shafique for supporting Christian transgenders. "We thank her for leading us and offering us catechism and Bible study in our own church. Now we can freely recite the Bible. Guidance by such church leaders could have saved our souls. We may have lost our way but can be guided and share the grace of God," she said.
https://www.ucanews.com/news/the-first-church-for-transgenders-in-pakistan/89261
--------
URL: https://www.newageislam.com/islam-women-feminism/saba-sahar-afghan-actress-film/d/122715
New Age Islam, Islam Online, Islamic Website, African Muslim News, Arab World News, South Asia News, Indian Muslim News, World Muslim News, Women in Islam, Islamic Feminism, Arab Women, Women In Arab, Islamophobia in America, Muslim Women in West, Islam Women and Feminism