New Age Islam News Bureau
11 Nov 2013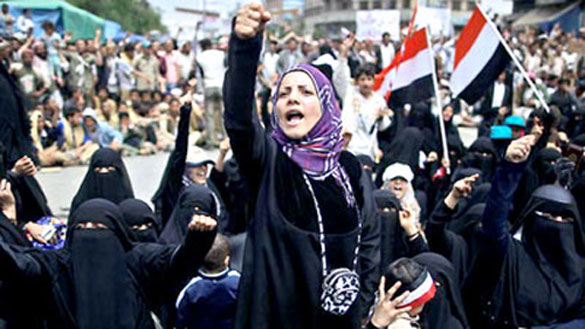 The voice of the Yemeni revolution is a woman
------------
• Rwanda Female Police Officers Vow To Prevent Gender Related Crimes
• Two Muslim Girls Leave Nursing School over Hijab Ban in Prague
• Women Employment on Rise in Turkey's Urban Areas
• Yemeni Women Take Up a Centuries-Old Struggle
• 'Social Taboo of Pakistan': Divorced For Bearing Third Daughter
• Hijras now a separate gender in Bangladesh
• Bahrain to Host Workshop on Women's Economic Rights
• UP To Tweak Minority Girls Aid Scheme to Add More Beneficiaries
Compiled by New Age Islam News Bureau
URL: https://newageislam.com/islam-women-feminism/rwanda-female-police-officers-vow/d/24376
-----------
Rwanda Female Police Officers Vow To Prevent Gender Related Crimes
BY OLIVE MUSONI, 11 NOVEMBER 2013
Female Police officers have vowed to fight for the rights of women and girls in their respective areas of operation by preventing gender related crimes, which are relatively still high in the country.
The female officers made the commitment on Saturday at the closure of this year's Female Police Convention held at the Peace Leadership Academy in Nkumba, Burera District.
The two-day event brought together 700 female police officers drawn from different Police Units in the country, to discuss several gender-related issues and lay strategies to overcome the existing challenges.
The event also offered the female officers with more skills and knowledge to deal with these challenges.
The annual event, organised by Rwanda National Police in partnership with the Gender Monitoring Office and One-UN, was held under the theme, "Unite to End Gender Based Violence."
Participants were equipped with skills on how to fight the vice, laws that penalise culprits, gender context in Rwanda and programmes and mechanisms at Isange One Stop Centre.
The Deputy Inspector General of Police in charge of Administration and Personnel, Stanley Nsabimana, urged participants to put into practice the acquired skills and knowledge to help end gender violence, which he said affects the development of communities.
He also told them to pass the acquired skills to their colleagues in order to fight the vice collectively.
Lamine Maneh, the One-UN Resident Coordinator and representative of the United Nations Development Programme in Rwanda, commended the country's significant role in fighting GBV.
Rose Rwabuhihi, the Chief Gender Monitor, also challenged the officers to use the techniques to enhance the campaign against GBV in the country.
http://allafrica.com/stories/201311110226.html?aa_source=sptlgt-grid?aa_source=sptlgt-grid
-----------
'Let Expat Women Drive First': Saudis
November 11, 2013
JEDDAH — A number of men and women who spoke to Okaz/Saudi Gazette on the issue of women driving have voiced their opposition to women getting behind the wheel.
Some even suggested that in the initial stage, expatriate women should be allowed to drive in order to prepare society.
The majority of men said they opposed women driving as it goes against society's norms and values.
"Women should be accompanied by a guardian to protect them from possible harassment," said one man, a view echoed by many others.
"Women already face harassment at the hands of young Saudi men and this harassment will only increase if they are allowed to drive," added another man on condition of anonymity.
Another concern was that women drivers would only increase traffic and congestion on Saudi roads, an issue that traffic police have to address.
Some called for allowing women to recruit drivers while others suggested only women over the age of 45 should be allowed to drive, as they are less likely to be harassed.
Nearly all respondents agreed that Saudi society is not yet ready for women drivers, especially in the absence of strict monitoring by the concerned bodies.
Many women also spoke out on the issue, with some saying both men and women were not ready to see women get behind the wheel while others said it was a personal decision that should be made with the approval of parents or guardians.
"Our society is not yet accustomed to women's participation in a number of matters and are used to men driving cars," said one respondent.
Some women suggested that expatriate women should be allowed to drive initially, with Saudi women getting permission once society is ready.
"There must first be strict and deterrent regulations, laws and punishments before women can drive safely," said another respondent.
http://www.saudigazette.com.sa/index.cfm?method=home.regcon&contentid=20131111186307
-----------
Two Muslim girls leave nursing school over hijab ban in Prague
11 NOVEMBER 2013
Prague - Two Muslim girls left a nursing secondary school in Prague as they were not permitted to wear their hijabs, being the first to have ended their studies for this reason in the Czech Republic, Czech Television (CT) said Friday.
CT said the case would probably end up with the ombudsman's office and lawyers were considering filing an anti-discrimination lawsuit.
The principal of the Prague school Ivanka Kohoutova said the school had made no mistake.
She said since the law did not define the wearing of hijab, schools could create their own rules.
However, human rights organisations are of the view that this is discrimination and intervention in personality rights, CT said.
When entering the school, the two Muslim girls, one Somali woman, aged 23, and an Afghan woman, 25, found out that teaching in hijab was impossible, it added.
"The principal summoned me and told me: 'If you want to be in the school, you must not wear the scarf.' I said this was against my religion as I am a Muslim," Nasra, one of the women, told CT.
She offered to wear the hijab in a way that would only cover her hair.
The principal did not like this either. Nasra left the school on the same day.
The second Muslim woman, named Zelmina, said she would try it, CT said.
After two months, she is leaving, too.
"I was in the classroom and I could not concentrate myself. I could not do anything as I constantly had to think of my missing something. Why am I without the scarf here? I have my rights and religion," Zelmina told CT.
The school is of the view that wearing headgear is banned by the school rules, the principal said.
She said the school was attended by a large number of foreign students from four continents, but a similar problem had never occurred.
She said the students primarily disagreed with the compulsory physical education and the conditions of compulsory practice.
The Muslim girls have dismissed the allegation.
Czech law does not regulate the wearing of headgear, CT said.
Copyright 2013 by the Czech News Agency (ČTK). All rights reserved.
Copying, dissemination or other publication of this article or parts thereof without the prior written consent of ČTK is expressly forbidden. The Prague Daily Monitor and Monitor CE are not responsible for its content.
http://praguemonitor.com/2013/11/11/two-muslim-girls-leave-nursing-school-over-hijab-ban-prague
-----------
Women employment on rise in Turkey's urban areas
11 November 2013
Some 1.5 million new jobs have been created in the last four years for women in non-agricultural sectors in urban areas, according to an employment report released by the Economic Policy Research Foundation of Turkey (TEPAV) yesterday.
While some 3.4 million women worked in non-agricultural sectors in June 2009, this number increased to around 4.9 million in the first half of 2013, increasing by 44 percent in the four years, the report said.
This increase was said to be partially caused by some social security incentives for employers who employed women, including the lack of social security premiums from workplaces for women who work for minimum wage, according to the report.
"Some dramatic increase has been seen in women's employment specifically in the services sector. While there was very slightly in women employment in 2009, women employment increased dramatically in 2010 and 2011, when Turkish economy grew by around 9 percent, and even in 2012, when the economy grew by only around 2.2 percent. Non-agricultural women's employment reached 4.9 million in June 2013," the report said.
Some 1.5 million women, around 30 percent of the total figure, however, work unregistered.
"Despite this fact, the share of women in non-agricultural employment has increased to 25 from 20 percent for the last four years," the report said.
Only around 25 percent of those women work in the manufacturing sector, mainly in food and textile industries.
The rise was said to be partially due to several social security incentives for workplaces which employed women.
http://www.hurriyetdailynews.com/women-employment-on-rise-in-turkeys-urban-areas.aspx?pageID=238&nID=57710&NewsCatID=347
------------
Yemeni Women Take Up A Centuries-Old Struggle
November 11, 2013
Some people will tell you that it is the fault of Eve that Adam at the fruit of the forbidden tree.
From the beginning of the humanity, women have suffered unequal and unfair treatment. Some of this treatment can be traced back to the earliest stories of the world's religions. Everyone knows the story of Adam and Eve, the first two human beings that God created to live in a paradise on earth. Some religious figures—many of them male—believe that Eve was responsible for Adam's eating from the forbidden tree in the Garden of Eden. As a result, Adam and Eve were cast out of the garden and in their punishments were created all of the suffering and injustice in the world we now inhabit. The Qur'an, however, places equal blame on both Adam and Eve for their mistake. Nowhere in the Qur'an can one find even the slightest hint that Eve tempted Adam to eat from the tree, or even that she had eaten before him. Eve in the Qur'an is no temptress, no seducer, and no deceiver. God, according to the Qur'an, punishes no one for another's faults. Adam and Eve committed equal sins and then asked God for forgiveness; He forgave them both.
The issue of women's rights has been addressed by humans for a long time without ever achieving a satisfactory solution. Before Islam, women were held accountable for many negative events, and they had no rights within their societies. According to the traditional Islamic narrative, women in Pre-Islamic Arabia had almost no rights. They were not considered equal to men and were thus dictated under a strict patrilineal system. They were viewed as objects and constantly humiliated. Women had very little control over their marriages and could not inherit property. In the family, their purpose was no more to bear children, even though they had no rights to these children once they were born. When a woman gave birth to a female, it was considered a disgrace to the family. Female infanticide was a common practice.
At a time when female children were considered fungible property, and sometimes buried alive for their crimes, Islam called for the honoring of women and the protection of their rights. Islam protected women's rights to education, employment, inheritance and many other aspects of society.
To those who prevent women from studying or working, Dr. Murtadh al-Mohattwari has a history lesson. Dr. al-Mohattwari is a professor of law and the founder of the Bader Mosque. According to al-Mohattwari, Islam encourages women to be educated and to have a job. He refers to Khadija, Prophet Muhammad's first wife, who was a merchant both before and after converting to Islam.
With the passing of time, Arab societies have become governed by strict customs and traditions. Some of these customs suggest that aspects of Arab culture are guided more by male preference than religious instruction. Now, however, the concept of women's rights is becoming more common.
History shows that women have played major roles in Yemeni society. The Queen of Sheba, for example, is a source of pride for the Yemeni nation. In addition, Yemen's Queen Arwa has been noted for her attention to infrastructure, which contributed to a documented time of prosperity under her rule. Modern day women of Yemen, however, are subjected to a society that reflects largely agrarian, tribal, and patriarchal traditions. This trend, combined with illiteracy and economic issues have caused women to be continuously deprived of their rights as citizens of Yemen.
It cannot be denied that woman have broken into a range of different professions at all levels. Many of the fields in which women once worked were originally exclusive to men, but women have since began exploring work opportunities outside of the home, finding ways to contribute in both political and economic activity.
Dr. Naja al-Saem, a professor at Sana'a University, said that the lives of Yemen's women have developed significantly, and continue to develop. "One of the most complicated of all women's issues is a lack of encouragement from their parents, brothers and husbands, who believe that women are unable to make decisions or accomplish anything. They believe that women's only duty is to take care of her husband, children, and house. When others look to women as incapable people despite their ability and creativity, this can frustrate women and prevent what she might otherwise have achieved in some cases."
In order to see a significant change in the lives of Yemeni women, women must first be educated and overcome Yemen's high rate of female illiteracy. According to an international report issued by ESCWA, the rate of illiteracy among women in Yemen is as high as 65%. Ms. Amatalalim al-Soswa, Assistant Secretary-General to the United Nations, noted that education is still facing many challenges and difficulties in Yemen, and the education of women in particular. Women's freedom, she suggested, will not be completely achieved without the participation of all Yemeni women, and furthermore the implementation of their education qualification in the areas of employment and community participation.
According to al-Soswa, one of the greatest injustices against women is that they are limited to agricultural work in rural areas because of their illiteracy. Their efforts are then rarely counted in economic indicators (such as GDP) because they receive no salaries for the work they do in fields and gardens.
"Yemen women have rights to economic participation and education. In addition, they have the right to political participation, and here I mean the right to vote. The issue of equality is generally related to what the constitution and laws protect and guarantee, and we promote a strong focus on women's involvement in formulating the constitution and the elaboration of general principles emphasizing women's full rights as complete eligible citizens. Yemen is still facing a high rate of illiteracy and poverty among women, as well as an inability to fully access health services benefiting all people."
As a member of the NDC's state-building working group, al-Soswa said that female participation in the decision-making processes are weak due to a gap between women's involvement and politicians' poor understanding of that involvement.
"The 30% [quota for female involvement in the NDC/future Yemeni government] is not an aim in itself but a means to promote women's fair and equitable participation according to their performance and ability. We don't want women to participate as objects; we want efficient and capable women who can prove the value of their presence despite difficulties they may encounter," she added.
Some political parties maintain a narrow view on the women's participation issue and consider the issue in general a personal one. Despite this, al-Soswa believes that the NDC's approval of 30% female participation in the future Yemeni government constituted a great victory in the war against women.
"I don't see any justification for those who object to the quota. And to those who make it a religious issue, I want to tell them that women's participation [in society and government] does not contradict religion at all. We must be careful about the holy materials. I wish the NDC could make Yemen live in peace, with equality between males and females" she expressed.
Dr. Ahmad Salem said that in order to obtain their rights, women must pursue education and be aware of their rights; this will help her to convince others of what she wants and what she is struggling to achieve.
http://nationalyemen.com/2013/11/10/yemeni-women-take-up-a-centuries-old-struggle/
-----------
'Social Taboo of Pakistan': Divorced For Bearing Third Daughter
November 11, 2013
FAISALABAD: A woman was divorced on Sunday shortly after she returned home after giving birth to a baby girl. This was her third daughter.
Ghulam Muhammadabad police said Tabassum Bibi, a resident of Usman Ghani Town, married Muhammad Aamir six years ago. She said her husband and refused to let her in saying he had wanted a son. She said some relatives had intervened and convinced him to let her return home.
She said when she got pregnant the third time; he had threatened to kill the child if it was a girl.
She said he had taken her to several Pirs and asked them to give her amulets so that they would have a son.
She said on Sunday she was taken to a hospital in labour. She said he did not accompany her and was informed through phone that she had had a baby girl.
She said when she returned a few hours later, he divorced her on the gate and refused to let her in.
She said he told him to take the children with her. Tabassum Bibi said her parents had refused to take her back, and so she had shifted to her aunt's house. She said she had no idea where she would go since she could not stay at her aunt's house all her life.
http://tribune.com.pk/story/630071/social-taboo-divorced-for-bearing-third-daughter/
-----------
Hijras now a separate gender in Bangladesh
November 11, 2013
Hijras, who are neither male nor female, from now on will be considered as a separate gender in Bangladesh and will get priority for education and other rights.
The decision was made at a Monday cabinet meeting chaired by Prime Minister Sheikh Hasina.
Cabinet Secretary Musharraf Hossain Bhuiyan briefed the media after the meeting.
Journalists asked Musharraf whether the spelling of Hijra would be spelled with a "z or a j."
"With a j. They will be referred as Hijras in both English and Bangla language. Any other translations in English is misleading," the cabinet secretary said.
There are currently 10,000 Hijras living in the country he said, referring to a survey conducted by the Ministry of Social Welfare.
This has led the government to consider them as a separate gender alongside the existing male and female sexes, he said.
Hijras are already enlisted as voters in Bangladesh.
The move comes as the current government's term draws to a close.
http://www.dhakatribune.com/bangladesh/2013/nov/11/hijras-now-separate-gender
-----------
Bahrain to host workshop on women's economic rights
10/11/2013
Manama, Nov. 10. (BNA) – The economic rights of Arab women will be spotlighted during a workshop to be hosted by the Shura and Representatives councils on November 20-21, in cooperation with the Arab Parliament, the Second Chairperson of the Shura Council Dr. Bahiya Al-Jishi said.
The event is the first of four workshops to be held in preparation for the conference on "Women's Issues and Modern Challenges –Towards an Arab Document for Women's Rights", to be hosted by an Arab country for the aim of coming up with an Arab document for Arab women's economic, political, educational and social rights.
She pointed out that a number of experts in legal and women affairs and representatives of the Arab NGOs, Arab League, Arab Women Organisation and the relevant sides in Bahrain will take part in the workshop.
She added that the agenda of the workshop includes the economic situation of Arab women in reality and according to local and international laws and Arab women's economic empowerment efforts.
The Kingdom's experience in the field of women's empowerment will also be highlighted, she said.
http://www.bna.bh/portal/en/news/587723
-----------
UP To Tweak Minority Girls Aid Scheme to Add More Beneficiaries
Nov 11 2013
Lucknow: In a bid to benefit more minority girls through its aid scheme of 'Hamari Beti-Uska Kal', the state government is planning to relax some of the norms of the scheme, which promises financial help of Rs 30,000 to minority girls who have passed Class X and whose family's annual income does not exceed Rs 36,000.
The Department of Minority Welfare has sent a proposal to Chief Minister office, according to which, if there are more eligible girls in a family, the benefit should be extended to all of them separately instead of just to one.
But because the department aims to extend the benefit in a limited budget, it has proposed to slash the aid amount from Rs 30,000 to Rs 20,000 to each beneficiary. On the other hand, the new provisions would stand to benefit 58,334 more girls from minorities - Muslim, Sikhism, Christianity, Buddhism, Zoroastrianism and Jainism.
The girl's family can choose to use the amount either for her further education or in her marriage.
The budget stipulated for the scheme, which was Rs 300 crore for 2012-13, was increased to Rs 350 crore for 2013-14.
Secretary, Minority Welfare and Muslim Waqf Department, Devesh Chaturvedi said that the proposal to reduce the aim amount is done so as to benefit more girls. Validating the fact, an official said this year, the number of applicants has doubled from previous year.
"Around 99,000 girls had applied under the scheme in 2012-13. The number of applicants this year has increased to 1.90 lakh," the official said.
Among other things, the department has also proposed to ask applicants to "submit writing that she has passed Class X in recent session for the first time only."
The state government's ambitious scheme was launched on December 10 last year from Rampur.
http://www.indianexpress.com/news/up-to-tweak-minority-girls-aid-scheme-to-add-more-beneficiaries/1193449/
-----------
URL: https://newageislam.com/islam-women-feminism/rwanda-female-police-officers-vow/d/24376