13 November 2022
• Ruwa Romman Makes History As First Known Muslim And Palestinian Woman Elected To Georgia House
• Iran Archer Ghasemi's Response On Viral Video: Hijab Fell Off Owing To 'Wind, Stress'
• 'Lack Of Muslim Women In Sports Due To Social And Religious Constraints' In India
• Afghanistan Woman Attempts To Sell Child Amid Economic Crisis: Report
• Saudi Women Creatives Launch Model Scouting Start-up To Bridge Client And Talent Gap
• Decision To Ban Afghan Women From Public Parks Must Be Reversed, Says Rights Group
• Afghanistan Agree 'In Principle' To Support Women's Cricket
• Communal Solidarity: Muslim Youth Help Cremate Hindu Woman In Mysuru
Compiled by New Age Islam News Bureau
URL: https://newageislam.com/islam-women-feminism/ruwa-romman-palestinian-georgia/d/128389
-----
Ruwa Romman Makes History As First Known Muslim And Palestinian Woman Elected To Georgia House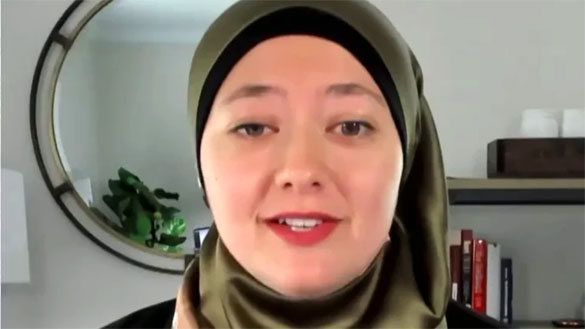 Ruwa Romman has been elected into the Georgia House of Representatives, District 97.
-----
By Alaa Elassar
November 13th 2022
Ruwa Romman remembers the sadness she felt as an 8-year-old girl sitting in the back of a school bus watching classmates point to her house and erupt in vicious laughter.
On Tuesday, the same girl -- now a 29-year-old community organizer -- made history as the first known Muslim woman elected to the Georgia House of Representatives, and the first Palestinian American elected to any office in the state.
After 10 months of relentless campaigning, the Democrat said she is eager to begin representing the people of District 97, which includes Berkeley Lake, and parts of Duluth, Norcross, and Peachtree Corners in Gwinnett County.
As an immigrant, the granddaughter of Palestinian refugees, and a Muslim woman who wears the hijab, or Islamic headscarf, the road to political office hasn't been easy, especially in the very Christian and conservative South.
"I could write chapters about what I have gone through," Romman told CNN, listing the many ways she's faced bigotry or discrimination.
"Who I am has really taught me to look for the most marginalized because they are the ones who don't have resources or time to spend in the halls of political institutions to ask for the help they need," she emphasized.
Romman began in 2015 working with the Georgia Muslim Voter Project to increase voter turnout among local Muslim Americans. She also helped establish the state chapter for the Council on American-Islamic Relations, the nation's largest Muslim civil rights and advocacy organization.
Soon after, Romman began working with the wider community. Her website boasts: "Ruwa has volunteered in every election cycle since 2014 to help flip Georgia blue."
She stressed her main focus is "putting public service back into politics," which she intends to do by helping expand access to health care, bridging the economic opportunity gap, protecting the right to vote, and making sure people have access to lifesaving care like abortion.
"I think a lot of people overlook state legislators because they think they're local and don't have a lot of impact, not realizing that state legislatures have the most direct impact on them," Romman remarked. "Every law that made us mad or happy started in the state legislature somewhere."
The decision to run for office came after attending a Georgia Muslim Voter Project training session for women from historically marginalized communities, where a journalist covering the event asked if she wanted to run for office.
"I told her no, I don't think so, and she ended up writing a beautiful piece about Muslim women in Georgia, but she started it with 'Ruwa Romman is contemplating a run for office,' and I wasn't," Romman recalled. "But when it came out, the community saw it and the response was so overwhelmingly positive and everyone kept telling me to do it."
She was surrounded by family, friends and community members who were rooting for her success. Together, they knocked on 15,000 doors, sent 75,000 texts, and made 8,000 phone calls.
"My opponent had used anti-Muslim rhetoric against me, saying I had ties to terrorism, at one point flat-out supporting an ad that called me a terrorist plant," she explained.
It was the same type of bullying Romman faced as a schoolgirl, she noted. Only this time, she wasn't alone. Thousands of people had her back.
"What was incredible is that people in my district sent his messaging to me and said 'This is unacceptable. How can we help? How can we get involved? How can we support you?' and that was such an incredible moment for me," she acknowledged.
It was also ironic, Romman added, because her passion for her community and social justice is rooted in her faith: "Justice is a central tenant of Islam," she said. "It inspires me to be good to others, care for my neighbors, and protect the marginalized."
It's also rooted in her family's experience as Palestinian refugees, who she noted were banished from their homeland by Israel in the 1948 Arab-Israeli War.
"My Palestinian identify has instilled in me a focus on justice and care for others," Romman pointed out. "Everyone deserves to live with dignity. I hope that Palestinians everywhere see this as proof that consistently showing up and working hard can be history making."
"I may not have much power on foreign policy, but I sincerely hope that I can at least remind people that Palestinians are not the nuisance, or the terrorists, or any other terrible aspersion that society has put on us," she added. "We are real people with real dreams."
Romman joins three other Muslim Americans elected to state and local office in Georgia this election cycle, according to the Georgia Muslim Voter Project, but her win is particularly groundbreaking.
"We've had Muslim representation at the state level in Georgia, but these wins take representation for Georgia Muslims further than ever before because now we have more gender and ethnic representation for Muslims," the group's executive director Shafina Khabani told CNN. "Not only will we have a representation that looks like us and aligns with our values, but we will have an opportunity to advocate and influence policies that impact our communities directly."
"Having diversity in political representation means better laws, more accepting leadership, and welcoming policies for all of Georgia," she emphasized.
"I think this proves that people have learned that Muslims are part of this community and that tide of Islamophobia is hopefully starting to recede," Romman added.
Looking back at her childhood, Romman wishes she could tell her younger self things would get better with time, and one day she would not only be making history, but hopefully a real difference in this world.
Sourse: Erie News Now
https://www.erienewsnow.com/story/47687029/georgia-candidate-makes-history-as-first-known-muslim-and-palestinian-woman-elected-to-state-house
-----
Iran Archer Ghasemi's Response On Viral Video: Hijab Fell Off Owing To 'Wind, Stress'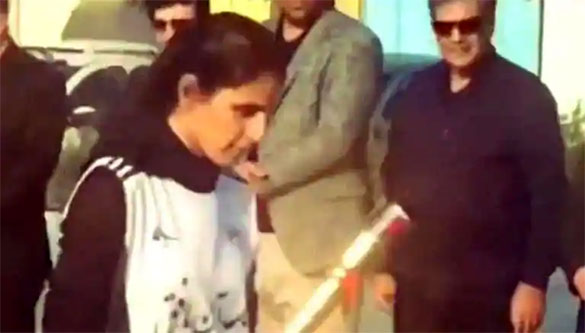 Iranian archer Parmida Ghasemi
-----
Nov 12, 2022
An Iranian archer has said she did not notice her hijab falling from her head during an awards ceremony in Tehran, after a video appeared to show her allowing the headscarf to drop in what was widely assumed to be a show of support for nationwide protests.
"This led to reactions which caused some misunderstandings. My family and I have not, nor have ever had, any problem with the hijab. I wanted to apologise to the people, officials and my teammates," she said, wearing a headscarf in the video.
Iran has been by swept protests since 22-year-old Mahsa Amini died in the custody of morality police nearly two months ago after being detained for "inappropriate attire".
Women have waved and burned headscarves - mandatory under Iran's conservative dress codes - during the demonstrations that mark one of the boldest challenges to the Islamic Republic since the 1979 revolution.
Videos posted on social media purportedly showed Iran's national basketball team refraining from singing the national anthem during a match with China in Tehran on Friday, after social media videos earlier this week showed the national water polo team also failing to sing it at a competition in Thailand.
In the video of the ceremony at the archery competition shared on social media this week, Ghasemi, standing alongside others on a podium, lets her headscarf fall as unseen people in the audience clap and shout "Bravo". The athlete standing next to her tries to pull up her scarf, but she moves away her head.
Last month, Iranian climber Elnaz Rekabi caused controversy by competing in an international competition without a headscarf, later saying she had done so unintentionally and apologising.
Iran's deputy sports minister, Maryam Kazemipour, said on Wednesday some Iranian female athletes have acted against Islamic norms and then apologised for their actions.
Last week, national beach soccer team players refused to sing Iran's anthem at the beginning of a match against the United Arab Emirates in Dubai, according to a widely followed activist Twitter account known as 1500tasvir.
Then on Sunday, the players did not cheer or celebrate after defeating Brazil to win the championship, the account said.
Sourse: Hindustan Times
https://www.hindustantimes.com/world-news/parmida-ghasemi-iran-anti-hijab-protests-iran-archer-s-response-on-viral-video-hijab-fell-off-owing-to-wind-stress-101668241772695.html
-----
'Lack Of Muslim Women In Sports Due To Social And Religious Constraints' In India
By IFP Bureau
13 NOV 2022
Few Muslim women play sports and are unable to realise their full potential because of social and religious restrictions, Md Raheijuddin Sheikh, principal of Lilong Haoreibi College said on Saturday.
Addressing the one-day national seminar on the 'Role of women in sports' on Saturday at Lilong Haoreibi College, the principal said the negligible participation of Muslim women in sports is not due to lack of talents but because of social issue and called for timely intervention. It is the right time to discuss the issue as an important agenda, he asserted.
The seminar was organised by Lilong Haoreibi College with the support of National Commission for Women, New Delhi, to provide a platform to transact the ideas and share knowledge towards dealing with the issue before it is too late, the principal said.
Principal Raheijuddin said Manipur is known to the rest of the world as a powerhouse of sports. But the participation of Muslim women in sports is less. They are equally smart or even smarter than others in sports, yet they cannot expose their potential because of societal factors and religious constraints, the principal added.
However, during the last five years some girls of the community have come up in various fields of sports even in martial arts, the principal said, adding that Muslim women have been actively participating in most of the economic activities. This is a unique culture which is not seen in the rest of the world, he said.
Chairperson of Manipur State Commission for Women, Salam Ulka Devi expressed concerns over less participation of Muslim women in sports due to certain factors and suggested vast awareness in sections of society.
"We have an innate quality of sports and this quality, potential needs encouragement and support from every section of society," Salam Ulka said, adding that it is a field of learning moral, discipline and integrity.
"More number of sportspersons are from rural than urban, those sportspersons from rural face hardship of financial support as well as lack of encouragement. Every parent, including family members should understand their child before discouraging what she or he likes," she said.
Director of University and Higher Education, government of Manipur, Rangitabali Waikhom spoke on 'Bleed with pride' and said that in India, out of the 383 million women/girls menstruating, 70 per cent of the girls have no knowledge of menstruation before their menarche (the first occurrence of menstruation).
A normal body function leaves them with feelings of confusion, shame, and despair during their first period. Eighty per cent cannot afford sanitary products and a quarter of girls drop out of school when they hit puberty. Still socio-economic- cultural barriers are faced by girls, Rangitabali said.
She also shared her experience during her initiative tenure as a deputy commissioner of Imphal East district to spread awareness of 'bleed with pride' and distributed sanitary pads to school girls. She said she learnt of many girls unable to afford sanitary pads and advised that girls should give priority to initiate steps to stay healthy.
During technical session, principal of DM College of Arts, Ch Sheelaramani Devi chaired as a moderator and assistant professor of DM College of Arts, Syed Ahmed spoke on 'Muslim women in sports: past, present, future'.
Assistant professor, Ashalata Meisnam of Lilong Haoreibi College spoke on 'empowering women through sports. Cultural activist and Manipuri writers, SM Sheikh spoke on sports in Manipuri Muslim society.
In the second session, former principal of Lilong Haoreibi College, K Kunjarani Devi chaired as moderator and assistant professor Feroja Syed of Modern College spoke on educational status of Manipuri Muslim women and participation in sports. Assistant professor of Lilong Haoreibi College, N Bino Devi spoke on Manipuri women in sports: challenges and prospects.
Assistant professor of Moreh College, Khullakpam Sapana spoke on from pomelos to the football: a pioneer of Manipuri Muslim women in football. Assistant professor of Lilong Haoreibi College, Ng Sapana Devi spoke on schedule caste women in sports with special reference to Kakching district.
During the inaugural session of the seminar, Muslim women with outstanding contributions in the fields of education, sports, culture and media were felicitated.
Sourse: Ifp.Co.In
https://www.ifp.co.in/manipur/lack-of-muslim-women-in-sports-due-to-social-and-religious-constraints
-----
Afghanistan Woman Attempts To Sell Child Amid Economic Crisis: Report
November 12, 2022
Kabul: A family in the Balkh province of Afghanistan attempted to sell their child due to extreme poverty, Tolo news reported on Saturday.
The two-year-old child was saved from getting sold after some locals in the province assisted the family with food and other aid to better their economic situation.
"We held a meeting with the Red Cross for a few days; we will make members of these institutions aware of how to assist us," said Noorul Hadi Abu Idris, the deputy governor of Balkh.
"I'm in a really difficult situation; I have nothing to eat or use for fuel; I haven't made any preparations for the winter. I have to sell my daughter and get some items for the winter," said Nasrin, the mother of the child as she lamented to officials regarding the situation of province and residents living there under severely poor conditions.
Nasrin said that neither the local government nor humanitarian agencies had offered her any assistance in more than a year's time.
"I myself went to the authorities two or three times and begged them to put my name on the list in case assistance is offered. They replied that we have put down your name, but so far I have not received any support," Nasrin said.
Since the Taliban took control of Afghanistan, the people in the country have reportedly received no basic amenities and allege a severe humanitarian crisis.
In the wake of an excessive surge in food insecurity in Afghanistan, the Food and Agriculture Organization of the United Nations has provided aid to 38 per cent of Afghans to help them avoid the impact of the ongoing crisis.
Sourse: Ndtv
https://www.ndtv.com/world-news/afghanistan-woman-attempts-to-sell-child-amid-economic-crisis-report-3515255
-----
Saudi women creatives launch model scouting startup to bridge client and talent gap
JASMINE BAGER
November 12, 2022
DHAHRAN: On an ordinary November night in 2020, Lina Malaika and Farah Hammad had a conversation that changed their lives.
In the midst of the global pandemic, the pair decided to embark on a business partnership that they hoped would elevate their communities and carve out a new path for them in the business world.
Both women are established in their own right: Malaika has been in the creative industry for over a decade as a filmmaker, designer and entrepreneur; and Hammad is a fashion designer with an acute eye for color and texture and a repertoire that spans several continents.
It was Malaika's brainchild. She got her start at Destination Jeddah magazine about a decade ago and then as a creative director at TheLoftMe, a creative studio based in her hometown in the Kingdom's coastal city.
For each of those roles, she needed models for photoshoots and found it quite cumbersome and daunting to constantly curate a database for locally-based models.
It was nonexistent at the time, she said, because many women still needed approval from their families to be photographed, and to have their images in the media was still taboo in many ways.
Malaika then decided to study film in New York and fashion in London before settling back home. She found that she was constantly faced with the same task of finding models for each of her roles and decided to take matters into her own hands. She had a Rolodex of models but wanted it to be more streamlined.
Raised in multiple countries, splitting her time between Jeddah, Europe and the US, the globe-trotter has a calm steadiness to her. Her attentiveness and empathy toward those around her makes it seem like she collects thoughts and weaves them into the world with an invisible string. She is a doer.
"We're on the same page, we more or less share the same kind of mentality. So we really understood each other. I don't remember exactly the conversation, but I was telling her I have this idea to turn this database into a modeling agency.
"And I told her 'if you don't do it with me, it's never gonna happen because I've built so many ideas in my head and they never, never come to life.' I have like a shelf of unfinished ideas. We complete each other in that sense. She started instantly (and) it came to life. She built the website by the next morning. No joke," Malaika said.
"I was honestly scared and then a bit skeptical because, for me, when I launched my business, my connections — it took years. So when she approached me regarding this, I was like, I'll get back to you but I think it's a yes. Then, I was like you know what, I think this is going to be a great opportunity," Hammad told Arab News.
"This was during COVID, remember? At the time, there was this uncertainty in life and there was also like, a lot of 'we are gonna die.' And aside from it being a business, it was great for me, and I would say for Farah, too, as a coping tool because we were dealing with parallel personal transitions, and that helped us. It was kind of escapism," Malaika said.
The name "Clay" was the first one that came to Malaika. She wanted a "short, playful and versatile" name that was flexible like a block of clay that one is able to shape. It is a word that could describe makeup, hair, clothing — or modeling.
"We had (a) lawyer that helped us with the contracts. We wanted the contract to be very flexible, just so it's fair for everyone and not to stand in the way of the model's project and life. It was very important for us so the model feels that they can trust us because we're not there to dominate, we want that relationship with our models and to maintain it, and with our clients, as well," Malaika told Arab News.
One of them, Abdullah Ali, was raised in Riyadh and joined Clay after being on the scene independently. His versatile look and aura of confidence allows him to pull off urban and traditional looks flawlessly.
"As a self-established model, one of the obstacles that I faced in my early career was the linking point between the talent and the client. Luckily, Clay stepped up and became one of the leading modeling agencies in Saudi Arabia. Even though I had my client base, working with Clay was an advantage to elevating the local industry standards collectively," Ali told Arab News.
It was important for Clay to offer clients options and to not box any model into any category. Their website has a section for Saudi Arabia, international and male models, with all their specifications. They do not represent anyone under 21.
"Keep in mind, prior to the new Saudi vision, most brands — all luxury brands — would shoot products dedicated to us in the GCC using foreign models. Shots in foreign locations that do not represent us, it does not appeal to us. And slowly, the brands started noticing, like, we need to speak to our clients.
"A lot of them started going to Dubai; it wasn't acceptable to have models shooting in Saudi Arabia. Brands finally started wanting to use local models in Saudi Arabia, so again, I want to highlight that was very important for us to start this here — it was nonexistent," Malaika said.
While models are notorious for being divas, they have only encountered one model who misbehaved and disrespected the client by being tardy and having an attitude on set.
They have zero tolerance for unprofessional behavior and they issued a refund to the client with an apology and the model was swiftly fired after giving her a second chance, which she also abused. The brand did return as a customer and it is a testament to their commitment to taking care of the relationship.
Although the Clay founders still consider their business to be a startup, their stellar reputation in Jeddah and the digital MENA space is evident.
As of now, Clay exists mostly in the cloud, literally. Both women have studios, so it is possible to meet in a physical space, but most of the interactions are over the phone.
"We want to expand and we want to find more talents. (If we) can find more we can find investors to grow … like the sky's the limit," Malaika said.
For anyone hoping to land a coveted spot at Clay, professionalism is a must but also an online presence is key. In the digital and social media saturated world, every aspiring model has the ability to open up an Instagram account and share photos.
"It's very important to have a portfolio. With stylists, designers, photographers — see how they look behind the camera. They might not be photogenic. They should do some research, look at YouTube videos of models, how they pose. To some, it's just a hobby and they don't really take it seriously," Hammad said.
While they do the bulk of the work for quality-control assurance, they have a few freelance agents who help when necessary. So far, they have the same instincts when deciding to let a model join the Clay family and have not yet disagreed on who to sign up.
"Other agencies take a percentage from the model's rate, we don't do that, we add our percentage to the model's rate. The model pays us to do the dirty work — like we're their agents. We make life easier for the client because everything is done, they don't have to deal with anything. All they do is book ... So everyone is happy. It's a win-win situation for the models, and for us and for the client. It's like a perfect recipe," Malaika said.
Sourse: Arab News
https://www.arabnews.com/node/2198581/saudi-arabia
-----
Decision to ban Afghan women from public parks must be reversed, says rights group
13 November, 2022
Kabul [Afghanistan], November 13 (ANI): London-based Amnesty International called on the Taliban to reverse its recent decision to stop women from visiting public parks in Kabul.
"Afghanistan: The Taliban banning women from public parks in Kabul according to media reports is yet another blow to women's rights in the country. Any such decision by the Taliban must be reversed immediately as women's rights under the Taliban have been systematically under attack," Amnesty said in a statement posted on Twitter.
Since the return of the Taliban to Kabul in August 2021, the Taliban's systematic attacks on the rights of women and girls and the use of violence, including torture and enforced disappearances, have created a culture of fear in Afghan society.
In its latest order, the Taliban's notorious Ministry of Virtue and Vice stopped women from attending parks in Kabul, TOLO news reported.
With the Taliban back in power, women have been barred from exercising their basic rights such as freedom of movement, right to education and political participation.
In the statement, Amnesty continued saying that the Taliban also decimated institutions designed to address cases of domestic violence against women under the former government. "The Taliban have unlawfully arrested, detained & tortured women peaceful posters including several women activists arrested just days previously."
Furthermore, the group asked the International Community to not turn a blind to the systematic suffering of women and their rights under Taliban rule.
This latest report comes in the backdrop of the UN warning that two-thirds of Afghans are going hungry, with girls' education subject to "random edicts" of the Taliban, while crime and terrorism are thriving once more buoyed by a large spike in opium production.
On Thursday, UN General Assembly President Csaba Korosi painted a near-apocalyptic picture of ordinary life in the Taliban-ruled nation that has endured almost five decades of "relentless conflict", urging the international community to make up the USD 2.3 billion shortfall in the UN humanitarian appeal for USD 4.4 billion.
Delivering a speech in New York, he said that there was "a moral and also a practical imperative for the international community to support an inclusive and sustainable peace in Afghanistan."
Sourse: The Print
https://theprint.in/world/decision-to-ban-afghan-women-from-public-parks-must-be-reversed-says-rights-group/1213717/
-----
Afghanistan agree 'in principle' to support women's cricket
Shashank Kishore
13-11-2022
The ICC's Afghanistan Working Group (AWG) has conveyed to the governing body's board that the country's government has reiterated its commitment to "fully respect and comply" with the ICC constitution, including agreeing "in principle" to support the development of women's cricket.
The focus was to ensure "diversity and inclusivity, and for the Afghanistan Cricket Board to operate independent from government interference," an ICC statement following meetings in Melbourne over the weekend said.
"The meeting was positive and respectful, and the [Afghanistan] government representative was clear in his support for the ICC constitution including in principle for women's cricket in Afghanistan," Imran Khwaja, the AWG chair, was quoted as saying. "There are obviously challenges for it to resume but we will continue to work with the ACB to take this forward. The Working Group will closely monitor the commitment undertaken by the Afghanistan government and will continue to report back to the ICC Board."
As things stand, Afghanistan is the only Full Member to have received that status without having an operational women's team in place. Last year, the ACB had announced its first contracts for women in their quest to build a team, but those efforts were put on the back-burner following the Taliban's takeover of the administrative affairs of the country in September 2021.
At the time, ACB chief executive Hamid Shinwari admitted that the women's game was "in peril", even as then acting chairman Azizullah Fazli said women would be allowed to play as long as the players adhered to Islamic rules. Soon after, Afghanistan's Test in Australia - their first in the country - was called off. Australian sports minister Richard Colbeck said at the time that Afghan athletes would "remain welcome in Australia, but not under the flag of the Taliban".
Sri Lanka will host the men's Under-19 World Cup in 2024, while Zimbabwe and Namibia will stage the 2026 edition together. And, as part of the ICC's attempts to spread the game, Malaysia and Thailand have been named joint hosts of the women's Under-19 T20 World Cup in 2025, while Bangladesh and Nepal will jointly host the 2027 edition of the same tournament.
The Under-19 World Cup for women is finally set to take off after a pandemic-enforced delay, with South Africa hosting the inaugural edition in January 2023.
The ICC has also formulated a qualification pathway for the women's 2024 T20 World Cup - the ten-team event will have eight automatic qualifiers - the top-three teams from each of the two groups at the 2023 women's T20 World Cup in South Africa, hosts Bangladesh (if they fail to make the cut in 2023), and the next-highest-ranked teams in the ICC rankings when the 2023 edition concludes. The remaining two teams will be identified through the ten-team global qualifying event.
The men's ODI World Cup in 2027 will be a 14-team event, as compared to ten in 2023 in India. South Africa and Zimbabwe will qualify as hosts, along with the next eight teams in the rankings on a date that is yet to be announced. Four others will join these ten via a global qualifier.
Sourse: Espncricinfo
https://www.espncricinfo.com/story/icc-board-meeting-news-afghanistan-agree-in-principle-to-support-womens-cricket-1344663
-----
Communal Solidarity: Muslim Youth Help Cremate Hindu Woman In Mysuru
13th November 2022
By Express News Service
MYSURU : In a show of communal solidarity, youths from Muslim community from Mandi Mohalla in the city carried a Hindu woman's pyre to the crematorium and performed the rituals as per the Hindu tradition as directed by the priests.
Around 60-year-old Shivamma passed away at around 7.30 pm on Friday. As she had no family or relatives, the youths including Abdul Zameer, Abdul Saleem, Wajid, Saddam, Shamilu and Aijaz from Islamia Naujawan Committee tried to find the relatives in Kailasapuram and Gandhinagar to perform the last rites.
MCC former corporator Suhail Baig said that when youths could not find any relatives, they cremated the body as per the Hindu rituals. More than 60 Muslim youths participated in the funeral and procession.
Sourse:
https://www.newindianexpress.com/thesundaystandard/2022/nov/13/muslim-youth-help-cremate-hindu-woman-in-mysuru-2517689.html
-----
URL: https://newageislam.com/islam-women-feminism/ruwa-romman-palestinian-georgia/d/128389
New Age Islam, Islam Online, Islamic Website, African Muslim News, Arab World News, South Asia News, Indian Muslim News, World Muslim News, Women in Islam, Islamic Feminism, Arab Women, Women In Arab, Islamophobia in America, Muslim Women in West, Islam Women and Feminism