09 May 2022
• Rumana Islam, First Ever Female Commissioner of Bangladesh Securities and Exchange
• Ons Jabeur Sharpens Quest to Inspire More Arab Women To Take Up Tennis
• A Woman Alone in Oman: Three Weeks along the Arabian Coast
• Afghan Women Deplore Taliban's New Order to Cover Faces in Public
• Norway Slams Afghan Taliban Edict Demanding Women Cover Up
• The US Special Representative Expressed Concern about the Taliban's Recent Policy on Women
Compiled by New Age Islam News Bureau
URL: https://newageislam.com/islam-women-feminism/rumana-female-commissioner-bangladesh/d/126962
--------
Rumana Islam, First Ever Female Commissioner Of Bangladesh Securities And Exchange Commission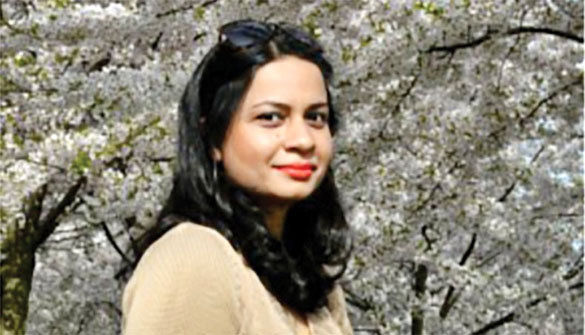 Rumana Islam
-----
Star Business Report
May 9, 2022
The Bangladesh Securities and Exchange Commission (BSEC) gets Professor Rumana Islam as its first ever female commissioner today.
She joined in the post, which remained vacant for 13 months when Khondoker Kamaluzzaman left the office aas a commissioner in March 2021, according to the BSEC.
Rumana completed her bachelor's and master's degrees in law from the University of Dhaka, She obtained her second master's degree in International Commercial Law from the University of Cambridge, the UK in 2006.
Later in 2015, she accomplished her PhD in International Investment Law from the University of Warwick, UK.
Rumana joined the Faculty of Law at the University of Dhaka in 2008 as an assistant professor.
Source: The Daily Star
https://www.thedailystar.net/business/news/rumana-islam-first-ever-female-commissioner-bsec-3019581
-----
Ons Jabeur Sharpens Quest To Inspire More Arab Women To Take Up Tennis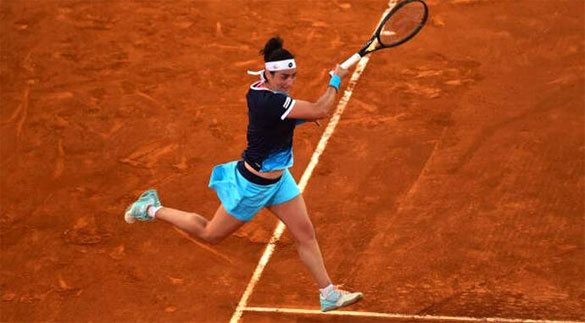 Ons Jabeur in action. - GETTY IMAGES
----
May 8, 2022
PARIS: Ons Jabeur's long-stated goal is that her historic exploits on court lead to more Arab women taking up tennis -- becoming the first Arab player to win a Grand Slam in next month's French Open final would do wonders to achieve that.
The 27-year-old Tunisian became a front-rank contender for tennis's greatest prize on clay with her gutsy three-set victory over American Jessica Pegula in Madrid on Saturday.
In doing so the engaging and highly expressive Jabeur wrote another piece of tennis history.
Her 7-5, 0-6, 6-2 victory made her the first Arab or African woman to win a WTA 1000 title.
Her title in Birmingham last year was the first for an Arab woman player on the circuit and she is the first Arab player -- man or woman -- to crack the top 10.
Indeed she will return to her previous highest ranking of seven on Monday.
With a tour-leading 12 victories on clay so far this season -- and with Australia's world number one Ashleigh Barty having retired -- the omens seem positive for her.
However, she has another glass ceiling to crack in reaching the last four of a Grand Slam for the first time -- so she has two quarter-finals to her credit in Australia in 2020 and Wimbledon last year.
Jabeur -- the junior champion at Roland Garros in 2011 -- is, though, armed with a powerful weapon apart from her strokeplay.
"Definitely all those matches I've won on clay will give me a lot of confidence," she said as she absorbed her Madrid victory.
"When you're confident like that and you win a lot of matches, I think I should take this opportunity to go, like, really forward and win."
Jabeur admits to not watching much tennis when she was growing up and it was her husband Karim Kamoun who was more "obsessed by Roland Garros."
Kamoun was on hand in Madrid -- he planted a kiss on her cheek courtside after her triumph -- as were her siblings and the head of the Tunisian tennis federation to see her momentous win.
Jabeur welcomes such attention but she would like to see more company in the locker room on the tour as Arab female players have been a rarity. Her compatriot Selima Sfar reached a career high of 75 in the world in 2001 but there was little progress for other Arab women players until Jabeur came on the scene.
"Being the only Arab is not easy to be on tour right now," she said at Wimbledon last year.
"I just want to say if I did it (succeed on tour), it's not impossible.
"Like I said before, I always try to inspire other generations."
Jabeur's favourite player of all time is America's three-time Wimbledon finalist and 2003 US Open champion Andy Roddick -- but it is Morocco's four-time Grand Slam quarter-finalist Hicham Arazi who has been her role model.
Jabeur said just as Arazi inspired her, so she hopes she can do the same for Arab women.
"Honestly, he really inspired me, and I am trying to do the same here," she said.
"I like to see how French people are together (on tour), Americans, Australians, and I feel like I want to see this, you know, with my country.
"It doesn't matter, Tunisia or Egypt or Morocco, I really want to see more and more players."
Even before her great run at Wimbledon last year, Jabeur's force of personality and talent had already convinced others, including American legend Venus Williams, that she will achieve her goal.
"You're gonna see a whole other generation of women from North Africa coming into tennis," said Williams.
"It's going to be all owed to her."
Source: Times Of India
https://timesofindia.indiatimes.com/sports/tennis/top-stories/ons-jabeur-sharpens-quest-to-inspire-more-arab-women-to-take-up-tennis/articleshowprint/91417762.cms?val=3728
-----
A Woman Alone in Oman: Three Weeks along the Arabian Coast
By Noa Avishag Schnall
May 9, 2022
I could barely tell where the salt ended and the sky began.
I was on my way to Masirah, Oman's largest island, when the surrounding terrain turned into a massive salt flat. At its edge, near the road, two Bangladeshi workers were up to their ankles in the mixture of liquid and minerals, pushing the salt flakes into pyramid-shaped piles. I, too, waded in, the horizon blurred by an orange-pink haze.
Finally I reached the ferry and, after more than an hour at sea, arrived at Masirah. I began driving down the west coast of the bowtie-shaped island, hoping to make it to its southern point by sundown, a distance of some 40 miles. The farther I got from the port, the fewer people I saw — until, pulling onto the sand of Bu Rasas Beach, there was no one. With the trunk of my S.U.V. open to the sea, emitting the only light for miles, I could hear the small shore creatures scuttling near the water's edge.
Source: Nytimes
https://www.nytimes.com/2022/05/09/travel/oman-road-trip.html
-----
Afghan Women Deplore Taliban's New Order to Cover Faces in Public
By Ruchi Kumar
8 May 2022
The Taliban has issued yet another decree imposing further restrictions on Afghan women, and criminalising their clothing.
While the Taliban have always imposed restrictions to govern the bodies of Afghan women, the decree is the first for this regime where criminal punishment is assigned for violation of the dress code for women.
The Taliban's recently reinstated Ministry for the Propagation of Virtue and Prevention of Vice announced on Saturday that it is "required for all respectable Afghan women to wear a hijab", or headscarf.
The ministry, in a statement, identified the chadori (the blue-coloured Afghan burqa or full-body veil) as the "best hijab" of choice.
The ministry statement provided a description: "Any garment covering the body of a woman is considered a hijab, provided that it is not too tight to represent the body parts nor is it thin enough to reveal the body."
Punishment was also detailed: Male guardians of offending women will receive a warning, and for repeated offences they will be imprisoned.
"If a woman is caught without a hijab, her Mahram (a male guardian) will be warned. The second time, the guardian will be summoned [by Taliban officials], and after repeated summons, her guardian will be imprisoned for three days," according to the statement.
The new decree is the latest in a series of edicts restricting women's freedoms imposed since the Taliban seized power in Afghanistan last summer. News of the decree was received with widespread condemnation and outrage by Afghan women and activists.
"Why have they reduced women to [an] object that is being sexualised?" asked Marzia, a 50-year-old university professor from Kabul.
Source: Aljazeera
https://www.aljazeera.com/news/2022/5/8/taliban-make-burqa-mandatory-for-afghan-women
-----
Norway slams Afghan Taliban edict demanding women cover up
May 9, 2022
COPENHAGEN (DENMARK): Norway has slammed the latest Afghan Taliban edict demanding women cover up head to toe in public and warned that Afghanistan's new rulers are "steering the country toward a humanitarian, economic and human rights catastrophe".
The Taliban decree, announced on Saturday, ordered all Afghan women to wear all-covering clothing in public, the traditional burqa, and threatened to punish their male relatives in cases of noncompliance. It evoked similar restrictions on women and other hardline measures imposed by the Taliban during their previous, 1996-2001 rule of Afghanistan.
Earlier this year, the Taliban decided against reopening schools to girls above grade six, reneging on an earlier promise and opting to appease their hardline base. That decision has drawn international condemnation and disrupted efforts by the Taliban, who seized power in Afghanistan last August, to win recognition from potential international donors at a time when the country is mired in a worsening humanitarian crisis.
"I am outraged by the announcement that warns that women in Afghanistan must cover their faces in public, cannot drive a car and only leave home when necessary," a statement from Henrik Thune, Norway's deputy foreign minister, said Sunday.
Thune said the edict is "completely unacceptable" and stressed that although the Taliban are in power, "they are still an isolated and non-representative government".
"The Taliban's policies continue to oppress women and girls, instead of addressing the economic crisis and the need for an inclusive government," he said.
Norway hosted three days of talks in January among the Taliban, Western diplomats and other delegates at closed-door meetings in the snow-capped mountains above the Norwegian capital of Oslo.
The talks - the first in Europe since the Taliban takeover - focused on humanitarian aid to Afghanistan and human rights. The Taliban-appointed foreign minister, Amir Khan Muttaqi, said the discussions "went very well." The talks also included discussions between the Taliban and members of Afghan civil society.
Thune said it was necessary to pursue dialogue, "even if the Taliban have values that are far from ours" and added that without dialogue, "we also have no opportunity to influence those in power."
He urged the Taliban to "once again to keep their promises to Afghan women and girls".
"Afghanistan's women and girls are waiting for the right to a full life and can't be excluded from society," he said.
Source: times of india
https://timesofindia.indiatimes.com/world/south-asia/norway-slams-afghan-taliban-edict-demanding-women-cover-up/articleshowprint/91437251.cms?val=3728
-----
The US Special Representative Expressed Concern About the Taliban's Recent Policy on Women
By Saqalain Eqbal
09 May 2022
Thomas West, the US Special Representative for Afghanistan, has expressed concern over the Taliban's recent policies on women, warning that the Taliban's measures may undermine their relationship with the international community.
The US special representative also wrote that he, along with Afghans, express deep concern regarding the Taliban's recent measures that impede the rights of women and girls.
At the same time, Tomas Niklasson, the EU Special Representative for Afghanistan, stated in separate meetings with the Taliban's foreign and education ministers that he was concerned about the imposition of the hijab in Afghanistan.
Niklasson tweeted today that full face covering veils for women is contrary to the Afghan culture and tradition in many parts of the country.
Following the Taliban's restrictions on women, the Ministry for the Propagation of Virtue and the Prevention of Vice made hijab mandatory for women and girls, and warned that parents of women who did not wear hijab would be punished and imprisoned.
The Taliban's preference of blue burqa (Chadari) in its statement aroused strong objections inside the region.
Source: khaama Press
https://www.khaama.com/the-us-special-representative-expressed-concern-about-the-talibans-recent-policy-on-women75823/
-----
URL: https://newageislam.com/islam-women-feminism/rumana-female-commissioner-bangladesh/d/126962
New Age Islam, Islam Online, Islamic Website, African Muslim News, Arab World News, South Asia News, Indian Muslim News, World Muslim News, Women in Islam, Islamic Feminism, Arab Women, Women In Arab, Islamophobia in America, Muslim Women in West, Islam Women and Feminism