New Age Islam News Bureau
29 Jun 2016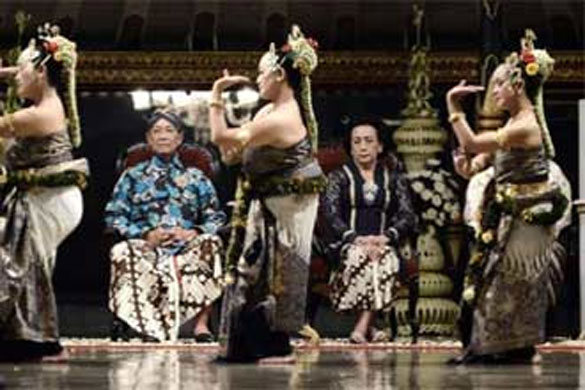 Photo: Royal revolution as Indonesian sultan taps female heir
----------
• Yazidi Women Graduate Peshmerga Training to Fight Islamic State in Iraq
• Britain Probes Sharia Courts' Treatment of Women
• Female Genital Mutilation Cases Increase Due to Migrants
• Missing Cape Women: 'I Can't Rule Out Isis'
• Fundamental rights as much for Muslim women as for others
Compiled by New Age Islam News Bureau
URL: http://newageislam.com/islam,-women-and-feminism/new-age-islam-news-bureau/royal-revolution-as-indonesian-sultan-taps-female-heir/d/107801
-----
Royal Revolution as Indonesian Sultan Taps Female Heir
June 29, 2016
YOGYAKARTA, Indonesia (AFP) - Courtiers in elaborate outfits danced to the gentle tinkling of Javanese music as the Sultan of Yogyakarta looked on, a scene that has played out in much the same way for centuries in the tiny Indonesian kingdom.
But the recent ceremony to mark the 70th birthday of Hamengku Buwono X, Indonesia's last sultan with real political power, had one key difference from previous celebrations -- many of his relatives refused to attend.
A bitter feud has erupted at the heart of the kingdom on Java island, after the Muslim ruler signalled he wants his eldest daughter to become the sultanate's first female monarch after he leaves the throne.
Indonesia is home to numerous small kingdoms. But while other provinces now elect political rulers and their sultans are largely ceremonial figures, Yogyakarta's sultan serves as both royal leader and governor of the city and its surrounding areas.
Jakarta allowed the Yogyakarta royal family to keep power as the central government was grateful for the sultanate's support for independence in 1945 after a long period of Dutch colonial rule.
The sultan still maintains many of the trappings of Javanese royal rule in the kingdom, which has a history stretching back to the 16th century.
His main residence is a traditional Javanese palace complex, known as a Kraton, and important events are celebrated with much pomp and circumstance.
But the sultan's push to make the eldest of his five daughters -- he has no sons -- the first female monarch of Yogyakarta has transformed him into an unlikely champion for gender equality, and threatens to overturn hundreds of years of tradition in the Muslim, conservative sultanate.
Rooster or hen?
It has sparked a furious row with his family, who say he is breaking rules laid down to govern the sultanate, amid speculation that his brothers were jockeying to fill his position.
"A female sultan is an impossibility," the sultan's cousin, Kanjeng Raden Tumenggung Jatiningrat, told AFP.
"One symbol in this palace is a rooster -- so if we have a queen should we change it to a hen?" The rooster is a symbol of bravery.
He added that a female ruler could not oversee rituals in the mosque or other ceremonies that have traditionally been led by men.
Hamengku Buwono, who has been on the throne 27 years, last year set in motion the process for his daughter to become monarch by giving her the title "Gusti Kanjeng Ratu Mangkubumi".
While he has not confirmed publicly that she is the crown princess, in Javanese culture -- where much is conveyed through symbolism rather than anything said out loud -- the signs are clear.
The title Mangkubumi, which translates from Indonesian as "the one who holds the Earth", was the same one given to the sultan when he was made crown prince several decades ago.
She was also entrusted with the task of "attempting to bring safety, happiness and prosperity to the world", another indication she would succeed her father.
And the sultan made small changes to his own lengthy royal title -- removing a word normally only used by men and tweaking another -- to make it gender-neutral, opening the door for a woman to take over.
An Islamic kingdom
The sultan has defended the move, saying there is nothing stopping him from making changes in his kingdom and he has to adapt as Indonesia modernises.
"The Yogyakarta palace doesn't have a hereditary tradition that can't be changed, and all ruling sultans can introduce changes," he told local media.
Still, many disagree with him, from his relatives to local Muslim groups.
"The king should maintain the tradition as it was originally, because this is an Islamic kingdom," said Abdurrahman, from local hardline group Islamic Jihad Front, who like many Indonesians goes by one name.
But it is not the first time there has been a female monarch in diverse Indonesia -- nowadays Muslim-majority, but which has had Hindu and Buddhist kingdoms over the centuries and is home to about 300 different ethnic groups.
Queens at times ruled over the ancient Majapahit empire, which covered large parts of what is now Indonesia from the late 13th to the early 16th centuries, as they did in Aceh, on western Sumatra island, when it was an independent sultanate.
And the sultan's approximately four million subjects in Yogyakarta and the surrounding area, who view him as a demi-God, have had only a muted a reaction, with most preferring to keep out of royal affairs.
Nevertheless the row looks unlikely to be resolved any time soon, and it cast a long shadow over the recent celebration, which marked the anniversary of the sultan's coronation as well as his birthday.
The solemn melodies from the "gamelans" -- a traditional Indonesian instrumental ensemble, made up of bronze percussion instruments -- were a million miles from the seething tensions swirling around the royal succession.
"About 90 percent of the family don't respect him anymore," raged Gusti Bendoro Pangeran Haryo Prabukusumo, a step-brother of the ruler who snubbed the event.
thestar.com.my/news/regional/2016/06/29/royal-revolution-as-indonesian-sultan-taps-female-heir/
--
Yazidi Women Graduate Peshmerga Training to Fight Islamic State in Iraq
28 Jun 2016
Kurdish outlet Rudaw recorded parts of their graduation ceremony and interviewed the women, most of whom shared similar goals: to avenge the murder, rape, and torture of Yazidis by the Islamic State terrorist group, which has taken upon itself to eradicate Yazidis from the world, a mission widely acknowledge to be genocide.
"We will avenge our sisters, mothers, brothers, fathers, and whatever we have endured," one soldier told Rudaw during her graduation ceremony. "I am so pleased," said another, vowing to protect Kurdish people generally, not just those who follow the Yazidi religion.
Rudaw notes that the women went through a 45-day training course in weapons and infantry combat under the auspices of the Peshmerga. Their trainers tend to be men, though female Peshmerga have long been a common sight among Kurdish forces. The women in this group hail from northern Sinjar, the area north of Mosul that the Islamic State raided in 2014 following the capture of Mosul. Sinjar is home to most of the nation's Yazidi population. The capture of Mosul forced thousands of Yazidis to flee north into Mount Sinjar, where many died of starvation or were killed attempting to flee back down for food and water.
In November 2015, Kurdish forces announced that Sinjar city, at the foot of the mountain, had been cleansed of its Islamic State presence. Six months later, however, its inhabitants were still not allowed to return as ISIS jihadis had booby-trapped streets and buildings, and the fighting had rendered most of the city's infrastructure nonexistent.
Many of the refugees from Sinjar have taken to military training. Rudaw reports that, according to Peshmerga officials, "16 groups of Peshmerga of Shingal amounting to 8,000 Peshmerga have been trained so far."
Yazidi women have also joined other Kurdish militias, like the Peoples' Protection Units (YPJ) based in Syria or the Kurdistan Workers' Party (PKK), a U.S.-designated terrorist group.
Some have formed their own militias. Founded by singer Xate Shingali, the Force of the Sun Ladies is an all-female Yazidi militia named for the traditional worship of the sun and the Peacock Angel, Melek Taus. It is this worship that has made them the target of multiple attempts of genocide by Muslims — Melek Taus is interpreted to be Lucifer, the angel who fell from heaven to earth. To Yazidis, he long ago reconciled with God and is to be worshipped.
The Force of the Sun Ladies consists almost exclusively of Yazidi women who were taken from their families by the Islamic State and sold as sex slaves. They work in tandem with the Peshmerga.
Other Yazidis, like those visited by Rudaw, are Peshmerga. They are valued by Peshmerga because of the Islamic State belief that being killed by a woman in battle will deprive a jihadi of the rewards in the afterlife that come with martyrdom at the hands of a man. "They are so scared of us! If we kill them they can't go to heaven," one female fighter told The Independent. "I like that when we kill them they lose their heaven," she added. "I don't know how many of them I've killed. It's not enough. I won't be happy until they're all dead."
Selling Yazidi girls and women as sex slaves is a form of cultural destruction. Yazidis have very strict marriage customs; not only can Yazidis only marry each other, but they are divided into castes and are limited to marrying within their caste. The girls sold into sex slavery by ISIS, raped by an unknown number of non-Yazidi men, will likely find it impossible to marry even if they do manage to escape with their lives. The more women are ineligible for marriage, the fewer Yazidi children will be born, until the group becomes extinct.
Some ISIS jihadis, however, believe that the systematic rape of a Yazidi woman will turn her Muslim. "He showed me a letter and said, 'This shows any captured women will become Muslim if 10 ISIS fighters rape her,'" one former sex slave testified of her experience being raped repeatedly by an ISIS jihadi.
To expedite the process, ISIS sells Yazidi girls and women at lower prices than others. "Some [females] are sold for weapons, or for just $10, or 10 cigarettes," activist Khider Domle said in 2015, citing interviews with escaped sex slaves.
The United Nations estimates that at least 3,500 people are being held as slaves by the Islamic State in Iraq.
breitbart.com/national-security/2016/06/28/yazidi-women-graduate-peshmerga-fight-islamic-state/
--
Britain probes Sharia courts' treatment of women
June 28, 2016
The British government has launched an investigation into Sharia courts in the U.K., following sustained criticism from rights groups over their treatment of women. The Home Office said an independent panel will examine whether the courts are acting in a "discriminatory and unacceptable way," legitimizing forced marriage and issuing unfair divorce settlements.
The panel, announced in May, will be chaired by Mona Siddiqui, professor of Islamic and Inter-religious Studies at the University of Edinburgh. It also includes a selection of family lawyers, a former high court judge and several imams.
"At a time when there is so much focus on Muslims in the U.K., this will be a wide-ranging, timely and thorough review as to what actually happens in Sharia councils," Siddiqui said when the independent review was announced.
More than 30 Islamic courts or councils operate in Britain, run by imams who offer advice on family matters and issue divorce certificates in line with Islamic law. Under the Arbitration Act, consenting adults can use these councils to resolve civil or commercial disputes as long as any ruling doesn't conflict with U.K. law. Supporters of the courts say they are used on a voluntary basis and are not intended to replace the British legal system.
However, rights activists claim women are being unfairly treated under what amounts to a parallel legal system, which offers preferential treatment to men. They say the women who are most vulnerable to discrimination tend to be from isolated or marginalized communities in Britain. Many are recent arrivals who do not speak the language or know their rights under British law.
"A woman's testimony is worth half that of a man under Sharia," says activist Maryam Namazie, who has long campaigned for the courts to be shut down. "Sharia judges are also on record as saying there is no such thing as marital rape."
Namazie is collecting signatures for a letter to the British Home Office complaining that the inquiry will be limited unless the focus is shifted from religious debate about Sharia, and instead put squarely on the treatment of women.
"This is not a theological issue," she says. "It is about basic human rights."
The argument against Sharia courts is bolstered by evidence collected by Elham Manea, a Yemeni-Swiss academic and author, whose latest book, Women and Sharia Law: The Impact of Legal Pluralism in the U.K., examines the treatment of women under the system in Britain.
Manea spent four years traveling around country visiting Sharia institutions, speaking to those involved and researching thousands of cases. In her book, she describes decisions made in British Sharia councils as "totalitarian" and says they are more extreme than the courts in some parts of Pakistan. One example she gives is that of a woman who was forced to marry her cousin in Pakistan and then raped on her wedding night. On returning to the U.K., she asked for an annulment of the marriage but her claim was dismissed outright by the Sharia court.
"They did not care that she was forced to marry. They did not care that she is being raped in marriage; they do not see that as rape," Manea writes.
She says women who come into contact with the courts in the U.K. tend to fall into three categories. There are those who seek a religious divorce because they believe – or they are told – a civil divorce is not enough to separate them from their husbands. Then there are women who were married outside the U.K. – often by force – and believe their marriage is not recognized in Britain. The third category is women whose marriages are not made official under British law and therefore their only option is to seek a religious separation.
In all cases, Manea says, women have more rights than they realize and the problem is mostly a matter of education and access to information.
"We need to ask what type of law is being used here," she says.
While some courts Manea visited were less conservative than others, she says that overall they represent a worldview that encourages male guardianship over women. Fathers decide when and whom their daughter should marry; imams allow men to take very young brides; husbands are allowed to force sex on their wives; and women have to fight for the right to get a divorce.
"When human rights are violated with impunity, then this sort of arbitration is not something we should consider acceptable," Manea says. "I don't think having two systems is an adequate solution to multicultural societies."
But not everyone shares Namazie's and Manea's criticisms of the Sharia system in Britain.
Mohammed Shafiq, chief executive of the Ramadhan Foundation, a moderate Muslim group trying to foster better relationships with non-Muslims, says Namazie's views are extreme and misrepresentative. He said the government investigation is anti-Islamic: "The government wants to criminalize conservative Islamic thought."
Shafiq notes that no review is scheduled to look into arbitration in other religious communities, such as the Jewish Beth Din, a court system that has the power to settle civil disputes.
Sharia councils are simply available to Muslims as a means of guidance on Islamic law, he said. English-born Shafiq said there is no widespread abuse of women under the British Sharia system and that many women willingly seek out the council of imams to end abusive marriages. He says Sharia has been demonized in the media because it is associated with countries that use the law to enforce punishments such as stoning to death or chopping off hands.
"We are very patriotic, we are glad we live in a country where there is rule of law and everyone is equal," Shafiq says. "But we should be free to follow Islamic principles about how we live our lives and other issues that don't affect secular communities."
A recent survey carried out by the research agency ICM found 23 percent of British Muslims want Sharia law in the U.K. The poll also found many British Muslims feel a strong connection to the U.K. but hold views that differ from the general population on several issues, including women's rights.
Of those questioned, 88 percent said Britain was a good place for Muslims to live and 78 percent said they would like to integrate into British life on most things – apart from Islamic schooling and some laws.
However, 31 percent said it was completely acceptable for a Muslim man to have more than one wife. And 39 percent said a Muslim wife should "always obey her husband." Just 5 percent of the general population agreed.
upi.com/Top_News/World-News/2016/06/28/Britain-probes-Sharia-courts-treatment-of-women/8961467141637/
--
Female Genital Mutilation Cases Increase Due to Migrants
June 28, 2016
Female genital mutilation (FGM) is a 5,000 year old practice that is mainly performed in countries in Africa and the Middle East. Due to the large influx of migrants from these areas the German government is now finding that they will have to tackle the issue with reports of tens of thousands of cases, Die Welt reports.
FGM is a worldwide crisis that sees young girls' genitals partially removed at a rate of one girl every 11 seconds. While Europe for the most part has never had to deal with large scale cases of FGM, the migrant crisis may be changing that.
According to Terre des Femmes, cases in Germany have already reached 35,000 and although this is small compared to the estimated 140 million young girls and women who are subjected to the procedure, they say the trend in Germany is growing rapidly.
Hamburg social worker Gwlayds Awo is spearheading a fight against FGM in Germany. Ms. Awo said that the African community in Germany sees push back on FGM from the German government as an affront to their culture. According to Ms. Awo, Africans believe a simplified narrative that Europeans have destroyed their home continent of Africa and stolen its resources; so opposition to FGM is simply another attack on them.
This sentiment echoes comments from a UK lecturer at Goldsmiths University who said: "We will reform the condition of our women, but we'll do it once we've got independence. It is not for the colonisers to tell us how we should be treating our women."
Ms. Awo says that FGM needs to be abolished as soon as possible and the only way to go about doing it is to make sure migrants are integrated into German society and taught that the practice is cruel and wrong, rather than have them hang on to the procedure simply for the sake of cultural reasons.
While some have argued that FGM is part of cultural identity, others have outright supported the practise maintaining there are health benefits.
A Facebook community page called "Islamic Female Circumcision" posted an article entitled: "Female Circumcision – The Hidden Truth: How Misogynists and Feminists are feeding upon each other to denigrate an Islamic practice that brings untold benefits to women," which tries to explain how FGM prevents the spread of HPV and that it is the duty of all Muslims to practise it.
breitbart.com/london/2016/06/29/female-genital-mutilation-cases-increase-due-migrants/
--
Missing Cape women: 'I can't rule out Isis'
June 28, 2016
Cape Town - The father of a missing young woman says he is not ruling out the possibility that his daughter may have left the country to join Isis.
Aneekah Ismail, 23, from Athlone, disappeared with her 16-year-old friend six days ago.
On Tuesday, it was confirmed that Aneekah and Kelly Moses, 16, of Mitchell's Plain, had been "positively spotted" in Worcester shortly after they were reported missing on Thursday.
The women were identified in flyers that have been distributed across the Western Cape.
Aneekah's dad Shafiek Ismail, told the Daily Voice that there's been "a lot of speculation" that the girls ran away to join the Islamic State (Isis) in the Middle East. He said they were considering "all possibilities".
"Isis is also speculation; we cannot throw anything out of the window, as anything is possible," said Ismail
The extremist and militant Islamic State, operating in Iraq and Syria, is known to recruit young women to become the wives of their fighters.
The pair were last seen in Eastridge driving in Aneekah's purple-coloured Ford Fiesta with the registration CA691871.
Aneekah, who had just graduated from university, had taken Kelly to her Oval North High school in Beacon Valley to collect her report.
Kelly's family suspect she has run away because personal belongings like clothing and her Bible are missing.
Aneekah's worried father adds: "We just want them back and we are constantly sending them messages (to their cellphones)
"Kelly's grandmother also became ill. I have not heard anything that they were seen in Worcester."
Sources close to the investigation say police are probing possible links to Isis.
However, police spokesman Captain FC van Wyk would not confirm this.
"Due to investigation policy, we have no comment on any allegations at the present moment. The case remains a case of missing persons until further notice," he said.
Kelly's mother Ghaleema Eldeib, 36, refused to divulge any information.
"I don't want to comment where they are or who they may be with, we just want them home safe," she said.
Dessie Rechner, the Director of The Pink Ladies, confirmed that the young women were seen in Worcester at the weekend.
But the search has taken a "worrying" turn after someone tried to sabotage it by creating fake flyers saying the girls had been found.
"They were in Worcester (on Thursday) night and it was reported as someone saw our flyer," she explained.
"Someone defaced our flyer saying they were back home which is untrue. That is not how we close our cases, and it has caused a lot of trouble in our search."
Regarding the possible Isis connection, Rechner said: "The overseas (link) is speculation and at the moment it is still an ongoing investigation."
Anyone with information is asked to contact Sergeant Naik or Sergeant Ngomane on 021 370 1600 or 079 894 1548 at Mitchell's Plain SAPS.
iol.co.za/news/south-africa/western-cape/missing-cape-women-i-cant-rule-out-isis-2039885
--
Fundamental rights as much for Muslim women as for others: Noorjehan Niaz
June 28, 2016
Ahead of the Bombay High Court's verdict in a case against the ban on women's entry into Mumbai's Haji Ali dargah, Noorjehan Niaz of the Bhartiya Muslim Mahila Andolan (BMMA), which is at the forefront of the legal battle, discusses the "wrongful interpretation of Quranic teachings" and conservatives "who treat the Shariah law as their personal property". Excerpts from an interview with her:
What led you to oppose the ban on women's entry into the Haji Ali Dargah?
Till 2011, women were allowed to enter the sanctum of the Haji Ali Dargah. We used to go right in. But in June 2012, the entry into the room where the mazaar (sanctum) is located was closed for women. This was completely unacceptable because Sufi saints' shrines are always open for all. In fact, it is a place where all discrimination is shunned. Since this move by the trustees went against the principles of equality in Islam and against the constitutional values of the country, BMMA decided to challenge it. The trustees cannot stop someone from going somewhere just because she is a woman. Also, the Sufi shrines have followers from all religions. We were concerned about this rigidity creeping in further. Tomorrow, they might say non-Muslims are not allowed.
What kind of support are you getting from Muslim women in your fight against the ban?
Many women are supporting the issue. In fact, we submitted hundreds of signatures to the court.
What is the status of awareness of the average Indian Muslim woman of her legal rights?
Awareness is low but she has a heightened sense of injustice. She knows she is being treated unjustly. She has been wrongly told that many practices are Islamic when actually they are not. Our work is to help her unlearn the wrong information fed to her.
In what way does the Constitution or the teachings of the Quran help Muslim women contest gender inequality?
The preamble of the Constitution and the fundamental rights enshrined therein are crucial for Muslim women in her fight for justice and equality. The Quranic verses, which talk of equality of all humans and specifically gender equality, are very important for women to understand that God has created all humans as equal and women have a right to enjoy all those rights as a human being. Specifically, women must know the Quranic verses pertaining to marriage, divorce, mehr, property rights. With that knowledge, she will be able to counter the discrimination imposed on her in the name of religion.
What role do the conservative patriarchal bodies play in determining the place of Muslim women in the familial hierarchy?
They have done a great disservice to Muslims and to our religion. The conservative bodies are largely responsible for the low status of Muslim women. They have wrongly conveyed to large mass of people that women are inferior to men, that she should be subservient to him, remain behind purdah, not go out of the house, not to work and earn money. And that if she does she is defying laws of Allah. Men have been told that oral divorce is valid, polygamy is allowed, that women must remain in the house and manage only the family and children. These instructions have created a mindset that has created a hierarchy in the family. These instructions go against the basic values of Islam.
http://indianexpress.com/article/india/india-news-india/fundamental-rights-as-much-for-muslim-women-as-for-others-noorjehan-niaz-2882856/
URL: https://newageislam.com/islam,-women-and-feminism/new-age-islam-news-bureau/royal-revolution-as-indonesian-sultan-taps-female-heir/d/107801
New Age Islam, Islam Online, Islamic Website, African Muslim News, Arab World News, South Asia News, Indian Muslim News, World Muslim News, Womens in Islam, Islamic Feminism, Arab Women, Womens In Arab, Islamphobia in America, Muslim Women in West, Islam Women and Feminism