New Age Islam News Bureau
26 Jan 2017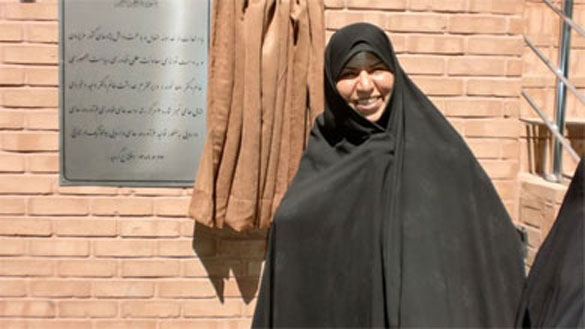 Spokeswoman for the Popular Front of the Forces of the Islamic Revolution and former Iranian health minister Marzieh Vahid-Dastjerdi. (CC BY-SA, Wikimedia Commons)
------
• Royal, 3 Women among 7 Executed – Manila 'Sad'
• Madeleine Albright Says She Is Prepared To Register As A Muslim Under Donald Trump
• Yemeni Women Protest against Saudi Aggression Crimes
• ISIS Women Executioner Gunned Down by Assailants in Mosul
• Woman Floated As Hardline Candidate For Iranian Presidency
• National Muslim Organization Names Three Women as Agents of Change in First Annual Courage Awards
• 4 Women among 25 Winners of Prize for Inventors, Talented
• Tunisia's Fledgling Democracy, Through the Eyes Of Two Young Women
Compiled by New Age Islam News Bureau
URL: https://www.newageislam.com/islam,-women-and-feminism/new-age-islam-news-bureau/royal,-3-women-among-7-executed-–-manila-'sad'/d/109849
----
Royal, 3 Women among 7 Executed – Manila 'Sad'
26 January 2017
KUWAIT CITY, Jan 25, (Agencies): Kuwait on Wednesday hanged seven people including a member of the ruling family and a woman who burned dozens of people to death at a wedding party, the authorities said. The three women and four men are the first to be executed in Kuwait since mid-2013.
They included two Kuwaitis, two Egyptians and one each from Bangladesh, the Philippines and Ethiopia, a statement by the public prosecution office said.
Sheikh Faisal Abdullah Al-Sabah, the first royal to be executed in Kuwait, was convicted of shooting and killing his nephew, another member of the ruling family, in 2010 over a dispute.
Nusra al-Enezi, the other Kuwaiti, set fire to a tent in 2009 during a wedding party in an apparent act of revenge against her husband for taking a second wife. Many of the 57 people killed were women and children. Enezi, who was 23 years old at the time, threw petrol on the tent, where people were celebrating inside, and burned it down in one of the most devastating crimes in the history of Kuwait.
Crimes
The Filipina and Ethiopian women were domestic helpers convicted of murdering members of their employers' families in two unrelated crimes. Philippines presidential spokesman Ernesto Abella said the presidential palace was saddened by the execution of Jakatia Pawa. Abella said the Philippine government had done everything it could to save Pawa, including legal assistance to ensure that her rights were respected and all legal procedures were followed.
Manila "exerted all efforts to preserve her life, including diplomatic means and appeals for compassion. Execution, however, could no longer be forestalled under Kuwaiti laws … We pray for her and her bereaved family," he added. Around 240,000 Filipinos are working and living in Kuwait, some of them domestic helpers.
Convicted
The two Egyptians were also convicted of premeditated murder while the Bangladeshi was convicted of abduction and rape. Kuwait resumed executions in 2013 after a moratorium of six years. In April 2013, authorities hanged three men convicted of murder. Two months later, two Egyptians, convicted of murder and abduction, were executed. One of them, Hajjaj Saadi was convicted of abducting and raping 17 children below the age of 10. He denied the charges in court. Following those executions, human rights organisations strongly condemned the resumption of hangings in Kuwait.
Kuwait has executed 74 men and six women since it introduced the death penalty in the mid-1960. Most of those condemned have been convicted murderers or drug traffickers. Around 50 prisoners are on death row. Courts in Kuwait, which has an elected Parliament and an active political scene, have in the past handed down death sentences to members of the Al-Sabah family that has ruled the country for two and a half centuries. Capital punishment is widespread in the Gulf region, particularly in Iran and Saudi Arabia. Every year Tehran and Riyadh execute hundreds of people, mostly for murder and drug trafficking. Wednesday's executions drew immediate criticism from Amnesty International, which opposes the death penalty.
The mass execution "is a shocking and deeply regrettable step backward for Kuwait," Amnesty official Samah Hadid said in a statement. "By choosing to resume executions now, the Kuwaiti authorities have displayed a wanton disregard for the right to life and signaled a willingness to weaken human rights standards." It's not clear what sparked the timing of the executions. However, it comes 10 days after Bahrain announced it put three men to death in its fi rst executions since 2010.
http://www.arabtimesonline.com/news/royal-3-women-among-7-executed-manila-sad/
------
Madeleine Albright says she is prepared to register as a Muslim under Donald Trump
Donald Trump has previously called for a registry of Muslims in the US
Donald Trump has previously called for a registry of Muslims in the US CREDIT: AP PHOTO/SAIT SERKAN GURBU
Helena Horton
26 JANUARY 2017 • 8:40AM
Madeleine Albright has said she is prepared to register as a Muslim in solidarity with those who practice the religion in Trump's America.
This follows reports President Trump is planning to take executive action affecting immigrants to the US.
The former Secretary of State tweeted: "I was raised Catholic, became Episcopalian & found out later my family was Jewish. I stand ready to register as Muslim in #solidarity".
This comes after reports the President is about to sign executive orders including a temporary ban on most refugees and suspending visas for foreign nationals from seven predominantly Muslim countries.
Follow
Madeleine Albright ? @madeleine
I was raised Catholic, became Episcopalian & found out later my family was Jewish. I stand ready to register as Muslim in #solidarity.
11:48 PM - 25 Jan 2017
14,484 14,484 Retweets 33,118 33,118 likes
View image on Twitter
View image on Twitter
Follow
Madeleine Albright ? @madeleine
There is no fine print on the Statue of Liberty. America must remain open to people of all faiths & backgrounds. #RefugeesWelcome
11:48 PM - 25 Jan 2017
5,841 5,841 Retweets 8,296 8,296 likes
Mrs Albright has previously said she will stand in solidarity with Muslims if Donald Trump forces them to register.
She said at a Woman's March rally last weekend: "If you force Muslims to register, we will all register as Muslims".
The former Secretary of State also tweeted: "There is no fine print on the Statue of Liberty. America must remain open to people of all faiths & backgrounds".
She also shared the poem on the Statue of Liberty, which says: "Give me your tired, your poor, Your huddled masses yearning to breathe free, The wretched refuse of your teeming shore.
"Send these, the homeless, tempest-tossed to me. I lift my lamp beside the golden door."
The Republican president who initially called for a "total and complete shut down of Muslims" entering the US, has revised his position to calling for "extreme vetting" for new arrivals from countries where extremist groups are active.
To this end, Mr Trump's immigration advisor Mr Kobach said in an interview with Reuters that Mr Trump's team were suggesting reinstating the National Security Entry-Exit Registration System, a policy briefly implemented in the aftermath of 11 September attacks.
Under the programme people from countries deemed "higher risk" were required to undergo interrogations and fingerprinting on entering the US, and some male US non-citizen residents over the age of 16 were required to periodically check in at government offices.
http://www.telegraph.co.uk/news/2017/01/26/madeleine-albright-says-prepared-register-muslim-donald-trump/
------
Yemeni Women Protest against Saudi Aggression Crimes
January 25, 2017
Yemeni women of Ibb province staged a protest rally to condemn US-Saudi aggression attacks against Yemeni children and women in the Yemeni provinces.
(AhlulBayt News Agency) - Yemeni women of Ibb province staged a protest rally to condemn US-Saudi aggression attacks against Yemeni children and women in the Yemeni provinces.
The protest rally took place on Tuesday in al-Radhmah district.
The participants called for boycotting pro-Saudi aggression media that target the unity of the Yemeni social fabric.
They denounced the Arab and international silence on the aggression's massacres against the Yemeni people, calling on the international community and United Nations to bear their responsibility to end the war crimes against the Yemeni civilians.
http://en.abna24.com/service/middle-east-west-asia//archive/2017/01/25/807168/story.html
------
ISIS Women Executioner Gunned Down by Assailants in Mosul
January 25, 2017
Abu Abdel Rahman, a senior Saudi commander of the Islamic State, was gunned down by unknown assailants. Rahman was in charge of executing women in ISIS-occupied western Mosul, Iraq. According to Redditor AuntieAv, of the Syrian Civil War subreddit, this photo may show a masked Rahman wielding a butcher's knife in front of terrified looking women:
isis news, isil news, is news, islamic state news, daesh news, syria news, iraq news, terrorism news, africa news, al qaeda news
"Abdel Rahman" translates to "servant of the most merciful."
A security source told Fars News Agency, "The unknown gunmen shot at Abu Abdel Rahman, ISIL's senior commander, in al-Askari region in the center of Mosul city, and he was killed right on the spot." ISIL is another name for "ISIS" and stands for "Islamic State of Iraq and the Levant." Former President Obama commonly used the term.
In October, the American coalition, consisting of the Iraqi Army, the Kurdish Peshmerga, Shia militias like the PMU, Christian militias, and the Turkish Nineveh Guard, descended upon Mosul to free it from the Islamic State. The official operation began on October 17 when it was announced by Iraqi Prime Minister Haider al-Abadi, reports the BBC.
According to AhlulBayt News Agency, "In relevant remarks on Friday, an Iraqi general said that most ISIS commanders in Mosul have been killed in battles with Iraqi government forces that raged over the past three months in the Eastern side of the city."
Eastern Mosul has been liberated.
The fight for Mosul now crosses the Tigris River as the American coalition eyes the western portion of ISIS' last major city stronghold in Iraq.
Find more ISIS news, photos and videos here.
Heavy is an independent news organization. We report acts of terror and violence so that the public may be fully informed. This may include content considered graphic, which is identified. We do not support, in any way, the individuals or organizations involved.
http://heavy.com/news/2017/01/isis-islamic-state-abu-abdel-rahman-women-executioner-assassinated-killed-mosul-iraq/
------
Woman Floated As Hardline Candidate For Iranian Presidency
By ALEXANDER FULBRIGHT January 25, 2017, 12:23 pm
Iran may have its first ever female presidential candidate in May's presidential elections, as hardliners seek to rally around a consensus candidate as a challenger to the relative moderate incumbent, Hassan Rouhani.
One name that has been floated is that of Marzieh Vahid-Dastjerdi, a gynecologist, former parliamentarian and Iran's first female minister since 1979's Islamic Revolution, having served as minister of health and medical education in 2009-2013 under Mahmoud Ahmadinejad.
Vahid-Dastjerdi, 58, is currently the spokeswoman for the Popular Front of the Forces of the Islamic Revolution, a group that seeks to focus conservatives's support on a single candidate in order to defeat Rouhani.
While she has dismissed rumors of her potential candidacy as "untrue," Vahid-Dastjerdi has recently emerged as a vocal critic of the president, saying over a week ago that "the nation deserves a much better government than the Rouhani administration," the semi-official Tehran Times reported.
Despite the growing speculation surrounding Vahid-Dastjerdi's potential candidacy, it is unclear if she would even be allowed to run, as the country's Guardian Council, a powerful legal body composed of Shiite jurists and clerics, has previously prohibited female candidates from participating in elections.
However, the Guardian Council made waves in December when it said it may consider changing its definition of "statesmen" from its strictly masculine interpretation, which would allow women to compete in presidential elections for the first time, according to Tehran Times.
While some hardliners have said she could be a "good rival for Rouhani" and that it makes no difference that she is a woman, others have suggested talk of Vahid-Dastjerdi as the conservative faction's potential candidate is the work of rumors spread by supporters of Rouhani to divide hardliners, according to a Radio Free Europe report on her possible candidacy.
While some Iranians have praised the possibility of a Vahid-Dastjerdi presidency as a step forward for women in a country where women lack many rights afforded to men, others have pointed to her past support for gender-segregated hospitals and her opposition to Iran becoming a signatory to the United Nation's Convention on the Elimination of All Forms of Discrimination Against Women as signs she may instead seek to further reinforce existing state-backed discrimination of women, the report said.
Iranian journalist Ehsan Mehrabi told Radio Free Europe that despite the intrigue surrounding Vahid-Dastjerdi's potential candidacy, it is unlikely religious conservatives would allow such a dramatic move.
"The presence of women in important political posts has always been a red line for conservative clerics," he said, adding, "[I] doubt that the Guardians Council would be willing to cross one of its red lines, even with the goal of splitting Rouhani's votes."
http://www.timesofisrael.com/woman-floated-as-hardline-candidate-for-iranian-presidency/
------
National Muslim Organization Names Three Women as Agents of Change in First Annual Courage Awards
JANUARY 25, 2017
The organization is granting awards in three categories in 2017: activism, media, and philanthropy. The first round of awards is being given to activists who have dissented, protested, and organized effectively against human rights abuses committed in the name of religion or culture. The winners include:
Jaha Dukureh is a Gambian women's rights activist, campaigner and champion against female genital mutilation (FGM). The founder and executive director of Safe Hands for Girls, Jaha is also a survivor of FGM and forced marriage. She founded Safe Hands for Girls, a survivor-led movement, from her own living room. She has now been profiled as one of Time's 100 Most Influential People, spearheaded and drove the effort to successfully get FGM outlawed in The Gambia, and has become a fixture in Washington, D.C., advocating for the U.S. government to address the FGM crisis here in the United States. Jaha became a U.S. citizen in 2015, and The Guardian is currently making a film about her life and work.
Zainab Zeb Khan is a therapist, painter, and human rights advocate. Born in the US to Asian immigrants, she became an activist after eye-opening experiences counseling survivors of domestic violence and organizing exhibitions for artists facing repression. A former Senior Clinician holding a Master's Degree in Clinical Psychology, Zainab also co-curated the International Museum of Women's exhibition "Muslimah: Muslim Women's Arts and Voices" and served as a United Nations Association delegate to the 59th Commission on the Status of Women. The YWCA Chicago gave her its 2014 Racial & Social Justice Award. Zainab has published in The Daily Beast about young Muslim-Americans' struggles with bigotry; written about gender-based violence for No Ceilings; featured in Cosmopolitan Magazine; and appeared in the documentary Honor Diaries. She gave a notable TEDx talk, "How to Fight Injustice Without Saying a Word". Zainab is honored as a "Global Hero" for Safe Magazine's 2015 issue, and is recognized as one of Fortune Magazine's 2015 Most Powerful Women Next Gen. Zainab was honored by Aga Khan University's Muslim Woman of Peace for 2015. She coordinates the "Muslim American Journeys" project with NPR's StoryCorps. She was also a featured speaker at the Conference of World Affairs 2016. Zainab is the recipient of UNICEF's Inaugural Humanitarian Award for 2016.
Elham Manea is Yemeni-Swiss Associate Professor who specializes in the Middle East, a writer, and a human rights activist. She is a Fulbright scholar who holds a PhD degree in political science from the University of Zurich, Master's degree in comparative politics from the American University in Washington D.C, and a Bachelor's degree in political science from Kuwait University. She has published academic and non-fiction books in English, German, and Arabic in addition to two novels in Arabic. Her latest book is The Arab State and Women's Rights: The Trap of Authoritarian Governance. She works at the Political Science Institute at the University of Zurich and is a consultant for Swiss government agencies and international human rights organizations. Recently, she was appointed by the Swiss Federal Council as a Member of the Federal Commission for Women Affairs. Dr. Manea is the spokesperson for the family of Raif Badawi, a Saudi blogger who has been imprisoned for four years for "insulting Islam." Dr. Manea has been a champion of Badawi's and for all targets of theocracy and dictatorship worldwide.
AIFD's President Dr. M. Zuhdi Jasser says of this year's winners: "These individuals have done more than express their outrage – they have turned it into positive and real change. We stand in awe of how their work has had an impact both in their local communities and worldwide. These inaugural awards focus especially on those who have demonstrated a willingness to dissent with their own identity groups with the goal of protecting the rights of the most vulnerable. We thank each of these courageous and principled women for their work, and for accepting this award from AIFD. These women have done more for human rights in their individual lives than mainstream Muslim organizations have done in decades of organizing. We are a better and more hopeful world thanks to their courage, grit, grace, tenacity and persistence."
http://www.prweb.com/releases/2017/01/prweb14017160.htm
------
4 Women among 25 Winners of Prize for Inventors, Talented
MOHAMMED RASOOLDEEN | ARAB NEWS STAFF | Published — Thursday 26 January 2017
Minister of Energy, Industry and Mineral Resources Khalid A. Al-Falih, right, presents the Custodian of the Two Holy Mosques Prize to a winner at the King Abdulaziz City For Science and Technology (KACST), on Wednesday. KACST President Dr. Turki bin Saud bin Mohammed is seen on the left. (AN photo by Saad Al-Dosari)
RIYADH: Four women were among 25 winners of the Custodian of the Two Holy Mosques Prize for inventors and the talented (Takreem), which was distributed by Minister of Energy, Industry and Mineral Resources Khalid A. Al-Falih at the headquarters of the King Abdulaziz City for Science and Technology (KACST) on Wednesday.
The prize was established by ministerial decree to contribute to the development of science and technology in support of the transition to a knowledge-based society; to encourage and appreciate distinguished inventors and the gifted in science, technology and innovation; to develop a spirit of creativity, innovation and invention; and to motivate talents and abilities.
The laureates received cash prizes ranging from SR100,000 ($26,663) to SR200,000 ($53,326) to help them promote their future programs.
Congratulating the winners, the KACST's president, Prince Dr. Turki bin Saud bin Mohammed, chairman of the council of trustees for the prize, said he hoped it would help them achieve more progress and development to build a knowledge-based society.
The prince told Arab News it is a historic occasion when the prize is given to honor winners who contribute a great deal in their field of research and skills.
He said more than SR3 billion ($800 million) has been spent on 2,000 science and technology projects under the first national plan for science, technology and innovation. "We have planned out several new projects under Vision 2030 and the National Transformation Program (NTP) 2020."
He added that the prize demonstrates the interest shown by King Salman to encourage and give honor where it is due.
Al-Falih said the intelligentsia is being encouraged by the king at a time when the government is undergoing a transformation period under Vision 2030 and NTP 2020. The Kingdom can use their talents for national prosperity, the minister said.
Secretary general of the awards committee, Dr. Abdulrahman bin Ibrahim, said the committee received 387 nominations in the inventors category and 583 in the gifted category. "We have chosen 17 winners from the first category, while seven were selected for the gifted category," he said.
The prize for the inventors category was awarded to Dr. Muneer bin Mahmoud Al-Dsouqi, Dr. Ali bin Abdrabb Al-Rasool Al-Hamza, Dr. Fares bin Dabas Al-Sweilem, Dr. Waleed bin Fahd Allafi, Dr. Ali bin Saad Al-Ghamdi, Dr. Abdullah bin Mohammed Asiri, Dr. Basem bin Yousef Sheikh, Dr. Khalid bin Saad Abdukhair, Dr. Majed bin Muaala Al-Hazmi, Dr. Saeed bin Mohammed Al-Zahrani, Dr. Saad bin Abdullah Al-Jalil, Dr. Inas bin Mueen Al-Nashef, Dr. Khadija bint Mohammed Al-Zaydi, Dr. Iman bint Kamel Al-Dagas, Eng. Saleh bin Bidaiwe Al-Ruwaili, Eng. Saeed bin Mahd Al-Mubarak and Mohsen bin Jubran Hussein.
http://www.arabnews.com/node/1044466/saudi-arabia
------
Tunisia's fledgling democracy, through the eyes of two young women
26 January 2017
Tunisia stands alone among the nations that went through Arab Spring revolutions, in successfully forging and sustaining a democratic government after toppling a dictator.
The new documentary A Revolution in Four Seasons follows two young Tunisian women - one secular, and one Islamist - through the post-revolution era, as they each pursue their passion for a democratic future for their country. The movie was filmed over four years, and weaves the personal and political journeys of the two women into the fabric of Tunisia's history in the making.
KALW's Jen Chien sat down with San Francisco-based filmmakers Jessie Deeter, who wrote and directed the film, and Sara Maamouri, who co-produced and co-edited, to talk about what it was like to follow these women's stories
"Tunisian people, and the Arab people, and the Muslim people in general, they deserve democracy, and they can live in a democratic atmosphere. I have to give my people this hope."
"A Revolution in Four Seasons" will screen on February 11 and February 12 as part of SF IndieFest.
http://kalw.org/post/tunisias-fledgling-democracy-through-eyes-two-young-women#stream/0
URL: https://www.newageislam.com/islam,-women-and-feminism/new-age-islam-news-bureau/royal,-3-women-among-7-executed-–-manila-'sad'/d/109849
New Age Islam, Islam Online, Islamic Website, African Muslim News, Arab World News, South Asia News, Indian Muslim News, World Muslim News, Women in Islam, Islamic Feminism, Arab Women, Women In Arab, Islamophobia in America, Muslim Women in West, Islam Women and Feminism