New Age Islam News Bureau
11 Nov 2016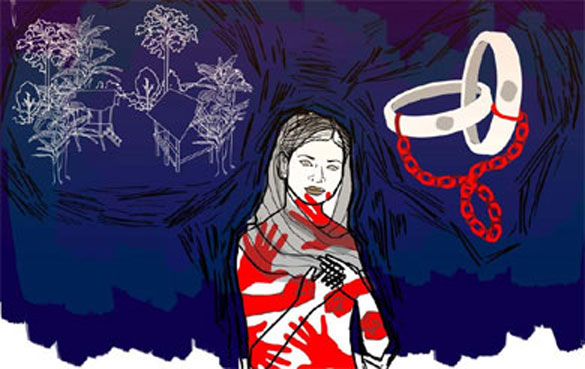 Illustration by Daniella Syakhirina
--------
• Women's Sport Given a Boost in Sharjah
• Louisiana: Muslim Student Says 2 Men Assaulted Her, Stole Hijab
• 'Reorganising Women Capabilities for Generating Income' Programme Launched In Pakistan
• High Percentage of Sri Lankan Muslim Families Marry Off Girls before Statutory Age of Marriage
• ISBU Hosts Talk about Muslim Women, Cultural Identity
• More and More Saudi Women Are Opting For Engineering Degrees
• Emirati Women Excel in Health and Education Sectors in Dubai
Compiled by New Age Islam News Burea
URL: https://newageislam.com/islam-women-feminism/rohingya-girls-sale-malaysia-forced/d/109076
--------
Rohingya Girls For Sale: Malaysia's Forced Marriage Problem
By Jonathan Vit
November 11, 2016
When Rashidah was 12 years old, a mob of hardline Buddhists set fire to her Rohingya village during a wave of anti-Muslim violence that set the young girl on a dangerous path to Malaysia that left her pregnant, the victim of sexual assault, and sold into marriage by human traffickers. The girl, now 15, is the victim what experts say is an under-reported issue plaguing Malaysia's sizable Rohingya population: the sale of young girls into forced marriages.
"I didn't ever think I would be married this way," Rashidah said. "I didn't have a chance to refuse... I think this was wrong, but I had no choice."
Malaysia is home to an estimated 90,000 Rohingya asylum seekers, but its difficult to determine the true size of the population, according to experts. The UN refugee agency in Kuala Lumpur has registered 53,896 Rohingya refugees, but experts say the number of undocumented Rohingya is nearly double those who are currently enrolled in UNHCR's refugee program.
Rendered stateless by the Myanmar government, which considers them Bangladeshi migrants, and confined to squalid settlements in what is effectively an apartheid state, the Rohingya people are among the most persecuted people on earth. In 2012, a fresh wave of anti-Muslim violence in Myanmar's Rakhine state displaced as many as 140,000 people and set into motion what would grow into a regional humanitarian crisis. During three months in 2015, as many as 25,000 Rohingya, as well as some Bangladeshi migrants, boarded over-crowded boats to chance the journey to Malaysia. Hundreds died during the journey.
In Malaysia, the demographics of the Rohingya population skews heavily male. The situation created a troubling demand for young Rohingya women in places like Ampang, a suburban neighborhood on the edge of Kuala Lumpur with a large population of Rohingya men. Human traffickers quickly targeted young girls in Rohingya camps in Myanmar, often offering them safe journey to Malaysia for a fraction of the normal cost. But once they set sail the terms of the agreement changed. Now the girls owed more than $1,000 US dollars. Those who couldn't pay were held in jungle camps. Many were raped by their traffickers. Many others were sold into marriages in Malaysia.
"We know women have been recruited by brokers in Rakhine state either for free or at very reduced cost because they traffickers were anticipating once they got to Thailand they could then charge men in Malaysia a lot higher fee," explained Amy Smith, of Fortify Rights, a nonprofit that documents human rights abuses in Southeast Asia. "They could sell them off then at that point."
"I didn't ever think I would be married this way. I didn't have a chance to refuse... I think this was wrong, but I had no choice." — Rashidah
It's difficult to determine exactly how many women have been sold into forced marriages, experts said. Arranged marriages are common in Rohingya society and the practice of a man paying his bride's way to Malaysia is a frequent practice. It's a practice that can, at times, look very similar to a forced marriage. But while the women set up on arranged marriages had some previous connection with their spouse and the approval of their families, the victims of forced marriages had no prior contact with their husband and no intentions of getting married when they set out from Myanmar.
"Forced marriage is a slightly loaded term," said Richard Towle, the UNHCR country representative for Malaysia. "The fact that an arranged marriage is arranged by parents doesn't make it a forced marriage. We have a lot of arranged marriages. We hear of a lot of children being sent here to marry men on an arranged basis. We sometimes hear stories where there was an element of money changing hand and coercion, so there is every case across the spectrum.
"I can't give you any information on that particular example but I do know that we have come across cases where money has changed hands, where girls have been sold to the families or to their husbands. That has happened... Its more common amongst the Rohingya groups, trafficking and smuggling, child brides, is more common among those groups than any others that we are aware of, [but] I can't go into the specifics in numbers because there is a lot that doesn't come across our radar."
Sharifah Shakirah, a Rohingya woman who works with the victims of forced marriages in Malaysia, said the situation is the symptom of a cruel system. Human traffickers routinely demand large sums of cash for passage to Malaysia, and men, some of which are willing to pay for a bride in a place where few eligible Rohingya women exist, are in-effect, supporting this extortion by paying traffickers' fees. Shakirah works with a loose coalition of Rohingya men and women to try to convince others that this practice is wrong, but it's a difficult conversation—especially among men who recently arrived and have little education, she said.
And for women who refuse to accept the marriage, their future can look even worse, Shakirah explained.
"There's a lot unfortunate girls here," she said. "The agents, they sell them into prostitution and then they have to work in the bar, the clubs. The worse things is they send these girls for begging. They cut their hands. They take their eyes. I've seen it... So their life is... I cannot explain to you how difficult it is."
The arrival of new Rohingya refugees has all but dropped off after the grim discovery of more than 100 shallow graves in near the Thai-Malaysian border shut down a popular transit point. Efforts by Myanmar's new government, led by Aung San Suu Kyi's National League for Democracy (NLD), to address the Rohingya situation initially inspired hope among some Rohingya, and further anger from Burmese nationalists. Former United Nations head Kofi Annan is now leading an NLD-approved investigation into communal violence in Rakhine state—a development many see as a step by the new government toward ending what one study called a system of state-sponsored genocide.
Yet, recent violence—and allegations of rape by soldiers—in Rakhine State have raised fresh fears over a resurgence of the kind of brutal conditions common before Suu Kyi's NLD party won the election. A path to lasting peace still seems distant.
Today, tens of thousands of stateless Rohingya people remain trapped in limbo in Malaysia—unable to legally work or return home, while facing years-long waits for potential resettlement by UNHCR. And hidden inside the Rohingya population are women like Rashidah, teenagers who have been sold into marriages without their consent by human traffickers. These women, poor, unable to speak English or Bahasa Malay, and afraid of law enforcement, are rendered all but invisible in Malaysia.
"There's a lot unfortunate girls here"
—Sharifah Shakirah
Rashidah, whose last name is being withheld by VICE to protect her identity, met with me in a small Islamic boarding school on the outskirts of Kuala Lumpur. Her green floral-patterned sari and button-down blouse were stained with specks of white paint after spending the afternoon repainting the school's walls—one of the many small jobs that keep her and her family afloat.
Her child, a chubby young boy, was resting on the floor. Her husband relaxed on the other side of the small school—a simple, but crowded space housed on a single floor of blighted low-rise shophouse. She met her husband, Aziz, at a nearby market. He was friendly and from the same region of Rakhine state, she said. At the time, Rashidah was in the middle of one of the darkest periods of her life. She arrived in Kuala Lumpur after spending months imprisoned by Thai human traffickers in a jungle camp on the border of Malaysia and Thailand. She was alone, broke, and the youngest girl at the camp—a dangerous combination.
The traffickers raped her multiple times. When she fell pregnant, they contacted a man in Malaysia and sold her into debt bondage.
"I stayed there for one month and the whole time he did it as much as he wanted," Rashidah said of her time in the camp. "I was then sold because I was pregnant."
The man, a Rohingya resident of Kuala Lumpur identified as Islam, paid the traffickers 3,000 ringgit (Rp 9.5 million) and brought Rashidah to his home. The man told Rashidah she would have to care for his children and clean his house to pay off the debt. She was forced to live in a small shed behind his home.
When he noticed she was pregnant, he began to look for a doctor to abort the fetus, Rashidah said. But a local ustad convinced him to allow her to have the child. The man then quickly began to search for a man willing to pay off her debt to take her as a bride.
When Aziz heard of Rashidah's situation he promised to pay off her debt if she would become his wife. It was a complex proposal for Rashidah. She admits that if things were different she wouldn't have gotten married. But at the time she was alone, trapped in debt bondage, and pregnant with the child of a human trafficker who raped her. Here was a man who appeared to be kind, who was willing to save her from her nights spent cleaning and sleeping in a shed.
"If my parents were still with me I could get married to an educated person or a person who had some money to support me and be very happy," Rashidah said. "But at that moment I didn't have enough money to support myself. The difficulties I faced would not have happen if my parents were here with me."
And she was concerned over another possibility: that she would be sold into prostitution if she refused the marriage.
"I was thinking at that point that if I don't get married, then I will be sold to another person and I would have to do a lot of wrong things," she said. "At that time, I didn't feel good. I think this was wrong but then I had no choice anymore because I already had one son. So I couldn't do anything else."
Today she remains married to her husband. She says he is very caring, and treats her well. But if she had a chance to do it all over again, she would have never left Myanmar.
"If I knew all of these things would happen, I wouldn't have come," Rashidah said. "I think Myanmar was better for me."
http://www.vice.com/en_id/read/rohingya-girls-for-sale-malaysias-forced-marriage-problem
--------
Women's sport given a boost in Sharjah
November 10, 2016
Sharjah: A decree setting up the Sharjah Foundation for Women Sports was issued Thursday by His Highness Dr Shaikh Sultan Bin Mohammad Al Qasimi, Supreme Council Member and Ruler of Sharjah.
The foundation will focus on developing women's sports in the UAE in general, and in the emirate of Sharjah in particular. It will highlight the role of Emirati sportswomen in various regional and international arenas, as well as encouraging them to engage in different sports.
It will also be responsible for forging sustainable strategic partnerships with local, Arab and international foundations in order to help it achieve its goal of bringing added value to women's sports and fields related to it.
The foundation will be chaired by Shaikha Jawaher Bint Mohammad Al Qasimi, Wife of His Highness Dr Shaikh Sultan Bin Mohammad Al Qasimi.
http://gulfnews.com/sport/uae/more-uae/women-s-sport-given-a-boost-in-sharjah-1.1927536
--------
Louisiana: Muslim student says 2 men assaulted her, stole hijab
November 11, 2016
Baton Rouge, Nov 10 (AP): A Louisiana college student was assaulted and robbed of her wallet and Muslim headscarf by two men, one of whom was wearing a white "Trump" hat, authorities said today. The 18-year-old woman told investigators she was walking near the University of Louisiana at Lafayette's campus Wednesday morning hours after Donald Trump's presidential victory when she was accosted by two white men who drove up in a gray sedan, Lafayette police said in a statement.
The student said the men struck her with a metal object, knocking her down, and stole her wallet and the headscarf, known as a hijab. She also said the men shouted racial obscenities as they struck her several times in the back. Police haven't identified any suspects. The student declined medical treatment.
Lafayette Police Department spokesman Cpl. Karl Ratcliff said investigators haven't found witnesses or surveillance video to assist them.
"Basically, all we have is her statement," Ratcliff said. "At this point, there's not really much else we can do with it." The university's police department issued a statement notifying staff and students about the student's reported attack. In a separate statement that didn't mention the incident, university president E. Joseph Savoie called for unity after a "long, contentious presidential campaign."
"With the election behind us, we must now concentrate on trying to find common ground that will enable us to move forward – together – as a nation," Savoie said. Kareem Attia, a 23-year-old graduate student who is president of the university's Muslim Student Association, said he didn't want to jump to any conclusions about whether the election results inspired the alleged attack. "I don't think that's proper," he said. "But I will say a hate crime is a hate crime. It's not within our religion to accept it. It's not within our species of humans to accept that, either."
http://www.india.com/news/world/louisiana-muslim-student-says-2-men-assaulted-her-stole-hijab-1640462/
--------
'Reorganising women capabilities for generating income' programme Launched in Pakistan
November 10, 2016
ISLAMABAD: The Islamabad Women Chamber of Commerce & Industry (IWCCI) and AGAHI signed a memorandum of understanding to work together on research, capacity building and entrepreneurship development. The programme signed under the title of 'Reorganising women capabilities for generating income' will empower and build capacity of women to create and operate small-scale entrepreneurial start-ups in Gujranwala, Sahiwal, and Kotri.
IWCCI and AGAHI agreed to exchange technical and business knowledge, capacity building, internship opportunities, exchange of visits, and project development as well as assistance in commercialization of product/services, industry linkages, exhibitions and entrepreneurship development. AGAHI plans to train 300 women in total.
Puruesh Chaudhary, Founder and President AGAHI said, "AGAHI is establishing new partnerships to improve the human capital and industry standards through knowledge-based initiatives, providing policy guidelines to the public sector leadership". She further added that the purpose behind this collaboration is to connect a relevant stakeholders to share their knowledge.
Speaking on the occasion Samina Fazil, Founding President IWCCI, said that this partnership is a milestone for increasing women participation in workforce. She further added, "The IWCCI will work with AGAHI to help the trained women to start their small-scale entrepreneurial start-ups and develop linkages with the local stakeholders to market their products.
Amna Sabahat, Program Manager AGAHI said, "It will define new value systems on how to create and manage shared understanding for the stakeholders, while building capacity of the women in the selected districts to do business in a more sustainable, responsible and profitable manner".
AGAHI is a not for profit organization established in Islamabad in 2011 under the Society Registration Act 1860. Its primary function is to create non-paid communication strategies, content intelligence structures, development collaterals and tools for diverse sectors and organizations. AGAHI encourages and advises individuals and institutions in pursuing and supporting initiatives to improve the state of development in Pakistan. It works on developmental frameworks facilitating information and knowledge sharing platforms on understanding challenges in global perspective. Its research work mainly focuses on national and international security, ICT, competitiveness, human capital development, and governance. AGAHI in association with several leading national and international partners focuses on creating shared spaces for interactive learning, collaborative thinking, and knowledge sharing. AGAHI is at the forefront of devising foresight research and future scenarios work in Pakistan.
http://nation.com.pk/national/10-Nov-2016/reorganising-women-capabilities-for-generating-income-programme-launched-in-pakistan
--------
High percentage of Sri Lankan Muslim families marry off girls before statutory age of marriage
10th November 2016
COLOMBO: A high percentage of Sri Lankan Muslim families get their girls married off before they attain 18 - the statutory age of marriage in Sri Lanka, according a new study entitled: Unequal Citizens: Muslim Women's Struggle for Justice and Equality written by Hyshyama Hamin and Hasanah Cegu Isadeen.
The study quotes a 2015 survey conducted by FOKUS Women in collaboration with the Muslim Women's Development Trust (MWDT) in Puttalam district involving 1000 Muslim female heads of household which says that 42% of the respondents were married below the age of 18.The reasons given for early marriage were mainly: "family tradition and customs" (55%) and "economic reasons including protection and security" (23%).
Records of Muslim marriage registration in Kattankudy, an all-Muslim town in the Eastern Province, indicated that in 2015, 22% of all marriages were with a bride below 18 years of age. This is a considerable increase from 2014 when the figure was 14%.
In Puttalam district on the Western coast, and Batticaloa district on the Eastern coast, the age of arranged marriages varied between 14 and 17. A Quazi in Colombo district said that Muslim girls get married between 15 and 17. "The value of a girl decreases after she is 17," he reasoned.
The Muslim Marriage and Divorce Act (MMDA) of 1951 allows marriage of girls as young as 12. The only restriction is contained in Section 23 which says that registration of marriages of girls below the age of 12 has to have a prior inquiry and authorization by a Quazi.
However, in practice, the solemnization of a marriage with a girl below 12 without a Quazi's approval is considered valid, the study by Hamin and Isadeen points out. Non-compliance with this provision amounts to a criminal offence, but the penalties are insubstantial - it is either a fine not exceeding a hundred rupees, or imprisonment not exceeding six months, or both.
Sec 363 (e) of the Sri Lankan Penal Code was amended in 1995 in such a way that the Muslim practice of allowing men to marry girls under 12 is safeguarded. The amended section re-defined "statutory rape" as sexual intercourse with any girl below the age of 16, with or without her consent "...unless the woman is his wife who is over twelve years and not judicially separated from the man".
Early marriage may lead to early divorce, the study says. According to women volunteers who assist affected women, one of the main reasons for husbands' seeking divorce from wives who are minors is that they are "unfit to have sex" or are "unable to do housework".
The plight of young girls who are divorced is pitiable. Education of young women and girls who got married early was more often than not discontinued, significantly limiting their higher educational and economic opportunities. The study showed a significant difference in the educational attainment of girls who were married before 18 years and those married after 18 years. The majority of respondents who married before 18, had only studied up to grades 5 or less.
Early marriage makes Muslim girls susceptible to grave financial difficulties in the event that the husband is unable or unwilling to provide maintenance, and also in the case of his death or his decision to marry another woman.
Those who are not in favor of setting a minimum age of marriage for Muslims, often give the example of some states in the USA which have a low minimum age of marriage. But they ignore the fact that Muslim majority countries such as Algeria, Jordan, Morocco, Tunisia, Turkey and Lebanon have set a minimum age of marriage in keeping with international human rights standards, the study points out.
http://www.newindianexpress.com/world/2016/nov/10/high-percentage-of-sri-lankan-muslim-families-marry-off-girls-before-statutory-age-of-marriage-1537072.html
--------
More and more Saudi women are opting for engineering degrees
Nov 11, 2016
By Shams Ahsan
SAUDI female students prefer humanities and social sciences: A misbelief.
Saudi women are only employed in sectors that provide a closed-door environment: A misconception.
It will come as a surprise to many that more and more Saudi women are opting for engineering degrees.
"Our College of Architecture is the biggest in terms of the number of students," Moodi Alsaib, executive director of Effat University, told Saudi Gazette on the sidelines of a higher education conference in Dubai.
She said that 60 percent of Effat University students were pursuing architecture.
Some 500 students are pursuing electrical and computer engineering in Effat University, a Jeddah-based private higher education institution for women.
The reason the colleges of engineering and architecture and design are popular is because there is a huge demand now for female engineers, said Dr. Zainab Abuelma'atti, Assistant Professor and Dean of Admission and Registration at Effat University.
"There is a lot of development taking place in Saudi Arabia. All of this needs human potential," she said.
Many Effat University engineering and architecture graduates are working with the mayoralty. Many of these graduates are involved in development projects in the Bani Malik and Baghdadiya areas of Jeddah. They are also involved in restoration projects for historical sites in Makkah, Dr. Zainab said.
Some students are working with General Electric, some are involved in research work at King Abdulaziz City for Science and Technology (KACST).
"They draw plans. They design and oversee the construction of buildings," added Moodi, who with Dr. Zainab was a speaker at the Ellucian World Tour, a conference held under the theme of "Designed for Higher Education. Together."
Effat University knows the pulse of the market.
"Before we develop our programs, we do market research. We study the market and its needs. Based on that, we develop programs," said Moodi.
Seeing the market demand for female engineers, the Dammam-based Prince Muhammad Bin Fahd University opened its electrical engineering college for women this semester.
"We are planning to open other engineering programs for women because there is a demand for female engineers," said Dr. Muhammad S. Al-Mulhem, vice rector of the university.
He said that female engineering graduates are absorbed in giant companies like Saudi Aramco and Sabic.
"There is a growing demand for our law program as well," said Dr. Al-Mulhem.
In line with Vision 2030, which emphasizes the use of technology, many Saudi universities and training institutes like the Technical and Vocational Training Corporation (TVTC) have adopted technology in classrooms and in facilitating faculty-student interaction.
Banner Information System and Blackboard Learning Management System are the two most popular technology tools adopted by Saudi higher educational institutes and vocational training centers.
"Our students apply online for admission and registration. Our admission, finance and HR are completely dependent on Banner," said Nesreen Alfahal, Registrar (Executive Manager) at Effat University.
"We are one of the early adopters of technology. We were the first in Saudi Arabia to install Banner. We have all the latest Cisco-based technologies," said Moodi, adding, "We have a vision to enable human capital and to enable students to perform and achieve their objectives and their potential."
"Women have a great role to play in society in view of Vision 2030. The new vision focuses a lot on women. They play a major role and their employment is now counted more than what it was in early stages," she said.
Jeff Ray, president and chief executive officer of Ellucian, a technology solution vendor for higher education, agrees with Moodi.
"Innovation happens at higher education. We can have a bigger impact on a closer community. Higher education is a highly connected global community. It works and thrives on collaboration," he said.
http://saudigazette.com.sa/saudi-arabia/saudi-women-opting-engineering-degrees/
--------
Emirati women excel in health and education sectors in Dubai
November 10, 2016
Dubai: The number of female Emirati doctors working in Dubai has increased by 16 per cent over the last three years (2013-2015), the latest report by the Dubai Statistics Centre (DSC) says.
The education and health sectors have both seen an increase in the number of Emirati women working as teachers, doctors, and nurses in comparison Emirati men.
Arif Al Muhairi, DSC Executive Director explained that Emirati women are making a big impact in the health sector. "The rate of Emirati female doctors increased from 388 in 2013 to 405 in 2014, and again in 2015 reaching 450 doctors," he said.
He added that Emirati women accounted for 96.8 per cent of all Emiratis in the nursing profession in Dubai in 2015, while Emirati female teachers made up 96.7 per cent of all Emiratis in the teaching profession in the emirate in 2015-2016.
Referring to the gender gap between Emiratis in these sectors, Al Muhairi said this is so because women are more inclined to take up professions such as doctors, nurses and teachers that call for higher education and university degrees.
"There has been an increase in the number of Emirati women living in Dubai who have a university degree or higher education in different fields. This has enhanced the economic participation of women with the highest efficacy and skills required by the labour market," said Al Muhairi.
Between 2014 and 2015, the gap between Emirati women and men who hold a Bachelor of Science (B.Sc) or higher degree increased in favour of women, from one per cent to five per cent. The rate of unemployment among Emirati women decreased by 0.2 per cent during the same period.
Gulf News spoke to Abdullah Baluma, Head of Planning and Recruitment in the Dubai Health Authority (DHA), who confirmed the growing numbers of female Emirati doctors, paramedics, nurses and administrave staff joining the health sector in the UAE. "The overall number of women has increased sharply in recent years. Emirati women are handling high positions in the sector including head nurses, surgeons, and those working in administration," he explained.
Baluma referred to the sponsorship programme offered by the DHA to encourage more Emiratis to study medicine. As part of the programme, deserving Emirati medical students will get a monthly allowance of Dh6,500 for medicine major and Dh5,500 for nursing and paramedic majors as an incentive to help them pursue their studies.
The DHA will provide sponsorship to 130 Emirati students selected each year to continue their higher education free of charge.
This programme ties in with the Dubai Health strategy and helps meet the goals of the National Health Agenda 2021.
Dr Sumaya Mohammad Al Beloushi, Director of the Nursing Department at the Ministry of Health and Prevention, confirmed the increase in the number of nurses in the health sector over the last few years. She referred to the initiative His Highness Shaikh Mohammad Bin Rashid Al Maktoum, Vice-President and Prime Minister of the UAE and Ruler of Dubai, launched to make the nursing vocation more appealing. "The initiative is in line with the UAE's strategy and vision to improve the standard of health-care services and to enhance the nursing profession," she said.
The initiative will introduce a programme to boost the number of qualified Emirati nursing cadres who are capable of providing exceptional health-care services. It will be implemented in cooperation with strategic education partners, health authorities, and media institutions.
"I am very passionate about my job and increasing the number of Emirati nurses in the medical sector. Here at the ministry, we tackle different activities to show the importance of the nursing profession," said Al Beloushi, who has a PHD in nursing.
She pointed out that the ministry is also encouraging Emirati high school graduates to take up nursing by offering full scholarships for undergraduate studies in nursing. "The scholarships cover educational fees, transport, accommodation and a Dh4,500 for monthly personal expenses," she added.
Al Beloushi advised young Emirati women to consider joining the nursing profession, pointing out that they have several options to continue higher education in the profession by specialising in different areas of health.
"I am happy to see even one person joining nursing a day. The community is well educated and I feel optimistic that, in the coming four years, the number of Emirati nurses will only increase. We want to prove ourselves to be the best by 2021, as nursing is included in the national agenda," added Al Beloushi.
http://gulfnews.com/news/uae/health/emirati-women-excel-in-health-and-education-sectors-in-dubai-1.1927489
--------
URL: https://newageislam.com/islam-women-feminism/rohingya-girls-sale-malaysia-forced/d/109076
New Age Islam, Islam Online, Islamic Website, African Muslim News, Arab World News, South Asia News, Indian Muslim News, World Muslim News, Womens in Islam, Islamic Feminism, Arab Women, Womens In Arab, Islamphobia in America, Muslim Women in West, Islam Women and Feminism, Moderate Islam, Moderate Muslims, Progressive Islam, Progressive Muslims, Liberal Islam