New Age Islam News Bureau
20 Feb 2018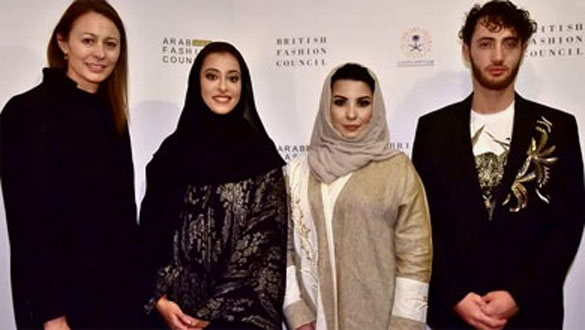 L-R: Caroline Rush, CEO of the British Fashion Council; Princess Noura bint Faisal, honorary president of the Arab Fashion Council; Layla Issa Abuzaid, KSA country director at the Arab Fashion Council; and Jacob Abrian, founder and CEO of the Arab Fashion Council. (Ben Broomfield)
-----
• Lindsay Lohan Once Again Sparks Rumours Of Converting To Islam
• IHC Declares Minor Christian Girl Enforcedly Married by Muslim Null And Void
• For Single Syrian Women, Search for Soulmate Comes Up Empty
• Pakistan's First Women in Law Magazine Launched
• Iran: Protests by Students, Plundered Women in Tehran, Rasht, Orumiyeh
• Iran: Women Stage Protests in Sanandaj, Tehran, Izeh
• French Female Isis Fighter To Be Extradited Following Conviction In Iraq
Compiled by New Age Islam News Bureau
URL: https://www.newageislam.com/islam-women-feminism/riyadh-host-saudi-arabias-first/d/114347
--------
Riyadh to host Saudi Arabia's first Arab Fashion Week
19 February 2018
LONDON: Saudi Arabia is set to host its first Arab Fashion Week next month as part of a push to support aspiring Saudi designers and drive growth in the sector.
Princess Noura bint Faisal, honorary president of the Arab Fashion Council (AFC), announced the news to a small group of industry insiders and journalists in London on Monday morning.
Reading a letter from the General Entertainment Authority in Saudi Arabia, she said: "Saudi Arabia's artistic community has been growing in size and in confidence for a number of years and the General Entertainment Authority believes that such an event will allow a proper platform to showcase their fashion and arts talents as the vehicle for a comprehensive range of entertainment options in Saudi Arabia.
"The General Entertainment Authority is proud to support an event that seeks to bring people together in a mutual appreciation of the power of fashion and art."
The show, organized by the Arab Fashion Council, will take place from March 26 to 31 at the Apex Center in Riyadh.
Princess Noura told Arab News that the event would be open to designers from all over the world. "This event is just the beginning," she said.
Layla Issa Abuzaid, Saudi Arabia country director at the Arab Fashion Council, said: "By launching the first Arab Fashion Week in Riyadh, we are aiming at more than to organize a world-class fashion event. We believe that to promote the fashion sector will support other economy sectors such as tourism, hospitality, travel and trade. Our fashion sector is among the fastest growing in the world."
The AFC, which aims to unite 22 Arab countries under one umbrella, recently launched its regional office in Riyadh.
Saudi Fashion designer Arwa Al-Banawi, a regular exhibitor at Paris Fashion Week, has been eagerly anticipating the day when she can showcase her designs to an international audience in her own country.
"Saudi Arabia is becoming more and more developed and I'm seeing a lot of Saudi designers following their dreams, it's a very special time for female empowerment and also for the world to see the beautiful creative talent in our country."
"I can't wait to have my first fashion show in Riyadh. I'm really excited that this is finally happening in my own country."
http://www.arabnews.com/node/1249671/saudi-arabia
--------
Lindsay Lohan Once Again Sparks Rumours Of Converting To Islam
February 19, 2018
Lindsay Lohan made headlines for her much-speculated change of faith when she was spotted holding the Holy Quran last year as well as sporting a headscarf.
Now, the Rumour singer was recently spotted wearing the headscarf once again at the London Modest Fashion Week on Sunday.
The Mean Girls actor, 31, opted to wear a hijab for the event, conforming to the event's theme – which showcased the latest styles in Hijabs, Abayas and long hemlines, reported Arab News.
Taking to Instagram, one of the halal makeup line, Hawa Cosmetics, shared the picture of the starlet with a caption, "Oh my days!".
"As if Lindsay Lohan came over to say hello to Team Hawa! She was so lovely and was saying how she's into halal cosmetics and what she's actually wearing on her face today was all halal! Well all I can say is if it's good enough for Lindsay Lohan, (girl, what are you) all waiting for?"
Running alongside London Fashion week, the event, which charges up to £200 for tickets, features shopping, runway shows, talks and workshops – including a 'sharia legal hub'.
More than 40 designers from around the world showcased scarves, hijabs and loose-fitting maxi dresses at the annual style showcase organised by Haute Elan, who consider 'modest fashion' to be one of the fastest growing consumer markets.
In January, Lohan deleted all the pictures on her Instagram account and changed her bio to 'Alaikum Salam.'
However, the actor has not yet revealed whether she is converting to Islam, while her representative refused to respond to a question proposed by a Daily Mail correspondent too.
When appearing on the Turkish talk show Haber Turk later year, she explained that the Quran she was holding was actually just a gift from some friends.
"My very close friends, who have been there for me a lot, in London are Saudi and they gave me the Quran and I brought it to New York because I was learning," said Lohan.
In a post that's now deleted, the starlet took to Instagram to give a sneak peak on her upcoming fashion line. And, by the modest looks of it, seems like it will be comprising hijabs.
Captioned as, "New Fashion Line coming soon ….#fashion", the star is seen wearing a headscarf, with her face half hidden.
The actor had also said that she had tried praying "the Muslim way" and even fasted during Ramazan. "I did Ramazan for three days with my friend from Kuwait. It was hard but it was good. It felt good," she said.
https://tribune.com.pk/story/1638902/4-lindsay-lohan-sparks-rumours-converting-islam/
--------
IHC Declares Minor Christian Girl Enforcedly Married by Muslim Null And Void
February 20, 2018
Islamabad: February 19, 2018. (PCP) Last week a landmark decision in a Islamabad High Court hearing resulted in the emancipation of 12 year old Christian girl from her Muslim rapist despite her captor having an 'official' Islamic marriage certificate.
Elisha (12 yrs) was kidnapped from the village of Pindorian, Islamabad in November last year. After a few days a stranger brought papers to her father Iqbal Masih confirming that she has been married to a Muslim man named Qadeer Ismael and was now legally bound to him. However Iqbal Masih then took the papers to the local police station and demanded that his daughters rapist and kidnapper be arrested and Elisha returned to him.
In a bizarre twist of events Iqbal Masih was then arrested after the Muslim abductors laid counter charges against him advising him to drop all charges or face dire consequences. After being detained for a day the police let the father go as they could not find any strong evidence of a felony. The father then began a legal suit to win back his daughter and filed a petition at Islamabad High Court, and a hearing was held on Thursday 15th Februray.
Justice Shaukat Aziz Siddiqui accepted the petition registered by Iqbal Masih (40 yrs) that his daughter Elisha had been forcibly abducted and raped before being illegally married under duress to a Muslim man named Qadeer Ismael who producing a marriage certificate which purported his age as 20 yrs and indicated that Elisha was 18 yrs.
However, at court Iqbal Masih submitted Elisha's National Identity Card (NIC) which illustrated that she was born on 15th December 2005. The details of the card were matched with records held by the National Databases and Registration Authority (NADRA) which confirmed that Elisha was below 13 years of age. Justice Siddiqqui then stipulated that as the child was under 14 years of age, she was below the legal consent for a marriage.
The evidence against the rapist became overwhelming when a terrified Elisha was brought to a witness stand during which she could be seen visibly weeping while she said that she had embraced Islam for the purposes of marriage and claimed an Islamic name as her new name. However, during a cross examination the girl could not name any prophet but Isa (Islamic name for Jesus) and confirmed that she was illiterate. Her lack of knowledge of the Islamic faith and failure to name even one Islamic prophet barring Jesus who she said was her prophet failed to convince the court that she was a true convert
Under such compelling evidence Justice Siddiqui ordered police to investigate with great rigour the allegations made by Iqbal Masih. He wrote in his court order, "I am not convinced that the girl embraced Islam of her free will and in a secure environment; rather it appears to be the result of inducement and compulsion".
"I am constrained to observe that this sort of act of abduction under the guise of Islam is totally uncalled for and unacceptable,"the judge wrote, adding that Muslims, Christians and all other citizens are equal when it comes to constitutional guarantees.
When the judge ruled that the girl return back home to her parents she rather unsurprisingly acceded to the wishes of the court without fuss and was visibly said to be overjoyed.
Wilson Chowdhry, Chairman of the BPCA, said: "This surprising precedent set in Lahore High Court could be a watershed moment for Pakistan, a people who have been tormented in recent weeks by revelations of the extent of child abduction and rapes across their nation.
"Since 2014 it has been estimated that 700 Christian girls are kidnapped, raped and forced into Islamic Marriage every year after a report was published by Muslim NGO 'Movement of Solidarity and Peace' (MSP).
"Even then little has been done to resolve this social malaise that most Christian NGO's believe is on a much larger scale than the meagre assessment by MSP.
"In almost every other case Christian girls have been forced to stay with their Muslim rapists due to the higher value of a Muslim husband's authority compared with the authority of Christian parents over the life of the child in Pakistan. Moreover the minimum age of 14 for marital consent has up till now been summarily ignored.
"This amazing result must have been triggered by the deep soul searching triggered by the kidnap, abduction, rape and murder of young Zainab Ansari (RIP)(click here). Video footage of her abduction and images of her body dumped on a rubbish pile still haunts the nation.
"This poor child has been traumatised and will need serious counselling she must receive professional help so that she is strong enough to testify against her abductors - justice must be served.
"The bravery of her parents has brought her to a place of safety and I am sure they are willing to take on whatever comes their way in order to make their daughter safe. I cannot imagine the level of threats and intimidation they have had to overcome but I know that right now all that means nothing. For now they will be grateful to God and will be relishing the company of their tender child.
"No doubt as public knowledge of this sordid story filters out and more detail is revealed, we will all be more shocked and disturbed by the actions of the perpetrators. But that is still to come.
"For now the family will have a short reprieve and will soon have to be back in court to fight this case. Sadly in Pakistan justice is often a pipe-dream and even now the culprits are plotting their escape and will use threats, bribes and every corruption they can find to falsely exonerate themselves. They will also have many Muslim supporters who believe the rape and conversion of a Christian child in this manner is warranted in Islam.
http://www.pakistanchristianpost.com/detail.php?hnewsid=6778
--------
For single Syrian women, search for soulmate comes up empty
February 20, 2018
Maher al-Mounes - syrian student Nour wistfully examines her bare ring finger, then scans fellow classmates around her at Damascus University. Amid the sea of women , there's no eligible single man in sight.
At 30, Nour says she is eager to get married - but Syria's protracted conflict means potential suitors have emigrated, joined the army or lost their lives.
"I hope a wedding ring will decorate this finger someday," says Nour, who asked to use a pseudonym to speak freely. "But there are no more young men here. They all left years ago. I'm noticing a drop year after year."
Syria's conflict erupted in 2011 with mass protests, just as Nour was preparing to graduate with her first degree in economics. She recalls fielding weekly marriage proposals at the time.
"But today these proposals have almost completely stopped. They're limited to ones I see as incompatible for a normal marriage - either from men who are already married or old!"
To pass the time, Nour has opted to pursue her second degree at Damascus University in literature. "I've got nothing to fill my time with. No friend, no lover, no husband," she sighs, pulling her dyed blonde hair away from her face.
"I'm terrified I'll find a grey hair before I get married. I'll definitely lose all hope at that point."
In Syria's broadly conservative society, women were generally expected to marry in their 20s, but the lack of eligible bachelors has somewhat relaxed those norms.
Missing 'the marriage train'
"Now, because of the crisis, a woman could marry at 32 without people saying she's late to wed," said Salam Qassem, a psychology professor in Damascus.
More than 340,000 people have died in Syria's war, and thousands of men have been deployed on front lines far from home.
Of the country's pre-war population of 23 million, more than five million have fled the country and even more are internally displaced.
That has unravelled the social networks parents once used to find potential spouses for their sons and daughters, said Qassem.
"Neighbours used to all know each other in the past, or could get to know each other easily. But today, families are scattered all over the place," she said.
Some Syrians have creatively circumvented such obstacles with "Skype weddings", where brides and grooms in different provinces or even countries authorise a third party to sign their marriage licenses as they exchange vows online.
Yusra, 31, said the fact that she has yet to wed makes her parents fret that she will "miss the marriage train". "I don't want you to become a spinster," her mother warns her repeatedly, advising her to "look around carefully to find a catch".
But much like Nour, Yusra - who works as a government translator - finds herself surrounded by women or by male colleagues that she considers too old to be compatible.
"Everyone knows a huge section of Syria's youth has paid the biggest price for what's happening," the tall, slender woman told AFP.
"Some emigrated. Some are fighting. Financial considerations prevent others from even thinking about getting married - not to mention, of course, those who died over the past seven years," Yusra said sadly.
On top of all that, she said the war has "widened the sectarian rift in society", making people from different religious backgrounds less likely to get hitched.
Mission impossible: marriage
The war has also led to skyrocketing inflation, widespread unemployment, and economic losses estimated at more than $225 billion - making 37-year-old Firas balk at the thought of a wedding.
"Rising living costs and other financial factors make getting married like mission impossible," said Firas, who works in a washing machine repair shop in the Damascus neighbourhood of Bab Touma.
Mortar rounds fired by rebels entrenched outside the capital have landed near his shop, endangering his life and those of this customers.
"I can't make plans or imagine my future. I'm living day by day - God knows if I'll be alive tomorrow," said Firas, who keeps a pencil tucked behind his ear even when he is not in the shop.
"Anyone that gets married in these circumstances is crazy. I can't guarantee a safe and dignified life for myself, so how I could I guarantee one for my wife and children?"
In a nearby district, medical student Munzer Kallas hangs a massive calendar on his bedroom wall, with key dates circled in red.
They mark upcoming application deadlines for scholarships to pursue his studies abroad.
"I don't think about marriage at all. Marriage needs stability, and I decided to follow my brother to Germany," said Kallas, 26. "I'm better off looking for a plane ticket than a wife."
https://nation.com.pk/20-Feb-2018/for-single-syrian-women-search-for-soulmate-comes-up-empty
--------
Pakistan's first Women in Law magazine launched
February 19, 2018
The Lahore Education and Research Network (LEARN) held the women in law Seminar 2018 in association with Digital Rights Foundation (DRF) on 17th February 2018 at the Nishat Hotel Lahore.
'Women in Law' is an initiative of LEARN that was launched in 2016 to highlight and address the challenges and opportunities for female lawyers in pakistan . Under this initiative the Network held three-part dialogue series in 2016 and followed up their work and research on the same with practical steps to build a stronger community of female lawyers, to connect and open channels of communication amongst them.
The seminar was jointly dedicated to the exemplary contribution of Late Ms. Asma Jahangir to justice, rights and cause of women with a heartfelt tribute by Nighat dad (Founder of Digital Rights Foundation) and Nida Usman (Founder LEARN).
Thereafter, Nida Usman provided a round-up on the work done so far on this front and the opportunity was taken to launch the first ever magazine dedicated to showcase the work and achievements of female lawyers in pakistan – The Pakistan's women in law magazine .
In connecting female lawyers across pakistan , Nida stressed the importance of harnessing the marvels of modern technology as they themselves use technological platforms and social media to connect and provide a much-needed space to female lawyers for networking that was traditionally not accessible to them.
The Seminar then commenced the panel discussion on women , Technology and law to promote an understanding of digital rights and the role of women in utilizing technology for their work and networking and also how they could use it for advocacy of digital rights to reach the most vulnerable of all victims.
The panel comprised of the following speakers Shmyla Khan, Project Manager – Cyber Harassment Helpline, Digital Rights Foundation, Anooshay Shaigan – Vice President, Courting the law and Angbeen Mirza – Advocate and Board Member, Digital Rights Foundation. The session was moderated by Ms. Nida Usman Chaudhary.
The panelists spoke about how the digital rights should be pursued and approached and how we should see them as an extension of the existing fundamental rights. They explained how digital rights do not exist in a vacuum and operate within the framework of the penal laws of the State. Having said so, they also identified the weaknesses of the criminal justice system in this regard and the work the needed to be done to make the reporting of cyber-crimes most user-friendly particularly for women who fall prey to most heinous of online abuse such as revenge porn.
The seminar concluded with a short workshop on achieving online security delivered by Hamza Ali and Nighat Dad of DRF. The participants were briefed on the fundamentals of online security, passwords and social applications that ensured data security.
The participants were then given a chance for an open floor discussion on women in law and digital rights and a chance to network with each other more informally over lunch.
https://nation.com.pk/19-Feb-2018/pakistan-s-first-women-in-law-magazine-launched
--------
Iran: Protests by students, plundered women in Tehran, Rasht, Orumiyeh
19 February 2018
tudents of Tehran's University of Art and the University of Orumiyeh (NW Iran) staged protests against new policy to receive tuition from students. At the same time, plundered women and men held a protest in Rasht (N Iran).
Students of Tehran's University of Art held a protest outside the office of the university's president on Saturday, February 17, 2018, against the policy of receiving tuition from students. They also complained of constructural, educational, cultural, financial and welfare problems at the university.
Masters students of the University of Orumiyeh, capital of West Azerbaijan Province, also held a protest on February 17, for the third day against the policy of taking tuition from students. Their protest was also held outside the university president's office. Orumiyeh University students held protests also on February 14 and 15 in the same place.
Women and men plundered by the Caspian Institute in Rasht, capital of northern Gilan Province, held a protest on Saturday, February 17, outside the company's branch in Golsar. Women actively engaged in this protest and their chants could be clearly heard in the crowd when they protested the company's thievery and plunder.
The protesters held similar rallies on January 23, 28 and 30 as well as on February 6 and 13 to demand their plundered deposits.
http://www.women.ncr-iran.org/iran-women-news/4813-iran-protests-by-students-plundered-women-in-tehran-rasht-orumiyeh
--------
Iran: Women Stage Protests in Sanandaj, Tehran, Izeh
19 February 2018
Teachers of Sanandaj, men and women who were expelled from their jobs on unfounded allegations in 1979-1981 staged a protest outside the Governorate of Kurdistan on Sunday, February 18, 2018.
The teachers demand their past-due wages, elimination of discrimination in their jobs, making official the employment of contract teachers, and let the expelled teachers go back to work.
Some 100 managers of kindergartens in Tehran staged a protest outside the Labor Ministry against a memorandum signed between the Welfare Organization and the Education Ministry on Sunday, February 18, 2018. They want the memorandum revoked.
According to this memorandum, children between 4 to 6 years of age, are going to be taken care of by the Ministry of Education, creating crises in the kindergartens.
One of the protesting managers said, "Most of the women working at the kindergartens are heads of household and their families' breadwinners. If kindergartens are to take care of children only 1-3 years old, many of these women will lose their jobs."
Pre-school educators for nomad children in Izeh also staged a portest against recruitment of inexperienced forces based on fraudulent relations. They also blamed officials of the province for not paying attention to this issue.
The protest took place on Saturday, February 17, 2018, outside the Governorate of Izeh. One of the teachers said, "More than 200 pre-school educators for nomad children in Khuzistan were supposed to be recruited by the province. The total number of pre-school educators in Khuzistan is 157 while 86 of them are working without pay in Izeh."
http://www.women.ncr-iran.org/iran-women-news/4814-iran-women-stage-protests-in-sanandaj-tehran-izeh
--------
French Female Isis Fighter To Be Extradited Following Conviction In Iraq
By Shoshana Kranish
FEBRUARY 19, 2018
Melina Bougedir, the first female French ISIS fighter to be captured by Iraqi forces, will be extradited to France following her sentencing in Baghdad, Le Monde reported.
Bougedir was sentenced on Monday to 7 months in prison for illegally entering Iraq. She left France in 2015 with her husband and their three children to join the Islamic State. While in Iraq, she gave birth to the couple's fourth child. She and her children were captured by Iraqi forces in July 2017; her husband, Maximilien, who was reportedly a chef, died in combat.
She will remain in Iraqi custody until her papers have been sorted, at which point she will be sent back to France and tried for criminal conspiracy to aid a terrorist organization.
Three of Bougedir's children have been repatriated to France. The fourth, who is under 2 months old, will remain with her.
At her hearing, she told the judge that ISIS had confiscated her French passport, which she had used to enter Syria. She reportedly had stayed in Syria for 4 days before journeying on to Mosul, where she remained until her capture.
According to French intelligence, as of November 2017, some 700 French nationals are fighting with the Islamic State, of which aroud 300 are women. Nearly 2,000 French citizens have gone to Iraq and Syria to join the group.
http://www.jpost.com/International/French-female-ISIS-fighter-to-be-extradited-following-conviction-in-Iraq-543057
--------
URL: https://www.newageislam.com/islam-women-feminism/riyadh-host-saudi-arabias-first/d/114347
New Age Islam, Islam Online, Islamic Website, African Muslim News, Arab World News, South Asia News, Indian Muslim News, World Muslim News, Women in Islam, Islamic Feminism, Arab Women, Women In Arab, Islamophobia in America, Muslim Women in West, Islam Women and Feminism