New Age Islam News Bureau
26 March 2017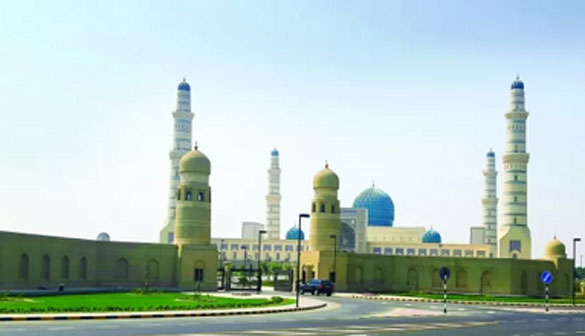 Photo: Oman has also witnessed an increase in the number of grand mosques by 2.6 percent in 2016, equating to 1,419 structures compared to 2015's 1,382. Picture used for illustrative purposes only. Photo-FileRise in female Islamic teaching specialists, mosques in Oman
---------
• Four Killed In Three Separate Cases of 'Honour Killings' In Sindh
• Muslims in India Ask Top Court to Ban Instant Divorce
• In Times of 'Love Jihad', Inter-Faith Couple Found Dead In Jungle
• Women's Groups Outraged by Statement on Muslim Marriage
• Muslim U.S. Scholar Focuses On Women Empowerment under Islamic Law
• New Film Spotlights Palestinian Women Navigating Life 'In Between' Cultures
• A Mother and Daughter Reflect On Life as American Muslim Women
Compiled by New Age Islam News Bureau
URL: https://www.newageislam.com/islam-women-feminism/rise-female-islamic-teaching-specialists/d/110537
--------
Rise in Female Islamic Teaching Specialists, Mosques in Oman
March 25, 2017
Muscat: Women who specialised in Islamic teachings have been increasing over the years, according to the latest data from the National Centre for Statistics and Information (NCSI).
In the Sultanate, their number has risen to 1,298 of whom most are considered to be female religious guides (1,071). There are 132 sermon preachers, 59 male guides and 36 mentors, according to the NCSI. Ad Dakhalia Governorate has the largest increase in religious cadres at 228, with 191 female guides, 22 preachers, and 22 male guides.
Muscat Governorate has also witnessed an increase in numbers (202), consisting of 179 female guides, 19 preachers, three mentors and one male guide.
The 2016 data also states an increase in the number of Imams and Sheikhs to 3,703. North al Batinah recorded the highest number of Imams and preachers at 803, including 13 prayer callers.
Muscat Governorate has the second largest number of Imams and preachers at 546, with South Sharqiyah in third place with 408.
The Al Wusta region has the smallest number with 61.
Oman has also witnessed an increase in the number of grand mosques by 2.6 percent in 2016, equating to 1,419 structures compared to 2015's 1,382.
According to the NCSI, North Batinah has the highest number of grand mosques at 333. Muscat came in at second with 238, while Dhofar took third spot at 169. Smaller sized mosques have also increased by 0.7 per cent to reach 14,367 smaller sized structures.
timesofoman.com/article/105683/Oman/Heritage/Rise-in-female-Islamic-teaching-specialists-mosques-in-Oman
------
Four killed in three separate cases of 'honour killings' in Sindh
March 26th, 2017
Three women and one man lost their lives in three separate cases of alleged honour killing in Sukkur and Matiari districts.
A woman was shot dead early Sunday in Khuram village near Rohri, Sukkur by her husband, Akram Jagerani, who suspected her of having illicit relations with a man in their village, police said.
Jagerani also shot and killed another man in the incident, police added.
After committing the murders, Jagerani fled the village to avoid arrest. Police said they were conducting raids across Sukkur to find and arrest the accused.
The bodies of the victims were shifted to a local hospital for postmortem.
In another incident, a mother of three was gunned down by her brother in Baloch Khan Jamali, Matiari within the limits of the New Saeedabad police station.
Madam Chandio was killed because her brother 'suspected her character', police said.
After committing the murder, the accused surrendered to the police and confessed his crime.
A First Information Report (FIR) had not been registered in the case as of Sunday morning. Madam Chandio's body was handed over to her mother, police said.
In the third such case, Ursana Lashari , another mother of three, was shot dead by two cousins in Bahram within the limits of the Tamachani police station on Friday night.
The accused, Mohammad Lashari and Nazal Khan Lashari, killed their cousin because they suspected her of having illicit relations with her brother-in-law while her husband, Feroze, was out of the house, police said.
The body of the victim was brought to the Tamachani police station the postmortem. An FIR is expected to be registered later in the day.
dawn.com/news/1322943/four-killed-in-three-separate-cases-of-honour-killings-in-sindh
------
Muslims in India Ask Top Court to Ban Instant Divorce
March 26th, 2017
Married at 14 and divorced by 16, Seema Parveen had a marriage as brutal as it was short.
Now 42, Parveen remembers her husband threatening to hurl her from the balcony of their home. She blinks back tears recalling his rage when she bore him a daughter and not a son.
"His whole family was upset," she says. In conservative northern India where they lived, boys are preferred over girls — who have been traditionally viewed as a burden. When her daughter was one month old, Parveen went to stay with her mother. "That's when my husband wrote and said, 'Talaq.' "
All that's required for a Muslim man in India to end a marriage is to declare, talaq, which means divorce in Arabic. Pronounced three times, it's irrevocable. Many Islamic countries have banned the practice.
Parveen says her husband rebuffed all her attempts to return to him.
"I was so young," she says, "I didn't know what was happening."
Maimoona Mollah, president of the All India Democratic Women's Association, Delhi Chapter, condemns the practice of talaq as "unilateral" and "arbitrary."
Mollah says women can also initiate divorce. But members of the community say a woman must first consult a cleric, while a man, she says, "severs the relationship" on his own. She says there needs to be a "formal process" for any divorce where a woman and her children receive financial support.
The way talaq is practiced, "it definitely stands in the way of a woman getting her rightful place," Mollah says.
Several divorced women have petitioned India's Supreme Court to ban this form of instant divorce. Countries including Pakistan, Tunisia, and Egypt have curbed the practice and moved divorce into the orbit of the state and judiciary.
Parveen has been divorced three times by three different men. None provided financial support. She went back to school to support herself and her child, and she began teaching Urdu.
Her third husband-to-be demanded that she quit her teaching job after what she describes as his lavish promises to keep her financially sound. She complied and, in 2010, Parveen married him only to be treated like a "servant," she says — mentally and psychologically abused.
"My husband and his sons would beat me, lock me in a room and deprive me of food," she says.
Parveen says husband number three abandoned her, then delivered talaq by telephone. But Parveen has gone to court to defend her right to be in his home.
When pressed on why she would subject herself to such maltreatment, Parveen answers softly but matter-of-factly: "Where will I go? My father's dead. There's no one to take care of me. But I have rights to my husband's pension, and I'm not giving that up."
She brought a lawsuit in a district court and won the right to financial support from her third husband, although she's not seen any yet.
Zakia Soman, co-founder of the Indian Muslim Women's Movement, says her organization sees many women who want to stay in unhappy marriages to avoid becoming destitute. These women seek to keep "the status of wife" because they are so vulnerable, she says. Soman calls talaq a "sword hanging over a woman's head," and says domestic violence and the male prerogative to declare instant divorce are intimately linked.
She says frequently the husband threatens: "'Do this, or I'll talaq you! Don't do that, otherwise I'll talaq you.'" She says: "I should know because I've had a very bad marriage myself and being beaten was my fate for 16 long years."
Soman fled after she and her son were savagely beaten. Days later the letter arrived from her husband announcing divorce. Up until then, Soman says the social pressure to remain in that marriage was immense. She calls it "the woman trap" — the feeling that you need to make it work. Like many women, she assumed "that whole burden of the institution of marriage," she says.
In 2015, Soman's organization surveyed India's Muslim community, the world's third largest.
It found that 1 in every 11 women has had their marriage ended by talaq. Of those divorced women, fewer than five percent ever get any financial support.
Activists like Soman say India's conservative clerics sanction this practice, relegating Muslim women to second class citizens.
"'Where is the need to consult a woman? Where is the need to take her opinion,' is what they feel," she says. And "they are passing it off in the garb of religion."
India's Supreme Court will consider whether talaq is integral to Islam and thus a practice constitutionally protected under freedom of religion. The Muslim Personal Law Board, which unofficially governs the community, says talaq is valid as divine law and opposes any reforms.
"Talaq is an honorable way of dissolving a marriage, without going to the court of law," says S.Q.R. Ilyas, a member of the Muslim Personal Law Board. "The wife can re-marry ... life goes on."
But Tahir Mahmood, a renowned expert on Islamic law, says the Quran sanctions divorce only after a period of reflection and attempted reconciliation, usually lasting three months.
"This is a precondition of divorce. Who bothers about it? Nobody bothers about it," he says. "No man is free to pronounce an instant divorce." He calls that practice a perversion of Islam and says it should be struck down.
"The original version of the Quran ... insists on gender equality. And that is precisely what is missing in India," he says. He says many of the country's politicians are careful not to offend powerful clerics within India's sizable Muslim community. Such politicians are interested "in votes" not "in social change," Mahmood says. "The only hope is the judiciary."
Zakia Soman says the courts provide women "a level playing field." But she says reforming the Indian Muslim community's divorce customs won't be easy.
"Legal reform is just one part of overall reform which is required in society ... This is just the beginning," she says.
capeandislands.org/post/muslims-india-ask-top-court-ban-instant-divorce#stream/0
------
In Times of 'Love Jihad', Inter-Faith Couple Found Dead In Jungle
TNN | Updated: Mar 26, 2017
AHMEDABAD: In times when the din over 'love-jihad' is getting louder, bodies of a star-crossed inter-faith couple in Amerli district were found in a forest near Liliya, less than 100 km from Gir sanctuary last December. Unfortunately, the ill-fated couple's love ended in death despite Gujarat high court's directive to the state government to ensure the girl's safety with the court itself monitoring the case.
The bond of love between Muslim boy Sohil Bambhaniya (21) and Hindu girl Sejal Shiroliya (17.5), both residents of Liliya, was met with furious hostility from both families. When they eloped the first time, an FIR was filed against Sohil for abducting a minor girl for forcible marriage. As the families settled the differences, the high court quashed criminal charges against the boy.
During the quashing hearing in October last, Sejal told the HC that she was scared she will be forcibly married to a person of her family's choice. She also categorically stated she feared her life was in danger. Following this, the high court made her family members promise that they would not harm the girl and force her into marriage before she turned 18.
Skeptic about the family's behaviour, the HC also ordered police to ensure the girl's safety. It ordered that a protection officer visit the girl every week to ascertain her safety.
While the HC quashed the FIR, it kept the matter pending expressing concern over safety of the girl. Justice JB Pardiwala, who was hearing the case, asked advocate Kruti Shah to remain in touch with the girl so that the minor could confide in her.
The lawyer kept on calling the girl on daily basis to persuade her that she must not take any drastic step and once she becomes a major, she would be free to take a decision on her own. "The girl continued to say things were OK, but I got a sense that she believed that her family would not allow her to go with the boy," advocate Shah told TOI.
The court directed Amreli SP to conduct investigation on who pressurized the couple to commit suicide.The court also told the SP to probe if it was a case of honour killing.
"I am saying so because the boy was a Muslim and the girl belonged the Bharwad community. The possibility of honour killing should not be ruled out," the court said.
timesofindia.indiatimes.com/city/ahmedabad/in-times-of-love-jihad-inter-faith-couple-found-dead-in-jungle/articleshow/57834262.cms
--------
Muslim U.S. scholar focuses on women empowerment under Islamic law
March 26th, 2017
The Westernized definition of feminism, and misconceptions that surround Muslim feminists as being in opposition to Sharia' law, were challenged in a session at Northwestern University in Qatar.
In her session, "How Not to Talk about Muslim Feminism," distinguished scholar and Islamic and U.S. constitutional law expert, Asifa Quraishi-Landes, spoke about the goal of women's empowerment within Muslim societies. She was introduced by NU-Q Professor Zachary Wright, as well as NU-Q student, Sheikh Thani bin Hamad Al Thani who introduced her on behalf of the student body.
She argued that years of Western colonization have skewed Islamic laws and societal behaviors in Muslim countries. This negatively affected the global perception of Islam, and created false divides between those who support Westernized liberation, and those grounded in Islamic law.
"There seems to be a West vs. Islam polarity," explained Quraishi-Landes. "So, you're either for women's rights and against Islam, or for Islam and against women's rights. And there is very little room in between. That's how the international discourse has been set up, and how most people, including Muslim women, talk about this."
In introducing Quraishi-Landes, Wright noted that women in Muslim societies would benefit from more education in Islamic law. "Muslim societies think of sharia as ultimate justice, not the reductionist image of hudud punishments so popular in the Western media. Muslim women … have effectively asserted their rights through an appeal to sharia-based norms specifying female rights," Wright said.
"Professor Quraishi-Landes is a distinguished scholar who brings a practical, legal perspective to understanding feminism in the Islamic world, thus expanding the perspective of our students," said Everette E. Dennis, dean and CEO.
Quraishi-Landes is a professor of law at the University of Wisconsin-Madison, where she teaches courses in Islamic law and U.S. constitutional law. She is also recognized for her work in comparative legal theory, and women in Islamic law.
Quraishi-Landes argues that advocacy work for women's rights in Muslim societies has been most successful when it avoids Western liberation vs. Islamic conservatism false binary. Her research in Islamic constitutional law, which remains an important source for ethical principles in modern governments across the Muslim world, shows that Muslim women had more rights and freedom prior to the colonization era.
She explained that a lack of awareness about the origins of Islamic law, have allowed the West to manipulate the religion and what it actually calls for, "Women in Muslim societies would benefit from more education in Islamic law. This is a proposition that many Western feminists find unpalatable," said Quraishi-Landes.
Quraishi-Landes's session is the first of a series of interdisciplinary lectures that are part of NU-Q's new Middle East studies minor. The minor is an expansion of a certificate program that NU-Q has offered for several years. The new minor will provide students with a critical understanding of the region's cultures, histories, societies, politics, intellectual contributions, and mediated representations. It also addresses global issues essential for understanding the region, such as decolonization, orientalism, and gender or religious revivals.
albawaba.com/business/pr/muslim-us-scholar-focuses-women-empowerment-under-islamic-law-954766
------
New Film Spotlights Palestinian Women Navigating Life 'In Between' Cultures
By JOANNA KAKISSIS • 1 HOUR AGO
COURTESY OF MAYSALOUN HAMOUD
Filmmaker Maysaloun Hamoud does not like being typecast.
"The Israelis say, you don't look Arab or Palestinian," she says, rolling her eyes. "Huh? If I wear a dress or outfit that [doesn't look] religious, I cannot be a Palestinian? I have to be, like, exactly how you design me?"
Hamoud is 35, wearing a long skirt, tank top and rose-tinted sunglasses. The title of her acclaimed and controversial film Bar Bahar — or In Between in English — is tattooed in Arabic and English on her right forearm.
We meet at a cafe near her home in the seaside port of Jaffa, next to Tel Aviv. She's hugging her pet Siberian Husky.
The intense child of Palestinian communists, Hamoud was born in Budapest, Hungary, and grew up in the Israeli city of Beersheba in the Galilee. She is among the 20 percent of Israeli citizens who are Palestinians.
So are the three main characters in her film.
Layla, Salma and Nour are three young women who share an apartment in Tel Aviv's Yemenite quarter.
"There is a lot of me in each of these three characters," Hamoud says. "I wrote them from my soul."
As a film student, Hamoud made four short films, including Shades of Light, which explored gender and identity in Palestinian society. In Between, an Israeli-French co-production, is her first full-length feature.
The film chronicles how Layla, Salma and Nour try to be their true selves — ambitious, educated, sexually liberated — while caught between a conservative Palestinian culture and a more liberal Israeli state that does not see them as equals.
"They are fighters," Hamoud says. "Each of them, in her way, fights to not compromise herself."
Layla, for instance, played by Mouna Hawa, is a successful lawyer who wins over her Israeli Jewish colleagues by negotiating tough deals. But her Palestinian boyfriend won't introduce her to his family. He wants her to give up her liberated lifestyle.
"So if I give up smoking and drinking and dressing as I do, not to mention partying," she says to him in the film, "what are you planning to give up?" (Not much, as it happens).
Her housemate Salma, played by Sana Jammelieh, is a D.J. with a pierced nose. She pays her share of the rent by cooking in a restaurant. Her Israeli Jewish supervisor chews her out for speaking Arabic with the other kitchen staff.
She gives him the finger and walks off the job. Yet she's afraid to tell her Christian family that she's gay.
And then there's Nour.
She's a pious Muslim and wears a headscarf. She also studies computer science, even though her controlling fiance wants her to be a housewife.
In one scene, Layla and Salma tenderly wash her in the shower after her fiance rapes her.
But Nour, played by Shaden Kanboura, doesn't tell her family, hiding the rape from her father when he talks about the new house her fiance is building for their married life.
"Believe me, Father," she tells him. "Some people live in palaces, but God only knows what their lives are like inside."
Hamoud says she's received hundreds of messages from women saying, "That's me."
"A lot of people see themselves in the movie, and see people they know," she says. "Those characters are all over, around us. Just we don't see them."
One place did not like seeing itself in the movie. Umm al-Fahm, a busy town of 52,000 in the green hills of northern Israel near the West Bank city of Jenin, is where the character of Nour comes from.
Umm al-Fahm has been run since the 1990s by politicians close to the northern branch of the Islamic Movement of Israel, which promotes Islam to Arab citizens of Israel. This branch of the party was banned by the Israeli government in 2015 because of ties to the militant group Hamas, which governs the Gaza Strip.
The Umm al-Fahm municipality told its citizens to boycott Hamoud's film, saying it hurts the town's reputation.
Abeer Mahameed, a 29-year-old mother of three who lives near the town's main mosque, says she's heeding the boycott.
"Our mayor says our girls are good, clean, pure, decent women," she says, "unlike the portrayal in the film of our girls as loose women."
Many townspeople had strong opinions about the film, but only two with whom NPR spoke admitted to seeing it.
One was Said Mahazheh, a 45-year-old engineer. He says the female characters are too sexually liberated, so he's forbidden his economist wife and 18-year-old daughter from going to the film.
"I would be extremely upset if they saw the film," he says. "I want freedom but this freedom must be constrained within our habits and customs and traditions. We live in a traditional, highly moral society. I don't want my wife and daughter to see a film that distorts this image."
Waseem Hosary, a lawyer, liked the film — and says its exploration of male chauvinism masquerading as moralism is devastating.
"Our society is not ready at all to deal with this issue," he says over espresso and dates in his modern office in Umm al-Fahm. "If anyone, not just Maysaloun, any girl and woman, wants to discuss this issue, she will be in trouble. If Maysaloun was named Mohammad, she may have dared."
Up to now, many Palestinian films have shown men as the heroes, Hamoud says. "Usually women are presented as a stereotype, as sisters or mothers only, not full characters that lead the stories and the point of view of the story," she says.
That's why her film's subtext of sex — and women's freedom to do what they want with their bodies — has been controversial, she says.
"The whole issue of sex sits on the issue of patriarchy," Hamoud says. "Men still feel, think, behave as though women are property. Nothing will change in our societies until that's no longer acceptable."
In Between has won acclaim at festivals in Spain and Canada and earned a standing ovation at the Haifa Film Festival. It's now being shown internationally and is expected to arrive in U.S. theaters this summer.
But Hamoud and the film's actresses have received death threats since In Between was released in Israel in January. The director shrugs off the threats.
What's important to her, she says, is that the film is resonating — and not just with Palestinians.
As we finish our interview at the cafe in Jaffa, a Jewish Israeli admirer comes over and asks to take a selfie with Hamoud.
Einat Yiftach-El, a young Israeli woman who works for a nonprofit that promotes Israeli-Palestinian coexistence, says the movie "leaves you with many things to think of, about a society that we actually don't really know."
"Even if you don't think in stereotypes, you don't see the choices [Palestinian] women have to make because of their society," Yiftach-El says. "They live among us, but also very separately."
Muslim woman reveals all about THAT terror attack pic after being trolled
THE Muslim woman who was pictured looking at her phone while walking across Westminster Bridge during Wednesday's attacks has spoken out.
nprillinois.org/post/new-film-spotlights-palestinian-women-navigating-life-between-cultures#stream/0
------
A Mother And Daughter Reflect On Life As American Muslim Women
Published: March 25, 2017
For Sabeena Ali, the current climate in America for Muslims, who have found themselves increasingly being verbally and even physically attacked due to their religious beliefs, is far from new.
Sabeena, of Newtown, said she feels like the country has reverted to the 1980s in the way it is treating many of its citizens. The mother of three daughters and wife of Iftikhar, Sabeena and her oldest daughter Ayesha spoke with The Newtown Bee recently about life as American Muslim women.
According to The Institute for Social Policy and Understanding (ISPU), over the past two years American Muslims have found themselves at the center of heated social and political debates. ISPU's American Muslim Poll 2017, released March 21, involved interviews done in January with 2,389 respondents, including Muslim, Jewish, Protestant, and Catholic people, as well as some who were not affiliated with any faith.
Among other findings, this year's poll found that more than two in five (42 percent) of Muslims with children in K-12 school report bullying of their children because of their faith. This compares with the finding that 23 percent of Jews, 20 percent of Protestants, and 6 percent of Catholics find themselves in similar situations.
In addition, Muslims are more than twice as likely — 30 percent, according to the ISPU poll — as Jews (13 percent), Catholics and Protestants (both 11 percent) to be stopped at the border for additional screening. In addition, most Muslims (67 percent) stopped at a US border say they were easily identified as a member of their faith group, compared with 32 percent of Jews and none in other groups.
The Ali family regularly travels to Canada, where much of Sabeena's family still resides.
"We have been fortunate," Sabeena said, "that we haven't had additional screenings."
The family certainly noticed a difference when they were returning from Canada in January, she said. On January 27, one week after President Donald Trump was inaugurated, he signed Executive Order 13769 which, among other points, banned residents of seven Muslim-majority countries from entering the United States for at least 90 days.
While Canada was not among the countries named in the president's executive order, Muslims have nevertheless felt an atmospherical shift.
"The immigration officers were more tense, and extra vigilant," said Sabeena. "Usually we get 'Welcome home' or 'We're glad to see you,' but this time nothing, absolutely nothing. I think the whole culture of immigration has changed."
Her daughter felt similarly.
"Whenever we go to the border we get scared we won't get through," Ayesha said. "That slowed down during the Obama administration. It was a shock to see that we were going back there again.
"After a few days," said Ayesha, "we realized they may be asking dumber questions, but it's really the same."
A Feeling Of Unease
Sabeena Ali says she has felt comfortable within her current hometown — "There has been nothing overt," she said recently — but there is still a feeling of unease.
"People have made comments on Facebook, not to me directly, but I know what they're talking about. I'm not stupid," she said. "However, I do think that overall, people have been super," she added.
"People don't mean to say stuff, but it comes across because that's what they believe," offered Ayesha.
"It's not that their intention is to do something, or say something, or even to demean," said Sabeena. "It's just that that's kind of what they believe, and how they grew up, and they just don't have a filter."
For someone in a minority group, "or whatever people want to call us now," said Sabeena, Muslims have always felt that sentiment.
"We've always been told that it's in our head, though, that it's only in our thoughts, and that it isn't what the person saying them to us meant," said Sabeena.
Being Muslim is just their way of life, according to Ayesha.
"We live with good manners, we like cleanliness, and praying is part of our routine," she said. "Fasting is hard for me — it's hard for everyone — but we do it. And family values are important."
The Alis currently do not have a local mosque that they regularly attend. They're still looking.
"At this moment we don't have a mosque, but a lot of times we go to Ottawa for our celebrations," Ayesha said. She laughed then, saying it's no different than those who haven't figured out which church or synagogue they want to attend. "We're still shopping around," she said.
It can sometimes be difficult to acclimate to different communities, she said.
"People are in their own little niches, and it can be hard to feel like a community," she said. "When we go to a mosque and focus on our worship, it's very nice, but the social aspect is not always as appealing. Each mosque, like churches, has its own culture."
The Alis are of Pakistani descent. Ayesha would like to find a mosque that is appealing to her family's culture. Until then, the family does the majority of its worshiping at home.
"Finding a mosque can be a lifelong struggle," Sabeena said. "But it doesn't have to be the end all, be all. There is a lot to be said about praying in your own home, in your own space."
Sabeena, like many Muslims, has often found herself praying in parks, or while in her own vehicle.
"Any place on this earth, I can pray," she said, "as long as it's clean."
Growing Into Faith
The foundations of Sabeena Ali's religion have grounded her throughout her life, she said. She grew up in "a very small rural town in New Brunswick, Canada." Her family was "pretty much the only nonwhite family in the neighborhood."
In mid to late 80s, she grew up hearing people tell (or yell at) her that her father took their father's job, to "go back where you came from," "you don't belong here" — the same thing so many people still have thrown at them today.
It wasn't until she began attending university that she found people who were more open and accepting, she said. Her college years, she said, were "pretty relaxed.
"Nobody cared" about her religion, said Sabeena.
"The type of sentiment that we're having here is pretty much the type of sentiment I grew up with," she said. "I grew up with what's happening now. I feel like I'm back in the 80s. It's really been a struggle all my life."
The Ali family moved to the United States in the mid 1990s, after Ayesha was born. They have been living in Newtown for nine years total — 6½ years currently, and three years prior to a three-year stay in Danbury in between. The family also lived for a few years in Stamford.
"We've moved around a lot," said Ayesha, who also said that while she was growing up during the first decade of the 21st Century, "you just didn't announce that you are a Muslim; not after 9/11."
She continues to let others bring up the subject of religion.
Being blind has overshadowed much of the issues she would deal with as a Muslim.
"But when I'm with a group of blind people, the Muslim part comes out," she said.
While she says she wouldn't speak up as a child, these days any time religion comes up, "or someone starts badmouthing the Middle East, I'll speak up and say 'No, don't say that,'" she said.
Ayesha's blindness does impact her wardrobe, however. The 22-year-old dresses more conservatively than her mother, who alternates between wearing robes on some days and different styles on other days. Ayesha tends to wear more American clothing — loose pants, shirts that often go to at least her elbows — and does not wear headscarves.
"Ayesha is more conservative, but there are still no tank tops, no big necks," said Sabeena. "It's always American clothes that are modest."
Her oldest daughter wears hats to cover her head, she said, because even a scarf interferes with her hearing.
"She relies so much on her hearing," said Sabeena. "A scarf will actually muffle her hearing."
The two younger Ali daughters, said Sabeena, began following the act of covering their head at age 13, which Islam says women should do starting at that age. They too, said Sabeena, also opt for the more American look.
"And that's fine," she said. "As long as it's modest, as long as you're not showing yourself off, it's OK. I would rather my family grow into their faith. I would much rather have them be spiritual and solid on the inside, and dress as they wish as they become stronger in their faith."
Positive Changes
The Alis felt residents of Danbury were a little more open to them. With a more diverse population calling the city home, people appeared to have fewer preconceived notions, said Sabeena.
"They meet you for who you are, and then you move on," she said. "If you like each other, great; and if you don't, then that's fine. You just move forward with life."
Ayesha, who graduated from Western Connecticut State University in 2016 with a degree in professional writing, with a concentration in creative writing, agreed.
"I think people are more open to seeing new people on the street, and saying 'Hi,'" she said.
While Newtown residents may take a little while to warm up to newcomers, Sabeena said, they do come around if they like you.
"The friends that I have, and the people that are with me, they just 100 million percent support me, and are with me, and I'm with them," she said, smiling.
"When we first moved here," Sabeena said of living in Newtown, "it was difficult to get to know people. I do find that people stay in their little groups. People are very hesitant to intermix, or try to get to know other people. "
Getting involved in school activities related to her children helped.
"People got to know me as a person through our children's activities," she said. "But still, it's very hard."
"Pretty much most of my adult life, I have been involved in issues of equality and better understanding in community and culture, and cohesiveness," said Sabeena. "That's kind of been my informal life goal, teaching my kids that, and then being able to have understanding between people."
"We love living in Newtown," she continued. "Overall, Newtown is a great town to live in.
"What I think is needed, really, is the next step: an across-the-board acceptance within the schools. I just think when it comes to bullying, and accepting diversity, I just don't think Newtown has that exposure.
"But once they get to know you, it's a good town to live in," she said. "More understanding needs to happen. Not 'Kumbaya' rallies … that's fine, the interfaith stuff is beautiful, but I think we need to move beyond that. We really need to move on to understanding and getting to know each other as individuals."
On the other hand, Ayesha says she has seen change in Newtown, including within the school system.
"Praying is hard, especially when you have to do it during school," she said. She recalls incidents when she was in sixth grade, arguments with fellow classmates, and restrictions on head coverings.
"Now my sister wears her hijab at schools," Ayesha said. "She also has the courage to tell people to stop [talking negatively about Muslims, or teasing her], and the teachers support her.
"It's a lot different," she said, adding that there has never been thoughts of the Ali children not attending public schools due to their religion.
"For my family, the idea has always been that we should stay in public school and deal with these issues.
They're going to come up," Ayesha said. "You can't just hide.
"It's like my being blind," she continued, "Just face it."
Helping Others
Sabeena has been working with fellow Newtown resident Robbin Chabber Allen for approximately 18 months to co-host a group called Keeping The Faith.
"We choose some nonprofit organization, and we collect items for them," Sabeena said. Among other outreach efforts, Keeping The Faith did a winter clothing drive for Bridgeport Community Closet, a personal care/hygiene collection for the Women's Center of Greater Danbury, food drives for FAITH Food Pantry, and recently did Birthday Bags, she said, for the children at the Women's Center, who may not have anything waiting for them on their birthday.
The boxes were collected in February, and donors were asked to provide not only fun favors and/or activities such as nail polish, face masks, lions, teen coloring books and markers, but also gifted cake mix and frosting, cake candles, paper plates and plastic forks, streamers, tablecloths, and even balloons and candies to the recipients.
Sabeena is also involved in Newtown Forward, a local advocacy group that formed within days of the 2016 elections. She and Ms Chabber Allen are co-chairs of Newtown Forward's Advocates for Diversity and Unity Subcommittee. The subcommittee's mission is to advocate for Fairfield County individuals whose rights are under threat due to sexual orientation, skin color, religion, gender, income, ethnicity, or immigration status. The committee also seeks to celebrate people's differences, to ensure an environment of mutual understanding and respect.
It's the perfect committee for the mother of three to be involved in, considering one of the life lessons she continues to teach her children.
"I tell them to be confident in who they are. Know that what they have and who they are is what makes them. Your foundation is what makes you. Your faith is going to be what gets you through difficult times. And you need to be okay with who you are.
"On the flip side," she continued, "my thing to them is also this: If you are looking at people and expecting them to accept you for who they are, then you must accept them for who they are. You must have that open mind to have that conversation with them.
"Don't make judgments before you get to know someone."
newtownbee.com/a-mother-and-daughter-reflect-on-life-as-american-muslim-women/
URL: https://www.newageislam.com/islam-women-feminism/rise-female-islamic-teaching-specialists/d/110537