New Age Islam News Bureau
18 Apr 2013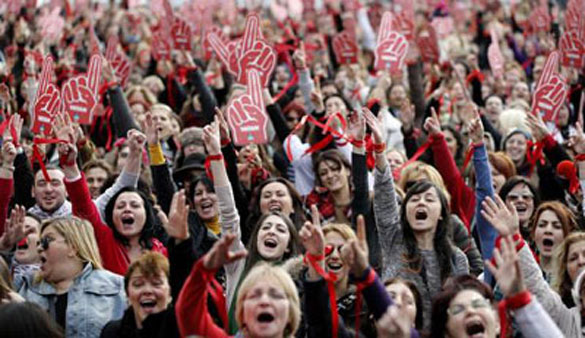 Photo: Protest in Turkey against violence against women
--------------
• Women Call For 41-Day National Sex, Housework Strike against Endemic Violence
• School Refuses To Relax Dress Code for Muslim Girl in Assam, India
• Jharna rescued a policeman from the brutality of Shibir activists
• Women Sports Clubs in Jeddah Begin Licensing Procedures
• New Survey Shows FGM in Somalia on Decline
• Women in Bangladesh Getting Self-Reliant By Doing Embroidery Works
• We Must Stop An Inhuman Penalty Against Women: Iran's Execution by Stoning
• Hijab in France Is a Feminist Issue, a Secular Issue or Just Plain Bigotry
• Effat signs cooperation deal with Syracuse University to help Saudi women
• Women Are Set To Assume More Leadership Positions in Africa, In Future
• More Work Needs to Be Done to Empower Women in Indonesia
Compiled by New Age Islam News Bureau
URL: https://newageislam.com/islam,-women-and-feminism/new-age-islam-news-bureau/right-of-talaq-given-in-islam-being-misused-by-men--woman-member-of-aimplb/d/11200
---------------
Right of Talaq given in Islam being misused by men: Woman member of AIMPLB
April 17, 2013
Pervez Bari, ummid.com
Bhopal: A woman member of All India Muslim Personal Law Board (AIMPLB) on Monday said that the Muslim men in India are misusing the right of divorce given to them.
"The right of Talaq given to men folk in Islam is being misused by men. They lack awareness as how to exercise their right of pronouncing Talaq as ordained in Islam, Dr Asma Zehra said in response to a question while addressing a press conference in Bhopal.
"Adaab-e-Talaq Mardon Ko Nahin Sikhaejate Hain", she remarked.
In matrimonial discord or disputes Muslims should avoid going to courts. They should approach first family elders to solve their issues to save their marriage or then go to Qazis to settle their cases, she added.
The press conference was organised on the sidelines of a day-long social reform convention held at Indira Priyadarshini College on Monday by the Tehreek Islah-e-Moashra Committee of the All India Muslim Personal Law Board, (AIMPLB).
The agenda of the convention was to create awareness among Muslim women for social reform, to solve family disputes, maintenance, divorce and Khula issues, inheritance issues, parents' rights and duties, eradication of social evils and customs.
While replying to another questioner, she said that Shariah laws stand on moral grounds in India. They exist as personal law in the country wherein there is no freedom to award punishment to those who breach Shariah commandments, she pointed out.
Dr. Asma Zehra said India is facing a number of challenges and two issues stand out as the most important for society frst the protection of rights of women and controlling the crimes against women. Secondly, the impact of western culture, films with nudity and obscenity has degraded the moral values and social fabric of Indian society.
She said that Muslims lag behind in education which is largely responsible for most of the problems faced by the community. If women of the community are educated, things would change as women are the axis of Indian families.
She also said Muslim women could be empowered through education as one woman can reform the whole family. Moreover, this would help her in protection of her rights and controlling crimes against women.
She also said a shift in education in Muslim institutions, especially Madrasas could be seen. Madrasas are going through a lot of reforms and integration of education is taking place. Most of the Madrasas have taken up computer education in a big way.
Dr. Zehra stressed on the need of more interaction between religious heads of different communities.
It is the duty of Muslims to initiate, discuss and debate social issues with members of other communities so that co-existence of communities become more harmonious. Polarisation in society should be discouraged as it serves the purpose of vested interests", she said.
She said that such conventions are very helpful to uplift and empower women.
Answering a query, she said that one cannot avoid use of technology like internet, mobile phones or television.
"An educated woman could only guide her children on how to use technology in a positive manner. Giving an example she said a knife is generally used to cut vegetables and cakes which is the proper use. However, the same knife can used to harm people if one's intentions are bad, she explained", she said.
She said that Tehreek Islah-e-Moashra Committee of AIMPLB is conducting special meetings and public programmes across the country to bring changes and reform the society.
http://www.ummid.com/news/2013/April/17.04.2013/asma_zehra_on_women_emowmnt.htm
----------
Women Call For 41-Day National Sex, Housework Strike against Endemic Violence
16 APRIL, 2013
(ANSAmed) - ANKARA, APRIL 16 - A women's association on Tuesday issued a call for women to go on a 41-day sex and housework strike to protest endemic violence against women in Turkey, where reported sex crimes have multiplied by 400% since 2002.
The call came from women in the city of Konya, which is the spiritual capital of Anatolia and the birthplace of Sufism, and will be issued from Taksim Sqaure in Istanbul, Radikal newspaper reported. Turkey has been shaken by recent reports of the gang-rape of a 13-year-old girl by 29 men in the city of Golcuk. A few weeks ago, a 12-year-old girl who had been gang-raped by 26 men in Mardin, in Eastern Anatolia, wrote to the minister of justice because all the defendants in her rape trial were released. ''Don't you have a little girl? What would you do if your own daughter had suffered what I did? The accused have all been freed. What is to be of my life?'' the child wrote to the minister. A Karikkale University survey found that 34% of Turkish men think beating one's wife ''is occasionally necessary'', while one in five men, or 18%, believe the man to be the boss and that ''he is free to use violence when necessary'', and another 11.8% said women must be punished ''when they go against their husbands''.
Analysts say the endemic violence stems from the return to the values of patriarchal Islamic society, especially in rural and suburban areas, as championed by Islamic Premier Recep Tayyip Erdogan, who has been in power for the past decade and whose outspoken ideology has reawakened the pride of deep, religious, conservative sectors of the country while reducing the influence of its secular and European factions.
''In Turkey, the latest debates on the female body have left women with a bitter taste in their mouth'', commented writer Elif Shafak. Thousands of women took to the streets of Istanbul and Ankara last year when Erdogan called for the criminalization of abortion. The premier backed down, but the ''Kemalist'' opposition that remains faithful to the ideology of secular nation-founder Mustafa Kemal Ataturk remains on guard.
© Copyright ANSA - All rights reserved
http://www.ansamed.info/ansamed/en/news/nations/turkey/2013/04/16/Turkey-Konya-women-call-nat-sex-housework-strike_8563556.html
---------------
School Refuses To Relax Dress Code for Muslim Girl in Assam, India
SUSHANTA TALUKDAR
April 18, 2013
'We have nothing against Fathima, but cannot make a special case for her'
The mother of a four-year-old Muslim girl has moved the Guwahati High Court after the authorities of a Catholic Mission-run school, Kristo Jyoti School, near Bokakhat in upper Assam's Golaghat district refused to allow her daughter Fathima Beevi to wear a 'Hijab' (headscarf) along with the school uniform.
The school's authorities have given the girl's parents 15 days' time to either conform to the rules on attire or stop sending her to the school, where she is attending nursery class. The English-medium high school is run by the Parish of Bokakhat under the Diocese of Dibrugarh.
According to advocate Jayanta Kumar Goswami, counsel of petitioner Alee Ahmed, on March 21 Fathima's class teacher objected to her wearing the headscarf and wrote a remark in the student's diary asking the parents to refer to the rules on school uniform, which they had agreed to abide by in writing at the time of admission.
On March 25, Ms. Ahmed wrote to Principal Father Jose Varghese requesting a relaxation in the uniform rules to allow her daughter to wear the 'Hijab', part of a family tradition, in the school. Ms. Ahmed stressed that Fathima, being a follower of Islam, had a religious right to wear the 'Hijab.'
Father Varghese told The Hindu that the school's managing committee had discussed the petition from Fathima's parents and decided not to allow any relaxation in rules. On March 28, the principal sent the parents a letter through registered post conveying the decision. The post was received on April 1.
On April 8, Ms. Ahmed filed a writ petition in the High Court with a prayer to set aside the decision of the school's managing committee as reflected in the Principal's letter.
Father Varghese, however, said it was not right for the parents of any student to seek relaxation after agreeing to abide by the school's rules and regulations at the time of admission."Enforcing rules and regulations, including rules on uniform of students, is vital to maintenance of discipline and smooth running of a school. Apart from Fathima, we also have several Muslim girls as students and all of them strictly follow the uniform rules. We have nothing against Fathima.
"However, if we make any relaxation for her then we may have to make relaxation for others too as our school has students from different castes, religions, tribes and communities. In such a situation, the significance of uniform rules will be lost. Moreover, uniform is introduced in a school to ensure equality among the students."
http://www.thehindu.com/news/national/other-states/school-refuses-to-relax-dress-code-for-muslim-girl-in-assam/article4627934.ece
---------------
Jharna rescued a policeman from the brutality of Shibir activists
April 18, 2013
Urging all young women to come forward for saving humanity, Jharna Begum yesterday said she did not care about her gender or possible social criticism while rescuing the policeman Jahangir Alam from the brutality of Shibir activists.
"I took off my scarf and with it I tied his wounds in the head and took him in my chest to drag him onto a van for hospital," said 28-year-old Jharna. "As a young woman I was well aware that I would have to face social criticism, and later I faced it bravely.
"As appreciations poured in for my humanitarian deed, my female neighbours realised that my work was only for a human being," she told The Daily Star.
Inspector General of Police Hassan Mahmood Khandaker yesterday awarded her with a crest and an admiration letter at the police headquarters in Dhaka as a mark of gratitude for her help to Jahangir, sub-inspector of Rajshahi Metropolitan Police (RMP).
Jahangir was wildly assaulted by Islami Chhatra Shibir men at Shalbagan in Rajshahi city on April 1.
"The mother rose in me and I took his head on my lap on the way to hospital only to feel whether he was breathing," said Jharna, her voice breaking with sobs.
Deserted by her husband around four years back, the mother of two was earning her livelihood by working in a local beauty parlour.
Jharna said the Rajshahi mayor and the local ward commissioner promised her a job at Rajshahi City Corporation, and RMP gave her a house.
http://www.thedailystar.net/beta2/news/for-jharna-humanity-overcame-social-norms/
-----------
Women Sports Clubs in Jeddah Begin Licensing Procedures
April 18, 2013
JEDDAH — Saudi female sports enthusiasts welcomed the move by 25 women sports clubs to begin the procedures to obtain an operating license.
"I am very eager to see the day when I will freely visit sports clubs exclusive for us," said a Saudi woman, who did not want to be named.
Women sports clubs were banned in the past but the concerned authorities have announced that such organizations would be granted licenses to operate.
Women in Saudi Arabia have begun practicing sports in schools 50 years ago and women volleyball and basketball teams have existed for around 10 years. President of United Jeddah Club Lina Almaeena welcomed the news.
Almaeena said she established a women sports team in 2003 and a sports academy in 2006.
She added that the decision to issue licenses for women's sports clubs was very important, as it points to greater awareness about physical activity. However, such organizations should be run based on ethical and educational values, she said.
Almaeena claimed that there are capable women who could run and manage these clubs.
The women's sports club at King Abdulaziz University has witnessed an increase in the number of women applying to join the club.The captain of the club, Ruqayah Al-Zahrani, said the organization has started receiving registrations online.
She said there are about 20 women sports clubs in Jeddah offering a variety of sports, especially basketball and volleyball.
Riyadh has three women football clubs, the Eastern Province has two women basketball clubs and Aramco has its own women volleyball team.
http://www.saudigazette.com.sa/index.cfm?method=home.regcon&contentid=20130418161866
---------------
New Survey Shows FGM in Somalia on Decline
April 18, 2013
NAIROBI, Kenya — Attitudes in Somalia toward a practice that critics decry as torture may be changing, as new data released by the U.N. children's agency on Tuesday showed that female genital mutilation among children in northern Somalia is on the decline.
The survey released by UNICEF and the governments of Somaliland and Puntland found that 25 percent of girls from the ages of 1 to 14 years old have undergone the practice, compared with 99 percent of women in those regions.
UNICEF has been working with community and religious leaders in northern Somalia to try to change attitudes toward female genital mutilation. Sheema Sen Gupta, the chief of child protection for UNICEF in Somalia, said that 28 communities in Somaliland have declared an end to the practice, and UNICEF hopes to have that number up to 60 by the end of this year.
"If you ask the average Somali woman why they practice FGM now, they will tell you it's for religious reasons. But it's not religious because FGM predates Islam," Gupta said.
Full report at:
http://www.washingtonpost.com/world/africa/good-news-for-girls-in-somalia-new-survey-
---------------
Women in Bangladesh Getting Self-Reliant By Doing Embroidery Works
April 18, 2013
A section of poor women and girls in the district is becoming self-reliant by doing embroidery works on fabrics.
The women after finishing their household works, make embroideries on 'sari, kameez and urnas' for an extra income.
Girls who cannot continue studies for financial constraint are also engaged in the sector that has turned out to be very helpful for their economic self-sufficiency.
About 700 women of seven villages, including Shibganj, Munshirhat and Chilarang under Sadar upazila, earn their livelihood mostly through embroidery works.
These women with their sewing craftsmanship make exquisite pieces of artworks on fabrics with colourful threads and stones, known as 'jari' and 'puti'.
About four years ago, Abu Sayed, husband of Sufia Begum, 28, of Shibganj village under Sadar upazila, was killed in a road accident.
Full report at:
http://www.thedailystar.net/beta2/news/women-getting-self-reliant-by-doing-embroidery-works/
---------------
We Must Stop An Inhuman Penalty Against Women: Iran's Execution By Stoning
2013/04/16
(WNN) New York, New York, UNITED STATES, AMERICAS: While the death penalty itself is being eradicated in many countries around the world, the most brutal form of the death penalty—stoning—is still being practiced. Death by stoning has been practiced since the establishment of the IRI – Islamic Republic of Iran – in the region where I was born before stoning was part of the 'official' government policy.
While 90 percent of the countries of the world are not executing and 100 countries have completely abolished it, Iran leads the world in number of executions per capita among nations that continue to apply the death penalty in their domestic jurisdictions.
Full report at:
http://womennewsnetwork.net/2013/04/16/irans-execution-by-stoning/
---------------
Hijab in France Is a Feminist Issue, a Secular Issue or Just Plain Bigotry
MARIE DHUMIERES
16 April 2013
It had been a while. After France's high court recently overturned the dismissal of a private childcare employee, fired in 2008 because she started wearing the Hijab, France's most controversial piece of fabric again found itself at the heart of public debate. Following the 2004 law banning "conspicuous religious symbols" at state schools and the 2008 law banning the niqab in public places, France may now allow private businesses to ban their employees from wearing a headscarf.
A survey conducted after the court decision showed that 83 per cent of French people would be in favour of a law banning the Hijab from private business dealing with the public, meaning shops, medical practices, kindergartens, and so on.
Full report at:
http://www.independent.co.uk/voices/comment/why-is-the-right-of-muslim-women-to-wear-the-veil-still-so-controversial-in-france-8575052.html
---------------
Effat signs cooperation deal with Syracuse University to help Saudi women
18 April 2013
Effat University signed a cooperation deal with Syracuse University's iSchool last week to develop its information systems and computer science programs, to help Saudi women become competitive in the global technology jobs market.
The Effat University delegation was led by Princess Lolowah Al-Faisal, vice chair of Effat University's board of founders and board of trustees and general supervisor of the institution; and Haifa Jamal Al-Lail, president of Effat University.
Princess Lolowah said she was "thrilled" to have signed the agreement. "Effat University has a mission not only of providing students with the tools they need to succeed in the workplace, but with a sense of their place in a larger world."
Full report at:
http://www.arabnews.com/news/448568
-----------
Women Are Set To Assume More Leadership Positions in Africa, In Future
April 17 2013
The girl-child has received much attention, assistance and guidance over the years. We have seen women in Africa rise from the 'kitchen', that was believed to be their place to positions such as vice chancellors of universities, speakers of parliament, vice presidents, presidents and other high ranking positions.
Positive discrimination (affirmative action) in the education sector has given many girls access to academic opportunities enabling them to climb the academic ladder up to university level to study subjects which were initially known to be traditionally for men, for instance, engineering, medicine, etc.
Full report at:
http://www.monitor.co.ug/OpEd/Letters/Women-are-set-to-assume-more-leadership-positions-in-future/-/806314/1750226/-/icu1evz/-/index.html
---------------
More Work Needs to Be Done to Empower Women in Indonesia
April 18, 2013
Julius Martinez
In Penang, Malaysia, three police officers allegedly raped a 25-year-old Indonesian maid in November last year. Meanwhile, Singaporean households are having second thoughts about hiring Indonesian nannies.
It was back in 2005 that Sri Mulyani Indrawati, the first female finance minister of Indonesia, was appointed. She was soon credited with helping strengthen Indonesia's economy, especially during the 2008 financial crisis.
Full report at:
http://www.thejakartaglobe.com/talkback/more-work-needs-to-be-done-to-empower-women-in-indonesia/586522
---------------
URL: https://newageislam.com/islam,-women-and-feminism/new-age-islam-news-bureau/right-of-talaq-given-in-islam-being-misused-by-men--woman-member-of-aimplb/d/11200