New Age Islam News Bureau
4 Dec 2013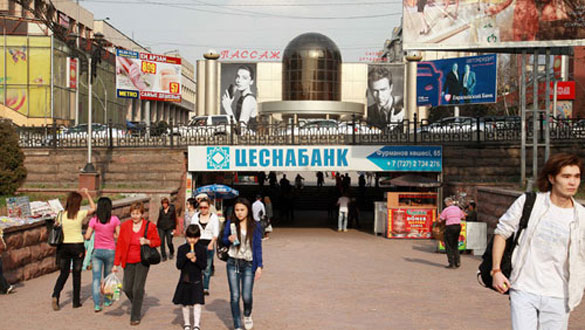 Pedestrians walk along Arbat shopping street in Almaty. A poll published last year by state-run news service Kazinform found 41 percent of Kazakhstan's 17 million people favoured decriminalizing polygamy
-----------
• Hijab-Wearing Rapper Mayam Challenges Egyptian Expectations of Veiled Women
• In Taking Jobs, Women Take On a Saudi Taboo
• Why Does The World Ignore Violence Against Arab Women In Public Spaces?
• Women Demand Greater Role in New Kurdistan Government
• Football Becomes Mother to Syria's Traumatised Child Refugees
• Islamists Oppose Women's Rights: 'Freedom Only in Islam'
Compiled by New Age Islam News Bureau
URL: https://newageislam.com/islam-women-feminism/rich-kazakhs-revive-polygamy-women/d/34711
-------------
Rich Kazakhs Revive Polygamy as Women Seek Poverty Escape
Dec 04, 2013
Given the choice between love and money, Samal, a tall, curly-haired 23-year-old woman from a village in southern Kazakhstan, would take the cash.
Struggling to pay rent and tuition on her salary as a waitress in Almaty, the Kazakh commercial capital, Samal says she'd drop her boyfriend in a heartbeat if a wealthy older man offered to make her his second wife.
"Becoming a tokal would be a fairy tale," Samal says during a break at the cafe where she works, using the Kazakh word for the youngest of two wives, who traditionally gets her own apartment, car and monthly allowance.
The gulf between rich and poor "exploded" in Kazakhstan, the world's largest uranium supplier and the second-largest oil producer in the former Soviet Union, after independence in 1991 and the gap hasn't closed, said Gulmira Ileuova, head of the Center for Social and Political Research Strategy in Almaty. President Nursultan Nazarbayev, in power for more than two decades, undertook a state asset-sale program in the 1990s that enriched a group of insiders at everyone else's expense, Ileuova said by phone on Nov. 27.
That gap is fueling a revival of polygamy, which has become a status symbol for affluent men and a ticket out of poverty for young women. The practice flourished in this Central Asian nation for centuries, first as part of its nomadic culture and later under Islamic Sharia law, until the Bolsheviks outlawed it in 1921. The trend has spawned two best-selling novels and a television talk show.
Polygyny, Polyandry
"It's become prestigious to have a tokal," Ayan Kudaikulova, an Almaty socialite and author of one of those novels, said in an interview in her cafe, surrounded by purple walls and bearskin rugs. "They're like Breguet luxury watches," Kudaikulova said, wearing a red Alexander McQueen pantsuit and an Alain Silberstein timepiece. "Unfortunately, not having a junior wife is now shameful for wealthy men."
Before the Soviets took over following the 1917 Russian Revolution, many rich Kazakhs would buy second wives from parents, often with livestock, which helped spread wealth. Those unions were governed both by common law and Sharia. Polygamy is still technically illegal, though there's no prescribed punishment for it as there is in neighbouring Kyrgyzstan, where the maximum penalty is two years in prison.
Kazakh lawmakers have tried to legalize polygyny, having two or more wives, at least twice since 2001, most recently in 2008, when the measure failed after a female parliamentarian insisted on including polyandry, or multiple husbands, as well.
Women's Rights
More than 40 countries, almost all in Asia and Africa, still recognize polygamous marriages, even though the United Nations said in a report in 2009 that the practice "violates women's human rights and infringes their right to dignity."
A poll published last year by state-owned news service Kazinform found 41 percent of Kazakhstan's 17 million people favored legalizing polygamy. Twenty-six percent said they opposed it, 22 percent had no preference and 11 percent thought it would be a waste of time because the practice already exists, according to Kazinform.
The Spiritual Department for Muslims of Kazakhstan, a Almaty-based nongovernmental group that operates most of the country's mosques, said it urges all young men to marry and start a family. If a man wants to have a second wife and hold a religious wedding ceremony, called Nikah, in a mosque, the senior wife must attend to ensure all parties are in agreement, the department said in an e-mailed reply to questions.
Mosque Marriage
About 10 percent of all Nikah ceremonies in Almaty's largest mosque now involve tokals, according to a senior cleric who asked not to be identified because the practice isn't officially recognized. More than 3,000 couples will get married at the main mosque this year, about 30 percent more than in 2008, the cleric said.
"Tokalism has started to become noticeable," said Ileuova of the Centre for Social and Political Research Strategy. "That's in part because 50 percent of the population is poor."
Kazakhstan has enjoyed an oil boom that has boosted gross domestic product about 12-fold in the past two decades, to about $200 billion last year, though even Nazarbayev, the son of a shepherd, admits that the expansion hasn't benefited everyone.
"The question is not how we develop the level of GDP per capita," Nazarbayev, 73, said in televised comments in April. "We must see how many people we have in poverty, the gap between rich and poor. The gap is significant."
Deadly Riot
Police used arms to suppress unrest in the town of Zhanaozen in 2011, when a strike over wages by oil workers at state-run KazMunaiGas Exploration Production led to rioting that left at least 14 people dead.
About 56 percent of Kazakh households, or about 9 million people, earn less than 36,000 tenge ($236) a month, while 1.5 million people earn less than 15,000 tenge, Nazarbayev said.
Credit Suisse Group AG estimated in a report last year that 91 percent of Kazakhs have less than $10,000 of assets, while 8.6 percent have $10,000 to $100,000. Of the 50 richest Kazakhs, six are women, though all are related to powerful men -- two are daughters of Nazarbayev, one shared her ranking with her husband and another is the sister of a multimillionaire, according to Forbes magazine's local edition.
Losing Ground
"Fewer Kazakh girls would become tokals if there were more normal opportunities for advancement," Janar Jandosova, director of the Sange Research Center in the capital, Astana, said by phone. "We've done a lot to eradicate this, but we've lost ground very fast in the past few years," Jandosova said. "There is an endemic wish among women to improve their standing in society, and for too many of them the only option is to gain access to a man's finances."
Most tokals come from poor families and are pragmatic about their relationships, saving money for retirement or supporting relatives back home, Jandosova said.
Many of the women were singers, dancers, TV presenters, nannies, housemaids or even friends of the men's daughters before becoming second wives, according to Kudaikulova, the socialite and author.
Some, though, are purely opportunistic, said Gulbahram Kurgulina, author of the best-selling novel, "Tokal." Gulbahram said she writes about polygamy to educate young women, to inspire them to be patient, not greedy.
'Satan Threatens'
"Satan threatens you with poverty and orders you to immorality," Kurgulina said in an interview in an Astana cafe. Whatever their motives for becoming a tokal, nearly all strive to keep their relationships secret to avoid financial reprisals from their patrons, according to Kurgulina.
Sholpan, 20, agreed to speak about her life as a tokal on the condition that her last name be withheld to protect her privacy, as did Samal the waitress.
Sholpan said she never thought she'd end up a tokal because she comes from a wealthy family. When her father took a woman about Sholpan's age as a second wife, Sholpan refused to show respect the way she honored her mother, including by bowing as her father demanded.
As a result, her father stopped giving her an allowance and paying her college tuition, saying it was time for her to find a rich man to marry. She also lost her boyfriend at the time after his mother demanded that he end the relationship because she no longer had a dowry.
Birkin Bag
Now, Sholpan's a tokal, driving a $53,000 Toyota Land Cruiser, carrying a $10,000 Hermes Birkin bag and earning at least $5,000 a month. She's also been able to travel abroad and open her own trading business. Sholpan said she met her future husband when he jumped out of his car to invite her to tea when he saw her crossing the street. Sholpan's never met his first wife, and doesn't think she knows he has a second.
"All my friends tell me I have a Cinderella life," Sholpan said over lunch at a trendy restaurant in Almaty, wearing sunglasses and a headscarf to avoid being recognized. "I often spend $300 a day and have no idea where it went," she said. "My family supports me now, saying 'everyone gets to the top however they can.'"
While childbearing isn't part of Sholpan's job description, men often take second wives for that very purpose.
Anuarbek, a businessman in Almaty who asked that his surname not be used, said he and his wife decided to find a tokal to bear children because doctors told them that having a second baby would endanger her life. So, about three years ago, he married a 19-year-old village girl whom he met through her Islam instructor.
Love Lost
After throwing a party for about 150 people in his tokal's village, Anuarbek moved her to live with his parents in another community. The two wives meet occasionally and have a respectful relationship, Anuarbek said, adding that his junior wife lives a simple life and doesn't ask for luxury goods.
That's not quite the fairy tale Samal, the waitress, said she's dreaming about. Samal said she doesn't need expensive handbags or fancy cars -- but if she's going to give up looking for true love, it better be worth it.
"Every woman wants to be the first and only love for a man," Samal said. "But it's becoming increasingly difficult for me to struggle alone."
http://www.bloomberg.com/news/2013-12-02/rich-kazakhs-revive-polygamy-as-young-women-seek-poverty-escape.html
-------------
Hijab-Wearing Rapper Mayam Challenges Egyptian Expectations of Veiled Women
Dec 04, 2013
Since she first performed on television in October, Mayam Mahmoud's new fans have been posting up to 50 supportive messages a day on Facebook. But there have also been a few unwelcome messages. "Some say I'm creating a bad name for Islam," she says. "Or even that I'm an infidel."
A Hijab-wearing rapper, Mahmoud has challenged some Egyptians' expectations of how women – and Hijab wearers in particular – are meant to behave. Mahmoud, 18, is not Egypt's first veiled rapper, or even its most experienced. But through her appearances on Arabs Got Talent, a variety show that has become a primetime success across the Middle East, she is one of the few to attract something approaching mainstream attention.
"It's got a lot of people talking about whether it's possible for a veiled girl, or even a girl, to do this," says Mahmoud, who says her veil is a personal choice and has little relevance to her music. "If a girl has a dream to work in a field where many girls don't work, or to do post-graduate study, or to work in a position higher than her husband – all these things often can't be done."
Rapping is a case in point, she says. It is by no means a conventional path for Egyptian men, but for women it is twice the battle. "The girls in this field are thought to have bad morals. It's known that when a girl tries to record a track, she will just be one girl in the studio with a lot of guys for a long time. So it's hard to find someone to work with her, to create a beat, to master the track."
Mahmoud, an economics undergraduate from Cairo, says she tries not to listen to listen to western hip-hop. Her biggest influence is her mother, who introduced her to poetry aged 12 and encouraged her to write her own work. When her poetry turned into rap, her parents were initially sceptical because they felt it was not a sufficiently feminine activity for her. But gradually they grew convinced, and eventually they allowed her to record a track in Alexandria, Egypt's second city, while they waited in a cafe around the corner.
Her appearances on television constituted her first public performances. Interest in her music grew quickly, and she has since played five concerts to enthusiastic university audiences who say they find her empowering. "The other day a woman came up to me and said she'd been watching me on TV with her friends," Mahmoud recalls. "She said: keep on talking about all the things that we don't have the courage to talk about. You've become the hope. You are pushing people to start doing stuff."
Mahmoud's fans find her inspiring not just because she is a woman but because her work centres on sexual harassment, a local taboo. Harassment is an endemic problem in Egypt: 99.3% of Egyptian women reported being sexually harassed, with 91% saying they felt insecure in the street as a result, according to a UN survey published in April.
For her part, Mahmoud carries a sharp nail to protect herself in a worst-case scenario. But many women feel afraid to discuss the issue publicly because they fear they will be stigmatised. Women who speak out are often assumed to have somehow provoked the attention. "It's happening to everyone," says Mahmoud. "But everyone is scared to talk about it."
Her songs tackle harassment and victim-blaming head-on – condemning Egyptian society for accepting harassment as part of everyday life, and for laying the blame for it on women rather than men.
"I won't be the shamed one," she says in one of her raps. "You flirt, you harass and you see nothing wrong with it. But even if it's just words, these are not flirts, these are stones."
Mahmoud thinks the problem can only be tackled if women call out harassers in the street, and she hopes her rapping will encourage others to follow her lead.
"A woman will often choose to stay silent in case she's told it's her fault," said Mahmoud. "But every time we don't say anything, we make the problem bigger. Maybe the reason harassment is worse here than many other places is because we choose to shut up – and then they think they can do it more and more."
Additional reporting by Manu Abdo
http://www.theguardian.com/world/2013/dec/01/egypt-rapper-mayam-mahmoud
-------------
In Taking Jobs, Women Take On a Saudi Taboo
By BEN HUBBARD
Dec 04, 2013
RIYADH, Saudi Arabia — The bearded religious police were not the ones who chastised the princess running the Harvey Nichols department store here when she decided to enhance the upscale shopping atmosphere with some instrumental lute music.
Instead, the irate caller accusing the store of anti-Islamic behavior was a frequent shopper, a woman who on average spent $13,000 per visit.
"Maybe I should get whale sounds," said the princess, Reema Bint Bandar al-Saud, making light of the blowback that businesspeople in this intensely religious and conservative kingdom often face when making even glacial changes to How Things Are Done.
But this is part of being a pioneer in Saudi Arabia, where women are severely restricted in all public activities and are treated as the wards of their male relatives. Despite her royal credentials, the princess did away with the music but has pushed ahead on the equally touchy front of hiring women as sales clerks. This step — or leap, in the Saudi context — seeks not only to shift social conventions but also to aid the country's long-term economic health.
At Harvey Nichols, several dozen female clerks were spread throughout the store, all cloaked in black, their hair covered, some with only their eyes peering through narrow slits in face veils. They were busy arranging dresses, hawking cosmetics and swiping credit cards.
Just two years ago there were only a few women working here.
The kingdom's restrictions on women have long drawn the condemnation of rights groups, most recently after dozens of women drew headlines by defying a ban on driving.
But some women's rights advocates here say that the international attention given to small numbers of women getting behind the wheel overshadows the deep, if gradual, shifts in Saudi society as more women work, broadening their range of experience, helping to run organizations and earning a degree of economic independence.
Although the effort has been promoted by the Ministry of Labor as part of a campaign to reduce unemployment and the dependence on foreign workers, it has butted up against strict social codes. The percentage of Saudi women who work remains minuscule by world standards, at about 15 percent.
Still, many employers say they prefer hiring Saudi women to Saudi men; they have added separate break rooms and office areas for women, and have installed partitions and cameras to prevent unwelcome mingling.
"We are promoting recruitment of Saudi women because they have a low level of attrition, a better attention to detail, a willingness to perform and a productivity about twice that of Saudi men," said a grocery store manager with branches throughout the kingdom.
Despite that, Saudi women make up less than 5 percent of his staff of more than 1,000 because of social taboos in many areas. He spoke on the condition that neither he nor his company be identified to avoid being targeted by opponents of women's employment.
While working women in the Red Sea city of Jidda are relatively accepted, he said, the addition of female checkout clerks in a more conservative city caused such an uproar that a local prince intervened and paid the women's salaries for more than a year — as long as they stayed home.
Others have found business opportunities in bridging the gap between employers and women.
"For some employers, it is their first time to hire women, and they don't know how to deal with them," said Khalid Alkhudair, 30, who runs a women's employment service called Glowork that cooperates with the government to increase female employment.
Frosted glass partitions bearing inspirational quotes divide the company's pink-walled office in Riyadh. On a recent morning, a dozen female employees sipped coffee as they sorted through applicants' résumés on flat-screen monitors. All wore loose black gowns, some with their hair uncovered — a rare but increasingly common sight in some private offices.
In two years, the company has found jobs for more than 10,000 women, including one chief financial officer, several human resource managers and a group of women at a light bulb factory, Mr. Alkhudair said.
Yet across the kingdom, about two-thirds of female university graduates are unemployed, showing that the labor market has yet to catch up with huge advances in women's education.
Some Saudis laud King Abdullah as a reformer for appointing 30 women to a royal advisory council and granting women the right to run and vote in municipal elections.
Others blast the kingdom for falling behind the rest of the world by not appointing female judges, ambassadors and ministers and leaving in place "guardianship laws" that bar women from traveling, working, marrying or undergoing certain medical procedures without permission from a male relative.
"It is a crisis in dealing with modernity from the conservative society and the clerics," said Hatoon al-Fassi, an associate professor of women's history at King Saud University in Riyadh. "Every time something new occurs, they are suspicious and immediately think there must be a conspiracy of some kind that wants to decay our society."
Harvey Nichols has served as a pioneering case, benefiting from a small staff, ample resources and, of course, a royal boss.
"This store is a big social experiment because we are talking about ladies who had severe obstacles in coming here," said Princess Reema, 38, who was educated in the United States while her father, Prince Bandar bin Sultan, served as ambassador.
Leading a visitor through her now music-free store, she explained that she had opened a nursery for employees' children and given transportation stipends to women who could not drive themselves to work.
The store does not regulate face veils, she said, adding that some women prefer to cover their faces at work.
"Their families don't necessarily want other people to know that their daughter is working in retail," she said. For the same reason, female employees do not wear name tags.
Two years ago, the store employed only 12 Saudi women, she said, including herself. That number has nearly quadrupled since then, she said, and it will keep growing.
Jawharah, a 35-year-old saleswoman standing between racks of high-end dresses in a full face veil, said that this was her first job and that her husband had inspected the store before letting her take it.
While her mother and aunts never worked, she said, all of her sisters now do. "It's nice to get out and work and get paid," she said.
http://www.nytimes.com/2013/12/03/world/middleeast/saudi-women-make-small-but-significant-strides-in-the-work-force.html?_r=1&
-------------
Why does the world ignore violence against Arab women in public spaces?
Dec 04, 2013
One morning, Enas Abdel Wanis was about to leave home to go to work at the National Council for Civil Liberties and Human Rights (NCCHR) in Benghazi, in Libya, when she discovered her car had been burnt. Her crime had been to advocate for better security for civilians and the disarmament of militias that had been terrorising her city. Since then, Wanis has had to comply with the security restrictions set by her family: to do her job (document and monitor human rights violations), she now has to be chaperoned by her father on field visits.
It is the same story in Yemen, where Morooj Alwazir, co-founder of SupportYemen, says: "It is a struggle to even be part of society, it is a struggle to speak your mind, to feel safe in your own neighbourhood, your only safe space is your bedroom."
While the deteriorating security situation is hard for everyone, Alwazir says it is especially hard for women, whom it discourages from leaving their homes. Women who have lost husbands in the conflict in Yemen find they are stigmatised, and opportunities to earn a living are severely restricted because the streets are unsafe. "Every time I am on my way to the airport, I feel like civil war is about to happen tomorrow. I see trucks and trucks of weapons coming into the country – it is very scary," Alwazir says.
In Egypt, people's lives have been brought almost to a standstill by the breakdown of security over the past three years. Many poor women working in the informal sector who regularly buy their stock from large markets to sell on in their neighbourhoods are unable to make a living: commuting outside their immediate vicinity risks theft and abuse by thugs. When girls and women are harassed in public spaces, few dare to intervene in case the attackers are armed.
The situation is similar in Tunisia. Samah Krichah, a Tunisian activist and board member of thinktank the Democratic Lab, also tells of how police do nothing to hold perpetrators of violence in check in a context where women's mobility has been severely limited by the rise in political violence and armed militia, enabled by the flow of weapons from Libya. Since 2012, new groups such as the ultra-radical Islamist Salafis, have claimed the authority to verbally (and sometimes physically) "chastise" unveiled women, acting in a typically militia-like fashion.
Yet neither the themes nor the narratives of this year's 16-day campaign of global activism against violence, which focuses on militarism, come close to recognising the way in which the absence of human security and rule of law is creating a perfect environment for the perpetuation of violence against women in Arab countries that have experienced tumultuous change.
The campaign rightly points to the evils of militarism, but makes no mention of how the dismantlement or weakening of armies has opened borders in Libya, Yemen and Iraq to the infiltration of terrorist networks that have targeted women in their campaigns to purify communities of everything they consider to be "un-Islamic".
The 16-day anti-violence campaign refers to the state's responsibility in perpetuating violence, and justifiably so: the dysfunctional role of the police in protecting women from violence on the streets of Tunisia, Egypt, Yemen, Libya and Iraq is a flagrant violation of their most basic citizenship rights. However, the campaign makes no mention of militias and their role in terrorising women.
For example, the campaign statement acknowledges the role of the army and male protesters in sexually assaulting women, but completely omits to mention the well documented sexual assault endured by women at the hands of members of the Muslim Brotherhood and Salafi movements in December 2012 and since then.
The fad in western donor circles these days is to support democratisation programmes in "transition" Arab countries that focus on women in the constitution and women's political participation. While both are of pivotal importance to women's long-term empowerment, we cannot afford to become disconnected from the realities they are experiencing now.
The absence of basic security on the streets is hindering women's ability to work, to get an education, to be politically active or to attend to their family and community needs. The absence of security also directly or indirectly affects the ability of the male members of their households to earn a living, which may cause conflict at home. It has ripped families apart as people leave Libya and Egypt in droves in search of a life that offers relief from violence and economic instability. Often, it is the women who get left behind.
This vicious cycle can be stopped only by announcing nationwide campaigns to disarm militias, clear these countries of weapons, reform the security apparatus and declare a new law of the land. Without this, our efforts to counter gender-based violence will remain disconnected from women's priorities.
http://www.theguardian.com/global-development/poverty-matters/2013/dec/02/world-ignore-violence-against-arab-women
-------------
Women Demand Greater Role in New Kurdistan Government
Dec 04, 2013
SULAIMANI, Kurdistan Region – Women's groups are demanding a greater role for women in government, as political groups in Kurdistan engage in discussions for the formation of a new cabinet.
"What we have got so far, only one female minister, is wrong," says Bahar Munzir, a women's rights activist. "Capable women can run this country. Why aren't they given a chance to fill the right positions?"
She says that in Kurdistan's "patriarchal political system" women are not only deprived of ministerial posts, but lower managerial positions as well.
"Fifty percent of the posts should be given to women because women make up half of society," she says.
Abubakir Haladini, a senior official of the Islamic Union, believes that if there were more women in government, that would reflect a larger portion of the Kurdish society.
"If there are more women in the government the ministers can convey their views and better reach out to women," he says. "One woman minister in the cabinet cannot possibly represent all the women in society."
Since the fall of Saddam Hussein's regime in 2003 and by the initiative of US administrator of Iraq, Paul Bremer, women in Baghdad and Erbil have a 25 percent quota of parliamentary seats.
Haladini believes the same rule should apply to government posts.
"The participation of women in the previous cabinet was only symbolic and meant as appeasement," he charges. "It wasn't to strengthen the presence of women in government."
Mahmoud Othman, director of Sulaimani's statistics department, says that more than 40 percent of government employees are women. But he says that most management and ministerial posts are still held by men.
Chinar Saadullah, the former minister of Anfal and Martyrs, says that Kurdistan is already witnessing a significant number of women in the public sphere, but that women must demand a greater role.
"Women should raise their voices, create pressure groups and not abandon their rights," she advises. Since 1992 and the formation of the first cabinet of the Kurdistan Regional Government (KRG) there has never been more than one woman in a ministerial position.
Critics say that political parties are flexible in agreeing to women in parliament, but that they are inflexible when it comes to government jobs.
Nukhsha Nasih, the mayor of the town of Byara, says: "The government shouldn't put women in the government only for decoration. They should be given important ministries too. And women should be put in their posts based on their skills and expertise, not on their party connections."
http://rudaw.net/english/kurdistan/01122013#sthash.srffQboG.dpuf
-------------
Football becomes mother to Syria's traumatised child refugees
Dec 04, 2013
Bassam used to be a striker for Izra, an amateur team in Daraa, southern Syria. He is 31, but his slight stoop and the lines around his eyes give him the look of a much older man. In early April, rebels seized a government air base on the outskirts of Daraa, the army counterattacked and the area has been the scene of fierce fighting ever since.
"We couldn't take it in Syria anymore because our lives were threatened on a daily basis," Bassam said. "We, the Syrian people, are living under a very oppressive regime and asking for freedom. There was no differentiation for elderly people, children and women. They were targeting everybody. They were bombing homes, villages … it just became unliveable. So we fled to Jordan, fled the persecution."
Bassam came to Zaatari, a camp in Jordan eight miles from the border. It houses 120,000 refugees, with an average of 400 new arrivals every day. Already Zaatari, officially referred to only ever as a "semi-permanent" settlement, is the fourth-largest city in Jordan and the second-largest refugee camp in the world. Bassam is part of one of a number of projects trying to use football to help those in the camp. "I'm learning how to transform the situation for Syrian children from the trauma they've experienced, creating fun activities for them through football," he said.
"So we have rehabilitation for the Syrian refugees through sport and particularly football. The children arrive completely devastated. Many of them have seen family members killed before their eyes. The journey to Jordan is a difficult one. So what we're trying to do is through football to remove the sense of fear and give them some sense of normalcy. Football is the most popular sport; it plays the role of the mother. It's the only outlet that children have. It's a very difficult life here in the refugee camp and football alleviates their suffering."
The scale of the camp, row on row of flat white huts shimmering in the desert over an area 3.5km long by 2km wide, is hard to comprehend. Syrians are renowned in the Middle East for their skills as merchants and Zaatari, with at least 685 shops, already feels like a monument to that spirit. Walk down the main north-south avenue – the Champs Elysées as it's known – and, but for the uniformity of the buildings, you could be in pretty much any Middle Eastern city. There are greengrocers and butchers, mobile phone stores and shops selling wedding-dresses and caged birds. There is a pool hall, an arcade where kids play online games, cafes and a shawarma restaurant that is said to bring in $15,000 a month.
The appetite for trade has given the place such energy that UN staff say Zaatari has developed more in six months than most camps would in 20 years. Shopkeepers used to selling to at most a couple of hundred families in rural Syria are revelling in the increased market; many have seen the move into Jordan radically increase their income. The camp's turnover is estimated at £8-9m a month, while there are plans to introduce metered electricity – thanks largely to the efficiency of the refugees in running lines off the cables that supply the camp's street lighting into their tents and huts.
The resilience is admirable and passing through Zaatari the most striking thing is how normal it all feels. Bassam, though, speaks of "a bit of tension" among the Syrians, while there is understandable friction between the refugees and Jordanians. Jordan, in recent decades, has become a safe haven, a natural destination for those displaced by conflict elsewhere. Large numbers of Palestinians moved there in 1948, the social impact of which is still being felt, and there are also thousands of Iraqis who fled the war.
It's immediately noticeable how much more common it is in Zaatari to see women wearing hijab, and often a niqab, than it is in Amman. Many of those who have fled Syria are from backgrounds far more conservative than liberal Jordan, and one of the more intriguing projects at Zaatari is how women who have no previous experience of football are being introduced to the game.
Abeer Rantisi, short, bespectacled and fizzing with energy, is a midfielder for the Jordan women's national team who this year became the first Arab nation to qualify for the Asian Championship. When she is not training, she works at Zaatari as a coach. "In football programmes, in sport programmes, the main thing we can work on is self-confidence," she said. "We can bring those people and tell them that they can achieve what they want. For the children we have to make them resilient. They were suffering in Syria and now they are over here so we have to bring them back to life."
The strides made in women's football in Jordan have much to do with Prince Ali Bin al-Hussein, the brother of the king, president of the Jordanian FA and a Fifa vice-president. He has sponsored 15 centres in Jordan to encourage the women's game and was instrumental in persuading Fifa to allow women to wear hijab during matches, something that opened the game up to communities where it would otherwise have been impossible. "He has made a lot of difference in how people think," Rantisi said.
Introducing the game to Syrian women, though, is a challenge. "They have no idea about sport at all," Rantisi said. "At the first lecture we come in, say: 'Hi, we are national team players. We come here just to talk about sport.' 'Ha! What's sport?' They haven't seen it on TV; they're not fit physically."
There are also logistical problems. "It's a really difficult job because they all came from conservative communities and they are not allowed to play in public, so we have to make sure they are hiding all the time," Rantisi said. "It's really a big problem: you can see the camp is open from all sides. We have to find a safe place for them to play and private places for the girls to come to the projects."
That detail speaks to a fundamental truth. It's easy, when you've visited dozens of football aid projects, to become cynical and wonder quite how new balls or pretty bibs are supposed to stop domestic violence or alleviate poverty or prevent the spread of disease, but at the most basic level, football does seem to have a tremendous capacity to enable people to connect with each other, even those with no prior experience of the sport.
To use a metaphor that seems appropriate to the mercantile spirit of Zaatari, it provides a currency in which the exchanges of social interaction can be conducted. Whether any greater benefit ensues is down to the individuals involved but at the very least it offers a forum for communication. As Rantisi said: "We all speak football."
http://www.theguardian.com/football/blog/2013/dec/03/football-syria-zaatari-child-refugees
-------------
Islamists Oppose Women's Rights: 'Freedom Only in Islam'
Dec 04, 2013
Pan-Islamist group Hizb ut-Tahrir is continuing an extensive campaign to combat Western values regarding women's rights by holding conferences about women in Sharia [Islamic] law, who are raised to be strictly obedient to their fathers and later to their husbands. The conferences are being held in Judea and Samaria as well as in Arab neighborhoods of Jerusalem.
According to Islamic law, women must ask permission to leave the house at any time. After marriage, they are instructed that they must be available at all times to satisfy their husband's whims - with or without her explicit consent.
One of the events held in Jerusalem featured a 13 year-old girl named Zeinab, who appeared in conservative Muslim garb and read a speech calling Islam "the kindest religion in mankind", urging women to keep the strictures given to them by Sharia law. Zeinab emphasized her devoutness in prayer, reading the Quran, and religious dress.
Zeinab immediately attacked women's rights organizations thereafter, claiming that the freedom given to women to leave their fathers' homes after age 18 leads to "licentiousness", including the ability to talk to men over the internet, at university, and eventually behind closed doors.
Zeinab also attacked women's rights groups for encouraging women to complain if they suffered domestic abuse, leading to arrests of male family members. Western rights and freedoms don't apply to Muslim women, the girl claimed, and are simply tools by the West to encourage women to give up their bodies freely.
Ironically, Hizb ut-Tahrir is banned in many Muslim countries due to its many alleged links to terrorism but remains legal in Israel and most western states under the very laws of freedom of expression it seeks to subvert.
http://www.israelnationalnews.com/News/News.aspx/174723#.Up_LPdJDsqN
http://europenews.dk/en/node/74897
-------------
URL: https://newageislam.com/islam-women-feminism/rich-kazakhs-revive-polygamy-women/d/34711