New Age Islam News Bureau
20 Jan 2020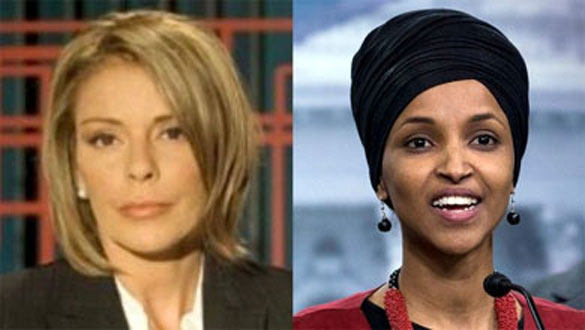 A Republican Muslim candidate, Dalia al-Aqidi, is looking to unseat Democratic Rep. Ilhan Omar in the upcoming U.S. elections.
-----
• First Female NFL Coach Sees Video-Game Appearance as another Sign of Progress
• Lucknow Women Brave Chill, Crowds Clock Big Stir under Husainabad Clock Tower
• All Women Anti-CAA, NRC, NPR Protest Rally in Aurangabad, Maharashtra
• Female Muslim MPs Outnumber Male Muslim MPs In UK Parliament
• First Women's Wing in Saudi Army Opened
• 15 Remarkable Women Who Helped Shape India's Future
• Moscow Police Helped a Muslim Woman in Labour
• Google honours female Egyptian lawyer Mufidah Abdul-Rahman
• Woman Rejoicing at Soleimani Assassination Works for Libya's Saudi-Backed Militia: Report
• India: Uttar Pradesh Policemen Called 'Blanket Thieves' For 'Stealing' Women Protesters' Blankets
Compiled By New Age Islam News Bureau
URL: https://www.newageislam.com/islam-women-feminism/republi-muslim-candidate-dalia-al/d/120839
--------
Republican Muslim Candidate Dalia al-Aqidi Looks to Unseat Ilhan Omar
January 19, 2020
A Republican Muslim candidate is looking to unseat Democratic Rep. Ilhan Omar in the upcoming U.S. elections.
Dalia al-Aqidi, an award-winning international journalist and Muslim refugee, announced her candidacy on Thursday in order to fix the discord that Omar has sown in the country.
"Ilhan Omar and I may seem alike, both women, Muslims, and refugees, but we couldn't be more different," said al-Aqidi in a video on her election website.
"Omar has spent her entire time in Washington sowing seeds of division and actively supporting our enemies. When President Trump ended the reign of Qasem Soleimani, a vicious terrorist and thug, Omar rushed to his defense and attacked President Trump. She claims to speak for all Muslims, but she certainly does not speak for me," she said.
Al-Aqidi fled Iraq with her family in 1988 to escape the tyranny of Saddam Hussein. Over the past 30 years, the former White House correspondent has been very active in the political scene by writing, producing, and hosting an array of political shows on TV and radio.
In an interview with Fox News on Thursday, al-Aqidi said that she is sick and tired of Omar's continuous anti-Semitic rhetoric.
"Muslims, Christians, Jews are all Americans," she said. "Every time she opens her mouth she says something either anti-U.S. or anti-Semitic," al-Aqidi said. Omar has apologized for past tweets about Israel that played on anti-Semitic tropes."
"She's spreading hatred, and she is spreading racism throughout not only her district, not only her state, but throughout the whole country – and this is very important," the 51-year-old journalist told the New York Post on Thursday after announcing her bid. "She's hurting the moderate Muslims: Muslims like myself. She doesn't represent me as a Muslim."
The JPost recently reported that Aqidi plans to neutralize Omar's background as a Muslim refugee as a campaigning point by bringing her own story to the table. Omar fled Somalia with her family aged 9, while Aqidi escaped Saddam Hussein's reign in Iraq with her family in the early 1990s when still in her 20s. "[We're] basically the same," she told Fox.
However, unlike Omar, Aqidi rejects identity politics and the division it brings to America, according to the JPost report. "Muslims, Christians, Jews are all Americans," she said, adding: "Every time she [Omar] opens her mouth, she says something either anti-US or anti-Semitic."
Omar recently beat out neo-Nazi and white supremacist Richard Spencer and Nation of Islam leader Louis Farrakhan to win the title of 2019's "Anti-Semite of the Year." (World Israel News)
http://thejewishvoice.com/2020/01/19/republican-muslim-candidate-dalia-al-aqidi-looks-to-unseat-ilhan-omar/
--------
First Female NFL Coach Sees Video-Game Appearance as another Sign of Progress
Jan 19, 2020
TORONTO — A computerized likeness of Jen Welter barks directions to players on the sidelines, then knocks one on the helmet before sending them back on the field.
Welter recently became the first female coach in Madden NFL 20, calling it one of her "coolest" recent accomplishments.
"(The video game) was based on a conversation that I had as a consultant with Madden," Welter said. "(I told them) 'Girls can't see themselves in your game.' Everything is about a sin of omission in football. You don't have to tell girls that they can't play, right? You show them because they can't see themselves playing anywhere."
Welter was part of a four-woman panel that spoke Thursday night about the need for more female coaches in sports at all levels. She was joined by Toronto Raptors assistant coach Brittni Donaldson, WNBA and national team player Kayla Alexander, and sports activist Shireen Ahmed in conversation with She's4Sports founder Ainka Jess.
When Welter was hired by the Arizona Cardinals in 2015, making her the first woman to coach in the NFL, the narrative was: "publicity stunt." Forget the fact she'd played football for much of her life, winning two world women's championships with the U.S. She was also a running back for the Texas Revolution of the Champions Indoor Football League, becoming only the second woman to play a position other than kicker or holder on a men's pro football team.
Welter, who has a PhD in psychology and masters degree in sports psychology, spoke about the importance of normalizing women in sport.
"We have to look at all angles of culture," said the 42-year-old Florida native, who most recently served as an assistant coach with the Atlanta Legends of the short-lived Alliance of American Football.
"So if want to see change in sport that includes sport video games, it includes sport research, it includes sport media, it includes things as powerful and prolific as hip-hop culture, right?
"Are we dropping female names to the same extent that we are male names? Or where are our warm-up songs coming from? Or do our videos not only show like guys out there balling but women as well?"
At 26, Donaldson is the youngest assistant coach in the NBA, and one of 11 female coaches in the league — five of whom were hired this past off-season.
But when she tells people she works for the Raptors, the response she gets is often: Oh, you work in ticket sales?
"And there's nothing wrong with that seriously," Donaldson said. "But I just didn't really know how to respond. I almost gave in to the fact like 'Yeah, it is kind of weird' that I'm in the front office, or I'm coaching or whatever it was I was doing at the time."
While the NBA has made inroads, the face of professional sports remains predominantly male. In comparison to the sheer number of men on NBA benches — there are approximately 200 — being one of 11 rightly seems "kind of weird."
The panel spoke about the importance of being bold. For Donaldson, it was about owning it.
"Practising (answering people) 'Yeah, I'm a coach,' . . . and then just really having confidence and conviction in what you do," she said. "Because we never give ourselves credit for things that we've actually done."
And she's done a lot in her young career. Donaldson played for the University of Northern Iowa, but her dreams of turning pro were shelved by four knee injuries. Her degree in statistics and actuarial sciences coupled with her passion for the game made for the perfect career pathway.
Before she moved to the coaching ranks, Donaldson worked for two seasons in the Raptors' front office as the team's data analyst. Because she speaks both basketball and analytics, she still has a key role translating data for the coaches and players.
Donaldson noted that the few female coaches there are in pro sports all played at a high level.
"You look at the majority of coaches who are men, and (long pause) not a lot of them played at a very high level," she said, prompting laughter from a Ryerson University audience. "But that's okay. I was predominantly coached by men my entire life, and they were wonderful coaches. But it's just something I ponder a lot: why do we have to have that extra validation to even enter the space? Why do we have to say we played this at a high level?"
Like Donaldson, Ahmed, who's an award-winning writer, speaker and activist, has stories of mistaken identity.
"I was on 'The National' after the Women's World Cup (last summer), and I remember walking into the green room, and the other panelists were like, 'Oh, so you're a fan?' I was like, 'No, I'm a writer.' 'Oh, so did you watch some of the World Cup?' 'I'm like, 'I WENT to France.'"
Ahmed, who focuses largely on Muslim women in sports, and issues such as racism and misogyny in sports, said the country took a big step backward when the Canadian Women's Hockey League folded.
"Women's soccer didn't become the most watched thing overnight," she said. "Still to this day the most watched game in United States soccer was the Women's World Cup final (in 2015). And this is (happening) all over the world. The most watched anything in the Netherlands was the final of the 2019 Women's World Cup.
"Interest in women's sport is there. We've let a whole country down. Hockey is one of the most played games by girls in this country. But guess what? There's no professional league anymore. This is a travesty."
But gains are being made elsewhere. The WNBA continues to lead the charge in gender equity, with a female commissioner and a coaching roster that's 50 per cent female. And earlier this week, the league announced a landmark collective bargaining agreement that will see average salaries rise to six figures for the first time, plus improved travel conditions and full paid salary for players on maternity leave.
"I'm very proud of it," Alexander said. "We have a lot of female coaches, and they actually take the chance of hiring former players and giving former players opportunities. That's one thing I do appreciate about our league is we're constantly giving opportunities to women who helped build the league."
This report by The Canadian Press was first published Jan. 16, 2020.
https://lethbridgenewsnow.com/2020/01/19/first-female-nfl-coach-sees-video-game-appearance-as-another-sign-of-progress-2/
--------
Lucknow Women Brave Chill, Crowds Clock Big Stir under Husainabad Clock Tower
Jan 20, 2020
Lucknow: As strong as the 220-foot tall Husainabad clock tower, stood hundreds of women staging peaceful protest against the Citizenship Amendment Act (CAA) and National Register of Citizens (NRC) on Sunday afternoon. Undeterred and unmoved, the women braved sweeping cold winds on a largely cloudy day, saying they were there for a "safer, secular India tomorrow."
The nonstop protest that began on Friday afternoon, drew more support on Sunday as residents from across the city turned up to show solidarity. Some came with families and friends, holding posters in hand and chants on their lips. While women were allowed to enter the inner quadrangle, the area was cordoned off temporarily with ropes by protesters to restrict access of men. Late afternoon, the women formed a chain, holding hands to stall entry of unsocial elements.
"We have no leader . Volunteers are managing the crowd. Some are taking care of security, others taking note of speeches being made. We are making sure the protest remains peaceful. We are not Muslim women, but just women," said Fauziya Rana, a protester. Keeping an eye on those interacting with protesters, volunteers urged the latter not to share any information with unknown persons and ask for identity cards.
"After December 19 and subsequent police action, people thought no one will come out. But women drew inspiration from Shaheen Bagh protest. It is a secular protest, which is being attended by all those who want the country's secular nature to remain intact," said Veena.
After cutting off power and locking toilets, heavy police force was deployed. On Saturday night, Rapid Action Force (RAF) personnel were also stationed.
Lucknow police, meanwhile, denied allegations of seizing blankets and water bottles on Saturday night. Police officials said blankets were seized from NGO workers when those not part of protest started jumping in to take them.
Police also asked all food joints in Akbari Gate area to close by 11.30pm. "We have asked all shops to down shutters by 11.30pm. We will take action against those defying the order," said ACP (Chowk) Durga Prasad.
https://timesofindia.indiatimes.com/city/lucknow/women-brave-chill-crowds-clock-big-stir/articleshow/73398167.cms
--------
All Women Anti-CAA, NRC, NPR Protest Rally in Aurangabad, Maharashtra
Jan 20, 2020
Aurangabad: The city witnessed its first all women mega anti-CAA NRC and NPR protest rally on Sunday with women from different walks of life participating in lage numbers at the Delhi Gate where a massive stage was set up.
The event organized by Muslim Numainda Council, a social-religious and minority rights body, was completely managed by women organisers as well as volunteers.
High number of professionals, along with housewives, students and elderly women made it to the protest while holding placards, shouting slogans and demanding withdrawal of the NRC and NPR. Several groups of girl students were spotted reciting shayaris and raising Inquilab slogans while moving around the venue.
At the agitation venue, a group of women comprising law students and professionals were spotted briefing fellow women protesters as to how NRC, CAA and NPR put together would not only discriminate and harass Muslims, but also the backwards, downtrodden, tribal and majority of those belonging to reserved categories.
During the agitation that lasted for a little over three hours, praises were showered for the women at Shaheen Bagh as well as for the girl students from the Jawaharlal Nehru University (JNU) and Aligarh Muslim University (AMU) for their stand against the government's move and inspiring others to not let the country divided.
The speakers appealed to the women to not to let the fascist forces make the on-going protests paint it as 'only Muslim' protest.
https://timesofindia.indiatimes.com/city/aurangabad/all-women-anti-caa-nrc-npr-protest-rally-in-city/articleshow/73394131.cms
--------
Female Muslim Mps Outnumber Male Muslim Mps In UK Parliament
Murtaza Ali Shah
January 20, 2020
LONDON: For the first time in history of British Parliament, there are more female Muslim MPs than male Muslim parliamentarians.
Overall, after the Dec 12 general elections, the number of female MPs is now 220 which is also a new record beating the previous record of 208 female MPs set in 2017 elections. In the previous Parliament after the 2017 general elections, there were 16 MPs of Muslim faith - out of those eight were female. In the current Parliament, the number of Muslim MPs has risen to a new record of 21. Out of those 21 MPs of Muslim faith, 11 are females: six of these female Muslim MPs are of Pakistani/Kashmiri origin; four of Bangladeshi origin and one is of Kurdish background.
Before the Dec 12 general elections Labour Party set a new record by giving more than 50 percent tickets to female candidates in general elections. And now after the elections, Labour has more female MPs in Parliament than men.
Out of 203 elected labour members of Parliament 103 are female, which is more than 50 percent. As many as 20 female Pakistani background candidates stood on prominent 20 seats but only six could make it to Westminster.
Five out of six were re-elected including Shabana Mahmood, Yasmin Qureshi, Naz Shah, Dr Rosena Allin-Khan from Labour and Nusrat Ghani from Conservative while Zarah Sultana of Labour has been elected for the first time.
Labour's Zarah Sultana has made a new record by becoming the youngest ever Muslim member of Parliament after winning a nail biting contest from Coventry South aged 27. Here's a brief profile of all six female MPs of Pakistani background.
Zarah Sultana was born in 1992 in Birmingham. She is of Kashmiri origin and has now become the youngest ever Pakistani origin member of Parliament. She had to face a tough fight in elections from her Conservative opponent after Labour awarded her ticket from Coventry South, a seat held by Labour since 1960.
Zarah's grandfather moved from Kashmir and settled in Birmingham in 1960s. During her university years, she was also elected to the Executive Council of NUS (National Union of Students).
Her campaign in election was backed by various unions and by Momentum, a group of diehard supporters of labour leader Jeremy Corbyn. She holds a record of the youngest Pakistani and Muslim ever to be elected as member of parliament.
Shabana Mahmood, 39, was first elected in 2010 from Birmingham-Ladywood constituency, which is considered as one of the most deprived areas of the country. She was among the first 3 females of Muslim faith to be elected as members of Parliament and the first female of Kashmiri origin. Her parents came originally from Mirpur. She's a barrister and graduated in law from Lincoln College, Oxford. She has served as shadow home affairs minister in 2010, shadow business minister in 2011 and shadow financial secretary to treasury. After 2015 elections, she was appointed shadow chief secretary to the treasury but later stepped down from that role. She had openly opposed Jeremy Corbyn during 2016 leadership contest.
Yasmeen Qureshi, 59, was born in Gujrat and moved to the UK with her family when she was just nine. She was elected MP from Bolton South East in 2010 on Labour Party's ticket. Along with fellow Labour MPs, Shabana Mahmood of Kashmiri origin and Roshan Ara Ali of Bengali origin, Yasmin was among the first female Muslim members of Parliament.
She's studied Law at university and is a qualified barrister. She has worked with crown prosecution service and also headed a UN Mission in Kosovo.
Yasmin first stood in elections in 2005 from London's Brent East constituency but lost to Lib Dem's Sarah Teather. But subsequently was awarded a ticket to Labour's safe seat of Bolton South-East in 2010 elections. A seat, which has won for the 4th time in as many elections. In 2016, she was appointed as shadow justice minister. In these elections, she won again by securing 21,516 votes.
Nusrat Ghani was born in Birmingham to parents of Kashmiri origin. Nusrat was the first Muslim female to become member of Parliament on Conservative Party's ticket in 2015. She completed her school education in Birmingham and done graduation from Birmingham City University.
In 2013 she was selected to represent Wealdan constituency in South East London a Conservative safe seat which she later won in 2015 elections.
She became member of the powerful Home Affairs select committee in 2015 and in 2017 became the parliamentary private secretary at the Home Office.
In 2018 she became assistant whip and minister in department of transport. She was the first MP to take oath in Urdu dressed in traditional Shalwar Kameez after winning 2017 elections. Nusrat became the first female minister of Muslim faith to speak from dispatch box. Nusrat Ghani has now won her third consecutive elections from Wealdan by securing 37,043 votes.
Naz Shah was born in Bradford. She became the first member of Parliament from Bradford West in 2015 by defeating Respect Party's George Galloway then member of Parliament from Bradford West with a lead of more then 11 thousand votes. Interestingly she wasn't Labour's first choice to stand in elections but was endorsed by party's national executive after the candidate selected to represent the constituency Amina Ali stepped down citing personal reasons.
She successfully defended her seat in 2017 elections by even a bigger margin of victory of 21,902 votes. In these elections, Naz Shah won for the 3rd time in a row from Bradford West. She secured 33,736 votes and with even a bigger lead of 27,109 votes.
Dr Rosena Allin-Khan, 42, was a practicing doctor before becoming member of Parliament in 2016 from Tooting in a by-election. The seat was left vacant after serving my MP Sadiq Khan was elected as Mayor of London.
Rosena's mother was a singer of Polish origin while her father was of Pakistan background but her parents separated after a few years of getting married. After finishing her school, she studied medical biochemistry at Brunel University and later studied medicine at Cavendish College, Cambridge. Before she was elected as MP, Rosena served as a local Cllr in Wandsworth council representing Bedford ward in Balham.
https://www.thenews.com.pk/print/601457-female-muslim-mps-outnumber-male-muslim-mps-in-uk-parliament
--------
First Women's Wing in Saudi Army Opened
January 19, 2020
RIYADH — Chief of Staff Gen. Fayyad Al-Ruwaili on Sunday inaugurated the first military wing for women in the Armed Forces.
Speaking on the occasion, Director General of the General Administration of Admission and Recruitment at the Armed Forces Maj. Gen. Imad Al-Aidan briefed the Chief of Staff on the procedures for various phases of admission and the areas where the women will work in the Armed Forces.
At the end of the tour, a memento was presented to Gen. Al-Ruwaili.
The wing has been created with an aim to attract and meet the needs of the women armed personnel in various branches of the Armed Forces. — SG/SPA
http://saudigazette.com.sa/article/587291/SAUDI-ARABIA/First-womens-wing-in-Army-opened
--------
15 Remarkable Women Who Helped Shape India's Future
Dhamini Ratnam and Dhrubo Jyoti
Jan 20, 2020
By 10.45 am on December 9, 1946, the Constitution Hall in New Delhi's Rafi Marg was filled with towering political figures from across the country.
Wearing overcoats and shawls, they sat in neat rows and applauded when Sachchidananda Sinha — one of the oldest parliamentarians at the time — took the chair to inaugurate the first meeting of the Constituent Assembly. Thunderous applause followed after Sinha, quoting Urdu poet Iqbal, exhorted all to be guided by "wisdom, toleration, justice and fairness to all". Then, all of them shuffled into lines to sign the register against their names: 192 men and 15 women.
The demand for a body to form the Constitution was an old one but the absence of universal adult suffrage meant that the representation of marginalised groups, especially women, was low.
Most of the 15 women who made it to the CA were upper caste, upper class and literate – only one was Muslim and another Dalit. The then United Provinces sent the highest number – four – followed by Madras state with three. Together, they contributed around 2% of the total volume of debate in the CA, according to an analysis by the PRS Legislative Research, with G Durgabai (Madras), Begum Aizaz Rasul (United Provinces) and Renuka Ray (West Bengal) speaking the most. "Their interventions were about varied freedoms, non- discrimination, equality, liberty, core principles underlying the Constitution and about citizenship in a new nation," said Meera Velayudhan, president of the Indian Association for Women's Studies and daughter of Dakshayani Velayudhan, the only Dalit woman member.
At 34, Dakshayani was one of the youngest and most remarkable members of the CA.
Hailing from the oppressed Pulaya caste in Kerala, Dakshayani was the first in her community to attend school and college – she was India's first Dalit woman graduate -- and to wear an upper cloth.
A close associate of MK Gandhi, she married her husband Velayudhan – also a CA member -- in Wardha's Sevagram Ashram. But her inspiration also lay in the writings of Bhimrao Ambedkar, and she edited an Ambedkarite publication in Madras.
Her most powerful intervention came on the abolition of untouchability in November 1948. "The working of the Constitution will depend upon how the people will conduct themselves in the future, not on the actual execution of the law. So, I hope that in course of time there will not be such a community known as Untouchables," she said.
Another remarkable member was Rasul, born to a branch of the ruling family of Malerkotla who became one of the few women to win in the 1937 election. Rasul was key in pushing Muslim members to give up the demand for a separate electorate.
"If that principle that the majority should not discriminate against any minority is accepted, I can assure you that we (Muslims) will not ask for any reservation of seats," she said in November 1948.
The debates provide a glimpse of the concerns of the time. Constitutional scholar Madhav Khosla points out that the issue of representation was one that the Assembly debated a great deal about. While reservation on the basis of religion was rejected, reservation on the basis of caste was adopted.
On the issue of reservation for women in elected bodies, the sentiment seemed to be unanimously opposed.
Hansa Mehta, a member from Bomabay, categorically rejected reserved seats, quotas or separate electorates. "We have never asked for privileges. What we have asked for is social justice, political justice and economic justice," she said in December 1946.
Niraja Gopal Jayal, a professor at Jawaharlal Nehru University, pointed out that while the section on fundamental rights was meant to be gender neutral, matters pertaining to social rights of women were placed in the chapter of Directive Principles – which is not enforceable in courts.
Many of the women, including Ray, Mehta and Rajkumari AmritKaur (Central Provinces) were in favour of a Uniform Civil Code, which nevertheless did not get passed. The issue of a civil law that overrides personal laws in favour of a common set of rules remains a contentious one, even today.
Many of the women members went on to have illustrious political careers after Independence. Rasul became the social welfare minister in Uttar Pradesh and was also elected to the Rajya Sabha. Durgabai was elected to Parliament and later became a member of the Planning Commission. Ray served as a member of both the West Bengal assembly and the Lok Sabha.
Sucheta Kriplani went on to become the country's first woman chief minister, when she succeeded Chandra Bhanu Gupta in the 1960s in Uttar Pradesh. Other well known members included Sarojini Naidu (the first woman to be appointed as the governor of a state), Kaur (who founded the All India Institute of Medical Sciences) and Vijaya Lakshmi Pandit, (who was elected as president of the United Nations General Assembly in 1953). Dakshayani concentrated on social work, organising a conference of Dalit women in 1977 and working among sweepers in Delhi.
https://www.hindustantimes.com/india-news/15-remarkable-women-who-helped-shape-india-s-future/story-kiiwzG7i82C0H9VUhd6xxN.html
--------
Moscow Police Helped a Muslim Woman in Labour
Sat, 01/18/2020
Policemen in Odintsovo district of the Moscow Region saved a Muslim woman in hijab from giving birth to her baby in a car, the press office of the main department of the Ministry of Internal Affairs of Russia in the Moscow region reported.
A man came to the police officers, Dmitry Lakhinin and Vitaliy Yatsenko, and explained that he had a pregnant wife in his car, which went into labour and urgently needed medical help.
Traffic inspectors wasted no time and immediately got the woman to the nearest maternity hospital on their car.
Thanks to the light and sound signals installed on the police car, the woman arrived to the hospital on time. They had not any difficulties on their way, and just in 30 minutes the Muslim woman gave birth to a healthy baby.
The police officers came to visit and congratulate the parents of a child, and presented them with a baby car seat. In turn, happy parents sincerely thanked the police inspectors for their assistance in such a difficult life situation.
http://islam.ru/en/content/news/moscow-police-helped-muslim-woman-labour
--------
Google honours female Egyptian lawyer Mufidah Abdul-Rahman
January 20, 2020
DUBAI: Mufidah Abdul-Rahman, one of Egypt's first female lawyers was honored in a Google doodle on Monday.
Abdul-Rahman was born 106 years ago in Cairo in 1914, she died on Sept. 3, 2002 when she was 88. She graduated from Cairo University's Faculty of Law and became the premiere female attorney in the country.
A strong supporter of gender equality in Egypt, she regularly strove to improve women's rights and was first female lawyer to take cases to the Court of Cassation in Egypt and present cases before a military court.
While practicing law, she co-founded the National Feminist Party, an organization that fights for universal suffrage in Egypt.
Abdul-Rahman was also recruited into the women's rights group Bint Al-Nil (Daughter of the Nile).
Google Doodle has honored a number of Egyptian greats in the past, including actor Omar El-Sherif, Singer Umm Kalthoum, actress Faten Hammama and more.
https://www.arabnews.com/node/1615536/media
--------
Woman Rejoicing at Soleimani Assassination Works for Libya's Saudi-Backed Militia: Report
19 January 2020
An Iranian-American woman who rejoiced at the assassination of Iran's General Qassem Soleimani by US terrorists in Baghdad works for the Saudi-backed Libyan militia led by Khalifa Haftar, who is known to have worked for the CIA spy agency for many years, says a report.
According to the report published by BuzzFeed, Saghar Erica Kasraie posted a viral video on YouTube recently in which she falsely claimed that after the assassination of Lt. Gen. Soleimani and his companions in Iraq, the Iranian nation was happy and celebrated his death.
On January 3, Lt. Gen. Soleimani, commander of the Quds Force of Iran's Islamic Revolution Guards Corps (IRGC), and Abu Mahdi al-Muhandis, the second-in-command of Iraq's Popular Mobilization Units (PMU), and a group of their companions were martyred in Baghdad. The cowardly, sinister operation was conducted under the direct order of US President Donald Trump. The US Department of Defense took responsibility for the assassination.
Both commanders enjoyed deep reverence among Muslim nations over their endeavors in eliminating the US-sponsored Daesh Takfiri terrorist group in the region, particularly in Iraq and Syria.
According to the report, Kasraie, who describes herself as an Iranian activist in the video, claimed that Iranians across the country were celebrating the assassination, thanking Trump and giving out cakes in public to express their joy.
"I feel like we're living in the Twilight Zone, guys. I'm completely outraged at this notion that the propaganda machine that is the media is glorifying Qassem Soleimani," she says in the video.
The video titled "Truth From an Iranian," amassed more than 10 million views across Facebook, Twitter, and YouTube.
The YouTube version of Kasraie's video has been viewed 5.5 million times, going viral as a link on Facebook after it was posted to a right-leaning lifestyle page called Bakersfield Tuff and a slew of pro-Trump sites and pages. Another copy of the video, shared on Kasraie's Facebook page, has been viewed another 3.7 million times.
The video was also boosted by large right-leaning Facebook pages, like the American Preppers Network and Chicks on the Right.
In the first six days following the martyrdom of Soleimani, the video was the single most popular piece of content about Iran on Facebook, aside from posts from Trump's own page.
At no point during the five-minute video did Kasraie (pictured above) mention that she had worked in 2019 for Linden Government Solutions, which is a Texas-based lobbying firm hired to represent the so-called Libyan National Army (LNA) — a rebel group of militias commanded by renegade General Haftar.
When asked if the Libyan National Army was the firm's only client, a representative for Linden Government Solutions told BuzzFeed News, "I don't know what you're talking about, but I'd say no and I'd prefer not to continue."
Haftar, himself, was an officer in the government of late dictator Muammar Gaddafi and has spent much of the last two decades living in the US state of Virginia and working with the CIA.
Moreover, Kasraie did not list her time with Linden on her LinkedIn profile and claimed that her work for the firm in Washington DC was strictly logistical.
"I worked directly for Linden and helped with logistics for meetings in Washington," Kasraie admits, adding, "Just facilitated and coordinated meetings for Linden. It was a short project as a consultant."
However, public documents filed through the Foreign Agent Registration Act in the United States showed that she worked as a part-time lobbyist last year.
According to her registration, Kasraie's job entailed "Planning, coordinating meetings with Government, Business representatives, and think tanks, and other government relations services in support of Client's diplomatic goals" on behalf of the "Decision Support Center of Libya (on behalf of the Libyan National Army)."
Her lobbying activity had previously been reported on by Al-Monitor.
Kasraei has also been an adviser to the National Iranian Congress, a dissident group with a headquarters in Washington, DC.
Since 2014, Libya has been divided between two rival camps: the government in Tripoli, and a camp based in the eastern city of Tobruk.
Haftar, who is backed mainly by Saudi Arabia and the United Arab Emirates, both known for their hostile policies toward Iran, is the self-proclaimed commander of an array of militia groups apparently supporting the eastern camp. He launched an offensive to capture Tripoli and oust the government in April.
His forces have been bogged down near the capital; yet, he has pledged to continue the offensive.
After months of combat, which has killed more than 2,000 people, a ceasefire was agreed to take effect on January 12 but was soon ignored and also, on Tuesday, Haftar walked away from peace talks in the Russian capital of Moscow.
https://www.presstv.com/Detail/2020/01/19/616582/Kasraie-Soleimani-assassination
--------
India: Uttar Pradesh Policemen Called 'Blanket Thieves' For 'Stealing' Women Protesters' Blankets
January 19, 2020
Police in the Indian state of Uttar Pradesh faced scorn on Twitter today after videos showing them allegedly "stealing" blankets, food and other supplies of women protesters in Lucknow, went viral.
On Saturday, women from Lucknow had gathered outside Lucknow's iconic Clock Tower for a 24-hour sit-in protest against the Citizenship (Amendment) Act 2019.
Protesters posted videos showing policemen carrying away the late on Saturday even as those demonstrating at the site raised an objection.
Kohinoor Mew
@kohinoormmds8
Yogi ji' police is so afraid of women and children. ..?
In the cold, the blanket of the Protestants mat was taken away till the food items.#कम्बल_चोर_यूपी_पुलिस
View image on TwitterView image on TwitterView image on TwitterView image on Twitter
75
12:46 PM - Jan 19, 2020
Twitter Ads info and privacy
93 people are talking about this
Soon, "Kambal Chor (Blanket thieves) UP Police" started trending on Twitter.
According to reports protesters said on Sunday morning: "There is no cooperation from the police. They snatched our blankets in the night. They didn't give us the permission to put up a shelter. They took away all the eatables and blankets arranged by us from home."
Aayush Mishra
@aayushplayer66
@Uppolice kambal chor, khana chor police!!!! @myogiadityanath 😂😂 https://twitter.com/pankhuripathak/status/1218742773576167424 …
Pankhuri Pathak پنکھڑی
✔
@pankhuripathak
कंभल चोर योगी की पुलिस।
View image on Twitter
1
12:10 PM - Jan 19, 2020
Twitter Ads info and privacy
See Aayush Mishra's other Tweets
The Hindu, reported that Additional DCP Vikas Chandra Tripathi on Saturday evening said: "Police removed the blankets and the people of the organisation as per law."
He said legal action would be taken against the protesters for violation of Section 144, which restricts assembly of more than four people. He said that the protest is "illegal" and there was no question of providing permission to the protesters to hold their sit-in.
The women also reportedly raised slogans for the cops to release a male protester by the name of "Salim" who was detained by the personnel. "Salim" was allegedly bringing blankets to the venue. Jafar's video recorded panic among the women as police leave without returning either the protesters' supplies or the detained boy.
Tripathi added that some groups were distributing blankets during the "illegal" sit-in, following which a large number of people nearby, who were not a part of the demonstration, were also coming to collect the blankets.
In another tweet, UP police said they prevented some people from putting up a shelter with ropes and bamboo sticks. "Kambalo ko vidhik tarike se kabze mein liya gaya (The blankets were seized as per the legal process)," police said.
Women across the country have been taking to the streets in peaceful protests and indefinite strikes against the CAA and the National Register of Citizens.
Since the passing of CAA, the law and order situation in Uttar Pradesh has been tense with both the police and the Yogi Adityanath government taking a tough stand against protesters and cops resorting to violence and arrests to quell protesters. 19 people lost their lives in the ensuing violence and clashes with police while over 700 protesters and alleged suspects were detained.
https://gulfnews.com/world/asia/india/india-uttar-pradesh-policemen-called-blanket-thieves-for-stealing-women-protesters-blankets-1.1579428460021
--------
URL: https://www.newageislam.com/islam-women-feminism/republi-muslim-candidate-dalia-al/d/120839
New Age Islam, Islam Online, Islamic Website, African Muslim News, Arab World News, South Asia News, Indian Muslim News, World Muslim News, Women in Islam, Islamic Feminism, Arab Women, Women In Arab, Islamophobia in America, Muslim Women in West, Islam Women and Feminism